Search iVirtua
Advanced/Tag Search...
Search Users...
What is iVirtua Exclusive Community?
An exclusive gaming industry community targeted to, and designed for Professionals, Businesses and Students in the sectors and industries of Gaming, New Media and the Web, all closely related with it's Business and Industry.
A Rich content driven service including articles, contributed discussion, news, reviews, networking, downloads, and debate.
We strive to cater for cultural influencers, technology decision makers, early adopters and business leaders in the gaming industry.
A medium to share your or contribute your ideas, experiences, questions and point of view or network with other colleagues here at iVirtua Community.
Guest's Communication
Live Chat
Teamspeak (VOIP) Audio Conference
Private Messages
Check your Private Messages
Themes
Choose an iVirtua Community theme to reflect your interests...
Business Theme

India/Arabic Theme
Gaming Theme
iVirtua Recommends
Fly Emirates
You've always felt you haven't got the full gaming experience,right? You wanna wear the armour, carry the weaponry... that kind ofthing. The 3rd Space FPS sensory gaming vest might be of interest then.
The 3rd Space FPS Vest, first seenlast year, looks somewhat ironically like a stab-proof jacket, and ishooked up to an air compressor and power unit. The jacket containseight so-called "active zones" that fire compressed air whenever aplayer gets, say, shot in the chest, supposedly helping to recreate thefeeling for gamers in the real world.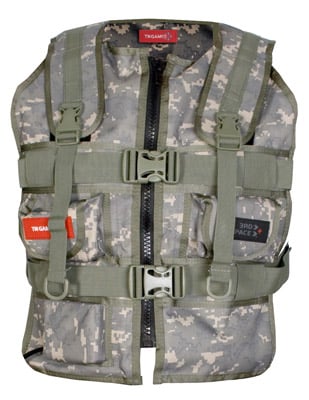 3rd Space FPS gaming vest: "We're marines and there's nothing to worry about..."

Maker TN Games said its jacket works with Call of Duty II and its own gaming title - 3rd Space: Incursion - while patches for Quake, versions three and four, and Doom 3 are available too. Unfortunately, Call of Duty II is a little dated now, and the offering from 3rd Space, Incursion,is pretty typical stuff. It's based on a space station of some sortwith weird looking lifeforms hellbent on maiming you in multitude ofgruesome ways that demonstrate what the game vest can do.
But here's the catch: this puppy only works with a PC, which isgoing to substantially narrow the user group. Microsoft Windows XP orhigher is the minimum requirement along with 1Ghz minimum CPU speed,Radeon 9600 video card or better, or GeForce FX 5200 or better.
The air compressor itself is smaller than you might imagine - it'sno bigger than a household-sized red brick, without the weight. A USBcable connects the vest to the PC and an air hose connects thecompressor to the vest. No drivers need to be installed.

During gameplay the air compressor creates a constant backgroundnoise, a little louder than an Xbox 360 Elite, for example. After aquick succession of hits, typically three volleys of four rapid firehits, the compressor needs to build up a reservoir of compressed airagain filling the jacket, and when it does it makes a hell of a noise -which, if you're not expecting it, can be quite distracting.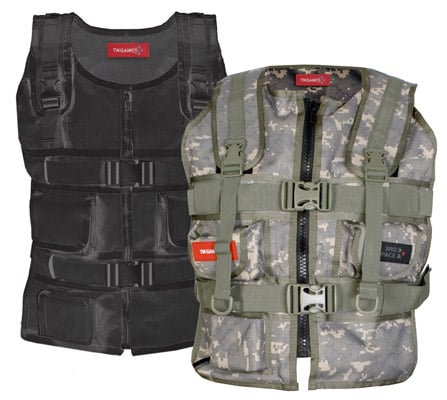 Also available in Special Forces Black

The air pockets are located primarily around the front of the vest,with two positioned at the back. So when you get fragged by a grenadefor instance, it feels like someone has just poked you in the kidneys.The effect of this is a little startling, but still not quite the samesensation as being hit by shrapnel. We imagine.

It'savailable in both camouflage and black (for those nighttime specialops) and S/M and L/XL. We had the L/XL version, and on a six foot frameit didn't leave a great deal to the imagination despite it's fullyadjustable straps.
VerdictThe gaming vest is such a nice idea - it's just poorly thought out.The games that this ships with are really quite dated, it's expensive,and it only runs on a PC. This would have made a great prototype if thepromise of a quieter, more compatible version was on its way.
Contributed by

Editorial Team

, Executive Management Team
372659 iVirtua Loyalty Points • View Profile • Send Private Message • Back to Top