Search iVirtua
Advanced/Tag Search...
Search Users...
What is iVirtua Exclusive Community?
An exclusive gaming industry community targeted to, and designed for Professionals, Businesses and Students in the sectors and industries of Gaming, New Media and the Web, all closely related with it's Business and Industry.
A Rich content driven service including articles, contributed discussion, news, reviews, networking, downloads, and debate.
We strive to cater for cultural influencers, technology decision makers, early adopters and business leaders in the gaming industry.
A medium to share your or contribute your ideas, experiences, questions and point of view or network with other colleagues here at iVirtua Community.
Guest's Communication
Live Chat
Teamspeak (VOIP) Audio Conference
Private Messages
Check your Private Messages
Themes
Choose an iVirtua Community theme to reflect your interests...
Business Theme

India/Arabic Theme
Gaming Theme
iVirtua Recommends
Fly Emirates
Fear-mongering hacks at The Daily Mail have been caughtmistaking footage from a popular video game series as proof ofal-Qaeda's "terrifying vision" for a nuclear attack on Washington.
The paper splashed a gory image showing the utter destruction thatwould result from the plot by terrorists to carry out a nuclear attack.In the foreground are the charred ruins of the Capitol in a city thatis utterly devoid of people, cars or any other sign of life.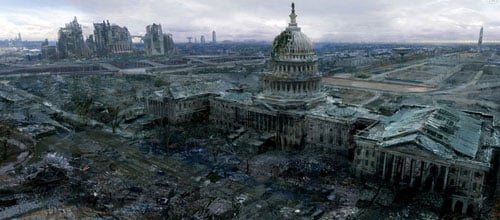 "This computer generated image posted on terror forums depict whatwould happen if a nuclear attack took place in Washington D.C.," thepaper reported breathlessly. "So far that is only a dream ... or, as this picture suggests, a nightmare," reporter Barry Wigmore blathered on.
Turns out the image was lifted from Fallout 3, the latestinstallment of a role-playing game made by Bethesda Software. Marketersdescribe the game, due in stores a few months, as "America's FirstChoice in Post Nuclear Simulation". Players are left to roam America'sravaged streets in the year 2277, 200 years after nuclear bombsdestroyed the nation's capitol.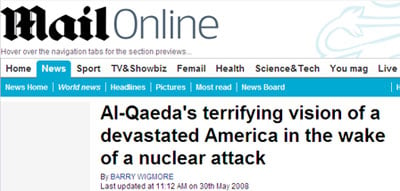 A Telegraph report here claims Daily Mail hacks were hoodwinked after the SITE Intelligence Group,which monitors terrorist websites, posted the image first, along withclaims it had been posted to forums where terrorists were discussingthe feasibility of nuclear strikes on the US and Britain.
The Daily Mail's blunder was too big for even Fox News, which has been known to conflate fact and fiction on a few occasions, to pass up.But so far, the paper is standing by its fantasy report. The articleremained uncorrected more than nine hours after being published.
Contributed by

Editorial Team

, Executive Management Team
372659 iVirtua Loyalty Points • View Profile • Send Private Message • Back to Top