Search iVirtua
Advanced/Tag Search...
Search Users...
What is iVirtua Exclusive Community?
An exclusive gaming industry community targeted to, and designed for Professionals, Businesses and Students in the sectors and industries of Gaming, New Media and the Web, all closely related with it's Business and Industry.
A Rich content driven service including articles, contributed discussion, news, reviews, networking, downloads, and debate.
We strive to cater for cultural influencers, technology decision makers, early adopters and business leaders in the gaming industry.
A medium to share your or contribute your ideas, experiences, questions and point of view or network with other colleagues here at iVirtua Community.
Guest's Communication
Live Chat
Teamspeak (VOIP) Audio Conference
Private Messages
Check your Private Messages
Themes
Choose an iVirtua Community theme to reflect your interests...
Business Theme

India/Arabic Theme
Gaming Theme
iVirtua Recommends
Fly Emirates
Google has defended its controversial Street View photo-mappingtool, saying it will meet local privacy laws in European countries atlaunch.
Following the news that Google Street View image capturing cars havebeen spotted in London, it seems Google's plans to bring the service tothe UK is under threat.




It's time to lock up your daughters, and here's why: The rovingspycar of Google's Street View has been spotted prowling the meanstreets of London...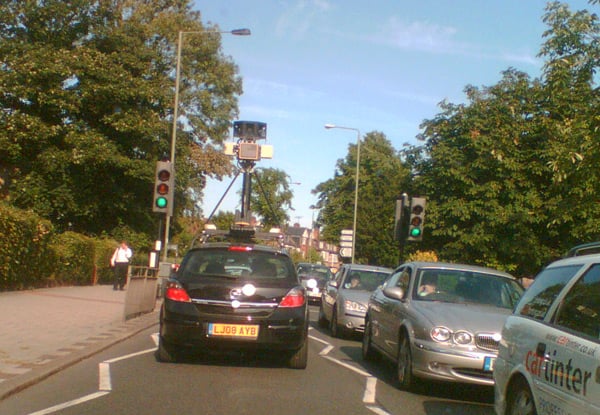 At london bridge:

T

Also
http://flickr.com/photos/rodcorp/2653406304/

Inverness: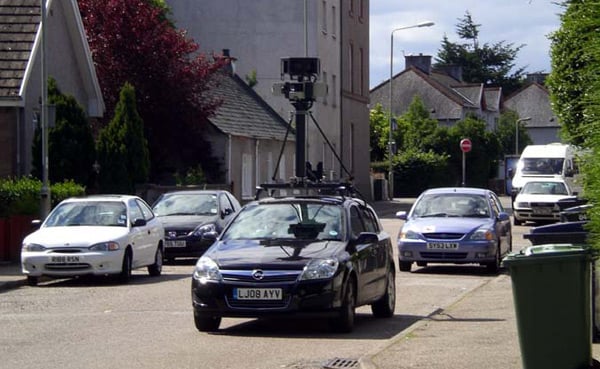 That aside - my mate snapped one of these devices on a few lampostsin his street that turned up the same day the Google-mobile was about.
http://c.imagehost.org/view/0124/thing.jpg
A quick call to the Highland Council street lighting departmentconfirmed they knew nothing about it, and that it should definitely nothave been put there without their permission.
So, over to you, readers. What the hell is it ???

The tool, which matches real world photos to mapped locations, has drawn fire from some privacy campaigners.
In the UK, Privacy International said the tool could breach data protection laws if people's faces were shown.
Google has said it is using face blurring technology to preserve the privacy of individuals photographed.<!-- E SF -->
"In our view they need a person's consent if they make use of aperson's face for commercial ends," Simon Davies, of PrivacyInternational told BBC News.
Street View has already been launched in the US and includesphotos of streets in major American cities. Photographing of areas inthe UK, including London, is believed to have started last week.
Mr Davies has written to Google asking for details of the face-blurringtechnology, saying he would ask the UK Information Commissioner tointervene if he did not receive a satisfactory response.
He told BBC News that he was concerned that Google's technology would not work.
Google's senior privacy counsel Jane Horvath has responded saying that the technology had already been deployed.
She wrote: "We actually launched this technology publicly in early May, when we refreshed our imagery in Manhattan, New York.
"Since then we have applied face blurring to all new imagery launches in the US, including a major launch in June."
Google has said it plans to launch Street View in a "few European countries" but did not give any more details.
In a statement, a Google spokesperson added: "We think this type ofprivacy-enabling technology is the best way of meeting the challenge ofcontinuing to respect people's expectation of privacy, while notstifling the development of new products and services that everyone canenjoy and benefit from."


---

Have you seen Google photographing the UK? Do you have any picturesof the cars Google are using to take photos?



Heres some US sights from the likes of
http://blog.wired.com/27bstroke6/2007/05/request_for_urb.html


Without any context or timeline, it's hard to tell exactly what you're seeingin the extraordinary panoramic images captured by Google's magic van. But inthe days since the service was launched, numerous blogs have appeared,linking to the most interesting sights. Here are a selection found at GoogleSightseeing, Steetviewr, and ThreatLevel.
1.Someone apparently climbing over a fence in San Francisco
2.Borat peeking out of a window in San Jose, California
3.The already infamous 'Hot Babes' poster van driving alongside the Googletruck in Las Vegas
4.A girl bending over, and two guys watching her...
5.Ambulance driver stops for a sandwich
6.A canine disagreement
7.Strange, headless figures next to what looks like a newly dug grave
8.Giant robot attack
9.The alien invasion begins
10The moment when the Google van stopped for lunch, and the road takes adetour in the McDonald's car park
Contributed by

Editorial Team

, Executive Management Team
372659 iVirtua Loyalty Points • View Profile • Send Private Message • Back to Top