Search iVirtua
Advanced/Tag Search...
Search Users...
What is iVirtua Exclusive Community?
An exclusive gaming industry community targeted to, and designed for Professionals, Businesses and Students in the sectors and industries of Gaming, New Media and the Web, all closely related with it's Business and Industry.
A Rich content driven service including articles, contributed discussion, news, reviews, networking, downloads, and debate.
We strive to cater for cultural influencers, technology decision makers, early adopters and business leaders in the gaming industry.
A medium to share your or contribute your ideas, experiences, questions and point of view or network with other colleagues here at iVirtua Community.
Guest's Communication
Live Chat
Teamspeak (VOIP) Audio Conference
Private Messages
Check your Private Messages
Themes
Choose an iVirtua Community theme to reflect your interests...
Business Theme

India/Arabic Theme
Gaming Theme
iVirtua Recommends
Fly Emirates
Bill Gates has announced the next betas of Internet Explorer 8 andSilverlight 2 while outlining plans from Microsoft on development,services. He also took the opportunity in his valedictory keynote atTechEd in Orlando, Florida today to unveil a Steve Ballmer 'bot.
The second beta of Microsoft Silverlight cross-browser media playerand development platform will be released by the end of this week undera Go Live license. A Go Live license lets developers use pre-releasecode in real-world applications, but without the safety net ofMicrosoft support. The second beta had been promised for the secondhalf of 2008, so it's... early!
document.write('\x3Cscript src="http://ad.uk.doubleclick.net/adj/reg.software.4159/developer;cta='+cta+';ctb='+ctb+';ctc='+ctc+';sc='+sc+';cid='+cid+';'+RegExCats+GetVCs()+'pid='+RegId+RegDT+';'+RegKW+'maid='+maid+';test='+test+';pf='+RegPF+';dcove=d;sz=336x280;tile=3;ord=' + rand + '?" type="text/javascript">\x3C\/script>'); <ahref="http://ad.uk.doubleclick.net/jump/reg.software.4159/developer;dcove=d;sz=336x280;tile=3;ord=00kKItRk6jgAAHQdt@sAAAE7?"target="_blank"><imgsrc="http://ad.uk.doubleclick.net/ad/reg.software.4159/developer;dcove=d;sz=336x280;tile=3;ord=00kKItRk6jgAAHQdt@sAAAE7?"width="336" height="280" border="0" alt="" />
The second beta for IE8 is released in August in 20 languages, sohitting the summer launch, that Microsoft had previously promised.

To promote Microsoft's work on robotics Gates demoed aWindows-powered robot with a monitor showing the Steve Ballmer's face.On cue, the Robot Steve waved his arms up and down and began shouting "Developers! Developers! Developers!", after throwing an egg across the stage.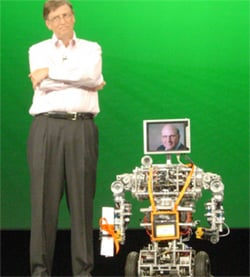 Billg ponders Microsoft under Robot Steve
Gates today hosted his last TechEd before stepping down from day-to-day activities next month after 38 years with Microsoft.

It was a stoic affair, during which Gate's sole concession toemotion came when he credited Microsoft's success to its relationshipwith developers. Gates said next-month's transition to the newtechnology leadership at Microsoft was going very well.

Microsoft has tried the patience of developers many times. There wasthe transition from Visual Basic 6.0 to Visual Basic.NET. Then theill-advised decision to stop serious work on IE, and fold it back intoWindows. That was reversed once Firefox began nibbling away at IE'smarket share.

Gates noted his company had "a renewed effort to invest in Internet Explorer".

"We are hard at work on a new version of that: IE 8 - a very creative name we came up with," he said.

He also talked up Microsoft's plans for Oslo,which will feature a new modeling language, repository, storagemechanism and way to manipulate models. A Community Technology Preview(CTP) is due this fall. The next edition of Visual Studio, meanwhile,will support the Object Management Group's Unified Modeling Language (UML).

After years of industry talk on models and re-use, neither has quitefulfilled their potential. According to Gates, Oslo will get thingsright, and take the "richness" of distributed, online services andbring them together into "one rich framework".

According to Gates, Oslo will enable ambitious forms of development.This will coincide with the rollout of more services from Microsoft,similar to SQL Server Data Services and BizTalk Server Services. Gates promised Microsoft would run these on millions of servers in its data centers, up from just hundreds of thousands today.

He said Microsoft's SharePoint Server would become the firstMicrosoft product to use enterprise search from its Fast Search andTransfer acquisition. The delayed SQL Server will be next. "Think of it as SQL Server, but it's really Fast," he said.
For all the talk of data services, there was still no date on thenext edition of SQL Server. Demonstrating SQL Server 2008, DaveCampbell, from Microsoft's data storage platform division said SQLServer 2008 would be available in the "next month or two"
Contributed by

Editorial Team

, Executive Management Team
372659 iVirtua Loyalty Points • View Profile • Send Private Message • Back to Top