Search iVirtua
Advanced/Tag Search...
Search Users...
What is iVirtua Exclusive Community?
An exclusive gaming industry community targeted to, and designed for Professionals, Businesses and Students in the sectors and industries of Gaming, New Media and the Web, all closely related with it's Business and Industry.
A Rich content driven service including articles, contributed discussion, news, reviews, networking, downloads, and debate.
We strive to cater for cultural influencers, technology decision makers, early adopters and business leaders in the gaming industry.
A medium to share your or contribute your ideas, experiences, questions and point of view or network with other colleagues here at iVirtua Community.
Guest's Communication
Live Chat
Teamspeak (VOIP) Audio Conference
Private Messages
Check your Private Messages
Themes
Choose an iVirtua Community theme to reflect your interests...
Business Theme

India/Arabic Theme
Gaming Theme
iVirtua Recommends
Fly Emirates
MSI engineers have found stimulation in the briny depths for itslatest graphics card innovation: a cooling fan with vanes modeled onseaweed.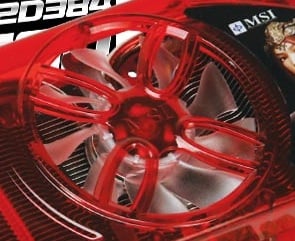 MSI's seaweed fan close up

The Taiwanese company didn't say how it came up with the notion ofbasing its technology on underwater flora, but it did claim that theblade design makes for a more regular, streamlines airflow that resultsin higher air pressure.
The upshot: a frond-formed fan that is able to cool a throbbing GPUmore efficiently than standard fans do, allowing it to spin more slowlyand therefore more quietly.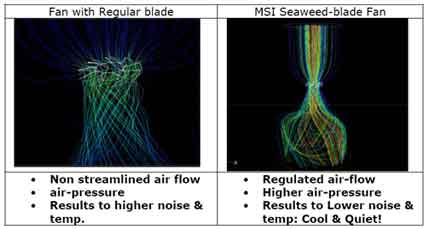 Those seaweed-shaped fan characteristics in full...

"The MSI thermal shielding extends the hood as close as possible tothe bracket to decrease turbulence cause by the unnecessary blankzone," we're also told.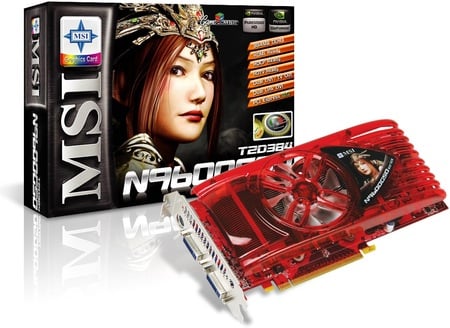 With frond regards...
Taiwanese cooling boffins, for this example of undersea arboreal inspiration, we salute you.
And the card itself? An Nvidia GeForce 9600 GSO running at 600MHzand attached to 384MB of 1.8GHz GDDR 3 memory. Two DVI ports and an HDTV output on the back, a DVI-HDMI adaptor in the box. Due to go on salesometime very soon.
Contributed by

Editorial Team

, Executive Management Team
372659 iVirtua Loyalty Points • View Profile • Send Private Message • Back to Top