Search iVirtua
Advanced/Tag Search...
Search Users...
What is iVirtua Exclusive Community?
An exclusive gaming industry community targeted to, and designed for Professionals, Businesses and Students in the sectors and industries of Gaming, New Media and the Web, all closely related with it's Business and Industry.
A Rich content driven service including articles, contributed discussion, news, reviews, networking, downloads, and debate.
We strive to cater for cultural influencers, technology decision makers, early adopters and business leaders in the gaming industry.
A medium to share your or contribute your ideas, experiences, questions and point of view or network with other colleagues here at iVirtua Community.
Guest's Communication
Live Chat
Teamspeak (VOIP) Audio Conference
Private Messages
Check your Private Messages
Themes
Choose an iVirtua Community theme to reflect your interests...
Business Theme

India/Arabic Theme
Gaming Theme
iVirtua Recommends
Fly Emirates
Nokia's latest N-series "multmedia computer" bundles a 3.2-megapixelcamera, music player, satnav and maps into a sleek go-anywhere,do-it-all device. Wherever you happen to find yourself, you'll be gladyou brought it.
The N78 is certainly a classy looking handset, and the smart touchgoes much deeper than its looks. Its sleek, gloss-black front may atfirst glance resemble the touch-sensitive minimalism of LG's oft-copiedChocolate series, but in use, all is not as it seems.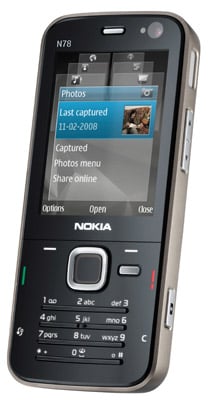 Nokia's N78: packs in feature after feature

To press the illuminated buttons you actually press the plasticcasing inwards. The cover bends to accommodate your thumb rather thanreacting purely to your touch. It might seem like a low-techalternative, but in practice it seemed more reliable than thetouch-sensitive option, which in our experience can be a bittemperamental.
Nokia's solution is a good combination of style and practicality.The numeric keypad is actually four raised plastic strips, with thenumbers backlit just above them. It looks lovely, but takes a bit ofgetting used to, and it has to be said that this keypad is far from thebest for rapid or prolonged texting.
The face of the phone oozes minimalist class, but strangely, theback feels like its made from low-grade material and creaks in yourhand, which detracts from the cool image. There's another surprisehidden in the square navpad. Rubbing your thumb around the edgeactivates what Nokia calls the "navi-wheel", which moves the cursoraround the screen without the need to press the pad.
You can also do the iTrip thing with the built-in FM transmitter andbeam your music to your car radio. Incidentally, the Navi-wheel reallycomes into its own as you scroll through your music playlists, behavinglike a tiny version of Apple's scroll wheel. Hmmm, are we sensing apattern here?
Of the few problems we encountered with this phone, there were theusual Symbian issues of running slowly when you've got severalapplications open at once, but it was nippy enough when we stuck todoing one or two things at a time and it was easy to switch offbackground applications using the aforementioned Applications button.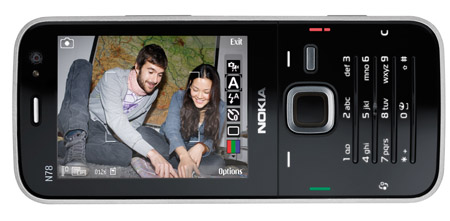 70MB of memory on board - plus a Micro SD slot for more

If the 3.6Mb/s HSDPA connection isn't fast enough, you can alsoconnect over Wi-Fi. The usual N-series web browser is here in fulleffect, with options for viewing in landscape or portrait mode, pluszoom and the ability to flick through previously viewed pages. There'salso a PDF viewer and QuickOffice for viewing Microsoft Officedocuments, though if you want to create them you'll have to pay for thefull Office suite.
And as a Symbian phone there are of course plenty more third-party apps available.
Battery life was pretty good, and we got a good three days ofmoderate use out of it, though heavy browsing will of course reducethis quite dramatically.
VerdictFrom its sleek, minimalist good looks to its raft of impressivelywell-integrated features, the N78 is a gorgeous little number. The3.2-megapixel camera, feature-packed music player, A-GPS and maps,quality web browser plus documents readers and email make it an idealtravelling companion for business or pleasure.
Contributed by

Editorial Team

, Executive Management Team
372659 iVirtua Loyalty Points • View Profile • Send Private Message • Back to Top