Search iVirtua
Advanced/Tag Search...
Search Users...
What is iVirtua Exclusive Community?
An exclusive gaming industry community targeted to, and designed for Professionals, Businesses and Students in the sectors and industries of Gaming, New Media and the Web, all closely related with it's Business and Industry.
A Rich content driven service including articles, contributed discussion, news, reviews, networking, downloads, and debate.
We strive to cater for cultural influencers, technology decision makers, early adopters and business leaders in the gaming industry.
A medium to share your or contribute your ideas, experiences, questions and point of view or network with other colleagues here at iVirtua Community.
Guest's Communication
Live Chat
Teamspeak (VOIP) Audio Conference
Private Messages
Check your Private Messages
Themes
Choose an iVirtua Community theme to reflect your interests...
Business Theme

India/Arabic Theme
Gaming Theme
iVirtua Recommends
Fly Emirates
Nvidia has posted a version of its PhysX software that enables thephysics-on-GPU technology on its GeForce GTX 200-series and 9800 GTXgraphics chips.
The new release, version 8.06.12, was posted last night, builds onsoftware Nvidia acquired when it bought physics chip specialist Ageiain February this year. Like past versions of the PhysX code, the newversion also runs on Ageia PhysX chips.
But the crucial change is support for Nvidia GPUs for which thelatest version of the company's Forceware drivers are required: 177.39,an advance on the version currently available from Nvidia's Forcewaredownload page, which is 177.35, released a couple of weeks ago.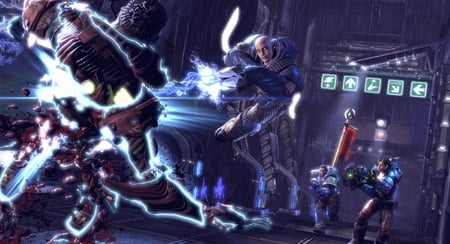 Unreal Tournament 3: zapped, physically

The new drivers run on Windows XP and both the 32- and 64-bit incarnations of Vista.
Of course, you also need an app that can take advantage of the GPUand the physics code, and for that Nvidia offers a link to the Unreal Tournament 3PhysX Mod Pack, which incorporates a couple of new arenas to show ofthe game's "maximum impact" physics effects, which include damage tothe world in which the games is set, a whirlwind hazards that sweepsaround the battlefield, and weapons that can pull debris towards theplayer.
The PhysX code is available from Nvidia's website here, while the Unreal Tournament add-on can be downloaded here.
Contributed by

Editorial Team

, Executive Management Team
372659 iVirtua Loyalty Points • View Profile • Send Private Message • Back to Top