Search iVirtua
Advanced/Tag Search...
Search Users...
What is iVirtua Exclusive Community?
An exclusive gaming industry community targeted to, and designed for Professionals, Businesses and Students in the sectors and industries of Gaming, New Media and the Web, all closely related with it's Business and Industry.
A Rich content driven service including articles, contributed discussion, news, reviews, networking, downloads, and debate.
We strive to cater for cultural influencers, technology decision makers, early adopters and business leaders in the gaming industry.
A medium to share your or contribute your ideas, experiences, questions and point of view or network with other colleagues here at iVirtua Community.
Guest's Communication
Live Chat
Teamspeak (VOIP) Audio Conference
Private Messages
Check your Private Messages
Themes
Choose an iVirtua Community theme to reflect your interests...
Business Theme

India/Arabic Theme
Gaming Theme
iVirtua Recommends
Fly Emirates
Because we think it's informative to see how OS X performs on a computer that isn't a Mac, Macworld ordered a Psystar Open Computer about a week or so ago. The machine, which Psystar touts as a low-cost alternative to Apple's hardware, has arrived in our lab, where we plan to put it to the test, just like the home-made Mac built by our own Rob Griffiths.

Thesystem we bought from Psystar features a 2.2GHz Intel Core 2 Duoprocessor, 2GB of 667MHz RAM, and a 250GB Hard Drive (specifically, aHitachi Deskstar in our machine). Though the base model includesIntel's integrated graphics, we splurged and purchased an NvidiaGeForce 8600GT for $110 so that we could test the Open Computer withboth cards.

I ordered our Open Computer directly from thePsystar Web site, since that was the only way to place an order at thetime. (Psystar now offers sales over the phone.) Originally, I placedan order for an Open Computer without OS X installed—Psystar charges$155 to install the operating system, and I figured we could save a fewbucks on our order with a little do-it-yourself know-how. But a fewdays after ordering, I called Psystar looking for a status update. Alive human being answered the phone—somewhat surprising to me, giventhe storiesthat had appeared about the company immediately after it announcedplans to sell a Mac clone—and put me on hold to look up the order.Moments later, another Psystar employee came on the line and stronglysuggested that I pay to have OS X pre-installed. He explained that,unlike the Windows and Linux, installing OS X is a very difficult andcomplicated process and that the company does not provide installationinstructions for OSX. I reluctantly pulled out the credit card, and thesystem shipped out to us a few days later. The system cost us $399.99,plus $50 for a FireWire card. Add in the $110 graphics card and the$155 OS installation, and the machine cost $714.99; shipping broughtthe price to $751.47.

As I mentioned above, we're currentlytesting the Open Computer to see how it performs compared to anhonest-to-goodness Mac. But here are some first impressions gleanedfrom receiving and setting up the machine…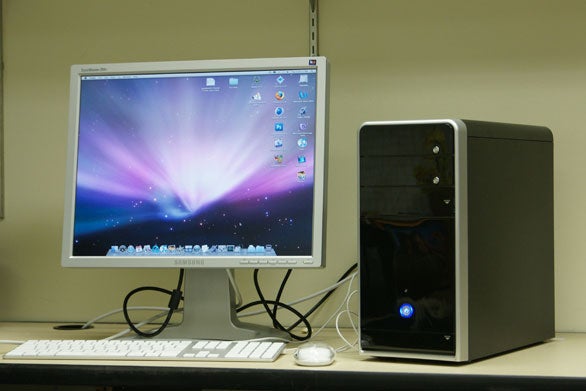 The Psystar Open Computer, resting comfortably in our Lab

IfPsystar is all about giving you the Mac OS X experience at a moreaffordable price, it was obvious right away that product packaging isone area where the company is looking to trim costs. When the boxarrived, we found it stuffed with white foam packing peanuts, makingthe unpacking process a big mess—I hate those things. The Open Computerwas just sitting in there with the packing peanuts, with nothingcovering it. Some of the doors on the front of the case that cover theoptical drive and the USB ports were a ajar with little pieces of thepacking peanuts lodged in there. After we cleared out the offendingbits, the doors closed properly and the computer appeared to be noworse for wear.
We had a bit of scare, however, when we tried to start up thecomputer. As soon as I hit the power button it sounded like I'd turnedon the garbage disposal. I quickly unplugged the power cable and openedthe case. It turns out that one of the power cables was getting caughtin the fan. I rerouted the cable and restarted. The crunching sound ofthe cable hitting the fan was gone, but the fan was still pretty darnloud. You won't want this computer sitting on your desk.

After using Rob's home-made Frankenmacfor a few days last week, I was prepared for all of those elegant PCBIOS and bootup screens. Unlike Rob's machine though, there were noother visible partitions or operating systems stored on the hard drive.Once the Open Computer was all booted up, I was able to plug in aFireWire drive and have it be recognized. The system asked if I wantedto use the external drive as a Time Machine backup drive, and I clickedYes. And though the icon of the drive changed to reflect its new statusas Time Machine volume, the backup would immediately fail each time itattempted to run.

The Psystar site features a pagewith lots of available software update downloads, including one forfixing Time Machine errors. Psystar turns off the Mac OS's automaticSystem Update feature, so you need to download and install updatesmanually. One might think that the company would send you a machinethat's as up-to-date as possible, but that's not the case. I calledPsystar tech support and learned that the company will offer a downloadin the next couple weeks that will enable Psystar users to takeadvantage of Apple's Software Update utility.

Macworld Labuses Migration Assistant to transfer our Speedmark user files andfolders to our test system from a clean system booted into FireWireTarget Disk Mode, and that process worked just fine with the OpenComputer. We found, however, that we were unable to boot the OpenComputer into FireWire Target disk mode. The tech support person didn'tthink that Psystar offered that feature. Other startup options, likeSafeBoot, zapping of PRAM, and startup drive selection via the Optionkey are also not available.

I tried cloning the internal drive to an external FireWire drive using Carbon Copy Cloner.It cloned successfully, but I was unable to boot from it, even though amessage said the volume would be bootable. It sounds like a couple of folksin the Psystar forums were able to find a way to do it, but theyweren't giving out specific instructions. We'll continue to look intothat.

That said, I've been impressed by how compatiblethe Psystar is with applications and peripherals—many of the OS Xfeatures work as they would on a legitimate Mac. Look for Speedmarkresults for our Open Computer, as well as other interesting tidbits wecome across, in the coming days.
Contributed by

Editorial Team

, Executive Management Team
372659 iVirtua Loyalty Points • View Profile • Send Private Message • Back to Top