Search iVirtua
Advanced/Tag Search...
Search Users...
What is iVirtua Exclusive Community?
An exclusive gaming industry community targeted to, and designed for Professionals, Businesses and Students in the sectors and industries of Gaming, New Media and the Web, all closely related with it's Business and Industry.
A Rich content driven service including articles, contributed discussion, news, reviews, networking, downloads, and debate.
We strive to cater for cultural influencers, technology decision makers, early adopters and business leaders in the gaming industry.
A medium to share your or contribute your ideas, experiences, questions and point of view or network with other colleagues here at iVirtua Community.
Guest's Communication
Live Chat
Teamspeak (VOIP) Audio Conference
Private Messages
Check your Private Messages
Themes
Choose an iVirtua Community theme to reflect your interests...
Business Theme

India/Arabic Theme
Gaming Theme
iVirtua Recommends
Fly Emirates
Samsung has developed what it claims its the world's first LCD panelwith a 240Hz image frame rate - double that offered by top-end LCDtellies today.
The South Korean giant said it will be showing off a 15in prototypenext week, but admitted it will be three years before the newtechnology goes into mass-production.
Samsung calls its new panel design "Blue Phase". Panels willincorporate image processing circuitry that will turn an image movingat, say, 60 frames a second into one that changes 240 times a second.The three extra frames displayed each cycle - instead of one framethere are now four - are generated by interpolating them from theoriginal frame and the one that would otherwise come after it.
The upshot, the company claimed, will be even smoother movement and no motion blur.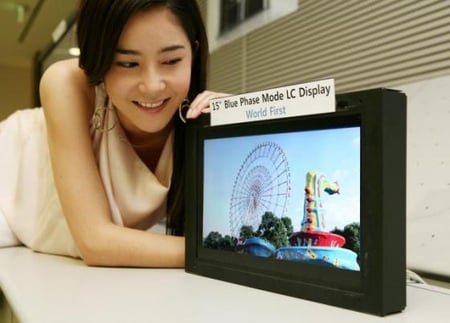 Samsung's Blue Phase prototype: no blurring, cheap to make

How come? More frames per cycle means fewer differences betweenthose frames, so there is less opportunity for the viewer to noticewhen the LCD flips its pixels from one frame to the next. It's thatperception of change as the screen flips from one frame to the next,almost instantaneously, that causes the eye to see blurred movement in50Hz and 60Hz video.
The potential flaw is that some folk already complain that 120Hz TVsproduce movement that's too smooth, it seeems unnatural. That's surelyonly going to get worse when you double the frame rate again.
But Blue Phase isn't only about upping the effective frame rate ofthe image to 240Hz but also enhancing the structure of the display toyield better viewing angles, black intensity and colour reproduction.
Samsung's current LCD panels use the S-PVA - Super Pattern VerticalAlignment - mode, which is essentially the pattern of the pixels placedon the panel. S-PVA is good for high contrast ratios, in turn yieldinggood blacks, but the downside is the way colours can appear to changeas the angle at which the viewer looks at the panel changes.
S-PVA incorporates alignment layers to ensure the red, green andblue pixels correctely form single-colour vertical bands across theface of the panel, and while Blue Phase also uses this verticalalignment, it's able to generate the pattern automatically, without theneed for extra production processes.
That, Samsung claimed, will make Blue Phase panels - when they do arrive - much cheaper to make.
Contributed by

Editorial Team

, Executive Management Team
372659 iVirtua Loyalty Points • View Profile • Send Private Message • Back to Top