Search iVirtua
Advanced/Tag Search...
Search Users...
What is iVirtua Exclusive Community?
An exclusive gaming industry community targeted to, and designed for Professionals, Businesses and Students in the sectors and industries of Gaming, New Media and the Web, all closely related with it's Business and Industry.
A Rich content driven service including articles, contributed discussion, news, reviews, networking, downloads, and debate.
We strive to cater for cultural influencers, technology decision makers, early adopters and business leaders in the gaming industry.
A medium to share your or contribute your ideas, experiences, questions and point of view or network with other colleagues here at iVirtua Community.
Guest's Communication
Live Chat
Teamspeak (VOIP) Audio Conference
Private Messages
Check your Private Messages
Themes
Choose an iVirtua Community theme to reflect your interests...
Business Theme

India/Arabic Theme
Gaming Theme
iVirtua Recommends
Fly Emirates
151 results for javascript
Screw Javascript - Use CSS to create a lightbox effect in Programming, Web and Software Design/Development
This CSS and

JavaScript

are not working in IE6.
Posted by tarun.jadav Thu Aug 07, 2008 8:35 am
Nokia opens Download Store - browse and buy software in Entertainment, Film and Music, Mobile devices and media
The PC Download Store was supposed to be the desktop equivalent ofthe "Download" application pre-installed on every S60 phone from Nokia.Download supposedly offers content from providers such as Amazon andJamster, though the former only features an application that loadstheir mobile home page, while the latter flaunts a range of items,though they're all just the first step onto their subscription service.
tile++; document.write('\x3Cscript src="http://ad.uk.doubleclick.net/adj/reg.comms.4159/mobile;cta='+cta+';ctb='+ctb+';ctc='+ctc+';sc='+sc+';cid='+cid+';'+RegExCats+GetVCs()+'pid='+RegId+RegDT+';'+RegKW+';test='+test+';pf='+RegPF+';dcove=d;tile='+tile+';sz=336x280;ord=' + rand + '?" type="text/

javascript

">\x3C\/script>'); <ahref="http://ad.uk.doubleclick.net/jump/reg.comms.4159/mobile;dcove=d;sz=336x280;ord=PGKfNdRk6jgAABNCQZoAAADr?"target="_blank"><imgsrc="http://ad.uk.doubleclick.net/ad/reg.comms.4159/mobile;dcove=d;sz=336x280;ord=PGKfNdRk6jgAABNCQZoAAADr?"width="336" height="280" border="0" alt="" />
In that context the Nokia Download Store is a comparable service.Originally envisaged as a PC application for downloading and managingapplications and tightly integrated with Nokia's PC Suitesynchronisation software, PC Download Store is now an online softwareemporium.

Or so it would appear, except that all the software on offer ismarked as "Try For Free", with no pricing information on the site atall. Even that would be tolerable if the software offered really wasavailable for trial, but try to download an application and as soon asit's installed you'll be asked to send a premium-rate text to pay forit.
So we now have N-Gage for games, Ovi for music and maps, forapplications and maps PC Download and MOSH for community stuff: whosays Nokia's on-line strategy is hopelessly confused?
Posted by Editorial Team Tue Jun 17, 2008 5:20 am
Microsoft to send high-speed net traffic over whitespace in Microsoft / Windows
Microsoft has a plan for sending high-speed net traffic over America's television whitespaces. And it's sure the country will eat some serious foreign dust ifthis plan gets snuffed.
Quote:

"Across the nation, there are vast swathes of unoccupied TVspectrum, and we - along with other tech companies - are asking thatthis spectrum be used for a what is essentially WiFi on steroids,"Microsoft senior director of public policy Marc Berejka said yesterdayduring a panel discussion at Santa Clara University.
tile++; document.write('\x3Cscript src="http://ad.uk.doubleclick.net/adj/reg.comms.4159/wireless;cta='+cta+';ctb='+ctb+';ctc='+ctc+';sc='+sc+';cid='+cid+';'+RegExCats+GetVCs()+'pid='+RegId+RegDT+';'+RegKW+';test='+test+';pf='+RegPF+';dcove=d;tile='+tile+';sz=336x280;ord=' + rand + '?" type="text/

javascript

">\x3C\/script>'); <ahref="http://ad.uk.doubleclick.net/jump/reg.comms.4159/wireless;dcove=d;sz=336x280;ord=DDxucdRk6jcAABXRLpwAAADE?"target="_blank"><imgsrc="http://ad.uk.doubleclick.net/ad/reg.comms.4159/wireless;dcove=d;sz=336x280;ord=DDxucdRk6jcAABXRLpwAAADE?"width="336" height="280" border="0" alt="" />
"If we fail on white spaces, what does that mean for the country'sreputation in the world as innovators? We have the potential to beleaders on spectrum policy, but if we don't push white spaces through,it will happen somewhere else. Some country will take the lead, andentrepreneurs will innovate over there."


But as Berejka admits, not everyone agrees with him. This whitespace idea is opposed by the nation's TV broadcasters, the wirelessmicrophone industry, and hospitals who like to monitor people walking through their hallways. Not to mention the other panelists at yesterday's Media Access Project Innovation 08 gathering.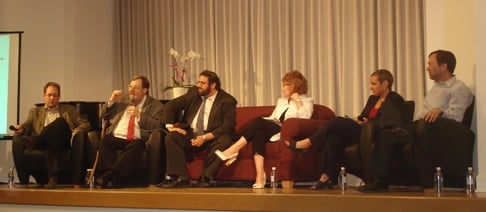 Analyst Coleman Bazelon, economist Gregory Rose,
Media Access Project's Harold Feld, CTIA's Carolyn Brandon,
Columbia Telecommunications' Joanne Hovis, Microsoft's Marc Berejka
Microsoft wants to turn America's white spaces - portions of the TV band that aren'tused for broadcasting - into unlicensed spectrum. That means anyonecould buy devices off-the-shelf and grab some wireless bandwidth - aswe now do with WiFi. The difference is that this spectrum offers muchbetter propagation properties. Those net-centric wireless signals couldtravel over much longer distances - and at higher speeds.

One of Berejka's fellow panelists, industry analyst Coleman Bazelon,isn't opposed to using the white spaces for net access. But he doesn'tlike the unlicensed idea. "I agree that [the white space spectrum] is avaluable resource that's up for grabs," said Bazelon, a principal withthe Battle Group. "But if we don't license it and put it into the handsof companies that will invest in infrastructure to develop, it's goingto be wasted."

Of course, if it is licensed and auctioned off to the highestbidder, it will likely fall into the hands of the wireless old guard.Think AT&T and Verizon. After all, that was the inevitable resultof the epic 700-MHz auction. Officially, Microsoft has nothing but good thingsto say about the old guard, but in this case, it wants truly openairwaves. Redmond has even gone so far as to partner with Google on itswhite spaces project. Yes, Google.

At yesterday's panel, the old guard was represented by the CTIAwireless association. And naturally, the association said it wouldprefer that the white spaces be auctioned off to the highest bidder.

"We don't think white spaces should be given away for free," saidCarolyn Brandon, the CTIA's vice president of policy. "Some of ourmembers have suggested that the white spaces be auctioned off forbackhaul. Some have suggested that's not an important enough use, butwe say 'Let the market decide what the best use is.'"
So Microsoft tells the truth. If its white space plan bites thedust, so does at least a certain amount of American innovation. That'sright: We're siding with Redmond on this one.
Posted by Editorial Team Tue Jun 17, 2008 5:12 am
Internet Explorer 8 beta 2 and Silverlight beta 2 in Software
Bill Gates has announced the next betas of Internet Explorer 8 andSilverlight 2 while outlining plans from Microsoft on development,services. He also took the opportunity in his valedictory keynote atTechEd in Orlando, Florida today to unveil a Steve Ballmer 'bot.
The second beta of Microsoft Silverlight cross-browser media playerand development platform will be released by the end of this week undera Go Live license. A Go Live license lets developers use pre-releasecode in real-world applications, but without the safety net ofMicrosoft support. The second beta had been promised for the secondhalf of 2008, so it's... early!
document.write('\x3Cscript src="http://ad.uk.doubleclick.net/adj/reg.software.4159/developer;cta='+cta+';ctb='+ctb+';ctc='+ctc+';sc='+sc+';cid='+cid+';'+RegExCats+GetVCs()+'pid='+RegId+RegDT+';'+RegKW+'maid='+maid+';test='+test+';pf='+RegPF+';dcove=d;sz=336x280;tile=3;ord=' + rand + '?" type="text/

javascript

">\x3C\/script>'); <ahref="http://ad.uk.doubleclick.net/jump/reg.software.4159/developer;dcove=d;sz=336x280;tile=3;ord=00kKItRk6jgAAHQdt@sAAAE7?"target="_blank"><imgsrc="http://ad.uk.doubleclick.net/ad/reg.software.4159/developer;dcove=d;sz=336x280;tile=3;ord=00kKItRk6jgAAHQdt@sAAAE7?"width="336" height="280" border="0" alt="" />
The second beta for IE8 is released in August in 20 languages, sohitting the summer launch, that Microsoft had previously promised.

To promote Microsoft's work on robotics Gates demoed aWindows-powered robot with a monitor showing the Steve Ballmer's face.On cue, the Robot Steve waved his arms up and down and began shouting "Developers! Developers! Developers!", after throwing an egg across the stage.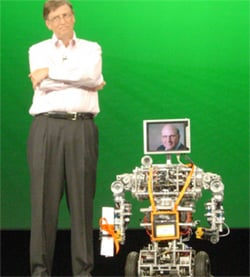 Billg ponders Microsoft under Robot Steve
Gates today hosted his last TechEd before stepping down from day-to-day activities next month after 38 years with Microsoft.

It was a stoic affair, during which Gate's sole concession toemotion came when he credited Microsoft's success to its relationshipwith developers. Gates said next-month's transition to the newtechnology leadership at Microsoft was going very well.

Microsoft has tried the patience of developers many times. There wasthe transition from Visual Basic 6.0 to Visual Basic.NET. Then theill-advised decision to stop serious work on IE, and fold it back intoWindows. That was reversed once Firefox began nibbling away at IE'smarket share.

Gates noted his company had "a renewed effort to invest in Internet Explorer".

"We are hard at work on a new version of that: IE 8 - a very creative name we came up with," he said.

He also talked up Microsoft's plans for Oslo,which will feature a new modeling language, repository, storagemechanism and way to manipulate models. A Community Technology Preview(CTP) is due this fall. The next edition of Visual Studio, meanwhile,will support the Object Management Group's Unified Modeling Language (UML).

After years of industry talk on models and re-use, neither has quitefulfilled their potential. According to Gates, Oslo will get thingsright, and take the "richness" of distributed, online services andbring them together into "one rich framework".

According to Gates, Oslo will enable ambitious forms of development.This will coincide with the rollout of more services from Microsoft,similar to SQL Server Data Services and BizTalk Server Services. Gates promised Microsoft would run these on millions of servers in its data centers, up from just hundreds of thousands today.

He said Microsoft's SharePoint Server would become the firstMicrosoft product to use enterprise search from its Fast Search andTransfer acquisition. The delayed SQL Server will be next. "Think of it as SQL Server, but it's really Fast," he said.
For all the talk of data services, there was still no date on thenext edition of SQL Server. Demonstrating SQL Server 2008, DaveCampbell, from Microsoft's data storage platform division said SQLServer 2008 would be available in the "next month or two"
Posted by Editorial Team Wed Jun 04, 2008 5:31 am
Adobe Dreamweaver, Fireworks and Soundbooth CS4 Public Betas in Film, Photography, Digital Animation, Broadcasting / Production
Adobe announced that public betas of the CS4 version of Dreamweaver, Fireworks and Soundbooth are now available at Adobe labs.While the downloads are publicly available, only existing CS3 ownerswill be able to use the beta software beyond an initial 48 hour window.
TheDreamweaver beta for Web design and development, the Fireworks beta forprototyping, and the Soundbooth beta for audio creating and editing,demonstrate the direction that Adobe Creative Suite is taking withfeatures and technologies that will simplify and streamline design anddevelopment workflows across all media. The betas also offer users theopportunity to give Adobe feedback for further product development.
Adobe lists the new features included in each beta on their respective pages: Dreamweaver CS4, Fireworks CS4, Soundbooth CS4.

The firm said the betas are available to anyone wanting to test the products. However they will only be active for 48 hours after download, and after that only Creative Suite 3 customers will be able to continue using them.

Features in the Dreamweaver beta include Code Navigator and a Related Files Toolbar that allows developers to view pages containing links to embedded XML data,

JavaScript

docs and HTML files.

The Fireworks beta is compatible with the firm's rich web product Adobe Integrated Runtime (AIR) as well as Flash, HTML and Flex builder.

Soundbooth's beta comes loaded with audio production features that include a speech-to-text option, multiple track support to edit audio clips and to tweak volume levels across audio files. MP3 compression settings can also be previewed before users save the file.

Creative Suite 4 is expected to ship late this year or in early 2009.
Posted by Editorial Team Tue May 27, 2008 5:59 pm
Javascript Super Mario Kart in General Discussion, including Off Topic, Current Affairs
http://www.nihilogic.dk/labs/mariokart/

The (minified) code weighs in at about 11 Kb, but unlike the Mario gamefrom last month, this one uses several external image files. This wasmore a test of how smooth I could get a game like this to feel, anyway,so filesize wasn't an issue. I think it runs pretty ok, though.

Thereare a couple of rendering settings you can play with. "Quality"controls how many horizontal lines are rendered, "Screen scale"controls the size of the screen (duh). Both trade visual appearance forperformance.

There are also two different rendering modes. The"Single canvas" mode seems the fastest for all browsers. For thetechnically curious, the difference is in the way each horizontal lineis rendered. In the single canvas mode every line is drawn unto thesame large canvas, whereas in the "Per-line canvas" mode, each line hasit's own canvas. They both give different visual appearances, so trythem out if you want.

The sprites were all found at The Shyguy Kingdom and the maps were found at Rick N. Bruns' snesmaps.com, so thanks to those two sites!

Sofar, it's just racing. No weapons or any of that fancy stuff. At themoment, you can choose from 3 different drivers (Mario, Luigi andPrincess Peach) and 2 different maps (Mushroom Cup Round 1 and 2).There is no lap count, no timer and no finish. You can just race aroundforever and try to beat the others (it's not hard, especially if cut afew corners). The AI is rather crude, but seems to work ok for the timebeing.

There is (simple) collision detection against theboundaries of the map and the colored "blocking" blocks, but notagainst the karts, so you can't crash into the other drivers. Drivesafely, anyway!

Click here to race!
Posted by Editorial Team Sat May 24, 2008 7:07 pm
Cornish language on 'brochures, street signs' made official in General Discussion, including Off Topic, Current Affairs
Supporters of the Cornish language have, following "more than two years of passionate negotiations", agreedon an essential for official recognition of and funding for theirtongue - a "Standard Written Form" (SWF) designed to unify thedisparate versions of the revived lingo.
According to the Telegraph, the last native Cornishspeaker, Dorothy Pentreath, died in 1777 at Mousehole. In the early20th century, the language was raised from the grave and currentlyboasts around 300 fluent speakers.
document.write('\x3Cscript src="http://ad.uk.doubleclick.net/adj/reg.oddsandsods.4159/bootnotes;cta='+cta+';ctb='+ctb+';ctc='+ctc+';sc='+sc+';cid='+cid+';'+RegExCats+GetVCs()+'pid='+RegId+RegDT+';'+RegKW+'maid='+maid+';test='+test+';pf='+RegPF+';dcove=d;sz=336x280;tile=3;ord=' + rand + '?" type="text/

javascript

">\x3C\/script>'); <ahref="http://ad.uk.doubleclick.net/jump/reg.oddsandsods.4159/bootnotes;dcove=d;sz=336x280;tile=3;ord=B9C6DtRk6jcAAAwtps4AAAFC?"target="_blank"><imgsrc="http://ad.uk.doubleclick.net/ad/reg.oddsandsods.4159/bootnotes;dcove=d;sz=336x280;tile=3;ord=B9C6DtRk6jcAAAwtps4AAAFC?"width="336" height="280" border="0" alt="" />
However, in resurrecting Cornish, enthusiasts deployed "varioussources from different eras", leading to several written versions,including Modern Cornish, Unified Cornish, Unified Cornish Revised,Kernewek Dasunys, Kernewek Kemmyn and Kernowak Standard.

The matter was finally resolved by a linguistic SWAT team led byNorwegian Trond Trosterud. Working with the Cornish LanguagePartnership (CLP), it was able to largely satisfy the rival factionswho voted earlier this month to ratify a SWF Specification (pdf).

Cornish speaker and CLP development officer, Jenefer Lowe, said:"There were scholastic disagreements and some pretty firmly heldopinions but we managed to reach agreement in the end. The standardform draws on the forms already in existence. This means that users ofany form will find much that is familiar, alongside some differences."
The agreement paves the way for EU cash in support of the Cornishrevival, and the SWF will now be rolled out across "brochures,pamphlets and on street signs".
Posted by Editorial Team Wed May 21, 2008 10:05 am
The concise definition of Web 1.0,Web 2.0 and Web 3.0 in Programming, Web and Software Design/Development
t seems that everyone has their own idea of what Web 2.0 means.Thatis one of the pitfalls to using a single buzzword to define everythingyou see on the internet. I have heard people describing nearly everynew website as being Web 2.0 as if it was describing the launch date ofa site. The term ironically is the most popular category on ResourcefulIdiot. In leu of this, I am going to finally give you the definition ofWeb 2.0 and the principles that define it. In order to do that however,I need to start from the beginning with Web 1.0.



You can group each of the "Web x.x" as a different movement when itcomes to internet usage. Web 1.0 is the movement that took place duringthe beginning of the internet.




Think AOL, Geocities, and Netscape.



Back then the primary use of the internet was taking print media andposting it online. Web 1.0 saw books, news, music and everything elsebeing moved into a digital format. This movement is still going on andwill probably never stop. This is because as new data becomes availableit needs to be made available online, but the majority of the communityhas shifted focus toward data integration since there is not muchinnovation remaining in posting data online.
Now that brings us to Web 2.0. Many think that this is the currentmovement of the internet, and in some ways you are correct. After allthis data was posted online with the Web 1.0 movement, the onlinecommunity began to look for ways to share all of this data. The mainquestion that drove this movement, "How can I take this data and shareit with other people?" Since this question was asked, sites have poppedup all over the internet trying to answer this question with differentapproaches. One of the most adopted solutions involves the idea ofsocial networking.




Facebook is a popular Web 2.0 site utilizing social networking as a solution



All of these sites, like Facebook, use the concept of a socialnetworking to create a community. Each community member is responsiblefor contributing information to the rest of the users. Even thoughsocial networking is the most popular approach, another prominentapproach is the development and utilization of web services. I wrote anarticle a few weeks ago about different web services and their technologies (REST and SOAP),and I mentioned that the majority of sites you visit have a web servicerunning in the background. These services allow you to integrate databetween sites through API's (Application Programming Interface) such asyou see on Flickr and Amazon. RSS/Atom feeds are also products of the Web 2.0 movement. This movement is still very much alive and being actively addressed.
Now to look into the upcoming movements, Web 3.0. It is difficult todefine what Web 3.0 will be as you cannot define something that has yetto occur on a large scale. The best way I can define what we will seewith this movement is the integration of data on the internet. Now thatthe data is online thanks to Web 1.0 and sites can share data throughAPI's and social networks (Web 2.0), the next obvious direction is todo something with this massive amount of data we have available. Acommon way of describing this is the use of internet as a platform.With Web 3.0 applications we will see the data being integrated andapplying it into innovative ways that were never possible before.Imagine taking things from Amazon, integrating it with data from Googleand then building a site that would define your shopping experiencebased on a combination of Google Trends and New Products. This is justa random (possibly horrible) example of what Web 3.0 applications willharness. An illustration would be to draw nodes to represent all thesites on the internet and then draw a new node. Draw lines from allthose existing nodes into the one you just created. The consumption andpresentation of the data is what Web 3.0 will potentially be.
The definitions of Web x.x terms is highly debatable. Even whenwriting this, I was told that technology is what defines Web 2.0. Theuse of

Javascript

and AJAX is the "essence" of Web 2.0. However, thesetechnologies have been around since Web 1.0 so obviously this isincorrect. The technologies that have been developed during thesephases are simply there to help answer the question in a more accurateway. To prove my point let's look at history. The guillotine did notdefine the Enlightenment movement back in the 1700s, the guillotine wasdeveloped in response to the questions the Enlightenmentmovement sought answers for (in this case, "Humane death").
Posted by Editorial Team Fri May 16, 2008 4:47 am
RM to push new HP sub-laptop to schools in Microsoft / Windows
RM has been signed up as HP's only UK distie for its 2133 Mini-Note laptop intended for the education market.



The firm said that it has tied up an "exclusive partnership" tosupply schools and colleges across Blighty with HP's dinky newsub-notebook.
document.write('\x3Cscript src="http://ad.uk.doubleclick.net/adj/reg.channel.4159/hardware;cta='+cta+';ctb='+ctb+';ctc='+ctc+';sc='+sc+';cid='+cid+';'+RegExCats+GetVCs()+'pid='+RegId+RegDT+';'+RegKW+'maid='+maid+';test='+test+';pf='+RegPF+';dcove=d;sz=336x280;tile=3;ord=' + rand + '?" type="text/

javascript

">\x3C\/script>'); <ahref="http://ad.uk.doubleclick.net/jump/reg.channel.4159/hardware;dcove=d;sz=336x280;tile=3;ord=AOHqntRk6jgAABK76EgAAAJE?"target="_blank"><imgsrc="http://ad.uk.doubleclick.net/ad/reg.channel.4159/hardware;dcove=d;sz=336x280;tile=3;ord=AOHqntRk6jgAABK76EgAAAJE?"width="336" height="280" border="0" alt="" />
The computer giant launched the machine, which rivals the Asus EeePC, earlier this week. RM will begin selling the unit in May in the UKand Ireland with a price tag of around Ł299.

RM started flogging the Asus sub-notebook to school kids across the land last November.

RM CEO Tim Pearson claimed: "Low-cost, high capability computingdevices like the HP Mini-Note mean that educational establishments canrealistically aim for one computer per student."

In related RM news, the company on Monday acquired a 25 per centstake in Inclusive Technology Ltd, which supplies special educationalneeds and early years' products and services in the UK.
Financial terms of the deal were kept secret.
Posted by Editorial Team Mon May 12, 2008 10:22 am
India and Belgium concern over Chinese cyber attacks in Business and Industry in Gaming, Media, Web, IT and Computing
Belgium and India have joined the growing ranks of countries voicingconcerns about cyber attacks originating from China. Earlier this week,officials from both countries said computer networks inside theirborders are routinely targeted by hackers trying to ferret informationthat could benefit the Chinese government.
Belgian Justice Minister Jo Vandeurzen said he had evidence that theCommunist Party of China is behind recent espionage attacks against hiscountry. They were carried out by sending spyware attached to emailsaddressed to Belgian state departments, according to news reports here and here.
document.write('\x3Cscript src="http://ad.uk.doubleclick.net/adj/reg.public_sector.4159/government;cta='+cta+';ctb='+ctb+';ctc='+ctc+';sc='+sc+';cid='+cid+';'+RegExCats+GetVCs()+'pid='+RegId+RegDT+';'+RegKW+'maid='+maid+';test='+test+';pf='+RegPF+';dcove=d;sz=336x280;tile=3;ord=' + rand + '?" type="text/

javascript

">\x3C\/script>');<!-- Template Id = 1 Template Name = Banner Creative (Flash) --><!-- Copyright 2002 DoubleClick Inc., All rights reserved. --><ATARGET="_blank"HREF="http://ad.uk.doubleclick.net/click%3Bh=v8/36bb/3/0/%2a/d%3B201780153%3B0-0%3B0%3B26484751%3B4307-300/250%3B26252974/26270828/1%3B%3B%7Efdr%3D201087009%3B0-0%3B5%3B25387739%3B4252-336/280%3B26177564/26195418/1%3B%3B%7Esscs%3D%3fhttp://www.hp.com/uk/mfp?jumpid=reg_R1002_UKEN?jumpid=ex_r197_1-mrmid_uk_en_SMB_ipg/sb/Registermngt_mpu/mfp"><IMGSRC="http://m.uk.2mdn.net/535967/B3_300x250.gif" alt="" BORDER=0>
<ahref="http://ad.uk.doubleclick.net/jump/reg.public_sector.4159/government;dcove=d;sz=336x280;tile=3;ord=iOyVvtRk6j0AAFk3yFQAAAIj?"target="_blank"><imgsrc="http://ad.uk.doubleclick.net/ad/reg.public_sector.4159/government;dcove=d;sz=336x280;tile=3;ord=iOyVvtRk6j0AAFk3yFQAAAIj?"width="336" height="280" border="0" alt="" />
Chinese hackers are targeting Belgium because the European Union andNATO have their headquarters in Brussels, officials said. Belgium'sties to Africa, which China increasingly relies on for energy exports,also makes it attractive.

Indian officials, meanwhile, said that over the past year and ahalf, China has mounted almost daily attacks on networks belonging tothe government and India's private sector. "The core of the assault isthat the Chinese are constantly scanning and mapping India's officialnetworks," The Times of India reports."This gives them a very good idea of not only the content but also ofhow to disable the networks or distract them during a conflict."

Other countries claiming they are under sustained attacks by Chinainclude the US, the UK, France and Germany. According to some reports,hackers who stole a large amount of sensitive informationfrom the US Pentagon last June were based in China. An assessmentreleased by the Department of Defense in March said espionage is a keytool used to improve China's technology might.

Last month the FBI was reportto be investigating the possibility Chinese hackers have installedbackdoors in sensitive government networks using counterfeit Ciscorouters.

More recently, researchers have uncovered evidence that patriotic Chinese citizens are spontaneously volunteering to mount distributed denial-of-service attacks on CNN following its coverage of people protesting the Olympic torch relay.
So far, the countries have provided little proof that Chinesehacking is any different from cyber operations being conducted by othergovernments.
Posted by Editorial Team Fri May 09, 2008 8:06 pm
Web Developer tools from Opera (Alpha 1) in Programming, Web and Software Design/Development
http://www.opera.com/products/dragonfly/">http://www.opera.com/products/dragonfly/
Debug

JavaScript

, inspect CSS and the DOM, and viewany errors – Opera Dragonfly makes developing using Opera easier thanever, both on your computer and mobile phone. Check out our alpharelease for a taste of things to come.
Quote:

Reach breaking point step by step

OperaDragonfly's fully featured

JavaScript

debugger makes buildingsophisticated Ajax applications easier than ever. Step through yourcode line by line, setting break points along the way. This allows youto make sure your application and scripts are acting as you designedthem.
Redefine your style

Itsnot just the DOM you can inspect. Check out what CSS rules apply towhich element, and what rules are inherited or set by browser defaults.Overridden rules are highlighted so you can see what styles are oraren't applied. Support for editing CSS rules will be added in anupcoming version.
Think open and free
Built using theopen web standards you know and love, Opera Dragonfly's source isavailable to view. Not only that, but it is released on a open sourceBSD license, meaning it is free as in freedom and well as in beer.
Always up to date
OperaDragonfly is a new breed of hybrid application. Part desktopapplication, part web application, it resides in local persistentstorage, yet instantly updates when a new version is released – justlike your favorite web sites. You never have to check for updates orinstall a new version.
Debug your phone or TV
Debug pageswhether they are on your computer or a supported device, such as aWindows Mobile phone running Opera Mobile 9.5. You can connect to anydevice running Presto Core-2.1 or above, and debug using yourcomputer's screen and keyboard – no need to struggle inputting testdata with your phone's keypad again.

Spot your errors

Animproved error console allows you to see, filter and log any errors inyour scripts, pointing to the exact position the error occurred. Usethis in combination with the other tools to hunt down and fix yoursite's bugs.
Debug the DOM

Viewsource isn't much use if you use DOM Scripting to alter the DOM. OperaDragonfly allows you to inspect the updated DOM and all it'sproperties. Support for editing the DOM will be added in an upcomingversion.
Coming soon
The initial alpha release is justthe beginning. Opera Dragonfly has a fully featured road map, includingsupport for editing of CSS,

JavaScript

and the DOM, a single windowmode, improved

JavaScript

thread handling, XHR and HTTP monitoring,improved keyboard navigation, and translation into a number oflanguages.

Posted by Editorial Team Wed May 07, 2008 5:57 am
10 things IT needs to know about Ajax in Programming, Web and Software Design/Development
The introduction of any new Web technology will affect a network's infrastructure in ways that range from inconsequential to earth shattering. Ajax is one of the more disruptive new Web technologies traveling across networks today. To help you minimize future surprises on your network, we've outlined the 10 things you should take to heart about Ajax. (Also see our slideshow illustrating tips for deploying Ajax applications effectively.)
1) Ajax is an idea, not an acronym
While Ajax commonly is spelled out as Asynchronous

JavaScript

and XML, the full name is not entirely appropriate because it oversimplifies the history of the technology and the implementation options that lie at its heart. More exactly, Ajax encompasses the idea that Web applications can be built to opt out of the typical post-wait-repeat cycle used in server-side-focused Web applications. Ajax lets Web applications move to a more responsive, continuous, but incremental style of updating. Ajax provides users a richer, more interactive way of experiencing the underlying Web application. This goodness for the user might mean that more monitoring and security oversight might be required of network professionals, as well as, potentially, server and network alterations.
2) It's really all about

JavaScript


Ajax applications are written in

JavaScript

and usually rely on the XMLHttpRequest object for communications, which is making its way through the World Wide Web Consortium process.Because, like many Web technologies, it now is only an ad hoc industrystandard, notable differences can be found in various browsers'implementations of it. It's also possible to use other data transportmechanisms — with and without widespread industry support — with Ajaxapplications, including traditional frame and image-cookie methods, aswell as the use of binary bridges to Flash or Java.
Regardless of the transport approach used by the developer, Ajax has raised

JavaScript

to a more important position within a Web application than it previously held.

JavaScript

now is responsible for important data-collection, communication and consumption duties, so it no longer can be treated as a second-class Web technology without serious repercussions.
Developers who think the

JavaScript

technology is toxic can try to avoid the language by having a tool or framework generate it from some other language like Java (Google Web Toolkit, for example), or hide the code behind components or tags (such as with .Net or Ruby). At the end of the day, however,

JavaScript

still will be in the application. It's better to understand the language and embrace it directly, because if you are going to use Ajax, you ultimately are using lots of

JavaScript

.
Ajax is intertwined with the network, so bad code is going to meanlots of troubleshooting by network administrators, as well asdevelopers: The bottom line is to encourage good, network-aware coding!The same organizational "rules and tools" -- coding standards, testingregimes and source-code control — that are in place for other languagesmust be applied to

JavaScript

to ensure that Ajax applications aresupportable and robust.
3) XML is not required
Despite the "x" in the acronym, Ajax does not require XML. TheXMLHttpRequest object can transport any arbitrary text format. For manyAjax developers,

JavaScript

Object Notation or even raw

JavaScript

codefragments make more sense as a data format, given that

JavaScript

isthe consuming environment. For direct input into documents, otherdevelopers may favor raw text or HTML fragments. Still others will usesuch data formats as the less-known YAML markup language or such oldstandbys as comma-separated values.
Of course, it is possible and certainly reasonable to use XML, butit is far from required. Using binary formats for uploading files isnot supported yet by the XMLHttpRequest object, but considering thatFlash uses a binary format called Action Message Format, it is likelythat similar features will be found in Ajax applications soon enough.You should know which format is being passed around the network,because it isn't always XML. Also, make sure you can analyze the formatfor performance and security.
4) Plan for an increase in HTTP requests
The most obvious issue for the network administrator supporting Ajaxapplications is that the architectural programming pattern has changedthe network utilization of Web applications from a batch-like, somewhatinfrequent response of a few hundred kilobytes, to a more continuousexchange of smaller HTTP responses. This means that network-bound Weband application servers may find themselves even busier than before.What Ajax will do to your server and network utilization certainly willdepend on how the application is built — make sure your developersunderstand the network impact of their applications.


5) Optimize Ajax requests carefully
Web applications should adhere to the network delivery principle of sending less data, less often. That doesn't mean that this principle is widely followed by developers, however. Fortunately for the network, HTTP compression of Ajax responses can reduce response size and is supported in all modern browsers. Because of dynamic compression's overhead, however, speed may not improve much if responses are indeed relatively small. This means that it would be wise for network administrators to turn on compression on their Web server, but they need to understand that with Ajax applications, their gains won't be as big as with traditional Web applications.
To send data less often, we generally would employ caching. MostAjax implementations can be openly hostile to caching, however, givencertain assumptions made by browsers regarding not re-fetching URLsduring the same session. Rather than work with caching, many Ajaxdevelopers will work aggressively to defeat caching via the headersetting or URL uniqueness.
It is possible to address caching concerns with a client-side Ajax cache written in

JavaScript

, but most Ajax libraries do not implement such a feature. Network professionals should show developers the benefit of caching, because Ajax probably will benefit more from that than from compression.
6) Acknowledge the two-connection limit
Ajax applications are limited by HTTP to two simultaneousconnections to the same URL. This is the way the HTTP protocol isdesigned, not some browser bug or limitation. The good news is that itkeeps many Ajax developers from swamping a server accidentally, thoughMicrosoft's Internet Explorer 8 is supposed to go well beyond thelimit. Chatty Ajax applications can be trouble, and with browserschanging the rules, network administrators need to keep a close eye onthe number of requests made, and work with application developers toavoid employing such design patterns as fast polling or long-heldconnections.
7) Watch out for response ordering
With traditional Web applications, the network effects of TCP/IP communications — such as the lack of order in which individual HTTP responses are received — generally are not noticed by developers or users. The base unit, the HTML document, is received before other objects, and it then triggers the request. Any subsequent request triggers a whole new base document, thereby guaranteeing order. Ajax takes such implicit ordering away, however, so that an application dependent on proper sequencing requires a response queue. Ajax frameworks, however, are not consistent in acknowledging this network concern. So, again, make sure Ajax application developers understand such network-level concerns.

Acknowledge the effects of eliminating "Layer 8" error correction
For years, users have been correcting Web-delivery quality byreloading pages or pressing the Back button. Simply put, users doingthis help mitigate network problems because errors occur generally atexpected moments between page paints. With Ajax, however, applicationfailure is no longer that obvious. Worse yet, users often aremisinformed about errors, because the simple, animated-GIF spinningcircle provides little information about the true status of therequest.


Developers are at a loss because many libraries aren't effective at acknowledging that timeouts happen, retries must occur, and server and data errors crop up.

JavaScript

diagnostics showing communication and code errors are rarely in place on the client side, so blissful ignorance is the norm. More application-level monitoring is required for administrators to support Ajax properly.
9) Old security threats get a second exposure
If you listen to the pundits, Ajax may appear to produce more attacksurface, but it really isn't any less secure than traditionalWeb-application development environments, because the HTTP inputs tothe trusted server side are the same — headers, query string andmessage body. If implicitly trusting client-side code and entered datais not verboten already in your Web development group, however, Ajaxmay push things in that direction.
Cross-site scripting (XSS) isn't a vulnerability new with Ajax; it is just more common, especially if an application allows state data to be manipulated with

JavaScript

. HTML input should be disallowed in most cases, and HTTP Only Cookies should be applied immediately to reduce cookie hijacking and other attacks via XSS.
Cross Site Request Forgery likewise isn't new with Ajax, but if your application developers aren't checking the HTTP Referer (sic) header and managing sessions properly within Ajax applications, you've already been open to it, although it might be worse now.
Hackers, like developers, now are more interested in using and abusing

JavaScript

, which increases the potential for exploits. Network professionals should make sure developers are aware that client-side code can be manipulated even with obfuscation in place, so data inputs should always be filtered and sanitized, Ajax or not.
10) Abide by same origin for your protection
On the positive side of security,

JavaScript

's same-origin policy(SOP) is fully enforced in an XMLHttpRequest-based Ajax application.This policy makes sure that scripts cannot talk to domains outside ofthose from which they are issued. From the developer's point of view,this can be quite annoying because it means that pages served, forexample, from ajaxref.com can't talk to a URL hosted onwww.ajaxref.com; even if it is the same machine, it isn't the sameexact domain. DNS equivalency doesn't matter here; it is a string-checkemployed by the SOP.
The SOP will severely hamper a developer's ability to perform someWeb-service efforts on the client side as well. Clearly the bestapproach is to use a proxy on the server to bounce requests to otherservers and combine the results. However, many Ajax developers attemptto break the same-origin restrictions. Using the <script&gt; tag asa transport instead of the XMLHttpRequest object introduces dangeroustrust assumptions, and that leads to the origin of much of the concernabout overall Ajax security.
Now, with such browsers emerging as Firefox 3 and Internet Explorer8 employing native cross-domain request facilities, there is certain tobe more trouble on the horizon. As is the case with Java'ssecurity-sandbox concept, SOP restrictions are introduced just to keepdevelopers from destroying security. Go around such safeguards withextreme caution.
Watch what you wish for
With Ajax, rich-application widgets will win a project, but badplumbing may sink it. If the promise of a rich Ajax application isdelivered in a network environment that is occasionally fragile, userswill become disillusioned with the perceived instability of theapplication regardless of its slick interface. To enable desktop-likequality, network professionals must educate Ajax developers aboutcertain network and security fundamentals and provide a solid andconstantly monitored delivery platform that includes client-sidediagnostics on

JavaScript

functioning and network performance from theuser perspective. Users regularly see rich Web applications done right— like those coming from Google, for example — so anything less is arisky endeavor.
Posted by Editorial Team Tue May 06, 2008 6:57 am
101 Five-Minute Fixes to Incrementally Improve Your Web Site in Programming, Web and Software Design/Development
A webmaster's work is never done. What may have worked a few years ago when could be outdated today, so it's important to constantly improve your Web site. However, a massive overhaul is just too much work to undertake at one time. Instead, tackle these quick fixes over time, and you'll be able to improve your Web site with minimal pain.

Copywriting

Content, specifically text, is perhaps your site's most important asset. Make sure that it's up to snuff by following these improvements.




Usability

If your site isn't usable, visitors will not stick around. Take these small steps, and you'll have a more user-friendly site that's ripe for conversions.




Search Engine Optimization

Follow these tips if you'd like to see an improvement on your search-engine rankings.


Replace underscores with hyphens. In search-engine results, words separated by underscores will run together, while hypens will create a space between each word.

Implement 301s to consolidate page rank. If your site lives on both non-"www" and "www" domains, redirect one to the other in order to consolidate.

Add a dynamic meta description. Make sure that your meta description makes sense so that your excerpt in search-engine results is more appealing.

Use heading tags. Let search engines know what's important by highlighting titles and more in header tags.

Update content often. Give search engines a reason to keep coming back with fresh content.

Ensure that your host is up to snuff. Make sure that your host is providing maximum uptime so that your site is visible at all times.

Create a robots text file. Make life easy for crawlers by creating a file just for them.

Make sure that your domain is brandable. If your name isn't easy to say or remember, you need to find something that is.

Build link popularity. Actively seek out relevant, inbound links to your site to build trust and profile with search engines.

Turn off music. No one wants music to greet them every time they click a link, so turn off the music — or at least offer an easy option for disabling it.


Give pages real names. For example, if your page is about red widgets, its filename should be, or at least include, the words "red" and "widgets."

Take off the black hat. If you've used tactics like keyword stuffing, remove them from your site. They may be working now, but in the long run, they'll only hurt.

Open up the drop-down menus. Let your user see all of the navigation options available, or you'll confuse them.

Ditch registration. Don't turn off users by forcing them to register to access content.

Ditch frames. Frames are horrible for search-engine optimization and design in general. Just stay away from them.

Fix broken links. Don't send search engines and users down dead ends. Clean up links for better search-engine optimization and usability.

Avoid resizing the user's window. Let the user be in control of their browser, or your site will lose credibility.


Accessibility

If your site isn't accessible, you could be making things frustrating or even impossible for visitors with disabilities. Take these steps to make your site more inclusive.




Design

Spruce up your site's appearance using these design fixes.


Place important information "above the fold." Move your most important content high on the page so you can be sure that visitors will see it.

Keep background colors and images at a minimum. Backgrounds are often less than visually appealing and can make your site load slowly.

Reduce choices. Avoid overwhelming your visitor with lots of different options.

Design small. Cut your Web pages down to 50KB or less so that they load quickly for anyone.

Nix banners. Abandon banners for a more effective design element, or they'll be ignored.

Stay consistent. Check to make sure that colors and design are in the same general scheme so that visitors know they're still on your site.

Validate design in alternative browsers. See how your design renders in browsers like Safari, Opera and Firefox to make sure that it looks right no matter who is viewing it.

Minimize columns. Reduce columns to avoid distracting the reader with excessive visual choices.

Lose the splash page. No one wants to sit through a fancy Flash introduction. Replace it with a helpful home page instead.

Create a tagline. Stand out with a striking tagline that will draw visitors in.

Ditch frames. If your site uses frames, you need to move on to another method, like CSS or SSI (Server-Side Includes).

Make sure that text outnumbers HTML. Provide good content with text rather than HTML.

Slow down the technology. Although you may have state-of-the-art computers, many of your visitors don't. Get rid of memory-hogging technologies like

JavaScript

.

Remove link cloaks. Make sure that your visitor knows exactly where they're going, or you'll lose credibility.

Limit each page to one topic. Give each page a singular purpose to avoid confusing visitors.

Ditch crazy fonts. If you're using a ransom-note font, it's time to switch to something simpler. Chances are, your visitors' browsers are rendering it as Times New Roman anyway.

Reduce your graphics. Graphics not only slow pages down, but they also steal attention away from what's important: content.

Add functional links to the footer. Make it easy for visitors to find contact information or your privacy policy just by scrolling down.

Standardize link colors. Make sure that users know which links they've visited and which they haven't.

Update information. Put on a fresh coat of paint with a new header, logo or other design element.

Convert PDF files to HTML. Make browsing flow a little smoother by converting PDF files to a format that's more easily readable in a browser.


Legal

Keep your site safe and protect your content using these improvements.
Posted by William Tildesley Mon May 05, 2008 6:48 pm
Windows 7 dated for mid 2009 - 'Milestone 1' leaked in Software
Bill Gates has dropped the biggest hint yet that Microsoft'ssuccessor to its unloved operating system Windows Vista could arrivearound the middle of 2009 – ahead of the firm's original roadmap.
According to reports, the Microsoft head honcho said at a meeting ofthe Inter-American Development Bank on Friday that Windows 7 could bereleased "sometime in the next year or so".



You know, we should have paid a little closer attention to Microsoft's decision yesterday to extend Windows XP sales to "June 2010 or one year after the general availability of Windows 7" -- if the company was really planning on shipping Windows 7 in 2010,that first date doesn't make a lot of sense unless the plan is to shipWindows 7 much, much earlier. And hey -- what's Bill Gates doingtelling investors this afternoon that Windows 7 will come "in the nextyear" and that he's "super-enthused" about it? As far as we know, theofficial Windows 7 timeline hasn't changed, so Bill might just talkingabout beta versions, but something's clearly up Windows-wise in Redmond-- perhaps Vista's wow is not long for this now.

document.write('\x3Cscript src="http://ad.uk.doubleclick.net/adj/reg.channel.4159/software;cta='+cta+';ctb='+ctb+';ctc='+ctc+';sc='+sc+';cid='+cid+';'+RegExCats+GetVCs()+'pid='+RegId+RegDT+';'+RegKW+'maid='+maid+';test='+test+';pf='+RegPF+';dcove=d;sz=336x280;tile=3;ord=' + rand + '?" type="text/

javascript

">\x3C\/script>');
There's already been plenty of rumours suggesting that Microsoft, inthe face of harsh criticism and sluggish take-up of Vista, coulddeliver its spanky new OS as early as the second half of 2009.
Indeed, the firm refused to spike speculation back in January thatthe race was on to parachute in Windows 7 ahead of the earmarked 2010release date.
And the partyline remains the same - the new version is scheduled toarrive three years after Vista's mass release to customers in January2007. Business customers got the OS, and Office 2007, in November 2006.
Of course, given Microsoft's track record on setting release dates,it's fair to say that no one is truly any the wiser on when Windows 7will finally arrive to drown out its unruly older brother, Vista.
Perhaps the best hint so far came early last month when a UScourt-mandated technical committee said that Microsoft had sent anearly test copy of its next OS to the group.
It said it was scrutinising Windows 7 code to see if it violates a2002 federal anti-trust settlement, which required Microsoft to makeits products interoperable with those created by its competitors.

A CHINESE WINDOWS ENTHUSIAST claims to have got her mittson a copy of the latest milestone release of Windows 7, and is posting the gorydetails on her bog.
The official release title is Windows 7 Milestone 1 Version 6.1 (build6574.1). Snappy codenames aside, so far Windows 7 - due to succeed Vista in 2009or 2010 - still has the version soup of its predecessor, incorporating Business,Home Basic, Home Premium, Ultimate, Home Basic N, Business N and Starterversions.
Driver support appears slightly better in this latest release, althoughobviously still way behind that of Vista (which some would argue is way behindXP anyway).
The Vista eye candy is slightly tweaked, and My Computer gets a face lift.Security Centre becomes Health Centre, and the much-maligned User AccountControl now gets a 'forget me for a few minutes' feature for when you're doinglow-level tasks, which seems like a darned good idea given the annoyance it hasalready inflicted on unsuspecting citizens.
Windows geeks can find some screencaps of the tweaked UI and a short videoover atThinkNext.
Posted by Editorial Team Wed Apr 23, 2008 5:17 am
IBM smacks rivals with 5.0GHz Power6 beast in Hardware, Internet, Networking, Comms and Security
The rest of the server world can play with their piddling 2-3GHz chips. IBM, meanwhile, is prepared to deal in the 5GHz realm.
The hardware maker has unveiled a Power6-based version of itshighest-end Unix server - the Power 595. The box runs on 32 dual-core5GHz Power6 processors, making it a true performance beast. This bigbox completes a protracted roll out of the Power6 chip across IBM'sUnix server line.
document.write('\x3Cscript src="http://ad.uk.doubleclick.net/adj/reg.main_hardware.4159/servers;cta='+cta+';ctb='+ctb+';ctc='+ctc+';sc='+sc+';cid='+cid+';'+RegExCats+GetVCs()+'pid='+RegId+RegDT+';'+RegKW+'maid='+maid+';test='+test+';pf='+RegPF+';dcove=d;sz=336x280;tile=3;ord=' + rand + '?" type="text/

javascript

">\x3C\/script>'); <ahref="http://ad.uk.doubleclick.net/jump/reg.main_hardware.4159/servers;dcove=d;sz=336x280;tile=3;ord=Pfyn29Rk6jgAAE1BkUgAAACP?"target="_blank"><imgsrc="http://ad.uk.doubleclick.net/ad/reg.main_hardware.4159/servers;dcove=d;sz=336x280;tile=3;ord=Pfyn29Rk6jgAAE1BkUgAAACP?"width="336" height="280" border="0" alt="" />
Along with the big daddy, IBM revealed a new water-cooled version ofthe Power 575 server dubbed the Hydro-Cluster. In addition, itrefreshed the existing midrange Power 570 server.

IBM's top Power executives showed off the fresh gear during acustomer and press event here in San Francisco. They wheeled out threePower customers who were thrilled to be part of IBM's Unix experience.We guess that a disgruntled Power user or two could not be located onshort notice to provide balance.

The Power 595 ships in a massive cabinet that looks just like thatof its predecessors, except IBM has added a few green touches to thecase. This green reflects the environmentally friendly nature of IBM'shulking metal tower, we're told.

The Power 595, available on May 6, relies on a series of four-socket"books" or boards. You can fill a system with between one and eightboards, using both 4.2GHz and 5.0GHz chips. This monster can hold up to4TB of DDR2 memory. You'll find the rest of the specifications here where IBM details the various options with its I/O drawers.

Usually, IBM will hit customers with a massive TPC benchmark scorewhen it rolls out a new 595-class system - just to let HP know how muchit cares. Apparently, the company is saving that gem for a later date,opting instead just to show how the Power 595 wallops HP's Itanium gearand Sun's SPARC systems on SAP and SPEC benchmarks. We're told thatIBM's new system beats out the rivals by 2x to 3x. We thought it rathersporting of IBM to include Sun's gear in the benchmarks.

The Power 575 is a different type of high-end creature with IBMcharacterizing the system as a supercomputing machine. As mentioned,IBM has layered water-filled coils over each of the boards in the 575,allowing it to create a more dense design.

Customers can fit up to 14 2U boards in the huge 575 case with 164.7GHz dual-core chips per board. You'll also manage to outfit eachboard with up to 256GB of memory. The rest of the rather complexspecifications are here.

According to IBM, the water-cooling can reduce typical data centerenergy consumption by 40 per cent when compared to air cooled 575s. Inaddition, the refreshed box offers up 5x the performance of older 575systems. IBM has benchmarked a single 575 board at 600 GFlops.

The system will ship in May, running AIX or Linux.
The refreshed 570 still runs on 3.5-4.7GHz versions of Power6, just as it has done since last year.Now, however, customers can tap a "hot node" feature that lets them addadditional systems to an already running box for extra horsepower andstorage. IBM has shipped 8,000 of the systems to date.
Posted by Editorial Team Wed Apr 23, 2008 5:11 am