Search iVirtua
Advanced/Tag Search...
Search Users...
What is iVirtua Exclusive Community?
An exclusive gaming industry community targeted to, and designed for Professionals, Businesses and Students in the sectors and industries of Gaming, New Media and the Web, all closely related with it's Business and Industry.
A Rich content driven service including articles, contributed discussion, news, reviews, networking, downloads, and debate.
We strive to cater for cultural influencers, technology decision makers, early adopters and business leaders in the gaming industry.
A medium to share your or contribute your ideas, experiences, questions and point of view or network with other colleagues here at iVirtua Community.
Guest's Communication
Live Chat
Teamspeak (VOIP) Audio Conference
Private Messages
Check your Private Messages
Themes
Choose an iVirtua Community theme to reflect your interests...
Business Theme

India/Arabic Theme
Gaming Theme
iVirtua Recommends
Fly Emirates
2010: the 5TB 3.5in HDD cometh in Hardware, Internet, Networking, Comms and Security
Hitachi has pledged to release a 5TB 3.5in hard drive within twoyears, and it claims two of the drives will boast enough capacity tostore everything in your brain.
According to a

report

by Nikkei Net, Hitachi Global StorageTechnologies will use Current-Perpendicular-to-Plane GiantMagnetoresistance (CPP-GMR) magnetc read heads to achieve the aim.This, the firm claims, will allow its drives to store 1TB of data inevery square inch of the recording surface.
Hitachi's announcement is a step on from a claim it made back inOctober 2007 that 4TB of storage could become a reality by 2011.
It's worth noting though that Hitachi's not the first storagecompany to promise super-capacity HDDs. Back in August 2007, rival Fujitsu announcedthat 2.5in disks were its proposed 'patterned medium' for such compactstorage. It too plans to have commercial models available by 2010.

Fujitsu's approach uses anodised aluminium to create a pattern of"nanoholes", each holding a portion of magnetic material used to storea single bit of data. The aluminium-oxide surrounding these so-called'nanoholes' helps magnetically insulate each bit from all the others,preventing one from affecting another, which might lead to datacorruption.
Nonetheless, Dr Yoshihiro Shiroishi from Hitachi has claimed thattwo of its 5TB will together "provide the same storage capacity as thehuman brain".
So, if your memory's not great, then just buy a couple of 5TB drivesfrom Hitachi and download all your thoughts and memories onto them,before wiping the slate clean and staring afresh with another 10TB ofbrain capacity.
Posted by Editorial Team Tue Jul 08, 2008 7:48 am
Gaming Overtakes DVD Sales in Business and Industry in Gaming, Media, Web, IT and Computing
The gaming industry took in $18.85 billion during 2007, a figurethat trumps the $16 billion in DVD sales earned by the movie industryin that same year, reports Gamespot.
While this is the first year that gaming has eclipsed DVD sales, theindustry continues a trend of topping movie theater revenues ($9.6billion in 2007).
Still, the gaming industry doesn't quite trump Hollywood overall.Between theater revenue, DVD sales and DVD rentals, the movie industrybrought in nearly $33 billion -- a figure that gaming's single retailavenue simply can't match.




Report

: US game sales surpass DVDs [Gamespot]
Posted by Editorial Team Tue Jul 08, 2008 7:42 am
Rethinking Traditional Advertising Methods in Business and Industry in Gaming, Media, Web, IT and Computing
You see, for all the talk of monthly periodicals' demise, SEO'simpending reign, the downfall of FM stations and television'sinevitable implosion, we, err, sort of forgot to mention one thing:essentially that, despite posting up ratings far from the halcyon daysof the pre-TMZ.com era, mass media outlets such as ABC, CBS, CNN andNBC; Time, Newsweek and USA Today;and even regional Cineplex chains still generate the kind of audiencenumbers most interactive entertainment execs would give their last USBcable to connect with. Tactics may be changing, with custom tradeshows,advertorials, movie-type trailers and cover wraps replacing simple pageads and product giveaways. But as an industry, we're far from preparedto divorce ourselves completely from traditional advertisingplacements, or shift marketing dollars exclusively onto the Internet.

"Something most gamemarketers miss about the broadcast space is the need to keep messagingpointed and simple" - Steven Roberts, DIRECTV

To wit, column after news brief after investigative

report

may continueto bemoan the death of old-world media. However, as any marketingdirector can attest, its core vehicles still remain one of the bestways to rapidly generate mass awareness amongst PC- or console-owningaudiences. Hence, although blogs and video aggregators deliver greatbang for the buck and generate tremendous street-level buzz, theycontinue to be promotional outlets that most core publishers have yetto wholly embrace, let alone fully commit to. Thus the reign ofhigh-profile primetime spots for titles like Grand Theft Auto, Madden and Halo rolls on.
And so, just as I humble myself before my new daughter, who hasn't meta pair of slacks she hasn't enjoyed redecorating yet, I willinglyprostrate myself before the industry-at-large and beg forgiveness. Asthe following executives – representing the television, motion pictureand direct marketing industries, respectively – are quick to remind, weshould all think twice before acting so rashly and completely writingthese businesses off.
Suffice it to say that they may not generate the same kind of headlinesin 2008 as rich media providers, online networks or widget creators,but thanks to new technology, changing tastes and increasing audiencefragmentation, let's just say they're far from out of the game.
Steven Roberts
Vice President & General Manager, Games and StrategicInitiatives for DIRECTV, overseeing broadcast ventures like 24/7interactive games channel Game Lounge and the internationally televisedChampionship Gaming Series professional league.
"Broadcast TV is absolutely not dead – just changing. Popular as gamingis, you can't look at entertainment in a vacuum... you have to considerthe overall mass-market. There are 120 million television homes outthere, with millions of people who just want to be entertained in thesame way they have for the last 50 years. NFL football still puts uphuge ratings every Sunday, and millions still tune in to watch livemusic and sports – you don't see that on an Xbox 360 console.
"True, television has to evolve, and will become more interactive toengage subscribers... if that's what users want. But what we're reallylooking at here in the immediate is developers/publishers grapplingwith a question of increasing audience segmentation. Something mostgame marketers miss about the broadcast space is the need to keepmessaging pointed and simple. That doesn't mean downplaying keyelements or features that you want understood: Just presenting them ina straightforward, easily comprehensible way that speaks to a specificaudience. Implementing better virtual cameras into games would be awelcome start... For broadcasters, it's very difficult to showdifferent elements of a title in ways instantly conducive to helpingpeople understand what it's all about.
"It's also important to look beyond the 30-second spot. There's plentyof room for advertisers to tap into broadcast vehicles, whether throughtelevised competitions, interactive online program extensions orproduct integration. Placing games front and center by showing ahalf-hour of screens, video footage and people playing these titlesmakes sense. But what you really need for effective campaigns here isto build elements of user interaction into your advertising and pair itwith programming that's consistent with the demographics of the gameitself.
"It all comes back to basics. People won't skip an ad on a DVR or turnaway to get a glass of milk if it's compelling, the message is clearand it's telling you something that you want to hear. Creative doesn'tjust have to wow either: It also has to make sense for the audiencesegment. While marketing can be fun and have an edge to it, ultimately,for on-air placements, it's vital to make sure the message is verytargeted, specific and simple."
"For all the uproar surrounding the movie business lately, gamemarketers shouldn't underestimate in-cinema advertising's power. Mostmedia features a device (remote control, mouse click, radio dial, etc.)that lets audiences tune unwanted messaging out. But at the theater,you've paid to be there, are a captive audience and want to beentertained. This receptivity begets results if the creative is good:Recall scores average around 60%, with categories like gaming actuallysoaring into the 80-90% range.
"Definitely, the big screen's sexy. Via streaming media, you canliterally send ads for M-rated games to all R-rated movie screenings inany given city; appear alongside only specific types of films; ordeliver different messages to different geographic markets on-demand.But publishers need to look beyond the most obvious opportunities –lobbies can also be a marketing wonderland. Standees, banners,concession items... From 20-minute pre-shows packed with original,exclusive and entertaining content to game posters disguised to looklike cinematic counterparts, options for building brand equity areendless.
"Hollywood is far from dead. Are gamers going to see Shrek, The Matrix and Pirates of the Caribbean?Of course... it's common sense. Research also shows emotions aremagnified at the theater – and the same holds for audience reactions tocommercials as well as films. It's hard to argue with a dark room, agiant screen and a group of people who've willingly paid to be thereand want to see what's in store.
"Also note – 80% of tickets are sold on weekends, a time when peoplewant to go shopping, and theaters are generally located in shoppingdistricts. Stick a retail discount on a box office handout, and youdon't just achieve grassroots interaction, or present a clear call toaction. It's also conceivably the last message a consumer sees beforehaving to drive home past a Best Buy or Wal-Mart where your game'sconveniently stocked."

"People are more distracted than ever – advertisers need to cut throughthe clutter. You have to find ways to surprise and entertainaudiences... It's important to design options that let you really spendtime with consumers in a meaningful way.
"Consider core gamers. You can look at where they're hanging out – atfraternity houses, sports bars, military bases, wherever – thendiscover ways to be there. It's even possible to reach players atschool and weave gaming properties into an educational message. Theseinstitutions appreciate it when game companies can provide them withbranded book covers, locker calendars or workshops that incorporatethese titles to teach lessons, just to name a few possible choices.
"Basically, you have to create options that make sense for the contentand target demographic, then craft a vehicle that fits. This could be abranded video game tournament, for example, or involve catching fans ata sporting event and giving them things they can wear to the game.There are alternative ways to reach virtually any shopper.
"It's crucial for publishers to connect with fans on a one-on-onelevel, because as excited as TV/film imagery can make them, people wantto go hands-on and try your games. To do so, you have to interface withthem on the street. Demos at malls, movie theaters, health clubs, etc.are essential to building buzz: There's a direct link between samplersconverting into purchasers. Experience is everything, and consumers aregoing to be the strongest ambassadors for your brand – word-of-mouth isincredibly powerful in the enthusiast gaming community.
"A holistic strategy is important, though: Alternative marketing shouldjust be one part of a diversified tactical plan. If I can see an ad foryour game during Lost or American Idol, then it happens to be at a barwhere I can try it, it'll pique my interest... Suddenly, brand andbuyer are making a meaningful connection. Remember though, that theseplacements have to be unobtrusive. You can't invade someone's space –you have to make kiosks, stands, booths, etc. – something that adds to,not takes away from, the entertainment value of any activity or event."
Posted by Editorial Team Tue Jul 08, 2008 7:40 am
European, Indian Markets to Get New PS2 in Business and Industry in Gaming, Media, Web, IT and Computing
Sony Computer Entertainment will be launching a redesigned PS2 inEuropean and Indian markets by late October, according to a new

report

.

Like the PS2 released in Japan in November 2007, the new model will feature an integrated power supply, according to the Economic Times.

Theupdated system will hit European and Indian markets before Diwali, anannual Indian and Nepalese festival this year taking place on October28, said SCE India manager Atindriya Bose.

As well asfeaturing an in-built AC adapter, the new model will be slimmer andsupposedly lighter due to the design overhaul. It will be priced at6,990 Indian Rupees ($162/€102), the same as the current model.


Quote:
"Wefeel PS2 has the potential to penetrate further into the Indian andRussian markets," said Bose. "Console gaming is in its nascent stage inIndia. These are untapped markets and are new to the gaming world,hence we have no plans to phase out PS2 anytime soon."


SCE India will also be launching the PlayStation Network for PS3 in India by the end of the current fiscal year.

Next-Gen has contacted SCEE for comment about a new European PS2.
Posted by Editorial Team Fri Jul 04, 2008 6:02 am
Xbox 360 To Get A 3D Dashboard Makover in Gaming
How big? Well besides the gi-normous list of rumored updateswe posted about back in May we're now hearing from a number of sourcesthat the Live dashboard is going to be getting a second interfaceoption, one that will use the yet-to-be announced motion controller to navigate.
This new user interface, we've been told, will recreate theincreasingly cluttered dashboard "blade" system in a 3D environmentthat will be something more akin to the Minority

Report

than a filingcabinet. The motion controls will allow users to sort of slide throughthe different levels of this floating menu system.
Sounds like a fantastic idea, if it can be implemented correctly.
Posted by Editorial Team Fri Jul 04, 2008 6:00 am
BBFC hits back at UK games industry and MS - 'we can cope' in Business and Industry in Gaming, Media, Web, IT and Computing
"We are disappointed and concernedabout attempts by one or two video games publishers to pre-empt,through recent press statements, the forthcoming public consultation onvideo games classification. Their statements are misleading in severalrespects," says BBFC director David Cooke.






Full

report


BBFC Rejects Criticism Of Byron Games Classification Proposals
The BBFC says itsaverage turnaround time for games classifications is eight calendardays and there should be no reason why the increased role for the BBFCenvisaged by Dr Byron should lead to delays.

A statement frothe BBFC reads: "BBFC classifications are already cheaper for manygames than those under the Pan European Games Information System(PEGI). Because the BBFC currently deals mainly with the mostproblematic games, BBFC costs will fall if, as Dr Byron recommended, wetake on all games, physical and online, rated '12' and above.

"It is absurd to imply that the BBFCcould not cope, or would need 'a building the size of Milton Keynes'.The BBFC is a larger and better resourced organisation than PEGI, andis well used to gearing up, and to providing fast-track services whereappropriate.

BBFC Statement





"We reject any suggestions that the Byronproposals for dealing with online games are not future-proof. Countriessuch as the USA and Germany already classify such games in a way whichreflects national cultural sensibilities. The BBFC has made clear thatwe are prepared to work through PEGI Online, which already recognizesBBFC symbols. But, with online games, the real need is not apan-national grouping of markets, but rather soundly based andindependent initial classification, full information provision, andresponsible self-regulation of online game-play backed by properlyresourced independent monitoring and complaints mechanisms.

Quote:

"The games industry really does have nothing to fear from a set ofproposals which would provide more robust, and fully independent,decisions, and detailed content advice, for the British public, andespecially parents. The Byron proposals, far from envisaging thecollapse of PEGI, specifically provide for a continuing PEGI presencein UK games classification. They also provide significant opportunitiesto reduce duplication of effort and costs. And they would make wideruse of a system, the BBFC's, which British parents recognize, trust andhave confidence in."


"TheBBFC has made clear that we are prepared to work through PEGI Online,which already recognises BBFC symbols. But, with online games, the realneed is not a pan-national grouping of markets, but rather soundlybased and independent initial classification, full informationprovision, and responsible self-regulation of online game-play backedby properly resourced independent monitoring and complaints mechanisms."

Games industry fear
Cookewants to reassure games publishers and developers alike, claiming: "Thegames industry really does have nothing to fear from a set of proposalswhich would provide more robust, and fully independent decisions, anddetailed content advice for the British public, and especially parents.
"The Byron proposals, far from envisaging the collapse of PEGI,specifically provide for a continuing PEGI presence in UK gamesclassification. They also provide significant opportunities to reduceduplication of effort and costs. And they would make wider use of asystem, the BBFC's, which British parents recognise, trust and haveconfidence in."


Plans to introduce cinema-style ratings for computer games aimed at theover-12s came under criticism as the world's largest games developer voicedits opposition to the proposals.
Electronic Arts (EA), maker of the Battlefields and Command & Conquertitles, said that the new scheme would confuse parents, be unworkable andlead to games being released later in Britain than in the rest of the world.
Computer games for the under-18s are rated under the self-regulatory, PEGI[Pan European Game Information age-rating system] scheme. The 18-plus titlesare examined by the British Board of Film Classification (BBFC).
Tanya Byron, parenting guru and columnist for The Times, has said in agovernment-commissioned

report

that parents do not understand the PEGIsystem and proposed that the BBFC rate all games that would attract a 12certificate and above.


EA, which makes about one in five of the games sold in the UK, wants legalenforcement of the PEGI system. Keith Ramsdale, who runs EA's business inthe UK, said: "What we need is a single system. "There are somegames that are already rated at 18 on the current system but would be at 15on the new cinema model. What we do need is legal enforcement of the PEGIstandard, because now if a child of 12 wants to buy a 16-plus game, theretailer has to sell it to them."
His comments came as ministers begin consultations on how best to implement DrByron's proposals. She said that she sympathised with industry concernsabout the cost of compliance but did not accept EA's complaints. "Parentsdon't understand PEGI, and while adults don't buy Texas Chainsaw Massacrefor their children, they might still buy a [violent] game like Grand TheftAuto," she said. Dr Byron said that legal enforcement of the PEGIregulations would be "a good compromise" between a statutory scheme andself-regulation. She added that her wish to have the BBFC rate all games"may be changed slightly as a result of the consultation".
EA argues that the BBFC proposal is also unworkable because games increasinglyinclude extra levels or components downloaded from the internet. Mr Ramsdalesaid that the BBFC would need "a building with the size of Milton Keynes" tohouse all the censors needed to handle the thousands of game components andelements that companies like his hope to sell. The games industry has saidthat the proposed system could collapse because the BBFC could not cope.
Concerns about the need to regulate online games were overstated, Dr Byronsaid. "The majority of people buy games in the shops - that's where themarket is today," she said.
EA asserted that the UK release of games would be delayed by "weeks, notdays", while games released globally were made to comply with Britishratings. The pan-European PEGI system could be undermined if the UK, thebiggest single games market in Europe, walked away from it. Germany is theonly other big country in Europe to have its own ratings system. Last yearBritons bought £1.7 billion of video games.
Posted by Editorial Team Tue Jul 01, 2008 7:04 am
Laptop pricing continues to fall in the UK in Hardware, Internet, Networking, Comms and Security
Costs of PCs in the UK are set to continue to fall, according to the latest market reports from analysts at IDC.
Thenew IDC

report

states: "The UK PC market demonstrated solid performancein 1Q08, as overall PC shipments for the quarter reached more than 3.25million units, an increase of 14.3 per cent year-on-year."
Thenotebook market continues to grow at a healthy rate, growing "by a veryhealthy 41.8 per cent, thanks to renewals, further expansion of theinstalled base to new buyers, and multiple-equipment purchases."
The end of the Desktop?
Many users are now choosing to replace their old desktop PCs with new, affordable laptops.
"Demandfor notebooks, stimulated by fierce vendor competition and aggressivepricing, will remain a key engine for growth throughout the year," saidLucie Jichova, research analyst for IDC's EMEA PC research group.
"Economicpressure will continue to drive cautious spending behavior, but thearrival of low-cost ultraportables, increasing traction of telcobundles, and mobile solutions in the business space, will maintainstrong momentum in the notebook market in the second half of the year."
Cheap laptops for all
Thereallly promising news for UK consumers is that the price of laptops isgoing to continue heading in the right direction – downwards.
"Consumersare going to benefit from attractive notebook offers as competitionamong vendors in the retail channel intensifies," states the IDC

report

.
"Recently,we have seen an introduction of affordable ultraportable PCs, whichhave been very well received by consumers. IDC expects that these basicsurfing devices will continue to sell extremely well throughout 2008."
Posted by Editorial Team Tue Jul 01, 2008 7:04 am
Japanese girls taught English by Nintendo DS in General Discussion, including Off Topic, Current Affairs
Japanese teachers might feel a little uneasy about their jobsecurity, as one of the country's schools has begun triallingNintendo's DS console as a way of teaching kids to read and writeEnglish.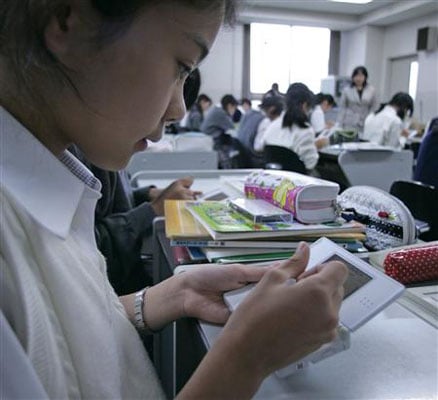 A Japanese student learns English with her DS
Image courtesy Reuters

According to a

report

by Reuters, Japan's education ministry allows schools to decide onwhich teaching tools to use, whether it's pencils and textbooks, orinteractive games consoles.
The Tokyo Joshi Gakuen all-girls school opted for the DS and hasbeen using the console in classrooms since May, as part of a one-yeartrial. Students use the console primarily for English vocabulary,penmanship and audio comprehension.
Junko Tatsumi, Vice Principal at the school, said that students are"really concentrating and have fun in gaining skills such as spelling".

The school clearly still has reservations about potential 'abuse' ofthe console's features outside of English lessons. The vice principaladded that once English lessons have ended, "students cannot play DSgames outside - all consoles and software are collected" beforehome-time.
US students are more interested in listening to music during classthough, it seems. Since February, around one in every 100 students atthe Fort Summer High School, New Mexico have been encouraged to watcheducational videos and listen to lectures on Zune players donated byMicrosoft.
Almost all content is either created or recommended by the school'steachers, with students encouraged to plug-in during class hours and onjourneys to and from home. The trial aims to discover if such devicescould eventually be incorporated into everyday education.
Posted by Editorial Team Tue Jul 01, 2008 6:52 am
Games Industry Movers: Trion, 38 Studios, Kongregate & M in Business and Industry in Gaming, Media, Web, IT and Computing
his past week, 38 Studios (the developer founded by Red Sox pitcherCurt Schilling) announced that Thom Ang was appointed Director of Art.He will oversee the direction and management of 38 Studios' artisticdevelopment, including the MMOG codenamed Copernicus, whileworking closely with Todd McFarlane and R. A. Salvatore. Ang willreport to Vice President of Creative Development, Scott Cuthbertson.
"38 Studios' creative teams have been meticulously crafting thesignature look and feel for our upcoming MMOG over the past 18 months,"said Brett Close, CEO and president. "Thom's extraordinary talent andexperience will be key in driving the vision and quality of our OnlineEntertainment Experience."
Ang has been working as a director for notable franchises and brandsfor over 15 years. He's worked as a senior artist at DisneyInteractive, working on titles like Toy Story II and Tarzan. Ang also created illustrations for TV shows, including The X-Files and was a storyboard artist for Sony/Columbia/Tri-Star TV Animation programs, which include Roughnecks: Starship Troopers Chronicles and Max Steel.He then moved on to be art director at EA LA, where he headed up artproduction, team management and visual concept development for the Medal of Honor franchise. In his last position, Ang was art director at THQ, managing more than 25 titles.
"38 Studios is absolutely committed to the next evolution of MMOGs, andevery team member has great pride in the value of what they do,"remarked Ang. "I am excited to contribute to this vision and become apart of an extraordinary team."
Lisa Jablonsky - Kongregate
Kongregate announced this past Friday that Lisa Jablonsky will open thecompany's New York ad sales office. She will work with Kongregate'sChief Revenue Officer Lee Uniacke to secure high-profile advertisingpartnerships based on the site's reach and appeal to young men, ages 13- 34.
"With high user engagement and a growth rate of over 25 percent monthover month, Kongregate provides the ideal medium for advertisers tryingto reach this hard-to-pin-down demographic," stated Uniacke. "As webuild our sales force to address these opportunities, Lisa's proventrack record in developing successful partnerships across a range ofyouth-driven digital consumer brands will add tremendously to theexpertise of our team."
Jablonsky has worked in the New York advertising scene for 21 years andshe was as an early proponent of the digital advertising arena. Amongher projects, she has conceptualized and implemented ground-breakingfilm contests for Intel and Kohl's, and created one of the first mobilecontests for Alltel. Jablonsky helped create games for McAfee Softwareand the National Guard, as well as construct an editorial integrationprogram for Coke's NBA March Madness Flash game. She was most recentlyan account executive with MTV Networks, where she successfully droveadvertising and integrated sponsorships for Comedy Central,AddictingGames.com, Shockwave.com, and AtomFilms.
"Kongregate is an advertiser's dream as it attracts young men betterthan virtually any other site on the Web and puts them in a cool, edgyenvironment where our audience can really interact with their brand,"commented Jablonsky. "At over 3 million unique users today, a highgrowth rate, and just being named one of Time Magazine's Top 50 sitesfor 2008, we're on track to give advertisers the big reach that theyneed to effectively target the young male demographic this fall."
Trion World Network - Glen Van Datta
Trion World Network announced recently that Glen Van Datta has beenhired as Vice President of Engineering and General Manager of TrionWorld Network Austin. He will oversee day to day operations at Trion'sAustin studio and supervise all customer service, quality assurance,operations and other support activities with relation to the Trionplatform.
"Glen is a tremendous hire for Trion and an excellent addition to ourworld class technical organization", said Nicholas Beliaeff, VicePresident of Product Development & Head of Trion World Network SanDiego. "Glen's vision, leadership, and deep history maturing andproductizing compelling online game technology will help Trion take ourserver based game technology to the highest levels while helping us andour partners get to market more quickly."
Notably, Van Datta has worked for over 22 years in softwaredevelopment, including the past dozen in game development. He wasco-founder and Vice President of Engineering at RTIME, where he oversawthe development, design and testing of the RTIME SDK online, in-gameand player matching platform. Van Datta most recently worked at SCEA asDirector of Online Technology, where he oversaw a team of more than 80employees that developed SCE-RT SDK to enable online games for PS2, PS3and PSP games, including Singstar, Warhawk, Resistance, Home and GT5 Prologue.
"For more than 12 years I've believed that online games, online socialnetworks and online media distribution were the future ofentertainment," said Van Datta. "Trion's innovative, dynamic platformand content are the next generation in the online entertainment space."
IGN Entertainment – Jamie Berger
IGN Entertainment announced recently that senior vice president ofconsumer products and technology Jamie Berger will start overseeingbusiness development for the company. He will continue managing IGN'ssubscriptions, digital distribution, and e-commerce portfolio includingIGN's Direct2Drive and GameSpy Technologies.
Berger has over 16 years of professional brand management and marketingexperience from within the online gaming industry. He began hisprofessional career as an Account Manager with the NCR Corporation.Berger spent six years in the consumer products division of The WaltDisney Company before joining IGN Entertainment. He currently helpsextend the IGN brand by creating and leading partnerships thatdistribute content and drive revenue.
AMD - Emilio Ghilardi
AMD, which runs the ATI graphics card business, announced this pastweek that Emilio Ghilardi has been appointed senior vice president andgeneral manager of Europe, Middle East and Africa (EMEA). He will beresponsible for all sales and marketing operations within EMEA,starting in mid-August 2008. Ghilardi will

report

to AMD chief salesofficer Gustavo Arenas.
"Emilio adds tremendous global sales and marketing leadership to AMD inEMEA which we expect to help strengthen and grow relationships with ourend-user customers, OEMs and distribution partners," said Arenas.
Ghilardi comes to AMD from HP, where he started as vice president ofConsumer PC Clients in EMEA. He then moved on to be vice president andgeneral manager of Commercial Hardware within the Imaging and PrintingGroup. Ghilardi was most recently vice president and general manager ofHP's EMEA Consumer Business Unit, managing the business for consumerPCs and Imaging and Printing products.
AMD added that Alberto Macchi, corporate vice president of Sales andMarketing for EMEA, is departing the company "to pursue newopportunities."
Warner Bros. Digital Distribution - Jacqueline Jourdain Hayes
Warner Bros. Digital Distribution (WBDD) recently announced thatJacqueline Jourdain Hayes has been named Senior Vice President Businessand Legal Affairs. She will manage legal issues around new digitalbusiness models (such as distribution of Warner properties on Xbox Liveand elsewhere) globally, oversee the negotiation of Warner Bros.video-on-demand and electronic sell-through licenses across multipledigital platforms, and provide legal counsel to the Company's seniormanagement on the acquisition, distribution and protection of contentfor digital platforms and other digital initiatives.
"Jackie has been working on our digital business for quite some time,her expertise in this area is unparalleled," said Clarissa Weirick,General Counsel, WBDD. "The digital business is still one of thoseareas where you are often making the rules as you go along, whichrequires someone like Jackie who is confident and creative innegotiating this new terrain. We are extremely fortunate to have hercontinued expertise as our digital business moves ahead."
Hayes has worked as an Associate in the Corporate Departments of TroopMeisinger Steuber & Pasich in Los Angeles, of Goulston and Storrs,P.C. in Boston, and of Moses & Singer in New York City. She joinedWarner Home Video in 1998 as Counsel, and was promoted to VicePresident Business and Legal Affairs of WHV in 2000. Hayes joined theWarner Bros. Digital Distribution division in July 2006.
TC Digital Games – Andi Smithers
Recently, TC Digital Games announced that it appointed Andi Smithers tothe new position of Director of Technical Development. He will overseedevelopment of the company's digital services, including mediatechnology and format strategy as well as interoperability of digitalservices and devices.
"Andi joins our team at a pivotal moment in the evolution of Chaoticand TC Digital," said Bryan C. Gannon, President and CEO of TC DigitalGames. "He will become an integral part of our efforts to enhance theChaotic online experience and further develop our digital services.Andi's expertise in developing technology, his extensive background increating computer game software and his vision for emerging technologymake him a perfect fit to lead this innovative game play convergence."
Smithers has held several executive roles and technical positionsthroughout his 20-year career, having worked for Microsoft, Activision,Psygnosis, LucasArts, and Midway. He was most recently with Sony OnlineEntertainment where he served as Senior Engineer in the Research andDevelopment group. Smithers pushed advanced physics and graphicstechnologies forward to ensure their quality and was responsible foroverseeing the strategy and development for a cloth simulator.
Microsoft – Michael Delman
As we previously reported, Microsoft this past week appointed MichaelDelman to the position of corporate vice president of global marketingfor the Interactive Entertainment Business (IEB) in the Entertainmentand Devices Division. He takes over the role for Jeff Bell who left thecompany earlier this month. Read more about the move here.
Posted by Editorial Team Mon Jun 30, 2008 6:42 am
World of Warcraft was intended to be ad-supported in Business and Industry in Gaming, Media, Web, IT and Computing
During a keynote Q&A at the Paris Game DevelopersConference, Blizzard SVP Rob Pardo revealed that World of Warcraft wasoriginally planned as a free-to-play title.
According to a Gamasutra

report

,Pardo told GDC executive director Jamil Moledina: "When were firstgoing to make World of Warcraft, we wanted to make it free andadvertising supported."
"We didn't want to charge a subscription, but as we researched market conditions, we realised that wouldn't support us."

Pardoalso referred to the upcoming Activision and Vivendi Games merger -forming a new entity to be known as Activision Blizzard.
"It really doesn't affect us at all," he said.
"Onething that was great about this particular merger is that Bobby Kotickand all the great people at Activision didn't want to do this dealunless everyone at Blizzard bought into it."
"They really wantedto get to know us, and that's never happened before... they wanted tomerge with us because ultimately it would make us a stronger company."
Posted by Editorial Team Sun Jun 29, 2008 6:37 am
Video Game Training Recommended for NYPD in Gaming
NYPD Commissioner Ray Kelly has been a harsh critic of violent games like Grand Theft Auto in the past.
But a

report

in Newsdaysuggests that Kelly's own officers may soon be using video game tech totrain on firearm tactics. The training will include simulatedshoot/don't shoot confrontations with game-like avatars who moverealistically and have authentic facial expressions.
Therecommendation for specialized video game training comes from the RandCorporation. The think tank was hired in the wake of theNYPD's controversial shooting of an African-American man, Sean Bell, on his wedding day in 2006.
Rand's Bernard Rostker told Newsday:
[TheNYPD's] current simulators are very good, but it's pretty oldtechnology... [Video] gaming has gotten a bad reputation becausethey're all about shoot-'em-ups. But maybe a better way of looking atit is to look at something like the NBA basketball [video games]. Thequality of the figures is very real and the quality of the facialexpressions is very real. If you can give a student a lot of scenarios,it changes the nature of the learning experience.
Posted by Editorial Team Mon Jun 23, 2008 6:07 pm
DEBATE: Xbox 360 gamers read books more than PS3 owners in The Great Debates!
A new Experian Consumer Research survey comparing Xbox 360 and PS3owners has thrown up some wonderfully frank and comedic results.
Apparently, Xbox 360 users are far more likely to say that they are unable to live without books than their PS3 counterparts.
Butthe PS3 contingent hit back hard on the newspaper front, with way morerespondents (well, 103 compared to 60) saying that they would be deadif they didn't have newspapers.
The age of console owners is alsointeresting… with more in the 18-24 age bracket loving their Wiis, butwith those at 44-years old being far more likely to own a PS3… almosttwice as likely in fact.
It gets better
Ifyou think that's funny, read on. In a frankly pointless psychometricstatement test, the PS3 and Xbox 360 owners agree that "real men don'tcry", although the Microsoft-ers state that they are "more interestedin nature".
But while the Xbox 360 folk are reading their gamingmagazines, PS3 are buzzing around go-kart tracks the nation over orplaying board games.
The only question is…why on earth are people asking these questions?
Have a look at the

report

yourself here
Posted by Editorial Team Mon Jun 23, 2008 5:12 pm
GTA IV website prompts outrage in Gaming
Grand Theft Auto IV is once again at the centre ofcontroversy. But this time people aren't complaining that the game'stoo violent, because they're more concerned about the discovery of aso-called paedophile website.
In the game, an internet café allows the player to access a childpageant website called littlelacysurprisepageant.com. But, rather thanshowing anything untoward, the site's actually a front for GTA IV's police force and displays the warning: "We see it all, we know it all".
However, clicking on the game's spoof website is still a thrillbecause it automatically raises the player's wanted level to five stars.
Several gamers have already voiced their concerns in a

report

in The Sun, with one gamer stating that the website crosses the line.
Jason Deschoolmeester, 23, of South Wales, said the website "couldlead people to indulge in things like that. It is totally sick. I won'tplay it [GTA IV] again".

Child-protection body the NSPCC has even expressed its distaste forthe spoof website. Zoe Hilton, the NSPPC's policy coordinator for childprotection, said it's "disturbing that it is meant to be funny and thatit is glamorising something that is really shocking and upsetting".
This latest attack on GTA IV adds to existing criticism of this year's must-have videogame, which has already sold about 4.2m copies in the US alone.
In a Croydon Gamestation store, one gamer stabbed another man in the head and neck as they both queued to buy copies of the game on the day of its release. Anti-GTA IV campaigners quickly jumped on the stabbing incident as proof that such games are too violent for society.
Posted by Editorial Team Mon Jun 23, 2008 5:03 pm
NHS orders mass keyboard clean-up in Business and Industry in Gaming, Media, Web, IT and Computing
If you've read the reportsabout the average office keyboard being dirtier than a toilet seat, youmay want to take a leaf out of the NHS' book. The healthcare body hasordered thousands of specialist germ-resistant keyboards.
According to a

report

by the Press Association, the keyboards are completely flat and coveredwith a hypoallergenic coating that it's claimed repells bacteria. AnLED built into each keyboard also flashes when it's due for a rub-downand the light only stops flashing once sensors are satisfied that thekeyboard's been well cleaned with alcohol wipes.
Traditional keyboards can harbour lots of nasty germs, partlybecause they are rarely cleaned and becuase so many office workers eatlunch at their desks. Just try tipping your keyboard upside down now.Of course, returning to your desk without washing your hands after avist to the lav won't help matters either.

The NHS hopes the keyboard order, which is thought to be for 7500keyboards at a cost of over £1m in total, will help cut infection ratesand reduce instances of superbugs, like MRSA.
Dr Peter Wilson, a University College London Hospital consultantmicrobiologist and co-inventor of the cleaner keyboard, told the PAthat in tests the keyboards were shown to have a positive impact onkeyboard cleanliness.
The NHS' keyboards will be manufactured by a US-based firm, butsimilar germ-resistant PC peripherals can already be ordered online.Manufacturer Man & Machine, which is taking Apple to court over the Mighty Mouse name, sells several 'clean' keyboard designs online.
Posted by Editorial Team Mon Jun 23, 2008 4:55 pm
Obama vs McCain from a Gamers Perspective - Guide inc. VIDEO in Business and Industry in Gaming, Media, Web, IT and Computing
Mitt Romney
Mitt Romney has made computer games part of the thrust of his campaign,with references to the media genre in an ad campaign. In the promotional slot,he implicates them in "oceans of filth" in which America's youth areswimming. You can only imagine what he'll do if he gets into the WhiteHouse.
According to a Common Sense Media survey,which posted questions about interactive and other entertainment to theleading candidates, he intends to, "get serious against those retailersthat sell adult video games that are filled with violence and that wego after those retailers," and "to restore values so children areprotected from a societal cesspool of filth, pornography, violence, sexand perversion." Surprisingly similar to his Democratic opposite,Hillary Clinton.
John McCain
Second-time Presidential runner McCain has a team that thinks seriously about technology. In response to a CNet survey,"McCain" (aka his policy-writers) tackles net neutrality, governmentsubsidies for high-speed internet access, internet data privacy andcopyright issues. Unfortunately, there was only an oblique reference togames.
GamePolitics suggeststhat the anti-game slant of Independent candidate Joseph Liebermann mayhelp his friend McCain, whose inability to connect with the ReligiousRight in the US could be bolstered by their association.
McCain didn't respond to the CSM

report

, and so his intentions remain a mystery, for now.
Mike Huckabee
The evangelical Iowa caucus winner has been completely silent on thesubject of computer games, although, like McCain, he "expressedinterest" in participating in the CSM survey.
At the moment, games aren't an important policy issue, but I predictpolitical eyeballs will turn towards interactive entertainment whencontroversy temperatures rise in the summer months. If the potentialcandidates are silent now, they'll have to take a stand one way or theother. My guess is that all will play conservative, and with varyingseverity, call for federal government regulation of games in the US.
Meanwhile, in this country, we are anxiously awaiting the release of the Byron

Report

later this year, which should establish a useful baseline about the effects of violent videogaming on consumers.
Not sated by this roundup? Catch the dirt on the Democratic candidates in yesterday's post, or go to Gamepolitics for coverage. They have a special category, Game Decision 2008.


Debate over World of Warcraft - an interesting take.

We don't actively support wegame.com

Take a look at one of the comments below...

Quote:
did anyone notice the voices sound like george bush and that guy whos running for president? XD really well done..


There are a surprising number of British media eyeballs on the earlystages of the US elections. Reports suggest that people are coming outin droves to participate in caucuses, primaries and polls, particularlypopulations who've neglected politics before. And this includes a wholeraft a newly-eligible voters, many of whom happen to be computer gamers.
While it's still too early to suggest who'll be sworn in come 2009,there's still a whole lot of side-taking happening throughout the gamesblogosphere. Gamepolitics, the most obvious platform, is having a fieldday publishing satirical casual games, posts about candidate Obama'slikeness to Tiger Woods (seriously), and rumours about potentialsenatorial anti-games candidates.
This is undoubtedly a technologically-saturated election. All of thecandidates have MySpace pages (demonstrating the lightening speed withwhich politics adopts new media; where are their Twitter updates forgoodness sake?), and with the next few gaming months certain to be hotwith the release of the latest episode in a certain controvesry-ridingfranchise, we can expect to see gaming and techno-morality in a fewpolitical broadcasts.
So where do the front-runners sit with regards to computer games?This handy primer gives the dirt on their past actions and theircurrent attitudes. Today, the Democrats. Tomorrow, the Republicans.
Hillary Clinton
New Hampshire Democrat primary winner Hillary (whatever happened to the Rodham?) Clinton has never been a fanof computer games. Two years ago, Sen. Clinton introduced the FamilyEntertainment Protection Act (FEPA) in the wake of the Hot Coffeeincident, to regulate and counteract the effects of violent andsexually-explicit content in digital media. Had it passed, it wouldhave mandated:


On-site store managers would be subject to a fine of $1,000 or 100hours of community service for the first offense and $5,000 or 500hours of community service for each subsequent offense.
The bill would also require an annual, independent analysis ofgame ratings and require the FTC to conduct an investigation todetermine whether hidden sexual content like what was in Grand TheftAuto: San Andreas is a pervasive problem and to take appropriateaction...
Finally, the bill would authorize the FTC to conduct an annual,random audit of retailers to monitor enforcement and

report

thefindings to Congress.



more information from gamepolitics
More recently, in response to a Common Sense Media poll of the attitudes of the candidates to video game entertainment, Clinton argued,


"When I am President, I will work to protect children from inappropriate video game content"


Barack Obama
The Iowa caucus winner has suggested on several occasions that gamersare slackers. "It's time to turn off your Game Boys," he said at anAustin, Texas event last February. He's also returned a donation made by the Electronic Software Association's Doug Lowenstein and has repeatedly argued that working harder means playing fewer games.
In the CSM poll, Obama promoted industry self-regulation:


I would call upon the video game industry to give parents betterinformation about programs and video games by improving the voluntaryrating system we currently have. Broadcasters and video game producersshould take it upon themselves to improve this system to include easierto find and easier to understand descriptions of exactly what kind ofcontent is included. But if the industry fails to act, then myadministration would.


Indeed, in the same response, he does hint at federal regulation,and promotes funding research into the "impact of video games onchildren's cognitive development."
John Edwards
Edwards was the likable second to Hillary's first before Obama camealong, but his standings in the recent primary and caucus suggest thathe may take a back seat in November. However, he too could become aComeback Kid, so it's worth taking a look at what might happen to gamesif he gets the keys to the White House.
Edwards notably launched his campaign inside virtual world Second Life, and like many high-profile areas in this cyber-space, it was subsequently vandalised. Otherwise, he's been quiet on the digital entertainment front, with little action in either direction.
So it's unsurprising that when the question was posed, point blank,in the CSM poll, he (and his policy-writers) played a cautious,hands-off game; he applauds the work of the internal ratings boards,but suggests that there's much more to do to keep inappropriate contentaway from kids:


If the industry does not continue to make progress in keeping videogames with intense violence and adult content away from children, wewill need to consider further steps to ensure that parents' decisionsabout their children's exposure to these games are not being underminedby retailers, advertisers and manufacturers.


Of the three Democrats, only Clinton appears to have made this apolitical issue, and has thought seriously about the implications ofinteractive media. She's the only one ready to take action, one way orthe other. While Obama has despaired at games in the past, both he andEdwards are less explicit about any actions they would take if theywere to take up residence on Pennsylvania Avenue next year.
Tomorrow, we cover the Republican candidates, but in the meantime,more information on where the candidates stand is available at gamepolitics, in their category Game Decision 2008.
Disclaimer for articles or content containing "wegame.com":
iVirtua Media Group (UK) does not recommend nor endorse the third party service "Wegame.com" or any of its associates. For more information contact our Public Relations team via William Tildesley in our Social Media Department - william.tildesley@iVirtua.co.uk or williamtildesley@gmail.com
Posted by Editorial Team Thu Jun 19, 2008 6:54 pm