Search iVirtua
Advanced/Tag Search...
Search Users...
What is iVirtua Exclusive Community?
An exclusive gaming industry community targeted to, and designed for Professionals, Businesses and Students in the sectors and industries of Gaming, New Media and the Web, all closely related with it's Business and Industry.
A Rich content driven service including articles, contributed discussion, news, reviews, networking, downloads, and debate.
We strive to cater for cultural influencers, technology decision makers, early adopters and business leaders in the gaming industry.
A medium to share your or contribute your ideas, experiences, questions and point of view or network with other colleagues here at iVirtua Community.
Guest's Communication
Live Chat
Teamspeak (VOIP) Audio Conference
Private Messages
Check your Private Messages
Themes
Choose an iVirtua Community theme to reflect your interests...
Business Theme

India/Arabic Theme
Gaming Theme
iVirtua Recommends
Fly Emirates
Microsoft Bans 'Ben Dover' from Xbox live in General Discussion, including Off Topic, Current Affairs
Editorial Team wrote:
If you currently have a variation of 'Ben Dover' as your name onXbox LIVE, you will be required to change it if Microsoft hasn'talready banned your name. It seems to me like Microsoft is getting alittle too "PC" and trying to eliminate any kind of creative screennames that may have adult meanings behind them. Recently, Microsoftalso decided to ban any

screen

names with the word "gay" included.
Are they going too far with name restrictions? What do you guysthink? I realize that Microsoft is worried about offending people, butperhaps they are going a little too far. How about banning thefoul-mouthed punks who continually plague XBL?

Screen

names are reallythe least of my worries.

1984 and big brother coming a bit late hear
Posted by PYMUSi1 Mon Nov 02, 2015 10:16 pm
Runescape Tools: inc Auto Buyer,Auto Fighter,Auto Woodcutter in Gaming
:[) guys when u turn auto wood cuter on it will try to click thoose things of runescape on ur

screen

.but it cant..so u have to click that thing.for it then it starts:)
Posted by login123 Mon Aug 04, 2008 1:28 am
UK games biz demands closer ties with academia in Business and Industry in Gaming, Media, Web, IT and Computing
UK videogame industry leaders have demanded greater ties betweenbusiness and academia to ensure that Britain's games developers remainglobally competitive. But will any of them step forward to foster therelationship?
At games industry conference the Westminster Media Forum, held inLondon this week, Mary Matthews, Strategy and Business DevelopmentDirector at game developer Blitz, said that ineffective training isholding the industry back.
"We can't do what we want to do because we can't find the right people," she said.
Yet, acording to Kate O'Connor, Executive Director of Policy andDevelopment at Skillset, an industry body for skills and training, UKuniversities already offer 80 videogame-related degree courses. Nonehave any industry recognition, however.
Paul Harris, Professor of

Screen

Media at the University of Abertay,Dundee, agreed that accreditation by game design firms is crucial. Hesaid it is the best way for universities to ensure that students'skills match firms' requirements.
Matthews also called for a similar frequent refreshment of the curriculum.
Matthews has other ideas too, such as recruiting potential gamedesigners from the age of 14. In her view, this would help kidsestablish much earlier a link between enjoying games and developingthem, thus steering more designers into the industry.

However, no one appears willing to take responsibility for theproposals. Instead, both industry and academia are hoping thegovernment will do the job for them.
Margaret Hodge, Minister for Culture, Creative Industries andTourism, said at the conference: "The games industry must do more toencourage students to choose the right qualifications [for videogamedesign], such as maths and physics."
The government, she said, also has plans in the pipeline to createof centres of excellence for videogame development where gaming brainscould unite to develop the next smash hit.
Posted by Editorial Team Mon Jul 14, 2008 1:02 pm
'The Internet Hates Diablo III' in Gaming
When Blizzard unveiled Diablo III earlier this week, it didn't comeas much of a surprise to anyone. Well, there was one guy who thoughtStarcraft 3 was being developed alongside Starcraft 2 with a projectedrelease date of one week prior to the release of the game it wasfollowing, but no one has taken Cliffy B. seriously since he predictedthat Mario would never appear in another video game after Super MarioSunshine.

Sure, it didn't blow any minds, but theannouncement came as welcome news. Diablo II is still the first thing Iinstall on my computer after a trojan-laden lolita incest hentai comicforces me to reformat. It's hard to believe that in the last eightyears no one has been able to step in and create a better action-rpg.It's even harder to believe that a ten year old girl can lubricate herentire body with egg yolks then squirm into the urethra of her mother'spenis and follow it until she returns to the womb, but I saw thedrawings. It can happen, people.


After watching theDiablo III gameplay footage, I was really excited. The visuals werefantastic, a lot of small improvements had been added without seemingto get in the way of what makes the series great, and by the end of thevideo I found myself moving my mouse around the

screen

as if I wasplaying. That's sad, but what's even sadder is that I'm not a big-timegame journalist so I can't come up with a term like "gamesturbation" todescribe the lonely and desparate act while making myself cool andquotable.

Imagine my surprise when I discovered that mypositive impressions were irrational and baseless, while most of theinternet saw the game for what it truly was: A personal insult to themand a serious threat to all they hold dear. If you find that you'vemistakenly become mildly optimistic about the game, read on to find outwhere I went wrong so you can adjust accordingly.






My Initial (Wrong) Opinion:Wow, it's the world from Diablo in 3D, rendered like a painting toretain the 2D flavor of the previous games. The dark and ominous themesare still there, only now we don't have to use our imaginations to fillin the details suggested by blocky sprites.

The Internet's (Correct) Opinion: Wow, it's a shitty cartoon! This is NOT the same world that Diablo I and II took place in. No way.

DoI see a rainbow? I'm sorry, but rainbows don't exist in the Diablouniverse. I have read all the lore, and there is not a single mentionof rainbows in there. Big surprise that Blizzard retconned rainbowsinto Diablo. Vapid morons. Who do they think they are? I've beenplaying this series they created for years, and they fuck everything uplike they own it.

Here's the dark and gritty Diablo II, which Diablo III should look like:





Here's a cartoon:





Or is that Diablo III? I honestly can't tell.

Blizzardshould give the game a dark atmosphere by literally making the game toodark to see anything and then maybe add some film grain on top ofeverything. If the technology is available, the black silhouette of athumb could get in the way of the player's view to obscure the gamefrom time to time and add to the game's overall darkness.



My Initial (Wrong) Opinion:In addition to gold and loot, monsters will occasionally drop globesthat heal your character when picked up. You'll be able to focus moreon the gameworld instead of micromanaging a potion inventory. Thisfrees up the hotbar for your character's abilities.


The Internet's (Correct) Opinion: Globes of health. That float. Riiiight.


Itmade so much more sense when glass bottles full of healing syrup fellout of monsters onto rocky dungeon floors without breaking. You know,when your character had thirty bottles strapped onto his belt and noone thought twice about chugging something that had been stuffed into apoisonous mummy for the last thousand years. This magical orb shit isgoing to ruin my sense of immersion big time.





My Initial (Wrong) Opinion:The Witch Doctor looks like a variation of the Necromancer that focuseson infectious diseases and fire instead of death and the art of lookinglike J. Mascis. Being able to cast your offensive spells on pets sotheir attacks are buffed with those spells' abilities seems like itcould be a lot of fun. I can imagine buffing one pet with a spell thatslows enemies, another pet with some form of Weaken, and a third with adamage-dealing plague to mop up.


The Internet's (Correct) Opinion:WHERE DID THE NECROMANCER GO??? I'm not buying this game. Even if allof the unannounced classes are Necromancers, it's too late. Blizzardhas abandoned its true fans.





My Initial (Wrong) Opinion:Did that thing just flatten one player under its foot, then pick up abarbarian and bite his head off? Okay, that's awesome. Hardcore modejust got hilarious.


The Internet's (Correct) Opinion: So the player characters only come up to this thing's ankles? That's stretching it way too far.

I'msorry, but this terribly designed throwaway boss does not fit into thecompendium of realistic monsters that we've all become accustomed tosuch as skeletons that hide in barrels, pygmies that stand on eachother's shoulders to create larger pygmies, and enormous Satanic grubs.
Posted by Editorial Team Tue Jul 08, 2008 7:53 am
Runescape adds full screen/high detail with update. in Gaming
Posted by Editorial Team Tue Jul 08, 2008 7:52 am
Build a DX10 rig for under £176 in Hardware, Internet, Networking, Comms and Security
We like big explosions, the bigger the better, in fact.
Wealso like smoke effects, water ripples, dappled lighting filteringthrough jungle canopies and creeping up silently behind people, beforemurdering them with our bare hands. But enough about our weekendpastimes…
What we really like are the fantastic visuals that DX10 gaming offers.
If you listen to most people, they will tell you that you need a quad-core, DDR3, triple-SLI setup to play Crysis. The sort of setup that requires you to remortgage your house to own. These people are wrong, and we're going to show you why.
We'vepreviously demonstrated how to build a DX10 setup for just under £300,a not unreasonable amount that should be within the reach of mostpeople. But what if you just blew all your money on a sordid weekend inAmsterdam, and you've resorted to scrambling under the sofa for loosechange? Would you believe us if we told you that it's possible to builda DX10-capable rig for well under £200? Well, it's true.
Ofcourse you can't connect it to a 22-inch wide

screen

monitor withoutthe frame rates plummetting, but if you're on that tight a budget, abig monitor is probably the least of your concerns.
Wheneveryou work to such a tight budget, something has to give and this projectwill be no exception. We need to prioritise in certain areas, whileothers can be largely ignored.
Yes, a case is important to stopyour gear being an untidy heap of electronics on the floor, but reallyyou just need a metal box to screw things onto. Optical drives are dirtcheap, and with memory stick capacities being what they are, hardlyanyone burns DVDs, so we only need a DVD ROM.
It also means noquad-core and no SLI. But dual-core chips are surprisingly cheap, andwe'll see just how well a budget DX10 card performs. Don't forget thatif you have any parts available from an existing PC, such as cases anddrives, you can reuse them and put the money towards a higher-end CPUor graphics card.



Case and PSU
Ifyou want a well-designed case, with plenty of fans, numerous ports andplenty of upgradability, then it's easily possible to spend more thanour entire budget on such a beast.
Likewise, if you want a 1KwPSU that supports the likes of SLI, then it's going to cost a fairamount of cash. At the other end of the spectrum is the all-in-one caseand PSU deal. We found one for just £26, which includes a 400W PSU.
Thismay not sound like a lot of power, but it's more than enough to run oursetup. When spending such a small amount of money on a case, you'dexpect it to be quite horrific, but it's surprisingly well featured. Ithas a matt-black finish, which helps on the looks front, and the frontpanel has USB and audio ports.
Most of the internals can befitted without the need for a screwdriver, and it even has a lockingside panel. Sure, it isn't the best-looking or quietest case we've everseen, but for this sort of money, we're not complaining.
The result?
As the most basic DX10 card available from NVIDIA, it comes as no surprise that the performance of the 8400 is not the best.
However,at £20 it still does pretty well, as long as you keep the resolutionrealistic. Okay, not everyone wants to play at 800x600, or even1024x768, but then you shouldn't be so cheap, should you?
Surprisingly, Crysis gave some of the best results, although BioShock achieves the best framerates of all. Using the Optimal settings button, Crysisdid set all the detail level to low, but the results still lookedpretty good. However, if you're going to be realistic about playingDirectX10 games, then you are going to have to find a little more moneyin your budget.
Hooking the 9600GT up to our budget CPU workedabsolute miracles, and at around £70 extra is an absolute steal. Notonly could we turn the detail right up, but we could run a higherresolution and still get twice the frame rates of the 8400GS.
Surprisingly,adding a high-end quadcore CPU doesn't give much of an increase, witheither the 8400 or 9600GT. In conjunction with the 8400Gs, the Phemom9550 does give you some extra fps over the Athlon X2 4400+, but withwhen it comes to the 9600GT, the difference over the 4400+ setup ismarginal.
So, if you want the best performance, and can spend alittle extra, buying the 9600GT is the logical choice. You know itmakes sense.
Posted by Editorial Team Tue Jul 08, 2008 7:47 am
Rethinking Traditional Advertising Methods in Business and Industry in Gaming, Media, Web, IT and Computing
You see, for all the talk of monthly periodicals' demise, SEO'simpending reign, the downfall of FM stations and television'sinevitable implosion, we, err, sort of forgot to mention one thing:essentially that, despite posting up ratings far from the halcyon daysof the pre-TMZ.com era, mass media outlets such as ABC, CBS, CNN andNBC; Time, Newsweek and USA Today;and even regional Cineplex chains still generate the kind of audiencenumbers most interactive entertainment execs would give their last USBcable to connect with. Tactics may be changing, with custom tradeshows,advertorials, movie-type trailers and cover wraps replacing simple pageads and product giveaways. But as an industry, we're far from preparedto divorce ourselves completely from traditional advertisingplacements, or shift marketing dollars exclusively onto the Internet.

"Something most gamemarketers miss about the broadcast space is the need to keep messagingpointed and simple" - Steven Roberts, DIRECTV

To wit, column after news brief after investigative report may continueto bemoan the death of old-world media. However, as any marketingdirector can attest, its core vehicles still remain one of the bestways to rapidly generate mass awareness amongst PC- or console-owningaudiences. Hence, although blogs and video aggregators deliver greatbang for the buck and generate tremendous street-level buzz, theycontinue to be promotional outlets that most core publishers have yetto wholly embrace, let alone fully commit to. Thus the reign ofhigh-profile primetime spots for titles like Grand Theft Auto, Madden and Halo rolls on.
And so, just as I humble myself before my new daughter, who hasn't meta pair of slacks she hasn't enjoyed redecorating yet, I willinglyprostrate myself before the industry-at-large and beg forgiveness. Asthe following executives – representing the television, motion pictureand direct marketing industries, respectively – are quick to remind, weshould all think twice before acting so rashly and completely writingthese businesses off.
Suffice it to say that they may not generate the same kind of headlinesin 2008 as rich media providers, online networks or widget creators,but thanks to new technology, changing tastes and increasing audiencefragmentation, let's just say they're far from out of the game.
Steven Roberts
Vice President & General Manager, Games and StrategicInitiatives for DIRECTV, overseeing broadcast ventures like 24/7interactive games channel Game Lounge and the internationally televisedChampionship Gaming Series professional league.
"Broadcast TV is absolutely not dead – just changing. Popular as gamingis, you can't look at entertainment in a vacuum... you have to considerthe overall mass-market. There are 120 million television homes outthere, with millions of people who just want to be entertained in thesame way they have for the last 50 years. NFL football still puts uphuge ratings every Sunday, and millions still tune in to watch livemusic and sports – you don't see that on an Xbox 360 console.
"True, television has to evolve, and will become more interactive toengage subscribers... if that's what users want. But what we're reallylooking at here in the immediate is developers/publishers grapplingwith a question of increasing audience segmentation. Something mostgame marketers miss about the broadcast space is the need to keepmessaging pointed and simple. That doesn't mean downplaying keyelements or features that you want understood: Just presenting them ina straightforward, easily comprehensible way that speaks to a specificaudience. Implementing better virtual cameras into games would be awelcome start... For broadcasters, it's very difficult to showdifferent elements of a title in ways instantly conducive to helpingpeople understand what it's all about.
"It's also important to look beyond the 30-second spot. There's plentyof room for advertisers to tap into broadcast vehicles, whether throughtelevised competitions, interactive online program extensions orproduct integration. Placing games front and center by showing ahalf-hour of screens, video footage and people playing these titlesmakes sense. But what you really need for effective campaigns here isto build elements of user interaction into your advertising and pair itwith programming that's consistent with the demographics of the gameitself.
"It all comes back to basics. People won't skip an ad on a DVR or turnaway to get a glass of milk if it's compelling, the message is clearand it's telling you something that you want to hear. Creative doesn'tjust have to wow either: It also has to make sense for the audiencesegment. While marketing can be fun and have an edge to it, ultimately,for on-air placements, it's vital to make sure the message is verytargeted, specific and simple."
"For all the uproar surrounding the movie business lately, gamemarketers shouldn't underestimate in-cinema advertising's power. Mostmedia features a device (remote control, mouse click, radio dial, etc.)that lets audiences tune unwanted messaging out. But at the theater,you've paid to be there, are a captive audience and want to beentertained. This receptivity begets results if the creative is good:Recall scores average around 60%, with categories like gaming actuallysoaring into the 80-90% range.
"Definitely, the big

screen

's sexy. Via streaming media, you canliterally send ads for M-rated games to all R-rated movie screenings inany given city; appear alongside only specific types of films; ordeliver different messages to different geographic markets on-demand.But publishers need to look beyond the most obvious opportunities –lobbies can also be a marketing wonderland. Standees, banners,concession items... From 20-minute pre-shows packed with original,exclusive and entertaining content to game posters disguised to looklike cinematic counterparts, options for building brand equity areendless.
"Hollywood is far from dead. Are gamers going to see Shrek, The Matrix and Pirates of the Caribbean?Of course... it's common sense. Research also shows emotions aremagnified at the theater – and the same holds for audience reactions tocommercials as well as films. It's hard to argue with a dark room, agiant

screen

and a group of people who've willingly paid to be thereand want to see what's in store.
"Also note – 80% of tickets are sold on weekends, a time when peoplewant to go shopping, and theaters are generally located in shoppingdistricts. Stick a retail discount on a box office handout, and youdon't just achieve grassroots interaction, or present a clear call toaction. It's also conceivably the last message a consumer sees beforehaving to drive home past a Best Buy or Wal-Mart where your game'sconveniently stocked."

"People are more distracted than ever – advertisers need to cut throughthe clutter. You have to find ways to surprise and entertainaudiences... It's important to design options that let you really spendtime with consumers in a meaningful way.
"Consider core gamers. You can look at where they're hanging out – atfraternity houses, sports bars, military bases, wherever – thendiscover ways to be there. It's even possible to reach players atschool and weave gaming properties into an educational message. Theseinstitutions appreciate it when game companies can provide them withbranded book covers, locker calendars or workshops that incorporatethese titles to teach lessons, just to name a few possible choices.
"Basically, you have to create options that make sense for the contentand target demographic, then craft a vehicle that fits. This could be abranded video game tournament, for example, or involve catching fans ata sporting event and giving them things they can wear to the game.There are alternative ways to reach virtually any shopper.
"It's crucial for publishers to connect with fans on a one-on-onelevel, because as excited as TV/film imagery can make them, people wantto go hands-on and try your games. To do so, you have to interface withthem on the street. Demos at malls, movie theaters, health clubs, etc.are essential to building buzz: There's a direct link between samplersconverting into purchasers. Experience is everything, and consumers aregoing to be the strongest ambassadors for your brand – word-of-mouth isincredibly powerful in the enthusiast gaming community.
"A holistic strategy is important, though: Alternative marketing shouldjust be one part of a diversified tactical plan. If I can see an ad foryour game during Lost or American Idol, then it happens to be at a barwhere I can try it, it'll pique my interest... Suddenly, brand andbuyer are making a meaningful connection. Remember though, that theseplacements have to be unobtrusive. You can't invade someone's space –you have to make kiosks, stands, booths, etc. – something that adds to,not takes away from, the entertainment value of any activity or event."
Posted by Editorial Team Tue Jul 08, 2008 7:40 am
Microsoft Bans 'Ben Dover' from Xbox live in General Discussion, including Off Topic, Current Affairs
If you currently have a variation of 'Ben Dover' as your name onXbox LIVE, you will be required to change it if Microsoft hasn'talready banned your name. It seems to me like Microsoft is getting alittle too "PC" and trying to eliminate any kind of creative screennames that may have adult meanings behind them. Recently, Microsoftalso decided to ban any

screen

names with the word "gay" included.
Are they going too far with name restrictions? What do you guysthink? I realize that Microsoft is worried about offending people, butperhaps they are going a little too far. How about banning thefoul-mouthed punks who continually plague XBL?

Screen

names are reallythe least of my worries.
Posted by Editorial Team Fri Jul 04, 2008 6:04 am
The 5 Weirdest Games... Includes 'Bible Adventures' in Gaming
Games on the whole are all pretty weird but we, as gamers, just takethis on board without really questioning them. We never wonder whereSonic puts all those rings when he's quite clearly naked (possibly inhis oversized socks?) or indeed why he's even naked at all!! Nope it'sSonic, he must have a reason and just hasn't felt the need to explainhimself! The following 5 games will make you think though, as they arejust TOO bizarre to sit comfortably with our sense of what'sacceptable, observe:
5. Monster Party (NES)
The weirdness kicks in right from the off in Monster Party, the gamestarts with a cut scene of the main character, Mark, walking home froma baseball match with his bat over his shoulder. A gargoyle named Bert(as all the famous gargoyles are) spots him and whisks him away to hishome planet charging him with killing all the invading monsters withhis trusty bat.
It's the bosses that really steal the show here with one being agiant spider lying on the floor, you enter the room and he shouts"Sorry I'm already dead" and that's it, you win!! Result!! Othersinclude 2 zombies who dance for 30 seconds then collapse and die, abouncing shrimp and a huge cat that throws small kittens at you.





4. Chou Aniki (PC Engine)
Described as the most homoerotic game ever, Chou Aniki, meaning"Super Big Brother", could be described as a one on one beat 'em upalthough all the characters float. The series is hugely popular inJapan and the highlights include musclebound men in Speedos firingwhite liquid from holes in their head, lesbians, a boss fight against anaked man in a bathtub and the temple of Gay Pleasure!
There really is no other way to describe it than 100% gay. Amazinglyenough while the original never made it out of its home country it hasrecently been released on the Virtual Console, just don't let anybodycatch you playing it.

3. Sexy Parodius (PSOne)
Another sexually explicit game though this ones a bit more for thestraight people out there, Sexy Paridous features bunny sisters Hikaruand Akane and is full to the brim of Japanese Hentai nudity.
The game plays pretty much the same as any other Paridous bar theinclusion of huge naked Lady's as bosses! Nice!! This, the 4th game inthe series, is my favourite but that's probably because I'm a bit of apervert and you'll find it on the recently released PSP title ParidousPortable. Like Chou Aniki you would have a bit of explaining to do ifyou were found playing this alone.

2. Bible Adventures (NES)
It's my opinion that there just isn't enough games based on the goodbook and developer The Wisdom Tree must have felt the same when theydecided to make this.Part of a series that included must have titlessuch as Super 3D Noahs Ark, Sunday Funday and the King of Kings.
Bible Adventures saw you take part in various biblical stories suchas loading the animals onto the ark, battling against Goliath andtransporting the baby Moses down the Nile. Possibly the best part wasthe ability to throw Moses in the river and watch him slowly drown.

1. Takeshi's Challenge (Famicom)
No doubt I'll get a few comments along the lines of "This gameshould have been in it etc." but there can be no debate that this trulyis the weirdest game of all time. Developed by Japanese film directorBeat Takeshi the title

screen

proudly displays the words "This game wasmade by a man who hates video games"! He obviously hates the peoplethat play them as well as not only is it the weirdest it quite possiblythe hardest!
Different parts of the game require you to sing into the built inmicrophone in the Famicom's controller, another tells you to do nothingfor 60 minutes and another to avoid getting divorced. All this leads toa boss that needs to be hit twenty thousand times to die which takesroughly three hours. Truly, truly bizarre.

Posted by Editorial Team Tue Jul 01, 2008 7:16 am
Spore Creature Creator tops US charts - have you got it? in Gaming
The NPD Group has released US PC software sales datafor the week ending June 21, with EA's Spore Creature Creator comingout on top.
Maxis reported that one millionSpore creatures were created and shared during the stand-aloneprogram's first week of availability. The full Spore game will bereleased in September.
Sales of Spore Creature Creator werestrong enough to place the game at number six on the All Categorieslist - the only game to appear alongside business, education andutility software.

The Top Ten best-selling PC games in the US for the week ending June 21 were:



1 Spore Creature Creator (EA)

2 The Sims 2 Double Deluxe (EA)

3 Age of Conan: Hyborian Adventures (Eidos)

4 World Of Warcraft: Burning Crusade Expansion Pack (Vivendi>

5 World Of Warcraft (Vivendi)

6 World Of Warcraft: Battle Chest (Vivendi)

7 The Sims 2 FreeTime Expansion Pack (EA)

8 The Sims 2 Kitchen & Bath Interior Design Stuff Expansion Pack (EA)

9 Call Of Duty 4: Modern Warfare (Activision)

10 Lego Indiana Jones: The Original Adventures (LucasArts)


The Spore Creature Creator was software that allowed players to create their own creatures with a standalone version of the Creature Editor from Spore; the software was one of the first aspects of the game to receive focused development, and had undergone ten rewrites since the start of development. It was rated E by the ESRB in early March 2008, indicating that the editor would be released separately well before the game's release as a utility program. Electronic Arts told MTV Asia that "EA

Screen

will provide visitors a chance to interact with EA's game producers hailing from the studios, and unveil the hugely anticipated SPORE Creature Creator demo version to gamers for the first time in Asia." Electronic Arts VP Mark Buechner stated on the Spore Facebook page that the editor would be released in June or July 2008, saying, "We are looking at releasing it two to three months before the launch of the full game."

The SimCity Box artwork showed a blurb stating that the creature editor would be included with it. IGN revealed that the Spore Creature Creator utility will be available in two different versions on June 18, 2008. There was a paid version (for $9.95) and a free demo that was downloadable from Spore.com and included for free, bundled with The SimCity Box. The free version of the editor only contained 25% of the available creature parts that were found within the full version.

The utility included a test environment for players to see their creatures go through animations and allow the player to import other user-created creatures through the Sporepedia at Spore.com. The utility included

screen

capture and video tools as well, including YouTube functionality.

The editor also gave the user the ability to create animated avatars,and output in RSS and embeddable HTML code to facilitate easy incorporation into such sites as MySpace and Facebook.

Shortly after its introduction, the Creature Creator was used to create creatures with oversized genitalia, either stand-alone or engaged in coitus (a phenomenon quickly dubbed 'sporn'). EA responded with e-mails sent to those who made pornographic machinima from its demo, and has flagged certain on-line accounts for "TOS violations". Furthermore, YouTube has pulled several such videos for violations of its own TOS.

By June 24, 2008, users had already created over one million creatures.

It has been noted by those using the Spore Creature Creator, that while the Social and Attack categories can reach a max score of 20 with enough parts on the creature, the Abilities category does not achieve a max in the Creature Creator. This has led to speculation from it being the brain levels to advanced sensory abilities to telekinesis.

Electronic Arts confirmed that Spore will be receiving post-release expansion packs. No other information is available as to what sort of content the packs will feature, but EA has hinted it will be similar to The Sims expansions.


In the news
Spore Creature Creator free in the UK Videogamer.com

A Wii spinoff of the game has been mentioned by Will Wright several times, such as in his October 26, 2007 interview with the Guardian.Buechner confirmed it, revealing that plans for a Wii version were underway, and that the game would be built from the ground up and would take advantage of the Wii Remote, stating, "We're not porting it over. You know, we're still so early in design and prototyping that I don't know where we're going to end up, so I don't want to lead you down one path. But suffice to say that it's being developed with the Wii controls and technology in mind."The Xbox 360 and PlayStation 3 versions of Spore are still under consideration.

Merchandising

There will be an iTunes-style "Spore Store" built into the game, allowing players to purchase external Spore licensed merchandise, such as t-shirts, posters, and future Spore expansion packs.There are also plans for the creation of a type of Spore collectible card game based on the Sporepedia cards of the creatures, buildings, vehicles, and planets that have been created by the players.There are also indications of plans for the creation of customized creature figurines; some of those who designed their own creatures at E3 2006 later received 3D printed models of the creatures they created. The Spore Store also allows people to put their creatures on such items as T-shirts, mugs and stickers.

The Spore team is working on a partnership with a comic creation software company to offer comic book versions of your own Spore story. Comic books with stylized pictures of various creatures, some whose creation has been shown in various presentations, can be seen on the walls of the Spore team's office.
Posted by Editorial Team Tue Jul 01, 2008 7:13 am
Top 10 most vital people-powered technologies - FEATURE in General Discussion, including Off Topic, Current Affairs
Linux
Thedaddy of people power, this open source operating system owes prettymuch everything to the massive community of users and developers who'vebuilt it, broken it, put it back together again and added all sorts ofgoodies.
The penguin logo unites a truly incredible group oftalented people, from driver developers to desktop designers, advocatesto application builders.
Firefox
Even people who think that Linux is a character in the Peanutscartoon know about Firefox. What makes it special isn't the open sourcecommunity that created and maintain it, however; It's the efforts ofthe developer community whose extensions make Firefox the Swiss ArmyKnife of the internet.
Whether you want to block annoying ads,keep track of interesting sites or just stay up to date with footieresults from around the world, if you can imagine it, there's almostcertainly an extension that does it.
Half-Life 2
This month we've mostly been playing Minerva, Adam Foster's excellent mod for Half-Life 2 (http://developer.valvesoftware.com/wiki/MINERVA). Modders have been creating new stories since the days of Doom, and a quick look around Moddb (www.moddb.com) uncovers stacks of mods for your favourite PC games.
Smartdevelopers - such as Half-Life's Valve - know that mods make theirgames even more attractive, so the firms make modding as easy andaccessible as possible.
Xbox
Is your original Xbox gathering dust in the loft? Why not dust it down and turn it into a fully-fledged media centre?
While Microsoft blabs about the 360's multimedia features, the talented team at the Xbox Media Center project (www.xboxmediacenter.com)can turn an ageing original Xbox into a multimedia marvel (although ifyou don't fancy modding your console, steer clear - XBMC only works onhacked machines).
Job done, they're turning their attention to other platforms: a Linux version of the software is in development.
TiVo
Thecommunity that's sprung up around the TiVo digital video recorder(www.tivocommunity.com) is a thing of wonder, with users offering eachother advice, commenting on the company and fiddling with its products- often in ways that would give film and TV studios heart attacks.



While TiVo claims not to encourageor discourage the hacking community, it's pretty obvious that thehacking community makes the product even more attractive to tech-heads- and hackers' ideas often turn up in the official product, such aswhen the community found and fixed a date problem in older TiVo boxes.
iPhone
iPhonehackers aren't just trying to free the phone for use on any network.They've found ways to turn your existing tunes into ringtones withoutpaying for them all over again, created all kinds of add-onapplications and best of all, found a way to change the truly horriblefont on the Notes

screen

.
PlayStation Portable
Sonydoesn't like it - recent firmware updates mean that unless you've gotan older PSP, your options are limited - but thanks to Homebrew (www.psp-homebrew.eu)you can add all kinds of goodies to the device. There are loads,including customisers, emulators, chat programs and GPS software.
Overclocking
Changingchips' clock speeds and hoping they wouldn't set your house on fireused to be a shadowy pursuit that tech firms frowned upon. Thenhardware firms realised that overclockers had money as well as PCs toburn.
Now, motherboard makers often provide everything a speeddemon needs, either in the motherboard BIOS or on the driver CD, andgraphics card firms are keen too. For example, ATI actively encouragesoverclockers to ramp up their Radeons.
Windows Media Center
Microsoft'smedia system is pretty nifty, but it's niftier still when you tweak ituntil it squeaks. Microsoft knows this, which is why it happily linksto two independent community sites: the Media Center-specific GreenButton (thegreenbutton.com), and the general audio-visual AVS Forum(www.avsforum.com/avs-vb).
The software giant also has its own community site (www.microsoft.com/windowsxp/expertzone/communities/mediacenter.mspx), where media center experts share their top tips.
Web apps
Firms who make it easy to interact with their online apps have createda massive community of developers. Google Maps has been adapted toprovide maps of speed cameras (http://spod.cx/speedcameras.shtml) and to create flight simulators (http://www.isoma.net/games/goggles.html), while keen developers have created software for apps such as Google Mail and Flickr.
You'll also find useful and useless apps alike on social networks such as Facebook.
Posted by Editorial Team Mon Jun 30, 2008 6:31 am
25 rarest Nintendo games ever in Gaming
We could've filled the entire list withantique Game & Watch titles alone (they're manna from heaven forcollectors), but for the sake of balance here's a list of some of themost valuable games across Nintendo's entire portfolio.


So before you throw out any 'junk' boxes from the loft, best check they don't contain any of these 25 rare classics.


Harvest Moon (SNES, US) - £60
The SNES version of Harvest Moon is still considered the best amongfans of the whimsy-heavy farming/courting sim. It doesn't come up veryoften on eBay, and when it does you can expect to pay at least £60 fora good boxed copy. The N64 version was released soon after, accountingfor the SNES game's initial lack of popularity.


Banjo-Tooie (SNES, PAL) - £60
Rare's first Banjo-Kazooie game was extremely popular, but Banjo 2 gotstuck in development and ended up coming out towards the end of theN64's lifespan. Although you may be able to pick up a copy cheaper, agood boxed version will set you back at least £50, and sealed copieshave been known to go for as much as £100. You'll probably see theseprices rise when more news of Banjo-Kazooie 3 on Xbox 360 emerges.


Dracula X (SNES, US) - £70
The final Castlevania game released on SNES wasn't as popular asprevious iterations, but the series has gained great cachet with gamersmore recently, especially since prices for Castlevania: Symphony Of TheNight skyrocketed on PS1. Dracula X is unlikely to go down in value.


Sin & Punishment (N64, jpn) - £70
While the version released on Virtual Console has adversely affectedthe original's price, this N64 classic is still a jewel in the crownfor any Nintendophile. This Treasure shooter was designed for the N64analogue stick and is always best played on its host hardware. A goodinvestment and a collectable game you'll actually bring out from timeto time.

<!--[bigpic]-->
Naruto: Clash of Ninja (GameCube, PAL) - £75
Although it's worth very little in America and Japan, the PAL releaseof Naruto Clash Of Ninja didn't see wide distribution and it's beenknown to fetch up to £75 on eBay. Expect other GameCube titles such asChibi-Robo and Baten Kaitos to increase in price because of theirlimited numbers.


Earthbound (SNES, US) - £80
This Japanese hit was released in the US but failed to make much of animpression. Now it's lauded for its RPG in-jokes and humorous take onAmerican culture. Again, rumours abound that EarthBound is to bere-released on Virtual Console, which may bring the price down on thisUS import.


Paper Mario (N64, PAL) - £80
Another rare PAL gem. Though Paper Mario continues to be one of themost popular titles on Wii's Virtual Console, collectors will stillfork out good money for this great mix of platforming and puzzling inits original guise. Until recently, copies of this SNES classic couldstill be found in many second-hand game stores.


Bakuretsu Muteki Bangaioh - (N64, jpn) - £80
If you thought the Dreamcast version of Bangai-O was good, you shouldcheck out the original N64 version with its sublime analogue controls.Only 10,000 copies were released in Japan and it's been going up inprice ever since. Find a mint, boxed copy and you'll have collectorsknocking your door down.


Chrono Trigger (SNES, US) - £90
Chrono Trigger isn't rare by any standards - indeed, thousands ofcopies are on the market. However, the game is so good, and has builtup such a reputation, that people are willing to pay upwards of £100for a sealed, boxed SNES copy. You can even get it as part of FinalFantasy Chronicles for PS1, but still the collectors pay big money forit. Rarity isn't really the main consideration, we guess.

<!--[bigpic]-->
Ninja Gaiden Trilogy (SNES, US) - £150
Even though this comprises all three of the Ninja Gaiden games releasedon NES with a graphical update, it didn't sell very well when it firstcame out in 1995. But since the next-generation Ninja Gaiden games werereleased, Tecmo's star has risen, enhancing the price of this cartconsiderably.


Final Fight 3 (SNES, PAL) - £180
The PAL version of Final Fight 3 is a hidden treasure waiting tohappen. Let's face it, unless you're a collector you're unlikely toknow its true value and this is your best chance of picking up a gem atthe local car boot sale. A naked cart is probably only worth £40, butif you can find a good boxed copy then you're likely to achieve £180 to£200. And it's a decent game, too, containing two extra characters inDean and Lucia Morgan.


Space Invaders (Virtual Boy, jpn) - £200
A good boxed copy of Space Invaders on Virtual Boy can now fetch £200.It's notable because it's one of the better games on the system, and solong as you don't play it too much (giving yourself a much-warned-aboutmigraine) you'll get some fun out of it. Virtual Boy games have shot upin price in the last five years and this trend doesn't look likeabating. It may be a good investment for the future...

The Flintstones: Surprise at Dinosaur Peak (NES, US) - £200

As the NES drew to the end of its lifespan, publishers began releasingtheir games exclusively to game rental companies, bypassing traditionalgame shops. The Flintstones II is typical of this, and although it's alittle easier to track down in Europe than elsewhere, it can stilldemand high prices. United States copies can go for £200, thoughfinding ex-rental games in good condition is like finding a joke in anepisode of My Family.

<!--[bigpic]--> Starfox Super Weekend/Donkey Kong Country Competition Carts (SNES, US) - £200

These two separate carts were manufactured specifically for use inBlockbuster in-store competition promotions. Only about 2,500 were madeof each but they were initially sold off in stores for a knock-downprice. Because of their rarity you can expect to see them sell on eBayfor around £200, depending on what kind of condition they're in.


Rendering Ranger R2 (Super Famicom, JPN) - £200
This run-and-gun classic came from the makers of Turrican, so Lordknows why a game of such pedigree was only released in Japan. It'sunusual for a rare game in that it's actually very playable today. Acart-only copy might still sell for £80, but find it boxed and completeyou're looking at a sum of £200.

Fire Emblem Thracia 776 Collectors' pack (Super Famicom, JPN) - £200

Thracia may sound like a disease you'd pick up in a Bulgarian brothelbut this is actually a super-rare Fire Emblem collectors' pack. As itwas only released in Japan in limited numbers, you're unlikely to findit at the local car boot, but it shows that you should always keep youreye out for limited edition releases - and keep all the gubbins thatcomes with them.


Bubble Bath Babes (NES, US) - £250
Panesian was a company that produced several adult titles for the NES,including Peek-A-Boo Poker, Hot Slots and Bubble Bath Babes. Forobvious reasons the games didn't get Nintendo's seal of approval andended up being distributed via mail order catalogues or rental shelves,hence their scarcity. Interestingly, they didn't come in NES boxes butVHS-style cartons, so many are still undetected. The limited graphicsmake the sauciness factor rubbish, though.

<!--[bigpic]-->
Mountain Bike/Speed Racer Combo (SNES, US) - £300
This SNES combo underlines the fact that combining two or more gamesonto one cart for a limited print run is always going to have raritypotential. Good boxed copies have generally only come out of Nintendo'sown warehouses and if you can find one with the strange LifeFitnessBike peripheral then you're looking at a price in excess of £1,000.It's a cart that will always go up in value, but it's worth around £300today.


Myriad six in one (NES, US) - £350
This is the rarest unlicensed NES game and consists of six titles:Bookyman, Adam And Eve, Cosmos Cop, Magic Carpet 1001, Balloon Monsterand Porter. Its rarity is due to the fact that Myriad Games put outfewer than 1,000 carts and they were individually numbered. Gamescollectors speculate that there are only 100 left in existence, butonly 15 have ever surfaced.


Virtual Bowling (Virtual Boy, JPN) - £400
Only 22 games were ever released on Virtual Boy, although somecollectors believe there could be rare prototypes hidden away thatdidn't make it to retail. Virtual Bowling is actually a pretty goodbowling sim, offering practice and tournament modes, but the lack of asave battery means your scores are wiped when you switch off.Fortunately, passwords save the day. Not to be mistaken for Nester'sFunky Bowling, which is much more common.

<!--[bigpic]-->
Flagman (Game & Watch) - £450
There are plenty of rare Game & Watch titles we could have listed,including the obvious competition-only Super Mario Bros YM-901 (justtrips off the tongue), or the eminently collectable The Legend Of ZeldaGame & Watch, but it's likely to be the less well known titles thatwill surface down at your local flea market. A boxed Flagman could bagyou a small fortune.


Stadium Events (NES, US) - £500
Though common in PAL territories, Stadium Events is one of the NES'smost collectable games in America. Although it's a terribly averagefitness game, its value is due to Bandai printing a test run of thegame that was sold in Woolworths stores for a very short period beforeNintendo bought the rights. Rumours suggest there are only 10 completecopies on the market, and even unboxed Stadium Events carts can sellfor £400.


Virtual Lab (Virtual Boy, jpn) - £500
It's all too easy to look back on the Virtual Boy debacle and laugh,especially at the poor souls who thought it looked cool to wear a pairof heavy, red goggles and bellow, 'come on Mario, you can do it!'. Butwho's laughing now? Some Virtual Boy games are fetching massive prices,including this J-Wing developed Japanese puzzle game. The fact'Nintendo' is charmingly spelt 'Nintenndo' on the back of the box onlyadds to its value.


Balloon Fight Crystal (Game & Watch) - £600
This has to be one of the rarest Game & Watch titles, and boxed,good condition units have been known to fetch up to £600. Releasedtowards the end of the series' run for the Crystal

Screen

range,Balloon Fight's simple gameplay is reminiscent of Williams' Joust andhas since gone on to make an appearance in Animal Crossing.
Posted by Editorial Team Sun Jun 29, 2008 6:36 am
Playboy girl pwns original Wii girl in new official videos in General Discussion, including Off Topic, Current Affairs
When Wii Fit girl did her 3 million hits thang, somehow I knew this was coming down the pike.

Everybody has seen the Wii Fit Girl video by now. The video went viraland 3 million viewers were hitting that …. Well, you could havepredicted that Playboy's Jo Garcia wasn't going to let that go withouta challenge. She's the Cyber Girl of the Year for 2008, after all.She's got a reputation to maintain. So she did her own Wii Fit video.




Because Playboy is the home of Jo Garcia, the Cyber Girl of the Year for 2008 and an enthusiastic and knowledgeable gamer herself.And not only does she have noooo problem wearing much less than naughtylibrarian glasses and panties, Playboy also has muuuuuch better videoequipment and editing.



The link is to a version that, while probably NSFW, is non-nude andwon't get you arrested. I can vouch for the fact there is a toplessversion out there too, and let's just say she sticks the landing in theski jump. I'm sure the intrepid amongst you can find that, I won't beproviding it here, aside from the

screen

shot above.
The Perfect Fit

http://videoarticles.playboy.com/?fr_story=ec49c46aa27df3061f2978
a400845021b089030a&rf=bm

2008 Cyber Girl of the Year Jo Garcia test-drives the Wii Fit in this sexy yoga workout video.
See Jo nude in the Cyber Club >>

Jo Garcia is an American adult model. She was Playboy's Cyber Girl of the Year for 2008. It was revealed to the public from an interview with Kotaku that she is also an avid gamer listing favorites such as the Radiata Stories, Xenosaga trilogy and up to "100 hours into FFXII"

Jo Garcia said she has a DS and a PSP, wow nice! She also said shelikes to bring those with her around just like ipod, and when peopleask her why she is still playing games, "whats wrong with playinggames?" was her answer. Nice! tell them about games girl!
Posted by Editorial Team Mon Jun 23, 2008 6:05 pm
Mum designs screen protectors to protect TVs from Wiimotes in Gaming
A mother whose nine-year old sonwrecked a Plasma TV with a Wii Remote has developed a

screen

protectordesigned to prevent a similar catastrophe from occurring again.


The inspiration came when her son andhis cousin smashed up her telly while playing Wii Sports. "The end forour Plasma

screen

came just two days after we had won a Nintendo WiiConsole", she said to CVG.

"I was just walking into the roomand watched in horror as I saw a Nintendo Wii remote flying across theroom into the Plasma

screen

. Although it wasn't travelling very fast itsoon became apparent that the collision had broken the delicate surfaceof the Plasma

screen

."

After discovering that "many, manypeople" had experienced a similar problem, she developed a screenprotector to help save Plasma screens from flying Wii Remotes You cantake a look at what she came up with below or to the right.

Personally, we've never even seen anyone lose grip on a Wii Remote, letalone damage a TV with one. Mind you, none of us have kids (that weknow about).

If we did though and they broke our plasmascreen, we wouldn't invent a

screen

protector. Oh no, we'd pack themoff to brat camp spend their college money on a new TV.
Posted by Editorial Team Mon Jun 23, 2008 5:41 pm
AMD CPU shoot-out: Phenom X3 and X4 in Hardware, Internet, Networking, Comms and Security
The birth of AMD's quad-core Phenom processor was plagued withproblems. After a gestation period more akin to an elephant than a CPU,the new silicon popped out puking and bawling but was clearly a bit ofa runt.
The problem was the now-infamous TLB error that crippled performanceand reduced clock speed with the result that the B2 stepping of Phenomwas only available in two models.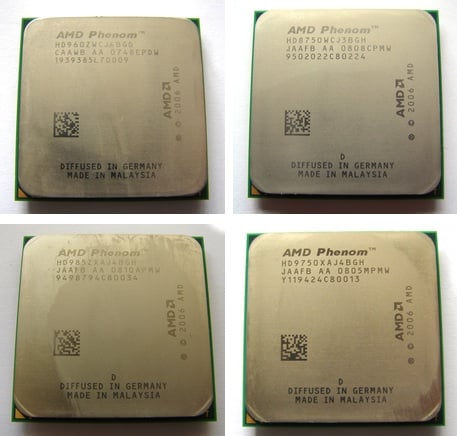 AMD's Phenoms: (clockwise from top left) 9600, X3 8750, X4 9750, X4 9850

Neither the 2.2GHz Phenom 9500 nor the 2.3GHz 9600 delivered enoughperformance to trouble Intel's Core 2 Quad Q6600, which was a directcompetitor at the same price. As an added kick in the teeth, Phenomwould barely overclock while the Intel processor could manage a clockspeed of 3GHz without breaking a sweat.
AMD fixed the TLB problem with its B3 stepping and also got a bitcreative with the model codes that it used. Phenom X4 9x50 denotes aquad-core B3 that effectively replaces the original Phenom. The PhenomX3 8x50 is also a B3 but is unusual in that it's a tri-core processor.Phenom is similar to Core 2 Quad in many respects but there is onesignificant difference as Phenom is a native quad-core design with allfour cores on the same die. By contrast Core 2 Quad is a dual-coredesign, so Intel uses two processor dice to cobble together itsfour-core CPUs.
Naturally, AMD touts this difference as a major advantage for Phenomas it allows HyperTransport to strut its stuff, while Core 2 istheoretically crippled by a lousy communication path through thefrontside bus and then off to the northbridge of the chipset to thememory controller.

It was time for the Phenom X4 9850, and we weren't surprised to seethat performance was a distinct improvement on the X3 8750 in everyrespect with the exception of pure graphics tests that only stress thegraphics card. The X4 draws 40W more than the X3 which makes it fairlyeasy to deduce how much power each core in a Phenom requires. Thequad-core overclocked slightly better than the tri-core but neither wasimpressive in that department.
The thing that caused us some surprise, however, is the similarityin price. You only pay £10 more for the X4 so why on Earth would youchoose the X3?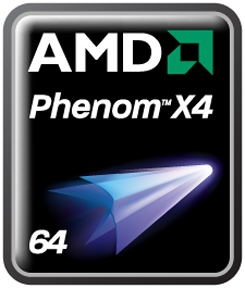 Finally, we come to the Phenom X4 9850, which only runs 100MHzfaster than the X4 9750 - 2.5GHz - but there are a couple of otherchanges. The X4 9750 has a TDP of 95W and HyperTransport speed of1.8GHz while the X4 9850 has a TDP of 125W and a HyperTransport speedof 2GHz which rather suggests that the X4 9850 is buzzing along at thelimits of the B3 architecture.
We had heard great things of the X4 9850, with at least one reviewerclaiming a clock speed of more than 3GHz. However, we had nothing likethat degree of success. With the 200MHz clock raised to 225MHz weimmediately suffered a blue

screen

after Windows had loaded, and thatwas with a clock speed just over 2.8GHz.
The system was pretty much OK with a clock speed of 220MHz (2.75GHzCPU speed) although 3DMark Vantage refused to run however the X4 9850required more cooling than the other Phenoms. Indeed we had to removethe add-in fan controller from the CPU cooler to get the fan speed highenough to cool the CPU properly.

That's all well and good but just take a look at our test resultsfor Core 2 Quad Q6600. On its stock speed of 2.4GHz it wiped the floorwith Phenom and when we overclocked it to 3.0GHz it made the AMDsilicon look rather limp.
VerdictThe B3 stepping of Phenom is a distinct improvement over theoriginal B2 but that's not saying much. Intel has cut the price of Core2 to such an extent that there is no compelling reason to buy a Phenombeyond the fact that you might not like Intel very much. Fair enough,we'd say, but for everyone else, Intel has grabbed the initiative. Overto you, AMD.
Posted by Editorial Team Mon Jun 23, 2008 4:54 pm