Search iVirtua
Advanced/Tag Search...
Search Users...
What is iVirtua Exclusive Community?
An exclusive gaming industry community targeted to, and designed for Professionals, Businesses and Students in the sectors and industries of Gaming, New Media and the Web, all closely related with it's Business and Industry.
A Rich content driven service including articles, contributed discussion, news, reviews, networking, downloads, and debate.
We strive to cater for cultural influencers, technology decision makers, early adopters and business leaders in the gaming industry.
A medium to share your or contribute your ideas, experiences, questions and point of view or network with other colleagues here at iVirtua Community.
Guest's Communication
Live Chat
Teamspeak (VOIP) Audio Conference
Private Messages
Check your Private Messages
Themes
Choose an iVirtua Community theme to reflect your interests...
Business Theme

India/Arabic Theme
Gaming Theme
iVirtua Recommends
Fly Emirates
860 results for performance
Samsung SyncMaster 245T in Hardware, Internet, Networking, Comms and Security
There's an awful lot of panel sharing going on in the LCD market thesedays, isn't there? It seems that even some of the most no-name brandsare now sporting panels made by a few giant, well-known manufacturers.It's enough to make a consumer wonder whether paying extra for apremium branded monitor is really worth it.

With that in mind, what is there to think about Samsung's newlyincumbent 24-inch model, the 245T? One thing is for sure, if you want amonitor with a quality Samsung-manufactured PVA panel, you don't needto pay over £600 for a monitor with that Samsung badge on the front.There are plenty of other screens with Samsung PVA panels inside, andsome can be had for less than £350.

Hence, the key question is not whether the new 245T is a good monitor.Instead, the question is this: Can the 245T really be worth nearlytwice as much as the lesser branded but similarly specified opposition?

That's what we're here to find out...and we just happen to have a muchmore affordable 24-inch widescreen on hand, one powered by a SamsungPVA LCD panel. That'll be the Hyundai W241D-PVA.


Features and Build QualityThe 245T is hardly the last word inswishy, swanky styling. The aforementioned Hyundai (with its glossyblack and white plastics) roasts it for pure desktop presence, forinstance. But thanks to the high quality of its construction, itnevertheless has a certain understated class. The bezel is a slim 15mmall the way around which emphasises the display, although the entiremain panel is quite a weighty 80mm thick. Front to back, you'll need atleast 25cm of desk space to accommodate the large, sturdy base.


The no-nonsense OSD controls are an extremely welcome and user-friendlyfeature, as is the stand's comprehensive adjustability. Not only areswivel, tilt, rotate and height tweakage on the menu, but they are all incredibly smoothto operate yet easily hold any position set without the need for clipsor locks. Given the panels size and weight, it's not light enough tomove without some effort - but it certainly doesn't require brute forceeither.


In terms of inputs, most of the usual suspects make an appearance.Digital connectivity takes the form of a single DVI port and an HDMIsocket, both with HDCP support. However, there is no DisplayPortavailable. On the analogue side, it has the lot - VGA, S-Video,component and composite. In short, there's very little that you can'thook up to the 245T. It even sports picture-in-picture mode for smoothmulti-input juggling; however, that feature is limited to onlycomponent (AV), S-Video and composite, not the digital inputs or VGA.

A final disappointment is the presence of inverse ghosting. As we havementioned previously, inverse ghosting is a problem that's thought tobe a result of pixel-response-enhancing overdrive technology. In simpleterms, it involves a trail or shadow that appears in the wake of movingobjects in some situations, typically in more or less the oppositecolour to the moving object.

Most of the time, it's a minor issue with the 245T. But with certaincolour combinations, it results in some pretty horrific renderingartifacts. For instance the text on this page exhibits some particularly horrible black trails and smearing when jostling the window around.

It's absolutely not what you expect from a premium brandlike Samsung. What's more, if you had just invested over £600 on thismonitor, well, you'd have every right to feel extremely let down.


Final ThoughtsThere's a lot to like about the 245T includingits static image quality, viewing angles and contrast

performance

. Butat this price point, something close to perfection is to be excepted.At £600+ any major flaws are simply unacceptable and the fact that the245T actually has two – moderate input lag and occasionally seriousinverse ghosting – might seem pretty shocking.

However, these problems are related to the PVA panel technology thatdominates the high end 24-inch monitor scene at the moment. Moreprecisely, they appear when pixel overdrive techniques are used tospeed up the extremely slow response. In other words, they are hard toavoid on PVA monitors.

So, what we would really like to see is more choice in this part of themarket. Without question, IPS panel technology has some weaknessescompared with PVA as contrast

performance

and the depth of renderedblacks are typically a little off the pace. But PVA technology hasenough drawbacks that mean the extended choice would be very welcome.


In any case, the key points to note about the 245T go something likethis. Yes, it is that little bit more vibrant and accurate than cheaperPVA monitors from lesser brands; the colours boast better fidelity, theblacks are deeper and the whites a touch cleaner. But even Samsung hasnot been able to eradicate the overdrive related glitches that commonlyspoil 24-inch PVA monitors.

With all that in mind, it's pretty hard to recommend the 245T. If youcan live with the minor image quality issues, then you are better offwith a significantly lower priced but only slightly inferior model froma lesser brand. Even a TN+Film 24-incher with slightly sludgy coloursand washed out blacks makes more sense – it's certainly a much cheaper option and will do a much better job for games.

Until a monitor maker manages to solve the input lag and inverseghosting issues with PVA screens or plops in a quality 24-inch IPS TFTalternative, the perfect 24-inch panel will remain infuriatingly out ofreach.
Posted by Editorial Team Mon Jul 14, 2008 10:14 am
Build a DX10 rig for under £176 in Hardware, Internet, Networking, Comms and Security
To add onto this:

I would not recommend anyone to get a quad core for gaming. I have a socket 939 Operteron 180, a 2.4GHz dual core with 2mb of L2 cache. I got it for $170, which is not bad for a dual core Opteron. You may say "That thing sucks you couldn't do any good gaming on it". Well apparently, with my 7900GT, I played the Crysis demo with medium-high settings (physics were maxed as far as I remember) and with a 25-45 framerate, my cpu usage stayed below 90%. Now, if my video card were not the downfall, it is possible my cpu would reach 100% but if I had a better video card, I probably would be using a better cpu as well. My point is, even a 2.4ghz dual core is good enough to play crysis, so those "know-it-alls" who get their precious 2.8ghz quad core intels have not only wasted a ton of money but have more

performance

than they'll really need.
Posted by schmidtbag Thu Jul 10, 2008 1:49 pm
Build a DX10 rig for under £176 in Hardware, Internet, Networking, Comms and Security
We like big explosions, the bigger the better, in fact.
Wealso like smoke effects, water ripples, dappled lighting filteringthrough jungle canopies and creeping up silently behind people, beforemurdering them with our bare hands. But enough about our weekendpastimes…
What we really like are the fantastic visuals that DX10 gaming offers.
If you listen to most people, they will tell you that you need a quad-core, DDR3, triple-SLI setup to play Crysis. The sort of setup that requires you to remortgage your house to own. These people are wrong, and we're going to show you why.
We'vepreviously demonstrated how to build a DX10 setup for just under £300,a not unreasonable amount that should be within the reach of mostpeople. But what if you just blew all your money on a sordid weekend inAmsterdam, and you've resorted to scrambling under the sofa for loosechange? Would you believe us if we told you that it's possible to builda DX10-capable rig for well under £200? Well, it's true.
Ofcourse you can't connect it to a 22-inch wide screen monitor withoutthe frame rates plummetting, but if you're on that tight a budget, abig monitor is probably the least of your concerns.
Wheneveryou work to such a tight budget, something has to give and this projectwill be no exception. We need to prioritise in certain areas, whileothers can be largely ignored.
Yes, a case is important to stopyour gear being an untidy heap of electronics on the floor, but reallyyou just need a metal box to screw things onto. Optical drives are dirtcheap, and with memory stick capacities being what they are, hardlyanyone burns DVDs, so we only need a DVD ROM.
It also means noquad-core and no SLI. But dual-core chips are surprisingly cheap, andwe'll see just how well a budget DX10 card performs. Don't forget thatif you have any parts available from an existing PC, such as cases anddrives, you can reuse them and put the money towards a higher-end CPUor graphics card.



Case and PSU
Ifyou want a well-designed case, with plenty of fans, numerous ports andplenty of upgradability, then it's easily possible to spend more thanour entire budget on such a beast.
Likewise, if you want a 1KwPSU that supports the likes of SLI, then it's going to cost a fairamount of cash. At the other end of the spectrum is the all-in-one caseand PSU deal. We found one for just £26, which includes a 400W PSU.
Thismay not sound like a lot of power, but it's more than enough to run oursetup. When spending such a small amount of money on a case, you'dexpect it to be quite horrific, but it's surprisingly well featured. Ithas a matt-black finish, which helps on the looks front, and the frontpanel has USB and audio ports.
Most of the internals can befitted without the need for a screwdriver, and it even has a lockingside panel. Sure, it isn't the best-looking or quietest case we've everseen, but for this sort of money, we're not complaining.
The result?
As the most basic DX10 card available from NVIDIA, it comes as no surprise that the

performance

of the 8400 is not the best.
However,at £20 it still does pretty well, as long as you keep the resolutionrealistic. Okay, not everyone wants to play at 800x600, or even1024x768, but then you shouldn't be so cheap, should you?
Surprisingly, Crysis gave some of the best results, although BioShock achieves the best framerates of all. Using the Optimal settings button, Crysisdid set all the detail level to low, but the results still lookedpretty good. However, if you're going to be realistic about playingDirectX10 games, then you are going to have to find a little more moneyin your budget.
Hooking the 9600GT up to our budget CPU workedabsolute miracles, and at around £70 extra is an absolute steal. Notonly could we turn the detail right up, but we could run a higherresolution and still get twice the frame rates of the 8400GS.
Surprisingly,adding a high-end quadcore CPU doesn't give much of an increase, witheither the 8400 or 9600GT. In conjunction with the 8400Gs, the Phemom9550 does give you some extra fps over the Athlon X2 4400+, but withwhen it comes to the 9600GT, the difference over the 4400+ setup ismarginal.
So, if you want the best

performance

, and can spend alittle extra, buying the 9600GT is the logical choice. You know itmakes sense.
Posted by Editorial Team Tue Jul 08, 2008 7:47 am
CrossfireX: 2560x1600 gameplay becomes a reality in Hardware, Internet, Networking, Comms and Security
"AMD ATI Radeon4850/4870 CrossfireX" review at Guru3D. Hilbert's lost it again – high poweredgraphics have that effect on him... Anyway, what's come to light, lately, isthe high power consumption of the 4800 series (now double-up on the cards andimagine), and the irregular driver

performance

. You can see a broad spectrum ofresults, but when Hilbert gets CrossfireX to work, it works great. But do putthings in perspective when reading: with the latest generation of graphics cardsworking in dual-GPU setups, you'll be looking at buying a 30-inch LCD for2560x1600 gameplay.Readit here.
XS Reviews is cracking open the Zalman GS1000 computer case, targeted at justabout anyone who wants to build a supercomputer at home. It supports E-ATX andvery long PCI cards and has hot-swappable bays for HDDs. Lots of space inside,if you're "just" using a standard ATX mobo, but the panels are a bit dodgy,thinks the author. Not a snip at £100, but if Zalman could swap out those panelswith something better, they'd have a winner.Readon.
A few years ago we were hack-napped off to a press conference abroad just tosee how Philips would conquer the world of mobile telephony. Some 18 monthslater, Philips withdrew from the market, unable to compete with the big namesand (our personal opinion) mostly due to their utterly rubbish user interface.Now Philips is reviving the brand (Xenium 9@9) in China with the brand new X800.ePrice in Taiwan has the review. The X800 is a full touchscreen design (no, youwon't have nightmares about the old Xeniums) and it looks like something out ofHTC's workshop, to be honest. Careful when reading the page, it didn't play nicewithGooglenglish,but you'll get the gist (and the photos).
Andrew at Tweak Town took some time to write a guide on how to replace theheatspreaders on your RAM. Naturally it's one of the warranty-voiding themes,but if you're in need of improving cooling, it's a necessary evil. Andrewsoutlines three basic methods to do this (hot, cold, lukewarm), but it all comesdown to be REALLY careful with sharp metallic objects in close proximity of aPCB.Letloose the mad aussie scientist in you.
T-break had a party with the ECS P45T-A Black Edition. ECS isn't really knownas a top grade mobo maker, but it doesn't fall behind the competition featurewise with this one. The board supports Crossfire, but it'll break down the lanesinto 2x8 as per the P45 specs, but when you try your hand at an overclock, Abbasthinks you'll be left wanting. The "Black Edition" brings to mind ideas ofmodding, overclocking and serious tweaking. That isn't the case, it seems. Goodprice, tho'.Readon.
Tosh has hit the Portégè brand with its shrink ray and launched the G810.It's no longer a notebook, as it were, it's a Windows Mobile 6.0 smartphone witheverything touchscreen. It's targeted at the same market as the HTC TouchCruise, but you really can't avoid comparing the details with the iPhone. It'sHSDPA enabled and even includes GPS functionality. The only real thing goingagainst it is the slow speed of the image capture (slow flash, we guess). $550will buy you one.Readthe review here.
Hardware Zone is gobsmacked by Gigabyte's most extreme P45 mobo – the aptlynamed GA-EP45T-EXTREME. This board has it all, it seems, even a waterblock onthe northbridge that runs liquid cooling to the southbridge and the rows ofcapacitors. It also allows you to stick in 3 ATI cards and is populated by abevy of LEDs that alert you about your overclocking misdeeds. It's only apreview, butit'stasty.
Posted by Editorial Team Tue Jul 08, 2008 7:42 am
AMD with three new Phenom CPUs at opposite ends of market in Hardware, Internet, Networking, Comms and Security
The raw specs are 140W TDP for the 9950 at 2.6GHz and 65W for the 9350e at2.0GHz and 9150e at 1.8GHz. The prices are $235, $195 and $175 respectively, andthe sharp-eyed among you will notice that the 9950 costs exactly what the 9850does. That is because in a week, on July 7, the 9850 will drop to $205. Bothwill remain 'Black', but the 9950 will be blacker because, before the end of theyear, the 9850 will fade from black, and go back to a locked part.
You have to wonder why AMD is bothering to lock Phenoms at all, with theBlack parts selling at effectively no premium, why not just let people have fun.Anything AMD can do to foster the enthusiast market at this point is probably agood thing, and if you don't have the raw speed, play up the features.
In any case, the interesting part of the bunch is the 9350e. It isn't a barnburner, but for media center boxes, coupled with a 780G board, or better yet a790GX, it could be a pretty solid media/casual gaming rig. This part fills ahole in the market, there aren't any sub 95W Intel quads out there formainstream consumer use, but there could be quite easily if the 9350e is a hit.
In any case, hardcore gamers will probably turn up their noses at the lowclock speeds in the -e parts, but as long as you are not trying to eke out thelast FPS, these parts would make a dandy low-noise desktop.
So, how did they do? Using the same exact setup as the we did with theoriginal780G review, the numbers lined up quite well. To recap, that is a GigabyteGA-MA78GM-2SH mobo, Corsair DDR2 1066 memory and a PC Power and Cooling/OCZSilencer 750W PSU. Power draw was measured at the wall with an Extech True RMSPower Analyser. The same caveat as last time needs to be said, the PSU isunderworked and far less efficient that it would be if we were pulling 500+ W,so knock about 20+ per cent off the wall power to get power used by the boarditself.
We ran our usual power draw test, 3DMark06 under XP SP3 patched to current asof June 28. Just for fun, we threw in the 4850e and the X4 9600 from the lasttest, as well as the 8750 X3. So now you can compare a K8, X3, X4 B2 and a X4 -ein terms of power. It looks like this.


The raw numbers
The lowest idle number is of course the 4850e, and it beats the quads byalmost 20W, the really odd part is the greater than 20W gap from there to the8750 X3. Lose one core, gain 20W? Binning problem, or binning opportunity? Thedual core 4850e also takes the bottom of the loaded power charts, and there is abig 33W gap to the 9350e. From there, the 8750 and 9600 are almost on top ofeach other.


Performance

is about where you would expect it to be, the 4850e taking up thebottom with sub-1200 scores, and the others right on top of each other at1540+/-2. A quick overclock of the 9600 to 2.8GHz barely moved the score, so3DMark06 looks pretty GPU bound here.
In the end, with the new parts are priced pretty low, but won't challengeIntel for supremacy. For the high end 9950, you gain 100MHz for a few watts somake sure your mobo can handle the extra. In a week, it will not cost you anymore than a 9850, so you might want to hold off for a few days.
The 9350e and the 9150e look to be solid and inexpensive workhorses for theHTPC/SFF/quiet office PC set. You give up 200MHz for 30W, not a bad trade. Theyare solidly mid-range parts that won't stun any gamers, but they plug gaps inthe market, and do so quite nicely.
Posted by Editorial Team Tue Jul 01, 2008 7:15 am
I'm confused please respond in Hardware, Internet, Networking, Comms and Security
Because this isn't a mandatory question I'll keep it short.

But basically what I've been seeing lately is Nvidia and ATI are almost just about equal in

performance

. But I'm so confused as to what is ATI doing wrong that is so ineffective? For example, Most Nvidia cards have a 600/1700MHz clock speed (core/memory) and no more than 128 streaming processors. ATI's competitive cards are more like 800/2000MHz with 240 streaming processors.

This is just an example off the top of my head but its about what things are like right now, so what I want to know is what is ATI doing that makes everything they have significantly slower? Their latest card has 640 streaming pipelines, thats nuts. Yet it just barely compete's with Nvidia's good stuff, and it sure as hell doesn't have over 320.
Posted by schmidtbag Mon Jun 30, 2008 11:01 am
The development of tennis games 1958 to 2006 and the Wii in Gaming
"Important? Tennis games?!" I hear some of you scoff. And sure,while few of us really look forward to the next iteration of Top Spinor even Virtua Tennis, the genre has played a major role in the birthand development of the videogame industry. Even now, it's often tennisgames that are pushing the frontiers of analogue sensitivity andcomplexity against the need for intuitive user-friendliness in consolecontrols.
So, while Wimbledon hots up, here's a quick run through of the keytitles, together with nostalgic YouTube footage. Grab a bowl ofstrawberries, some clotted cream and a cheeky glass of Pinot (I don't care if you're at work - get into the spirit of things) and join me on a brief amble down tennis memory lane.
Tennis for Two (1958, Oscilloscope)
Running on the oscilloscope at the Brookhaven National Laboratory andprogrammed by physicist William Higinbotham, Tea for Two was arguablythe first computer game ever made (though some point to the evenearlier project, OXO). Check out the YouTube footage!
Pong (arcade, 1972)
Al Alcorn's take on the Magnavox Odyssey Tennis game essentiallykickstarted the games industry, both in the arcades and later, on homeconsoles. The title symbolises the odd, apologist relationship gamershave with software - many claimed to be able to produce spin on theball, although this functionality was never part of the program (thedirection of the ball was affected by the area on which it struck thebat, but that was about it).
Match Point (1984, Spectrum)
Psion Software's early effort pitched featureless stickmen against eachother in a rough approximation of the Wimbledon finals. The visualswere sparse but the simulation was pretty advanced for the time -players could control the speed and direction of the ball with defttiming and after-touch. Looking back, the ball boys bear an unfortunateresemblance to Starvin Marvin from South Park. YouTube video here.
Super Tennis (1991, SNES)
Perhaps the first modern day tennis sim, featuring an array of courtsurfaces, lots of differently-skilled players and several two-playermodes. It is, however, mostly remembered for its fast, intuitive action- a sort of Tennis equivalent of Sensible World of Soccer. Thescrolling court visuals and crisp sound samples impressed gamers at thetime, too. YouTube it up!
Pete Sampras Tennis (1994, Mega Drive)
Codemasters' sleek Mega Drive effort matched Super Tennis for sheerplayability, adding some of its own eccentric features, including aCrazy Tennis mode where you could play against portly platform hero,Dizzy. Codies also introduced its J-Cart technology allowing up tofour-players to take part in doubles matches.
Virtua Tennis (1999, arcade and Dreamcast)
The defining tennis sim of the modern era. The Dreamcast original mixedintuitive controls with lovely animation to produce a simulation ofincredible depth. The World Tour mode was an inspired addition,providing a range of surreal mini-games to test different aspects ofyour game. Subsequent iterations have tweaked the formula and improvedthe visuals, but the essence of this Sega NAOMI/Dreamcast classicremains unmolested. Here's a trailer.
Wii Sports Tennis (2006, Wii)
A popular element of the revolutionary Wii Sports compilation, drawingimpressively accurate motion-sensing

performance

from the Wiimote.Okay, so your lack of control over the onscreen player could getannoying at times, but the fun of acting out physically extravagantshots - often at the risk of the odd patio door or Ming dynasty vase -is what this game was all about. Here is a silly Wii Tennis 'accident' movie.
Okay, so what vital tennis titles have I missed? The first person tosuggest Anna Kournikova's Smash Court Tennis will be sent to thenaughty step.
Posted by Editorial Team Mon Jun 30, 2008 6:50 am
Fastest ever graphics card hits shops Nvidia's Zotac GTX 280 in Hardware, Internet, Networking, Comms and Security
World's fastest core clock speedisn't something you would like to say ten times fast (unless you wantfunny looks) but this is the impressive boast of Nvidia about itslatest graphics card, the Zotac GTX 280 AMP! Edition .
In teststhe Zotac topped 700MHz straight out of the box – well, we presume thecompany plugged it in first – which, according to Nvidia is "so-farunbeaten by any other manufacturer."


Performance

outweighs price
Thenew graphics card offers a massive 12 per cent

performance

hike overits now slower brethren, the GTX 280. But its only priced £20 to £30higher. This equates to just a 5 per cent price rise – Nvidia's maths,not ours.
In a statement about the new graphics card, CarstenBerger, Marketing Director, Zotac, said: "Yet again Zotac hasdemonstrated its exceptional ability to design and engineer the fastestcard on the market.
"Overclocking the GTX 280's core by almost100MHz is a fantastic achievement, but to then mass produce it andmaintain a 5 year warranty is outstanding."
The Zotac GTX 280 AMP! Edition is out now for around £450.
Posted by Editorial Team Sun Jun 29, 2008 6:38 am
ATI releases new Radeon 4800 cards - Ends NVIDIA dominance? in Hardware, Internet, Networking, Comms and Security
NVIDIA's long-time hold on thegraphics market is under threat from ATI, with the release of its newRadeon 4800 series cards today.
Initial tests on ATI's 4850 modelare very positive, with the new graphics cards said to easily matchNvidia's latest offerings in terms of

performance

, while blowing themout of the water on price.
High

performance

, good price
At£130, the ATI Radeon 4850 is quite a bargain. And with more advancedcards on the horizon such as the Radeon 4870 threatening to set aperformance benchmark, it does seem that NVIDIA's dominance of thehigh-end graphics market (currently the GeForce GTX 280 is the one tobeat) could be nearing an end.
We will of course be sure to bring you further news on all new graphics card tech from NVIDIA and ATI as and when we get it.
Posted by Editorial Team Sun Jun 29, 2008 6:34 am
nVidia turning it's GPU's into 'PhysX Physics Processors' in Hardware, Internet, Networking, Comms and Security
3D card manufacturers shouldn't take this the wrong way, but ittakes a lot to make us crawl out of the communal Eurogamer bed (yes,all the Eurogamer writers share a single large bed - we do it forfrugality and communality, which remain our watchwords) and go to ahardware presentation. There's a nagging fear someone may talk maths atus and we'd come home clutching the local equivalent of magic beans.And then we'll be laughed at by our fellow writers and made to sleep inthe chilly end where the covers are thin and Tom left dubious stains.That's no fun at all.
Then again, there's some things you can'thelp but go and have a gawk at. So when an invite claims, "All toooften new hardware brings with it a small

performance

increase - maybea 5-10 percent over the previous fastest thing. Wouldn't it be far moreexciting to see a speed increase of x20 or even x100... well, we'll behappy to show just that on Friday," you have wander along. Even thoughyou suspect it may be a trap and they're going to attack you withill-shaped blades, you have to find out what on earth they're talkingabout.
As we suspected, it wasn't quite what we were hoping for.Sure, there are programs which gain a x100 increase via the methodsNVIDIA talks about on this particular Friday, but unless you're workingin economics or astrophysics modelling, it's not exactly that relevant.However, something more quietly astounding was explained. Mainly, thatdespite the fact that no-one you know bought a PhysX card, if you're aPC gamer with a relatively recent NVIDIA card, you've already got one.Or, at least, you will soon. Spooks.


Get him!

The primary idea NVIDIA was trying to push was Optimised PC - the approach discussed in Rob Fahey's interview with Roy Taylorthe other day. The idea being that the traditional PC approach whereyou buy the fastest PC processor you can doesn't actually lend the bestresults, at least in most situations. If you spent more on -predictably - a GPU-driven 3D card, for an increasing number of areas,you're going to get much higher

performance

. If the program is usingthe GPU in a meaningful way, anyway. NVIDIA highlights areas likeimage-processing and HD video-encoding, as well as - natch! - games.You lose in single-threaded activities - like, say, just booting up aprogram - but they argue a small loss in opening a Word Document isless noticeable than frames in games or similar.
Where it startsgetting interesting is NVIDIA's development language, CUDA. The problemwith all the threading programming methods is that it's radicallydifferent to single-threading (and, yes, we're getting into, "Why wouldanyone care about this but a programmer?" territory, but its backgroundfor the key point later). It's hard to do, and CUDA is basically a wayto make things more accessible.
NVIDIA claims anyone experiencedin C or C++ will be able to get a grip on it (i.e. not us, but theaforementioned programmers). This means that anyone who codes in CUDAcan program the GPU to do pretty much whatever they like; it's byturning the 3D card into a bank of processors that the financialanalysts and the astrophysics guys are getting such impressive results.And impressive savings, as it's a lot cheaper to do it this way.

Now, NVIDIA claims that the fact GPU solutions are cheaper is goingto push better GPUs into more business machines. This will help pushthe idea that an okay CPU/good GPU machine gives better performancethan a good CPU/okay GPU, leading to more machines with better GPUs...and so, making more PCs abstractly available for gaming. Or, at least,raising the bottom level of hardware that you can expect people to have.
Interms of a more general use, transcoding video can take hours. Later inJuly, all GeForce 8000+ cards will ship with Elemental HD, a programwhich manages to perform the odious task - in the words of NVIDIA - "ina matter of minutes". The software will also be available for people todownload online, probably with a small fee ala Quicksave if theyalready have a GeForce card.
Point being: this CUDA malarkeyisn't something that's just for future NVIDIA technology. It'ssomething that allows the hardware many PC gamers already have to berepurposed.
For example, PhysX. NVIDIA's Physics 3D Card systemwas only supported in a minor fashion, as no-one would buy a card justto make explosions fancier, but with CUDA it can run on one of theother GPUs. A proportion of the 3D card's power can be given over torunning physics, giving those fancy PhysX-style interactions withoutactually having a specific card for it. CUDA's porting to PhysX willbecome available to the public in July, but developers already have thetools.


The Euphoria engine of Natual Motion. It's hard to illustrate this sort of thing.

You'llbe able to - for example - manually, up front, decide to devote aproportion of your 3D card's power to PhysX. Alternatively, developerscan commandeer it and do exactly the same thing. The new generation ofcards which are about to be announced are able to deal with pretty muchanything that exists on the highest setting with power left over, sothat power can be given over to acting like a 3D card would.
Andit goes further. Where previously you'd have just thrown out your old3D card when you upgraded your PC to a new one, if you have a G8000+ 3Dcard already, you can keep it, and just set it to concentrate solely ondoing PhysX tasks. This isn't a SLI situation where you need two of thesame cards working in tandem - any post-8880 card, rather than beingput out to digital pasture, can be given a job of deciding how bits ofglass bounce off a skyscraper, or similar. NVIDIA claims it's talkingto ATI to try and get them to use CUDA too, which.... well, we'll seethere, eh?
The potential is interesting. Demos shown include Natural Motion, whose Euphoria engineis heavily physics-dependent, allowing unique, convincing moments ingames. A straight collision isn't enough, as straight ragdolls areludicrous - the system involving AI (so the hit object will try andmove limbs to protect self and similar) leads to impressivelynaturalistic results. The first sign of this publicly was in GrandTheft Auto IV, but Natural Motion's own American football game, Backbreaker,is a fascinating example of what a physics-heavier approach tocollisions can give games. And, with CUDA-esque use of GPUs to do thisstuff, the PhysX related boon is accessible to even more of us.
So they did talk some maths, then, but we survived.
Posted by Editorial Team Mon Jun 23, 2008 5:11 pm
AMD CPU shoot-out: Phenom X3 and X4 in Hardware, Internet, Networking, Comms and Security
The birth of AMD's quad-core Phenom processor was plagued withproblems. After a gestation period more akin to an elephant than a CPU,the new silicon popped out puking and bawling but was clearly a bit ofa runt.
The problem was the now-infamous TLB error that crippled performanceand reduced clock speed with the result that the B2 stepping of Phenomwas only available in two models.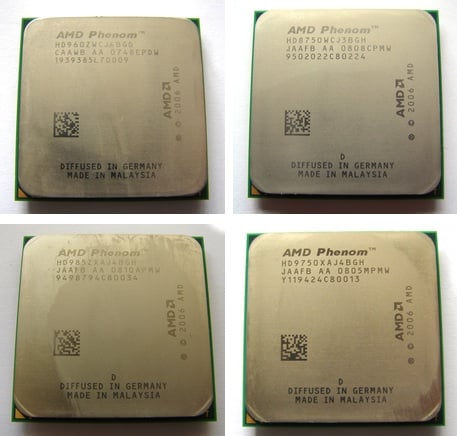 AMD's Phenoms: (clockwise from top left) 9600, X3 8750, X4 9750, X4 9850

Neither the 2.2GHz Phenom 9500 nor the 2.3GHz 9600 delivered enoughperformance to trouble Intel's Core 2 Quad Q6600, which was a directcompetitor at the same price. As an added kick in the teeth, Phenomwould barely overclock while the Intel processor could manage a clockspeed of 3GHz without breaking a sweat.
AMD fixed the TLB problem with its B3 stepping and also got a bitcreative with the model codes that it used. Phenom X4 9x50 denotes aquad-core B3 that effectively replaces the original Phenom. The PhenomX3 8x50 is also a B3 but is unusual in that it's a tri-core processor.Phenom is similar to Core 2 Quad in many respects but there is onesignificant difference as Phenom is a native quad-core design with allfour cores on the same die. By contrast Core 2 Quad is a dual-coredesign, so Intel uses two processor dice to cobble together itsfour-core CPUs.
Naturally, AMD touts this difference as a major advantage for Phenomas it allows HyperTransport to strut its stuff, while Core 2 istheoretically crippled by a lousy communication path through thefrontside bus and then off to the northbridge of the chipset to thememory controller.

It was time for the Phenom X4 9850, and we weren't surprised to seethat

performance

was a distinct improvement on the X3 8750 in everyrespect with the exception of pure graphics tests that only stress thegraphics card. The X4 draws 40W more than the X3 which makes it fairlyeasy to deduce how much power each core in a Phenom requires. Thequad-core overclocked slightly better than the tri-core but neither wasimpressive in that department.
The thing that caused us some surprise, however, is the similarityin price. You only pay £10 more for the X4 so why on Earth would youchoose the X3?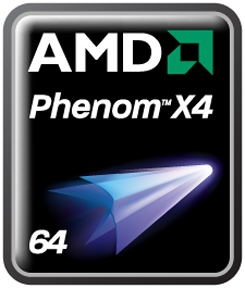 Finally, we come to the Phenom X4 9850, which only runs 100MHzfaster than the X4 9750 - 2.5GHz - but there are a couple of otherchanges. The X4 9750 has a TDP of 95W and HyperTransport speed of1.8GHz while the X4 9850 has a TDP of 125W and a HyperTransport speedof 2GHz which rather suggests that the X4 9850 is buzzing along at thelimits of the B3 architecture.
We had heard great things of the X4 9850, with at least one reviewerclaiming a clock speed of more than 3GHz. However, we had nothing likethat degree of success. With the 200MHz clock raised to 225MHz weimmediately suffered a blue screen after Windows had loaded, and thatwas with a clock speed just over 2.8GHz.
The system was pretty much OK with a clock speed of 220MHz (2.75GHzCPU speed) although 3DMark Vantage refused to run however the X4 9850required more cooling than the other Phenoms. Indeed we had to removethe add-in fan controller from the CPU cooler to get the fan speed highenough to cool the CPU properly.

That's all well and good but just take a look at our test resultsfor Core 2 Quad Q6600. On its stock speed of 2.4GHz it wiped the floorwith Phenom and when we overclocked it to 3.0GHz it made the AMDsilicon look rather limp.
VerdictThe B3 stepping of Phenom is a distinct improvement over theoriginal B2 but that's not saying much. Intel has cut the price of Core2 to such an extent that there is no compelling reason to buy a Phenombeyond the fact that you might not like Intel very much. Fair enough,we'd say, but for everyone else, Intel has grabbed the initiative. Overto you, AMD.
Posted by Editorial Team Mon Jun 23, 2008 4:54 pm
Gaming World of Warcraft graphics hacks - a prettier WoW in Gaming
Unlike most games, World of Warcraftprovides a wide range of options for reducing the graphical complexityof the game to make sure that it runs on pretty much any system. Thisis undoubtedly one of the reasons for its phenomenal success, but italso means that those of us with powerful rigs are left wanting more.The good news is that there are a number of hidden settings that allowyou to go beyond what you can do using the regular WoW interface.
Toaccess these hidden settings you simply need to type commands (listedbelow, right in 'Get hidden settings') one at a time into your chat boxand hit [Enter] - the moment you hit a '/' you'll start typing them in.Some people have found that reloading the UI (type / 'consolereloadui') makes things prettier, although we haven't noticed thisourselves. Either way, it gives you control over rendering values thatisn't possible using the slider systems alone.
You can enterthese settings manually just to see what difference they make, but it'sprobably wiser to create a couple of macros that can change thesettings on the fly. There are times when you'll need

performance

(in araid, for example), and others when you just need the game to look asgood as humanly possible (soloing). Once you have the settings asmacros you can tailor them easily to suit your own needs, and just hitthe buttons when needed. Beautiful.
How to make WoW gorgeous
Youhave plenty of control over WoW using the default video settings, whichcan be accessed from the main menu, but the limits of these sliders arelower than what the game is actually capable of (1). For instance, theGround Clutter Density slider has an in-game maximum setting of 160,but the corresponding console command lets you push this all the way upto 256. The difference is pretty breathtaking too - with not only morevegetation, but higher and more lush plants at that (2). It also makesmore stones, but that doesn't excite us quite so much.


We've actually set up two macros toenable us to stand anywhere and see how the rendering engine handlesthe highest and lowest details. In order to create a macro, simply hitthe Macro button from the main menu (hit [Esc] a few times until itpops up). Give your macro a name and a suitable icon and then type inthe commands below. Repeat the process for the second macro, then dragboth to a free spot on your action bar (3). Stand in Terokkar Forest orNagrand and hit one and then the other and grin like a loon.
Onceyou use these settings, there are times when you'll be particularlyaware of the draw distance of the local objects. UnfortunatelygroundEffectDist is limited to 140, so there's nothing you can do toimprove this value (4).
Get hidden settings
Create a macro inputted with the following to see WoW in a new light:
/console groundEffectDensity 256
/console groundEffectDist 140
/console detailDoodadAlpha 100
/console horizonfarclip 2112
/console farclip 777
/console characterAmbient 0
/console smallcull 0
/console skycloudlod 3
If your framerate takes a dive, then this macro will sort you out:
/console groundEffectDensity 16
/console groundEffectDist 1
/console horizonfarclip 1305
/console farclip 177
/console characterAmbient 1
/console smallcull 1
/console skycloudlod 1
/console detailDoodadAlpha 1
Posted by Editorial Team Mon Jun 23, 2008 4:54 pm
4 ATI GPUs = 25,000 Pentium Pro CPUs in Hardware, Internet, Networking, Comms and Security
AMD kicks off this week, with the announcement of the 9250 card,without providing lots of details and not even an availability date.But besides the name of this card, it is interesting to note that thecard is rated at more than 1 TFlops of

performance

and a powerconsumption of about 170 watts. Compared to the current 9170 model power consumption is up from 150 watts, but the

performance

has more than doubled from 500 GFlops.

Sincethe 9250 has a RV770 core, future owners of 4800-series cards will alsobe able to squeeze that

performance

also out of their graphics boards.The ATI team declined to say how much more than 1 TFlops the card canhit, but we were told that a 4x Crossfire X configuration is good foralmost 5 TFlops. So, we would be tempted to assume that ATI is playingwith a number of about a theoretically possible 1.2 TFlops per RV770GPU.

And yes, the R700 - the dual-GPU 4870 X2 card – is goodfor almost twice that

performance

: According to AMD, the R700 willdeliver 2 TFlops per board.

"Teraflops" does not mean a lot tomost of us and floating pointing

performance

has not (yet) become acritical

performance

description for mainstream computing. But to putthat number into perspective, consider the fact that 5000 Pentium Pro processors delivered 1 TFlops back in 1996.To match the 1.2 TFlops, you would need 6000 of these CPUs and to matchthe (32-bit) floating point

performance

of a quad-Crossfire system youwould need 25,000 of these processors.

Though these are highlytheoretical numbers and the actual

performance

always depends on aspecific application, there is no doubt that today's graphics cards aresleeping

performance

monsters. We wonder who will wake them up.
Posted by Editorial Team Thu Jun 19, 2008 3:43 pm
Microsoft's entire E3 leaked - new games, new media for 360 in Gaming
Remember that angry chief of police from Lethal Weapon? The one that's going absolutely mentalover Mel Gibson and Danny Glover's various screw ups? Well that's whatMicrosoft's PR boss must look like this morning, as online survey siteIntellisponse leaks its entire E3 line-up onto the internet. Someone's going to get sacked.

On the game front there's first word onForza Motorsport 3 (as if it wasn't coming), which according toIntellisponse will include over 100 tracks and 400 cars on a two-discset. Let's hope they sort out the walkover AI this time.

Evenbetter is the first video of Silicon Knights' The Crucible, which looksa bit like Eternal Darkness meets Diablo with lots of hack 'n slashing.Watch the video on You Tube before it gets pulled.

On the causal front there's the once mentioned but never seen Lips,which turns out (as expected) to be a Singstar-style game on Xbox 360.

According to the Intellisponse blurb, "Lips is a music and singing gamethat includes 30 songs, 2 wireless interactive microphones, the abilityto use and sing your own music or download songs from an onlineservice. Designed to have fun with friends, Lips scores you on yoursinging (pitch, rhythm and tune) and your overall

performance

." Nan'lllove it.

And of course we've also got our first look at Microsoft's long-rumoured 'Mii' avatar system, which will replace Gamerpics when it launches at the end of the year.

That's your lot then. Microsoft's press conference is going to be a lotless exciting now. We contacted the UK arm of the publisher whowouldn't comment on any of it.
Posted by Editorial Team Tue Jun 17, 2008 5:29 am
CoolIT's latch-on liquid CPU cooler in Hardware, Internet, Networking, Comms and Security
Motherboards.org is reviewing CoolIT's Eliminator Liquid CPU cooler and it'sso easy even your granny could hook it up. This piece of kit has everythingbuilt-in and you needn't stick stuff outside the case. The whole unit justlatches onto your CPU socket (and weighs less than most high-end coolers) andall you need to do is screw it in and connect a power molex. Self-contained andeasy to setup – we weren't expecting that. Downside? Don't expect to daisychain stuff into the water cooler - it's for the CPU and that's about it.Coolit here.
German website Notebook Journal has managed to capture a Puma in the wild andput it to the test in the lab. It's a pre-sample sample based on the Pumaplatform, with a ZM-84 (2.3GHz Turion X2 Ultra) and it uses an HD3400 part with256MB of DDR2. While specs aren't final, the

performance

numbers do give us anidea of what to expect. In this case, the new Puma does outperform the previousTurions, but it still has a lot of catching up to do with Intel's Core 2s. PowerXpress seems to be going well, tho'.Here forthe original, orherefor Googlenglish
Benchmark Reviews is poking around inside a Silverstone Kublai KL03B-W midtower case. Silverstone is usually known for its outrageously expensive HTPCcases, but now they seem to have taken the battle to the desktop PC's arena.It's spacious enough to handle even the freakiest of cooling setups, and you caneven stick a redundant PSU inside. It's also very quiet, we hear... or not. Readabout the casehere.
Samsung is moving forward in its HD storage business with a couple of unitsbased on the F1_3D design. The company has sent off a 750GB and 1TB unit toSilent PC Review where Mike the Chin. They are both 32MB cache units and offeridentical read/write speeds – which pretty much sums up the review – identicalperformance through and through. Good

performance

, that is, and some pretty goodacoustics. The price is right, too...readit here.
OCC is testing the ZEROTherm Zen FZ120 CPU cooler; that's a really tallheatpipe+cooler, but with a smaller fin surface to which they hook up a 120mmfan. It's got a 4pin header, meaning you get PWM (a bit more control over thefan) and copper base and heatpipes. For $39.99 this seems pretty affordabletoo. The temps are pretty hot if you don't plug in the fan, though. Catch thecoolerhere.
After Gigabyte's slight mishap with Asus, the Gigaboys gave TweakTown a tourof the Nan Ping factory while they were attending Computex 2008. Now, it isn'tusual for manufacturers to let hacks like us take photos and vids of theirfactory's entrails, but that was the case. So now you too can get an inkling onhow a P45 mobo comes into existence. It seems Gigabyte has put the Asus incidentbehind it.Catchthe tour here.
If you're relatively new to the rat race and are trying to set up your owngaming rig on a budget, you might want to take a look at this articlehere.Bit-Tech, together with Scan, compiled an article on the subject. The secret isto find the right components, put them all together and then tweak them abit... that's value for money. Cheap CPU... check. Cheap mobo... check. Cheapgraphics card... check. OC all round... check. Yes, that's an E2160 running at2.9GHz with a 9600GT running at 775MHz (75MHz above spec) – the whole systemracked up a sub £400 bill at Scan. Not bad.
What do you get when your marketing department gets behind productdevelopment and forgets to talk to the engineers? An Intel DX48BT2. Why? Becauseit is the upper high-end of single-CPU desktop mobos, warranting the "Extreme"branding and it won't let you overclock decently. That's what XBit found out, atleast, and we can't say it's surprising. Despite Intel's claims of being thegreatest chip show on Earth, they haven't (or won't) had the will the let youtake their CPUs to outrageously high OC values. Xbit considered it might be thecrappy BIOS (1521) but after a quickie update (1523) the OC problems were stillthere. No fun.Readabout the hole.
Posted by Editorial Team Fri Jun 13, 2008 5:14 pm