Search iVirtua
Advanced/Tag Search...
Search Users...
What is iVirtua Exclusive Community?
An exclusive gaming industry community targeted to, and designed for Professionals, Businesses and Students in the sectors and industries of Gaming, New Media and the Web, all closely related with it's Business and Industry.
A Rich content driven service including articles, contributed discussion, news, reviews, networking, downloads, and debate.
We strive to cater for cultural influencers, technology decision makers, early adopters and business leaders in the gaming industry.
A medium to share your or contribute your ideas, experiences, questions and point of view or network with other colleagues here at iVirtua Community.
Guest's Communication
Live Chat
Teamspeak (VOIP) Audio Conference
Private Messages
Check your Private Messages
Themes
Choose an iVirtua Community theme to reflect your interests...
Business Theme

India/Arabic Theme
Gaming Theme
iVirtua Recommends
Fly Emirates
AMD sticks four two-GPU cards into gaming PC in Hardware, Internet, Networking, Comms and Security
AMD

is working on eight-way GPU co-operative rendering, the chip maker has revealed.
In an escalation reminiscent of the way disposable-razor maker areforever upping the number of blades built into their products, AMDspinner Chris Hook told Indian site Techtree: "

AMD

has already built a computer that has four 4870 X2s in it. So it has eight GPUs."
What he said next isn't recorded, but we can imagine a 'beat that, you f*ckers!' followed by an air-punch.
Competitive willy-waving aside, the two-GPU Radeon HD 4870 X2 boardwill go on sale in August, Hook said. It'll be made available in acouple of versions - sporting different clock speeds and/or memoryconfigurations, presumably - to allow

AMD

to hit different price points.

So will you be able to buy four of them and stick 'em in yourcomputer? You can try, but don't expect success: "Drivers will not besupporting eight GPUs at this point of time," said Hook.
Whether they will when the 4870 X2 goes on sale remains to be seen.And quite apart from a suitable driver, hooking up a quartet of 4870X2s is going to require some serious power supply technology, not tomention a very good cooler.
Posted by Editorial Team Mon Jul 14, 2008 12:23 pm
Don't buy Nvidia's GTX 200 cards now! Price cut on the way! in Gaming
Mountain House (CA) – It appears that

AMD

's ATI Radeon 4800 GPU has turned out to be a much better chip than initially expected and

AMD

's aggressive pricing puts enough pressure on Nvidia to prompt price adjustments. If you are planning on purchasing a GTX 260 or 280 card, you may want to delay until next Monday. Price cuts are on the way.

Over the past several days we have spent some time with several Nvidia's partners in the Silicon Valley and in Taiwan, which made it obvious that there are tensions between GPU manufacturers and add-in board companies. A raging price war put five companies on the verge of bankruptcy. We cannot disclose who almost kicked the bucket, but we were told that three vendors are still walking on very thin ice.

With the debut of GeForce GTX 200 series, made some adjustments protecting its partners with greater margins, but the ATI Radeon 4800 series is changing that scenario again.

AMD

has received praise from the press for its ATI Radeon 4800 series, causing Nvidia partners to demand price adjustments. We were told that Nvidia finally stepped down from its pedestal and agreed to offer limited price protection for some products - as well as price cuts.

We contacted Nvidia to get more details on this information and were provided with the following statement by Bryan Del Rizzo and Ken Brown, spokespeople for Nvidia:

"We're working with our partners on adjusting the prices for the GTX 280 and 260. The changes are being implemented over the next few days and will take effect sometime next week. Please obtain final retail pricing from the partners, because they set them for their products."

The third sentence has to be taken with a grain of salt, a most partners complained to us about Nvidia's Unilateral Minimum Advertised Price Policy, short UMAP, and the way it affects them. For the consumer, however, we have yet another example how well competition works. The race between the Radeon 4800 series and GTX 200 will ultimately drag prices down.

According to our sources, Nvidia cut the price of the GTX 280 by $90 and $30 for the GTX 260. Of course, that is a price cut Nvidia is handing down to its partners and does not reflect retail prices.

GeForce GTX 260 cards currently sell for $379.99 on Newegg ($399.99 minus $20 instant rebate on XFX, BFG and PNY cards), while GTX 280 cards sell for $619.99 ($649.99 minus $30 for the XFX board).

After Nvidia's adjustment, we should see Monday prices going down to $359.99 for GTX 260 cards and to $559.99 for GTX 280 cards. Please note that we are not including the possibility for additional rebates that may be offered. For example, if you purchase PNY's GTX 280 from Newegg.com, you currently pay 569.99. After price cut, this might dip down to $479-499, lowering the price below $500 mark.

It appears that we might end up with permanent price brackets at $199, $299, $399 and $499. This would greatly simplify the search for the best possible graphics card at a certain point. Also, this opens the battlefield between single and multi-GPU setups: Could two boards for $199 provide more value than a single $399 or $499 card?

We are sure, hardware review websites are going to find out.
Posted by Editorial Team Tue Jul 08, 2008 7:48 am
AMD with three new Phenom CPUs at opposite ends of market in Hardware, Internet, Networking, Comms and Security
The raw specs are 140W TDP for the 9950 at 2.6GHz and 65W for the 9350e at2.0GHz and 9150e at 1.8GHz. The prices are $235, $195 and $175 respectively, andthe sharp-eyed among you will notice that the 9950 costs exactly what the 9850does. That is because in a week, on July 7, the 9850 will drop to $205. Bothwill remain 'Black', but the 9950 will be blacker because, before the end of theyear, the 9850 will fade from black, and go back to a locked part.
You have to wonder why

AMD

is bothering to lock Phenoms at all, with theBlack parts selling at effectively no premium, why not just let people have fun.Anything

AMD

can do to foster the enthusiast market at this point is probably agood thing, and if you don't have the raw speed, play up the features.
In any case, the interesting part of the bunch is the 9350e. It isn't a barnburner, but for media center boxes, coupled with a 780G board, or better yet a790GX, it could be a pretty solid media/casual gaming rig. This part fills ahole in the market, there aren't any sub 95W Intel quads out there formainstream consumer use, but there could be quite easily if the 9350e is a hit.
In any case, hardcore gamers will probably turn up their noses at the lowclock speeds in the -e parts, but as long as you are not trying to eke out thelast FPS, these parts would make a dandy low-noise desktop.
So, how did they do? Using the same exact setup as the we did with theoriginal780G review, the numbers lined up quite well. To recap, that is a GigabyteGA-MA78GM-2SH mobo, Corsair DDR2 1066 memory and a PC Power and Cooling/OCZSilencer 750W PSU. Power draw was measured at the wall with an Extech True RMSPower Analyser. The same caveat as last time needs to be said, the PSU isunderworked and far less efficient that it would be if we were pulling 500+ W,so knock about 20+ per cent off the wall power to get power used by the boarditself.
We ran our usual power draw test, 3DMark06 under XP SP3 patched to current asof June 28. Just for fun, we threw in the 4850e and the X4 9600 from the lasttest, as well as the 8750 X3. So now you can compare a K8, X3, X4 B2 and a X4 -ein terms of power. It looks like this.

amd-outs-triplet-quads/amd_9350e_performance.jpg" border="0" onLoad="SMR_resize(this);" />
The raw numbers
The lowest idle number is of course the 4850e, and it beats the quads byalmost 20W, the really odd part is the greater than 20W gap from there to the8750 X3. Lose one core, gain 20W? Binning problem, or binning opportunity? Thedual core 4850e also takes the bottom of the loaded power charts, and there is abig 33W gap to the 9350e. From there, the 8750 and 9600 are almost on top ofeach other.
Performance is about where you would expect it to be, the 4850e taking up thebottom with sub-1200 scores, and the others right on top of each other at1540+/-2. A quick overclock of the 9600 to 2.8GHz barely moved the score, so3DMark06 looks pretty GPU bound here.
In the end, with the new parts are priced pretty low, but won't challengeIntel for supremacy. For the high end 9950, you gain 100MHz for a few watts somake sure your mobo can handle the extra. In a week, it will not cost you anymore than a 9850, so you might want to hold off for a few days.
The 9350e and the 9150e look to be solid and inexpensive workhorses for theHTPC/SFF/quiet office PC set. You give up 200MHz for 30W, not a bad trade. Theyare solidly mid-range parts that won't stun any gamers, but they plug gaps inthe market, and do so quite nicely.
Posted by Editorial Team Tue Jul 01, 2008 7:15 am
Games Industry Movers: Trion, 38 Studios, Kongregate & M in Business and Industry in Gaming, Media, Web, IT and Computing
his past week, 38 Studios (the developer founded by Red Sox pitcherCurt Schilling) announced that Thom Ang was appointed Director of Art.He will oversee the direction and management of 38 Studios' artisticdevelopment, including the MMOG codenamed Copernicus, whileworking closely with Todd McFarlane and R. A. Salvatore. Ang willreport to Vice President of Creative Development, Scott Cuthbertson.
"38 Studios' creative teams have been meticulously crafting thesignature look and feel for our upcoming MMOG over the past 18 months,"said Brett Close, CEO and president. "Thom's extraordinary talent andexperience will be key in driving the vision and quality of our OnlineEntertainment Experience."
Ang has been working as a director for notable franchises and brandsfor over 15 years. He's worked as a senior artist at DisneyInteractive, working on titles like Toy Story II and Tarzan. Ang also created illustrations for TV shows, including The X-Files and was a storyboard artist for Sony/Columbia/Tri-Star TV Animation programs, which include Roughnecks: Starship Troopers Chronicles and Max Steel.He then moved on to be art director at EA LA, where he headed up artproduction, team management and visual concept development for the Medal of Honor franchise. In his last position, Ang was art director at THQ, managing more than 25 titles.
"38 Studios is absolutely committed to the next evolution of MMOGs, andevery team member has great pride in the value of what they do,"remarked Ang. "I am excited to contribute to this vision and become apart of an extraordinary team."
Lisa Jablonsky - Kongregate
Kongregate announced this past Friday that Lisa Jablonsky will open thecompany's New York ad sales office. She will work with Kongregate'sChief Revenue Officer Lee Uniacke to secure high-profile advertisingpartnerships based on the site's reach and appeal to young men, ages 13- 34.
"With high user engagement and a growth rate of over 25 percent monthover month, Kongregate provides the ideal medium for advertisers tryingto reach this hard-to-pin-down demographic," stated Uniacke. "As webuild our sales force to address these opportunities, Lisa's proventrack record in developing successful partnerships across a range ofyouth-driven digital consumer brands will add tremendously to theexpertise of our team."
Jablonsky has worked in the New York advertising scene for 21 years andshe was as an early proponent of the digital advertising arena. Amongher projects, she has conceptualized and implemented ground-breakingfilm contests for Intel and Kohl's, and created one of the first mobilecontests for Alltel. Jablonsky helped create games for McAfee Softwareand the National Guard, as well as construct an editorial integrationprogram for Coke's NBA March Madness Flash game. She was most recentlyan account executive with MTV Networks, where she successfully droveadvertising and integrated sponsorships for Comedy Central,AddictingGames.com, Shockwave.com, and AtomFilms.
"Kongregate is an advertiser's dream as it attracts young men betterthan virtually any other site on the Web and puts them in a cool, edgyenvironment where our audience can really interact with their brand,"commented Jablonsky. "At over 3 million unique users today, a highgrowth rate, and just being named one of Time Magazine's Top 50 sitesfor 2008, we're on track to give advertisers the big reach that theyneed to effectively target the young male demographic this fall."
Trion World Network - Glen Van Datta
Trion World Network announced recently that Glen Van Datta has beenhired as Vice President of Engineering and General Manager of TrionWorld Network Austin. He will oversee day to day operations at Trion'sAustin studio and supervise all customer service, quality assurance,operations and other support activities with relation to the Trionplatform.
"Glen is a tremendous hire for Trion and an excellent addition to ourworld class technical organization", said Nicholas Beliaeff, VicePresident of Product Development & Head of Trion World Network SanDiego. "Glen's vision, leadership, and deep history maturing andproductizing compelling online game technology will help Trion take ourserver based game technology to the highest levels while helping us andour partners get to market more quickly."
Notably, Van Datta has worked for over 22 years in softwaredevelopment, including the past dozen in game development. He wasco-founder and Vice President of Engineering at RTIME, where he oversawthe development, design and testing of the RTIME SDK online, in-gameand player matching platform. Van Datta most recently worked at SCEA asDirector of Online Technology, where he oversaw a team of more than 80employees that developed SCE-RT SDK to enable online games for PS2, PS3and PSP games, including Singstar, Warhawk, Resistance, Home and GT5 Prologue.
"For more than 12 years I've believed that online games, online socialnetworks and online media distribution were the future ofentertainment," said Van Datta. "Trion's innovative, dynamic platformand content are the next generation in the online entertainment space."
IGN Entertainment – Jamie Berger
IGN Entertainment announced recently that senior vice president ofconsumer products and technology Jamie Berger will start overseeingbusiness development for the company. He will continue managing IGN'ssubscriptions, digital distribution, and e-commerce portfolio includingIGN's Direct2Drive and GameSpy Technologies.
Berger has over 16 years of professional brand management and marketingexperience from within the online gaming industry. He began hisprofessional career as an Account Manager with the NCR Corporation.Berger spent six years in the consumer products division of The WaltDisney Company before joining IGN Entertainment. He currently helpsextend the IGN brand by creating and leading partnerships thatdistribute content and drive revenue.


AMD

- Emilio Ghilardi


AMD

, which runs the ATI graphics card business, announced this pastweek that Emilio Ghilardi has been appointed senior vice president andgeneral manager of Europe, Middle East and Africa (EMEA). He will beresponsible for all sales and marketing operations within EMEA,starting in mid-August 2008. Ghilardi will report to

AMD

chief salesofficer Gustavo Arenas.
"Emilio adds tremendous global sales and marketing leadership to

AMD

inEMEA which we expect to help strengthen and grow relationships with ourend-user customers, OEMs and distribution partners," said Arenas.
Ghilardi comes to

AMD

from HP, where he started as vice president ofConsumer PC Clients in EMEA. He then moved on to be vice president andgeneral manager of Commercial Hardware within the Imaging and PrintingGroup. Ghilardi was most recently vice president and general manager ofHP's EMEA Consumer Business Unit, managing the business for consumerPCs and Imaging and Printing products.


AMD

added that Alberto Macchi, corporate vice president of Sales andMarketing for EMEA, is departing the company "to pursue newopportunities."
Warner Bros. Digital Distribution - Jacqueline Jourdain Hayes
Warner Bros. Digital Distribution (WBDD) recently announced thatJacqueline Jourdain Hayes has been named Senior Vice President Businessand Legal Affairs. She will manage legal issues around new digitalbusiness models (such as distribution of Warner properties on Xbox Liveand elsewhere) globally, oversee the negotiation of Warner Bros.video-on-demand and electronic sell-through licenses across multipledigital platforms, and provide legal counsel to the Company's seniormanagement on the acquisition, distribution and protection of contentfor digital platforms and other digital initiatives.
"Jackie has been working on our digital business for quite some time,her expertise in this area is unparalleled," said Clarissa Weirick,General Counsel, WBDD. "The digital business is still one of thoseareas where you are often making the rules as you go along, whichrequires someone like Jackie who is confident and creative innegotiating this new terrain. We are extremely fortunate to have hercontinued expertise as our digital business moves ahead."
Hayes has worked as an Associate in the Corporate Departments of TroopMeisinger Steuber & Pasich in Los Angeles, of Goulston and Storrs,P.C. in Boston, and of Moses & Singer in New York City. She joinedWarner Home Video in 1998 as Counsel, and was promoted to VicePresident Business and Legal Affairs of WHV in 2000. Hayes joined theWarner Bros. Digital Distribution division in July 2006.
TC Digital Games – Andi Smithers
Recently, TC Digital Games announced that it appointed Andi Smithers tothe new position of Director of Technical Development. He will overseedevelopment of the company's digital services, including mediatechnology and format strategy as well as interoperability of digitalservices and devices.
"Andi joins our team at a pivotal moment in the evolution of Chaoticand TC Digital," said Bryan C. Gannon, President and CEO of TC DigitalGames. "He will become an integral part of our efforts to enhance theChaotic online experience and further develop our digital services.Andi's expertise in developing technology, his extensive background increating computer game software and his vision for emerging technologymake him a perfect fit to lead this innovative game play convergence."
Smithers has held several executive roles and technical positionsthroughout his 20-year career, having worked for Microsoft, Activision,Psygnosis, LucasArts, and Midway. He was most recently with Sony OnlineEntertainment where he served as Senior Engineer in the Research andDevelopment group. Smithers pushed advanced physics and graphicstechnologies forward to ensure their quality and was responsible foroverseeing the strategy and development for a cloth simulator.
Microsoft – Michael Delman
As we previously reported, Microsoft this past week appointed MichaelDelman to the position of corporate vice president of global marketingfor the Interactive Entertainment Business (IEB) in the Entertainmentand Devices Division. He takes over the role for Jeff Bell who left thecompany earlier this month. Read more about the move here.
Posted by Editorial Team Mon Jun 30, 2008 6:42 am
AMD CPU shoot-out: Phenom X3 and X4 in Hardware, Internet, Networking, Comms and Security
If I were

AMD

I'd drop the whole Phenom idea. It became a complete failure IMO and its the only thing that gave Intel bragging rights. I'd like to hear about the quad core Opterons, I'm a bit excited about those, I feel they can make a difference.

AMD

ought to take the easy way out like Intel until they can develop a true quad core like the Phenom except actually successful. When it comes to dual cores, I'm supporting

AMD

but if I ever get a quad core (which is unlikely) I'm going with the either Intel or Sun. Its a shame ATI is holding back

AMD

's funds, it must be hard for them to catch up on multiple projects.
Posted by schmidtbag Tue Jun 24, 2008 10:37 pm
AMD CPU shoot-out: Phenom X3 and X4 in Hardware, Internet, Networking, Comms and Security
The birth of

AMD

's quad-core Phenom processor was plagued withproblems. After a gestation period more akin to an elephant than a CPU,the new silicon popped out puking and bawling but was clearly a bit ofa runt.
The problem was the now-infamous TLB error that crippled performanceand reduced clock speed with the result that the B2 stepping of Phenomwas only available in two models.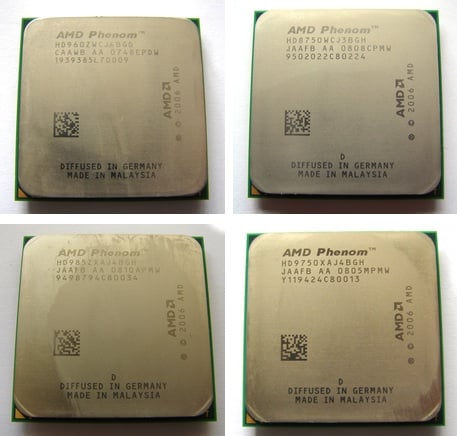 AMD

's Phenoms: (clockwise from top left) 9600, X3 8750, X4 9750, X4 9850

Neither the 2.2GHz Phenom 9500 nor the 2.3GHz 9600 delivered enoughperformance to trouble Intel's Core 2 Quad Q6600, which was a directcompetitor at the same price. As an added kick in the teeth, Phenomwould barely overclock while the Intel processor could manage a clockspeed of 3GHz without breaking a sweat.


AMD

fixed the TLB problem with its B3 stepping and also got a bitcreative with the model codes that it used. Phenom X4 9x50 denotes aquad-core B3 that effectively replaces the original Phenom. The PhenomX3 8x50 is also a B3 but is unusual in that it's a tri-core processor.Phenom is similar to Core 2 Quad in many respects but there is onesignificant difference as Phenom is a native quad-core design with allfour cores on the same die. By contrast Core 2 Quad is a dual-coredesign, so Intel uses two processor dice to cobble together itsfour-core CPUs.
Naturally,

AMD

touts this difference as a major advantage for Phenomas it allows HyperTransport to strut its stuff, while Core 2 istheoretically crippled by a lousy communication path through thefrontside bus and then off to the northbridge of the chipset to thememory controller.

It was time for the Phenom X4 9850, and we weren't surprised to seethat performance was a distinct improvement on the X3 8750 in everyrespect with the exception of pure graphics tests that only stress thegraphics card. The X4 draws 40W more than the X3 which makes it fairlyeasy to deduce how much power each core in a Phenom requires. Thequad-core overclocked slightly better than the tri-core but neither wasimpressive in that department.
The thing that caused us some surprise, however, is the similarityin price. You only pay £10 more for the X4 so why on Earth would youchoose the X3?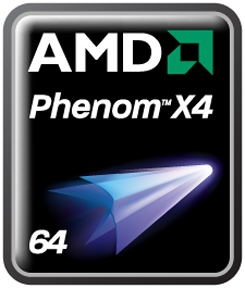 Finally, we come to the Phenom X4 9850, which only runs 100MHzfaster than the X4 9750 - 2.5GHz - but there are a couple of otherchanges. The X4 9750 has a TDP of 95W and HyperTransport speed of1.8GHz while the X4 9850 has a TDP of 125W and a HyperTransport speedof 2GHz which rather suggests that the X4 9850 is buzzing along at thelimits of the B3 architecture.
We had heard great things of the X4 9850, with at least one reviewerclaiming a clock speed of more than 3GHz. However, we had nothing likethat degree of success. With the 200MHz clock raised to 225MHz weimmediately suffered a blue screen after Windows had loaded, and thatwas with a clock speed just over 2.8GHz.
The system was pretty much OK with a clock speed of 220MHz (2.75GHzCPU speed) although 3DMark Vantage refused to run however the X4 9850required more cooling than the other Phenoms. Indeed we had to removethe add-in fan controller from the CPU cooler to get the fan speed highenough to cool the CPU properly.

That's all well and good but just take a look at our test resultsfor Core 2 Quad Q6600. On its stock speed of 2.4GHz it wiped the floorwith Phenom and when we overclocked it to 3.0GHz it made the AMDsilicon look rather limp.
VerdictThe B3 stepping of Phenom is a distinct improvement over theoriginal B2 but that's not saying much. Intel has cut the price of Core2 to such an extent that there is no compelling reason to buy a Phenombeyond the fact that you might not like Intel very much. Fair enough,we'd say, but for everyone else, Intel has grabbed the initiative. Overto you,

AMD

.
Posted by Editorial Team Mon Jun 23, 2008 4:54 pm
4 ATI GPUs = 25,000 Pentium Pro CPUs in Hardware, Internet, Networking, Comms and Security
AMD

kicks off this week, with the announcement of the 9250 card,without providing lots of details and not even an availability date.But besides the name of this card, it is interesting to note that thecard is rated at more than 1 TFlops of performance and a powerconsumption of about 170 watts. Compared to the current 9170 model power consumption is up from 150 watts, but the performance has more than doubled from 500 GFlops.

Sincethe 9250 has a RV770 core, future owners of 4800-series cards will alsobe able to squeeze that performance also out of their graphics boards.The ATI team declined to say how much more than 1 TFlops the card canhit, but we were told that a 4x Crossfire X configuration is good foralmost 5 TFlops. So, we would be tempted to assume that ATI is playingwith a number of about a theoretically possible 1.2 TFlops per RV770GPU.

And yes, the R700 - the dual-GPU 4870 X2 card – is goodfor almost twice that performance: According to

AMD

, the R700 willdeliver 2 TFlops per board.

"Teraflops" does not mean a lot tomost of us and floating pointing performance has not (yet) become acritical performance description for mainstream computing. But to putthat number into perspective, consider the fact that 5000 Pentium Pro processors delivered 1 TFlops back in 1996.To match the 1.2 TFlops, you would need 6000 of these CPUs and to matchthe (32-bit) floating point performance of a quad-Crossfire system youwould need 25,000 of these processors.

Though these are highlytheoretical numbers and the actual performance always depends on aspecific application, there is no doubt that today's graphics cards aresleeping performance monsters. We wonder who will wake them up.
Posted by Editorial Team Thu Jun 19, 2008 3:43 pm
AMD delivers Xbox 360 graphics on handhelds in Hardware, Internet, Networking, Comms and Security
AMD

claims that it can now achieve Xbox 360 quality graphics on a handheld system.
Engadgetreports that the company "has announced it has achieved Open GL ES 2.0mobile graphics technology compliance with hardware that cranks out thesame

AMD

Unified Shader Architecture as the Microsoft gaming console."


AMD

takes on Tegra
The new

AMD

graphics standard will go head to head with NVIDIA's Tegra which also holds the promise of high-end gaming graphics on mobile and handheld platforms.
More mobile 360 rumours
Ofcourse, there has been ongoing rumour of a 'mobile Xbox 360' prettymuch since Microsoft launched the console, with Microsoft refusing tocomment on the constant speculation and rumour.
Might thislatest development mean that we could hear more on a mobile Xbox soonerrather than later? Who knows? Let (yet more) speculation and rumourbegin…
Posted by Editorial Team Fri Jun 13, 2008 5:46 pm
AMD to pair CPUs, GPUs with Intel's physics tech in Hardware, Internet, Networking, Comms and Security
AMD

is partnering with Intel to improve the way its graphics chips can handle physics and other scientific calculations.
Well, sort of.

AMD

's actually working with Intel subsidiary Havok,which the chip giant acquired last year. Havok operates separately fromIntel to develop its Havok FX physics processing API, which allowsdevelopers to code up such algorithms to run on GPUs rather than CPUs.
It's main rival was Ageia, developer of a similar API and adedicated chip, PhysX, to run the calculations. Ageia, however, is nowpart of Nvidia, which is understandably playing down PhysX whilepromoting Ageia's software technology as a way of running physicscalculations on its own GPUs.

All this stuff is going to run on discrete graphics chips, so itmakes more sense for

AMD

to partner with an Intel company, which isn'tcompeting with it - yet - in the discrete GPU market.
The partnership will ensure that Havok FX can take full advantage ofthe idiosyncracies of

AMD

's Radeon GPU architecture and of its x86processors.
Games, in particular, are increasingly incorporating algorithms thatcan model complex interactions between players and the worlds theyinhabit. Traditionally, these calculations have been handled by theCPU, but they're better suited to the GPU's parallel-processing design,which whizzes through them while the general-purpose CPU wouldstruggle.
Posted by Editorial Team Fri Jun 13, 2008 4:57 pm
PlayStation 3 introduces 'in game' advertising in Business and Industry in Gaming, Media, Web, IT and Computing
Owners of PlayStation 3 consoles will soon see adverts inside video gamesafter Sony struck a deal with IGA Worldwide, a company that specialises in'in-game' advertising.
The adverts, which can take the form of anything from a bottle of soft drink avirtual character consumes to a large billboard inside a sports stadium, areupdated by the PS3's internet connection.
The deal will bring give rise to the first in-game adverts seen by owners ofPS3s, and should provide a filip to the fledgling video game advertisingindustry, which experts say could grow to be worth $1 billion by 2011.
Electronic Arts (EA), one of the largest video games publishers, will be thefirst company to incorporate adverts into its PS3 titles under the deal,financial details of which haven't been disclosed. Among the first games todisplay advertising will be Madden NFL football, NBA Livebasketball, and the racing franchises Need for Speed and Burnout.

And that's the real problem. FSC may be able to promote itsGraphicBooster to buyers of the one laptop it's going to produce, fornow, with an XGP connector, but unless it and other vendors adopt thetechnology en masse, it's hard to see XGP becoming anything more than an accessory for a handful of notebooks.
It'll be like all those docking connectors: not proprietary, true, but so rarely used it might as well be.
Much will depend on the extent to which

AMD

pushes XGP as part ofits 'Puma' notebook platform, and engages with bodies like the PCI SIGto turn XGP into a true standard. At that point, we might see all thoseIntel-based laptops taking on the technology

Advertisers have long sought ways to target the young, mostly male audiencewhich spends an increasing amount of time playing video games - often at theexpense of traditional media such as TV. Publishers, meanwhile, have beenexploring new, web-based business models.
In January, for instance, EA announced that it would distribute a slimmed downversion of Battlefield, the popular combat game, free via theinternet, and aim to make money through in-game ads, as well as the sales ofweapons and other virtual items that can be used in the game.
IGA Worldwide says it serves "hundreds of millions of ad impressions"each week to more than ten million people who play online games.
One problem faced by in-game advertising, analysts say, is that adverts cannotalways be configured to run across different consoles, even if they aredesigned for the same game, making it difficult for brand owners to plancampaigns.
Posted by Editorial Team Mon Jun 09, 2008 9:35 am
AMD launches external graphics card box in Hardware, Internet, Networking, Comms and Security
AMD

used the Computex show in Taipei this week to propose XGP -eXternal Graphics Platform, a slimline box you connect your GPU-litelaptop to when you need more graphics horsepower.
Fujitsu Siemens (FSC) was on hand to demo the concept with its AmiloGraphicBooster, an AppleTV-like unit with an

AMD

ATI Radeon HD 3870 GPUbuilt in and hooked up to 512MB of GDDR 3 memory. The box can drivefour displays simultaneously, the company claimed.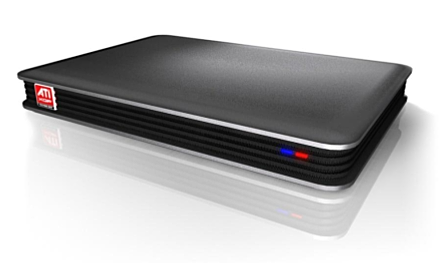 AMD

's XGP reference box: it's a graphics card, don't you know



AMD

's pitch is that users will be able to connect their slim'n'lightlaptops to an XGP, which will supply the level of graphical grunt thatthey don't need when they're on the move and, more importantly, runningon battery power.
XGPs are designed to be hot-pluggable, the driver knowing about andenabling the use of the discrete GPU as soon as it's connected to thehost.
With that multi-monitor support, XGP will undoubtedly also bepitched at businesses who want to give their laptop-equipped workersmulti-display desktops.
Of course, this is the same notion companies like DisplayLink arepeddling, but they're delivering multi-screen support over USB usingthe host system's GPU.

AMD

's approach - since it's in the business ofselling more graphics chips - is to add a second GPU to the system.
That said, Fujistu Siemens has its eye on the consumer market - weunderstand it's pitching the technology to Dixons and other bigretailers - as a way to allow ordinary punters to effectively upgradetheir older laptops' graphics capabilities. The technology doesn'trequire an external monitor - the XGP can render images on the hostlaptop's own screen.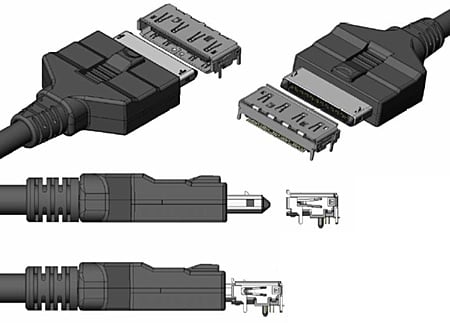 Yet another video connector for your laptop

And XGP has its own connector, which although based on PCI Express2.0 technology, does require the laptop to have a special XGP slot onthe side.

AMD

has two connectors, one for eight PCIe lanes, the otherfor 16. At this stage it's unclear whether you can connect, say, an XGPwith a 16-lane cable, using an adaptor, to a notebook with an 8-laneport.
Posted by Editorial Team Mon Jun 09, 2008 9:35 am
First AMD Game PC reviewed in Gaming
THE FIRST

AMD

GAME PC has been tried and tested according to an Israeli news site, which says it will definitely give the competition a run for their money.

Ynet, the Israeli news site belonging to Yediot Aharanot, claims that Tech Data, an Israeli computer distributor, gave it a prototype of a new

AMD

Game! machine to play around with before anyone else got their grubby paws on it.



AMD

announced it would be launching a new badge for computers called

AMD

Game! (sic), based on the Spider and Cartwheel gaming platforms. The new machines are supposed to fall within the $600-$1500 price range, which

AMD

is convinced will make its machines an attractive option to serious gamers and multimedia fanatics.

The prototype computer used

AMD

hybrid graphics and the review noted that the HD3200 (

AMD

780G) offered double the power of Intel's X3500 GMA.

Tech data told Ynet that it would be selling the machines with Vista pre-installed as the default operating system.

A Ynet reviewer wrote "Older games ran very well on it, Vista Ultimate ran on it....like XP". Whatever that means!

Ynet summed up to say that

AMD

's hybrid graphics are very far from being just a novelty or sideline item and that the Cartwheel platform does deliver on the company's promises.

Price and quality wise, the Ynet reviewers reckon the new

AMD

Game computers would most definitely give both Intel and Nvidia a run for their money and that it would represent very strong competition in the competitive gaming market.

It added that

AMD

seemed to be much better placed with this new product than it had been a year ago, so there is indeed light at the end of the tunnel.
Posted by Editorial Team Sun Jun 01, 2008 5:37 pm
AMD Game! aunches new PC hardware gaming labels in Hardware, Internet, Networking, Comms and Security
AMD

has announced a new initiativeto increase sales of gaming PCs, introducing a new game labellingsystem to better inform PC users and consumers about what games willrun on their system.


AMD

Game and

AMD

Game Ultra logos will appear on relevant

AMD

-based gaming-ready desktops and laptops.
Tailored for 'Joe Six-Pack'


AMD

Game logo will be slapped on PCs that feature an Athlon X2 5600+processor, 2GB of memory, Radeon HD 3650 graphics, and an

AMD

770 orNvidia nForce 500 series chipset or better.
For the real hardcore, the

AMD

Game Ultra logo will be on systemsthat boast a minimum of a Phenom X4 9650, 2GB of memory, a Radeon HD3870, and an

AMD

770 chipset.


AMD

's Director of Marketing for Platform Technologies, Godfrey Chengoutlines the thinking behind the labelling initiative, noting: "We wantto be sure that when 'Joe Six-Pack' walks into Wal-Mart and picks up acopy of Deer Hunter Tournament, it'll play on his PC."
Check out the AMD Game! initiative website for more.




Quote:


You don't have to build your own system from scratch to get the rawmulti-core performance and HD graphics capabilities needed to play thelatest and greatest games they way they were intended—all out. From theprocessor to the graphics card to the chipset, never before has it beenso easy to immerse yourself in the latest, most challenging games. Withan

AMD

GAME! system you get:
Reliability
We'vetested the games, hardware, and components to make sure you get anamazing playing experience, right out of the box. And best of all, youdon't have to know every detail about your PC to get started.
Simplicity
Imaginea PC platform of perfectly matched components for the high-qualitygaming you crave. The latest gaming features in an affordable,easy-to-manage system.
Innovation
With thelatest ATI Radeon™ HD graphics technology and true multi-coreprocessing with an

AMD

Phenom™ Processor, even the most high-poweredgames are within your command. Microsoft® DirectX® 10.1 graphicscapabilities and support for 1080p HD video*, audio, and displaysshowcase every vibrant, immersive detail.

All that andperformance to spare. It's what you get when you take a PC platformcreated for amazing games and combine it with games created for anamazing PC platform.

Where to Buy

AMD

GAME! Systems


Game! Products

Posted by Editorial Team Wed May 21, 2008 9:47 am
AMD puts DDR5 on R700 graphics cards in Hardware, Internet, Networking, Comms and Security
AMD

IS TO STICK DDR5 memory on its upcoming ATI Radeon R700 graphics cards.



AMD

said it is working with a number of leading memory providers, including Samsung, Hynix and Qimonda, to bring GDDR5 to market. Qimonda confirms it is delivering the memory now.

The firm said data rates supported by GDDR5 are up to five times that of GDDR3 and four times that of GDDR4 , enabling more bandwidth over a narrower memory interface.

The memory standard is also applicable tor stream processing, where GPUs may be used in parallel to address complex,

AMD

noted.

According to

AMD

senior graphics veep, Rick Bergman: "The days of monolithic mega-chips are gone."

In a statement he said, "

AMD

believes that GDDR5 is the optimal way to drive performance gains while being mindful of power consumption."
Posted by Editorial Team Wed May 21, 2008 9:33 am
Dell XPS phase-out symbolic of declining PC gaming sector in Business and Industry in Gaming, Media, Web, IT and Computing
Dell announced today that it intends to phase out its XPS desktop systems in order to prop up Alienware sales. Dell acquiredthe much-smaller boutique computer manufacturer in March, 2006, butinitially believed that the its own XPS products would complementAlienware's custom-built systems rather than compete with them forsales. This assessment appears to have been incorrect; Dell now reportsthat XPS sales have eaten into Alienware sales to a certain degree.
Dell currently offers two desktop product lines. The lower tier(Inspiron), is meant for cost-conscious buyers, with entry prices aslow as $379, while the upper tier (XPS), further bifurcates into XPSPerformance/All-in-One and XPS Gaming PCs. Out of this group, only theXPS Gaming tier is being eliminated, and Dell apparently intends tocontinue using the XPS brand on mainstream desktops and higher-endlaptops. As for the reason why Dell chose to eliminate its XPS gamingdivision, the numbers below paint a sobering picture.



Data source: NPD Group

PC gaming (and by extension, PC gaming hardware sales) may not bedead, but the PC gaming industry is clearly not what it used to be. In1998, the PC gaming industry generated 1.8 billion in sales andaccounted for 32.72 percent of total video game software sales. Thevideo game software market grew by 72 percent between 1998 and 2007,while PC gaming sales have consistently decreased every single year inboth relative and absolute terms. The picture isn't quite as bleak asthe graph makes it seem, given that NPD's numbers don't track digitaldistribution or subscription-based revenue, but neither category couldpossibly account for the tremendous decline in PC game sales.
Even if Steam, and other services like it, accounted for a massive50 percent of "hidden" PC game revenue, total PC game software saleswould only have reached $1.37 billion in 2007, down 24.9 percent from1998. There's absolutely no sign that download services actuallyaccount for anywhere near this kind of volume, and subscription MMOsales, while important towards total PC gaming revenue, only reflectthe conditions of one segment of the gaming market. Furthermore, asignificant chunk of the growth in subscription MMO sales over the pastfew years is going to be flowing into the pockets of one particulartitan. World of Warcraft may be a license to print money, but that's nohelp to the developers of, say, Call of Duty 4, to say nothing of anyother games.
Dell's decision to kill its XPS gaming platforms does nothing toundermine the validity of the assertion that PC gaming is, in fact, inquite a bit of trouble. At $910 million, PC gaming can hardly beconsidered dead, and we won't be trotting that particular dead horseout for a beating today, but the industry is rapidly transforming intoan increasingly niche market with fewer and fewer exclusive titles.

In somewhat happier news, at least for

AMD

fans, Alienware hasannounced a new, entry-level gaming PC built around

AMD

's Phenom. Thenew Aurora-class system is built on the

AMD

790FX platform and offersyour choice of either Athlon (5200+ and 6400+) or Phenom X4 processors,up to and including the Phenom X4 9850 Black Edition. The new rig isavailable in blue, green, silver, or black, though the flesh-eatingbiomechanical accessory robot (pictured to the right) is only availablein black. With a starting price of $999, and an $1824 "midrange" optionwhen outfitted with the Phenom 9850 and a Radeon X2 3870, Alienware isobviously trying to court both

AMD

fans and potential buyers in searchof a lower-cost, custom-built machine.
Posted by Editorial Team Wed May 14, 2008 5:01 am