Search iVirtua
Advanced/Tag Search...
Search Users...
What is iVirtua Exclusive Community?
An exclusive gaming industry community targeted to, and designed for Professionals, Businesses and Students in the sectors and industries of Gaming, New Media and the Web, all closely related with it's Business and Industry.
A Rich content driven service including articles, contributed discussion, news, reviews, networking, downloads, and debate.
We strive to cater for cultural influencers, technology decision makers, early adopters and business leaders in the gaming industry.
A medium to share your or contribute your ideas, experiences, questions and point of view or network with other colleagues here at iVirtua Community.
Guest's Communication
Live Chat
Teamspeak (VOIP) Audio Conference
Private Messages
Check your Private Messages
Themes
Choose an iVirtua Community theme to reflect your interests...
Business Theme

India/Arabic Theme
Gaming Theme
iVirtua Recommends
Fly Emirates
Build a DX10 rig for under £176 in Hardware, Internet, Networking, Comms and Security
To add onto this:

I would not recommend anyone to get a quad

core

for gaming. I have a socket 939 Operteron 180, a 2.4GHz dual

core

with 2mb of L2 cache. I got it for $170, which is not bad for a dual

core

Opteron. You may say "That thing sucks you couldn't do any good gaming on it". Well apparently, with my 7900GT, I played the Crysis demo with medium-high settings (physics were maxed as far as I remember) and with a 25-45 framerate, my cpu usage stayed below 90%. Now, if my video card were not the downfall, it is possible my cpu would reach 100% but if I had a better video card, I probably would be using a better cpu as well. My point is, even a 2.4ghz dual

core

is good enough to play crysis, so those "know-it-alls" who get their precious 2.8ghz quad

core

intels have not only wasted a ton of money but have more performance than they'll really need.
Posted by schmidtbag Thu Jul 10, 2008 1:49 pm
Rethinking Traditional Advertising Methods in Business and Industry in Gaming, Media, Web, IT and Computing
You see, for all the talk of monthly periodicals' demise, SEO'simpending reign, the downfall of FM stations and television'sinevitable implosion, we, err, sort of forgot to mention one thing:essentially that, despite posting up ratings far from the halcyon daysof the pre-TMZ.com era, mass media outlets such as ABC, CBS, CNN andNBC; Time, Newsweek and USA Today;and even regional Cineplex chains still generate the kind of audiencenumbers most interactive entertainment execs would give their last USBcable to connect with. Tactics may be changing, with custom tradeshows,advertorials, movie-type trailers and cover wraps replacing simple pageads and product giveaways. But as an industry, we're far from preparedto divorce ourselves completely from traditional advertisingplacements, or shift marketing dollars exclusively onto the Internet.

"Something most gamemarketers miss about the broadcast space is the need to keep messagingpointed and simple" - Steven Roberts, DIRECTV

To wit, column after news brief after investigative report may continueto bemoan the death of old-world media. However, as any marketingdirector can attest, its

core

vehicles still remain one of the bestways to rapidly generate mass awareness amongst PC- or console-owningaudiences. Hence, although blogs and video aggregators deliver greatbang for the buck and generate tremendous street-level buzz, theycontinue to be promotional outlets that most

core

publishers have yetto wholly embrace, let alone fully commit to. Thus the reign ofhigh-profile primetime spots for titles like Grand Theft Auto, Madden and Halo rolls on.
And so, just as I humble myself before my new daughter, who hasn't meta pair of slacks she hasn't enjoyed redecorating yet, I willinglyprostrate myself before the industry-at-large and beg forgiveness. Asthe following executives – representing the television, motion pictureand direct marketing industries, respectively – are quick to remind, weshould all think twice before acting so rashly and completely writingthese businesses off.
Suffice it to say that they may not generate the same kind of headlinesin 2008 as rich media providers, online networks or widget creators,but thanks to new technology, changing tastes and increasing audiencefragmentation, let's just say they're far from out of the game.
Steven Roberts
Vice President & General Manager, Games and StrategicInitiatives for DIRECTV, overseeing broadcast ventures like 24/7interactive games channel Game Lounge and the internationally televisedChampionship Gaming Series professional league.
"Broadcast TV is absolutely not dead – just changing. Popular as gamingis, you can't look at entertainment in a vacuum... you have to considerthe overall mass-market. There are 120 million television homes outthere, with millions of people who just want to be entertained in thesame way they have for the last 50 years. NFL football still puts uphuge ratings every Sunday, and millions still tune in to watch livemusic and sports – you don't see that on an Xbox 360 console.
"True, television has to evolve, and will become more interactive toengage subscribers... if that's what users want. But what we're reallylooking at here in the immediate is developers/publishers grapplingwith a question of increasing audience segmentation. Something mostgame marketers miss about the broadcast space is the need to keepmessaging pointed and simple. That doesn't mean downplaying keyelements or features that you want understood: Just presenting them ina straightforward, easily comprehensible way that speaks to a specificaudience. Implementing better virtual cameras into games would be awelcome start... For broadcasters, it's very difficult to showdifferent elements of a title in ways instantly conducive to helpingpeople understand what it's all about.
"It's also important to look beyond the 30-second spot. There's plentyof room for advertisers to tap into broadcast vehicles, whether throughtelevised competitions, interactive online program extensions orproduct integration. Placing games front and center by showing ahalf-hour of screens, video footage and people playing these titlesmakes sense. But what you really need for effective campaigns here isto build elements of user interaction into your advertising and pair itwith programming that's consistent with the demographics of the gameitself.
"It all comes back to basics. People won't skip an ad on a DVR or turnaway to get a glass of milk if it's compelling, the message is clearand it's telling you something that you want to hear. Creative doesn'tjust have to wow either: It also has to make sense for the audiencesegment. While marketing can be fun and have an edge to it, ultimately,for on-air placements, it's vital to make sure the message is verytargeted, specific and simple."
"For all the uproar surrounding the movie business lately, gamemarketers shouldn't underestimate in-cinema advertising's power. Mostmedia features a device (remote control, mouse click, radio dial, etc.)that lets audiences tune unwanted messaging out. But at the theater,you've paid to be there, are a captive audience and want to beentertained. This receptivity begets results if the creative is good:Recall scores average around 60%, with categories like gaming actuallysoaring into the 80-90% range.
"Definitely, the big screen's sexy. Via streaming media, you canliterally send ads for M-rated games to all R-rated movie screenings inany given city; appear alongside only specific types of films; ordeliver different messages to different geographic markets on-demand.But publishers need to look beyond the most obvious opportunities –lobbies can also be a marketing wonderland. Standees, banners,concession items... From 20-minute pre-shows packed with original,exclusive and entertaining content to game posters disguised to looklike cinematic counterparts, options for building brand equity areendless.
"Hollywood is far from dead. Are gamers going to see Shrek, The Matrix and Pirates of the Caribbean?Of course... it's common sense. Research also shows emotions aremagnified at the theater – and the same holds for audience reactions tocommercials as well as films. It's hard to argue with a dark room, agiant screen and a group of people who've willingly paid to be thereand want to see what's in store.
"Also note – 80% of tickets are sold on weekends, a time when peoplewant to go shopping, and theaters are generally located in shoppingdistricts. Stick a retail discount on a box office handout, and youdon't just achieve grassroots interaction, or present a clear call toaction. It's also conceivably the last message a consumer sees beforehaving to drive home past a Best Buy or Wal-Mart where your game'sconveniently stocked."

"People are more distracted than ever – advertisers need to cut throughthe clutter. You have to find ways to surprise and entertainaudiences... It's important to design options that let you really spendtime with consumers in a meaningful way.
"Consider

core

gamers. You can look at where they're hanging out – atfraternity houses, sports bars, military bases, wherever – thendiscover ways to be there. It's even possible to reach players atschool and weave gaming properties into an educational message. Theseinstitutions appreciate it when game companies can provide them withbranded book covers, locker calendars or workshops that incorporatethese titles to teach lessons, just to name a few possible choices.
"Basically, you have to create options that make sense for the contentand target demographic, then craft a vehicle that fits. This could be abranded video game tournament, for example, or involve catching fans ata sporting event and giving them things they can wear to the game.There are alternative ways to reach virtually any shopper.
"It's crucial for publishers to connect with fans on a one-on-onelevel, because as excited as TV/film imagery can make them, people wantto go hands-on and try your games. To do so, you have to interface withthem on the street. Demos at malls, movie theaters, health clubs, etc.are essential to building buzz: There's a direct link between samplersconverting into purchasers. Experience is everything, and consumers aregoing to be the strongest ambassadors for your brand – word-of-mouth isincredibly powerful in the enthusiast gaming community.
"A holistic strategy is important, though: Alternative marketing shouldjust be one part of a diversified tactical plan. If I can see an ad foryour game during Lost or American Idol, then it happens to be at a barwhere I can try it, it'll pique my interest... Suddenly, brand andbuyer are making a meaningful connection. Remember though, that theseplacements have to be unobtrusive. You can't invade someone's space –you have to make kiosks, stands, booths, etc. – something that adds to,not takes away from, the entertainment value of any activity or event."
Posted by Editorial Team Tue Jul 08, 2008 7:40 am
10 Best Hacking and Security Software Tools for Linux in Hardware, Internet, Networking, Comms and Security
Linuxis a hacker's dream computer operating system. It supports tons oftools and utilities for cracking passwords, scanning networkvulnerabilities, and detecting possible intrusions. I have here acollection of 10 of the best hacking and security software tools forLinux. Please always keep in mind that these tools are not meant toharm, but to protect.

1. John the Ripper






John the Ripper

is a free password cracking software tool initially developed for theUNIX operating system. It is one of the most popular passwordtesting/breaking programs as it combines a number of password crackersinto one package, autodetects password hash types, and includes acustomizable cracker. It can be run against various encrypted passwordformats including several crypt password hash types most commonly foundon various Unix flavors (based on DES, MD5, or Blowfish), Kerberos AFS,and Windows NT/2000/XP/2003 LM hash. Additional modules have extendedits ability to include MD4-based password hashes and passwords storedin LDAP, MySQL and others.




2. Nmap

Nmapis my favorite network security scanner. It is used to discovercomputers and services on a computer network, thus creating a "map" ofthe network. Just like many simple port scanners, Nmap is capable ofdiscovering passive services on a network despite the fact that suchservices aren't advertising themselves with a service discoveryprotocol. In addition Nmap may be able to determine various detailsabout the remote computers. These include operating system, devicetype, uptime, software product used to run a service, exact versionnumber of that product, presence of some firewall techniques and, on alocal area network, even vendor of the remote network card.

Nmapruns on Linux, Microsoft Windows, Solaris, and BSD (including Mac OSX), and also on AmigaOS. Linux is the most popular nmap platform andWindows the second most popular.



3. Nessus

Nessusis a comprehensive vulnerability scanning software. Its goal is todetect potential vulnerabilities on the tested systems such as:

-Vulnerabilities that allow a remote cracker to control or access sensitive data on a system.
-Misconfiguration (e.g. open mail relay, missing patches, etc).
-Defaultpasswords, a few common passwords, and blank/absent passwords on somesystem accounts. Nessus can also call Hydra (an external tool) tolaunch a dictionary attack.
-Denials of service against the TCP/IP stack by using mangled packets

Nessusis the world's most popular vulnerability scanner, estimated to be usedby over 75,000 organizations worldwide. It took first place in the2000, 2003, and 2006 security tools survey from SecTools.Org.



4. chkrootkit

chkrootkit(Check Rootkit) is a common Unix-based program intended to help systemadministrators check their system for known rootkits. It is a shellscript using common UNIX/Linux tools like the strings and grep commandsto search

core

system programs for signatures and for comparing atraversal of the /proc filesystem with the output of the ps (processstatus) command to look for discrepancies.

It can be used from a"rescue disc" (typically a Live CD) or it can optionally use analternative directory from which to run all of its own commands. Thesetechniques allow chkrootkit to trust the commands upon which it dependa bit more.

There are inherent limitations to the reliability ofany program that attempts to detect compromises (such as rootkits andcomputer viruses). Newer rootkits may specifically attempt to detectand compromise copies of the chkrootkit programs or take other measuresto evade detection by them.



5. Wireshark

Wiresharkis a free packet sniffer computer application used for networktroubleshooting, analysis, software and communications protocoldevelopment, and education. In June 2006, the project was renamed fromEthereal due to trademark issues.

The functionality Wiresharkprovides is very similar to tcpdump, but it has a GUI front-end, andmany more information sorting and filtering options. It allows the userto see all traffic being passed over the network (usually an Ethernetnetwork but support is being added for others) by putting the networkinterface into promiscuous mode.

Wireshark uses thecross-platform GTK+ widget toolkit, and is cross-platform, running onvarious computer operating systems including Linux, Mac OS X, andMicrosoft Windows. Released under the terms of the GNU General PublicLicense, Wireshark is free software.



6. netcat

netcat is a computer networking utility for reading from and writing to network connections on either TCP or UDP.

Netcatwas voted the second most useful network security tool in a 2000 pollconducted by insecure.org on the nmap users mailing list. In 2003, itgained fourth place, a position it also held in the 2006 poll.

The original version of netcat is a UNIX program. Its author is known as *Hobbit*. He released version 1.1 in March of 1996.

Netcat is fully POSIX compatible and there exist several implementations, including a rewrite from scratch known as GNU netcat.



7. Kismet

Kismetis a network detector, packet sniffer, and intrusion detection systemfor 802.11 wireless LANs. Kismet will work with any wireless card whichsupports raw monitoring mode, and can sniff 802.11a, 802.11b and802.11g traffic.

Kismet is unlike most other wireless networkdetectors in that it works passively. This means that without sendingany loggable packets, it is able to detect the presence of bothwireless access points and wireless clients, and associate them witheach other.

Kismet also includes basic wireless IDS featuressuch as detecting active wireless sniffing programs includingNetStumbler, as well as a number of wireless network attacks.



8. hping

hpingis a free packet generator and analyzer for the TCP/IP protocol. Hpingis one of the de facto tools for security auditing and testing offirewalls and networks, and was used to exploit the idle scan scanningtechnique (also invented by the hping author), and now implemented inthe Nmap Security Scanner. The new version of hping, hping3, isscriptable using the Tcl language and implements an engine for stringbased, human readable description of TCP/IP packets, so that theprogrammer can write scripts related to low level TCP/IP packetmanipulation and analysis in very short time.

Like most tools used in computer security, hping is useful to both system administrators and crackers (or script kiddies).



9. Snort

Snortis a free and open source Network Intrusion prevention system (NIPS)and network intrusion detection (NIDS) capable of performing packetlogging and real-time traffic analysis on IP networks.

Snortperforms protocol analysis, content searching/matching, and is commonlyused to actively block or passively detect a variety of attacks andprobes, such as buffer overflows, stealth port scans, web applicationattacks, SMB probes, and OS fingerprinting attempts, amongst otherfeatures. The software is mostly used for intrusion preventionpurposes, by dropping attacks as they are taking place. Snort can becombined with other software such as SnortSnarf, sguil, OSSIM, and theBasic Analysis and Security Engine (BASE) to provide a visualrepresentation of intrusion data. With patches for the Snort sourcefrom Bleeding Edge Threats, support for packet stream antivirusscanning with ClamAV and network abnormality with SPADE in networklayers 3 and 4 is possible with historical observation.



10. tcpdump

tcpdumpis a common computer network debugging tool that runs under the commandline. It allows the user to intercept and display TCP/IP and otherpackets being transmitted or received over a network to which thecomputer is attached.

In some Unix-like operating systems, auser must have superuser privileges to use tcpdump because the packetcapturing mechanisms on those systems require elevated privileges.However, the -Z option may be used to drop privileges to a specificunprivileged user after capturing has been set up. In other Unix-likeoperating systems, the packet capturing mechanism can be configured toallow non-privileged users to use it; if that is done, superuserprivileges are not required.

The user may optionally apply aBPF-based filter to limit the number of packets seen by tcpdump; thisrenders the output more usable on networks with a high volume oftraffic.


Do you have a favorite security software tool for Linux? Feel free to comment and tell us about it.
Posted by Editorial Team Fri Jul 04, 2008 6:06 am
AMD with three new Phenom CPUs at opposite ends of market in Hardware, Internet, Networking, Comms and Security
The raw specs are 140W TDP for the 9950 at 2.6GHz and 65W for the 9350e at2.0GHz and 9150e at 1.8GHz. The prices are $235, $195 and $175 respectively, andthe sharp-eyed among you will notice that the 9950 costs exactly what the 9850does. That is because in a week, on July 7, the 9850 will drop to $205. Bothwill remain 'Black', but the 9950 will be blacker because, before the end of theyear, the 9850 will fade from black, and go back to a locked part.
You have to wonder why AMD is bothering to lock Phenoms at all, with theBlack parts selling at effectively no premium, why not just let people have fun.Anything AMD can do to foster the enthusiast market at this point is probably agood thing, and if you don't have the raw speed, play up the features.
In any case, the interesting part of the bunch is the 9350e. It isn't a barnburner, but for media center boxes, coupled with a 780G board, or better yet a790GX, it could be a pretty solid media/casual gaming rig. This part fills ahole in the market, there aren't any sub 95W Intel quads out there formainstream consumer use, but there could be quite easily if the 9350e is a hit.
In any case, hardcore gamers will probably turn up their noses at the lowclock speeds in the -e parts, but as long as you are not trying to eke out thelast FPS, these parts would make a dandy low-noise desktop.
So, how did they do? Using the same exact setup as the we did with theoriginal780G review, the numbers lined up quite well. To recap, that is a GigabyteGA-MA78GM-2SH mobo, Corsair DDR2 1066 memory and a PC Power and Cooling/OCZSilencer 750W PSU. Power draw was measured at the wall with an Extech True RMSPower Analyser. The same caveat as last time needs to be said, the PSU isunderworked and far less efficient that it would be if we were pulling 500+ W,so knock about 20+ per cent off the wall power to get power used by the boarditself.
We ran our usual power draw test, 3DMark06 under XP SP3 patched to current asof June 28. Just for fun, we threw in the 4850e and the X4 9600 from the lasttest, as well as the 8750 X3. So now you can compare a K8, X3, X4 B2 and a X4 -ein terms of power. It looks like this.


The raw numbers
The lowest idle number is of course the 4850e, and it beats the quads byalmost 20W, the really odd part is the greater than 20W gap from there to the8750 X3. Lose one

core

, gain 20W? Binning problem, or binning opportunity? Thedual

core

4850e also takes the bottom of the loaded power charts, and there is abig 33W gap to the 9350e. From there, the 8750 and 9600 are almost on top ofeach other.
Performance is about where you would expect it to be, the 4850e taking up thebottom with sub-1200 scores, and the others right on top of each other at1540+/-2. A quick overclock of the 9600 to 2.8GHz barely moved the score, so3DMark06 looks pretty GPU bound here.
In the end, with the new parts are priced pretty low, but won't challengeIntel for supremacy. For the high end 9950, you gain 100MHz for a few watts somake sure your mobo can handle the extra. In a week, it will not cost you anymore than a 9850, so you might want to hold off for a few days.
The 9350e and the 9150e look to be solid and inexpensive workhorses for theHTPC/SFF/quiet office PC set. You give up 200MHz for 30W, not a bad trade. Theyare solidly mid-range parts that won't stun any gamers, but they plug gaps inthe market, and do so quite nicely.
Posted by Editorial Team Tue Jul 01, 2008 7:15 am
I'm confused please respond in Hardware, Internet, Networking, Comms and Security
Because this isn't a mandatory question I'll keep it short.

But basically what I've been seeing lately is Nvidia and ATI are almost just about equal in performance. But I'm so confused as to what is ATI doing wrong that is so ineffective? For example, Most Nvidia cards have a 600/1700MHz clock speed (

core

/memory) and no more than 128 streaming processors. ATI's competitive cards are more like 800/2000MHz with 240 streaming processors.

This is just an example off the top of my head but its about what things are like right now, so what I want to know is what is ATI doing that makes everything they have significantly slower? Their latest card has 640 streaming pipelines, thats nuts. Yet it just barely compete's with Nvidia's good stuff, and it sure as hell doesn't have over 320.
Posted by schmidtbag Mon Jun 30, 2008 11:01 am
Revealed: Sony's future plans for PS3, PSP and TV in Business and Industry in Gaming, Media, Web, IT and Computing
"This is not your father's Sony", sums up what Howard Stringer has done at Sony since taking over the reins in 2005.
TheWales-born CEO was underlining the challenge that the company now facesin the digital age, as he led the Japanese giant's corporate strategybriefing in Tokyo today.
In the absence of any attention-grabbingnew hardware announcements, most headlines are likely to go to Sony'spledge to increase revenues in the PC, Blu-ray-related and componentsbusinesses.
Game plan
Stringer said thatSony would build these into "trillion-yen businesses" by FY2010,putting them alongside the

core

business units of TVs, digital imaging,gaming and mobile phones. One trillion yen is currently worth around£4.7 billion.
Although gaming is a traditional Sony strength, thedivision is mired in red ink after the costly development and launch ofthe PlayStation 3. Addressing that, the CEO promised to bring it toprofit by March next year.
Stringer also outlined plans to investclose to £9 billion in new technology in a concerted drive to becomethe world leader in LCD televisions within three years. Beyond that,the assembled execs wouldn't be drawn on precise numbers or revenuetargets.
Mobile content
Although he didn't address recent speculation about the possibility of a PSP phone or the stability of the Sony Ericsson joint venturethat produces mobile phones, Stringer did emphasise that such handsetswould continue to be sold and that "Sony music and pictures content[would be] embedded in all key Sony Ericsson product lines."
As expected, there was no discussion on life after Blu-ray– the so-called 'death of disk'. However, a hint of how quickly onlinedistribution will move centre-stage came in the news that SonyPictures' summer blockbuster, Hancock, will be made available exclusively to all internet-connect Bravia televisions in the US before its DVD release.
Movie download service
The movie theme resurfaced in a presentation from Kaz Hirai, the president of Sony Computer Entertainment, with the news that the long-anticipated film download service would finally reach the online PlayStation Network this year.
Hiraiconfirmed that US users would get first crack at PS3 movie downloads inlate summer, with Europe and Japan to follow by year's end. He addedthat full details would be announced at E3 in LA next month and thatboth standard- and high-definition titles would be available.

Virtual world
Warmingto the theme, Hirai added, "Please expect more from our evolvingPlayStation business." That evolution will also include themuch-delayed PlayStation Home virtual world, which Hirai demonstrated,along with new dynamic in-game advertisements that change according tothe context.
The littlest PlayStation also featured prominently,with the PSP being positioned as an interactive extension of the PS3console, as well as a tool for accessing the PlayStation Store for gamedownloads and, possibly, feature films at some undisclosed point.
Hirai's presentation concluded with something of a surprise in a new network service called Life With PlayStation.The rough demo showed a view of the Earth from space, which rotated toreveal location-related news items, reminiscent of similar services onNintendo's Wii.
Innovator and creator
Returningto the podium to sum up, Stringer emphasised his firm's creative skillsand took aim at a company many see as having inherited the Sony mantleas innovator supreme.
"We have products to get excited about [including] OLED TVs, Rolly, CyberShot smile detection and the new Bravias.
"Appleis a boutique company, but we're a large conglomerate. We recently cameout number one in a poll by Incite on innovative companies, just aheadof Apple. I rest my case."
Whether or not that's overstating thecase, Stringer's confidence in the once-troubled company is almosttangible, leaving little room for doubt that Sony is back and that itmeans business.
Posted by Editorial Team Mon Jun 30, 2008 6:41 am
Fastest ever graphics card hits shops Nvidia's Zotac GTX 280 in Hardware, Internet, Networking, Comms and Security
World's fastest

core

clock speedisn't something you would like to say ten times fast (unless you wantfunny looks) but this is the impressive boast of Nvidia about itslatest graphics card, the Zotac GTX 280 AMP! Edition .
In teststhe Zotac topped 700MHz straight out of the box – well, we presume thecompany plugged it in first – which, according to Nvidia is "so-farunbeaten by any other manufacturer."
Performance outweighs price
Thenew graphics card offers a massive 12 per cent performance hike overits now slower brethren, the GTX 280. But its only priced £20 to £30higher. This equates to just a 5 per cent price rise – Nvidia's maths,not ours.
In a statement about the new graphics card, CarstenBerger, Marketing Director, Zotac, said: "Yet again Zotac hasdemonstrated its exceptional ability to design and engineer the fastestcard on the market.
"Overclocking the GTX 280's

core

by almost100MHz is a fantastic achievement, but to then mass produce it andmaintain a 5 year warranty is outstanding."
The Zotac GTX 280 AMP! Edition is out now for around £450.
Posted by Editorial Team Sun Jun 29, 2008 6:38 am
Game review: Crisis Core in Gaming
Fanboys may be ready to fight to the death for their console of choice, but a new survey by Forrester shows that nearly half of all Europeans play computer games on multiple platforms, with the PC still the favourite for gaming.
Forrester'ssurvey into gaming reveals some interesting facts about gaming inEurope, including the fact that nearly three quarters (73%) ofEuropeans with access to an internet connection play some form ofcomputer games.
60% of those polled declared the PC as theirplatform of choice, with twice as many people playing games on adesktop PC (49%) than do on a laptop (23%).
One third of onlineEuropeans play their video games on consoles – although 41% have aconsole in their household – suggesting that many consoles are for thekids, or lay dormant for long periods.
There is good news forhandhelds such as the Sony PSP and Nintendo DS, along with theburgeoning mobile phone gaming markets, with 20% of consumers using theformer and 27% using their phones for gaming – a combined share of 47%and second only behind desktop PCs.
Interestingly, 43% of those polled played games on more than one platform.
PlayStation 2 still dominant
Thepowerhouse of the last decade of gaming – Sony' s PlayStation 2 isstill the dominant player in its sector owned by 60% of those with aconsole. The PlayStation 3 holds a seven per cent share, still some waybehind the original PlayStation One which has 14%.
The Xbox 360is also a little behind its successor the Xbox – but only a singlepercentage point divides Microsoft's consoles, with the former on 11%and the original 12%.
Second to the PlayStation 2 lies theNintendo DS handheld with 26% and Nintendo also takes the third andfourth spots with the older Game Boy (17%) and their smash hit Wii(16%).
Just less than one in ten console owners had non-specified consoles, which presumable embraces the likes of Sega's Dreamcast.

Fanboys may be ready to fight to the death for their console of choice, but a new survey by Forrester shows that nearly half of all Europeans play computer games on multiple platforms, with the PC still the favourite for gaming.

Forrester's survey into gaming reveals some interesting facts about gaming in Europe, including the fact that nearly three quarters (73%) of Europeans with access to an internet connection play some form of computer games.

60% of those polled declared the PC as their platform of choice, with twice as many people playing games on a desktop PC (49%) than do on a laptop (23%).

One third of online Europeans play their video games on consoles – although 41% have a console in their household – suggesting that many consoles are for the kids, or lay dormant for long periods.

There is good news for handhelds such as the Sony PSP and Nintendo DS, along with the burgeoning mobile phone gaming markets, with 20% of consumers using the former and 27% using their phones for gaming – a combined share of 47% and second only behind desktop PCs.

Interestingly, 43% of those polled played games on more than one platform.

PlayStation 2 still dominant

The powerhouse of the last decade of gaming – Sony' s PlayStation 2 is still the dominant player in its sector owned by 60% of those with a console. The PlayStation 3 holds a seven per cent share, still some way behind the original PlayStation One which has 14%.

The Xbox 360 is also a little behind its successor the Xbox – but only a single percentage point divides Microsoft's consoles, with the former on 11% and the original 12%.

Second to the PlayStation 2 lies the Nintendo DS handheld with 26% and Nintendo also takes the third and fourth spots with the older Game Boy (17%) and their smash hit Wii (16%).

Just less than one in ten console owners had non-specified consoles, which presumable embraces the likes of Sega's Dreamcast.
Posted by Editorial Team Sun Jun 29, 2008 6:31 am
AMD CPU shoot-out: Phenom X3 and X4 in Hardware, Internet, Networking, Comms and Security
If I were AMD I'd drop the whole Phenom idea. It became a complete failure IMO and its the only thing that gave Intel bragging rights. I'd like to hear about the quad

core

Opterons, I'm a bit excited about those, I feel they can make a difference. AMD ought to take the easy way out like Intel until they can develop a true quad

core

like the Phenom except actually successful. When it comes to dual cores, I'm supporting AMD but if I ever get a quad

core

(which is unlikely) I'm going with the either Intel or Sun. Its a shame ATI is holding back AMD's funds, it must be hard for them to catch up on multiple projects.
Posted by schmidtbag Tue Jun 24, 2008 10:37 pm
AMD CPU shoot-out: Phenom X3 and X4 in Hardware, Internet, Networking, Comms and Security
The birth of AMD's quad-

core

Phenom processor was plagued withproblems. After a gestation period more akin to an elephant than a CPU,the new silicon popped out puking and bawling but was clearly a bit ofa runt.
The problem was the now-infamous TLB error that crippled performanceand reduced clock speed with the result that the B2 stepping of Phenomwas only available in two models.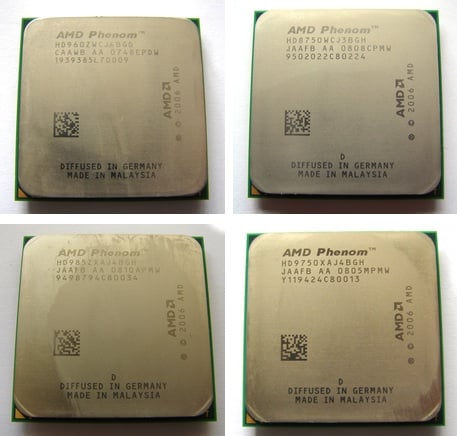 AMD's Phenoms: (clockwise from top left) 9600, X3 8750, X4 9750, X4 9850

Neither the 2.2GHz Phenom 9500 nor the 2.3GHz 9600 delivered enoughperformance to trouble Intel's

Core

2 Quad Q6600, which was a directcompetitor at the same price. As an added kick in the teeth, Phenomwould barely overclock while the Intel processor could manage a clockspeed of 3GHz without breaking a sweat.
AMD fixed the TLB problem with its B3 stepping and also got a bitcreative with the model codes that it used. Phenom X4 9x50 denotes aquad-

core

B3 that effectively replaces the original Phenom. The PhenomX3 8x50 is also a B3 but is unusual in that it's a tri-

core

processor.Phenom is similar to

Core

2 Quad in many respects but there is onesignificant difference as Phenom is a native quad-

core

design with allfour cores on the same die. By contrast

Core

2 Quad is a dual-coredesign, so Intel uses two processor dice to cobble together itsfour-

core

CPUs.
Naturally, AMD touts this difference as a major advantage for Phenomas it allows HyperTransport to strut its stuff, while

Core

2 istheoretically crippled by a lousy communication path through thefrontside bus and then off to the northbridge of the chipset to thememory controller.

It was time for the Phenom X4 9850, and we weren't surprised to seethat performance was a distinct improvement on the X3 8750 in everyrespect with the exception of pure graphics tests that only stress thegraphics card. The X4 draws 40W more than the X3 which makes it fairlyeasy to deduce how much power each

core

in a Phenom requires. Thequad-

core

overclocked slightly better than the tri-

core

but neither wasimpressive in that department.
The thing that caused us some surprise, however, is the similarityin price. You only pay £10 more for the X4 so why on Earth would youchoose the X3?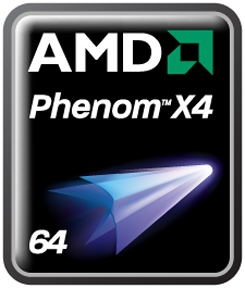 Finally, we come to the Phenom X4 9850, which only runs 100MHzfaster than the X4 9750 - 2.5GHz - but there are a couple of otherchanges. The X4 9750 has a TDP of 95W and HyperTransport speed of1.8GHz while the X4 9850 has a TDP of 125W and a HyperTransport speedof 2GHz which rather suggests that the X4 9850 is buzzing along at thelimits of the B3 architecture.
We had heard great things of the X4 9850, with at least one reviewerclaiming a clock speed of more than 3GHz. However, we had nothing likethat degree of success. With the 200MHz clock raised to 225MHz weimmediately suffered a blue screen after Windows had loaded, and thatwas with a clock speed just over 2.8GHz.
The system was pretty much OK with a clock speed of 220MHz (2.75GHzCPU speed) although 3DMark Vantage refused to run however the X4 9850required more cooling than the other Phenoms. Indeed we had to removethe add-in fan controller from the CPU cooler to get the fan speed highenough to cool the CPU properly.

That's all well and good but just take a look at our test resultsfor

Core

2 Quad Q6600. On its stock speed of 2.4GHz it wiped the floorwith Phenom and when we overclocked it to 3.0GHz it made the AMDsilicon look rather limp.
VerdictThe B3 stepping of Phenom is a distinct improvement over theoriginal B2 but that's not saying much. Intel has cut the price of Core2 to such an extent that there is no compelling reason to buy a Phenombeyond the fact that you might not like Intel very much. Fair enough,we'd say, but for everyone else, Intel has grabbed the initiative. Overto you, AMD.
Posted by Editorial Team Mon Jun 23, 2008 4:54 pm
4 ATI GPUs = 25,000 Pentium Pro CPUs in Hardware, Internet, Networking, Comms and Security
AMD kicks off this week, with the announcement of the 9250 card,without providing lots of details and not even an availability date.But besides the name of this card, it is interesting to note that thecard is rated at more than 1 TFlops of performance and a powerconsumption of about 170 watts. Compared to the current 9170 model power consumption is up from 150 watts, but the performance has more than doubled from 500 GFlops.

Sincethe 9250 has a RV770

core

, future owners of 4800-series cards will alsobe able to squeeze that performance also out of their graphics boards.The ATI team declined to say how much more than 1 TFlops the card canhit, but we were told that a 4x Crossfire X configuration is good foralmost 5 TFlops. So, we would be tempted to assume that ATI is playingwith a number of about a theoretically possible 1.2 TFlops per RV770GPU.

And yes, the R700 - the dual-GPU 4870 X2 card – is goodfor almost twice that performance: According to AMD, the R700 willdeliver 2 TFlops per board.

"Teraflops" does not mean a lot tomost of us and floating pointing performance has not (yet) become acritical performance description for mainstream computing. But to putthat number into perspective, consider the fact that 5000 Pentium Pro processors delivered 1 TFlops back in 1996.To match the 1.2 TFlops, you would need 6000 of these CPUs and to matchthe (32-bit) floating point performance of a quad-Crossfire system youwould need 25,000 of these processors.

Though these are highlytheoretical numbers and the actual performance always depends on aspecific application, there is no doubt that today's graphics cards aresleeping performance monsters. We wonder who will wake them up.
Posted by Editorial Team Thu Jun 19, 2008 3:43 pm
CoolIT's latch-on liquid CPU cooler in Hardware, Internet, Networking, Comms and Security
Motherboards.org is reviewing CoolIT's Eliminator Liquid CPU cooler and it'sso easy even your granny could hook it up. This piece of kit has everythingbuilt-in and you needn't stick stuff outside the case. The whole unit justlatches onto your CPU socket (and weighs less than most high-end coolers) andall you need to do is screw it in and connect a power molex. Self-contained andeasy to setup – we weren't expecting that. Downside? Don't expect to daisychain stuff into the water cooler - it's for the CPU and that's about it.Coolit here.
German website Notebook Journal has managed to capture a Puma in the wild andput it to the test in the lab. It's a pre-sample sample based on the Pumaplatform, with a ZM-84 (2.3GHz Turion X2 Ultra) and it uses an HD3400 part with256MB of DDR2. While specs aren't final, the performance numbers do give us anidea of what to expect. In this case, the new Puma does outperform the previousTurions, but it still has a lot of catching up to do with Intel's

Core

2s. PowerXpress seems to be going well, tho'.Here forthe original, orherefor Googlenglish
Benchmark Reviews is poking around inside a Silverstone Kublai KL03B-W midtower case. Silverstone is usually known for its outrageously expensive HTPCcases, but now they seem to have taken the battle to the desktop PC's arena.It's spacious enough to handle even the freakiest of cooling setups, and you caneven stick a redundant PSU inside. It's also very quiet, we hear... or not. Readabout the casehere.
Samsung is moving forward in its HD storage business with a couple of unitsbased on the F1_3D design. The company has sent off a 750GB and 1TB unit toSilent PC Review where Mike the Chin. They are both 32MB cache units and offeridentical read/write speeds – which pretty much sums up the review – identicalperformance through and through. Good performance, that is, and some pretty goodacoustics. The price is right, too...readit here.
OCC is testing the ZEROTherm Zen FZ120 CPU cooler; that's a really tallheatpipe+cooler, but with a smaller fin surface to which they hook up a 120mmfan. It's got a 4pin header, meaning you get PWM (a bit more control over thefan) and copper base and heatpipes. For $39.99 this seems pretty affordabletoo. The temps are pretty hot if you don't plug in the fan, though. Catch thecoolerhere.
After Gigabyte's slight mishap with Asus, the Gigaboys gave TweakTown a tourof the Nan Ping factory while they were attending Computex 2008. Now, it isn'tusual for manufacturers to let hacks like us take photos and vids of theirfactory's entrails, but that was the case. So now you too can get an inkling onhow a P45 mobo comes into existence. It seems Gigabyte has put the Asus incidentbehind it.Catchthe tour here.
If you're relatively new to the rat race and are trying to set up your owngaming rig on a budget, you might want to take a look at this articlehere.Bit-Tech, together with Scan, compiled an article on the subject. The secret isto find the right components, put them all together and then tweak them abit... that's value for money. Cheap CPU... check. Cheap mobo... check. Cheapgraphics card... check. OC all round... check. Yes, that's an E2160 running at2.9GHz with a 9600GT running at 775MHz (75MHz above spec) – the whole systemracked up a sub £400 bill at Scan. Not bad.
What do you get when your marketing department gets behind productdevelopment and forgets to talk to the engineers? An Intel DX48BT2. Why? Becauseit is the upper high-end of single-CPU desktop mobos, warranting the "Extreme"branding and it won't let you overclock decently. That's what XBit found out, atleast, and we can't say it's surprising. Despite Intel's claims of being thegreatest chip show on Earth, they haven't (or won't) had the will the let youtake their CPUs to outrageously high OC values. Xbit considered it might be thecrappy BIOS (1521) but after a quickie update (1523) the OC problems were stillthere. No fun.Readabout the hole.
Posted by Editorial Team Fri Jun 13, 2008 5:14 pm
Intel's Core 2 Quad Q8000 coming soon in Hardware, Internet, Networking, Comms and Security
Intel's

Core

2 Quad Q8000 CPU series will go head to head with AMD's triple-

core

CPUs, by offering entry-level price, according to trusty source Dodgytimes.

Chipzilla's

Core

2 Quad Q8200, which supports FSB up to 1333MHz, has a

core

frequency of 2.33GHz and L2 cache of 4MB, should be unveiled by Q3 2008, and will set buyers back by about $203 each for thousand unit bulk buys.


Dodgytimes
Posted by Editorial Team Fri Jun 13, 2008 5:12 pm
Spore's minimum specs are surprisingly low in Gaming
The latest news on Will Wright's magnum opus, Spore, is that the minimum PC (and Mac) specifications required to run the game are surprisingly low.

This is great news for the majority of casual PC gamers who don't tend to spend an inordinate amount of time and money constantly upgrading their PCs and graphics cards.

Maxis/EA has also released the Sporepedia on the official Spore.com site to whet the appetites of those PC and Mac gamers looking forward to Wright's immense and hugely ambitious game.

The Specs required to run Spore on your PC or Mac are as follows:

Windows XP 2.0 GHz P4 processor or equivalent 512 MB RAM A 128 MB Video Card, with support for Pixel Shader 2.0 At least 6 GB of hard drive space

Windows Vista 2.0 GHz P4 processor or equivalent 768 MB RAM A 128 MB Video Card, with support for Pixel Shader 2.0 At least 6 GB of hard drive space

Mac OS X Mac OS X 10.5.3 Leopard or higher Intel

Core

Duo Processor 1024 MB RAM ATI X1600 or NVidia 7300 GT with 128 MB of Video RAM, or Intel Integrated GMA X3100 At least 4.7GB of hard drive space for installation, plus additional space for creations.
Posted by Editorial Team Fri Jun 13, 2008 4:51 pm
Are Women gamers just as competitive as men? in The Great Debates!
Oberon Media's new COO, Don Ryan, believes that there is little difference between male and female gamers.
"Myexperience at MSN and Xbox Live is that women are as competitive if notmore competitive than men, except that they just don't want to spend orhave the time or learn 'up-down-X-X-Y-Y'...They don't want to deal withthat," he told GamesIndustry.biz.
"You give them one button, they'll kick your butt."
Ryanalso recognises that although the current generation of consoles aren'tnecessarily considered as casual devices, that could changesignificantly over time - so that while the USD 300-500 price points ofthe Xbox 360 and PlayStation 3 can compare with the PlayStation 2 whenit launched, Sony's older console has a much bigger casual appeal today.

"Iagree with your general premise in that, if I'm a single mom thatreally likes puzzle games, I'm not necessarily going to go and buy aPlayStation 3 to come home and download Bejeweled," he said.
"Whenwe designed Xbox Live Arcade...That's the reason it had a retro-arcadetilt to it. We knew that we had to have the rabid owner of the boxcompletely engaged. So, you know, Geometry Wars and the rest of it.
Then, what happens, underneath it you have this nice foundation of Hexic, Bejeweled and Astro Pop."
Ryanknew that the users of the Xbox 360, and those who paid for content andservices, were often different people - giving Microsoft the potentialto reach both.
"What we tried to do was, again, segment intothese two

core

audiences, with some content bridging - puzzle gamesalways bridge, especially action puzzle games - and link them to thecommunity."
"And what ended up happening is exactly what wethought. 'Hey, I'm familiar with that. I know how to play that! Get outof my way. Oh, I beat you!. And then the competition kicks in..."
To date, Oberon's titles haven't yet appeared on the PlayStation Network or WiiWare - but that could change in the near future.
"Ultimately,what we're going to try to concentrate on are a few set of coreplatforms, then we'll partner with people for expanding thedistribution of our intellectual property across other platforms," hesaid.
"Just like any publisher who is focused, we are going toidentify potential franchise extensions and find people who are just asexcited about our IP for those devices."
So, while the companydoesn't have any plans to internally build WiiWare games, for example,that doesn't mean they won't talk to other parties about exploitingtheir IP on other platforms.
"Ultimately, what you are going tosee is the PS3, the Xbox 360...as the price curves comes down, you aregoing to see more and more casual content."
Posted by Editorial Team Fri Jun 13, 2008 4:41 pm