Search iVirtua
Advanced/Tag Search...
Search Users...
What is iVirtua Exclusive Community?
An exclusive gaming industry community targeted to, and designed for Professionals, Businesses and Students in the sectors and industries of Gaming, New Media and the Web, all closely related with it's Business and Industry.
A Rich content driven service including articles, contributed discussion, news, reviews, networking, downloads, and debate.
We strive to cater for cultural influencers, technology decision makers, early adopters and business leaders in the gaming industry.
A medium to share your or contribute your ideas, experiences, questions and point of view or network with other colleagues here at iVirtua Community.
Guest's Communication
Live Chat
Teamspeak (VOIP) Audio Conference
Private Messages
Check your Private Messages
Themes
Choose an iVirtua Community theme to reflect your interests...
Business Theme

India/Arabic Theme
Gaming Theme
iVirtua Recommends
Fly Emirates
Gaming:The WTF World of Wikipedia - 15 unbelievable "tr in Business and Industry in Gaming, Media, Web, IT and Computing
You. Your friends and family. Your classmates and coworkers. In thebrave new world of the internet, everybody has power. Information isinteractive, knowledge is collaborative and history is open source. Thenerdy kid next door has just as much influence as a high schoolteacher; the dorky dude at the comic book shop has just as much voiceas a college professor.
Problem is, the nerds and dorks tend to have a lot morefree time - and passion - than the teachers and professors. The endresult? A hilariously skewed, terrifyingly twisted view of the world inwhich all the wrong things are deemed "important" and worthy of seriousacademic discussion.
Here are 15 mind-boggling examples.


See what we mean? When the deadliest, costliest war in the history of mankind has been trumped by a videogame franchise about that war,you know something's off. One involved over 50 countries and took over70 million lives; the other involves button mashing and tea bagging.
On an encouraging note, we did have to add all the Call of Dutygames' individual pages together to reach the crazy number above. On adiscouraging note, we didn't have to add Call of Duty 4 and itsnon-WWII setting, which would have brought the total word count to aneven crazier 18,927.
Oh, and on a simply ridiculous note? Call of Duty 4: Modern Warfare beats "modern warfare"... 5,858 to 2,873.
Also

less

important than Call of Duty!
• American Revolutionary War = 8,078
• American Civil War = 11,729
• English Civil War = 8,030
• Napoleonic Wars = 7,951
• Hundred Years' War = 7,992
• War on Terrorism = 10,674
• War on Drugs = 7,628
• Cold War = 10,117
• "War" = 9,233

While the magic menagerie of super-powered, frilly-maned, sparkly-eyed, rosy-cheeked wonder beasts might make for slightly more exciting cards than a Three of Spades, the emphasis here is still extremely wonky.
Poker has been around for longer than anyone can remember... the Pokemon Trading Card Game was invented in 1996. Poker has created millionaires and forced bankruptcy... the Pokemon Trading Card Game might have resulted in some lost lunch money and a temper tantrum or two.
Also

less

important than Pokemon Trading Cards!
• Baseball cards = 4,686
• Blackjack = 5,228
• Roulette = 5,492
• Checkers = 2,326
• Pool (Billiards) = 621
• Bowling = 407
• Wheel of Fortune = 4,521
• "Trade" = 3,038
• "Games" = 2,830
---

Before you get the wrong impression, no, the Master Chief does not win in a Wikipedia matchup against George W. Bush... though his approval ratings are undoubtedly higher.
The truly astounding thing, however, is that he does emerge victorious against not one, not two, but TENof this country's past commanders in chief. Yes, 23% of the men whohelped make the United States the strongest nation on Earth are easilydefeated by a fictional and faceless videogame character who barelyknows how to speak and takes orders from a naked hologram. Go America!
The orange word count above is an average taken from the USPresidents beaten by the Master Chief. Here's the full, patheticbreakdown:
Leaders of the Free World

less

important than Master Chief!
• James Monroe = 2,820
(5th President)
• John Quincy Adams = 3,457
(6th President)
• John Tyler = 3,431
(10th President)
• Zachary Taylor = 2,235
(12th President)
• Millard Fillmore = 3,631
(13th President)
• Franklin Pierce = 4,203
(14th President)
• James Buchanan = 3,888
(15th President)
• Rutherford B. Hayes = 2,686
(19th President)
• James A. Garfield = 3,915
(20th President)
• Chester A. Arthur = 3,078
(21st President)



In the future, when Captain Kirk is battling tribbles and Data islearning how to love, this lopsided comparison will make completesense. Why wouldn't the entries for the glorious Starship Enterprise dwarf that for a dusty museum piece like the automobile? We expect the pages for hoverboards, robot maids, personal time machines and giant laser death rays to do the same.

For the present, though, why does a make-believe spaceship deserve more words than the planet's principal mode oftransportation? Also, why does that make-believe space ship deserve noless than nine separate pages, including unique entries for six different models of the NCC-1701? Seriously?!

Also

less

important than the Starship Enterprise!

• Planes = 5,132
• Trains = 2,850
• Boats = 1,884
• Bicycles = 5,112
• Motorcycles = 5,446
• Shoes = 3,241
• Lunar rovers = 1,844
• Space shuttles = 6,217
• Space stations = 1,830
• Outer space = 3,000



---


You think Hideo Kojima's cut scenes are long? Try reading Leo Tolstoy's epic tome. War and Peace waspublished in four books over five years, covers nearly a decade ofhistory and includes more than 1,400 pages, more than 560,000 words andmore than 3 million characters. It's generally considered one of thelongest novels - hell, one of the longest things - of all time.

Somehow, though, the writers on Wikipedia managed to summarize thewhole plot in 1,922 words. Well done! Now we'd be really impressed ifyou guys could squeeze the plot of a single damn videogame - even therambling old man that is Metal Gear Solid 4 - into less than 2,548 words.

The top numbers (in orange) are for the entire entries.The numbers in the preceding paragraph, as well as the list below, arefor the subsections entitled "plot," "story," or "synopsis."

Also

less

important than Metal Gear Solid 4!
(by plot, story or synopsis)

• Romeo and Juliet = 770
• Hamlet = 780
• Moby Dick = 845
• Of Mice and Men = 288
• A Tale of Two Cities = 1,341
• Atlas Shrugged = 673
• The Hobbit = 465
• Citizen Kane = 430
• Casablanca = 834
• Chinatown = 854



---


We won't get jealous and play the competition card here. EGM isimportant, a veritable titan of the industry with a massive and devotedfollowing. Many of us here at GamesRadar include ourselves in that camp.

But come on... do the latest screenshots of Chun-Li'sthighs really carry more weight than the 2008 election? Do you reallyneed to know the review score for Turok more than you need to know thereasons for the recession? Is the dropping price of the PS3 morecritical than the rising price of gasoline?

Yes, Electronic Gaming Monthly - and any videogame publication - is totally worthy of 4,429 words. We just wish that Time and other vital news sources received the same attention.

Also

less

important than EGM!

• Newsweek = 1,393
• USA Today = 2,685
• National Geographic = 1,949
• The New Yorker = 3,874
• The Washington Post = 2,449
• CNN = 4,281
• Fox News = 3,758
• "Magazines" = 842
• "Newspapers" = 3,537
• GamesRadar = 201



---


We love, love, love the soundtracks to Final Fantasy... but someone put way, way, way too much effort into this Wikipedia page. The intro alone is nearly 700 words, lengthier than the entries for many singers, bands and genres. Rock and roll, the biggest genre of them all, doesn't stand a chance.

Of course, the vastness of the web was made to hold such exceedinglyniche minutiae, but even the fan who owns all of these compilationalbums probably agrees that they could have fit onto the page forgeneral Final Fantasy

music

. Unless that fan is the one who wrote this obsessive love letter to begin with...

Also

less

important than obscure Final Fantasy

music

!

• Beethoven = 6,268
• Mozart = 6,331
• Frank Sinatra = 5,743
• Kelly Clarkson = 5,849
• Amy Winehouse = 7,269
• Rihanna = 2,977
• Kanye West = 4,713
• Jay-Z = 6,658
• Nirvana = 4,157
• Radiohead = 6,495



Email this article
Bookmark


Bookmark this Article
Close
---
Digg.com
Del.icio.us
Reddit.com

Facebook
Slashdot.org
Google Bookmarks

N4G
Stumbleupon.com
Fark.com



Email this Article

Close

---



To:







Invalid Email






From:







Invalid Email






Comment:




Jeffrey Dahmer was a cannibal, Charles Manson was a deranged cultleader and John Wayne Gacy, worst of all, dressed up like a friggin'clown. Yet the complete list of these horrible, horrible murderers -together with dozens of depraved others - is apparently about 3,000words less significant than the list of Maverick boss characters in the Mega Man X series.

And that's compared to the list of serial killers by country. Look up the list of serial killers by number of victims andthe difference grows to 6,000. Go ahead and add the two lists togetherif you want - at 8,000 words total, they still fall short of the sheerterror and infamy inspired by Cyber Peacock, Blizzard Buffalo,Overdrive Ostrich and Armored Armadillo. Ooh, we're getting chills justthinking about them!


Above: The true face of evil
---


Let's be honest. Who doesn't love Gardulla the Hut? Who didn't havea poster of Cole Fardreamer or Elan Sleazebaggano hanging on theirbedroom wall as a kid? Who wouldn't beg their parents to buy them thatKlaatu action figure for the holidays?

Qwi Xux, Plo Koon, 2-1B, Chief Chirpa, Yarna D'al Gargan, BaronSoontir Fel, Meewalh, Oola, Commander Cody, Baron Soontir Fel, TraskUlgo, Gartogg, Wam "Blam" Lufba and, of course, little Windy... all ofthem are forever entwined in our dreams and imaginations.

Clearly, the list of minor characters in the Star Wars universe should be seven times as large as the page on the Founding Fathers of the United States. Clearly.

Also

more

important than the Founding Fathers!

• Minor Star Wars droids = 10,105
• Minor Star Wars villains = 9,648
• Minor Star Wars bounty hunters = 5,236
• Minor Sonic the Hedgehog characters = 12,595
• Minor Mortal Kombat characters = 6,286
• Minor StarCraft characters = 5,640
• Minor One Piece characters = 17,446
• Minor Sailor Moon characters = 7,251
• Minor Gundam Wing mobile suits = 3,584
• Minor recurring characters in Star Trek: Deep Space Nine = 5,097


Heed our warning - Wikipedia is only the beginning. Soon, textbookswill have entire chapters devoted to fairies and fishmen. Languagestudents will learn Goron instead of Greek. History class will forgothe Romans for the Rito, while anthropology discards the Spanish andSwedish for the Subrosians and Skull Kids.

Nonsense, you say? Tell that to the 730 million residents of Europe, whose deep and diverse ethnic backgrounds just got pwned by a bunch of elves, gnomes, talking twigs, golden frogs and mutant chickens.
Oh yeah, and Tingle.

Also

more

important than the population of Europe!

• Elder Scroll races = 8,489
• Pokemon types = 4,362
• Final Fantasy monsters = 6,637
• Halo aliens = 5,478
• Middle-earth orcs = 4,845
• Fictional cats = 10,248
• Fictional dragons = 8,651
(there are non-fictional dragons?)






No surprises here. After all, Superman (10,641 words) has been known to survive a nuclear explosion... inside his own ass. And Batman (10,818 words) invented his own damn brand of shark repellent Bat spray!

Obviously, these guys are far superior to the rest of us. End of discussion.



Above: Holy sardine!



---


Both the fictional Umbrella Corporation and the real world National Human Genome Research Institute studythe mysteries of genetics. Both engage in the cutting edge field ofbiomedical engineering. Both are located in small towns. Both haveseemingly harmless, yet somehow creepy names. Both have seeminglyvague, yet somehow menacing logos.

Wait a second - are these two organizations actuallyone and the same?! Has Umbrella been a front all along, a clever ployto distract us from the true zombie overlords? We knew that tiny word count seemed suspicious...


Above: Oh shit.
---


According to Wikipedia, Kirby is "a small, pink, spherical creature with large red feet."

Exactly. Done. Enough said. Oh, if only that were the case...instead, that is merely the first sentence of a 1,512 word subsectionentitled Characteristics, which goes on to describe - in disturbinglydetailed sub-subsections - the Personality, Abilities and Species of Kirby. Yes, species.

The dog hasan overall longer page, sure, but the fact that Kirby's"characteristics" actually overcome those of man's best friend isabsolutely insane. They shouldn't even be close.




As expected, Jesus whoops Mario byquite a large margin in total Wikipedia word count. In a miraculousturn of events, however, Mario's Legacy section is actually longer thanJesus' Legacy. Yes, you heard right - a pixelated plumber is consideredto have had a bigger impact on the world than the central figure ofChristianity and, to some, the physical embodiment of God. Wow.

Then again... Jesus can walk on water and heal the sick,but Mario can shoot fireballs out of his hands and turn into a raccoon.Jesus has an awesome beard, but Mario's got a super sweet mustache.Jesus ushered in much of modern religion, but Mario ushered in much ofmodern gaming. Both can come back from the dead, though to be fair,Jesus only did that once.

Dunno, seems like a tie to us





Also

less

important than Mario's legacy!


• Albert Einstein's legacy = 153• John F. Kennedy's legacy = 436• Susan B. Anthony's legacy = 252• Princess Diana's legacy = 196• The Wright brothers' legacy = 175• Mother Teresa's influence in the world = 117



---


At last, we reach the ultimate showdown. In this corner, we have God, who Wikipedia describes as:

"... the principal or sole deity in religion..."
"...the creator and overseer of the universe..."
"... omnipotent and eternal..."
"... the source of all moral obligation, and the greatest conceivable being existent..."

His opponent? Knuckles of Sonic the Hedgehog fame, who Wikipedia describes as:

"... a red, teenage, anthropomorphic echidna..."
"... the fourth most popular character in the series..."
"... shy around girls..."

And, uh, yeah. How did this guy beat God by more than 4,000 words again? Well, to reach Knuckles' number, we did have to add two pages together, one for his game character and one for his comic character. To level the playing field, we should probably give God the Bible or something, right? Of course, we'll also have to give Knuckles his comic books and two videogames (Knuckles Chaotix and Sonic & Knuckles) to keep things even...





Damn! Sorry God - you lose again. Looks like we have a new omnipotentoverseer in the universe... or at least in the strange, silly, scaryand seriously skewed universe that is Wikipedia.

Posted by Editorial Team Mon Jul 14, 2008 12:21 pm
30 Most Anticipated Games of E3 in Gaming
30. Rise of the Argonauts (PS3, X360, PS3)
Publisher: Codemasters
Developer: Liquid Entertainment
Est. Release Date: Sep 2008
Officially Announced for E3: Yes


Anaction RPG that promises to be way more action than RPG, Rise of theArgonauts has a winning mythological premise and lots of little designtouches that keep the game looking fresh. Take the Argo—the ship oflegend will act as a seafaring headquarters from which your recruitedArgonauts will provide support. There is also a "deed" system that willincrease Jason's abilities via the acquisition of Xbox LiveAchievement-like trophies. So it's bursting with interesting ideas, andit's all running on the reliable Unreal Engine 3—this could be thesleeper hit of the year.


29. High School Musical 3: Senior Year Dance (PC, Wii, PS2, NDS, X360)
Publisher: Disney Interactive
Developer: TBA
Est. Release Date: Holiday 2008
Officially Announced for E3: Yes


Considerthis your representative sample of licensed games that promise to sellgangbusters regardless of quality or media reaction. And High SchoolMusical 3 is likely to be the biggest game of its breed this year: themovie of the same name is the first time this children's blockbusterfranchise will see a theatrical release, meaning the marketing for theproperty is likely to be even more inescapable than usual. Beyond theusual niceties of rhythm games—coop and competitive modes, mechanicsspecific to each system's control scheme—it will have the songs fromHigh School Musical movies past and present. That last one is almostcertainly the only feature the game needs to add another million insales to the franchise's life-to-date count.

28. Borderlands (PC, X360, PS3)
Publisher: 2K Games
Developer: Gearbox Software
Est. Release Date: 2009
Officially Announced for E3: Yes


Capabledeveloper Gearbox has never swung for the fences with quite as muchgusto as with Borderlands. The fact that the game is original IP isn'teven the half of it—it also promises a procedural item creation systemthat will provide this sci-fi first-person shooter over half a millionweapons. If that's not enough, Borderlands also shares some ambitionswith big-budget role playing games: the world will be expansive,character growth and classes comes standard, and missions and sidequests will populate the landscape. Borderlands has all the earmarks ofa breakout hit, and its scope should easily take the breath away fromboth shooter and science fiction fans.

27. Mortal Kombat vs. DC Universe (X360, PS3)
Publisher: Midway
Developer: Midway
Est. Release Date: Holiday 2008
Officially Announced for E3: Yes


Goingon the title alone, Mortal Kombat Vs DC Universe feels a decade late,like it should have been slugging it out with Marvel Vs Capcom for thequarters of 90s teenagers. But it's actually a better idea,commercially, in 2008—now the game can ride the tide of successfulcomic book film blockbusters. It can pull from the years of soliddesign work and franchise reputation rebuilding that culminated inMortal Kombat: Armageddon. And with an anticipated ESRB rating of T forTeen, there're no retail hurdles to keep the adolescent maledemographic from eating this up with a spoon.

26. S.T.A.L.K.E.R.: Clear Sky (PC)
Publisher: Deep Silver
Developer: GSC Game World
Est. Release Date: Aug 29, 2008
Officially Announced for E3: Yes


S.T.A.L.K.E.R.:Shadow of Chernobyl was hardly the biggest first-person shooter of 2007in the west. But it posted platinum-level sales in Eastern Europe,where its freeform gameplay and mythos steeped in Russia's uniquescience fiction struck a strong chord. With little similar competitionin the region, its sequel Clear Sky should do well for itself therealso. Which isn't to say the rest of the world shouldn't (or won't)give it a go as well—Clear Sky will add a tactical, squad-based turfwar to the already eccentric proceedings, and should be just as curiousand interesting a beast as its predecessor.

25. Star Wars: The Force Unleashed (PS3, X360, Wii, PS2, PSP, NDS)
Publisher: LucasArts
Developer: LucasArts
Est. Release Date: Sep 2008
Officially Announced for E3: No, but it might as well be


TheForce Unleashed could well be the biggest project to bear the Star Warsfranchise name since Episode III ended the franchise's non-animatedtheatrical run. Every Star Wars fan has been curious about the periodright before the Original Trilogy when Darth Vader had his run of thegalaxy; Force Unleashed promises to capture this period from theperspective of the Dark Side, using exciting new technologies torealistically render bot the AI and the Force itself. If the persistentrumors are true, this could well be the last project completely builtby LucasArts' internal studio—but in that case, it will be one heck ofa send-off that a lot of Star Wars fans will experience.


24. Beyond Good and Evil 2 (PS3, X360)
Publisher: Ubisoft
Developer: Ubisoft Montpellier (likely)
Est. Release Date: TBA
Officially Announced for E3: No


Allthat's known about Beyond Good and Evil 2 is that it's currently beingworked on by Ubisoft premier designer Michel Ancel. But in this case,that's more than enough—Ancel's resume does include perennial hitRayman and (naturally) the first Beyond Good and Evil, after all. Andthe first Beyond Good and Evil is particularly beloved. The smallaudience that played it has been talking about it ever since, praisingits varied gameplay and realistic, strong female protagonist Jade. Sothe sequel is exciting, and though its commercial success is by nomeans assured it's possible that maybe the adult gaming audience isfinally ready for this franchise.


23. Lock's Quest (NDS)
Publisher: THQ
Developer: 5th Cell
Est. Release Date: Fall 2008
Officially Announced for E3: Yes


2007'sbiggest surprise sales blockbuster was a little DS game called Drawn toLife, built by a little mobile developer called 5th Cell. That gamegave the independent studio a reputation for creating innovations withstrong market appeal, and it could cement that reputation with Lock'sQuest, a curious RTS/Action/RPG/minigame hybrid with cute graphics,quick thrills and a world that can be completely remodeled by theplayer. In other words, it has a lot of elements that appeal across awide variety of gaming demographics, as well as a lot of ambition. Ifthis one lives up to its potential, it would be great to see it succeed.


22. Puzzle Quest: Galactrix (PC, X360, NDS)
Publisher: D3 Publisher of America
Developer: Infinite Interactive
Est. Release Date: Fall 2008
Officially Announced for E3: Yes


Lastyear's Puzzle Quest combined the most addictive parts of the casual"match three" puzzle game with the most addictive parts of RPGcharacter development, a powerful cocktail that murdered productivityand sold in huge numbers. There's no reason this follow-up shouldn'tcontinue in that trend—it's still a match three puzzle game (this timemore Collapse than Bejeweled), it still has those all-important RPGelements, and it's being built by the same studio. The only differences(besides the science fiction setting) all look like improvements.There's an element of strategy gaming. Players can enhance not justtheir character, but also their spacecraft. Downloadable content willabound. It all sounds like a game that players will itch to play afterthe first hit.


21. Crysis: Warhead (PC)
Publisher: Electronic Arts
Developer: Crysis
Est. Release Date: Fall 2008
Officially Announced for E3: Yes


Allegedlythe last PC exclusive from the bastion of PC gaming high technology,Crytek's side story to 2007's Crysis looks every bit as graphicallydazzling as its predecessor. It also promises to be a moremarket-friendly title (a tall order considering Crysis' million-sellingstatus); Warhead provides a less strategic, more bombastic run-and-gunaffair compared to the original Crysis. And with a year of hardwareadvancements in between Crysis and Crysis: Warhead, that more widelyappealing design will find that a lot more people have the rigs toactually run it well. And who knows? If Warhead does manage to findthat perfect balance, perhaps Crytek will stick to their PC-exclusivestomping grounds for a while longer.

20. Tomb Raider Underworld (Wii, PS2, PS3, X360, PC, NDS)
Publisher: Eidos
Developer: Crystal Dynamics
Est. Release Date: Holiday 2008
Officially Announced for E3: Yes


It'sbeen a few years since Crystal Dynamics took the Tomb Raider franchiseand reinvigorated it with Legend. But it's really with Underworld thatthe series' previous mistakes have been taken to heart. Rather thanrest the game on its laurels again, Underworld is a creation that lookstoward with the new; the game engine is all new, the way the worldinteracts with Lara is more realistic, combat now has melee and willflow fluidly into the puzzle mechanics. And if that wasn't enough toguarantee sales, Lara has a motorcycle now too.


19. Sonic Unleashed (Wii, PS2, PS3, X360)
Publisher: SEGA
Developer: Sonic Team/Dimps
Est. Release Date: Holiday 2008
Officially Announced for E3: No


Thesedays it feels like SEGA promises the moon with every Sonic title, tothe point where it's hard to fall for it anymore. Take Sonic Unleashed;it's promise of a revamped, re-invented Sonic echoes the promises SEGAmade before this generation's first Sonic the Hedgehog hit the Xbox 360with a sad plop. And yet, franchise sales have never followed the samecurve as the blue blur's review scores. This is mostly because ofSonic's strong appeal to the child market, but on some level thegraying Genesis owner wants to believe what we're told, that this nextSonic really will reclaim the glory days. Anyway, Sonic Unleashed. It'srunning on a new engine and has some 2D environments. It'll sell, andas for the rest of it? Here's hoping.


18. MadWorld (Wii)
Publisher: SEGA
Developer: Platinum Games
Est. Release Date: 2009
Officially Announced for E3: No


PlatinumGames, formerly Seeds, formerly Clover Studios, isn't known for makingcommercial hits. No, that team is known more for making instant,beloved classics. Okami certainly, but Viewtiful Joe is in there aswell, and the only people who remember God Hand these days love it toabsolute death. MadWorld, a blood-soaked black and white Wii exclusive,feels like a return to the playful, experimentation that made this teamfamous. Will it sell? Well, it's nice to think that just maybe, thistime, the market has caught up to what Platinum is doing.


17. Animal Crossing Wii (Wii)
Publisher: Nintendo
Developer: Nintendo
Est. Release Date: TBA
Officially Announced for E3: No


Asof this writing, Animal Crossing Wii still exists as a hopeful glimmerin the eye of the gaming public. Nintendo hasn't said anything at allabout it yet, though almost all speculation says that it exists andwill be announced soon—and if that's the case, E3 is as good a place toshowcase it as any. It's a completely believable theory. Nintendo'sChristmas lineup is currently a complete mystery, and Animal Crossing,already a surprise hit on GameCube and DS, is such a good fit for thecasual Wii-loving audience it's startling it's not on the systemalready.


16. Left 4 Dead (PC, X360)
Publisher: Valve Software
Developer: Turtle Rock Studios
Est. Release Date: Holiday 2008
Officially Announced for E3: Yes


Valvedoesn't release duds, and it doesn't buy teams that can't deliver. Sothe fact that it purchased Turtle Rock Studios and have put a greatdeal of PR muscle behind Left 4 Dead speaks volumes as to how good thisgame could be. The game has a completely innovative, yet highly marketfriendly hook in its "four survivors must cooperate to survive thezombie horde" premise, though players of a less polite persuasion canalso take up the role of a super-powered zombie. This could very wellbe the next major online phenomenon, like Team Fortress 2 before it.


15. Resistance 2 (PS3)
Publisher: Sony Computer Entertainment
Developer: Insomniac Games
Est. Release Date: Holiday 2008
Officially Announced for E3: Yes


Thefirst Resistance was the big win for the PlayStation 3 at launch, butResistance 2 looks set to spin that good first impression into anempire. Resistance 2 pushes the game out of London to the morerelatable (in the US, anyway) environs of the United States. A goodmove, but not as good as the massive 60-man multiplayer that the gamepromises. That's fantastic scale for an online console game; add onsome more focused, objective-oriented teamplay and Resistance 2 is agood contender for gamer's next networked obsession.


14. Killzone 2 (PS3)
Publisher: Sony Computer Entertainment
Developer: Guerilla Games
Est. Release Date: 2009
Officially Announced for E3: Yes


Threeyears on and Killzone 2 is still trying to shake off its disastrous"showing" at E3 2005. Admittedly the team at Guerilla has done a finejob of actually approaching the target in that first badly marketed"target render," with more recent previews showing the game asappropriately attractive and bombastic for its high position in Sony'sportfolio. But it still needs a big floor to show off, and it needs aman to say "in-game graphics" about one thousand times in front of somehuge HD Killzone if it wants to really nail the market. E3 historicallyhas had some very big floors.


13. Fable 2 (X360)
Publisher: Microsoft
Developer: Lionhead Studios
Est. Release Date: Oct 2008
Officially Announced for E3: Yes


Alot on Fable 2 is already known, and most of it is interesting on avariety of levels. There's the in-game dog, a character ofunconditional love that will act as the player's anchor to the game'sworld. There's the Pub Games, a series of Xbox Live Arcade titles thatwill act as both encapsulated products and previews for the bigrelease. Then there's the gay marriage, pregnant adventuring, and allmanner of family matters to deal with in the game as well. It's a gamethat promises to push boundaries and break some of the medium's moreridiculous unnecessary taboos. Considering the success of the originalGable, it's likely many people will choose to experience this moveforward—surely a good thing.


12. Command and Conquer: Red Alert 3 (PC, X360)
Publisher: Electronic Arts
Developer: EA Los Angeles
Est. Release Date: Holiday 2008
Officially Announced for E3: Yes


RedAlert's Cold War gone hot is one of the most beloved scenarios is allof strategy gaming, and the franchise's long seven year absence makesthis game even more exciting and desirable. And by adding thepseudo-Japanese Empire of the Rising Sun faction the festivities geteven more campy and strange, complete with towering mecha, psychicschoolgirls and parachuting bears. So it's got a lot of hooks for boththe longtime fan and sugar-crazed newcomer alike.


11. Far Cry 2 (PC, X360, PS3)
Publisher: Ubisoft
Developer: Ubisoft Montreal
Est. Release Date: Holiday 2008
Officially Announced for E3: No


FarCry 2 has found a unique gaming setting in the jungles, savannahs andtowns of Africa, and it plans on giving the player a lot of thatsetting – 50 square kilometers, to be precise. Plenty of new gameplayelements will make themselves known as the player crosses that expanse:some wounds have to be treated with field medicine (ie. fishing abullet out with a knife) and brush fires can be started, only to bewhipped up realistically by wind. Far Cry 2 is an underutilized brandmoving to an underutilized setting while adding multiple newinnovations, making it an extremely strong contender in the hardcoreshooter market.
10. Prince of Persia (X360, PS3)
Publisher: Ubisoft
Developer: Ubisoft Montreal
Est. Release Date: Holiday 2008
Officially Announced for E3: No


Princeof Persia: The Sands of Time was one of the last generation's definingmoments, so it would have been easy for Ubisoft to just build astandard sequel on the successes of its previous trilogy. The fact thatthis is not the case, that the series is instead being rebooted with anincredible hand-painted aesthetic and open world, show a strongdedication to making the Prince one of the most lasting and importantfranchises in gaming (though the big budget movie helps on that scoreas well). While previous PoP titles did sell well, after theblockbuster success of Assassin's Creed, the timing is perfect for thePrince to really make it big.


9. Final Fantasy XIII (PS3)
Publisher: Square Enix
Developer: Square Enix
Est. Release Date: TBD
Officially Announced for E3: Yes


Sinceclosing the door on the last console genre, Square Enix has relied onhandheld games and Wii side stories alone. If the publisher's lastfiscal statement said anything, it was that's no way for a company tolive—so while Square Enix has some other interesting console games inthe pipe, it needs to bring its megaton franchise back into the publiceye. It's not surprising that Final Fantasy XIII will show up in someform at E3—and regardless of what form it takes or what the game lookslike now, it could certainly steal the show if it tried.


8. Street Fighter IV (PC, X360, PS3)
Publisher: Capcom
Developer: Capcom/Dimps
Est. Release Date: 2009
Officially Announced for E3: Yes


Atworst, this is a surprise come back of one of gaming's most iconicfranchises. At best, this could be the surprise come back of agenre—certainly if anything could revive a flagging fighting gamefield, a new numbered entry in its greatest series would be the thingto do it. Perhaps the best sign that this game knows what it will taketo succeed is its reverence to Street Fighter II—all of the charactersfrom that game will return, and the gameplay mirrors the measured paceof that early entry. Considering versions of SFII still sell in strongnumbers, it's easy to see how this strategy could succeed on the market.


7. Rock Band 2 (X360, PS3, PS2, Wii)
Publisher: MTV Games
Developer: Harmonix
Est. Release Date: Sep 2008 (X360 timed exclusive, with other versions to follow)
Officially Announced for E3: Yes


Nomatter what other companies say, the fast-paced game of catch-up thathas gripped the

music

genre says one thing louder: the four-piece RockBand is the standard for the field. And while little is known about itat this point, what is known proves that Harmonix hasn't lost the plotwith Rock Band 2. Sticking to its "platform" guns, the game will befully backwards compatible—with old DLC, with old instruments, theworks. And while user-created content is not a go this time, there arecertainly things about the game yet to be announced—you don't want tomiss this one at the show.


6. LittleBigPlanet (PS3)
Publisher: Sony Computer Entertainment
Developer: Media Molecule
Est. Release Date: Oct 2008
Officially Announced for E3: Yes


Despiteseemingly constant delays, LittleBigPlanet remains one of the mostunique products in Sony's first-party arsenal. The idea of a game thatlives and dies by the content created by its users has been triedbefore in first-person shooters, but LittleBigPlanet, with its lovelytextured graphics and universal, non-violent charm wants to be muchmore—the YouTube of games perhaps, or the Legos of the 21st century. Ofall the games that could bring PlayStation 3 to the mass market, thisremains the best hope.


5. Halo Wars (X360)
Publisher: Microsoft
Developer: Ensemble Studios/Bungie
Est. Release Date: Oct 2008
Officially Announced for E3: Yes


HaloWars is more than just the next title from Microsoft to have the Haloname. It's also more than the first Halo project not spearheaded byBungie. Halo Wars wants to be a revolution in real-time strategy, aconsole exclusive built from the ground up for a console controller—inother words, Halo Wars wants to do for real-time strategy what Halo didfor first-person shooters. If it succeeds, it could crack wide open thenascent console RTS market as gamers try it based on the franchisealone. It's been reported that the game will be playable by the mediaat E3, so the show should give a much better idea as to how itssucceeding.


4. Spore (PC, Mac)
Publisher: Electronic Arts
Developer: Maxis
Est. Release Date: Sep 7, 2008
Officially Announced for E3: Yes


It'scertainly something that even after the seemingly endless amount ofwords typed about Spore, even though it's appeared in publications asnon-game centric as The New Yorker, even though the wait for the gamehas been years long and interminable, almost everyone who knows aboutit is still excited at its promise. And after the success of therecently released Creature Creator, that excitement is still mounting.Will Wright's SimEverything could very well the next big thing, tossingaside silly ideas like "demographics" and just appealing to everyoneeverywhere. In other words, the next Sims.


3. Gears of War 2 (X360)
Publisher: Microsoft
Developer: Epic Games
Est. Release Date: Nov 2008
Officially Announced for E3: Yes


Gearsof War 2 is a lot of things. To the gamer, it is epic, the sequel tothe game that dominated man hours spent on Xbox Live for most of 2007.To developers, it's the new baseline, as every new Epic game has cometo represent the state of the art for the now industry standard UnrealEngine 3. In both regards Gears of War 2 looks great. A fewimprovements to the constantly evolving engine have already been shown,and most gamers agree that new mechanics like martyrdom and the "meatshield" look like fantastic fun. Gears of War is already one of thisgeneration's emblematic franchises, so it will be great to see how thesequel goes about cementing that status.


2. Resident Evil 5 (X360, PS3)
Publisher: Capcom
Developer: Capcom
Est. Release Date: 2009
Officially Announced for E3: Yes


RE5is not even close to a retail release, and yet it's already one of themost interesting topics in the industry. It brings with it the highlyrespected pedigree of Resident Evil 4, hands-down one of the best gamesof the last generation, and will probably sell strongly to the audiencethat loved, or even heard about, that game. Yet it's also mired incontroversy over some concerns regarding racism. So it's a projectthat's walking many tightropes of expectation, and there's potentialfor huge success or massive failure here. As a result this E3 could bethe most important public showing for RE5 until its release—it shouldbe fascinating.


1. Fallout 3 (PC, X360, PS3)
Publisher: Bethesda Softworks
Developer: Bethesda Softworks
Est. Release Date: Oct 2008
Officially Announced for E3: Yes


Fallout3 shows great evolutionary leaps every time it's displayed for publicviewing, with recent revelations—the childhood simulating charactercreator, the 500 endings—being particularly fascinating. Now that it'scoming precariously close to its announced release date, this E3 shouldrepresent the game's biggest showing yet. If there are any surprisesleft in the title to announce, expect them to get announced at somepoint during the week. But even if there aren't, Fallout 3 has alreadyproven itself to be a sprawling, ambitious project that anyone in thegaming audience would wait to spend more time with.
Posted by Editorial Team Tue Jul 08, 2008 7:55 am
Rock Band 2 to include every song DLC free from Rockband 1 in Gaming
There are differing leaks out there regarding the track list for Rock Band 2.Both are unattributed, one to a friend of a friend who got a look at anemail from Harmonix to MTV or something. But in the interest ofrumormongering, we'll repeat both with the caveat that there is no wayof knowing if this stuff is for real or not. But if, combined, they'rehalf right then this could be one hell of a track list, possibly thebest of any rhythm game.
Also, an IGN Insider interview (transcript provided by reader Max)let slip that buyers of Rock Band 2 will have access to all of thesongs off the original Rock Band disc, available as free DLC. Fulldetails on both after the jump.

Says IGN 360 editor Nate Ahern:

Rock Band 2 and Guitar HeroWorld Tour create an interesting situation for gamers. If you boughtRock Band 1 then chances are you'll feel cheated by the release of RB2,thus you'd think that GHWT would be the way to go as it somewhatredefines the

music

gaming genre. However, if you didn't buy the firstRock Band then I would absolutely agree with notagoth. Immediately uponpurchasing Rock Band 2 you'll have the ability to download a hugelibrary of songs, as well as all of the songs off of the original discas a free download. Then again, Guitar Hero World Tour does allow usersto create and share their own songs, so it's really only a matter oftime until the Rock Band library is eclipsed. At the end of the day itcould come down to which series has earned your allegiance over thelast year since RB's original release."

And on to the leaked track lists. The first is from Demp, a commenter on 8bitfix, and he's got the FOAF who saw the email source. That's like fourth-hand hearsay, but whatever, this ain't court.
1 AC/DC Let There Be Rock
2 AFI Girl's Gone Grey
3 Alanis Morissette You Oughta Know
4 Alice in Chains Man in the Box
5 Allman Brothers Ramblin' Man
6 Avenged Sevenfold Almost Easy
7 Bad Company Shooting Star
8 Beastie Boys So Whatcha Want
9 Beck E-Pro
10 Bikini Kill Rebel Girl
11 Billy Idol White Wedding Pt I
12 Blondie One Way or Another
13 Bob Dylan Tangled Up in Blue
14 Bon Jovi Livin' on a Prayer
15 Cheap Trick Hello There
16 Devo Uncontrollable Urge
17 Dinosaur Jr Feel the Pain
18 Disturbed Down with the Sickness
19 Donnas, The New Kid in School
20 Dream Theater Panic Attack
21 Duran Duran Hungry Like the Wolf
22 Elvis Costello Pump it Up
23 Fleetwood Mac Go Your Own Way
24 Foo Fighters Everlong
25 Go-Go's, The We Got the Beat
26 Grateful Dead, The Alabama Getaway
27 Guess Who, The American Woman
28 Guns N' Roses Shackler's Revenge
29 Interpol PDA
30 Jane's Addiction Mountain Song
31 Jethro Tull Aqualung
32 Jimmy Eat World The Middle
33 Joan Jett Bad Reputation
34 Journey Anyway You Want It
35 Judas Priest Painkiller
36 Kansas Carry On Wayward Son
37 L7 Pretend We're Dead
38 Lacuna Coil Our Truth
39 Linkin Park One Step Closer
40 Lit My Own Worst Enemy
41 Lush De-Luxe
42 Mastodon Colony of Birchmen
43 Megadeth Peace Sells
44 Metallica Battery
45 Mighty Mighty Bosstones Where'd You Go
46 Modest Mouse Float On
47 Motorhead Ace of Spades
48 Muffs, The Kids in America
49 Nirvana Drain You
50 Norman Greenbaum Spirit in the Sky
51 Offspring, The Come Out & Play (Keep 'em Seperated)
52 Panic at the Disco Nine in the Afternoon
53 Paramore That's What You Get
54 Pearl Jam Alive
55 Presidents of the USA Lump
56 Rage Against the Machine Testify
57 Ratt Round & Round
58 Red Hot Chili Peppers Give it Away
59 Replacements, The Alex Chilton
60 Rise Against Give it All
61 Rush The Trees
62 Silversun Pickups Lazy Eye
63 Smashing Pumpkins Today
64 Social Distortion I Was Wrong
65 Sonic Youth Teenage Riot
66 Soundgarden Spoonman
67 Squeeze Cool for Cats
68 Steely Dan Bodhitsattva
69 Steve Miller Band Rock'n Me
70 Survivor Eye of the Tiger
71 System of a Down Chop Suey
72 Talking Heads Psycho Killer
73 Tenacious D Master Exploder
74 Testament Souls of Black
75 Who, The Pinball Wizard
BONUS SONGS (all HMX bands)
76 Abnormality Visions
77 Anarchy Club Get Clean
78 Bang Camaro Night Lies
79 Breaking Wheel Shoulder to the Plow
80 Libyans, The Neighborhood
81 Main Drag, The A Jagged Georgeous Winter.
82 Speck Conventional Lover
83 Sterns, The Supreme Girl
84 That Handsome Devil Rob the Prez-O-Dent
And then from Loading Reality,which notes that this numbers only about 60. Some of the tracks are thesame as the list above, just in a different order. "Keep in mind, someof these could easily be DLC that's in the works," Loading Realitywrites. A wise caveat.
1) Tangled Up in Blue (Bob Dylan)
2) Bad to the Bone (George Thorogood)
3) We've Got the Beat (Go-Gos)
4) Bad Reputation (Joan Jett)
5) Pinball Wizard (The Who)
6) Dammit (Blink 182)
7) That's What You Get (Paramore)

The Trees (Rush)
9) Ace of Spades (Motorhead)
10) Chop Suey (System of a Down)
11) Testify (Rage Against the Machine)
12) Spirit In the Sky (Norman Greenbaum)
13) Ramblin' Man (Allman Brothers)
14) Rebel Girl (Bikini Kill)
15) Eye of the Tiger (Survivor)
16) Panic Attack (Dream Theater)
17) Everlong (Foo Fighters)
1
One Step Closer (Linkin' Park)
19) Lump (Presidents of the USA)
20) Come Out and Play (Offspring)
21) Drain You (Nirvana)
22) Carry On Wayward Son (Kansas)
23) Peace Sells (Megadeath)
24) Souls of Black (Testament)
25) Livin' On a Prayer (Bon Jovi)
26) Round and Round (Ratt)
27) New Kid In School (The Donnas)
2
Alright Now (Free)
29) Today (Smashing Pumpkins)
30) Man In the Box (Alice In Chains)
31) Any Way You Want It (Journey)
32) Holiday In Cambodia (Dead Kennedys)
33) Give It Away (Red Hot Chili Peppers)
34) White Wedding (Billy Idol)
35) Hello There (Cheap Trick)
36) Cool for Cats (Squeeze)
37) Psycho Killer (Talking Heads)
3
? (Devo)
39) One Way or Another (Blondie)
40) De-luxe (Lush) [dare to dream, shoegaze in Rock Band!]
41) Push It (Static-X)
42) Pump It Up (Elvis Costello)
43) Master Exploder (Tenacious D)
44) Bandages (Hot Hot Heat)
45) PDA (Interpol)
46) My Own Worst Enemy (Lit)
47) Float On (Modest Mouse)
4
Aqualung (Jethro Tull)
49) Spoonman (Soundgarden)
50) Bodhisattva (Steely Dan)
51) Suffer (Bad Religion)
52) I Was Wrong (Social Distortion)
53) American Woman (The Guess Who)
56) You Oughta Know (Alanis Morrissette)
57) Mountain Song (Jane's Addiction)
5
Stop! (Against Me)
59) Hungry Like the Wolf (Duran Duran)
60) Alabama Getaway (Grateful Dead)
So there you have it. Could be real, could be bs, again that's thefun of rumors. But even if this is in-progress thinking, and not finalstuff, it shows Harmonix is not F-in around, and will move to counterGuitar Hero: World Tour's peripherals and custom song features withoutstanding content.
Rock Band Two Rumored Track List [8bitfix, in comments]
60 Rock Band 2 Tracks Leaked [Loading Reality, thanks Max]
Posted by Editorial Team Tue Jul 08, 2008 7:54 am
Fallout 3 to be Banned in Australia? in Business and Industry in Gaming, Media, Web, IT and Computing
GameSpot is reporting that hugely-anticipated role playing title Fallout 3 may be subjected to the Australian government's notorious ban hammer.
WhileGameSpot is careful to add that the Fallout 3 ban is still a rumor atthis point, it points to a seemingly well-informed post in its PC Games Forum:

Quote:

Ihave a friend that works for the government body here in Australia thatreviews movies, books,

music

, magazines and...computer games... I wastold by my friend that Fallout 3 has just very recently gone throughthe initial review process by the board of the OFLC and has beenrefused classification...

Apparently the game includesthe use of Morphine by your character. (I assume as some sort of"healthpack" or "stimpack"). By all accounts this did not sit well withthe Board as the portrayal of the unregulated use of proscribedsubstances is a bit of a no no and will damage the fragile minds ofAustralia's game-playing populace.

The key issue here isthat, unlike movies, our computer game classification ratings only goas far as MA 15+... But due to our archaic and conservative laws, wedon't have a computer game R 18+ rating and thus Fallout 3 and gameslike it will continue to be Refused Classification.


Posted by Editorial Team Tue Jul 08, 2008 7:49 am
HMV: Videogames "are the new rock 'n' roll" in Business and Industry in Gaming, Media, Web, IT and Computing
HMV's head of games, Tim Ellis, has told GamesIndustry.bizthat videogames have entered a "golden period" for the retailer, and"are the new rock 'n' roll" when it comes to popularity for consumers.
"Anyone who has been following the development of our gamesoffer really shouldn't be that surprised by this level of growth," hesaid, after the company revealed that the technology and games divisionnow makes up 21 per cent of the overall revenues, up from 14 per cent ayear ago.
"We'll always love

music

- it's in our DNA after all, but, ifit's not too much of a cliché to say it, the truth is that games reallyare the new rock 'n' roll."

And he went on to underline the company's ambition to become the leading player in the specialist videogames market.
"We've been telling the world for some time that we are veryserious about our commitment to the games market. We've been investingsubstantial resources into the format so that we can become a seriousand credible force as a leading games specialist.
"There is significantly more trading space in-store andincreased numbers of staff dedicated to it. Our level of marketing andpromotion has also gone up considerably - much of it in our 'getcloser' brand style, which aims to get players closer to the games theylove; while we've also consistently offered some great deals onbundles, pricing and points rewards - both in-store and online athmv.com.
"Obviously it also helps that the last twelve to eighteenmonths have represented a bit of a golden period for games in terms ofnext-generation console launches and fantastic software releases, butwe had to put ourselves in a position to make the most of thisopportunity, and I think we're doing that."
He also shed some light on the company's plans to launch apre-owned videogame sale service, a practice which has proven popularfor customers in other specialist outlets, but which is disliked bypublishers.
"We've regularly monitored pre-owned activity in the gamesmarket, and have periodically reviewed our own stance in this area, asany business would," he said.
"We recognise that pre-owned is important for some consumers,though not necessarily the most dominant factor for them, while it'sclearly also a key element to the business model of some gamesspecialists.
"With this in mind we think it's worth trialling pre-owned togauge what our customers expect from us and also to assess the impactnot just on HMV's own games offer, but on our wider trading operation.
"Any decisions we make will have the best interests of ourcustomers in mind, and if we can, we will look to achieve this throughpositive dialogue with our suppliers."
Posted by Editorial Team Tue Jul 08, 2008 7:44 am
Beijing 2008 - The Official Video Game of the Olympic Games in Gaming
SEGA Europe Ltd. proudly presents Beijing 2008™ - The Official Video Game of the Olympic Games: Gymnastics events.
Appearing on the Xbox 360® video game and entertainment system fromMicrosoft®, the PLAYSTATION®3 computer entertainment system and PC,Beijing 2008™ delivers a host of Gymnastics events.
The Gymnastics events in Beijing 2008™ are split up into male andfemale events. One of the three female events is the Uneven Bars, wherethe player uses both analogue sticks to mimic the movement of theathlete. In the Floor Exercise, the player uses the four buttons of thecontroller to guide the player to the rhythm of the

music

. The last ofthe female events is the Balance Beam, in which the player needs tokeep the athlete on the beam while pressing the 4 buttons correspondingto the colour on the beam to make the athlete move.
The first of three Gymnastics Events are the Parallel Bars, in whichthe player uses the analogue sticks and buttons to complete theathlete's routine. In the Vault, players need to build up speed withtheir lower buttons, and use the analogue trigger to launch them offthe board over the horse, while turning the analogue sticks willbalance the landing. The final male event is the Rings, in which youfollow the arm movement of the athlete with both your analogue sticks,while you make sure the landing is stable by pressing a buttoncombination that shows on-screen.
Beijing 2008™ was released globally last Friday for the Xbox 360,PLAYSTATION®3 computer entertainment system. The PC version will bereleased 11th July.
Posted by Editorial Team Fri Jul 04, 2008 5:51 am
Japanese girls taught English by Nintendo DS in General Discussion, including Off Topic, Current Affairs
Japanese teachers might feel a little uneasy about their jobsecurity, as one of the country's schools has begun triallingNintendo's DS console as a way of teaching kids to read and writeEnglish.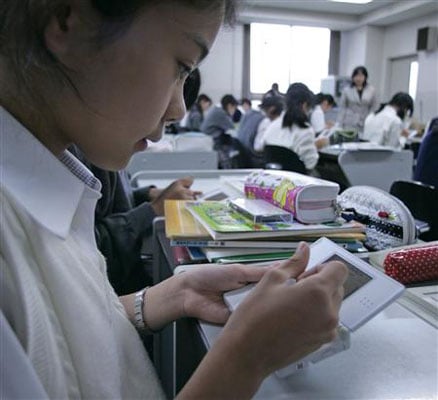 A Japanese student learns English with her DS
Image courtesy Reuters

According to a reportby Reuters, Japan's education ministry allows schools to decide onwhich teaching tools to use, whether it's pencils and textbooks, orinteractive games consoles.
The Tokyo Joshi Gakuen all-girls school opted for the DS and hasbeen using the console in classrooms since May, as part of a one-yeartrial. Students use the console primarily for English vocabulary,penmanship and audio comprehension.
Junko Tatsumi, Vice Principal at the school, said that students are"really concentrating and have fun in gaining skills such as spelling".

The school clearly still has reservations about potential 'abuse' ofthe console's features outside of English lessons. The vice principaladded that once English lessons have ended, "students cannot play DSgames outside - all consoles and software are collected" beforehome-time.
US students are more interested in listening to

music

during classthough, it seems. Since February, around one in every 100 students atthe Fort Summer High School, New Mexico have been encouraged to watcheducational videos and listen to lectures on Zune players donated byMicrosoft.
Almost all content is either created or recommended by the school'steachers, with students encouraged to plug-in during class hours and onjourneys to and from home. The trial aims to discover if such devicescould eventually be incorporated into everyday education.
Posted by Editorial Team Tue Jul 01, 2008 6:52 am
Revealed: Sony's future plans for PS3, PSP and TV in Business and Industry in Gaming, Media, Web, IT and Computing
"This is not your father's Sony", sums up what Howard Stringer has done at Sony since taking over the reins in 2005.
TheWales-born CEO was underlining the challenge that the company now facesin the digital age, as he led the Japanese giant's corporate strategybriefing in Tokyo today.
In the absence of any attention-grabbingnew hardware announcements, most headlines are likely to go to Sony'spledge to increase revenues in the PC, Blu-ray-related and componentsbusinesses.
Game plan
Stringer said thatSony would build these into "trillion-yen businesses" by FY2010,putting them alongside the core business units of TVs, digital imaging,gaming and mobile phones. One trillion yen is currently worth around£4.7 billion.
Although gaming is a traditional Sony strength, thedivision is mired in red ink after the costly development and launch ofthe PlayStation 3. Addressing that, the CEO promised to bring it toprofit by March next year.
Stringer also outlined plans to investclose to £9 billion in new technology in a concerted drive to becomethe world leader in LCD televisions within three years. Beyond that,the assembled execs wouldn't be drawn on precise numbers or revenuetargets.
Mobile content
Although he didn't address recent speculation about the possibility of a PSP phone or the stability of the Sony Ericsson joint venturethat produces mobile phones, Stringer did emphasise that such handsetswould continue to be sold and that "Sony

music

and pictures content[would be] embedded in all key Sony Ericsson product lines."
As expected, there was no discussion on life after Blu-ray– the so-called 'death of disk'. However, a hint of how quickly onlinedistribution will move centre-stage came in the news that SonyPictures' summer blockbuster, Hancock, will be made available exclusively to all internet-connect Bravia televisions in the US before its DVD release.
Movie download service
The movie theme resurfaced in a presentation from Kaz Hirai, the president of Sony Computer Entertainment, with the news that the long-anticipated film download service would finally reach the online PlayStation Network this year.
Hiraiconfirmed that US users would get first crack at PS3 movie downloads inlate summer, with Europe and Japan to follow by year's end. He addedthat full details would be announced at E3 in LA next month and thatboth standard- and high-definition titles would be available.

Virtual world
Warmingto the theme, Hirai added, "Please expect more from our evolvingPlayStation business." That evolution will also include themuch-delayed PlayStation Home virtual world, which Hirai demonstrated,along with new dynamic in-game advertisements that change according tothe context.
The littlest PlayStation also featured prominently,with the PSP being positioned as an interactive extension of the PS3console, as well as a tool for accessing the PlayStation Store for gamedownloads and, possibly, feature films at some undisclosed point.
Hirai's presentation concluded with something of a surprise in a new network service called Life With PlayStation.The rough demo showed a view of the Earth from space, which rotated toreveal location-related news items, reminiscent of similar services onNintendo's Wii.
Innovator and creator
Returningto the podium to sum up, Stringer emphasised his firm's creative skillsand took aim at a company many see as having inherited the Sony mantleas innovator supreme.
"We have products to get excited about [including] OLED TVs, Rolly, CyberShot smile detection and the new Bravias.
"Appleis a boutique company, but we're a large conglomerate. We recently cameout number one in a poll by Incite on innovative companies, just aheadof Apple. I rest my case."
Whether or not that's overstating thecase, Stringer's confidence in the once-troubled company is almosttangible, leaving little room for doubt that Sony is back and that itmeans business.
Posted by Editorial Team Mon Jun 30, 2008 6:41 am
[DEBATE] Should Rockstar's Sam & Dan Houser be Knighted? in The Great Debates!
There's a fascinating piece on Develop today.
Writer Owain Bennallack speculates whether Rockstar founders and Sam and Dan Houser might someday be knighted.
Whilethe Housers are pariahs to some for the GTA series' edgy content, theircultural and economic impact is undeniable. It certainly wouldn't bethe first time that the passing of the years transformed British badboys into royal honorees.
Here's Bennallack:


They'vefought the law, Jack Thompson, and the British tabloids. With theircomrades at Edinburgh's Rockstar North they've upped the ante with eachsuccessive GTA, creating landmark games with ever more wit, élan,action and emotion...

...the establishment eventuallyco-opts any superstar bad boys who haven't died in their own vomit,overdosed on narcotics, outlived their legends or crashed a lightaircraft into some Caribbean outcrop.
I mean the inevitable coming of Sir Sam Houser, or Dan Houser OBE..

GrandTheft Auto IV caps a body of work that is culturally and commerciallysignificant enough to warrant official recognition... The playfulnature of GTA IV is also why today's rote moral outrage will eventuallybe no impediment to the Housers getting their high society dues. It'shard to appreciate now that rock

music

once shook society, but it did,and decades later Mick Jagger and Paul McCartney picked up theirknighthoods regardless...



Posted by Editorial Team Mon Jun 30, 2008 6:25 am
Nintendo Sued Over Use of Music from 1993 'True Romance' in Business and Industry in Gaming, Media, Web, IT and Computing
A Los Angeles film production company sued Nintendo on June12th, alleging that the console manufacturer used a tune from the movieTrue Romance in a commercial for the GameCube.
Thesuit, filed by Morgan Creek Productions in U.S. District Court for theCentral District of California, was voluntarily dismissed by theplaintiff on June 18th.
The 1993 film was directed by Tony Scott and written by Quentin Tarantino.
The song in question is You're So Cool, composed by Oscar-winning composer Hans Zimmer. The suit claims:


Sometimewithin the past three years, [Nintendo] used the sound recording of"You're So Cool" without authorization in a television advertisementfor the Nintendo "GameCube."

Plaintiff is informed andbelieves and thereon alleges that [Nintendo] also used the soundrecording at issue herein in other forum in order to generate sales fortheir product.





It is unknown why the suit was dismissed less than a week after being filed. GamePolitics is seeking comment from the plaintiff's attorney as well as Nintendo.
The complaint does not make reference to a specific use of the song by Nintendo. However, this 2004 post from the Toon Zone forums makes reference to You're So Cool being used in an ad for Paper Mario: The Thousand Year Door.
UPDATE: Also, courtesy of comments left by GP readers Orange Soda and Anonymous, we've added the video of the commercial which apparently sparked the copyright claim.
Read the lawsuit here.
Posted by Editorial Team Mon Jun 30, 2008 6:17 am
McCain uses game music in ad, composer a Barack supporter in Business and Industry in Gaming, Media, Web, IT and Computing
John McCain broke down some barriers when he used

music

from Medal of Honor: European Assaultin one of his campaign ads. The

music

being created for video games isonly getting better as the industry matures, so it's neat that it'sbeing used in such a high-profile commercial. The only problem is thatthe composer is an Obama supporter, and McCain's campaign nevercontacted him about the use of the

music

. GamePolitics has the story.



The ad is called "Safe" and prominently features a track entitled "Casualties of War" that I wrote for Medal of Honor: European Assault.While I do not control the ownership of this piece, I am extremelydisappointed its placement in this commercial. I did not authorize theuse and was not made aware of the situation. Regardless of partyaffiliation of support, I would like to think that someone who believesin the American ideals of business and creativity like Sen. McCainsupposedly does, would not want to disgrace or inflict any hardship orill-will on the artists who create in this country by using their worksto promote products and agendas which with they disagree.


This isn't the first time that McCain has been burned by the

music

he has selected.The problem is that the campaign hasn't done enough to make sure thepeople behind these songs are comfortable with their use in a politicalway; every time an artist tells McCain to stop using his or her musicpublicly, it doesn't look good for the politician.
The composer of the Medal of Honor

music

goes a littlefurther with his message, turning his protest into a way to support hiscandidate. "What, I ask, does such an action or oversight say about Mr.McCain's regard for the intrinsic value of American products, services,or creations... As an artist, business owner, and patriot, I proudlysupport Senator Barack Obama for the Presidency of the United States ofAmerica."
Posted by Editorial Team Mon Jun 23, 2008 5:50 pm
Samsung confirms Spinpoint drives in Hardware, Internet, Networking, Comms and Security
Samsung has finally confirmed the rumours that it is putting their laptop HDDs Spinpoint M6 and M2 into mass production.
TheM2 – which Samsung call 'one of the world's fastest laptop hard drives'– is a 250GB 2.5in hard drive which operates at a 7200rpm rotationspeed, the MP2 which would appear to be well-suited to desktopreplacement laptops and gaming laptops.
The Spinpoint M6, a500GB drive, is built for the expanding data storage needs of modernlaptops and features a 5400rpm spindle speed, a 8MB cache, and 3.0GbpsSATA interface.
Stick it in your notebook
"TheSpinpoint M6 is ideal for notebook power users who require vast amountsof storage space for their data, video and

music

files," said HubbertSmith, Director of Storage, Samsung Semiconductor.
"The MP2 hasspeed, features and capacity similar to a 3.5in hard drive and isperfect for users who require a smaller form factor with advanced datastorage needs."
F1 racing
Meanwhile,Samsung has confirmed that its new Spinpoint F1 RAID Class SATA 1TBcapacity HD has gone into mass production and will be available soon.
Featuringa 334GB per-platter capacity, a 7200RPM spindle speed and a 32MB cache– Samsung has also included its rotational vibration controller and anoptimised system-on-chip (SOC) that lowers power consumption.
Posted by Editorial Team Mon Jun 23, 2008 5:44 pm
Nokia N78 in Entertainment, Film and Music, Mobile devices and media
Nokia's latest N-series "multmedia computer" bundles a 3.2-megapixelcamera,

music

player, satnav and maps into a sleek go-anywhere,do-it-all device. Wherever you happen to find yourself, you'll be gladyou brought it.
The N78 is certainly a classy looking handset, and the smart touchgoes much deeper than its looks. Its sleek, gloss-black front may atfirst glance resemble the touch-sensitive minimalism of LG's oft-copiedChocolate series, but in use, all is not as it seems.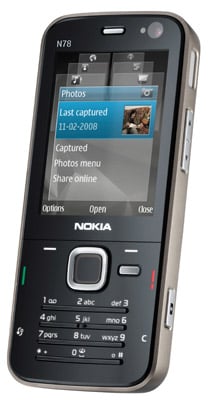 Nokia's N78: packs in feature after feature

To press the illuminated buttons you actually press the plasticcasing inwards. The cover bends to accommodate your thumb rather thanreacting purely to your touch. It might seem like a low-techalternative, but in practice it seemed more reliable than thetouch-sensitive option, which in our experience can be a bittemperamental.
Nokia's solution is a good combination of style and practicality.The numeric keypad is actually four raised plastic strips, with thenumbers backlit just above them. It looks lovely, but takes a bit ofgetting used to, and it has to be said that this keypad is far from thebest for rapid or prolonged texting.
The face of the phone oozes minimalist class, but strangely, theback feels like its made from low-grade material and creaks in yourhand, which detracts from the cool image. There's another surprisehidden in the square navpad. Rubbing your thumb around the edgeactivates what Nokia calls the "navi-wheel", which moves the cursoraround the screen without the need to press the pad.
You can also do the iTrip thing with the built-in FM transmitter andbeam your

music

to your car radio. Incidentally, the Navi-wheel reallycomes into its own as you scroll through your

music

playlists, behavinglike a tiny version of Apple's scroll wheel. Hmmm, are we sensing apattern here?
Of the few problems we encountered with this phone, there were theusual Symbian issues of running slowly when you've got severalapplications open at once, but it was nippy enough when we stuck todoing one or two things at a time and it was easy to switch offbackground applications using the aforementioned Applications button.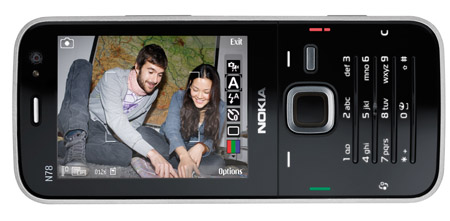 70MB of memory on board - plus a Micro SD slot for more

If the 3.6Mb/s HSDPA connection isn't fast enough, you can alsoconnect over Wi-Fi. The usual N-series web browser is here in fulleffect, with options for viewing in landscape or portrait mode, pluszoom and the ability to flick through previously viewed pages. There'salso a PDF viewer and QuickOffice for viewing Microsoft Officedocuments, though if you want to create them you'll have to pay for thefull Office suite.
And as a Symbian phone there are of course plenty more third-party apps available.
Battery life was pretty good, and we got a good three days ofmoderate use out of it, though heavy browsing will of course reducethis quite dramatically.
VerdictFrom its sleek, minimalist good looks to its raft of impressivelywell-integrated features, the N78 is a gorgeous little number. The3.2-megapixel camera, feature-packed

music

player, A-GPS and maps,quality web browser plus documents readers and email make it an idealtravelling companion for business or pleasure.
Posted by Editorial Team Thu Jun 19, 2008 4:03 pm
Microsoft's entire E3 leaked - new games, new media for 360 in Gaming
Remember that angry chief of police from Lethal Weapon? The one that's going absolutely mentalover Mel Gibson and Danny Glover's various screw ups? Well that's whatMicrosoft's PR boss must look like this morning, as online survey siteIntellisponse leaks its entire E3 line-up onto the internet. Someone's going to get sacked.

On the game front there's first word onForza Motorsport 3 (as if it wasn't coming), which according toIntellisponse will include over 100 tracks and 400 cars on a two-discset. Let's hope they sort out the walkover AI this time.

Evenbetter is the first video of Silicon Knights' The Crucible, which looksa bit like Eternal Darkness meets Diablo with lots of hack 'n slashing.Watch the video on You Tube before it gets pulled.

On the causal front there's the once mentioned but never seen Lips,which turns out (as expected) to be a Singstar-style game on Xbox 360.

According to the Intellisponse blurb, "Lips is a

music

and singing gamethat includes 30 songs, 2 wireless interactive microphones, the abilityto use and sing your own

music

or download songs from an onlineservice. Designed to have fun with friends, Lips scores you on yoursinging (pitch, rhythm and tune) and your overall performance." Nan'lllove it.

And of course we've also got our first look at Microsoft's long-rumoured 'Mii' avatar system, which will replace Gamerpics when it launches at the end of the year.

That's your lot then. Microsoft's press conference is going to be a lotless exciting now. We contacted the UK arm of the publisher whowouldn't comment on any of it.
Posted by Editorial Team Tue Jun 17, 2008 5:29 am
Nokia opens Download Store - browse and buy software in Entertainment, Film and Music, Mobile devices and media
The PC Download Store was supposed to be the desktop equivalent ofthe "Download" application pre-installed on every S60 phone from Nokia.Download supposedly offers content from providers such as Amazon andJamster, though the former only features an application that loadstheir mobile home page, while the latter flaunts a range of items,though they're all just the first step onto their subscription service.
tile++; document.write('\x3Cscript src="http://ad.uk.doubleclick.net/adj/reg.comms.4159/mobile;cta='+cta+';ctb='+ctb+';ctc='+ctc+';sc='+sc+';cid='+cid+';'+RegExCats+GetVCs()+'pid='+RegId+RegDT+';'+RegKW+';test='+test+';pf='+RegPF+';dcove=d;tile='+tile+';sz=336x280;ord=' + rand + '?" type="text/javascript">\x3C\/script>'); <ahref="http://ad.uk.doubleclick.net/jump/reg.comms.4159/mobile;dcove=d;sz=336x280;ord=PGKfNdRk6jgAABNCQZoAAADr?"target="_blank"><imgsrc="http://ad.uk.doubleclick.net/ad/reg.comms.4159/mobile;dcove=d;sz=336x280;ord=PGKfNdRk6jgAABNCQZoAAADr?"width="336" height="280" border="0" alt="" />
In that context the Nokia Download Store is a comparable service.Originally envisaged as a PC application for downloading and managingapplications and tightly integrated with Nokia's PC Suitesynchronisation software, PC Download Store is now an online softwareemporium.

Or so it would appear, except that all the software on offer ismarked as "Try For Free", with no pricing information on the site atall. Even that would be tolerable if the software offered really wasavailable for trial, but try to download an application and as soon asit's installed you'll be asked to send a premium-rate text to pay forit.
So we now have N-Gage for games, Ovi for

music

and maps, forapplications and maps PC Download and MOSH for community stuff: whosays Nokia's on-line strategy is hopelessly confused?
Posted by Editorial Team Tue Jun 17, 2008 5:20 am