Search iVirtua
Advanced/Tag Search...
Search Users...
What is iVirtua Exclusive Community?
An exclusive gaming industry community targeted to, and designed for Professionals, Businesses and Students in the sectors and industries of Gaming, New Media and the Web, all closely related with it's Business and Industry.
A Rich content driven service including articles, contributed discussion, news, reviews, networking, downloads, and debate.
We strive to cater for cultural influencers, technology decision makers, early adopters and business leaders in the gaming industry.
A medium to share your or contribute your ideas, experiences, questions and point of view or network with other colleagues here at iVirtua Community.
Guest's Communication
Live Chat
Teamspeak (VOIP) Audio Conference
Private Messages
Check your Private Messages
Themes
Choose an iVirtua Community theme to reflect your interests...
Business Theme

India/Arabic Theme
Gaming Theme
iVirtua Recommends
Fly Emirates
First Half-Life 2: Episode 3 Concept Art Revealed by E3 in Gaming
he first widely available piece of concept art for the final episode of Valve's Half-Life 2 saga has been uncovered via the 2008 IntoThePixel E3 art gallery.
The piece--created by Valve artists Ted Backman, Jeremy Bennett, andTristan Redford--appears to

show

Half-Life hero Gordon Freeman within alarge Citadel-like environment, a Combine Advisor looming ominouslyoverhead.
IntoThePixel's website labels the art as related to "Half Life EP3," with platforms listed as PC, Xbox 360 and PlayStation 3.
Valve has been mum about the final episode in the trilogy since therelease of Episode Two last year. Episode Three will reportedly not beappearing at E3, though Valve will be making an appearance at the eventto

show

off its zombie shooter Left 4 Dead.
Posted by Editorial Team Mon Jul 14, 2008 12:27 pm
The Hardcore Niche - The changing Videogame market in Gaming
The video game market is changing incrediblyquickly right now, probably at the fastest rate since the big crash ofthe mid-1980s.
Not only is the market expanding to include women and casual gamersonce again, the definition of what constitutes a game is expanding. Iwouldn't say it's expanding within the minds of game developers, but itis expanding in the context of the mass media and mass consumers, andthat's who drives the market in the first place.
As sick to death as we all are of talking about microtransactions,free-to-play MMOs, and casual online spaces, the advent of these thingsis changing the game landscape for good, whether we like it or not.



Interactive Media - At Face Value


The lines between an online community portal and an MMO are blurredto the point of being indistinguishable. Consider the numbers — Audition Online has tens of millions of users worldwide, and a dedicated TV

show

in Vietnam. Kart Rider has tens of millions of users. Ditto Habbo Hotel and Club Penguin.
Traditional games - like most people reading this are developingtoday - may never be able to reach that large of an audience. Our gamesare too focused, too hardcore, and bear too much of the stereotype of"gamer."


Right now, Halo 3, Grand Theft Auto IV, and World of Warcraftare considered our blockbuster titles, and flagships for the industryin popular culture. But when you think about it, it's still justshooting aliens, playing gang banger, and swinging your sword in theforest.
Boiled down to their essentials those things appeal to a verylimited group of people, and the complexity of game controls preventseven blockbuster movie attendees, whom we should be attracting, fromplaying these things.
At least, that's the common line. But is that really the case? Doaliens, wizards, and soldiers really make a piece of entertainmentinaccessible? Many millions of people went to see the Iron Man movieover the past two months, and a large percentage of them have probablynever picked up a comic book in their lives.
Why is it that people will go see The Lord of the Rings' movies, but many of them will not play the games?


The Real Mass Market


It's common knowledge that game controllers are intimidating, thatconsoles have a certain stigma to them, and that most mass marketconsumers consider games to be either a waste of time, or activelydetrimental.
These can all be debated until the end of time, but the perceptionexists, and either that has to change (Nintendo is doing good workthere), or we have to change. Otherwise we'll end up with acomparatively small fraction of a growing market.
Will it be possible to make a game like Assassin's Creed or BioShockin 2015? It's already becoming difficult to justify large budgets forsingle-player experiences, and it stands to reason that it will getmore difficult as time goes on. What does that mean for developers ofthese games? What happens to the concept of a game auteur?
One possibility is for these hardcore games to essentially becomethe art-house cinema of the video game world, which would be odd, asthat's a role currently filled by indie titles.
Interestingly, never has the film/game analogy worked less well than it does currently. In the PS2 era, you could correlate Grand Theft Auto III with a movie blockbuster, and Ico with an art-house film.
But now, in terms of scope, money, and global social impact, Kart Rider or Club Penguin would be that blockbuster, and Call of Duty 4 would be the art-house equivalent, though content- and budget-wise Call of Duty 4 is much more your traditional blockbuster material. Something seems awry there.
The fact is, these simple-to-play social experiences are here.They're growing in popularity, they're dwarfing our multi-milliondollar projects that sell through to 5 million people at max, and theycost a fraction of the price to make.
With the market expanding as it is, and the dollars going wherethey're going, the $20 million budget bestselling console title oftoday is going to be the hardcore niche title of tomorrow, art-house ornot. Unless development costs get significantly lower, it seems we havean online future to look forward to.
New Things Are Stupid
To wit: online games are taking over, and I, curmudgeon that I am, don't really like it.
Certainly there will always be the hardcore players that will wantthat deeper experience. There's no doubt about that. But the questionis: in an industry where we're getting our asses kicked financially byweb developers, of all people, who will pay us to make it?
Posted by Editorial Team Tue Jul 08, 2008 7:55 am
30 Most Anticipated Games of E3 in Gaming
30. Rise of the Argonauts (PS3, X360, PS3)
Publisher: Codemasters
Developer: Liquid Entertainment
Est. Release Date: Sep 2008
Officially Announced for E3: Yes


Anaction RPG that promises to be way more action than RPG, Rise of theArgonauts has a winning mythological premise and lots of little designtouches that keep the game looking fresh. Take the Argo—the ship oflegend will act as a seafaring headquarters from which your recruitedArgonauts will provide support. There is also a "deed" system that willincrease Jason's abilities via the acquisition of Xbox LiveAchievement-like trophies. So it's bursting with interesting ideas, andit's all running on the reliable Unreal Engine 3—this could be thesleeper hit of the year.


29. High School Musical 3: Senior Year Dance (PC, Wii, PS2, NDS, X360)
Publisher: Disney Interactive
Developer: TBA
Est. Release Date: Holiday 2008
Officially Announced for E3: Yes


Considerthis your representative sample of licensed games that promise to sellgangbusters regardless of quality or media reaction. And High SchoolMusical 3 is likely to be the biggest game of its breed this year: themovie of the same name is the first time this children's blockbusterfranchise will see a theatrical release, meaning the marketing for theproperty is likely to be even more inescapable than usual. Beyond theusual niceties of rhythm games—coop and competitive modes, mechanicsspecific to each system's control scheme—it will have the songs fromHigh School Musical movies past and present. That last one is almostcertainly the only feature the game needs to add another million insales to the franchise's life-to-date count.

28. Borderlands (PC, X360, PS3)
Publisher: 2K Games
Developer: Gearbox Software
Est. Release Date: 2009
Officially Announced for E3: Yes


Capabledeveloper Gearbox has never swung for the fences with quite as muchgusto as with Borderlands. The fact that the game is original IP isn'teven the half of it—it also promises a procedural item creation systemthat will provide this sci-fi first-person shooter over half a millionweapons. If that's not enough, Borderlands also shares some ambitionswith big-budget role playing games: the world will be expansive,character growth and classes comes standard, and missions and sidequests will populate the landscape. Borderlands has all the earmarks ofa breakout hit, and its scope should easily take the breath away fromboth shooter and science fiction fans.

27. Mortal Kombat vs. DC Universe (X360, PS3)
Publisher: Midway
Developer: Midway
Est. Release Date: Holiday 2008
Officially Announced for E3: Yes


Goingon the title alone, Mortal Kombat Vs DC Universe feels a decade late,like it should have been slugging it out with Marvel Vs Capcom for thequarters of 90s teenagers. But it's actually a better idea,commercially, in 2008—now the game can ride the tide of successfulcomic book film blockbusters. It can pull from the years of soliddesign work and franchise reputation rebuilding that culminated inMortal Kombat: Armageddon. And with an anticipated ESRB rating of T forTeen, there're no retail hurdles to keep the adolescent maledemographic from eating this up with a spoon.

26. S.T.A.L.K.E.R.: Clear Sky (PC)
Publisher: Deep Silver
Developer: GSC Game World
Est. Release Date: Aug 29, 2008
Officially Announced for E3: Yes


S.T.A.L.K.E.R.:Shadow of Chernobyl was hardly the biggest first-person shooter of 2007in the west. But it posted platinum-level sales in Eastern Europe,where its freeform gameplay and mythos steeped in Russia's uniquescience fiction struck a strong chord. With little similar competitionin the region, its sequel Clear Sky should do well for itself therealso. Which isn't to say the rest of the world shouldn't (or won't)give it a go as well—Clear Sky will add a tactical, squad-based turfwar to the already eccentric proceedings, and should be just as curiousand interesting a beast as its predecessor.

25. Star Wars: The Force Unleashed (PS3, X360, Wii, PS2, PSP, NDS)
Publisher: LucasArts
Developer: LucasArts
Est. Release Date: Sep 2008
Officially Announced for E3: No, but it might as well be


TheForce Unleashed could well be the biggest project to bear the Star Warsfranchise name since Episode III ended the franchise's non-animatedtheatrical run. Every Star Wars fan has been curious about the periodright before the Original Trilogy when Darth Vader had his run of thegalaxy; Force Unleashed promises to capture this period from theperspective of the Dark Side, using exciting new technologies torealistically render bot the AI and the Force itself. If the persistentrumors are true, this could well be the last project completely builtby LucasArts' internal studio—but in that case, it will be one heck ofa send-off that a lot of Star Wars fans will experience.


24. Beyond Good and Evil 2 (PS3, X360)
Publisher: Ubisoft
Developer: Ubisoft Montpellier (likely)
Est. Release Date: TBA
Officially Announced for E3: No


Allthat's known about Beyond Good and Evil 2 is that it's currently beingworked on by Ubisoft premier designer Michel Ancel. But in this case,that's more than enough—Ancel's resume does include perennial hitRayman and (naturally) the first Beyond Good and Evil, after all. Andthe first Beyond Good and Evil is particularly beloved. The smallaudience that played it has been talking about it ever since, praisingits varied gameplay and realistic, strong female protagonist Jade. Sothe sequel is exciting, and though its commercial success is by nomeans assured it's possible that maybe the adult gaming audience isfinally ready for this franchise.


23. Lock's Quest (NDS)
Publisher: THQ
Developer: 5th Cell
Est. Release Date: Fall 2008
Officially Announced for E3: Yes


2007'sbiggest surprise sales blockbuster was a little DS game called Drawn toLife, built by a little mobile developer called 5th Cell. That gamegave the independent studio a reputation for creating innovations withstrong market appeal, and it could cement that reputation with Lock'sQuest, a curious RTS/Action/RPG/minigame hybrid with cute graphics,quick thrills and a world that can be completely remodeled by theplayer. In other words, it has a lot of elements that appeal across awide variety of gaming demographics, as well as a lot of ambition. Ifthis one lives up to its potential, it would be great to see it succeed.


22. Puzzle Quest: Galactrix (PC, X360, NDS)
Publisher: D3 Publisher of America
Developer: Infinite Interactive
Est. Release Date: Fall 2008
Officially Announced for E3: Yes


Lastyear's Puzzle Quest combined the most addictive parts of the casual"match three" puzzle game with the most addictive parts of RPGcharacter development, a powerful cocktail that murdered productivityand sold in huge numbers. There's no reason this follow-up shouldn'tcontinue in that trend—it's still a match three puzzle game (this timemore Collapse than Bejeweled), it still has those all-important RPGelements, and it's being built by the same studio. The only differences(besides the science fiction setting) all look like improvements.There's an element of strategy gaming. Players can enhance not justtheir character, but also their spacecraft. Downloadable content willabound. It all sounds like a game that players will itch to play afterthe first hit.


21. Crysis: Warhead (PC)
Publisher: Electronic Arts
Developer: Crysis
Est. Release Date: Fall 2008
Officially Announced for E3: Yes


Allegedlythe last PC exclusive from the bastion of PC gaming high technology,Crytek's side story to 2007's Crysis looks every bit as graphicallydazzling as its predecessor. It also promises to be a moremarket-friendly title (a tall order considering Crysis' million-sellingstatus); Warhead provides a less strategic, more bombastic run-and-gunaffair compared to the original Crysis. And with a year of hardwareadvancements in between Crysis and Crysis: Warhead, that more widelyappealing design will find that a lot more people have the rigs toactually run it well. And who knows? If Warhead does manage to findthat perfect balance, perhaps Crytek will stick to their PC-exclusivestomping grounds for a while longer.

20. Tomb Raider Underworld (Wii, PS2, PS3, X360, PC, NDS)
Publisher: Eidos
Developer: Crystal Dynamics
Est. Release Date: Holiday 2008
Officially Announced for E3: Yes


It'sbeen a few years since Crystal Dynamics took the Tomb Raider franchiseand reinvigorated it with Legend. But it's really with Underworld thatthe series' previous mistakes have been taken to heart. Rather thanrest the game on its laurels again, Underworld is a creation that lookstoward with the new; the game engine is all new, the way the worldinteracts with Lara is more realistic, combat now has melee and willflow fluidly into the puzzle mechanics. And if that wasn't enough toguarantee sales, Lara has a motorcycle now too.


19. Sonic Unleashed (Wii, PS2, PS3, X360)
Publisher: SEGA
Developer: Sonic Team/Dimps
Est. Release Date: Holiday 2008
Officially Announced for E3: No


Thesedays it feels like SEGA promises the moon with every Sonic title, tothe point where it's hard to fall for it anymore. Take Sonic Unleashed;it's promise of a revamped, re-invented Sonic echoes the promises SEGAmade before this generation's first Sonic the Hedgehog hit the Xbox 360with a sad plop. And yet, franchise sales have never followed the samecurve as the blue blur's review scores. This is mostly because ofSonic's strong appeal to the child market, but on some level thegraying Genesis owner wants to believe what we're told, that this nextSonic really will reclaim the glory days. Anyway, Sonic Unleashed. It'srunning on a new engine and has some 2D environments. It'll sell, andas for the rest of it? Here's hoping.


18. MadWorld (Wii)
Publisher: SEGA
Developer: Platinum Games
Est. Release Date: 2009
Officially Announced for E3: No


PlatinumGames, formerly Seeds, formerly Clover Studios, isn't known for makingcommercial hits. No, that team is known more for making instant,beloved classics. Okami certainly, but Viewtiful Joe is in there aswell, and the only people who remember God Hand these days love it toabsolute death. MadWorld, a blood-soaked black and white Wii exclusive,feels like a return to the playful, experimentation that made this teamfamous. Will it sell? Well, it's nice to think that just maybe, thistime, the market has caught up to what Platinum is doing.


17. Animal Crossing Wii (Wii)
Publisher: Nintendo
Developer: Nintendo
Est. Release Date: TBA
Officially Announced for E3: No


Asof this writing, Animal Crossing Wii still exists as a hopeful glimmerin the eye of the gaming public. Nintendo hasn't said anything at allabout it yet, though almost all speculation says that it exists andwill be announced soon—and if that's the case, E3 is as good a place toshowcase it as any. It's a completely believable theory. Nintendo'sChristmas lineup is currently a complete mystery, and Animal Crossing,already a surprise hit on GameCube and DS, is such a good fit for thecasual Wii-loving audience it's startling it's not on the systemalready.


16. Left 4 Dead (PC, X360)
Publisher: Valve Software
Developer: Turtle Rock Studios
Est. Release Date: Holiday 2008
Officially Announced for E3: Yes


Valvedoesn't release duds, and it doesn't buy teams that can't deliver. Sothe fact that it purchased Turtle Rock Studios and have put a greatdeal of PR muscle behind Left 4 Dead speaks volumes as to how good thisgame could be. The game has a completely innovative, yet highly marketfriendly hook in its "four survivors must cooperate to survive thezombie horde" premise, though players of a less polite persuasion canalso take up the role of a super-powered zombie. This could very wellbe the next major online phenomenon, like Team Fortress 2 before it.


15. Resistance 2 (PS3)
Publisher: Sony Computer Entertainment
Developer: Insomniac Games
Est. Release Date: Holiday 2008
Officially Announced for E3: Yes


Thefirst Resistance was the big win for the PlayStation 3 at launch, butResistance 2 looks set to spin that good first impression into anempire. Resistance 2 pushes the game out of London to the morerelatable (in the US, anyway) environs of the United States. A goodmove, but not as good as the massive 60-man multiplayer that the gamepromises. That's fantastic scale for an online console game; add onsome more focused, objective-oriented teamplay and Resistance 2 is agood contender for gamer's next networked obsession.


14. Killzone 2 (PS3)
Publisher: Sony Computer Entertainment
Developer: Guerilla Games
Est. Release Date: 2009
Officially Announced for E3: Yes


Threeyears on and Killzone 2 is still trying to shake off its disastrous"showing" at E3 2005. Admittedly the team at Guerilla has done a finejob of actually approaching the target in that first badly marketed"target render," with more recent previews showing the game asappropriately attractive and bombastic for its high position in Sony'sportfolio. But it still needs a big floor to

show

off, and it needs aman to say "in-game graphics" about one thousand times in front of somehuge HD Killzone if it wants to really nail the market. E3 historicallyhas had some very big floors.


13. Fable 2 (X360)
Publisher: Microsoft
Developer: Lionhead Studios
Est. Release Date: Oct 2008
Officially Announced for E3: Yes


Alot on Fable 2 is already known, and most of it is interesting on avariety of levels. There's the in-game dog, a character ofunconditional love that will act as the player's anchor to the game'sworld. There's the Pub Games, a series of Xbox Live Arcade titles thatwill act as both encapsulated products and previews for the bigrelease. Then there's the gay marriage, pregnant adventuring, and allmanner of family matters to deal with in the game as well. It's a gamethat promises to push boundaries and break some of the medium's moreridiculous unnecessary taboos. Considering the success of the originalGable, it's likely many people will choose to experience this moveforward—surely a good thing.


12. Command and Conquer: Red Alert 3 (PC, X360)
Publisher: Electronic Arts
Developer: EA Los Angeles
Est. Release Date: Holiday 2008
Officially Announced for E3: Yes


RedAlert's Cold War gone hot is one of the most beloved scenarios is allof strategy gaming, and the franchise's long seven year absence makesthis game even more exciting and desirable. And by adding thepseudo-Japanese Empire of the Rising Sun faction the festivities geteven more campy and strange, complete with towering mecha, psychicschoolgirls and parachuting bears. So it's got a lot of hooks for boththe longtime fan and sugar-crazed newcomer alike.


11. Far Cry 2 (PC, X360, PS3)
Publisher: Ubisoft
Developer: Ubisoft Montreal
Est. Release Date: Holiday 2008
Officially Announced for E3: No


FarCry 2 has found a unique gaming setting in the jungles, savannahs andtowns of Africa, and it plans on giving the player a lot of thatsetting – 50 square kilometers, to be precise. Plenty of new gameplayelements will make themselves known as the player crosses that expanse:some wounds have to be treated with field medicine (ie. fishing abullet out with a knife) and brush fires can be started, only to bewhipped up realistically by wind. Far Cry 2 is an underutilized brandmoving to an underutilized setting while adding multiple newinnovations, making it an extremely strong contender in the hardcoreshooter market.
10. Prince of Persia (X360, PS3)
Publisher: Ubisoft
Developer: Ubisoft Montreal
Est. Release Date: Holiday 2008
Officially Announced for E3: No


Princeof Persia: The Sands of Time was one of the last generation's definingmoments, so it would have been easy for Ubisoft to just build astandard sequel on the successes of its previous trilogy. The fact thatthis is not the case, that the series is instead being rebooted with anincredible hand-painted aesthetic and open world,

show

a strongdedication to making the Prince one of the most lasting and importantfranchises in gaming (though the big budget movie helps on that scoreas well). While previous PoP titles did sell well, after theblockbuster success of Assassin's Creed, the timing is perfect for thePrince to really make it big.


9. Final Fantasy XIII (PS3)
Publisher: Square Enix
Developer: Square Enix
Est. Release Date: TBD
Officially Announced for E3: Yes


Sinceclosing the door on the last console genre, Square Enix has relied onhandheld games and Wii side stories alone. If the publisher's lastfiscal statement said anything, it was that's no way for a company tolive—so while Square Enix has some other interesting console games inthe pipe, it needs to bring its megaton franchise back into the publiceye. It's not surprising that Final Fantasy XIII will

show

up in someform at E3—and regardless of what form it takes or what the game lookslike now, it could certainly steal the

show

if it tried.


8. Street Fighter IV (PC, X360, PS3)
Publisher: Capcom
Developer: Capcom/Dimps
Est. Release Date: 2009
Officially Announced for E3: Yes


Atworst, this is a surprise come back of one of gaming's most iconicfranchises. At best, this could be the surprise come back of agenre—certainly if anything could revive a flagging fighting gamefield, a new numbered entry in its greatest series would be the thingto do it. Perhaps the best sign that this game knows what it will taketo succeed is its reverence to Street Fighter II—all of the charactersfrom that game will return, and the gameplay mirrors the measured paceof that early entry. Considering versions of SFII still sell in strongnumbers, it's easy to see how this strategy could succeed on the market.


7. Rock Band 2 (X360, PS3, PS2, Wii)
Publisher: MTV Games
Developer: Harmonix
Est. Release Date: Sep 2008 (X360 timed exclusive, with other versions to follow)
Officially Announced for E3: Yes


Nomatter what other companies say, the fast-paced game of catch-up thathas gripped the music genre says one thing louder: the four-piece RockBand is the standard for the field. And while little is known about itat this point, what is known proves that Harmonix hasn't lost the plotwith Rock Band 2. Sticking to its "platform" guns, the game will befully backwards compatible—with old DLC, with old instruments, theworks. And while user-created content is not a go this time, there arecertainly things about the game yet to be announced—you don't want tomiss this one at the

show

.


6. LittleBigPlanet (PS3)
Publisher: Sony Computer Entertainment
Developer: Media Molecule
Est. Release Date: Oct 2008
Officially Announced for E3: Yes


Despiteseemingly constant delays, LittleBigPlanet remains one of the mostunique products in Sony's first-party arsenal. The idea of a game thatlives and dies by the content created by its users has been triedbefore in first-person shooters, but LittleBigPlanet, with its lovelytextured graphics and universal, non-violent charm wants to be muchmore—the YouTube of games perhaps, or the Legos of the 21st century. Ofall the games that could bring PlayStation 3 to the mass market, thisremains the best hope.


5. Halo Wars (X360)
Publisher: Microsoft
Developer: Ensemble Studios/Bungie
Est. Release Date: Oct 2008
Officially Announced for E3: Yes


HaloWars is more than just the next title from Microsoft to have the Haloname. It's also more than the first Halo project not spearheaded byBungie. Halo Wars wants to be a revolution in real-time strategy, aconsole exclusive built from the ground up for a console controller—inother words, Halo Wars wants to do for real-time strategy what Halo didfor first-person shooters. If it succeeds, it could crack wide open thenascent console RTS market as gamers try it based on the franchisealone. It's been reported that the game will be playable by the mediaat E3, so the

show

should give a much better idea as to how itssucceeding.


4. Spore (PC, Mac)
Publisher: Electronic Arts
Developer: Maxis
Est. Release Date: Sep 7, 2008
Officially Announced for E3: Yes


It'scertainly something that even after the seemingly endless amount ofwords typed about Spore, even though it's appeared in publications asnon-game centric as The New Yorker, even though the wait for the gamehas been years long and interminable, almost everyone who knows aboutit is still excited at its promise. And after the success of therecently released Creature Creator, that excitement is still mounting.Will Wright's SimEverything could very well the next big thing, tossingaside silly ideas like "demographics" and just appealing to everyoneeverywhere. In other words, the next Sims.


3. Gears of War 2 (X360)
Publisher: Microsoft
Developer: Epic Games
Est. Release Date: Nov 2008
Officially Announced for E3: Yes


Gearsof War 2 is a lot of things. To the gamer, it is epic, the sequel tothe game that dominated man hours spent on Xbox Live for most of 2007.To developers, it's the new baseline, as every new Epic game has cometo represent the state of the art for the now industry standard UnrealEngine 3. In both regards Gears of War 2 looks great. A fewimprovements to the constantly evolving engine have already been shown,and most gamers agree that new mechanics like martyrdom and the "meatshield" look like fantastic fun. Gears of War is already one of thisgeneration's emblematic franchises, so it will be great to see how thesequel goes about cementing that status.


2. Resident Evil 5 (X360, PS3)
Publisher: Capcom
Developer: Capcom
Est. Release Date: 2009
Officially Announced for E3: Yes


RE5is not even close to a retail release, and yet it's already one of themost interesting topics in the industry. It brings with it the highlyrespected pedigree of Resident Evil 4, hands-down one of the best gamesof the last generation, and will probably sell strongly to the audiencethat loved, or even heard about, that game. Yet it's also mired incontroversy over some concerns regarding racism. So it's a projectthat's walking many tightropes of expectation, and there's potentialfor huge success or massive failure here. As a result this E3 could bethe most important public showing for RE5 until its release—it shouldbe fascinating.


1. Fallout 3 (PC, X360, PS3)
Publisher: Bethesda Softworks
Developer: Bethesda Softworks
Est. Release Date: Oct 2008
Officially Announced for E3: Yes


Fallout3 shows great evolutionary leaps every time it's displayed for publicviewing, with recent revelations—the childhood simulating charactercreator, the 500 endings—being particularly fascinating. Now that it'scoming precariously close to its announced release date, this E3 shouldrepresent the game's biggest showing yet. If there are any surprisesleft in the title to announce, expect them to get announced at somepoint during the week. But even if there aren't, Fallout 3 has alreadyproven itself to be a sprawling, ambitious project that anyone in thegaming audience would wait to spend more time with.
Posted by Editorial Team Tue Jul 08, 2008 7:55 am
Build a DX10 rig for under £176 in Hardware, Internet, Networking, Comms and Security
We like big explosions, the bigger the better, in fact.
Wealso like smoke effects, water ripples, dappled lighting filteringthrough jungle canopies and creeping up silently behind people, beforemurdering them with our bare hands. But enough about our weekendpastimes…
What we really like are the fantastic visuals that DX10 gaming offers.
If you listen to most people, they will tell you that you need a quad-core, DDR3, triple-SLI setup to play Crysis. The sort of setup that requires you to remortgage your house to own. These people are wrong, and we're going to

show

you why.
We'vepreviously demonstrated how to build a DX10 setup for just under £300,a not unreasonable amount that should be within the reach of mostpeople. But what if you just blew all your money on a sordid weekend inAmsterdam, and you've resorted to scrambling under the sofa for loosechange? Would you believe us if we told you that it's possible to builda DX10-capable rig for well under £200? Well, it's true.
Ofcourse you can't connect it to a 22-inch wide screen monitor withoutthe frame rates plummetting, but if you're on that tight a budget, abig monitor is probably the least of your concerns.
Wheneveryou work to such a tight budget, something has to give and this projectwill be no exception. We need to prioritise in certain areas, whileothers can be largely ignored.
Yes, a case is important to stopyour gear being an untidy heap of electronics on the floor, but reallyyou just need a metal box to screw things onto. Optical drives are dirtcheap, and with memory stick capacities being what they are, hardlyanyone burns DVDs, so we only need a DVD ROM.
It also means noquad-core and no SLI. But dual-core chips are surprisingly cheap, andwe'll see just how well a budget DX10 card performs. Don't forget thatif you have any parts available from an existing PC, such as cases anddrives, you can reuse them and put the money towards a higher-end CPUor graphics card.



Case and PSU
Ifyou want a well-designed case, with plenty of fans, numerous ports andplenty of upgradability, then it's easily possible to spend more thanour entire budget on such a beast.
Likewise, if you want a 1KwPSU that supports the likes of SLI, then it's going to cost a fairamount of cash. At the other end of the spectrum is the all-in-one caseand PSU deal. We found one for just £26, which includes a 400W PSU.
Thismay not sound like a lot of power, but it's more than enough to run oursetup. When spending such a small amount of money on a case, you'dexpect it to be quite horrific, but it's surprisingly well featured. Ithas a matt-black finish, which helps on the looks front, and the frontpanel has USB and audio ports.
Most of the internals can befitted without the need for a screwdriver, and it even has a lockingside panel. Sure, it isn't the best-looking or quietest case we've everseen, but for this sort of money, we're not complaining.
The result?
As the most basic DX10 card available from NVIDIA, it comes as no surprise that the performance of the 8400 is not the best.
However,at £20 it still does pretty well, as long as you keep the resolutionrealistic. Okay, not everyone wants to play at 800x600, or even1024x768, but then you shouldn't be so cheap, should you?
Surprisingly, Crysis gave some of the best results, although BioShock achieves the best framerates of all. Using the Optimal settings button, Crysisdid set all the detail level to low, but the results still lookedpretty good. However, if you're going to be realistic about playingDirectX10 games, then you are going to have to find a little more moneyin your budget.
Hooking the 9600GT up to our budget CPU workedabsolute miracles, and at around £70 extra is an absolute steal. Notonly could we turn the detail right up, but we could run a higherresolution and still get twice the frame rates of the 8400GS.
Surprisingly,adding a high-end quadcore CPU doesn't give much of an increase, witheither the 8400 or 9600GT. In conjunction with the 8400Gs, the Phemom9550 does give you some extra fps over the Athlon X2 4400+, but withwhen it comes to the 9600GT, the difference over the 4400+ setup ismarginal.
So, if you want the best performance, and can spend alittle extra, buying the 9600GT is the logical choice. You know itmakes sense.
Posted by Editorial Team Tue Jul 08, 2008 7:47 am
Day of Defeat: Source Update. in Gaming
Valve has released a new update for Day of Defeat: Source (PC),offering a new map, achievements and more for the company's multiplayerWorld War II shooter. To commemorate the new content, the companyannounced that Day of Defeat: Source will be free to play this holiday weekend for all Steam users.
Originally introduced last month as a beta update, the patch brings a set of 51 achievements to the game via Valve's Steamworks development suite, as well as the nemesis and revenge freeze cams as seen in Valve's Team Fortress 2 (PC).


Detailed player statistics are now reflected in Steam's communityfeatures, breaking down kills and other information in a team- andclass-based format. Also included is the new map Palermo, a new remixedversion of the title's popular community-created map dod_salerno.
Available free of charge, the update will downloadautomatically upon restarting the Steam client. Complete details of theupdate are viewable below

.
From the Palermo update page:



Palermo
Introducing Palermo, a new Day of Defeat: Source map from Magnar "insta" Jenssen. This map's design was inspired by the Italian port city of the same name and was also based in part on "Salerno", a popular community map. Palermo features five capture points, four of which often flip back and forth between teams during play. The central plaza's two-person capture point is the map's key strategic area.

Steam Community Integration
Steam Community avatars will now appear next to each player name in the scoreboard, on the end-of-round panel, and as part of the newly-added freeze cam. Also, when you have friends playing with you in the game you'll be able to spot them using the new Friend icon next to their avatar on the scoreboard.

Achievements
There are now 51 unique achievements that you can earn for your play in-game. We've designed them to cover a variety of different play styles and specializations, and to recognize some of the rare and amazing feats people pull off while playing. For example, Jack of All Trades rewards players for earning a kill with a Machine Gun, Sniper Rifle, Rifle, Sub-Machine Gun, and a Grenade all in a single life.

Player Statistics
Day of Defeat: Source players can now

show

off their own stats and achievement progress in the Steam Community, using a method similar to Team Fortress 2's gameplay stats. Detailed statistics including usage of each weapon and class will be gathered displayed, giving players an at-a-glance view of each other's specific strengths.

Freeze Cam
Tired of getting killed by snipers without being able to tell where the fire is coming from? Day of Defeat: Source now has a freeze camera of your attacker, which will let you know where they are (or where they were when they shot you) and also allows you to take a screenshot for posterity. Also, if you score three consecutive kills against another individual player, you will be called out as "dominating" them.
Posted by Editorial Team Tue Jul 08, 2008 7:46 am
50 Skills that Every Gamer Should Master in Gaming
Just being able to play games is only the beginning. If you're goingto call yourself a proper gamer (as opposed to a casual pretender)there are a few requisite skills that you must master first. 50 skills,in fact. And they're all right here...
1. Give a game a review score without ever actually playing the game
A cursory glance from 20 paces of a grainy postage stamp-sized superlo-res scanned-in screenshot pinned to the ass-feathers of a headlesschicken in a sandstorm should be all you need to confidently attributean authoritative and infallible review score to any game. It's howprofessional reviewers have been doing it for years.
2. Be able to spot whether a game is running in 720p
Just by looking at it.
3. Survive with only four hours sleep (max) a night
We all abide by the 'one more go' mantra. It demands that we are strong in the face of severe sleep deprivation.


4. Play Wii without using the wrist strap
Or, master the art of gripping. Even newborn babies can do it.
5. Attack the weak point for massive damage
Look for the big red/yellow/orange thing. It's normally located on anenemy's back/ass/forehead. If a sustained assault yields unsatisfactoryresults, try attacking it with the last weapon you picked up. Thatnormally works a treat.
6. Be an expert in the work of one particular developer besides Miyamoto
Support the people that make the games you love. Pick a team. Find ahero. Whether it's an entire studio or just a single creative. Getexcited about the games they make. Know their history and what they'reabout. Hunt out their gameography. Get informed. We're sure Mr Shigstuff won't mind if some of the love gets spread around.
7. Beat a really bastard hard game on any tier of difficulty higher than Normal
Real men play on MASOCHIST!
8. Estimate remaining PSP battery life and calculate device's lastability on journey
If you've gone to all the trouble of uploading an extensive selectionof softcore pornography to your PSP in advance of a business trip, itcan be hugely upsetting to run out of juice before you've even had achance to make yourself tired in the airplane convenience.
9. Play driving games without 'steering' the controller
Unless you're a girl. Then you can't help it.


10. Become unhealthily obsessed with one particular game and play only that game for six months solid
Winners don't quit. They become addicts.
11. Instantly recognise any game being played on a TV

show

or in a movie
Computer Space in Jaws, Asteroid Deluxe in The Thing, Galaga in Trains,Planes and Automobiles, Centipede in Never Say Never Again, thesound-fx of Pac-Man in Ferris Bueller's Day Off... plenty more here.
12. Easily spot at least 5 differences between any PS3 and 360 comparison shots, that are invisible to the normal human eye
You're looking for things like lighting, texture resolution, draw distance, anything pink or slightly gay, lumps or growths etc.
13. Expertly pick the right game for the right moment
You might think your sozzled post-pub friends are having an absoluteparty huddled around your monitor watching you level up in World ofWarcraft. But they're not.
14. Be able to navigate to the 'Invert? Yes/No' option in under 5 seconds
Pause. Controller Options. Invert Yes/No. Unpause.
15. Be fluent in l337 5934k
Bµ7 Ð0n'7 b3 4 7w47 4nÐ 3v3r µ$3 17. H3r3'$ 4 h4nÐ¥ 7r4n$£470r, jµ$7 1n (4$3.

16. Instinctively know the location of all controller buttonsand their respective numerical, alphabetical or symbol-baseddenominations
When playing, a real gamer never has to look at the controller. Unless it's to check that it's not on fire.


17. Perfectly repackage console/PC snugly back in its box, complete with Styrofoam and cable ties
Put those ninja-honed Tetris skills to good use.
18. Make in-game moral choices quickly and without flinching
Stop being such a lightweight and kill the Little Sister already. We'repretty sure God doesn't take make-believe evil into account whendeciding who gets locked out.
19. Have a selection of "I only lost because..." excuses prepared and rehearsed in the event of defeat
Here's a few for free: "...I couldn't take my eyes off your lap"; ...Ihurt my fingers when your mum sat on them"; "...Satan told me to";"...I was a victim of sexism" and so on.
20. Own non-gaming friends at absolutely anything
You've never played the game before. The pad's missing buttons. You'vegot amoebic dysentery and you can feel a hairy-ass spider crawlingacross your face. So what? When you're up against a newbie there is noexcuse for anything less than comprehensive ownership.
21. Perform tea-bagging like a pro
Don't bang away like a demented pneumatic penis. Get rhythm. Tea-bagging is an art - as our own educational video reminds us.
22. Immediately know what to dump when your inventory is full
Don't know what to drop after the Goblin's Cleaver of Apathy made youover encumbumbered? Stop being a massive tool and just relinquish someof the unused crap you've been pointlessly clinging on to for the last30 hours.
23. Engage in the 'Are games art?' debate without sounding like a pretentious twat or a moronic dumbass
Find the middle-ground between this:

"I think you'll actually find that videogames are a post-modernexpression of individualism while simultaneously collectivising itsdigital form and manifesting as abstract interactive entertainment."
And this:
"Art is for pussies. I just want to kill make-believe people."


24. Always spot the 'hidden area'
Remember: nothing screams "HIDDEN AREA!" louder than a cracked wall.
25. Gather enough tech speak to make it sound like you know how to make games better than developers themselves
"Sure, they might have nailed the anisotropic and bilinearfiltering, but you can unzip me like a banana if the Cartesiancoordinates and phong shading aren't an absolute bucket of wank." Smartsounding development speak makes you superior. This site is a good place to start.
26. Memorise enemy/item spawn points
Want to know how tHE dEfec8or is always smoking your ass withthe rocket launcher? It's because he's all over the longitude andlatitude of those maps, and he's snorting up the coordinates of everyspawn point and he knows exactly what it'll spawn and he knows exactlywhen it'll spawn it. It's called dedication and that's why tHE dEfec8oris a winner.
27. Complete unlocking/defusing mini-games first time, every time
Should be like making Einstein recite his five times table.
28. To never be suckered by game store offers pimping crappy games and shitty third party peripherals
An Hour of Victory and Turning Point: Fall of Liberty bundle for 40notes with a TatTech controller thrown in for free is not a bargain,it's a piss-take.
29. Be condescending, patronising and impatient when playing with non-gamers
Alternatively, feign kindness and offer to

show

them "how to do it". Once you've got the controller, never give it back.
30. Be shit-faced drunk and still be able to rock at Guitar Hero or other popular party game
Preferably be able to keep getting more drunker while playing.


31. Bluff your way through a conversation about a retro game you never actually played
Don't ever admit to having not played some geriatric, incontinent pieceof gaming history that some rose-tinted retrosexual is eulogising. Justfudge your way through. It's not hard: "Geoff Spectacles and theSubatomic Android Invaders on the Vic-20? Of course I played it! Thatwas the one with the monochrome 2D graphics and beepy sound effectswasn't it?"
32. Instantly identify enemy types by the sound they make
Don't stop with enemies. Utilise your ears as nature intended andrecognise weapons, vehicles, power-ups, score multipliers... anythingat all with the amazing power of hearing.
33. Confidently guess what a developer's secret project/unannounced title is
If all else fails, predict Shenmue 3.
34. Passionately champion at least one obscure game that nobody has ever heard of and win it some new fans
Ever heard of Warriors of Elysia? It's the long overdue sequel to Bikini Karate Babes. We're sure it's going to be awesome.
35. Get the highest possible rank/medal/award in any tutorial level
Tutorial levels are weak and pathetic. An insult to proper gamers,they're a monumental mismatch on the same scale as a bare-knucklesbrawl to the death between Chuck Norris and Barbara Bush.
36. Know which elemental attack will be most effective against an enemy
Water>Fire. It's not exactly rocket surgery.
37. Master the art of reloading
Don't ever let your gun get caught with its pants down. It's humiliating.
38. To simultaneously perform other important life tasks while playing
Multi-tasking is the cornerstone of every real gamers' brain. Youshould be able to eat pizza, guzzle coffee, fill in a jobapplication, build a house of cards AND successfully evade a six-star wanted level in GTA IV all at the same time.


39. Skip every cut-scene and still understand what's going on
No matter how convoluted the machinations and exposition, when it boilsdown to it you're basically just trying to beat the baddies.
40. Identify boss battle attack patterns in under 20 seconds
Lunge. Lunge. Guard. Burrow into ground/disappear/become temporarilyinvincible. Emerge from ground/reappear/stop being invincible. Chargespecial attack. Release special attack. Expose weak spot in atactically foolish and totally unnecessary manner <Playerstrikes&gt; Repeat until dead.
41. To know everything about the game without ever having to consult instruction manuals
Apart from a few semantics and trivialities, once you've read one instruction manual, you've pretty much read them all.
42. Argue effectively in a gaming Internet forum
At the most basic level this entails typing "HAVE YOU ACTUALLYPLAYED THE GAME!?" over and over and over until the foul dealer ofscurrilous mistruths slinks away like the miserable dog that he is.
43. Well developed bladder control
You're not going to get to level 70 by taking a piss break every three hours.

44. Condense even the most convoluted control system into easy-to-manage verbal instructions
"Basically, move the sticks and press X"
45. Always know the best spots for camping
So you can root them out or dig in deep, depending on your mood.
46. Memorise important cheat codes for fast fingered employment at a moments notice
If you can't remember Up, Up, Down, Down, Left, Right, Left, Right, B, A then you weren't there.
47. Have at least one game that you are unbeatable at
Take the time to master a game. Play it with your eyes closed. Learnevery pattern, every combo, every counter, every weak-spot. But don'tbrag about it. Just casually lure people into your virtual domain. Toywith them. Give them false hope. Maybe even let them win a couple oftimes and say something all humble and wimpy like: "Gee, you really gotme. Well played." Then bring the real noise and let the shuntingcommence. Their humiliation will feel rudely satisfying.
48. Be like Rainman when converting Microsoft/Wii points
It's the ultimate geek party trick. If you can calculate that 190,608Microsoft points is $2,381.65 without even flinching then you will get chicks. Believe us. Mental arithmetic makes ladies hot.
49. Read the back-of-box blurb and decipher it into 'What It Actually Means'
"State-of-the-art 3D environments and characters" = "We done some graphics". More here.
50. Know when NOT to talk about gaming
"Sure, as maps go if you've got a competent team together thenCrossfire can be pretty badass, but Wetworks is off-the-hook whenyou're gunning solo. Oh yeah, sorry to hear about your entire familygetting killed with the bird flu. Must be a real bummer. So... youwanna play some COD?"

Posted by Editorial Team Tue Jul 08, 2008 7:41 am
The Independent Games Festival: A History In Press Clippings in Business and Industry in Gaming, Media, Web, IT and Computing
So, we just launchedthe 11th Annual Independent Games Festival a few days back, as you mayrecall - with some of the topline additions including some neat newjudges and a new Innovation Award.
Anyhow, yesterday I spent much of my lazy Sunday, as Chairman of the Independent Games Festival, improving the official IGF website - and one of the neat things now fully fleshed out is a semi-canonical history of IGF press clippings on IGF.com, linking to the major press coverage of the

show

over the previous few years.
There's a surprisingly large amount of stuff in here, some of which you probably haven't seen - from this year's excellent 1UP.com video coverage, through Wired News covering the indies to watch, to Veronica Belmont (nowadays at Sony's Qore) chatting to IGF folks at the IGF Pavilion for Mahalo.
I also took some time to go through the Gamasutra 'Road To The IGF'features written by folks such as myself and Alistair Wallis inprevious years - there's a gigantic amount of interviews with IGFfinalists or just plain entrants to read through. And of non-associatedwebsites, GameDev.net's IGF interview coverage is the most canonical - it goes all the way back to 2002, blimey.
Anyhow, browse the giganto set of links at your pleasure, and final reminders, then - the deadline to enter the competition is November 2008, and the IGF Pavilion and Awards itself will be taking place in March 2009 at Game Developers Conference 2009 in San Francisco.
Posted by Editorial Team Tue Jul 08, 2008 7:39 am
The 5 Weirdest Games... Includes 'Bible Adventures' in Gaming
Games on the whole are all pretty weird but we, as gamers, just takethis on board without really questioning them. We never wonder whereSonic puts all those rings when he's quite clearly naked (possibly inhis oversized socks?) or indeed why he's even naked at all!! Nope it'sSonic, he must have a reason and just hasn't felt the need to explainhimself! The following 5 games will make you think though, as they arejust TOO bizarre to sit comfortably with our sense of what'sacceptable, observe:
5. Monster Party (NES)
The weirdness kicks in right from the off in Monster Party, the gamestarts with a cut scene of the main character, Mark, walking home froma baseball match with his bat over his shoulder. A gargoyle named Bert(as all the famous gargoyles are) spots him and whisks him away to hishome planet charging him with killing all the invading monsters withhis trusty bat.
It's the bosses that really steal the

show

here with one being agiant spider lying on the floor, you enter the room and he shouts"Sorry I'm already dead" and that's it, you win!! Result!! Othersinclude 2 zombies who dance for 30 seconds then collapse and die, abouncing shrimp and a huge cat that throws small kittens at you.





4. Chou Aniki (PC Engine)
Described as the most homoerotic game ever, Chou Aniki, meaning"Super Big Brother", could be described as a one on one beat 'em upalthough all the characters float. The series is hugely popular inJapan and the highlights include musclebound men in Speedos firingwhite liquid from holes in their head, lesbians, a boss fight against anaked man in a bathtub and the temple of Gay Pleasure!
There really is no other way to describe it than 100% gay. Amazinglyenough while the original never made it out of its home country it hasrecently been released on the Virtual Console, just don't let anybodycatch you playing it.

3. Sexy Parodius (PSOne)
Another sexually explicit game though this ones a bit more for thestraight people out there, Sexy Paridous features bunny sisters Hikaruand Akane and is full to the brim of Japanese Hentai nudity.
The game plays pretty much the same as any other Paridous bar theinclusion of huge naked Lady's as bosses! Nice!! This, the 4th game inthe series, is my favourite but that's probably because I'm a bit of apervert and you'll find it on the recently released PSP title ParidousPortable. Like Chou Aniki you would have a bit of explaining to do ifyou were found playing this alone.

2. Bible Adventures (NES)
It's my opinion that there just isn't enough games based on the goodbook and developer The Wisdom Tree must have felt the same when theydecided to make this.Part of a series that included must have titlessuch as Super 3D Noahs Ark, Sunday Funday and the King of Kings.
Bible Adventures saw you take part in various biblical stories suchas loading the animals onto the ark, battling against Goliath andtransporting the baby Moses down the Nile. Possibly the best part wasthe ability to throw Moses in the river and watch him slowly drown.

1. Takeshi's Challenge (Famicom)
No doubt I'll get a few comments along the lines of "This gameshould have been in it etc." but there can be no debate that this trulyis the weirdest game of all time. Developed by Japanese film directorBeat Takeshi the title screen proudly displays the words "This game wasmade by a man who hates video games"! He obviously hates the peoplethat play them as well as not only is it the weirdest it quite possiblythe hardest!
Different parts of the game require you to sing into the built inmicrophone in the Famicom's controller, another tells you to do nothingfor 60 minutes and another to avoid getting divorced. All this leads toa boss that needs to be hit twenty thousand times to die which takesroughly three hours. Truly, truly bizarre.

Posted by Editorial Team Tue Jul 01, 2008 7:16 am
EA complains of game review cult, but does one exist? in Business and Industry in Gaming, Media, Web, IT and Computing
Is there a kind of "cult of opinion" that controls review scores? Itsometimes seems that reviews include a laundry list of complaints aboutplay or other issues, and then the score comes out of the machinesmelling fresh. While it's hard to say conclusively that reviewers gettogether to talk about what scores to give what games, it can sometimesseem like certain titles seem to get much higher scores than the textin the reviews would suggest. EA has noticed it too, and CEO JohnRiccitiello seems frustrated at the game press; it seems EA's gamesdon't know the secret handshake to get into the club.

"EA doesn't usually get the benefit of the cult—'everybody has to rateit a hundred' thing going on—that happens sometimes even when they maynot, based on the review, have played more than the first fifteenminutes of the game. But that's a separate issue," Riccitiello said atan investor event, as reported by GamesIndustry."It used to be... [a]ll Metacritics were higher once upon a timebecause it was ten professionals rating them. Now, sort of anybody witha pen can rate them, and it ends up with a bit of a wider track sometimes."
It's true that EA tends to have to fight harder to get respect inthe industry; game writers have a long memory, and no one is happy with some of the movesthat EA has made in the past. It's not rare that, at a trade

show

or EAevent, I'll be comparing notes with other writers and hear things like,"I hate to say it, but GAME X looks good," or "EA has some good stuffthis year, which is a nice change." It seems like praise for EA can, attimes, be hard to come by. The company's somewhat outdated reputationof cranking out repetitive sequels and tired, licensed titles has beenhard to shake, and backhanded compliments around the free bar at gamingparties are sadly common.
It might not be sinister, but EA does have a certain reputationamong gamers and reviewers that could be hurting it in some circles. Acult? Probably not. Some bad blood about past indiscretions? Verypossible.
Posted by Editorial Team Sun Jun 29, 2008 6:44 am
Why the Decline of PC Gaming is just a Myth in Gaming
3D Realms chief Scott Miller tellsNext-Gen that development on the long-awaited Duke Nukem Forever ismoving right along, but he sees no reason to

show

it off at an"irrelevant" E3.

Asked about the progress on theyears-in-development Duke Nukem Forever, Miller stated Friday in ane-mail, "Development is swimming along nicely. Seriously nicely."

The next proper installment of the iconic first-person shooterfranchise currently has a release date of "when it's done." Developmenton the title has been a long and drawn-out process, with some reportsclaiming development on Forever began in 1997, a year after theoriginal Duke Nukem 3D debuted on PCs.


3D Realms released in December a newtrailer for Duke Nukem Forever, reigniting interest and curiosity inthe title. The teaser also reminded people that the game is in factstill in development.

Nevertheless, even with the apparentprogress made on the game, Miller won't be taking it to next month's E3Media and Business Summit. "It's just that we view E3 as irrelevantnowadays. In fact, I wasn't even aware it was coming up," he said.
Posted by Editorial Team Sun Jun 29, 2008 6:42 am
Nvidia releases PhysX code for latest GeForce GPUs in Hardware, Internet, Networking, Comms and Security
Nvidia has posted a version of its PhysX software that enables thephysics-on-GPU technology on its GeForce GTX 200-series and 9800 GTXgraphics chips.
The new release, version 8.06.12, was posted last night, builds onsoftware Nvidia acquired when it bought physics chip specialist Ageiain February this year. Like past versions of the PhysX code, the newversion also runs on Ageia PhysX chips.
But the crucial change is support for Nvidia GPUs for which thelatest version of the company's Forceware drivers are required: 177.39,an advance on the version currently available from Nvidia's Forcewaredownload page, which is 177.35, released a couple of weeks ago.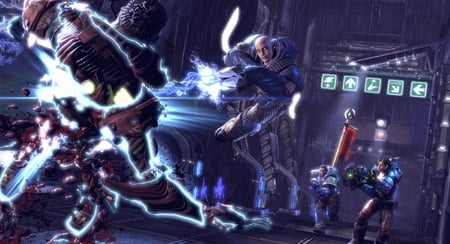 Unreal Tournament 3: zapped, physically

The new drivers run on Windows XP and both the 32- and 64-bit incarnations of Vista.
Of course, you also need an app that can take advantage of the GPUand the physics code, and for that Nvidia offers a link to the Unreal Tournament 3PhysX Mod Pack, which incorporates a couple of new arenas to

show

ofthe game's "maximum impact" physics effects, which include damage tothe world in which the games is set, a whirlwind hazards that sweepsaround the battlefield, and weapons that can pull debris towards theplayer.
The PhysX code is available from Nvidia's website here, while the Unreal Tournament add-on can be downloaded here.
Posted by Editorial Team Sun Jun 29, 2008 6:42 am
Duke Nukem coming along, not showing at E3 'irrelevant' in Gaming
3D Realms chief Scott Miller tellsNext-Gen that development on the long-awaited Duke Nukem Forever ismoving right along, but he sees no reason to

show

it off at an"irrelevant" E3.

Asked about the progress on theyears-in-development Duke Nukem Forever, Miller stated Friday in ane-mail, "Development is swimming along nicely. Seriously nicely."

The next proper installment of the iconic first-person shooterfranchise currently has a release date of "when it's done." Developmenton the title has been a long and drawn-out process, with some reportsclaiming development on Forever began in 1997, a year after theoriginal Duke Nukem 3D debuted on PCs.


3D Realms released in December a newtrailer for Duke Nukem Forever, reigniting interest and curiosity inthe title. The teaser also reminded people that the game is in factstill in development.

Nevertheless, even with the apparentprogress made on the game, Miller won't be taking it to next month's E3Media and Business Summit. "It's just that we view E3 as irrelevantnowadays. In fact, I wasn't even aware it was coming up," he said.
Posted by Editorial Team Sun Jun 29, 2008 6:37 am
nVidia turning it's GPU's into 'PhysX Physics Processors' in Hardware, Internet, Networking, Comms and Security
3D card manufacturers shouldn't take this the wrong way, but ittakes a lot to make us crawl out of the communal Eurogamer bed (yes,all the Eurogamer writers share a single large bed - we do it forfrugality and communality, which remain our watchwords) and go to ahardware presentation. There's a nagging fear someone may talk maths atus and we'd come home clutching the local equivalent of magic beans.And then we'll be laughed at by our fellow writers and made to sleep inthe chilly end where the covers are thin and Tom left dubious stains.That's no fun at all.
Then again, there's some things you can'thelp but go and have a gawk at. So when an invite claims, "All toooften new hardware brings with it a small performance increase - maybea 5-10 percent over the previous fastest thing. Wouldn't it be far moreexciting to see a speed increase of x20 or even x100... well, we'll behappy to

show

just that on Friday," you have wander along. Even thoughyou suspect it may be a trap and they're going to attack you withill-shaped blades, you have to find out what on earth they're talkingabout.
As we suspected, it wasn't quite what we were hoping for.Sure, there are programs which gain a x100 increase via the methodsNVIDIA talks about on this particular Friday, but unless you're workingin economics or astrophysics modelling, it's not exactly that relevant.However, something more quietly astounding was explained. Mainly, thatdespite the fact that no-one you know bought a PhysX card, if you're aPC gamer with a relatively recent NVIDIA card, you've already got one.Or, at least, you will soon. Spooks.


Get him!

The primary idea NVIDIA was trying to push was Optimised PC - the approach discussed in Rob Fahey's interview with Roy Taylorthe other day. The idea being that the traditional PC approach whereyou buy the fastest PC processor you can doesn't actually lend the bestresults, at least in most situations. If you spent more on -predictably - a GPU-driven 3D card, for an increasing number of areas,you're going to get much higher performance. If the program is usingthe GPU in a meaningful way, anyway. NVIDIA highlights areas likeimage-processing and HD video-encoding, as well as - natch! - games.You lose in single-threaded activities - like, say, just booting up aprogram - but they argue a small loss in opening a Word Document isless noticeable than frames in games or similar.
Where it startsgetting interesting is NVIDIA's development language, CUDA. The problemwith all the threading programming methods is that it's radicallydifferent to single-threading (and, yes, we're getting into, "Why wouldanyone care about this but a programmer?" territory, but its backgroundfor the key point later). It's hard to do, and CUDA is basically a wayto make things more accessible.
NVIDIA claims anyone experiencedin C or C++ will be able to get a grip on it (i.e. not us, but theaforementioned programmers). This means that anyone who codes in CUDAcan program the GPU to do pretty much whatever they like; it's byturning the 3D card into a bank of processors that the financialanalysts and the astrophysics guys are getting such impressive results.And impressive savings, as it's a lot cheaper to do it this way.

Now, NVIDIA claims that the fact GPU solutions are cheaper is goingto push better GPUs into more business machines. This will help pushthe idea that an okay CPU/good GPU machine gives better performancethan a good CPU/okay GPU, leading to more machines with better GPUs...and so, making more PCs abstractly available for gaming. Or, at least,raising the bottom level of hardware that you can expect people to have.
Interms of a more general use, transcoding video can take hours. Later inJuly, all GeForce 8000+ cards will ship with Elemental HD, a programwhich manages to perform the odious task - in the words of NVIDIA - "ina matter of minutes". The software will also be available for people todownload online, probably with a small fee ala Quicksave if theyalready have a GeForce card.
Point being: this CUDA malarkeyisn't something that's just for future NVIDIA technology. It'ssomething that allows the hardware many PC gamers already have to berepurposed.
For example, PhysX. NVIDIA's Physics 3D Card systemwas only supported in a minor fashion, as no-one would buy a card justto make explosions fancier, but with CUDA it can run on one of theother GPUs. A proportion of the 3D card's power can be given over torunning physics, giving those fancy PhysX-style interactions withoutactually having a specific card for it. CUDA's porting to PhysX willbecome available to the public in July, but developers already have thetools.


The Euphoria engine of Natual Motion. It's hard to illustrate this sort of thing.

You'llbe able to - for example - manually, up front, decide to devote aproportion of your 3D card's power to PhysX. Alternatively, developerscan commandeer it and do exactly the same thing. The new generation ofcards which are about to be announced are able to deal with pretty muchanything that exists on the highest setting with power left over, sothat power can be given over to acting like a 3D card would.
Andit goes further. Where previously you'd have just thrown out your old3D card when you upgraded your PC to a new one, if you have a G8000+ 3Dcard already, you can keep it, and just set it to concentrate solely ondoing PhysX tasks. This isn't a SLI situation where you need two of thesame cards working in tandem - any post-8880 card, rather than beingput out to digital pasture, can be given a job of deciding how bits ofglass bounce off a skyscraper, or similar. NVIDIA claims it's talkingto ATI to try and get them to use CUDA too, which.... well, we'll seethere, eh?
The potential is interesting. Demos shown include Natural Motion, whose Euphoria engineis heavily physics-dependent, allowing unique, convincing moments ingames. A straight collision isn't enough, as straight ragdolls areludicrous - the system involving AI (so the hit object will try andmove limbs to protect self and similar) leads to impressivelynaturalistic results. The first sign of this publicly was in GrandTheft Auto IV, but Natural Motion's own American football game, Backbreaker,is a fascinating example of what a physics-heavier approach tocollisions can give games. And, with CUDA-esque use of GPUs to do thisstuff, the PhysX related boon is accessible to even more of us.
So they did talk some maths, then, but we survived.
Posted by Editorial Team Mon Jun 23, 2008 5:11 pm
Age of Conan: iVirtua Review, Analysis and Videos in Gaming
Based on the books rather than the Schwarzenegger films, Age of Conanis a violent, massively multiplayer online game (MMO). Think World ofWarcraft with sharper swords and bigger breasts. The game leads yougently into the action and even allows you to learn the ropes in asingle-player environment before braving the multiplayer wilds. Andexperienced players get to build, or conquer, opponents' castles andkeeps. But the real innovation is the combat which, unlike most MMOs,involves reflexes and timing. The game looks mightily pretty; prepareto gawp at a sunset or distant mountain. But this graphical opulencecomes at a price, with loading screens a far-too-common annoyance.Worse, these breaks in play make the world feel less like a coherentwhole, lessening the feeling of immersion that games like WoW and Lordof the Rings Online engender so effectively. But assuming you have apowerful PC - which is essential for this game - Age of Conan is worthvisiting.

Age of Conan: Hyborian Adventures is a fantasy-themed massively multiplayer online role-playing game (MMORPG) developed by the Norwegian computer, video game developer company Funcom for PC and the Xbox 360.

The game launched at 9 p.m. (GMT) on May 17, 2008in a limited way, being available to those who had pre-ordered the gameand registered for early access. The full release of the game for NorthAmerica was May 20, 2008 and for Europe May 23, 2008 for the PC version.The Xbox 360 version is scheduled to be released a year after the PC release.

After a long build up, including an eight-week delay to apply the finalpolish, Age of Conan: Hyborian Adventures (AoC) has been launched.



is it finally a game that takes on WoW?

iVirtua Full coverage
Also
Guild Wars hits 2 million sales worldwide

DreamWorld Engine
The DreamWorld graphics engine was developed by Funcom circa 2000. Other computer games powered by DreamWorld technology include Anarchy Online and its various expansion packs. When Funcom began developing Age of Conan: Hyborian Adventures,the company reviewed its existing technology base and decided to focuson the further evolution of their proprietary DreamWorld engine asopposed to licensing a third-party engine like many online RPGcompanies do. As such, Funcom began to retool their engine with theoverall design, pipeline and implementation process was taken intoaccount. In light of these changes, the DreamWorld engine has beenrebuilt for Age of Conan: Hyborian Adventures with new features, special effects and optimizations.[30]

"Real Combat"
"Real Combat" is being touted by Funcom as a revolutionary approachto combat in online RPGs where the player is in direct control of thecharacter's weapon strikes in real time. This multi-point melee andranged combat system is purportedly easy-to-learn and is one of theprime attractions of the title. Allegedly, the "Real Combat" systemwill take the ritualized combat experience previously found in onlineRPGs in a new direction. For this system, Funcom has also added aspectssuch as formation combat, mounted combat, siege combat and hive combat.[31]

Cheetah
Cheetah is a shader-oriented proprietary render engine re-written from scratch by Funcom featuring a phong per pixel lighting system. This engine allows for improved graphics and ambience. This is coupled with a trapezoidal shadow system, an in-house system developed by Funcom that allows all objects to cast shadows onto everything.[32]

Perlin noise-based cloud generating system
Perlin noise-based cloud generating system is a five-layered procedural system that enables multiple layers of dynamic clouds; thus, visually-realistic cloud behavior.[33]

SpeedTree
SpeedTree is a programming package produced by Interactive Data Visualization, Inc. (IDV) that aims to produce high-quality virtual foliage in real time, suitable especially for video gamesbut also aimed to a lesser extent at some other kinds of simulations.It has so far been licensed to a substantial number of video gamedevelopers, including developers of the Unreal engine series. SpeedTree is currently being used in several games, including (but not limited to) the MMO action game World War II Online and The Elder Scrolls IV: Oblivion.[34]

DirectX 10
"Funcom is proud to be one of the few developers who is tapping intothis technology, and we look forward to showing you even more of DirectX 10. Some of the improvements visible in the videos and the screenshots are improved parallax mapping, better lighting and more advanced shadows technology."[35]The game did not include support for DirectX 10 at the time of launch.DirectX 10 features are now slated to be premiered at the GamesConvention in Leipzig in August 2008.
Pre-Launch acclaim
During the past several years, Funcom has twice previewed Age of Conan: Hyborian Adventures at the Electronic Entertainment Expo, more commonly known as E3,and the product has received various critic awards for thesedemonstrations. The following information is a partial listing of thoseawards.
E3 2005



E3 2006


E3 2007




2008


Posted by Editorial Team Thu Jun 19, 2008 5:22 pm
Why Xbox Live isn't free in Gaming
Until recently, Microsoft could brag about how Live was by far themost feature-complete online service on any platform, with a unifiedFriends list, the best online shop, voice and video chat as standardand a consistent and stable online experience. But in recent monthsthere's been a shift in the market, and even bigger changes are coming.Microsoft is the only player to charge for online play, and theirpolicy has landed some of the best online games on the 360... but as PCand PlayStation developers offer comparable features at no extra cost,the Gold subscription starts to lose its shine. The launch of the PC'sSteam Community late last year and promises made by Sony at January'sConsumer Electronics

Show

have placed Microsoft on the back foot, andhas all of us asking: what does your annual subscription pay for?


The Punters


It's very simple math - you take the features offered by Xbox Live,subtract the features offered by Live Silver, and then subtract thefeatures Microsoft's nearest competitor - the Playstation Network -offers for free, and whatever's left is what Gold users get for theirannual fee.


In Microsoft's own words, the perks of being a Gold subscriber are as follows:
1) Play your Xbox 360 multiplayer games online with the premiere online gaming service.
2) Use the brand new TrueSkill Matchmaking system to play againstopponents with similar skills, personalities, and gaming tastes.
3) Give player feedback to rate your teammates and opponents on theirsportsmanship, abilities, and conduct to influence matchmaking.
4) Play select original Xbox games online (the Xbox 360 Hard Drive is required).
5) Get access to exclusive Gold Member content.
6) Engage in video chat.
7) Enjoy all the Xbox Live Silver features.
Freed from PR-speak, points one, two and three are essentiallystandard functions of modern online play: multiplayer gaming, onlineranking and feedback systems, so we'll consider them one point. Pointfour is available to Silver members and even to people without abroadband connection by downloading the CD from xbox.com. Fivepresumably refers to the demos which are available earlier for Goldsubscribers, but that's really more a way of gimping Silver types thanrewarding Gold subscribers. Point six, we can't argue with - video chatis limited to Gold - but as point seven demonstrates, Live Marketplace,Arcade games, DLC and auto-updates are available at no cost to Silvermembers.


We'll kindly add to Microsoft's list an eighth and ninth point -mass messaging is only available to Gold users, and Microsoft should bea little more proud of their unified Friends list and messenger whichmakes online gaming with friends such a complete pleasure.
So, with our non-scientific method, we've stripped Microsoft's nine points down to just four:
1) Online play with standard features offered elsewhere.
2) Video chat.
3) Mass messaging.
4) Unified Friends list and messenger.
And of those four, Sony's PSN offers one, two and three for nocharge to players. In effect, your subscription pays for... er, nothingmore than a list of 100 names you can pull up in any game.
Still, what you don't see is that, unlike PSN, Live's hosting -leaderboards, Matchmaking, the lot - are all run by Microsoft ratherthan by third parties. It means devs are more keen to go online on Xboxwhere the online play is paid for by you, rather than them, so - inthat sense, at least - Live's hosting model makes for a more cohesiveand better supported service, but a model where the cost will always bepicked up on the gamer's end.




The Developers


So long as the expense of running servers and matchmaking systemshas to be picked up by somebody, no online gaming service will ever betruly 'free'. The cost of PSN and PC online gaming is typically pickedup by developers and publishers. CoD4, for example, runs on similarsystems on both console platforms, but is maintained by Microsoft onLive and by a dedicated third party company at Activision's expense onPSN. Both play the same at your end and both work on a peer-to-peersystem with a matchmaking layer to link players up, but on Live you payfor that layer, and on PSN they pay.


Live is a great deal for third parties then, but less so for gamers.On the plus side, it means Microsoft get the lion's share ofonline-enabled games, with even the most low-rent of independentdevelopers able to support online matchmaking in their games. Meaning,overall, it makes online play in multi-format titles far more likely onthe 360.
But again, is it really $49.99/£39.99's worth of bonus? The PC/PSNmodel - where publishers/developers run their own matchmaking systems -has worked for years and PC gamers have enjoyed cost-free gaming evenbefore the days of multiplayer Doom. Sega's Dreamcast was arguably thefirst console to make a dent in the online space and managed to offeronline play in the majority of its titles at no cost. PlayStation isset to offer users everything Live does at no cost in the near future,Steam offers everything Live does in its supported games, and theWii... well, at least it's free, eh?


THE TRUTH


Live's best asset is that it allows even small developers to supportonline play - the value of which can't possibly be denied. Without it,we'd never see online play in small-budget XBLA titles or evenmarginalised full-price games. The question to ask is whether or notthat's worth the precious money from your pocket, on rotation, every 12months.
From the player's end experience, Live is the leader, but it'shardly a full fifty bucks/forty-quid ahead of its competition. Themarket has changed since 2002 and so long as the PlayStation Networkand Steam Community threaten to match Live feature-for-feature, Liveneeds to be obviously better in some other way, especially in the UKwhere it costs a full fifteen quid more for a yearly subscription thanthe $50 (£25) cost over in the U.S.
At some point in the coming months, PSN will rob Live's FriendsList, completing its mimicry of Microsoft's system. It's at that pointwhere questions must start to be asked of Live. It's certainly easierfor developers, but as gamers, perhaps we should rightly expect just alittle more from our Gold subscription.
Posted by Editorial Team Thu Jun 19, 2008 2:38 pm