Search iVirtua
Advanced/Tag Search...
Search Users...
What is iVirtua Exclusive Community?
An exclusive gaming industry community targeted to, and designed for Professionals, Businesses and Students in the sectors and industries of Gaming, New Media and the Web, all closely related with it's Business and Industry.
A Rich content driven service including articles, contributed discussion, news, reviews, networking, downloads, and debate.
We strive to cater for cultural influencers, technology decision makers, early adopters and business leaders in the gaming industry.
A medium to share your or contribute your ideas, experiences, questions and point of view or network with other colleagues here at iVirtua Community.
Guest's Communication
Live Chat
Teamspeak (VOIP) Audio Conference
Private Messages
Check your Private Messages
Themes
Choose an iVirtua Community theme to reflect your interests...
Business Theme

India/Arabic Theme
Gaming Theme
iVirtua Recommends
Fly Emirates
CrossfireX: 2560x1600 gameplay becomes a reality in Hardware, Internet, Networking, Comms and Security
"AMD ATI Radeon4850/4870 CrossfireX" review at Guru3D. Hilbert's lost it again – high poweredgraphics have that effect on him... Anyway, what's come to light, lately, isthe high power consumption of the 4800 series (now double-up on the cards andimagine), and the irregular driver performance. You can see a broad spectrum ofresults, but when Hilbert gets CrossfireX to work, it works great. But do putthings in perspective when reading: with the latest generation of graphics cardsworking in dual-GPU setups, you'll be looking at buying a 30-inch LCD for2560x1600 gameplay.Readit here.
XS Reviews is cracking open the Zalman GS1000 computer case, targeted at justabout anyone who wants to build a supercomputer at home. It supports E-ATX andvery long PCI cards and has hot-swappable bays for HDDs. Lots of space inside,if you're "just" using a standard ATX mobo, but the panels are a bit dodgy,thinks the author. Not a snip at £100, but if Zalman could swap out those panelswith something better, they'd have a winner.Readon.
A few years ago we were hack-napped off to a press conference abroad just tosee how Philips would conquer the world of mobile telephony. Some 18 monthslater, Philips withdrew from the market, unable to compete with the big namesand (our personal opinion) mostly due to their utterly rubbish user interface.Now Philips is reviving the brand (Xenium 9@9) in China with the brand new X800.ePrice in Taiwan has the review. The X800 is a full touchscreen design (no, youwon't have nightmares about the old Xeniums) and it looks like something out ofHTC's workshop, to be honest. Careful when reading the page, it didn't play nicewithGooglenglish,but you'll get the gist (and the photos).
Andrew at Tweak Town took some time to write a guide on how to replace theheatspreaders on your RAM. Naturally it's one of the warranty-voiding themes,but if you're in need of improving cooling, it's a necessary evil. Andrewsoutlines three basic methods to do this (hot, cold, lukewarm), but it all comesdown to be REALLY careful with sharp metallic objects in close proximity of aPCB.Letloose the mad aussie scientist in you.
T-break had a party with the ECS P45T-A Black Edition. ECS isn't really knownas a top grade mobo maker, but it doesn't fall behind the competition featurewise with this one. The board supports Crossfire, but it'll break down the lanesinto 2x8 as per the P45 specs, but when you try your hand at an overclock, Abbasthinks you'll be left wanting. The "Black Edition" brings to mind ideas ofmodding, overclocking and serious tweaking. That isn't the case, it seems. Goodprice, tho'.Readon.
Tosh has hit the Portégè brand with its shrink ray and launched the G810.It's no longer a notebook, as it were, it's a Windows Mobile 6.0 smartphone witheverything touchscreen. It's targeted at the same market as the HTC TouchCruise, but you really can't avoid comparing the details with the iPhone. It'sHSDPA enabled and even includes GPS functionality. The only real thing goingagainst it is the slow

speed

of the image capture (slow flash, we guess). $550will buy you one.Readthe review here.
Hardware Zone is gobsmacked by Gigabyte's most extreme P45 mobo – the aptlynamed GA-EP45T-EXTREME. This board has it all, it seems, even a waterblock onthe northbridge that runs liquid cooling to the southbridge and the rows ofcapacitors. It also allows you to stick in 3 ATI cards and is populated by abevy of LEDs that alert you about your overclocking misdeeds. It's only apreview, butit'stasty.
Posted by Editorial Team Tue Jul 08, 2008 7:42 am
Beijing 2008 - The Official Video Game of the Olympic Games in Gaming
SEGA Europe Ltd. proudly presents Beijing 2008™ - The Official Video Game of the Olympic Games: Gymnastics events.
Appearing on the Xbox 360® video game and entertainment system fromMicrosoft®, the PLAYSTATION®3 computer entertainment system and PC,Beijing 2008™ delivers a host of Gymnastics events.
The Gymnastics events in Beijing 2008™ are split up into male andfemale events. One of the three female events is the Uneven Bars, wherethe player uses both analogue sticks to mimic the movement of theathlete. In the Floor Exercise, the player uses the four buttons of thecontroller to guide the player to the rhythm of the music. The last ofthe female events is the Balance Beam, in which the player needs tokeep the athlete on the beam while pressing the 4 buttons correspondingto the colour on the beam to make the athlete move.
The first of three Gymnastics Events are the Parallel Bars, in whichthe player uses the analogue sticks and buttons to complete theathlete's routine. In the Vault, players need to build up

speed

withtheir lower buttons, and use the analogue trigger to launch them offthe board over the horse, while turning the analogue sticks willbalance the landing. The final male event is the Rings, in which youfollow the arm movement of the athlete with both your analogue sticks,while you make sure the landing is stable by pressing a buttoncombination that shows on-screen.
Beijing 2008™ was released globally last Friday for the Xbox 360,PLAYSTATION®3 computer entertainment system. The PC version will bereleased 11th July.
Posted by Editorial Team Fri Jul 04, 2008 5:51 am
AMD with three new Phenom CPUs at opposite ends of market in Hardware, Internet, Networking, Comms and Security
The raw specs are 140W TDP for the 9950 at 2.6GHz and 65W for the 9350e at2.0GHz and 9150e at 1.8GHz. The prices are $235, $195 and $175 respectively, andthe sharp-eyed among you will notice that the 9950 costs exactly what the 9850does. That is because in a week, on July 7, the 9850 will drop to $205. Bothwill remain 'Black', but the 9950 will be blacker because, before the end of theyear, the 9850 will fade from black, and go back to a locked part.
You have to wonder why AMD is bothering to lock Phenoms at all, with theBlack parts selling at effectively no premium, why not just let people have fun.Anything AMD can do to foster the enthusiast market at this point is probably agood thing, and if you don't have the raw

speed

, play up the features.
In any case, the interesting part of the bunch is the 9350e. It isn't a barnburner, but for media center boxes, coupled with a 780G board, or better yet a790GX, it could be a pretty solid media/casual gaming rig. This part fills ahole in the market, there aren't any sub 95W Intel quads out there formainstream consumer use, but there could be quite easily if the 9350e is a hit.
In any case, hardcore gamers will probably turn up their noses at the lowclock speeds in the -e parts, but as long as you are not trying to eke out thelast FPS, these parts would make a dandy low-noise desktop.
So, how did they do? Using the same exact setup as the we did with theoriginal780G review, the numbers lined up quite well. To recap, that is a GigabyteGA-MA78GM-2SH mobo, Corsair DDR2 1066 memory and a PC Power and Cooling/OCZSilencer 750W PSU. Power draw was measured at the wall with an Extech True RMSPower Analyser. The same caveat as last time needs to be said, the PSU isunderworked and far less efficient that it would be if we were pulling 500+ W,so knock about 20+ per cent off the wall power to get power used by the boarditself.
We ran our usual power draw test, 3DMark06 under XP SP3 patched to current asof June 28. Just for fun, we threw in the 4850e and the X4 9600 from the lasttest, as well as the 8750 X3. So now you can compare a K8, X3, X4 B2 and a X4 -ein terms of power. It looks like this.


The raw numbers
The lowest idle number is of course the 4850e, and it beats the quads byalmost 20W, the really odd part is the greater than 20W gap from there to the8750 X3. Lose one core, gain 20W? Binning problem, or binning opportunity? Thedual core 4850e also takes the bottom of the loaded power charts, and there is abig 33W gap to the 9350e. From there, the 8750 and 9600 are almost on top ofeach other.
Performance is about where you would expect it to be, the 4850e taking up thebottom with sub-1200 scores, and the others right on top of each other at1540+/-2. A quick overclock of the 9600 to 2.8GHz barely moved the score, so3DMark06 looks pretty GPU bound here.
In the end, with the new parts are priced pretty low, but won't challengeIntel for supremacy. For the high end 9950, you gain 100MHz for a few watts somake sure your mobo can handle the extra. In a week, it will not cost you anymore than a 9850, so you might want to hold off for a few days.
The 9350e and the 9150e look to be solid and inexpensive workhorses for theHTPC/SFF/quiet office PC set. You give up 200MHz for 30W, not a bad trade. Theyare solidly mid-range parts that won't stun any gamers, but they plug gaps inthe market, and do so quite nicely.
Posted by Editorial Team Tue Jul 01, 2008 7:15 am
I'm confused please respond in Hardware, Internet, Networking, Comms and Security
Because this isn't a mandatory question I'll keep it short.

But basically what I've been seeing lately is Nvidia and ATI are almost just about equal in performance. But I'm so confused as to what is ATI doing wrong that is so ineffective? For example, Most Nvidia cards have a 600/1700MHz clock

speed

(core/memory) and no more than 128 streaming processors. ATI's competitive cards are more like 800/2000MHz with 240 streaming processors.

This is just an example off the top of my head but its about what things are like right now, so what I want to know is what is ATI doing that makes everything they have significantly slower? Their latest card has 640 streaming pipelines, thats nuts. Yet it just barely compete's with Nvidia's good stuff, and it sure as hell doesn't have over 320.
Posted by schmidtbag Mon Jun 30, 2008 11:01 am
The development of tennis games 1958 to 2006 and the Wii in Gaming
"Important? Tennis games?!" I hear some of you scoff. And sure,while few of us really look forward to the next iteration of Top Spinor even Virtua Tennis, the genre has played a major role in the birthand development of the videogame industry. Even now, it's often tennisgames that are pushing the frontiers of analogue sensitivity andcomplexity against the need for intuitive user-friendliness in consolecontrols.
So, while Wimbledon hots up, here's a quick run through of the keytitles, together with nostalgic YouTube footage. Grab a bowl ofstrawberries, some clotted cream and a cheeky glass of Pinot (I don't care if you're at work - get into the spirit of things) and join me on a brief amble down tennis memory lane.
Tennis for Two (1958, Oscilloscope)
Running on the oscilloscope at the Brookhaven National Laboratory andprogrammed by physicist William Higinbotham, Tea for Two was arguablythe first computer game ever made (though some point to the evenearlier project, OXO). Check out the YouTube footage!
Pong (arcade, 1972)
Al Alcorn's take on the Magnavox Odyssey Tennis game essentiallykickstarted the games industry, both in the arcades and later, on homeconsoles. The title symbolises the odd, apologist relationship gamershave with software - many claimed to be able to produce spin on theball, although this functionality was never part of the program (thedirection of the ball was affected by the area on which it struck thebat, but that was about it).
Match Point (1984, Spectrum)
Psion Software's early effort pitched featureless stickmen against eachother in a rough approximation of the Wimbledon finals. The visualswere sparse but the simulation was pretty advanced for the time -players could control the

speed

and direction of the ball with defttiming and after-touch. Looking back, the ball boys bear an unfortunateresemblance to Starvin Marvin from South Park. YouTube video here.
Super Tennis (1991, SNES)
Perhaps the first modern day tennis sim, featuring an array of courtsurfaces, lots of differently-skilled players and several two-playermodes. It is, however, mostly remembered for its fast, intuitive action- a sort of Tennis equivalent of Sensible World of Soccer. Thescrolling court visuals and crisp sound samples impressed gamers at thetime, too. YouTube it up!
Pete Sampras Tennis (1994, Mega Drive)
Codemasters' sleek Mega Drive effort matched Super Tennis for sheerplayability, adding some of its own eccentric features, including aCrazy Tennis mode where you could play against portly platform hero,Dizzy. Codies also introduced its J-Cart technology allowing up tofour-players to take part in doubles matches.
Virtua Tennis (1999, arcade and Dreamcast)
The defining tennis sim of the modern era. The Dreamcast original mixedintuitive controls with lovely animation to produce a simulation ofincredible depth. The World Tour mode was an inspired addition,providing a range of surreal mini-games to test different aspects ofyour game. Subsequent iterations have tweaked the formula and improvedthe visuals, but the essence of this Sega NAOMI/Dreamcast classicremains unmolested. Here's a trailer.
Wii Sports Tennis (2006, Wii)
A popular element of the revolutionary Wii Sports compilation, drawingimpressively accurate motion-sensing performance from the Wiimote.Okay, so your lack of control over the onscreen player could getannoying at times, but the fun of acting out physically extravagantshots - often at the risk of the odd patio door or Ming dynasty vase -is what this game was all about. Here is a silly Wii Tennis 'accident' movie.
Okay, so what vital tennis titles have I missed? The first person tosuggest Anna Kournikova's Smash Court Tennis will be sent to thenaughty step.
Posted by Editorial Team Mon Jun 30, 2008 6:50 am
Top 10 most vital people-powered technologies - FEATURE in General Discussion, including Off Topic, Current Affairs
Linux
Thedaddy of people power, this open source operating system owes prettymuch everything to the massive community of users and developers who'vebuilt it, broken it, put it back together again and added all sorts ofgoodies.
The penguin logo unites a truly incredible group oftalented people, from driver developers to desktop designers, advocatesto application builders.
Firefox
Even people who think that Linux is a character in the Peanutscartoon know about Firefox. What makes it special isn't the open sourcecommunity that created and maintain it, however; It's the efforts ofthe developer community whose extensions make Firefox the Swiss ArmyKnife of the internet.
Whether you want to block annoying ads,keep track of interesting sites or just stay up to date with footieresults from around the world, if you can imagine it, there's almostcertainly an extension that does it.
Half-Life 2
This month we've mostly been playing Minerva, Adam Foster's excellent mod for Half-Life 2 (http://developer.valvesoftware.com/wiki/MINERVA). Modders have been creating new stories since the days of Doom, and a quick look around Moddb (www.moddb.com) uncovers stacks of mods for your favourite PC games.
Smartdevelopers - such as Half-Life's Valve - know that mods make theirgames even more attractive, so the firms make modding as easy andaccessible as possible.
Xbox
Is your original Xbox gathering dust in the loft? Why not dust it down and turn it into a fully-fledged media centre?
While Microsoft blabs about the 360's multimedia features, the talented team at the Xbox Media Center project (www.xboxmediacenter.com)can turn an ageing original Xbox into a multimedia marvel (although ifyou don't fancy modding your console, steer clear - XBMC only works onhacked machines).
Job done, they're turning their attention to other platforms: a Linux version of the software is in development.
TiVo
Thecommunity that's sprung up around the TiVo digital video recorder(www.tivocommunity.com) is a thing of wonder, with users offering eachother advice, commenting on the company and fiddling with its products- often in ways that would give film and TV studios heart attacks.



While TiVo claims not to encourageor discourage the hacking community, it's pretty obvious that thehacking community makes the product even more attractive to tech-heads- and hackers' ideas often turn up in the official product, such aswhen the community found and fixed a date problem in older TiVo boxes.
iPhone
iPhonehackers aren't just trying to free the phone for use on any network.They've found ways to turn your existing tunes into ringtones withoutpaying for them all over again, created all kinds of add-onapplications and best of all, found a way to change the truly horriblefont on the Notes screen.
PlayStation Portable
Sonydoesn't like it - recent firmware updates mean that unless you've gotan older PSP, your options are limited - but thanks to Homebrew (www.psp-homebrew.eu)you can add all kinds of goodies to the device. There are loads,including customisers, emulators, chat programs and GPS software.
Overclocking
Changingchips' clock speeds and hoping they wouldn't set your house on fireused to be a shadowy pursuit that tech firms frowned upon. Thenhardware firms realised that overclockers had money as well as PCs toburn.
Now, motherboard makers often provide everything a speeddemon needs, either in the motherboard BIOS or on the driver CD, andgraphics card firms are keen too. For example, ATI actively encouragesoverclockers to ramp up their Radeons.
Windows Media Center
Microsoft'smedia system is pretty nifty, but it's niftier still when you tweak ituntil it squeaks. Microsoft knows this, which is why it happily linksto two independent community sites: the Media Center-specific GreenButton (thegreenbutton.com), and the general audio-visual AVS Forum(www.avsforum.com/avs-vb).
The software giant also has its own community site (www.microsoft.com/windowsxp/expertzone/communities/mediacenter.mspx), where media center experts share their top tips.
Web apps
Firms who make it easy to interact with their online apps have createda massive community of developers. Google Maps has been adapted toprovide maps of

speed

cameras (http://spod.cx/speedcameras.shtml) and to create flight simulators (http://www.isoma.net/games/goggles.html), while keen developers have created software for apps such as Google Mail and Flickr.
You'll also find useful and useless apps alike on social networks such as Facebook.
Posted by Editorial Team Mon Jun 30, 2008 6:31 am
25 rarest Nintendo games ever in Gaming
We could've filled the entire list withantique Game & Watch titles alone (they're manna from heaven forcollectors), but for the sake of balance here's a list of some of themost valuable games across Nintendo's entire portfolio.


So before you throw out any 'junk' boxes from the loft, best check they don't contain any of these 25 rare classics.


Harvest Moon (SNES, US) - £60
The SNES version of Harvest Moon is still considered the best amongfans of the whimsy-heavy farming/courting sim. It doesn't come up veryoften on eBay, and when it does you can expect to pay at least £60 fora good boxed copy. The N64 version was released soon after, accountingfor the SNES game's initial lack of popularity.


Banjo-Tooie (SNES, PAL) - £60
Rare's first Banjo-Kazooie game was extremely popular, but Banjo 2 gotstuck in development and ended up coming out towards the end of theN64's lifespan. Although you may be able to pick up a copy cheaper, agood boxed version will set you back at least £50, and sealed copieshave been known to go for as much as £100. You'll probably see theseprices rise when more news of Banjo-Kazooie 3 on Xbox 360 emerges.


Dracula X (SNES, US) - £70
The final Castlevania game released on SNES wasn't as popular asprevious iterations, but the series has gained great cachet with gamersmore recently, especially since prices for Castlevania: Symphony Of TheNight skyrocketed on PS1. Dracula X is unlikely to go down in value.


Sin & Punishment (N64, jpn) - £70
While the version released on Virtual Console has adversely affectedthe original's price, this N64 classic is still a jewel in the crownfor any Nintendophile. This Treasure shooter was designed for the N64analogue stick and is always best played on its host hardware. A goodinvestment and a collectable game you'll actually bring out from timeto time.

<!--[bigpic]-->
Naruto: Clash of Ninja (GameCube, PAL) - £75
Although it's worth very little in America and Japan, the PAL releaseof Naruto Clash Of Ninja didn't see wide distribution and it's beenknown to fetch up to £75 on eBay. Expect other GameCube titles such asChibi-Robo and Baten Kaitos to increase in price because of theirlimited numbers.


Earthbound (SNES, US) - £80
This Japanese hit was released in the US but failed to make much of animpression. Now it's lauded for its RPG in-jokes and humorous take onAmerican culture. Again, rumours abound that EarthBound is to bere-released on Virtual Console, which may bring the price down on thisUS import.


Paper Mario (N64, PAL) - £80
Another rare PAL gem. Though Paper Mario continues to be one of themost popular titles on Wii's Virtual Console, collectors will stillfork out good money for this great mix of platforming and puzzling inits original guise. Until recently, copies of this SNES classic couldstill be found in many second-hand game stores.


Bakuretsu Muteki Bangaioh - (N64, jpn) - £80
If you thought the Dreamcast version of Bangai-O was good, you shouldcheck out the original N64 version with its sublime analogue controls.Only 10,000 copies were released in Japan and it's been going up inprice ever since. Find a mint, boxed copy and you'll have collectorsknocking your door down.


Chrono Trigger (SNES, US) - £90
Chrono Trigger isn't rare by any standards - indeed, thousands ofcopies are on the market. However, the game is so good, and has builtup such a reputation, that people are willing to pay upwards of £100for a sealed, boxed SNES copy. You can even get it as part of FinalFantasy Chronicles for PS1, but still the collectors pay big money forit. Rarity isn't really the main consideration, we guess.

<!--[bigpic]-->
Ninja Gaiden Trilogy (SNES, US) - £150
Even though this comprises all three of the Ninja Gaiden games releasedon NES with a graphical update, it didn't sell very well when it firstcame out in 1995. But since the next-generation Ninja Gaiden games werereleased, Tecmo's star has risen, enhancing the price of this cartconsiderably.


Final Fight 3 (SNES, PAL) - £180
The PAL version of Final Fight 3 is a hidden treasure waiting tohappen. Let's face it, unless you're a collector you're unlikely toknow its true value and this is your best chance of picking up a gem atthe local car boot sale. A naked cart is probably only worth £40, butif you can find a good boxed copy then you're likely to achieve £180 to£200. And it's a decent game, too, containing two extra characters inDean and Lucia Morgan.


Space Invaders (Virtual Boy, jpn) - £200
A good boxed copy of Space Invaders on Virtual Boy can now fetch £200.It's notable because it's one of the better games on the system, and solong as you don't play it too much (giving yourself a much-warned-aboutmigraine) you'll get some fun out of it. Virtual Boy games have shot upin price in the last five years and this trend doesn't look likeabating. It may be a good investment for the future...

The Flintstones: Surprise at Dinosaur Peak (NES, US) - £200

As the NES drew to the end of its lifespan, publishers began releasingtheir games exclusively to game rental companies, bypassing traditionalgame shops. The Flintstones II is typical of this, and although it's alittle easier to track down in Europe than elsewhere, it can stilldemand high prices. United States copies can go for £200, thoughfinding ex-rental games in good condition is like finding a joke in anepisode of My Family.

<!--[bigpic]--> Starfox Super Weekend/Donkey Kong Country Competition Carts (SNES, US) - £200

These two separate carts were manufactured specifically for use inBlockbuster in-store competition promotions. Only about 2,500 were madeof each but they were initially sold off in stores for a knock-downprice. Because of their rarity you can expect to see them sell on eBayfor around £200, depending on what kind of condition they're in.


Rendering Ranger R2 (Super Famicom, JPN) - £200
This run-and-gun classic came from the makers of Turrican, so Lordknows why a game of such pedigree was only released in Japan. It'sunusual for a rare game in that it's actually very playable today. Acart-only copy might still sell for £80, but find it boxed and completeyou're looking at a sum of £200.

Fire Emblem Thracia 776 Collectors' pack (Super Famicom, JPN) - £200

Thracia may sound like a disease you'd pick up in a Bulgarian brothelbut this is actually a super-rare Fire Emblem collectors' pack. As itwas only released in Japan in limited numbers, you're unlikely to findit at the local car boot, but it shows that you should always keep youreye out for limited edition releases - and keep all the gubbins thatcomes with them.


Bubble Bath Babes (NES, US) - £250
Panesian was a company that produced several adult titles for the NES,including Peek-A-Boo Poker, Hot Slots and Bubble Bath Babes. Forobvious reasons the games didn't get Nintendo's seal of approval andended up being distributed via mail order catalogues or rental shelves,hence their scarcity. Interestingly, they didn't come in NES boxes butVHS-style cartons, so many are still undetected. The limited graphicsmake the sauciness factor rubbish, though.

<!--[bigpic]-->
Mountain Bike/

Speed

Racer Combo (SNES, US) - £300
This SNES combo underlines the fact that combining two or more gamesonto one cart for a limited print run is always going to have raritypotential. Good boxed copies have generally only come out of Nintendo'sown warehouses and if you can find one with the strange LifeFitnessBike peripheral then you're looking at a price in excess of £1,000.It's a cart that will always go up in value, but it's worth around £300today.


Myriad six in one (NES, US) - £350
This is the rarest unlicensed NES game and consists of six titles:Bookyman, Adam And Eve, Cosmos Cop, Magic Carpet 1001, Balloon Monsterand Porter. Its rarity is due to the fact that Myriad Games put outfewer than 1,000 carts and they were individually numbered. Gamescollectors speculate that there are only 100 left in existence, butonly 15 have ever surfaced.


Virtual Bowling (Virtual Boy, JPN) - £400
Only 22 games were ever released on Virtual Boy, although somecollectors believe there could be rare prototypes hidden away thatdidn't make it to retail. Virtual Bowling is actually a pretty goodbowling sim, offering practice and tournament modes, but the lack of asave battery means your scores are wiped when you switch off.Fortunately, passwords save the day. Not to be mistaken for Nester'sFunky Bowling, which is much more common.

<!--[bigpic]-->
Flagman (Game & Watch) - £450
There are plenty of rare Game & Watch titles we could have listed,including the obvious competition-only Super Mario Bros YM-901 (justtrips off the tongue), or the eminently collectable The Legend Of ZeldaGame & Watch, but it's likely to be the less well known titles thatwill surface down at your local flea market. A boxed Flagman could bagyou a small fortune.


Stadium Events (NES, US) - £500
Though common in PAL territories, Stadium Events is one of the NES'smost collectable games in America. Although it's a terribly averagefitness game, its value is due to Bandai printing a test run of thegame that was sold in Woolworths stores for a very short period beforeNintendo bought the rights. Rumours suggest there are only 10 completecopies on the market, and even unboxed Stadium Events carts can sellfor £400.


Virtual Lab (Virtual Boy, jpn) - £500
It's all too easy to look back on the Virtual Boy debacle and laugh,especially at the poor souls who thought it looked cool to wear a pairof heavy, red goggles and bellow, 'come on Mario, you can do it!'. Butwho's laughing now? Some Virtual Boy games are fetching massive prices,including this J-Wing developed Japanese puzzle game. The fact'Nintendo' is charmingly spelt 'Nintenndo' on the back of the box onlyadds to its value.


Balloon Fight Crystal (Game & Watch) - £600
This has to be one of the rarest Game & Watch titles, and boxed,good condition units have been known to fetch up to £600. Releasedtowards the end of the series' run for the Crystal Screen range,Balloon Fight's simple gameplay is reminiscent of Williams' Joust andhas since gone on to make an appearance in Animal Crossing.
Posted by Editorial Team Sun Jun 29, 2008 6:36 am
Samsung confirms Spinpoint drives in Hardware, Internet, Networking, Comms and Security
Samsung has finally confirmed the rumours that it is putting their laptop HDDs Spinpoint M6 and M2 into mass production.
TheM2 – which Samsung call 'one of the world's fastest laptop hard drives'– is a 250GB 2.5in hard drive which operates at a 7200rpm rotationspeed, the MP2 which would appear to be well-suited to desktopreplacement laptops and gaming laptops.
The Spinpoint M6, a500GB drive, is built for the expanding data storage needs of modernlaptops and features a 5400rpm spindle

speed

, a 8MB cache, and 3.0GbpsSATA interface.
Stick it in your notebook
"TheSpinpoint M6 is ideal for notebook power users who require vast amountsof storage space for their data, video and music files," said HubbertSmith, Director of Storage, Samsung Semiconductor.
"The MP2 hasspeed, features and capacity similar to a 3.5in hard drive and isperfect for users who require a smaller form factor with advanced datastorage needs."
F1 racing
Meanwhile,Samsung has confirmed that its new Spinpoint F1 RAID Class SATA 1TBcapacity HD has gone into mass production and will be available soon.
Featuringa 334GB per-platter capacity, a 7200RPM spindle

speed

and a 32MB cache– Samsung has also included its rotational vibration controller and anoptimised system-on-chip (SOC) that lowers power consumption.
Posted by Editorial Team Mon Jun 23, 2008 5:44 pm
nVidia turning it's GPU's into 'PhysX Physics Processors' in Hardware, Internet, Networking, Comms and Security
3D card manufacturers shouldn't take this the wrong way, but ittakes a lot to make us crawl out of the communal Eurogamer bed (yes,all the Eurogamer writers share a single large bed - we do it forfrugality and communality, which remain our watchwords) and go to ahardware presentation. There's a nagging fear someone may talk maths atus and we'd come home clutching the local equivalent of magic beans.And then we'll be laughed at by our fellow writers and made to sleep inthe chilly end where the covers are thin and Tom left dubious stains.That's no fun at all.
Then again, there's some things you can'thelp but go and have a gawk at. So when an invite claims, "All toooften new hardware brings with it a small performance increase - maybea 5-10 percent over the previous fastest thing. Wouldn't it be far moreexciting to see a

speed

increase of x20 or even x100... well, we'll behappy to show just that on Friday," you have wander along. Even thoughyou suspect it may be a trap and they're going to attack you withill-shaped blades, you have to find out what on earth they're talkingabout.
As we suspected, it wasn't quite what we were hoping for.Sure, there are programs which gain a x100 increase via the methodsNVIDIA talks about on this particular Friday, but unless you're workingin economics or astrophysics modelling, it's not exactly that relevant.However, something more quietly astounding was explained. Mainly, thatdespite the fact that no-one you know bought a PhysX card, if you're aPC gamer with a relatively recent NVIDIA card, you've already got one.Or, at least, you will soon. Spooks.


Get him!

The primary idea NVIDIA was trying to push was Optimised PC - the approach discussed in Rob Fahey's interview with Roy Taylorthe other day. The idea being that the traditional PC approach whereyou buy the fastest PC processor you can doesn't actually lend the bestresults, at least in most situations. If you spent more on -predictably - a GPU-driven 3D card, for an increasing number of areas,you're going to get much higher performance. If the program is usingthe GPU in a meaningful way, anyway. NVIDIA highlights areas likeimage-processing and HD video-encoding, as well as - natch! - games.You lose in single-threaded activities - like, say, just booting up aprogram - but they argue a small loss in opening a Word Document isless noticeable than frames in games or similar.
Where it startsgetting interesting is NVIDIA's development language, CUDA. The problemwith all the threading programming methods is that it's radicallydifferent to single-threading (and, yes, we're getting into, "Why wouldanyone care about this but a programmer?" territory, but its backgroundfor the key point later). It's hard to do, and CUDA is basically a wayto make things more accessible.
NVIDIA claims anyone experiencedin C or C++ will be able to get a grip on it (i.e. not us, but theaforementioned programmers). This means that anyone who codes in CUDAcan program the GPU to do pretty much whatever they like; it's byturning the 3D card into a bank of processors that the financialanalysts and the astrophysics guys are getting such impressive results.And impressive savings, as it's a lot cheaper to do it this way.

Now, NVIDIA claims that the fact GPU solutions are cheaper is goingto push better GPUs into more business machines. This will help pushthe idea that an okay CPU/good GPU machine gives better performancethan a good CPU/okay GPU, leading to more machines with better GPUs...and so, making more PCs abstractly available for gaming. Or, at least,raising the bottom level of hardware that you can expect people to have.
Interms of a more general use, transcoding video can take hours. Later inJuly, all GeForce 8000+ cards will ship with Elemental HD, a programwhich manages to perform the odious task - in the words of NVIDIA - "ina matter of minutes". The software will also be available for people todownload online, probably with a small fee ala Quicksave if theyalready have a GeForce card.
Point being: this CUDA malarkeyisn't something that's just for future NVIDIA technology. It'ssomething that allows the hardware many PC gamers already have to berepurposed.
For example, PhysX. NVIDIA's Physics 3D Card systemwas only supported in a minor fashion, as no-one would buy a card justto make explosions fancier, but with CUDA it can run on one of theother GPUs. A proportion of the 3D card's power can be given over torunning physics, giving those fancy PhysX-style interactions withoutactually having a specific card for it. CUDA's porting to PhysX willbecome available to the public in July, but developers already have thetools.


The Euphoria engine of Natual Motion. It's hard to illustrate this sort of thing.

You'llbe able to - for example - manually, up front, decide to devote aproportion of your 3D card's power to PhysX. Alternatively, developerscan commandeer it and do exactly the same thing. The new generation ofcards which are about to be announced are able to deal with pretty muchanything that exists on the highest setting with power left over, sothat power can be given over to acting like a 3D card would.
Andit goes further. Where previously you'd have just thrown out your old3D card when you upgraded your PC to a new one, if you have a G8000+ 3Dcard already, you can keep it, and just set it to concentrate solely ondoing PhysX tasks. This isn't a SLI situation where you need two of thesame cards working in tandem - any post-8880 card, rather than beingput out to digital pasture, can be given a job of deciding how bits ofglass bounce off a skyscraper, or similar. NVIDIA claims it's talkingto ATI to try and get them to use CUDA too, which.... well, we'll seethere, eh?
The potential is interesting. Demos shown include Natural Motion, whose Euphoria engineis heavily physics-dependent, allowing unique, convincing moments ingames. A straight collision isn't enough, as straight ragdolls areludicrous - the system involving AI (so the hit object will try andmove limbs to protect self and similar) leads to impressivelynaturalistic results. The first sign of this publicly was in GrandTheft Auto IV, but Natural Motion's own American football game, Backbreaker,is a fascinating example of what a physics-heavier approach tocollisions can give games. And, with CUDA-esque use of GPUs to do thisstuff, the PhysX related boon is accessible to even more of us.
So they did talk some maths, then, but we survived.
Posted by Editorial Team Mon Jun 23, 2008 5:11 pm
AMD CPU shoot-out: Phenom X3 and X4 in Hardware, Internet, Networking, Comms and Security
The birth of AMD's quad-core Phenom processor was plagued withproblems. After a gestation period more akin to an elephant than a CPU,the new silicon popped out puking and bawling but was clearly a bit ofa runt.
The problem was the now-infamous TLB error that crippled performanceand reduced clock

speed

with the result that the B2 stepping of Phenomwas only available in two models.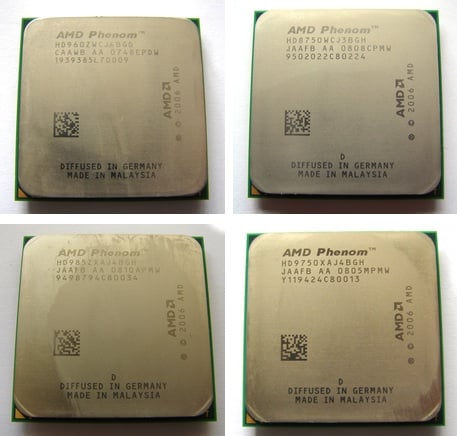 AMD's Phenoms: (clockwise from top left) 9600, X3 8750, X4 9750, X4 9850

Neither the 2.2GHz Phenom 9500 nor the 2.3GHz 9600 delivered enoughperformance to trouble Intel's Core 2 Quad Q6600, which was a directcompetitor at the same price. As an added kick in the teeth, Phenomwould barely overclock while the Intel processor could manage a clockspeed of 3GHz without breaking a sweat.
AMD fixed the TLB problem with its B3 stepping and also got a bitcreative with the model codes that it used. Phenom X4 9x50 denotes aquad-core B3 that effectively replaces the original Phenom. The PhenomX3 8x50 is also a B3 but is unusual in that it's a tri-core processor.Phenom is similar to Core 2 Quad in many respects but there is onesignificant difference as Phenom is a native quad-core design with allfour cores on the same die. By contrast Core 2 Quad is a dual-coredesign, so Intel uses two processor dice to cobble together itsfour-core CPUs.
Naturally, AMD touts this difference as a major advantage for Phenomas it allows HyperTransport to strut its stuff, while Core 2 istheoretically crippled by a lousy communication path through thefrontside bus and then off to the northbridge of the chipset to thememory controller.

It was time for the Phenom X4 9850, and we weren't surprised to seethat performance was a distinct improvement on the X3 8750 in everyrespect with the exception of pure graphics tests that only stress thegraphics card. The X4 draws 40W more than the X3 which makes it fairlyeasy to deduce how much power each core in a Phenom requires. Thequad-core overclocked slightly better than the tri-core but neither wasimpressive in that department.
The thing that caused us some surprise, however, is the similarityin price. You only pay £10 more for the X4 so why on Earth would youchoose the X3?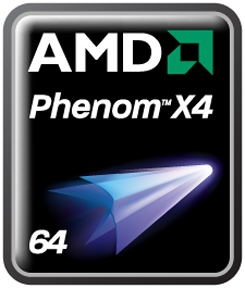 Finally, we come to the Phenom X4 9850, which only runs 100MHzfaster than the X4 9750 - 2.5GHz - but there are a couple of otherchanges. The X4 9750 has a TDP of 95W and HyperTransport

speed

of1.8GHz while the X4 9850 has a TDP of 125W and a HyperTransport speedof 2GHz which rather suggests that the X4 9850 is buzzing along at thelimits of the B3 architecture.
We had heard great things of the X4 9850, with at least one reviewerclaiming a clock

speed

of more than 3GHz. However, we had nothing likethat degree of success. With the 200MHz clock raised to 225MHz weimmediately suffered a blue screen after Windows had loaded, and thatwas with a clock

speed

just over 2.8GHz.
The system was pretty much OK with a clock

speed

of 220MHz (2.75GHzCPU

speed

) although 3DMark Vantage refused to run however the X4 9850required more cooling than the other Phenoms. Indeed we had to removethe add-in fan controller from the CPU cooler to get the fan

speed

highenough to cool the CPU properly.

That's all well and good but just take a look at our test resultsfor Core 2 Quad Q6600. On its stock

speed

of 2.4GHz it wiped the floorwith Phenom and when we overclocked it to 3.0GHz it made the AMDsilicon look rather limp.
VerdictThe B3 stepping of Phenom is a distinct improvement over theoriginal B2 but that's not saying much. Intel has cut the price of Core2 to such an extent that there is no compelling reason to buy a Phenombeyond the fact that you might not like Intel very much. Fair enough,we'd say, but for everyone else, Intel has grabbed the initiative. Overto you, AMD.
Posted by Editorial Team Mon Jun 23, 2008 4:54 pm
Obama vs McCain from a Gamers Perspective - Guide inc. VIDEO in Business and Industry in Gaming, Media, Web, IT and Computing
Mitt Romney
Mitt Romney has made computer games part of the thrust of his campaign,with references to the media genre in an ad campaign. In the promotional slot,he implicates them in "oceans of filth" in which America's youth areswimming. You can only imagine what he'll do if he gets into the WhiteHouse.
According to a Common Sense Media survey,which posted questions about interactive and other entertainment to theleading candidates, he intends to, "get serious against those retailersthat sell adult video games that are filled with violence and that wego after those retailers," and "to restore values so children areprotected from a societal cesspool of filth, pornography, violence, sexand perversion." Surprisingly similar to his Democratic opposite,Hillary Clinton.
John McCain
Second-time Presidential runner McCain has a team that thinks seriously about technology. In response to a CNet survey,"McCain" (aka his policy-writers) tackles net neutrality, governmentsubsidies for high-

speed

internet access, internet data privacy andcopyright issues. Unfortunately, there was only an oblique reference togames.
GamePolitics suggeststhat the anti-game slant of Independent candidate Joseph Liebermann mayhelp his friend McCain, whose inability to connect with the ReligiousRight in the US could be bolstered by their association.
McCain didn't respond to the CSM report, and so his intentions remain a mystery, for now.
Mike Huckabee
The evangelical Iowa caucus winner has been completely silent on thesubject of computer games, although, like McCain, he "expressedinterest" in participating in the CSM survey.
At the moment, games aren't an important policy issue, but I predictpolitical eyeballs will turn towards interactive entertainment whencontroversy temperatures rise in the summer months. If the potentialcandidates are silent now, they'll have to take a stand one way or theother. My guess is that all will play conservative, and with varyingseverity, call for federal government regulation of games in the US.
Meanwhile, in this country, we are anxiously awaiting the release of the Byron Report later this year, which should establish a useful baseline about the effects of violent videogaming on consumers.
Not sated by this roundup? Catch the dirt on the Democratic candidates in yesterday's post, or go to Gamepolitics for coverage. They have a special category, Game Decision 2008.


Debate over World of Warcraft - an interesting take.

We don't actively support wegame.com

Take a look at one of the comments below...

Quote:
did anyone notice the voices sound like george bush and that guy whos running for president? XD really well done..


There are a surprising number of British media eyeballs on the earlystages of the US elections. Reports suggest that people are coming outin droves to participate in caucuses, primaries and polls, particularlypopulations who've neglected politics before. And this includes a wholeraft a newly-eligible voters, many of whom happen to be computer gamers.
While it's still too early to suggest who'll be sworn in come 2009,there's still a whole lot of side-taking happening throughout the gamesblogosphere. Gamepolitics, the most obvious platform, is having a fieldday publishing satirical casual games, posts about candidate Obama'slikeness to Tiger Woods (seriously), and rumours about potentialsenatorial anti-games candidates.
This is undoubtedly a technologically-saturated election. All of thecandidates have MySpace pages (demonstrating the lightening

speed

withwhich politics adopts new media; where are their Twitter updates forgoodness sake?), and with the next few gaming months certain to be hotwith the release of the latest episode in a certain controvesry-ridingfranchise, we can expect to see gaming and techno-morality in a fewpolitical broadcasts.
So where do the front-runners sit with regards to computer games?This handy primer gives the dirt on their past actions and theircurrent attitudes. Today, the Democrats. Tomorrow, the Republicans.
Hillary Clinton
New Hampshire Democrat primary winner Hillary (whatever happened to the Rodham?) Clinton has never been a fanof computer games. Two years ago, Sen. Clinton introduced the FamilyEntertainment Protection Act (FEPA) in the wake of the Hot Coffeeincident, to regulate and counteract the effects of violent andsexually-explicit content in digital media. Had it passed, it wouldhave mandated:


On-site store managers would be subject to a fine of $1,000 or 100hours of community service for the first offense and $5,000 or 500hours of community service for each subsequent offense.
The bill would also require an annual, independent analysis ofgame ratings and require the FTC to conduct an investigation todetermine whether hidden sexual content like what was in Grand TheftAuto: San Andreas is a pervasive problem and to take appropriateaction...
Finally, the bill would authorize the FTC to conduct an annual,random audit of retailers to monitor enforcement and report thefindings to Congress.



more information from gamepolitics
More recently, in response to a Common Sense Media poll of the attitudes of the candidates to video game entertainment, Clinton argued,


"When I am President, I will work to protect children from inappropriate video game content"


Barack Obama
The Iowa caucus winner has suggested on several occasions that gamersare slackers. "It's time to turn off your Game Boys," he said at anAustin, Texas event last February. He's also returned a donation made by the Electronic Software Association's Doug Lowenstein and has repeatedly argued that working harder means playing fewer games.
In the CSM poll, Obama promoted industry self-regulation:


I would call upon the video game industry to give parents betterinformation about programs and video games by improving the voluntaryrating system we currently have. Broadcasters and video game producersshould take it upon themselves to improve this system to include easierto find and easier to understand descriptions of exactly what kind ofcontent is included. But if the industry fails to act, then myadministration would.


Indeed, in the same response, he does hint at federal regulation,and promotes funding research into the "impact of video games onchildren's cognitive development."
John Edwards
Edwards was the likable second to Hillary's first before Obama camealong, but his standings in the recent primary and caucus suggest thathe may take a back seat in November. However, he too could become aComeback Kid, so it's worth taking a look at what might happen to gamesif he gets the keys to the White House.
Edwards notably launched his campaign inside virtual world Second Life, and like many high-profile areas in this cyber-space, it was subsequently vandalised. Otherwise, he's been quiet on the digital entertainment front, with little action in either direction.
So it's unsurprising that when the question was posed, point blank,in the CSM poll, he (and his policy-writers) played a cautious,hands-off game; he applauds the work of the internal ratings boards,but suggests that there's much more to do to keep inappropriate contentaway from kids:


If the industry does not continue to make progress in keeping videogames with intense violence and adult content away from children, wewill need to consider further steps to ensure that parents' decisionsabout their children's exposure to these games are not being underminedby retailers, advertisers and manufacturers.


Of the three Democrats, only Clinton appears to have made this apolitical issue, and has thought seriously about the implications ofinteractive media. She's the only one ready to take action, one way orthe other. While Obama has despaired at games in the past, both he andEdwards are less explicit about any actions they would take if theywere to take up residence on Pennsylvania Avenue next year.
Tomorrow, we cover the Republican candidates, but in the meantime,more information on where the candidates stand is available at gamepolitics, in their category Game Decision 2008.
Disclaimer for articles or content containing "wegame.com":
iVirtua Media Group (UK) does not recommend nor endorse the third party service "Wegame.com" or any of its associates. For more information contact our Public Relations team via William Tildesley in our Social Media Department - william.tildesley@iVirtua.co.uk or williamtildesley@gmail.com
Posted by Editorial Team Thu Jun 19, 2008 6:54 pm
Need For Speed Undercover 2009: Based on 'The Transporter' in Gaming
The next Need for

Speed

game from EA will be titled Need for

Speed

Undercover, EA boss man John Riccitello has confirmed.

Little-to-nogameplay details were revealed when we contact EA, but Riccitello didreveal during a recent speech that the game would feature a "verystrong mission structure", and an embedded storyline, according tovarious reports.


The Transporter, film (directed by DOA: Dead or Alivevisionary Corey Yuen) focused on an ex-Special Forces op played byactor Jason Statham. As a "transporter" for hire, Statham's characterwould accept cash to transport "goods," no questions asked. The resultwas a lot of fast action and s**t exploding, which would be a newdirection for EA's Need for

Speed

series.
No word on whatplatforms the game will land on, but you can pretty much guarantee thatif you own it, EA's making the game for it. Need for

Speed

: Undercover is said to be available in 2009.

Riccitello also admitted that the previous game, Pro Street, wasn't quite up to scratch (as this review will tell you),but to make sure that doesn't happen again, he went on to reveal thatthe series has been shifted over to a two-year development cycle, whichhas two separate teams working to release games biannually.
Just as Pro Street tried to take theseries in a new direction, Undercover is expected to try new thingswith the franchise too, but our EA contact declined to reveal anyfurther info, other than that more details will be revealed soon.Obviously.

No platforms were specified, so we'll assume it'll be on everything. Absolutely everything.



IGN Story



Electronic Arts CEO John Riccitiello has stated Undercover has a considerably longer development cycle than its predecessors since the Need for

Speed

development team now is split up into two teams, both of which willwork on a 24 month development cycle with future titles, alternatingreleases between them. When this change was implemented in mid-summer 2007, one team started working on Undercover (giving it only a 16.5 month development cycle), while the other team finished ProStreet (the previous release) and then started working on the next title in the series (coming out in 2009),which will have a full 24 months. He also confessed to "torturing" thedevelopment team in the past, discouraging innovation and admitted thatProStreet "isn't good" and he is confident Undercover will be much better.
Riccitiello also stated Undercover is taking inspiration from action films such as The Transporter, with a large embedded narrative.

Official NFS franchise website
Posted by Editorial Team Thu Jun 19, 2008 6:00 pm
Gran Turismo vs. Forza Motorsport : Comparison in Gaming
"Both have cars, both have racing, so what's the difference?"

That's our job to tell you. For people unaware about these racing series, you should know they are probably the best racing simulations in account for realism. Gran Turismo is the PlayStation exclusive series and Forza Motorsport is the Xbox loyalist. They are not NFS-ish titles giving a laid-back and blissful driving. Gran Turismo is a completely settled franchise now whereas Forza Motorsport is a brand new series having only two titles till date.


Gran Turismo (from Polyphony Digital), the first "top PSX seller" title was out in fall of 1997 and was recognized not only for the extensively realistic driving simulation, physics based car realism and sound from real life cars but also for the maximum PlayStation power it was utilizing to give at-the-time state of the art graphics. And till date it has evolved into numerous titles just beside the "full" games which would feature some gameplay depicting only concepts of what they were building in their future releases.


Prior to GT 4, GT 4: Prologue was released, which was regarded as a teaser for the game. This helped them realize what people would expect from GT 4 and yet despite it was unexpected the GT 4 was then released with a vast number of around 700 cars and 50+ race tracks. Therefore all the GTs have huge number of licensed vehicles to keep you immersed in the game and whatever you think GT is like, you will not get bored of the content each (full) version of the game will offer.


And finally the game has stepped into the next generation console PS3 having scintillating graphics that you could easily mistake for a real footage if somehow you were browsing through your TV channels and one of them was showing the game footage (I kept looking for GamerTV but was irritated to see this game's video wondering why in the world GamerTV is not coming on its time, only to be in awe few seconds later). The "full" next gen version of GT which is Gran Turismo 5: Prologue.is not released but its teaser is ready for people to get their hands on.


Forza Motorsport, GT's now one of the main adversaries developed by Turn 10 came out on Xbox in May 2005, featuring around 231 cars at your disposal to race around real life circuits. The most esteemed feature in Forza was its physics engine and how it would vary the car's performance impromptu of effects like damage or collision (which also we will discuss is dazzling) during The Race. So Forza was known for its realistic damage and collisions from the perspective of a professional driver or a casual racing gamer.



Like I said, in contrast to GT, Forza would vary three main features of the car you browse for in games (Top

Speed

, Acceleration and Handling) according to how much we have smashed our car during a race. Realism! It spawned a sequel in mid-2007 on next gen Xbox 360 also which was successful with nothing immense to show off but still having the Forza-essence which is good.


It will be too thorough to discuss series by series so here we will take a contrasting (or not) look at the latest next gen iterations of the series, Gran Turismo 5: Prologue and Forza Motorsport 2.


PRESENTATION


Since GT 5 Pro is only a demo there is less course selection but still has a huge amount of cars, which might get problematic as its fun to change the area you are driving in more than the car you are driving. But the game is still fully fledged and can easily be stripped of its 'demo' tag. The characteristics of a car are a striking feature.


Every car is different, every! You will want to remember each and every detail & spec about cars and even when you have the best cars you will feel like giving your old one a try just because it had something unique (which every car does). The new and improved dashboard look is praiseworthy. It's not a stationary picture in any sense, completely different dashboards for all cars which are exceptionally accurate and in motion.


So we will see everything different in dashboards when we go from all included Ferraris and Ford GTs to Skylines and Mustangs. The course selection is limited but a very good compilation so unless you feel like having more you won't be disappointed with what you have got. The new interface is now having the first time introduced "My Page" just like having a profile page from where you will be able to do whatever you want do in the game.


The GUI is completely HD rendered and it's an exquisite display all the way. This game is the first one to go online with plenty of race combos to compete in.



Coming to Forza 2, the feature in the limelight comes to be the any level combination you can get of cars, motors, parts and race tracks. You feel like doing "something" and you do the very exact "something". The developers worked 24 hours as this is easily evident.


There are 12 different environments with 40+ racetracks which tend to get confessedly repetitive but not perhaps for a racing maniac. The list includes famous race tracks like Silver Stone or Laguna and what's more, it also has fantasy tracks for the satisfying driving thrill of cars whose cost ranges in 100 thousands of dollars.


The interface is beautiful, bright and trouble-free to go through with plenty of options in racing. You can go online for an incredible number of options like car trading, car gifting and Microsoft sponsored tournaments. Oh yes, also free racing with opponents!


Winner: Forza Motorsport 2


CONTROLS


In Gran Turismo 5: Prologue, the physics and mechanics are state of the art. The car would drive as real as it would in real life. It would over steer-under steer exactly according how pathetically you drive and wherever the engine is placed in the car. As I said each car is distinctive. The characteristics of each car are clearly noticeable even if they are similar in internal design. It is all dynamics and the way you drive.


The AI in past GT games was average. There was nothing significant about it but in GT 5 Pro it is slightly improved. Occasionally you will see other drivers making mistakes which might cost us too. They will try their best to win and stay smooth on the road. Nothing outstanding about it but still improvement is improvement.



Forza Motorsport 2 is on the perfect spot on the line between realism and arcade-enjoyment in car racing. In controls, it is more or less like GT, which is to say it's just about completely realistic. Real tests on car drivers were done where some racer drove on a real track and then in the game with the same car and track to see how closely the record results matched.


The game features the driving assistance line just like in NFS ProStreet which would show you the best line for driving around curves including when to slow down and when to pick up the pace or rush. The AI is average.


Occasionally someone would swipe ahead from your side giving you a nudge (which leads your car exasperatingly off course) but during parallel driving they tend to back off showing cowardice. So the race is won slowly. But this game is surely not for the impatient types. One thing to note is that the upgrades in the cars makes things easier but don't turn out to be table turning and if you drive smooth and perfect you will win any race with the stock car.


Finally to say, in both games you cannot say "Step on it!!" because you don't have to "step on it", otherwise it's just bye-bye early from race for you. It's all about feathering the accelerator and brakes with 'love and affection' around the 'mean' turns to stay ahead and win the race. If you prefer to be in

speed

throughout all the game buy an NFS.


Winner: Forza Motorsport 2 with a very low margin.


GRAPHICS


If I don't talk about graphics this article would not probably be about gaming! GT 5: Prologue is easily the king of graphics. As mentioned before, it's easy to mistake it for real footage when you run it at 1080p. It supports all kinds of modes 1080p/i, 720p whatever you have in your TV and the game rocks the PS3 potential.


You can go through the trailers online and see the stunning amount of detail in the game which may actually drive you off course a lot. The lighting is astounding. The unique dashboard in every car would show a lot detailed lighting effects as the car changes angles according to the sun or goes through a tunnel or a shadowed area whatever. Its graphics are closest to realism without a doubt.



Forza Motorsport 2 is however on the other hand, not up to the mark. It is clearly not sucking the Xbox 360 potential and aliasing and jagged lines are all over the screen. Modes supported are 720p and 1080i. The graphics section is clearly a turn down feature about the game otherwise probably making it best of the best.


The real time damage done to the cars is however paid attention to and the details are overwhelming. GT 5: Prologue also has similarly brilliant damage effects.


Winner: Gran Turismo 5: Prologue without a doubt.


SOUND


This genre of game or racing is not about the sound really but still GT 5 has state of the art engine sounds which are totally from real life cars and a decent soundtrack. There are no complaints about it. Forza Motorsport 2 has varying engine sounds, though it's all only what you can expect from a racing game. The ambient noises can get irksome in Forza.


Winner: Gran Turismo 5: Prologue


OVERALL



Sorry to disappoint you all but there is no "Overall". GT5: Prologue may be a decision for an average gamer but a must buy for GT fans and Forza 2 is a must buy for arcade driving lovers still looking for realism but a decision for someone who wants high-tech graphics. We were never supposed to conclude which game is better. Both are fantastic titles of the gaming industry and a must play for all avid racing gamers.


Stuff like state of the art graphics in GT5: Prologue and extravagant amount of detail in Forza Motorsport 2 (like even getting discounts from car companies) put both these games on the success list. Buy the game (if you haven't already) for whichever console you own or get both if you have both X360 and PS3.
Posted by Editorial Team Fri Jun 13, 2008 4:36 pm
WWDC 08: 3G iPhone with GPS - £99 half price and apps in Apple
Jamie Taylor on iPhone 3G

11:48 a.m.: Jobs moves into the new ad for the 3G iPhone,which pokes fun at Apple's secretive nature. The demo gods finally maketheir presence felt as the audio skips on the replay of the video.
11:46 a.m.: Twenty-two countries will get the 3G iPhonefirst, and they'll all get it at the same time, and it's not cominguntil July 11. The late rumors win.
11:45 a.m.: The 16GB model will be $299, and that model will also be available in white.
11:44 a.m.: On to the price. The first iPhone was $599, and now sells for $399. It will now sell for $199 for 8GBs of storage.
11:43 a.m.: Jobs then moves into enterprise support, whichhas been covered in detail earlier today, as well as third-partyapplications. When it comes to more countries, the 3G iPhone will beavailable in dozens of countries, as a video with "A Small World AfterAll" plays with the iPhone working its way through South America andEurope. No love for Venezuela or China, but India and Australia areadded for a total of 70 countries. It will roll out to those placesover the next several months.
11:39 a.m.: "Location services is going to be a really bigdeal on the iPhone." GPS data allows you to do tracking, Apple recordeda iPhone traveling in a car going down San Francisco's famously crookedLombard Street, showing how precisely the iPhone can be tracked as itnavigates the curves.


Jobs announced the new iPhone will offer GPS.
(Credit: James Martin/CNET News.com)
11:38 a.m.: He compares the 3G iPhone to the Nokia N95 andTreo 750, two other 3G phones, and says the 3G iPhone is 36 faster todownload the same Web page. in an iPhone 1.0 to iPhone 2.0 comparison,an e-mail attachment downloads in five seconds on the 3G model, and 18seconds on EDGE. Jobs says the 3G iPhone will 300 hours of standbytime, improved from 8 hours to 10 hours on 2G talk time, and he'squoting 5 hours of 3G talk time. Browsing should give you 5-6 hours,video 7 hours, and audio 24 hours of continuous operation.
Jobs confirms the new iPhone will have GPS.


3G iPhone

speed

test.
(Credit: James Martin/CNET News.com)
11:35 a.m.: Jobs goes over the 3G support first. Fasterdownloads are a no-brainer, he says. He does a side-by-side comparisonof a Web page loading on EDGE vs. one on 3G. The National Geographic'shome page downloads in 21 seconds on the 3G network, and the EDGE oneis taking forever. Twenty-one seconds is a lot, but this is a prettyphoto-heavy Web page. It took 59 seconds on EDGE. The 3G speeds areclose to Wi-Fi, Jobs said.
11:33 a.m.: "We've learned so much with the first iPhone."Jobs shows off the pictures; it's thinner at the edges, a black plasticback, and metal buttons on the side. It's the same screen, with acamera, a flush-headphone jack (which gets wild applause), and improvedaudio.
11:32 a.m.: "Today we're introducing the iPhone 3G."
11:31 a.m.: "We did figure out what our next challenges are."3G networking, as you might have heard, is that first challenge.Enterprise support is the second, third is third-party applicationsupport, fourth is international support--as Jobs jokes about theunlocked iPhones all over the world--and fifth, everybody wants aniPhone, but we need to make it more affordable.

Posted by Editorial Team Mon Jun 09, 2008 2:54 pm
WWDC 08: 3G iPhone with GPS - £99 half price and apps in Apple
"The price is a maximum of $199 all around the world -- we're really,really excited about the new iPhone 3G. And as you might expect, wehave a new ad! I'd love to show it to you." Lights are down... spytheme.

"70 countries this year. We're going to start with 22 ofthe biggest, rolling out the iPhone 3G at the same time in all of thesecountries. July 11."


"The big news, is $399 to $199 -- we think we can check off more affordable."

"We think the iPhone 3G will be affordable to almost everyone. 16GB model for $299 -- for that model we have a white one

"iPhonestarted off at $599 for an 8GB device, which now sells for $399 -- wewant to make it even more affordable. I'm happy to tell you the 8GBwill sell for $199."

"These deals are all signed, sealed, anddelivered. Our stretch goal was 25 countries -- we'll be in 70countries this year, we think we can check off more countries."Applause. "Which brings us to more affordable."

Don't worry people, we'll have maps!


Huge, huge applause. People are on the edges of their seats. "We'llbe rolling it out in 70 countries in the next severeal months. Nexttime you're in Malta and you need an iPhone 3G, it'll be there for ya."


Showing all the countries, playing Small World -- most of SouthAmerica... Norway, Sweden, Finland, Estonia, Latvia, Lithuania,Denmark, Netherlands, Belgium, Poland, Czech, Switzerland, Portugal,Spain, Italy, Malta, Croatia, Slovakia, Hungary, Romania, Greece,Turkey, Jordan, Egypt, Niger, Mali, Senegal, Guinea, Ivory Coast,Cameroon, Kenya, Botswana, South Africa... man, way too many countries!

"Wethink we can check off third party apps. We distro iPhones in sixcountries -- we set ourselves the goal of 12 countries for the iPhone3G, and the stretch goal of 25 countries... Here we go..."


"Enterprise support: as we explained earlier, full Exchangesupport. All secure VPN, everything everyone's asked for is built-in.We're on exactly the right track, we can now check off enterprisesupport. Third party apps -- the SDK, you saw the great apps, and we'vegot the best way to distro them."


Zig-zagging down Lombard street. "So! Built in GPS, and much, muchfaster data. We think we can check off 3G and add built-in GPS toboot." Big applause.

Showing tracking ping -- crap, that's hot.

"Locationservices is going to be a really big deal on the iPhone -- you saw abit of that here today, it's going to explode. We get location fromcelltowers, from WiFi, and now we get it from GPS." So that's A-GPS."We can actually do tracking."

11:38AM PT - "Sogreat performance, great battery life. Now, one other thing thatbenefits from fast data is GPS -- we've built that into GPS." The crowdroars.


"Browsing, 5-6 hours of high

speed

browsing. Video - 7 hours, audio - 24 hours." Big applause. Dizamn.

"2Gtalk time is up from 8 hours to 10 hours. 3G talk time... other phoneshave 3 - 3.5 hours, we've managed 5 hours of 3G talk time, which is anindustry-leading amount of time."

"If we compare this to WiFi,we'll see 3G approaches WiFi speeds. We're also really proud that we'redoing this with great battery life -- standby time is 300 hours."


Email attachment download demo. 5s over 3G, 18s over EDGE.



"We took two other 3G phones -- the iPhone 3G is 36% faster thanthe nokia N95 and Treo 750 -- and look at the result you get, by theway! Full page on the iPhone, and quite a bit less on the otherphones." Big applause.

"It's even more remarkable when you lookat this next to WiFi -- you can see 3G speeds are actually approachingWiFi. It's amazing zippy -- 17s."


Still waiting to load... people are murmuring. Duh, Steve, we'vebeen saying this since the beginning. People are whistling now. 59s onEDGE. "Slow."

Showing EDGE vs. 3G -- let's see how we do. 3G version takes 21s to load... PAINFULLY slow on EDGE.




"How does the iPhone 3G tackle these things? Let's take a look at3G. Why do you want 3G? Faster data downloads, right? There's nowherethat you want it more than the browser and downloading email. First,the browser..."

"Improved audio, it's really, really great... and it feels even better in your hand, if you can believe it."

"Flush headphone jack."

"Solid metal buttons, the same gorgeous 3.5-inch display, camera"

"We'velearned so much with the first iPhone. We've taken everything we'velearned and more and created the iPhone 3G. It's beautiful. This iswhat it looks like. "Black back! "Thinner at the edges. Full plasticback, it's really nice."

HUGE applause.


"Today w'ere introducing the iPhone 3G.

"The number onereason people didn't buy iPhones is because they just can't afford it(56%). So as we arrives iPhone's 1st bday -- we're going to take it tothe next level."



"And last but not least -- everyone wants an iPhone, but we need to make it more affordable." Big applause.

"Second:enterprise support, third: third party apps, fourth: we need to sell itin more countries. We've sold iPhone in six countries so far, butbelieve me, they're in use ALL over the world." Hehe. "It's clear thereis a demand."


"What are these next challenges? 3G." Huge applause.

"Inthat first year we sold 6m iPhones since we ran out some weeks ago. Wedid figure out what our next challenges are... the next mountain wehave to climb to go to the next level."

"That's all great, butthe thing that makes us the happiest is that users love the iPhone. 90%customer satisfaction -- that's off the charts. What products todayhave that? 98% are browsing -- mobile browsing has gone from nothing to98% with the iPhone. 94% are using email, 90% are using SMS -- 80% areusing 10 or more features. You can't even begin to figure out how touse 10 features on a normal phone!"


"And iPhone has had tremendous critical acclaim -- best inventionof the year -- it's the widely believed that this it the phone that'schanged phones forever." Applause


"Now I'd like to talk about something near and dear to my heart.That's the iPhone. In a few weeks it's going to be the iPhone's firstbirthday. An amazing intro -- certainly the most amazing we've everhad."

Steve! "Isn't that great? We've been working on that for a while. I think we finally got it right."

".Mac users can continue to use service, but they'll be automatically upgraded to MobileMe. So that's MobileMe."

"We'regoing to create a free 60 day trial, available along with iPhone 2.0.You might be asking what about .Mac? MobileMe replaces .Mac."

"It's available for $99 per year -- 20GB of storage."
Posted by Editorial Team Mon Jun 09, 2008 2:48 pm