Search iVirtua
Advanced/Tag Search...
Search Users...
What is iVirtua Exclusive Community?
An exclusive gaming industry community targeted to, and designed for Professionals, Businesses and Students in the sectors and industries of Gaming, New Media and the Web, all closely related with it's Business and Industry.
A Rich content driven service including articles, contributed discussion, news, reviews, networking, downloads, and debate.
We strive to cater for cultural influencers, technology decision makers, early adopters and business leaders in the gaming industry.
A medium to share your or contribute your ideas, experiences, questions and point of view or network with other colleagues here at iVirtua Community.
Guest's Communication
Live Chat
Teamspeak (VOIP) Audio Conference
Private Messages
Check your Private Messages
Themes
Choose an iVirtua Community theme to reflect your interests...
Business Theme

India/Arabic Theme
Gaming Theme
iVirtua Recommends
Fly Emirates
New 60GB Xbox 360 announced, cheaper 20GB version in Gaming
Microsoft has announced that it willbe producing a new $349 60GB Xbox 360, and the 20 GB version that itwill slowly replace will be cut in price in the US to $299.
AlthoughUK price changes have not been published, the arrival of a new 60GBversion – giving users much more memory for things like movies,trailers and Xbox Live Arcade games – is in keeping with Microsoft'spush into downloadable content.
"We know consumers need moreand more space to store the amazing digital content Xbox 360 offers,and we're giving it to them at no extra charge," said Albert Penello,Xbox director of product management at Microsoft.
"No onedevice offers the depth and breadth of entertainment that Xbox 360 candeliver, and now you'll have three times the storage to manage all thatgreat content."
What does it mean for UK?
The20GB version of the Xbox 360 – normally known as the Pro – currentsells for £199.99, and it seems likely that the news 60GB version willretail for the same price when it hits UK shelves.
This meansthat the older 20GB version will be given a price reduction, althoughit remains to be seen how close that will be to the Arcade version(with a much smaller storage capacity) which is currently priced at£159.99.
Microsoft's

support

of the now-failed HD DVD drive has meant a shift of focus onto downloadable HD (and SD) content.
Thesuccess of Xbox Live Marketplace has buoyed the console, and the offerof extra storage to boost these services makes a good deal of sense.


Prices for all other models remain unchanged, so that's $279(£141/€176) for the Arcade (that's the one with a 256MB memory card)and $449 (£226/€283) for the Elite – the flagship model with anintegrated 120GB HDD.
Although the leaked email said the new machine would be called thePro, Microsoft's official announcement of the 60GB model didn't use anysuch uplifting title.
The bad news is that – at least for the time being – the 60GB Xbox360 will only appear in the US and Canada when it goes on sale nextmonth.
Posted by Editorial Team Mon Jul 14, 2008 1:08 pm
1.8GHz SSD MacBook Air Drops $500 in Apple
Apple has quietly dropped the price of the high end MacBook Air by $500.

The high end MacBook Air comes equipped with a 1.8GHz upgrade (from1.6GHz) and a 64GB Solid State Drive (SSD). The total price for thehigh end laptop is $2598. Compare this to the original price of the1.8GHz/SSD MacBook Air at $3098 just last week (Google Cache).

The base price for the 1.6GHz 80GB Hard Drive MacBook Air remains at$1799. The difference in price appears to be a combination of pricedrops in both the processor upgrade ($200 vs $300) and SSD ($599 vs$999).

Apple has emailed customers who have outstanding orders that are affected by the price drop:
To Our Valued Apple Customer:

Apple has announced a price drop for a component(s) of the MacBookAir that you recently ordered. We have automatically adjusted yourorder to reflect the new lower price.

For up-to-date information on your order, please visit our Order Status website at <http: www.apple.com="" orderstatus="">. After your order is shipped, you can also obtain tracking information on this site.

Thank you for your shopping at the Apple Store.

Sincerely,
Apple Online Store

Support

</http:>
Posted by Editorial Team Mon Jul 14, 2008 12:11 pm
Samsung SyncMaster 245T in Hardware, Internet, Networking, Comms and Security
There's an awful lot of panel sharing going on in the LCD market thesedays, isn't there? It seems that even some of the most no-name brandsare now sporting panels made by a few giant, well-known manufacturers.It's enough to make a consumer wonder whether paying extra for apremium branded monitor is really worth it.

With that in mind, what is there to think about Samsung's newlyincumbent 24-inch model, the 245T? One thing is for sure, if you want amonitor with a quality Samsung-manufactured PVA panel, you don't needto pay over £600 for a monitor with that Samsung badge on the front.There are plenty of other screens with Samsung PVA panels inside, andsome can be had for less than £350.

Hence, the key question is not whether the new 245T is a good monitor.Instead, the question is this: Can the 245T really be worth nearlytwice as much as the lesser branded but similarly specified opposition?

That's what we're here to find out...and we just happen to have a muchmore affordable 24-inch widescreen on hand, one powered by a SamsungPVA LCD panel. That'll be the Hyundai W241D-PVA.


Features and Build QualityThe 245T is hardly the last word inswishy, swanky styling. The aforementioned Hyundai (with its glossyblack and white plastics) roasts it for pure desktop presence, forinstance. But thanks to the high quality of its construction, itnevertheless has a certain understated class. The bezel is a slim 15mmall the way around which emphasises the display, although the entiremain panel is quite a weighty 80mm thick. Front to back, you'll need atleast 25cm of desk space to accommodate the large, sturdy base.


The no-nonsense OSD controls are an extremely welcome and user-friendlyfeature, as is the stand's comprehensive adjustability. Not only areswivel, tilt, rotate and height tweakage on the menu, but they are all incredibly smoothto operate yet easily hold any position set without the need for clipsor locks. Given the panels size and weight, it's not light enough tomove without some effort - but it certainly doesn't require brute forceeither.


In terms of inputs, most of the usual suspects make an appearance.Digital connectivity takes the form of a single DVI port and an HDMIsocket, both with HDCP

support

. However, there is no DisplayPortavailable. On the analogue side, it has the lot - VGA, S-Video,component and composite. In short, there's very little that you can'thook up to the 245T. It even sports picture-in-picture mode for smoothmulti-input juggling; however, that feature is limited to onlycomponent (AV), S-Video and composite, not the digital inputs or VGA.

A final disappointment is the presence of inverse ghosting. As we havementioned previously, inverse ghosting is a problem that's thought tobe a result of pixel-response-enhancing overdrive technology. In simpleterms, it involves a trail or shadow that appears in the wake of movingobjects in some situations, typically in more or less the oppositecolour to the moving object.

Most of the time, it's a minor issue with the 245T. But with certaincolour combinations, it results in some pretty horrific renderingartifacts. For instance the text on this page exhibits some particularly horrible black trails and smearing when jostling the window around.

It's absolutely not what you expect from a premium brandlike Samsung. What's more, if you had just invested over £600 on thismonitor, well, you'd have every right to feel extremely let down.


Final ThoughtsThere's a lot to like about the 245T includingits static image quality, viewing angles and contrast performance. Butat this price point, something close to perfection is to be excepted.At £600+ any major flaws are simply unacceptable and the fact that the245T actually has two – moderate input lag and occasionally seriousinverse ghosting – might seem pretty shocking.

However, these problems are related to the PVA panel technology thatdominates the high end 24-inch monitor scene at the moment. Moreprecisely, they appear when pixel overdrive techniques are used tospeed up the extremely slow response. In other words, they are hard toavoid on PVA monitors.

So, what we would really like to see is more choice in this part of themarket. Without question, IPS panel technology has some weaknessescompared with PVA as contrast performance and the depth of renderedblacks are typically a little off the pace. But PVA technology hasenough drawbacks that mean the extended choice would be very welcome.


In any case, the key points to note about the 245T go something likethis. Yes, it is that little bit more vibrant and accurate than cheaperPVA monitors from lesser brands; the colours boast better fidelity, theblacks are deeper and the whites a touch cleaner. But even Samsung hasnot been able to eradicate the overdrive related glitches that commonlyspoil 24-inch PVA monitors.

With all that in mind, it's pretty hard to recommend the 245T. If youcan live with the minor image quality issues, then you are better offwith a significantly lower priced but only slightly inferior model froma lesser brand. Even a TN+Film 24-incher with slightly sludgy coloursand washed out blacks makes more sense – it's certainly a much cheaper option and will do a much better job for games.

Until a monitor maker manages to solve the input lag and inverseghosting issues with PVA screens or plops in a quality 24-inch IPS TFTalternative, the perfect 24-inch panel will remain infuriatingly out ofreach.
Posted by Editorial Team Mon Jul 14, 2008 10:14 am
30 Most Anticipated Games of E3 in Gaming
30. Rise of the Argonauts (PS3, X360, PS3)
Publisher: Codemasters
Developer: Liquid Entertainment
Est. Release Date: Sep 2008
Officially Announced for E3: Yes


Anaction RPG that promises to be way more action than RPG, Rise of theArgonauts has a winning mythological premise and lots of little designtouches that keep the game looking fresh. Take the Argo—the ship oflegend will act as a seafaring headquarters from which your recruitedArgonauts will provide

support

. There is also a "deed" system that willincrease Jason's abilities via the acquisition of Xbox LiveAchievement-like trophies. So it's bursting with interesting ideas, andit's all running on the reliable Unreal Engine 3—this could be thesleeper hit of the year.


29. High School Musical 3: Senior Year Dance (PC, Wii, PS2, NDS, X360)
Publisher: Disney Interactive
Developer: TBA
Est. Release Date: Holiday 2008
Officially Announced for E3: Yes


Considerthis your representative sample of licensed games that promise to sellgangbusters regardless of quality or media reaction. And High SchoolMusical 3 is likely to be the biggest game of its breed this year: themovie of the same name is the first time this children's blockbusterfranchise will see a theatrical release, meaning the marketing for theproperty is likely to be even more inescapable than usual. Beyond theusual niceties of rhythm games—coop and competitive modes, mechanicsspecific to each system's control scheme—it will have the songs fromHigh School Musical movies past and present. That last one is almostcertainly the only feature the game needs to add another million insales to the franchise's life-to-date count.

28. Borderlands (PC, X360, PS3)
Publisher: 2K Games
Developer: Gearbox Software
Est. Release Date: 2009
Officially Announced for E3: Yes


Capabledeveloper Gearbox has never swung for the fences with quite as muchgusto as with Borderlands. The fact that the game is original IP isn'teven the half of it—it also promises a procedural item creation systemthat will provide this sci-fi first-person shooter over half a millionweapons. If that's not enough, Borderlands also shares some ambitionswith big-budget role playing games: the world will be expansive,character growth and classes comes standard, and missions and sidequests will populate the landscape. Borderlands has all the earmarks ofa breakout hit, and its scope should easily take the breath away fromboth shooter and science fiction fans.

27. Mortal Kombat vs. DC Universe (X360, PS3)
Publisher: Midway
Developer: Midway
Est. Release Date: Holiday 2008
Officially Announced for E3: Yes


Goingon the title alone, Mortal Kombat Vs DC Universe feels a decade late,like it should have been slugging it out with Marvel Vs Capcom for thequarters of 90s teenagers. But it's actually a better idea,commercially, in 2008—now the game can ride the tide of successfulcomic book film blockbusters. It can pull from the years of soliddesign work and franchise reputation rebuilding that culminated inMortal Kombat: Armageddon. And with an anticipated ESRB rating of T forTeen, there're no retail hurdles to keep the adolescent maledemographic from eating this up with a spoon.

26. S.T.A.L.K.E.R.: Clear Sky (PC)
Publisher: Deep Silver
Developer: GSC Game World
Est. Release Date: Aug 29, 2008
Officially Announced for E3: Yes


S.T.A.L.K.E.R.:Shadow of Chernobyl was hardly the biggest first-person shooter of 2007in the west. But it posted platinum-level sales in Eastern Europe,where its freeform gameplay and mythos steeped in Russia's uniquescience fiction struck a strong chord. With little similar competitionin the region, its sequel Clear Sky should do well for itself therealso. Which isn't to say the rest of the world shouldn't (or won't)give it a go as well—Clear Sky will add a tactical, squad-based turfwar to the already eccentric proceedings, and should be just as curiousand interesting a beast as its predecessor.

25. Star Wars: The Force Unleashed (PS3, X360, Wii, PS2, PSP, NDS)
Publisher: LucasArts
Developer: LucasArts
Est. Release Date: Sep 2008
Officially Announced for E3: No, but it might as well be


TheForce Unleashed could well be the biggest project to bear the Star Warsfranchise name since Episode III ended the franchise's non-animatedtheatrical run. Every Star Wars fan has been curious about the periodright before the Original Trilogy when Darth Vader had his run of thegalaxy; Force Unleashed promises to capture this period from theperspective of the Dark Side, using exciting new technologies torealistically render bot the AI and the Force itself. If the persistentrumors are true, this could well be the last project completely builtby LucasArts' internal studio—but in that case, it will be one heck ofa send-off that a lot of Star Wars fans will experience.


24. Beyond Good and Evil 2 (PS3, X360)
Publisher: Ubisoft
Developer: Ubisoft Montpellier (likely)
Est. Release Date: TBA
Officially Announced for E3: No


Allthat's known about Beyond Good and Evil 2 is that it's currently beingworked on by Ubisoft premier designer Michel Ancel. But in this case,that's more than enough—Ancel's resume does include perennial hitRayman and (naturally) the first Beyond Good and Evil, after all. Andthe first Beyond Good and Evil is particularly beloved. The smallaudience that played it has been talking about it ever since, praisingits varied gameplay and realistic, strong female protagonist Jade. Sothe sequel is exciting, and though its commercial success is by nomeans assured it's possible that maybe the adult gaming audience isfinally ready for this franchise.


23. Lock's Quest (NDS)
Publisher: THQ
Developer: 5th Cell
Est. Release Date: Fall 2008
Officially Announced for E3: Yes


2007'sbiggest surprise sales blockbuster was a little DS game called Drawn toLife, built by a little mobile developer called 5th Cell. That gamegave the independent studio a reputation for creating innovations withstrong market appeal, and it could cement that reputation with Lock'sQuest, a curious RTS/Action/RPG/minigame hybrid with cute graphics,quick thrills and a world that can be completely remodeled by theplayer. In other words, it has a lot of elements that appeal across awide variety of gaming demographics, as well as a lot of ambition. Ifthis one lives up to its potential, it would be great to see it succeed.


22. Puzzle Quest: Galactrix (PC, X360, NDS)
Publisher: D3 Publisher of America
Developer: Infinite Interactive
Est. Release Date: Fall 2008
Officially Announced for E3: Yes


Lastyear's Puzzle Quest combined the most addictive parts of the casual"match three" puzzle game with the most addictive parts of RPGcharacter development, a powerful cocktail that murdered productivityand sold in huge numbers. There's no reason this follow-up shouldn'tcontinue in that trend—it's still a match three puzzle game (this timemore Collapse than Bejeweled), it still has those all-important RPGelements, and it's being built by the same studio. The only differences(besides the science fiction setting) all look like improvements.There's an element of strategy gaming. Players can enhance not justtheir character, but also their spacecraft. Downloadable content willabound. It all sounds like a game that players will itch to play afterthe first hit.


21. Crysis: Warhead (PC)
Publisher: Electronic Arts
Developer: Crysis
Est. Release Date: Fall 2008
Officially Announced for E3: Yes


Allegedlythe last PC exclusive from the bastion of PC gaming high technology,Crytek's side story to 2007's Crysis looks every bit as graphicallydazzling as its predecessor. It also promises to be a moremarket-friendly title (a tall order considering Crysis' million-sellingstatus); Warhead provides a less strategic, more bombastic run-and-gunaffair compared to the original Crysis. And with a year of hardwareadvancements in between Crysis and Crysis: Warhead, that more widelyappealing design will find that a lot more people have the rigs toactually run it well. And who knows? If Warhead does manage to findthat perfect balance, perhaps Crytek will stick to their PC-exclusivestomping grounds for a while longer.

20. Tomb Raider Underworld (Wii, PS2, PS3, X360, PC, NDS)
Publisher: Eidos
Developer: Crystal Dynamics
Est. Release Date: Holiday 2008
Officially Announced for E3: Yes


It'sbeen a few years since Crystal Dynamics took the Tomb Raider franchiseand reinvigorated it with Legend. But it's really with Underworld thatthe series' previous mistakes have been taken to heart. Rather thanrest the game on its laurels again, Underworld is a creation that lookstoward with the new; the game engine is all new, the way the worldinteracts with Lara is more realistic, combat now has melee and willflow fluidly into the puzzle mechanics. And if that wasn't enough toguarantee sales, Lara has a motorcycle now too.


19. Sonic Unleashed (Wii, PS2, PS3, X360)
Publisher: SEGA
Developer: Sonic Team/Dimps
Est. Release Date: Holiday 2008
Officially Announced for E3: No


Thesedays it feels like SEGA promises the moon with every Sonic title, tothe point where it's hard to fall for it anymore. Take Sonic Unleashed;it's promise of a revamped, re-invented Sonic echoes the promises SEGAmade before this generation's first Sonic the Hedgehog hit the Xbox 360with a sad plop. And yet, franchise sales have never followed the samecurve as the blue blur's review scores. This is mostly because ofSonic's strong appeal to the child market, but on some level thegraying Genesis owner wants to believe what we're told, that this nextSonic really will reclaim the glory days. Anyway, Sonic Unleashed. It'srunning on a new engine and has some 2D environments. It'll sell, andas for the rest of it? Here's hoping.


18. MadWorld (Wii)
Publisher: SEGA
Developer: Platinum Games
Est. Release Date: 2009
Officially Announced for E3: No


PlatinumGames, formerly Seeds, formerly Clover Studios, isn't known for makingcommercial hits. No, that team is known more for making instant,beloved classics. Okami certainly, but Viewtiful Joe is in there aswell, and the only people who remember God Hand these days love it toabsolute death. MadWorld, a blood-soaked black and white Wii exclusive,feels like a return to the playful, experimentation that made this teamfamous. Will it sell? Well, it's nice to think that just maybe, thistime, the market has caught up to what Platinum is doing.


17. Animal Crossing Wii (Wii)
Publisher: Nintendo
Developer: Nintendo
Est. Release Date: TBA
Officially Announced for E3: No


Asof this writing, Animal Crossing Wii still exists as a hopeful glimmerin the eye of the gaming public. Nintendo hasn't said anything at allabout it yet, though almost all speculation says that it exists andwill be announced soon—and if that's the case, E3 is as good a place toshowcase it as any. It's a completely believable theory. Nintendo'sChristmas lineup is currently a complete mystery, and Animal Crossing,already a surprise hit on GameCube and DS, is such a good fit for thecasual Wii-loving audience it's startling it's not on the systemalready.


16. Left 4 Dead (PC, X360)
Publisher: Valve Software
Developer: Turtle Rock Studios
Est. Release Date: Holiday 2008
Officially Announced for E3: Yes


Valvedoesn't release duds, and it doesn't buy teams that can't deliver. Sothe fact that it purchased Turtle Rock Studios and have put a greatdeal of PR muscle behind Left 4 Dead speaks volumes as to how good thisgame could be. The game has a completely innovative, yet highly marketfriendly hook in its "four survivors must cooperate to survive thezombie horde" premise, though players of a less polite persuasion canalso take up the role of a super-powered zombie. This could very wellbe the next major online phenomenon, like Team Fortress 2 before it.


15. Resistance 2 (PS3)
Publisher: Sony Computer Entertainment
Developer: Insomniac Games
Est. Release Date: Holiday 2008
Officially Announced for E3: Yes


Thefirst Resistance was the big win for the PlayStation 3 at launch, butResistance 2 looks set to spin that good first impression into anempire. Resistance 2 pushes the game out of London to the morerelatable (in the US, anyway) environs of the United States. A goodmove, but not as good as the massive 60-man multiplayer that the gamepromises. That's fantastic scale for an online console game; add onsome more focused, objective-oriented teamplay and Resistance 2 is agood contender for gamer's next networked obsession.


14. Killzone 2 (PS3)
Publisher: Sony Computer Entertainment
Developer: Guerilla Games
Est. Release Date: 2009
Officially Announced for E3: Yes


Threeyears on and Killzone 2 is still trying to shake off its disastrous"showing" at E3 2005. Admittedly the team at Guerilla has done a finejob of actually approaching the target in that first badly marketed"target render," with more recent previews showing the game asappropriately attractive and bombastic for its high position in Sony'sportfolio. But it still needs a big floor to show off, and it needs aman to say "in-game graphics" about one thousand times in front of somehuge HD Killzone if it wants to really nail the market. E3 historicallyhas had some very big floors.


13. Fable 2 (X360)
Publisher: Microsoft
Developer: Lionhead Studios
Est. Release Date: Oct 2008
Officially Announced for E3: Yes


Alot on Fable 2 is already known, and most of it is interesting on avariety of levels. There's the in-game dog, a character ofunconditional love that will act as the player's anchor to the game'sworld. There's the Pub Games, a series of Xbox Live Arcade titles thatwill act as both encapsulated products and previews for the bigrelease. Then there's the gay marriage, pregnant adventuring, and allmanner of family matters to deal with in the game as well. It's a gamethat promises to push boundaries and break some of the medium's moreridiculous unnecessary taboos. Considering the success of the originalGable, it's likely many people will choose to experience this moveforward—surely a good thing.


12. Command and Conquer: Red Alert 3 (PC, X360)
Publisher: Electronic Arts
Developer: EA Los Angeles
Est. Release Date: Holiday 2008
Officially Announced for E3: Yes


RedAlert's Cold War gone hot is one of the most beloved scenarios is allof strategy gaming, and the franchise's long seven year absence makesthis game even more exciting and desirable. And by adding thepseudo-Japanese Empire of the Rising Sun faction the festivities geteven more campy and strange, complete with towering mecha, psychicschoolgirls and parachuting bears. So it's got a lot of hooks for boththe longtime fan and sugar-crazed newcomer alike.


11. Far Cry 2 (PC, X360, PS3)
Publisher: Ubisoft
Developer: Ubisoft Montreal
Est. Release Date: Holiday 2008
Officially Announced for E3: No


FarCry 2 has found a unique gaming setting in the jungles, savannahs andtowns of Africa, and it plans on giving the player a lot of thatsetting – 50 square kilometers, to be precise. Plenty of new gameplayelements will make themselves known as the player crosses that expanse:some wounds have to be treated with field medicine (ie. fishing abullet out with a knife) and brush fires can be started, only to bewhipped up realistically by wind. Far Cry 2 is an underutilized brandmoving to an underutilized setting while adding multiple newinnovations, making it an extremely strong contender in the hardcoreshooter market.
10. Prince of Persia (X360, PS3)
Publisher: Ubisoft
Developer: Ubisoft Montreal
Est. Release Date: Holiday 2008
Officially Announced for E3: No


Princeof Persia: The Sands of Time was one of the last generation's definingmoments, so it would have been easy for Ubisoft to just build astandard sequel on the successes of its previous trilogy. The fact thatthis is not the case, that the series is instead being rebooted with anincredible hand-painted aesthetic and open world, show a strongdedication to making the Prince one of the most lasting and importantfranchises in gaming (though the big budget movie helps on that scoreas well). While previous PoP titles did sell well, after theblockbuster success of Assassin's Creed, the timing is perfect for thePrince to really make it big.


9. Final Fantasy XIII (PS3)
Publisher: Square Enix
Developer: Square Enix
Est. Release Date: TBD
Officially Announced for E3: Yes


Sinceclosing the door on the last console genre, Square Enix has relied onhandheld games and Wii side stories alone. If the publisher's lastfiscal statement said anything, it was that's no way for a company tolive—so while Square Enix has some other interesting console games inthe pipe, it needs to bring its megaton franchise back into the publiceye. It's not surprising that Final Fantasy XIII will show up in someform at E3—and regardless of what form it takes or what the game lookslike now, it could certainly steal the show if it tried.


8. Street Fighter IV (PC, X360, PS3)
Publisher: Capcom
Developer: Capcom/Dimps
Est. Release Date: 2009
Officially Announced for E3: Yes


Atworst, this is a surprise come back of one of gaming's most iconicfranchises. At best, this could be the surprise come back of agenre—certainly if anything could revive a flagging fighting gamefield, a new numbered entry in its greatest series would be the thingto do it. Perhaps the best sign that this game knows what it will taketo succeed is its reverence to Street Fighter II—all of the charactersfrom that game will return, and the gameplay mirrors the measured paceof that early entry. Considering versions of SFII still sell in strongnumbers, it's easy to see how this strategy could succeed on the market.


7. Rock Band 2 (X360, PS3, PS2, Wii)
Publisher: MTV Games
Developer: Harmonix
Est. Release Date: Sep 2008 (X360 timed exclusive, with other versions to follow)
Officially Announced for E3: Yes


Nomatter what other companies say, the fast-paced game of catch-up thathas gripped the music genre says one thing louder: the four-piece RockBand is the standard for the field. And while little is known about itat this point, what is known proves that Harmonix hasn't lost the plotwith Rock Band 2. Sticking to its "platform" guns, the game will befully backwards compatible—with old DLC, with old instruments, theworks. And while user-created content is not a go this time, there arecertainly things about the game yet to be announced—you don't want tomiss this one at the show.


6. LittleBigPlanet (PS3)
Publisher: Sony Computer Entertainment
Developer: Media Molecule
Est. Release Date: Oct 2008
Officially Announced for E3: Yes


Despiteseemingly constant delays, LittleBigPlanet remains one of the mostunique products in Sony's first-party arsenal. The idea of a game thatlives and dies by the content created by its users has been triedbefore in first-person shooters, but LittleBigPlanet, with its lovelytextured graphics and universal, non-violent charm wants to be muchmore—the YouTube of games perhaps, or the Legos of the 21st century. Ofall the games that could bring PlayStation 3 to the mass market, thisremains the best hope.


5. Halo Wars (X360)
Publisher: Microsoft
Developer: Ensemble Studios/Bungie
Est. Release Date: Oct 2008
Officially Announced for E3: Yes


HaloWars is more than just the next title from Microsoft to have the Haloname. It's also more than the first Halo project not spearheaded byBungie. Halo Wars wants to be a revolution in real-time strategy, aconsole exclusive built from the ground up for a console controller—inother words, Halo Wars wants to do for real-time strategy what Halo didfor first-person shooters. If it succeeds, it could crack wide open thenascent console RTS market as gamers try it based on the franchisealone. It's been reported that the game will be playable by the mediaat E3, so the show should give a much better idea as to how itssucceeding.


4. Spore (PC, Mac)
Publisher: Electronic Arts
Developer: Maxis
Est. Release Date: Sep 7, 2008
Officially Announced for E3: Yes


It'scertainly something that even after the seemingly endless amount ofwords typed about Spore, even though it's appeared in publications asnon-game centric as The New Yorker, even though the wait for the gamehas been years long and interminable, almost everyone who knows aboutit is still excited at its promise. And after the success of therecently released Creature Creator, that excitement is still mounting.Will Wright's SimEverything could very well the next big thing, tossingaside silly ideas like "demographics" and just appealing to everyoneeverywhere. In other words, the next Sims.


3. Gears of War 2 (X360)
Publisher: Microsoft
Developer: Epic Games
Est. Release Date: Nov 2008
Officially Announced for E3: Yes


Gearsof War 2 is a lot of things. To the gamer, it is epic, the sequel tothe game that dominated man hours spent on Xbox Live for most of 2007.To developers, it's the new baseline, as every new Epic game has cometo represent the state of the art for the now industry standard UnrealEngine 3. In both regards Gears of War 2 looks great. A fewimprovements to the constantly evolving engine have already been shown,and most gamers agree that new mechanics like martyrdom and the "meatshield" look like fantastic fun. Gears of War is already one of thisgeneration's emblematic franchises, so it will be great to see how thesequel goes about cementing that status.


2. Resident Evil 5 (X360, PS3)
Publisher: Capcom
Developer: Capcom
Est. Release Date: 2009
Officially Announced for E3: Yes


RE5is not even close to a retail release, and yet it's already one of themost interesting topics in the industry. It brings with it the highlyrespected pedigree of Resident Evil 4, hands-down one of the best gamesof the last generation, and will probably sell strongly to the audiencethat loved, or even heard about, that game. Yet it's also mired incontroversy over some concerns regarding racism. So it's a projectthat's walking many tightropes of expectation, and there's potentialfor huge success or massive failure here. As a result this E3 could bethe most important public showing for RE5 until its release—it shouldbe fascinating.


1. Fallout 3 (PC, X360, PS3)
Publisher: Bethesda Softworks
Developer: Bethesda Softworks
Est. Release Date: Oct 2008
Officially Announced for E3: Yes


Fallout3 shows great evolutionary leaps every time it's displayed for publicviewing, with recent revelations—the childhood simulating charactercreator, the 500 endings—being particularly fascinating. Now that it'scoming precariously close to its announced release date, this E3 shouldrepresent the game's biggest showing yet. If there are any surprisesleft in the title to announce, expect them to get announced at somepoint during the week. But even if there aren't, Fallout 3 has alreadyproven itself to be a sprawling, ambitious project that anyone in thegaming audience would wait to spend more time with.
Posted by Editorial Team Tue Jul 08, 2008 7:55 am
50 Skills that Every Gamer Should Master in Gaming
Just being able to play games is only the beginning. If you're goingto call yourself a proper gamer (as opposed to a casual pretender)there are a few requisite skills that you must master first. 50 skills,in fact. And they're all right here...
1. Give a game a review score without ever actually playing the game
A cursory glance from 20 paces of a grainy postage stamp-sized superlo-res scanned-in screenshot pinned to the ass-feathers of a headlesschicken in a sandstorm should be all you need to confidently attributean authoritative and infallible review score to any game. It's howprofessional reviewers have been doing it for years.
2. Be able to spot whether a game is running in 720p
Just by looking at it.
3. Survive with only four hours sleep (max) a night
We all abide by the 'one more go' mantra. It demands that we are strong in the face of severe sleep deprivation.


4. Play Wii without using the wrist strap
Or, master the art of gripping. Even newborn babies can do it.
5. Attack the weak point for massive damage
Look for the big red/yellow/orange thing. It's normally located on anenemy's back/ass/forehead. If a sustained assault yields unsatisfactoryresults, try attacking it with the last weapon you picked up. Thatnormally works a treat.
6. Be an expert in the work of one particular developer besides Miyamoto


Support

the people that make the games you love. Pick a team. Find ahero. Whether it's an entire studio or just a single creative. Getexcited about the games they make. Know their history and what they'reabout. Hunt out their gameography. Get informed. We're sure Mr Shigstuff won't mind if some of the love gets spread around.
7. Beat a really bastard hard game on any tier of difficulty higher than Normal
Real men play on MASOCHIST!
8. Estimate remaining PSP battery life and calculate device's lastability on journey
If you've gone to all the trouble of uploading an extensive selectionof softcore pornography to your PSP in advance of a business trip, itcan be hugely upsetting to run out of juice before you've even had achance to make yourself tired in the airplane convenience.
9. Play driving games without 'steering' the controller
Unless you're a girl. Then you can't help it.


10. Become unhealthily obsessed with one particular game and play only that game for six months solid
Winners don't quit. They become addicts.
11. Instantly recognise any game being played on a TV show or in a movie
Computer Space in Jaws, Asteroid Deluxe in The Thing, Galaga in Trains,Planes and Automobiles, Centipede in Never Say Never Again, thesound-fx of Pac-Man in Ferris Bueller's Day Off... plenty more here.
12. Easily spot at least 5 differences between any PS3 and 360 comparison shots, that are invisible to the normal human eye
You're looking for things like lighting, texture resolution, draw distance, anything pink or slightly gay, lumps or growths etc.
13. Expertly pick the right game for the right moment
You might think your sozzled post-pub friends are having an absoluteparty huddled around your monitor watching you level up in World ofWarcraft. But they're not.
14. Be able to navigate to the 'Invert? Yes/No' option in under 5 seconds
Pause. Controller Options. Invert Yes/No. Unpause.
15. Be fluent in l337 5934k
Bµ7 Ð0n'7 b3 4 7w47 4nÐ 3v3r µ$3 17. H3r3'$ 4 h4nÐ¥ 7r4n$£470r, jµ$7 1n (4$3.

16. Instinctively know the location of all controller buttonsand their respective numerical, alphabetical or symbol-baseddenominations
When playing, a real gamer never has to look at the controller. Unless it's to check that it's not on fire.


17. Perfectly repackage console/PC snugly back in its box, complete with Styrofoam and cable ties
Put those ninja-honed Tetris skills to good use.
18. Make in-game moral choices quickly and without flinching
Stop being such a lightweight and kill the Little Sister already. We'repretty sure God doesn't take make-believe evil into account whendeciding who gets locked out.
19. Have a selection of "I only lost because..." excuses prepared and rehearsed in the event of defeat
Here's a few for free: "...I couldn't take my eyes off your lap"; ...Ihurt my fingers when your mum sat on them"; "...Satan told me to";"...I was a victim of sexism" and so on.
20. Own non-gaming friends at absolutely anything
You've never played the game before. The pad's missing buttons. You'vegot amoebic dysentery and you can feel a hairy-ass spider crawlingacross your face. So what? When you're up against a newbie there is noexcuse for anything less than comprehensive ownership.
21. Perform tea-bagging like a pro
Don't bang away like a demented pneumatic penis. Get rhythm. Tea-bagging is an art - as our own educational video reminds us.
22. Immediately know what to dump when your inventory is full
Don't know what to drop after the Goblin's Cleaver of Apathy made youover encumbumbered? Stop being a massive tool and just relinquish someof the unused crap you've been pointlessly clinging on to for the last30 hours.
23. Engage in the 'Are games art?' debate without sounding like a pretentious twat or a moronic dumbass
Find the middle-ground between this:

"I think you'll actually find that videogames are a post-modernexpression of individualism while simultaneously collectivising itsdigital form and manifesting as abstract interactive entertainment."
And this:
"Art is for pussies. I just want to kill make-believe people."


24. Always spot the 'hidden area'
Remember: nothing screams "HIDDEN AREA!" louder than a cracked wall.
25. Gather enough tech speak to make it sound like you know how to make games better than developers themselves
"Sure, they might have nailed the anisotropic and bilinearfiltering, but you can unzip me like a banana if the Cartesiancoordinates and phong shading aren't an absolute bucket of wank." Smartsounding development speak makes you superior. This site is a good place to start.
26. Memorise enemy/item spawn points
Want to know how tHE dEfec8or is always smoking your ass withthe rocket launcher? It's because he's all over the longitude andlatitude of those maps, and he's snorting up the coordinates of everyspawn point and he knows exactly what it'll spawn and he knows exactlywhen it'll spawn it. It's called dedication and that's why tHE dEfec8oris a winner.
27. Complete unlocking/defusing mini-games first time, every time
Should be like making Einstein recite his five times table.
28. To never be suckered by game store offers pimping crappy games and shitty third party peripherals
An Hour of Victory and Turning Point: Fall of Liberty bundle for 40notes with a TatTech controller thrown in for free is not a bargain,it's a piss-take.
29. Be condescending, patronising and impatient when playing with non-gamers
Alternatively, feign kindness and offer to show them "how to do it". Once you've got the controller, never give it back.
30. Be shit-faced drunk and still be able to rock at Guitar Hero or other popular party game
Preferably be able to keep getting more drunker while playing.


31. Bluff your way through a conversation about a retro game you never actually played
Don't ever admit to having not played some geriatric, incontinent pieceof gaming history that some rose-tinted retrosexual is eulogising. Justfudge your way through. It's not hard: "Geoff Spectacles and theSubatomic Android Invaders on the Vic-20? Of course I played it! Thatwas the one with the monochrome 2D graphics and beepy sound effectswasn't it?"
32. Instantly identify enemy types by the sound they make
Don't stop with enemies. Utilise your ears as nature intended andrecognise weapons, vehicles, power-ups, score multipliers... anythingat all with the amazing power of hearing.
33. Confidently guess what a developer's secret project/unannounced title is
If all else fails, predict Shenmue 3.
34. Passionately champion at least one obscure game that nobody has ever heard of and win it some new fans
Ever heard of Warriors of Elysia? It's the long overdue sequel to Bikini Karate Babes. We're sure it's going to be awesome.
35. Get the highest possible rank/medal/award in any tutorial level
Tutorial levels are weak and pathetic. An insult to proper gamers,they're a monumental mismatch on the same scale as a bare-knucklesbrawl to the death between Chuck Norris and Barbara Bush.
36. Know which elemental attack will be most effective against an enemy
Water>Fire. It's not exactly rocket surgery.
37. Master the art of reloading
Don't ever let your gun get caught with its pants down. It's humiliating.
38. To simultaneously perform other important life tasks while playing
Multi-tasking is the cornerstone of every real gamers' brain. Youshould be able to eat pizza, guzzle coffee, fill in a jobapplication, build a house of cards AND successfully evade a six-star wanted level in GTA IV all at the same time.


39. Skip every cut-scene and still understand what's going on
No matter how convoluted the machinations and exposition, when it boilsdown to it you're basically just trying to beat the baddies.
40. Identify boss battle attack patterns in under 20 seconds
Lunge. Lunge. Guard. Burrow into ground/disappear/become temporarilyinvincible. Emerge from ground/reappear/stop being invincible. Chargespecial attack. Release special attack. Expose weak spot in atactically foolish and totally unnecessary manner <Playerstrikes&gt; Repeat until dead.
41. To know everything about the game without ever having to consult instruction manuals
Apart from a few semantics and trivialities, once you've read one instruction manual, you've pretty much read them all.
42. Argue effectively in a gaming Internet forum
At the most basic level this entails typing "HAVE YOU ACTUALLYPLAYED THE GAME!?" over and over and over until the foul dealer ofscurrilous mistruths slinks away like the miserable dog that he is.
43. Well developed bladder control
You're not going to get to level 70 by taking a piss break every three hours.

44. Condense even the most convoluted control system into easy-to-manage verbal instructions
"Basically, move the sticks and press X"
45. Always know the best spots for camping
So you can root them out or dig in deep, depending on your mood.
46. Memorise important cheat codes for fast fingered employment at a moments notice
If you can't remember Up, Up, Down, Down, Left, Right, Left, Right, B, A then you weren't there.
47. Have at least one game that you are unbeatable at
Take the time to master a game. Play it with your eyes closed. Learnevery pattern, every combo, every counter, every weak-spot. But don'tbrag about it. Just casually lure people into your virtual domain. Toywith them. Give them false hope. Maybe even let them win a couple oftimes and say something all humble and wimpy like: "Gee, you really gotme. Well played." Then bring the real noise and let the shuntingcommence. Their humiliation will feel rudely satisfying.
48. Be like Rainman when converting Microsoft/Wii points
It's the ultimate geek party trick. If you can calculate that 190,608Microsoft points is $2,381.65 without even flinching then you will get chicks. Believe us. Mental arithmetic makes ladies hot.
49. Read the back-of-box blurb and decipher it into 'What It Actually Means'
"State-of-the-art 3D environments and characters" = "We done some graphics". More here.
50. Know when NOT to talk about gaming
"Sure, as maps go if you've got a competent team together thenCrossfire can be pretty badass, but Wetworks is off-the-hook whenyou're gunning solo. Oh yeah, sorry to hear about your entire familygetting killed with the bird flu. Must be a real bummer. So... youwanna play some COD?"

Posted by Editorial Team Tue Jul 08, 2008 7:41 am
Microsoft responds to Xbox 360 Elite rumours in Gaming
Microsoft has today responded to a number of misleading stories in the UK's mainstream pressearlier this week regarding alleged 'red ring' problems with the Xbox360 Elite console that have been experienced by numerous UK gamers.
Microsoft has now issued the following official response to these stories, which appeared in the Daily The Mirror and The Daily Telegraph:
"Recentreports in the UK media regarding Xbox 360 contain inaccuracies andpure speculation, as well as news that is a year old.
"Promptedby what Microsoft viewed as an unacceptable number of repairs to Xbox360 consoles, a year ago Microsoft announced an expansion of its Xbox360 warranty. Effective 5 July, 2007, any original retail Xbox 360customer who experiences a general hardware failure indicated by threeflashing red lights is covered by a three year warranty from date ofpurchase, with all other issues remaining covered by the standardone-year warranty."
Why the red ring?
Microsoft'sofficial statement also reiterates the company's initial comments fromJuly 2007 that they had "conducted extensive investigations intopotential sources of general hardware failures," and that after"identifying a number of factors which can cause the general hardwarefailures, Microsoft has made improvements to the console."
Sowhat do those evil three red lights actually mean? Many reports seem tothink that they indicate a single overheating problem, but according toMicrosoft, this is not the case.
"The three flashing red lightserror message does not signal a single issue and can be caused by acombination of factors. For competitive reasons, we do not providespecifics about hardware components.
The statement adds: "Weencourage anyone who is experiencing issues with their Xbox 360 consoleto call the customer

support

centre. Our customer service team is wellequipped to ensure that all Xbox 360 repairs go smoothly."
No endemic problem
TechRadarhas contacted The Mirror, The Telegraph and a number of leading UKgames retailers to find out more on the alleged 'numerous problems'with the Xbox Elite.
Both stories quote a 16-year-old Jamie Kingfrom Sussex. If you happen to know or be that James King from Sussex,then please drop us a line to news@techradar.com and tell us more aboutthe problems you have had with your Xbox 360 Elite.
Posted by Editorial Team Tue Jul 08, 2008 7:39 am
10 Best Hacking and Security Software Tools for Linux in Hardware, Internet, Networking, Comms and Security
Linuxis a hacker's dream computer operating system. It supports tons oftools and utilities for cracking passwords, scanning networkvulnerabilities, and detecting possible intrusions. I have here acollection of 10 of the best hacking and security software tools forLinux. Please always keep in mind that these tools are not meant toharm, but to protect.

1. John the Ripper






John the Ripper

is a free password cracking software tool initially developed for theUNIX operating system. It is one of the most popular passwordtesting/breaking programs as it combines a number of password crackersinto one package, autodetects password hash types, and includes acustomizable cracker. It can be run against various encrypted passwordformats including several crypt password hash types most commonly foundon various Unix flavors (based on DES, MD5, or Blowfish), Kerberos AFS,and Windows NT/2000/XP/2003 LM hash. Additional modules have extendedits ability to include MD4-based password hashes and passwords storedin LDAP, MySQL and others.




2. Nmap

Nmapis my favorite network security scanner. It is used to discovercomputers and services on a computer network, thus creating a "map" ofthe network. Just like many simple port scanners, Nmap is capable ofdiscovering passive services on a network despite the fact that suchservices aren't advertising themselves with a service discoveryprotocol. In addition Nmap may be able to determine various detailsabout the remote computers. These include operating system, devicetype, uptime, software product used to run a service, exact versionnumber of that product, presence of some firewall techniques and, on alocal area network, even vendor of the remote network card.

Nmapruns on Linux, Microsoft Windows, Solaris, and BSD (including Mac OSX), and also on AmigaOS. Linux is the most popular nmap platform andWindows the second most popular.



3. Nessus

Nessusis a comprehensive vulnerability scanning software. Its goal is todetect potential vulnerabilities on the tested systems such as:

-Vulnerabilities that allow a remote cracker to control or access sensitive data on a system.
-Misconfiguration (e.g. open mail relay, missing patches, etc).
-Defaultpasswords, a few common passwords, and blank/absent passwords on somesystem accounts. Nessus can also call Hydra (an external tool) tolaunch a dictionary attack.
-Denials of service against the TCP/IP stack by using mangled packets

Nessusis the world's most popular vulnerability scanner, estimated to be usedby over 75,000 organizations worldwide. It took first place in the2000, 2003, and 2006 security tools survey from SecTools.Org.



4. chkrootkit

chkrootkit(Check Rootkit) is a common Unix-based program intended to help systemadministrators check their system for known rootkits. It is a shellscript using common UNIX/Linux tools like the strings and grep commandsto search core system programs for signatures and for comparing atraversal of the /proc filesystem with the output of the ps (processstatus) command to look for discrepancies.

It can be used from a"rescue disc" (typically a Live CD) or it can optionally use analternative directory from which to run all of its own commands. Thesetechniques allow chkrootkit to trust the commands upon which it dependa bit more.

There are inherent limitations to the reliability ofany program that attempts to detect compromises (such as rootkits andcomputer viruses). Newer rootkits may specifically attempt to detectand compromise copies of the chkrootkit programs or take other measuresto evade detection by them.



5. Wireshark

Wiresharkis a free packet sniffer computer application used for networktroubleshooting, analysis, software and communications protocoldevelopment, and education. In June 2006, the project was renamed fromEthereal due to trademark issues.

The functionality Wiresharkprovides is very similar to tcpdump, but it has a GUI front-end, andmany more information sorting and filtering options. It allows the userto see all traffic being passed over the network (usually an Ethernetnetwork but

support

is being added for others) by putting the networkinterface into promiscuous mode.

Wireshark uses thecross-platform GTK+ widget toolkit, and is cross-platform, running onvarious computer operating systems including Linux, Mac OS X, andMicrosoft Windows. Released under the terms of the GNU General PublicLicense, Wireshark is free software.



6. netcat

netcat is a computer networking utility for reading from and writing to network connections on either TCP or UDP.

Netcatwas voted the second most useful network security tool in a 2000 pollconducted by insecure.org on the nmap users mailing list. In 2003, itgained fourth place, a position it also held in the 2006 poll.

The original version of netcat is a UNIX program. Its author is known as *Hobbit*. He released version 1.1 in March of 1996.

Netcat is fully POSIX compatible and there exist several implementations, including a rewrite from scratch known as GNU netcat.



7. Kismet

Kismetis a network detector, packet sniffer, and intrusion detection systemfor 802.11 wireless LANs. Kismet will work with any wireless card whichsupports raw monitoring mode, and can sniff 802.11a, 802.11b and802.11g traffic.

Kismet is unlike most other wireless networkdetectors in that it works passively. This means that without sendingany loggable packets, it is able to detect the presence of bothwireless access points and wireless clients, and associate them witheach other.

Kismet also includes basic wireless IDS featuressuch as detecting active wireless sniffing programs includingNetStumbler, as well as a number of wireless network attacks.



8. hping

hpingis a free packet generator and analyzer for the TCP/IP protocol. Hpingis one of the de facto tools for security auditing and testing offirewalls and networks, and was used to exploit the idle scan scanningtechnique (also invented by the hping author), and now implemented inthe Nmap Security Scanner. The new version of hping, hping3, isscriptable using the Tcl language and implements an engine for stringbased, human readable description of TCP/IP packets, so that theprogrammer can write scripts related to low level TCP/IP packetmanipulation and analysis in very short time.

Like most tools used in computer security, hping is useful to both system administrators and crackers (or script kiddies).



9. Snort

Snortis a free and open source Network Intrusion prevention system (NIPS)and network intrusion detection (NIDS) capable of performing packetlogging and real-time traffic analysis on IP networks.

Snortperforms protocol analysis, content searching/matching, and is commonlyused to actively block or passively detect a variety of attacks andprobes, such as buffer overflows, stealth port scans, web applicationattacks, SMB probes, and OS fingerprinting attempts, amongst otherfeatures. The software is mostly used for intrusion preventionpurposes, by dropping attacks as they are taking place. Snort can becombined with other software such as SnortSnarf, sguil, OSSIM, and theBasic Analysis and Security Engine (BASE) to provide a visualrepresentation of intrusion data. With patches for the Snort sourcefrom Bleeding Edge Threats,

support

for packet stream antivirusscanning with ClamAV and network abnormality with SPADE in networklayers 3 and 4 is possible with historical observation.



10. tcpdump

tcpdumpis a common computer network debugging tool that runs under the commandline. It allows the user to intercept and display TCP/IP and otherpackets being transmitted or received over a network to which thecomputer is attached.

In some Unix-like operating systems, auser must have superuser privileges to use tcpdump because the packetcapturing mechanisms on those systems require elevated privileges.However, the -Z option may be used to drop privileges to a specificunprivileged user after capturing has been set up. In other Unix-likeoperating systems, the packet capturing mechanism can be configured toallow non-privileged users to use it; if that is done, superuserprivileges are not required.

The user may optionally apply aBPF-based filter to limit the number of packets seen by tcpdump; thisrenders the output more usable on networks with a high volume oftraffic.


Do you have a favorite security software tool for Linux? Feel free to comment and tell us about it.
Posted by Editorial Team Fri Jul 04, 2008 6:06 am
Games Industry Movers: Trion, 38 Studios, Kongregate & M in Business and Industry in Gaming, Media, Web, IT and Computing
his past week, 38 Studios (the developer founded by Red Sox pitcherCurt Schilling) announced that Thom Ang was appointed Director of Art.He will oversee the direction and management of 38 Studios' artisticdevelopment, including the MMOG codenamed Copernicus, whileworking closely with Todd McFarlane and R. A. Salvatore. Ang willreport to Vice President of Creative Development, Scott Cuthbertson.
"38 Studios' creative teams have been meticulously crafting thesignature look and feel for our upcoming MMOG over the past 18 months,"said Brett Close, CEO and president. "Thom's extraordinary talent andexperience will be key in driving the vision and quality of our OnlineEntertainment Experience."
Ang has been working as a director for notable franchises and brandsfor over 15 years. He's worked as a senior artist at DisneyInteractive, working on titles like Toy Story II and Tarzan. Ang also created illustrations for TV shows, including The X-Files and was a storyboard artist for Sony/Columbia/Tri-Star TV Animation programs, which include Roughnecks: Starship Troopers Chronicles and Max Steel.He then moved on to be art director at EA LA, where he headed up artproduction, team management and visual concept development for the Medal of Honor franchise. In his last position, Ang was art director at THQ, managing more than 25 titles.
"38 Studios is absolutely committed to the next evolution of MMOGs, andevery team member has great pride in the value of what they do,"remarked Ang. "I am excited to contribute to this vision and become apart of an extraordinary team."
Lisa Jablonsky - Kongregate
Kongregate announced this past Friday that Lisa Jablonsky will open thecompany's New York ad sales office. She will work with Kongregate'sChief Revenue Officer Lee Uniacke to secure high-profile advertisingpartnerships based on the site's reach and appeal to young men, ages 13- 34.
"With high user engagement and a growth rate of over 25 percent monthover month, Kongregate provides the ideal medium for advertisers tryingto reach this hard-to-pin-down demographic," stated Uniacke. "As webuild our sales force to address these opportunities, Lisa's proventrack record in developing successful partnerships across a range ofyouth-driven digital consumer brands will add tremendously to theexpertise of our team."
Jablonsky has worked in the New York advertising scene for 21 years andshe was as an early proponent of the digital advertising arena. Amongher projects, she has conceptualized and implemented ground-breakingfilm contests for Intel and Kohl's, and created one of the first mobilecontests for Alltel. Jablonsky helped create games for McAfee Softwareand the National Guard, as well as construct an editorial integrationprogram for Coke's NBA March Madness Flash game. She was most recentlyan account executive with MTV Networks, where she successfully droveadvertising and integrated sponsorships for Comedy Central,AddictingGames.com, Shockwave.com, and AtomFilms.
"Kongregate is an advertiser's dream as it attracts young men betterthan virtually any other site on the Web and puts them in a cool, edgyenvironment where our audience can really interact with their brand,"commented Jablonsky. "At over 3 million unique users today, a highgrowth rate, and just being named one of Time Magazine's Top 50 sitesfor 2008, we're on track to give advertisers the big reach that theyneed to effectively target the young male demographic this fall."
Trion World Network - Glen Van Datta
Trion World Network announced recently that Glen Van Datta has beenhired as Vice President of Engineering and General Manager of TrionWorld Network Austin. He will oversee day to day operations at Trion'sAustin studio and supervise all customer service, quality assurance,operations and other

support

activities with relation to the Trionplatform.
"Glen is a tremendous hire for Trion and an excellent addition to ourworld class technical organization", said Nicholas Beliaeff, VicePresident of Product Development & Head of Trion World Network SanDiego. "Glen's vision, leadership, and deep history maturing andproductizing compelling online game technology will help Trion take ourserver based game technology to the highest levels while helping us andour partners get to market more quickly."
Notably, Van Datta has worked for over 22 years in softwaredevelopment, including the past dozen in game development. He wasco-founder and Vice President of Engineering at RTIME, where he oversawthe development, design and testing of the RTIME SDK online, in-gameand player matching platform. Van Datta most recently worked at SCEA asDirector of Online Technology, where he oversaw a team of more than 80employees that developed SCE-RT SDK to enable online games for PS2, PS3and PSP games, including Singstar, Warhawk, Resistance, Home and GT5 Prologue.
"For more than 12 years I've believed that online games, online socialnetworks and online media distribution were the future ofentertainment," said Van Datta. "Trion's innovative, dynamic platformand content are the next generation in the online entertainment space."
IGN Entertainment – Jamie Berger
IGN Entertainment announced recently that senior vice president ofconsumer products and technology Jamie Berger will start overseeingbusiness development for the company. He will continue managing IGN'ssubscriptions, digital distribution, and e-commerce portfolio includingIGN's Direct2Drive and GameSpy Technologies.
Berger has over 16 years of professional brand management and marketingexperience from within the online gaming industry. He began hisprofessional career as an Account Manager with the NCR Corporation.Berger spent six years in the consumer products division of The WaltDisney Company before joining IGN Entertainment. He currently helpsextend the IGN brand by creating and leading partnerships thatdistribute content and drive revenue.
AMD - Emilio Ghilardi
AMD, which runs the ATI graphics card business, announced this pastweek that Emilio Ghilardi has been appointed senior vice president andgeneral manager of Europe, Middle East and Africa (EMEA). He will beresponsible for all sales and marketing operations within EMEA,starting in mid-August 2008. Ghilardi will report to AMD chief salesofficer Gustavo Arenas.
"Emilio adds tremendous global sales and marketing leadership to AMD inEMEA which we expect to help strengthen and grow relationships with ourend-user customers, OEMs and distribution partners," said Arenas.
Ghilardi comes to AMD from HP, where he started as vice president ofConsumer PC Clients in EMEA. He then moved on to be vice president andgeneral manager of Commercial Hardware within the Imaging and PrintingGroup. Ghilardi was most recently vice president and general manager ofHP's EMEA Consumer Business Unit, managing the business for consumerPCs and Imaging and Printing products.
AMD added that Alberto Macchi, corporate vice president of Sales andMarketing for EMEA, is departing the company "to pursue newopportunities."
Warner Bros. Digital Distribution - Jacqueline Jourdain Hayes
Warner Bros. Digital Distribution (WBDD) recently announced thatJacqueline Jourdain Hayes has been named Senior Vice President Businessand Legal Affairs. She will manage legal issues around new digitalbusiness models (such as distribution of Warner properties on Xbox Liveand elsewhere) globally, oversee the negotiation of Warner Bros.video-on-demand and electronic sell-through licenses across multipledigital platforms, and provide legal counsel to the Company's seniormanagement on the acquisition, distribution and protection of contentfor digital platforms and other digital initiatives.
"Jackie has been working on our digital business for quite some time,her expertise in this area is unparalleled," said Clarissa Weirick,General Counsel, WBDD. "The digital business is still one of thoseareas where you are often making the rules as you go along, whichrequires someone like Jackie who is confident and creative innegotiating this new terrain. We are extremely fortunate to have hercontinued expertise as our digital business moves ahead."
Hayes has worked as an Associate in the Corporate Departments of TroopMeisinger Steuber & Pasich in Los Angeles, of Goulston and Storrs,P.C. in Boston, and of Moses & Singer in New York City. She joinedWarner Home Video in 1998 as Counsel, and was promoted to VicePresident Business and Legal Affairs of WHV in 2000. Hayes joined theWarner Bros. Digital Distribution division in July 2006.
TC Digital Games – Andi Smithers
Recently, TC Digital Games announced that it appointed Andi Smithers tothe new position of Director of Technical Development. He will overseedevelopment of the company's digital services, including mediatechnology and format strategy as well as interoperability of digitalservices and devices.
"Andi joins our team at a pivotal moment in the evolution of Chaoticand TC Digital," said Bryan C. Gannon, President and CEO of TC DigitalGames. "He will become an integral part of our efforts to enhance theChaotic online experience and further develop our digital services.Andi's expertise in developing technology, his extensive background increating computer game software and his vision for emerging technologymake him a perfect fit to lead this innovative game play convergence."
Smithers has held several executive roles and technical positionsthroughout his 20-year career, having worked for Microsoft, Activision,Psygnosis, LucasArts, and Midway. He was most recently with Sony OnlineEntertainment where he served as Senior Engineer in the Research andDevelopment group. Smithers pushed advanced physics and graphicstechnologies forward to ensure their quality and was responsible foroverseeing the strategy and development for a cloth simulator.
Microsoft – Michael Delman
As we previously reported, Microsoft this past week appointed MichaelDelman to the position of corporate vice president of global marketingfor the Interactive Entertainment Business (IEB) in the Entertainmentand Devices Division. He takes over the role for Jeff Bell who left thecompany earlier this month. Read more about the move here.
Posted by Editorial Team Mon Jun 30, 2008 6:42 am
Why the PC is the future (from VALVE) [FEATURE] in Gaming
When Valve summoned a handful of US and UK journalists to itsSeattle headquarters at the end of last month, it promised to talkabout the future of Steam, its digital distribution system. That itdid, revealing the ambitious Steam Cloud service for remote storage of game data, and boasting that it would soon be making more money selling games digitally, all the while remaining untroubled by piracy.
Valvemastermind Gabe Newell and his cohorts had an ulterior motive forbringing reporters together, however, and unusually for an ulteriormotive, it wasn't a wholly self-interested one. It was this: toevangelise the PC as the games platform of the future.
"Thisreally should be done by a company like Intel or Microsoft, somebodywho's a lot more central to the PC," says Newell, pointing out thatcompanies like Blizzard, PopCap and GameTap would have just as much tosay as Valve about how PC gaming is leading innovation in technology,business models, and community-building. But, notwithstandingMicrosoft's occasional promotionof Games For Windows - an initiative Newell refrains from attackingdirectly, but exudes disdain for - that

support

has not beenforthcoming.
Where console platforms have merciless andwell-funded PR armies poised to combat any criticism, negative storiesabout the PC - mostly publishers, or developers like Crtyek,complaining of rampant piracy and flat sales - run unimpeded. Salesdata that focuses solely on boxed copies sold at retail appear to backthem up. Valve has had enough. "There's a perception problem," saysNewell. "The stories that are getting written are not reflecting whatis really going on."




You want figures? There are 260 million online PC gamers, a marketthat dwarfs the install base of any console platform, online oroffline. Each year, 255 million new PCs are made; not all of them forgaming, it's true, but Newell argues that the enormous capitalinvestment and economies of scale involved in this huge market ensurethat PCs remain at the cutting edge of hardware development, andconsoles their "stepchildren", in connectivity and graphics technologyespecially. Meanwhile, Valve's business development guru, JasonHoltman, notes that without the pressure of cyclical hardware cycles,PC gaming projects - he points to Steam as an example - can groworganically, over long periods of time, and with no ceiling whatsoeverto their potential audiences.


More pertinent, perhaps, are thefigures directly relating to games revenue that the retail charts -admittedly a stale procession of Sims expansions and under-performingconsole ports - don't pick up. "If you look into the future, there's animportant transition that's about to happen, and it's going to happenon the PC first," says Newell.


At its heart, he explains, is a shift from viewing games as aphysical product, to viewing them as a service - something that is alsohappening in other entertainment media. Digital distribution is part ofthat; more fluid and varied forms of game development, with games thatchange and engage their communities of players over time, are another;as is, naturally, the persistence and subscription (or otherwise)revenues of MMO games. None of this is reflected in the sales chartsanalysts, executives - and gamers - obsess over.
Valve sees 200per cent growth in these alternative channels - not just Steam, butincluding the likes of cyber-cafes as well - versus less than 10 percent in bricks-and-mortar shop sales. Steam has a 15 million-strongplayer-base with 1.25 million peak concurrent users, and 191 per centannual growth; none too far off a console platform in itself. The PCcasual games market, driven by the likes of PopCap, has gone from nextto nothing to USD 1.5 billion dollar industry in under ten years, andhas doubled in size in just three. Perhaps most surprisingly, Valve hasfound that digital distribution doesn't cannibalise retail sales - infact, a free Day of Defeat weekend on Steam created more new retailsales than online ones.



And then there is the game that many claim has been the death of PCgaming, but that Valve sees as its greatest success story, and itsfuture. "Until recently, the fact that World of Warcraft was generating120 million dollars in gross revenue on a monthly basis was completelyoff the books," Newell says. "Essentially, [Blizzard is] creating a newIron Man every month, in terms of the gross revenue they're generatingas a studio. Any movie studio would be shouting about that from therooftops. But it was essentially invisible."
Newell thinks thatWOW is "arguably the most valuable entertainment franchise in any mediaright now", and also believes, rightly, that it could only ever havehappened on the PC. He also tips his hat to South Korea's Nexxon forits enormous success with free-to-play, microtransaction-driven gameslike Kart Rider and Maple Story, soon to be aped by EA's BattlefieldHeroes.


There is another reason for the gulf between theperception and the reality of the games market, Valve thinks, and it'sa geographical and linguistic one. The dominance of the Englishlanguage gives the US and UK games markets, where the PC is weakest,undue prominence. In several major Western markets - notably Germanyand the Nordic countries - the PC performs much better. What's more, inthe emerging markets of China, Korea and Russia, where gaming is seeingunprecedented, explosive growth, console install bases are negligible,and the PC is king. Valve thinks that there's a silent majority ofglobal gamers who are skipping the console era entirely, the way thesedeveloping nations already skipped dial-up internet.


Steam isavailable in 21 languages for this reason, and Valve reckons that itsspeedy localisation and lack of physical distribution is an effectivecounter to the piracy common in these markets. It's also allowing Valveto get games to players in regions traditional channels don't

support

."PC's are everywhere in the world," says Holtman simply. "PC's are thesame all over the world. All of sudden, if you can open up emergingmarkets and go somewhere like Russia or South East Asia, you've goneway further than you can go with a closed console. There are 17 millionPC gaming customers in Russia alone."

A key shift in this brave new world of games as services rather thanproducts - and one that runs contrary to the traditional image of PCgaming - is a move away from graphical fidelity being the yardstick ofprogress. "As a company that's really proud of the job we do withgraphics it's funny to say this," Newell says, "but we get a betterreturn right now by focusing on those features and technologies thatare about community, about connecting people together."
He citeseasy uploading of gameplay videos to YouTube as a bigger source ofentertainment value than marginal improvements in graphics. "I thinkthat people thinking about how to generate web hits on their serversare a lot closer to the right mentality for what's going to besuccessful in entertainment going forward, than somebody that's used tohaving conversations about how to get end caps at Best Buy."
Therevolution in distribution and business models also offers a major newopportunity for smaller games - and smaller games developers - tothrive. The demands of retail - the logistical problems of gettingboxes to shops, and the budgetary drain of huge marketing campaigns -mean that bigger is necessarily better in the traditional games market.
Notso on Steam and its equivalents, says Valve, pointing to the hugesuccess of indie darling Audiosurf, as well as its own Portal. "As youmove away from that huge first weekend, big blockbuster mentality,"says Newell, "you're getting back to an area where smaller and smallergroups can connect with customers. I think you're going to find thatthe enjoyment of being in the game industry as a developer on the PC isa lot greater than outside of it."

He's backed up by an actual indie, Audiosurf creator Dylan Fitterer.This one-man development, created without financial backing -impossible on consoles, due to the cost of development kits - was thebest-selling game on Steam full-stop at its release, outclassing manybig-budget titles. "I didn't have to ask anybody if I could release it,except for my wife," Fitterer says. "It took a few years, and I waspretty darn tired by the time it was ready. Something likecertifications? No thanks." He also points out the tight limitations ofconsole servers versus PC servers for online gaming; Audiosurf'sscoreboard for every song ever recorded would be out of the question ona closed platform.
Holtman argues that Steam and Steamworks - thesuite of free tools it offers - revolutionise the environment fordevelopers and publishers. The auto-updating system means that a gamecan be developed right up to release and beyond. It eases painfulcrunch times, and allows game makers to respond to their audiences,publishers to develop their titles as continuously evolving franchisesrather than finite products.
"All of a sudden, PC games becomethis thing that's reliable and up-to-date," says Holtman. Team Fortress2 designer Robin Walker weighs in, noting that the PC version of theshooter has had no less than 53 updates since its release last year -something that certification cost and time have prohibited for onconsole - and that this "ship continuously" ethos is a key component tothe success of the best multiplayer titles. Steam, he says, makes thatprocess fast and transparent.
"I don't want anyone between me andmy customers," says Walker. "I want to write code today and I want allmy customers running it tomorrow." Possible on the PC - Steam inparticular, naturally. Not possible on consoles. For his part, Fittereradded achievements to Audiosurf in a total of two days. This constantiteration creates a feedback loop between developer and customer that,reckons Walker, can only improve the quality of the game. "The more Italk to my customers, the better my decisions will be. Without a systemof talking to my customers, I will make bad decisions."

The implication is a striking one: sporadic, excessively controlledupdating means that console multiplayer games will never reach theheights of their PC counterparts. There is a counter-argument - that PCgames descend into a poorly-defined, indistinct mess of constantpatching - but it is effectively squashed by the fact that, if you lookfor a multiplayer game with the longevity and massive popularity of aWOW or a Counter-Strike on console, you won't find one (with the veryarguable exception of Halo).
Auto-updating is the reason Valvecreated Steam in the first place. It's the reason it now finds itselfin an odd position for a developer: semi-publisher, leadingdistributor, market analyst, agony uncle and technocrat - not tomention defender of a platform that's still being proclaimed dead, whenall signs point to the very opposite.
At the end of the day, PCgaming's health - and its trickiest challenge - comes down to a bottomline that even the format's detractors can't refute: there are just somany of the damn things. "We think the number of connected PC gamers weare selling our products to dwarf the current generation of consolesput together," states Newell. "There are tremendous opportunities infiguring out how to reach out to those customers.
Posted by Editorial Team Mon Jun 30, 2008 6:22 am
Official: Windows 7 date is confirmed (Windows Vienna) in Microsoft / Windows
Bill Gates may have only just saidhis goodbyes, but the Microsoft machine keeps on running with thecompany announcing information about the release of Windows 7.
Thepaint may not have even dried on the Windows that is Vista, but itseems that Microsoft is already looking to launch its successor withinthe next two years.
In a letter to enterprise and businesscustomers on Tuesday, vice president of Microsoft Bill Veghte announcedthat the approximate launch date for Windows 7 is January 2010.
Seventh heaven
Inthe letter, Veghte wrote: "Our plan is to deliver Windows 7approximately three years after the January 2007 general availabilitylaunch date of Windows Vista.
"You've also let us know you don'twant to face the kinds of incompatibility challenges with the nextversion of Windows you might have experienced early with Windows Vista.
"Our goal is to ensure that the migration process from Windows Vista to Windows 7 is straightforward."
Well,if Intel is anything to go by, it won't be the migration from Vista toWindows 7 that will be the problem, it will be the migration from XP toWindows 7 that most computer users will be worried about.

Milestone 1
The first known build of Windows 7 was identified as a "Milestone 1(M1) code drop" according to TG Daily with a version number of6.1.6519.1. It was sent to key Microsoft partners by January 2008 in both x86 and x86-64 versions. Though not yet commented on by Microsoft, reviews and screenshots have been published by various sources.The M1 code drop installation comes as either a standalone install or one which requires Windows Vista with Service Pack 1, and creates a dual-boot system.
On April 20, 2008,screenshots and videos of a second build of M1 were leaked with aversion number of 6.1.6574.1. This build included changes to WindowsExplorer as well as a new Windows Health Center.
A standalone copy of build 6519 was leaked initially to private FTPsby BETAArchive on June 10, 2008, which quickly spread to many torrenttrackers.


Later builds
According to TG Daily article of January 16, 2008, the Milestone 2(M2) code drop was at that time scheduled for April or May of 2008. User interface appearance changes are expected to appear in later builds of Windows 7.
Milestone 3 (M3) is listed as coming in the third quarter, with the release to manufacturing in the second half of 2009. The release dates of a beta version and a release candidate are "to be determined".
Bill Gates commented in a press conference in April 2008 that a new version [of Windows] would come "in the next year or so".According to additional clarification by Microsoft, he was onlyreferring to availability of alpha or beta versions of Windows 7.


Unveiling
The Windows 7 user interface was demonstrated for the first time at the D6 conference during which Steve Ballmer acknowledged a projected release date of late 2009.The build of Windows 7 that was on display had a different taskbar thanfound in Windows Vista, with, among other features, sections dividedinto different colors. The host declined to comment on it, stating "I'mnot supposed to talk about it now today".
Features
Windows 7 has reached the Milestone 1 (M1) stage and has been made available to key partners.According to reports sent to TG Daily, the build adds

support

forsystems using multiple heterogeneous graphics cards and a new versionof Windows Media Center New features in Milestone 1 also reportedly include Gadgets being integrated into Windows Explorer, a Gadget for Windows Media Center, the ability to visually pin and unpin items from the Start Menu and Recycle Bin, improved media features, a new XPS Viewer, and the Calculator accessory is multi-line featuring Programmer and Statistics modes along with unit conversion.
Reports indicate that a feedback tool included in Milestone 1 lists some coming features: the ability to store Internet Explorer settings on a Windows Live account, updated versions of Paint and WordPad, and a 10 minute install process. In addition, improved network connection tools might be included.
A new feature in build 6574, Windows Health Center, allows the user to monitor all of their PC's health problems, and concerns in one place. It allows turning User Account Control on and off, and monitoring 3rd party anti-virus programs, firewalls, etc.
In the demonstration of Windows 7 at D6, the operating systemfeatured multi-touch, including a virtual piano program, a directionsprogram and a more advanced paint program.
Windows Server 7
Posted by Editorial Team Sun Jun 29, 2008 6:43 am
Nvidia releases PhysX code for latest GeForce GPUs in Hardware, Internet, Networking, Comms and Security
Nvidia has posted a version of its PhysX software that enables thephysics-on-GPU technology on its GeForce GTX 200-series and 9800 GTXgraphics chips.
The new release, version 8.06.12, was posted last night, builds onsoftware Nvidia acquired when it bought physics chip specialist Ageiain February this year. Like past versions of the PhysX code, the newversion also runs on Ageia PhysX chips.
But the crucial change is

support

for Nvidia GPUs for which thelatest version of the company's Forceware drivers are required: 177.39,an advance on the version currently available from Nvidia's Forcewaredownload page, which is 177.35, released a couple of weeks ago.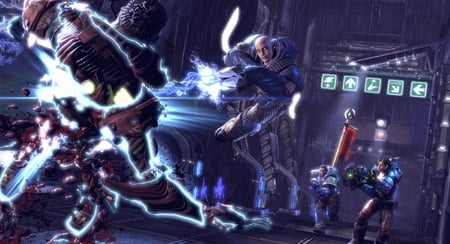 Unreal Tournament 3: zapped, physically

The new drivers run on Windows XP and both the 32- and 64-bit incarnations of Vista.
Of course, you also need an app that can take advantage of the GPUand the physics code, and for that Nvidia offers a link to the Unreal Tournament 3PhysX Mod Pack, which incorporates a couple of new arenas to show ofthe game's "maximum impact" physics effects, which include damage tothe world in which the games is set, a whirlwind hazards that sweepsaround the battlefield, and weapons that can pull debris towards theplayer.
The PhysX code is available from Nvidia's website here, while the Unreal Tournament add-on can be downloaded here.
Posted by Editorial Team Sun Jun 29, 2008 6:42 am
Ratings could make UK games more expensive, says Microsoft in Business and Industry in Gaming, Media, Web, IT and Computing
Not only could videogames see later release dates in the UK compared tothe rest of Europe, but British gamers might have to start paying moreas well.
That's according to Neil Thompson, Microsoft's senior regionaldirector for EDD in the UK and Ireland, who has backed comments madeearlier in the week by EA's Keith Ramsdale regarding the potential impact of the dual ratings system proposed by the Byron Review.
"We're in the business of providing great games to a broad audience ofgamers, and we need to be able to fulfil that role by getting productsto consumers quickly and at a good price," Thompson told GamesIndustry.biz exclusively.

"We're concerned with any measures that would mean this process is mademore unwieldy, or incurs additional costs which have to be shared withthe consumer."
The Byron Review recommended that the BBFC should take moreresponsibility for rating games in the UK, mandating it to cover alltitles suitable for children aged 12-plus - alongside thepublisher-backed PEGI system which is prevalent across a large part ofEurope.
"We want a steady stream of product to consumers via retail andtherefore

support

PEGI as the single ratings system in the UK," headded. "That way, we're able to ensure the right content goes to theright audience, as efficiently as possible."
The government announced plansfor the ratings system part of the Review to enter a period of publicconsultation, during which feedback will be solicited from thevideogames industry, as well as parents and children.
Posted by Editorial Team Sun Jun 29, 2008 6:40 am
World of Warcraft was intended to be ad-supported in Business and Industry in Gaming, Media, Web, IT and Computing
During a keynote Q&A at the Paris Game DevelopersConference, Blizzard SVP Rob Pardo revealed that World of Warcraft wasoriginally planned as a free-to-play title.
According to a Gamasutra report,Pardo told GDC executive director Jamil Moledina: "When were firstgoing to make World of Warcraft, we wanted to make it free andadvertising supported."
"We didn't want to charge a subscription, but as we researched market conditions, we realised that wouldn't

support

us."

Pardoalso referred to the upcoming Activision and Vivendi Games merger -forming a new entity to be known as Activision Blizzard.
"It really doesn't affect us at all," he said.
"Onething that was great about this particular merger is that Bobby Kotickand all the great people at Activision didn't want to do this dealunless everyone at Blizzard bought into it."
"They really wantedto get to know us, and that's never happened before... they wanted tomerge with us because ultimately it would make us a stronger company."
Posted by Editorial Team Sun Jun 29, 2008 6:37 am
Adobe Photoshop CS4 Interface and Screenshots in Film, Photography, Digital Animation, Broadcasting / Production
Adobe seems to be hard at work at Adobe Creative Suite 4*. In May, they releasedpublic betas of CS4 versions of Dreamweaver, Fireworks, and Soundbooth.Existing CS3 owners are able to continue to use these applicationsbeyond the initial 48 hour window.

One of the most obvious changes in the new CS4 applications is the userinterface, and this change will also be carried over into the nextversion of Adobe's Photoshop. This decision is describedin detail by Adobe's John Nack. Nack describes how Adobe has beentrying to make the interfaces on their apps more consistent and showsoff a screenshotof the new Mac Photoshop "application frame". This application framecontains both user interface elements as well as documents themselves.Despite expressing his own initial resistance, Nack explains theadvantages to the consolidated window:
- It facilitatesN-up (2-up, 3-up, etc.) document layouts that adapt as you adjust theinterface. Think "live window tiling"--great for comparing,compositing, etc.
- It makes it easier to move the entire application and its contents, including from one monitor to another.
- It prevents documents from getting obscured by panels (palettes).
- It blocks out the contents of the desktop, minimizing visual clutter.(A number of Mac users have requested this option for many years. I'veknown quite a few people who open a small blank document, hit F to putit into full-screen mode, and then put it into the background to hidethe desktop. Willingness to live with that kind of hack demonstratessome genuine desire for a real fix.)
ForMac users resistant to the change, Nack assures readers that the newinterface is optional, and users can easily disable the consolidatedview, or you can use choose to use elements of both methods.

There's been no public timeframe for the release of this next version of Adobe's Photoshop, but there were some contested claims of an October release target. The next Mac version of Photoshop has been announced to remain a 32-bit application. 64-bit

support

is expected on the subsequent version for the Mac.

* Note that Adobe has objected to labeling this next version of Creative Suite as "Creative Suite 4" or "CS4", but for consistency's sake with the rest of the world, we are using that designation until Adobe officially announces otherwise.

Update: Video of the new interface in action.
Posted by Editorial Team Mon Jun 23, 2008 6:05 pm
McCain uses game music in ad, composer a Barack supporter in Business and Industry in Gaming, Media, Web, IT and Computing
John McCain broke down some barriers when he used music from Medal of Honor: European Assaultin one of his campaign ads. The music being created for video games isonly getting better as the industry matures, so it's neat that it'sbeing used in such a high-profile commercial. The only problem is thatthe composer is an Obama supporter, and McCain's campaign nevercontacted him about the use of the music. GamePolitics has the story.



The ad is called "Safe" and prominently features a track entitled "Casualties of War" that I wrote for Medal of Honor: European Assault.While I do not control the ownership of this piece, I am extremelydisappointed its placement in this commercial. I did not authorize theuse and was not made aware of the situation. Regardless of partyaffiliation of

support

, I would like to think that someone who believesin the American ideals of business and creativity like Sen. McCainsupposedly does, would not want to disgrace or inflict any hardship orill-will on the artists who create in this country by using their worksto promote products and agendas which with they disagree.


This isn't the first time that McCain has been burned by the music he has selected.The problem is that the campaign hasn't done enough to make sure thepeople behind these songs are comfortable with their use in a politicalway; every time an artist tells McCain to stop using his or her musicpublicly, it doesn't look good for the politician.
The composer of the Medal of Honor music goes a littlefurther with his message, turning his protest into a way to

support

hiscandidate. "What, I ask, does such an action or oversight say about Mr.McCain's regard for the intrinsic value of American products, services,or creations... As an artist, business owner, and patriot, I proudlysupport Senator Barack Obama for the Presidency of the United States ofAmerica."
Posted by Editorial Team Mon Jun 23, 2008 5:50 pm