Search iVirtua
Advanced/Tag Search...
Search Users...
What is iVirtua Exclusive Community?
An exclusive gaming industry community targeted to, and designed for Professionals, Businesses and Students in the sectors and industries of Gaming, New Media and the Web, all closely related with it's Business and Industry.
A Rich content driven service including articles, contributed discussion, news, reviews, networking, downloads, and debate.
We strive to cater for cultural influencers, technology decision makers, early adopters and business leaders in the gaming industry.
A medium to share your or contribute your ideas, experiences, questions and point of view or network with other colleagues here at iVirtua Community.
Guest's Communication
Live Chat
Teamspeak (VOIP) Audio Conference
Private Messages
Check your Private Messages
Themes
Choose an iVirtua Community theme to reflect your interests...
Business Theme

India/Arabic Theme
Gaming Theme
iVirtua Recommends
Fly Emirates
'Why I Still Use Windows 95' - (and IE4...) ? in General Discussion, including Off Topic, Current Affairs
Why I Still Use Windows 95
andrew-turnbull.net —
Theoperating system I currently use on my primary computer is Windows 95OSR2. Furthermore, not only do I use Windows 95 extensively, but Iprefer it to Windows 98, ME, 2000, XP, and

Vista

.
Posted by Editorial Team Tue Jul 08, 2008 7:50 am
Official: Windows 7 date is confirmed (Windows Vienna) in Microsoft / Windows
Bill Gates may have only just saidhis goodbyes, but the Microsoft machine keeps on running with thecompany announcing information about the release of Windows 7.
Thepaint may not have even dried on the Windows that is

Vista

, but itseems that Microsoft is already looking to launch its successor withinthe next two years.
In a letter to enterprise and businesscustomers on Tuesday, vice president of Microsoft Bill Veghte announcedthat the approximate launch date for Windows 7 is January 2010.
Seventh heaven
Inthe letter, Veghte wrote: "Our plan is to deliver Windows 7approximately three years after the January 2007 general availabilitylaunch date of Windows

Vista

.
"You've also let us know you don'twant to face the kinds of incompatibility challenges with the nextversion of Windows you might have experienced early with Windows

Vista

.
"Our goal is to ensure that the migration process from Windows

Vista

to Windows 7 is straightforward."
Well,if Intel is anything to go by, it won't be the migration from

Vista

toWindows 7 that will be the problem, it will be the migration from XP toWindows 7 that most computer users will be worried about.

Milestone 1
The first known build of Windows 7 was identified as a "Milestone 1(M1) code drop" according to TG Daily with a version number of6.1.6519.1. It was sent to key Microsoft partners by January 2008 in both x86 and x86-64 versions. Though not yet commented on by Microsoft, reviews and screenshots have been published by various sources.The M1 code drop installation comes as either a standalone install or one which requires Windows

Vista

with Service Pack 1, and creates a dual-boot system.
On April 20, 2008,screenshots and videos of a second build of M1 were leaked with aversion number of 6.1.6574.1. This build included changes to WindowsExplorer as well as a new Windows Health Center.
A standalone copy of build 6519 was leaked initially to private FTPsby BETAArchive on June 10, 2008, which quickly spread to many torrenttrackers.


Later builds
According to TG Daily article of January 16, 2008, the Milestone 2(M2) code drop was at that time scheduled for April or May of 2008. User interface appearance changes are expected to appear in later builds of Windows 7.
Milestone 3 (M3) is listed as coming in the third quarter, with the release to manufacturing in the second half of 2009. The release dates of a beta version and a release candidate are "to be determined".
Bill Gates commented in a press conference in April 2008 that a new version [of Windows] would come "in the next year or so".According to additional clarification by Microsoft, he was onlyreferring to availability of alpha or beta versions of Windows 7.


Unveiling
The Windows 7 user interface was demonstrated for the first time at the D6 conference during which Steve Ballmer acknowledged a projected release date of late 2009.The build of Windows 7 that was on display had a different taskbar thanfound in Windows

Vista

, with, among other features, sections dividedinto different colors. The host declined to comment on it, stating "I'mnot supposed to talk about it now today".
Features
Windows 7 has reached the Milestone 1 (M1) stage and has been made available to key partners.According to reports sent to TG Daily, the build adds support forsystems using multiple heterogeneous graphics cards and a new versionof Windows Media Center New features in Milestone 1 also reportedly include Gadgets being integrated into Windows Explorer, a Gadget for Windows Media Center, the ability to visually pin and unpin items from the Start Menu and Recycle Bin, improved media features, a new XPS Viewer, and the Calculator accessory is multi-line featuring Programmer and Statistics modes along with unit conversion.
Reports indicate that a feedback tool included in Milestone 1 lists some coming features: the ability to store Internet Explorer settings on a Windows Live account, updated versions of Paint and WordPad, and a 10 minute install process. In addition, improved network connection tools might be included.
A new feature in build 6574, Windows Health Center, allows the user to monitor all of their PC's health problems, and concerns in one place. It allows turning User Account Control on and off, and monitoring 3rd party anti-virus programs, firewalls, etc.
In the demonstration of Windows 7 at D6, the operating systemfeatured multi-touch, including a virtual piano program, a directionsprogram and a more advanced paint program.
Windows Server 7
Posted by Editorial Team Sun Jun 29, 2008 6:43 am
Nvidia releases PhysX code for latest GeForce GPUs in Hardware, Internet, Networking, Comms and Security
Nvidia has posted a version of its PhysX software that enables thephysics-on-GPU technology on its GeForce GTX 200-series and 9800 GTXgraphics chips.
The new release, version 8.06.12, was posted last night, builds onsoftware Nvidia acquired when it bought physics chip specialist Ageiain February this year. Like past versions of the PhysX code, the newversion also runs on Ageia PhysX chips.
But the crucial change is support for Nvidia GPUs for which thelatest version of the company's Forceware drivers are required: 177.39,an advance on the version currently available from Nvidia's Forcewaredownload page, which is 177.35, released a couple of weeks ago.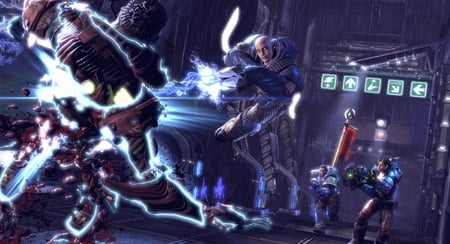 Unreal Tournament 3: zapped, physically

The new drivers run on Windows XP and both the 32- and 64-bit incarnations of

Vista

.
Of course, you also need an app that can take advantage of the GPUand the physics code, and for that Nvidia offers a link to the Unreal Tournament 3PhysX Mod Pack, which incorporates a couple of new arenas to show ofthe game's "maximum impact" physics effects, which include damage tothe world in which the games is set, a whirlwind hazards that sweepsaround the battlefield, and weapons that can pull debris towards theplayer.
The PhysX code is available from Nvidia's website here, while the Unreal Tournament add-on can be downloaded here.
Posted by Editorial Team Sun Jun 29, 2008 6:42 am
Spore's minimum specs are surprisingly low in Gaming
The latest news on Will Wright's magnum opus, Spore, is that the minimum PC (and Mac) specifications required to run the game are surprisingly low.

This is great news for the majority of casual PC gamers who don't tend to spend an inordinate amount of time and money constantly upgrading their PCs and graphics cards.

Maxis/EA has also released the Sporepedia on the official Spore.com site to whet the appetites of those PC and Mac gamers looking forward to Wright's immense and hugely ambitious game.

The Specs required to run Spore on your PC or Mac are as follows:

Windows XP 2.0 GHz P4 processor or equivalent 512 MB RAM A 128 MB Video Card, with support for Pixel Shader 2.0 At least 6 GB of hard drive space

Windows

Vista

2.0 GHz P4 processor or equivalent 768 MB RAM A 128 MB Video Card, with support for Pixel Shader 2.0 At least 6 GB of hard drive space

Mac OS X Mac OS X 10.5.3 Leopard or higher Intel Core Duo Processor 1024 MB RAM ATI X1600 or NVidia 7300 GT with 128 MB of Video RAM, or Intel Integrated GMA X3100 At least 4.7GB of hard drive space for installation, plus additional space for creations.
Posted by Editorial Team Fri Jun 13, 2008 4:51 pm
WWDC 08: me.com mail, contacts, calendar like native apps in Apple
"I can run this on a Mac or PC -- you might guess which my favorite is.I'm going to launch my favorite browser -- which happens to be Safari.Just log right in." Looks pretty solid, almost identical to the desktopapps.

Works with the native applications you know.
Doeverything you need to do on every device you own. MobileMe works withMail, Address Book, and iCal on a Mac; Microsoft Outlook on a PC withWindows XP or

Vista

; and the built-in applications on your iPhone oriPod touch.


Push email. Push contacts. Push calendar.
MobileMestores all your email, contacts, and calendars on a secure onlineserver — or "cloud" — and pushes them down to your iPhone, iPod touch,Mac, and PC. When you make a change on one device, the cloud updatesthe others. Push happens automatically, instantly, and continuously.You don't have to wait for it or remember to do anything — such asdocking your iPhone and syncing manually — to stay up to date.
Read about MobileMe on your
PC | Mac | iPhone or iPod touch


"It's a breakthrough web 2.0 app interface." Demo time!

Mail, contacts, calendar -- all this stuff looks exactly like Apple's native apps. This is pretty nice.



"Go to any browser, type me.com. Simple, easy to remember. Login... you get an incredibly rich email client. It feels like a desktop."

"What's really going to surprise people, we've built an incredible suite of web 2.0 apps using Ajax."

11:16AM PT - "Itworks with the native apps on my Mac or PC -- it works with Mail.app,iCal, Address Book... as well as Outlook. You'd expect that it wouldwork with those native apps."

Example of email -- gets pusheddown to all devices. Change a contact? Gets pushed up to MobileMe, downto all other device. "The best part of this, it works over the air.Everything is up to date."


"MobileMe stores your info up in the cloud so you can get to itanywhere using any of your devices -- Mac, PC, iPhone -- it will pushinformation up and down to keep everything up to date all the time."

Push email, contacts, and calendars... everything is up to date wherever you are.


Schiller just called ActiveSync ActiveStink -- the mockery! Guffawing.


"Good morning, I'm really excited to tell you about this brand newservice... so what's the idea? It's like having Exchange for the restof us."

Phil Schiller's up! Demo time.

"We're very very excited about this. It's called MobileMe."

"Now, we've got something entirely new."

"Imagineyou're a professor teaching a class on how to write iPhone apps! Youwant people to mail apps around... you can get certified and registerup to 100 iPhones, apps can be circulated and posted for up to 100iPhones. We think we've got a great story now." Applause.


Posted by Editorial Team Mon Jun 09, 2008 2:22 pm
Abit launches hybrid gamer mobo in Hardware, Internet, Networking, Comms and Security
The Taiwan-based outfit's new AN78GS board is based on AM2+/AM2processors running HT3.0 up to 5200MT/s and a Geforce 8200 graphics chipset.
There are four slots for a maximum of 8GB of 240-pin Dimmage and a total ofsix PCI slots in various flavours.


The cards have been tweaked to run DX10 and handle

Vista

with all the bellsand whistles turned up to 11.
You can get the rest of the yada yada yada about 'power consumption' and the'great gaming experience'here.
Posted by Editorial Team Sun Jun 01, 2008 6:21 pm
First AMD Game PC reviewed in Gaming
THE FIRST AMD GAME PC has been tried and tested according to an Israeli news site, which says it will definitely give the competition a run for their money.

Ynet, the Israeli news site belonging to Yediot Aharanot, claims that Tech Data, an Israeli computer distributor, gave it a prototype of a new AMD Game! machine to play around with before anyone else got their grubby paws on it.

AMD announced it would be launching a new badge for computers called AMD Game! (sic), based on the Spider and Cartwheel gaming platforms. The new machines are supposed to fall within the $600-$1500 price range, which AMD is convinced will make its machines an attractive option to serious gamers and multimedia fanatics.

The prototype computer used AMD hybrid graphics and the review noted that the HD3200 (AMD 780G) offered double the power of Intel's X3500 GMA.

Tech data told Ynet that it would be selling the machines with

Vista

pre-installed as the default operating system.

A Ynet reviewer wrote "Older games ran very well on it,

Vista

Ultimate ran on it....like XP". Whatever that means!

Ynet summed up to say that AMD's hybrid graphics are very far from being just a novelty or sideline item and that the Cartwheel platform does deliver on the company's promises.

Price and quality wise, the Ynet reviewers reckon the new AMD Game computers would most definitely give both Intel and Nvidia a run for their money and that it would represent very strong competition in the competitive gaming market.

It added that AMD seemed to be much better placed with this new product than it had been a year ago, so there is indeed light at the end of the tunnel.
Posted by Editorial Team Sun Jun 01, 2008 5:37 pm
X-Fi finally goes PCI-Express in Hardware, Internet, Networking, Comms and Security
The 'Sound Blaster X-Fi Titanium Fatal1ty Professional Series' card is a fairly standard X-Fi card with a PCI-Express x1 connector to fit onto modern motherboards that lack standard PCI slots. It has the usual bevvy of output connectors as well as the Alchemy technology that returns EAX effects to

Vista

gaming.

Meanwhile, the 'Sound Blaster X-Fi Titanium Fatal1ty Champion Series' is the same thing, but with a drive-bay add-in that brings audio ports and volume controls to the front of the computer.

Creative hasn't unveiled pricing for the cards yet, but expect to pay a pretty penny - anything with Wendell's mug on carries a premium.

The company has long been criticised for failing to offer a PCI-Express version of its X-Fi cards, given the fact that standard PCI is currently limping towards extinction. It has long maintained that such a transition is 'harder than it might seem', and Creative even rolled out Steve Erickson, VP of audio, to tell interested parties that "We have re-architected our X-Fi processor... you'll know why it's worth the upgrade to PCI Express the second you hear it."

Actually, we're pretty sure it was gamers begging Creative for the upgrade, not the other way around. Either way, motherboard makers will surely be delighted that they can now lop off those old PCI sockes and save themselves a few more cents a board.

Look out for these blighters to be on virtual shelves in the next few days
Posted by Editorial Team Tue May 20, 2008 4:56 pm
Age of Conan tops charts: finally a game that takes on WoW? in Gaming
After a long build up, including an eight-week delay to apply the final polish, Age of Conan: Hyborian Adventures (AoC) has been launched.

The game is widely seen as one that has a chance of taking on the current king of the online gaming heap - World of Warcraft (WoW).



That battle for a share of the global online gaming world is one that the mighty Conan himself would relish. At stake are fame, respect and untold riches.

The BBC News website got a chance to play through the early levels of the game and right from the opening moments it is obvious that the cosy world of WoW has been left far behind. It's not for nothing that the game is rated 18.

The game opens on a galley ship on which both male and female characters are slaves. Under attack, the ship sinks and the character is washed up on the beach of an island called Tortage naked but for a loin cloth and shackles.

From those opening moments the graphical detail of the game is a huge leap forward from the rather "cartoon-y" look of WoW. It even rivals Lord of The Rings Online in the graphical stakes. That detail comes at a price - the minimum specs are quite high.

Joe Best, associate producer at publishers Eidos, said: "We really want this to be full fat but also scalable to the PCs of the last few years."

The opening is worthy of a Conan story in which the hero is left to craft his, or her, destiny with their bare hands. The first quests involve finding a way to remove the shackles and then kill the man who enslaved you.

For the first 20 levels of the game, players will be pretty much alone, said Joe Best, an associate producer at Eidos.

The "linear" nature of those early levels on Tortage is where players become familiar with the game world, the abilities of their character and how to play. After that they get to join the larger MMO world of AoC.



During those early levels the most important lessons learned are those that show how to fight.

Combat, bloody visceral combat, is at the heart of the Conan stories and the game is no exception. One of the first decisions made when the game was being drawn up, said Mr Best, was that the combat would be "ferocious".

"It's not about watching your character fight for you," he said. "they really wanted to break away from that "point and click" aspect of MMOs."

In games such as World of Warcraft characters attack automatically once they are directed to a target. In AoC the on-screen character only does what it is told. That's necessary as enemies adapt their fighting style to defend against the way they are attacked so that involvement is key.

And the combat is involving, much more so than WoW, where the same attacks and spells will despatch the same types of foe.

There is no doubt that it is fun to use combos and alter your attacks to beat a foe to the ground, or knock them back and then leap forward to finish them off with a panther-like grace that would win a nod of approval from the massive Cimmerian, Conan himself.



Quote:
AGE OF CONAN: SPECIFICATIONS
Minimum
Processor: 3GHz
Ram: 1GB
Video: Nvidia GeForce 5800 or ATI 9800
OS: Windows

Vista

/XP
Recommended
Processor: Intel Core 2 Duo 2.4 GHz or better
Ram: 2GB or better
Video: NVIDIA GeForce 7950GX2 or better
OS: Windows

Vista

/XP


It was odd, said Mr Best, that given combat centrality to most MMOs that no-one had tried such a thing before.

AoC's distinctiveness does not stop with blood, gore and intense combat. At the higher levels players can get a mount, (horse, mammoth or war rhino) that can be used for trampling enemies in to the dust. Those on horseback can swing a weapon and use the momentum of a charge to inflict huge amounts of damage.

Those mounts are likely to be very useful in another of AoC's selling points - siege warfare. Guilds can build their own cities or battle keeps, once their members have gathered enough raw materials for the buildings. As Mr Best said creating a city is a "very social experience".

But once built it may not be safe. Rival factions can gather their war mammoths, trebuchets and troops to lay waste to their enemies' homes and businesses. Pitched battles featuring huge groups of players are likely to become very popular.

Mr Best said many of the decisions that have driven the development of Age of Conan were taken to make it stand out.


Quote:
"If you are going up against World of Warcraft you cannot imitate it, you have to go your own path and do it your way," he said.


And that's something Conan would doubtless agree with. But it remains to be seen whether that list of features not seen in many other MMOs is a recipe for the one feature WoW has in spades: success.

Funcom has announced that over 1 million people have signed up to the Age of Conan beta test, a figure which the company believes is a record, and proves huge interest in the forthcoming adult-themed MMO.

Quote:

"Funcom has not been able to find any higher beta numbers for MMOs in the western world," said Morten Larssen, VP of sales and marketing. "We believe it represents the largest ever beta sign-up figure in the history of the genre."


The company also released additional statistics about interest in the game, commenting that almost 800,000 people have signed up for the newsletter, while last week the official site registered 725,000 unique users.

But while the official launch date of May 20 is still applicable in the US, the European date is now May 23, aligning it with the traditional Friday release for titles in the region.
Posted by Editorial Team Tue May 20, 2008 4:54 pm
Watch all UK channels, live with just the internet, for free in Entertainment, Film and Music, Mobile devices and media
The channel lineup on Zattoo is excellent, and unlike many others it's all broadcast legally as well. It also supports mac, windows and linux. Live P2P television services do provide an alternative to on demandservices such as Joost. Live P2P television lets you watch channels youmay otherwise never have access to; the valueprovided is similar to the value many, many people get by downloadingAmerican television shows from Bit Torrent instead of waiting 6-12months to watch them locally. It's another nail in the coffin forgeospecific broadcasting; when more and more people bypass traditionalbroadcast models, the old location based television model willeventually fail and we'll all get to watch programs at close to thesame time worldwide.





The player itself (Mac, Windows and Linux) is incredibly simple,comprising of one window for the video stream, and a second listing theavailable channels. Clicking on each channel invokes a few seconds ofbuffering before the live stream begins playing. Other than that, youhave a volume control, a full-screen option, and a play/stop button.And that's pretty much it.
In terms of picture quality, this isn't quite on-par with regulardigital television, but isn't far off either. With the window set atquarter size on my laptop, it was great, and at full-screen, stillperfectly watchable. Channel line-up varies per-country, but theversion I tested had all of the BBC's channels, along with ITV1, MTV,Bloomberg, and European stations such as Canal and Eurosport.
Thedownside is — after initially launching in Switzerland where thecompany claims one in five broadband users subscribe to Zattoo — theservice is only additionally available in Spain and Denmark, with theUK currently in a public testing phase (though the company is working hard to launch elsewhere).That's a pity for now, as Zattoo is a nice compliment to other InternetTV services. Despite the trend towards anytime and on-demand content,there's still a place for 'live' TV, in particular with regards tosports events or breaking news. Another thing lost with on-demandtelevision is the communal viewing experience that often creates those'water cooler' moments the following day.
Zattoo's business model is ad-supported. When a user first selects or switches channel, they are served up a 3-105 second advertisement (the time it usually takes for the stream tobuffer). The ads are also clickable, with links to get more information.

About:
Zattoo is a proprietary peer-to-peer Internet Protocol Television system ("P2PTV") with current focus on European channels, licensed content, and Digital Rights Management. It is developed by researchers and programmers based out of Ann Arbor, Michigan, with corporate offices in San Francisco and Zurich. The player is based on H.264 (FFmpeg), and is Mac OS X, Linux, Windows 2000, Windows XP and Windows

Vista

compatible. It needs a minimum downstream bandwidth of 500 kbit/s on the client side.
Zattoo was first tried out with Swiss free-to-air channels coinciding with the 2006 FIFA World Cup. Starting from 4 Swiss TV channels (SF 1, SF 2, TSR 1 and TSI 1), it now offers 60 free-to-air or free-to-view TV channels in Switzerland. According to the website, other channels will be added in the future.


Posted by Editorial Team Sat May 17, 2008 6:35 pm
BBC, ITV, Channel 4, Five, and Sky Free Internet TV compared in Entertainment, Film and Music, Mobile devices and media
BBC
The iPlayer(formerly know as the iMP, or Interactive Media Player) was announcedin 2003 and intended to be an extension to the successful Radio Player,built around RealPlayer. The final iPlayer is, thankfully, shaping upto be a much slicker affair, looking like a cross between Joost and acable/satellite Electronic Program Guide (EPG). As long as you live inthe UK, on launch you will be able to download a selection of programsup to 7 days after broadcast, and you then have 30 days in which towatch it before the DRM kicks in. I'm guessing that the range ofprograms will be similar to the offerings on Virgin Media's "Replay"feature, i.e. most popular "home-grown" programs such as Eastenders,Doctor Who and Life on Mars.
The iPlayer has come under fire from open source advocatesbecause, at launch, it will only be available for Windows XP users.This goes against the BBC's charter, restricting the application, andtherefore the programs, to certain systems. The BBC Trust has confirmedthat versions for Apple Mac, Windows

Vista

and mobile platforms willfollow [Ed. once the BBC can find a platform agnostic DRM solution, which could take some time],and more recently, the BBC's announced that they are meeting with theOpen Source Consortium (OSC). The OSC are to work with the BBC on the possibility of developing an open source iPlayer.
The BBC also plans to expand the functionality of the iPlayer, suchas adding on-demand streaming, which would allow you to watch a programwithout downloading it first. They are also looking to add seriesstacking (allowing you to download previous episodes of a series) andintegrating the Radio Player with the iPlayer. The BBC will bepromoting the iPlayer heavily: via the BBC TV channels, links on theBBC website and also on partner websites such as YouTube, AOL andMySpace. There are indications that live streaming of BBC channels mayalso possible.
ITV

ITV are following the BBC's lead, with the imaginatively titled "ITV Broadband".They are offering programs that are viewable within the browser, usingWindows Media Player integrated into their web pages. At the momentthey are only offering 10 minutes catch-ups of the last 30 days'episodes of Emmerdale and Coronation Street, which are book-ended byadverts (being popular programs these are probably the two that couldattract the most advertising and therefore generate the most onlinerevenue), but that is set to expand. ITV are promising catch up optionson Drama, Lifestyle, Entertainment, Sport and News programs, plus a"Best of ITV" section too.
The biggest drawback I found was that ITV Broadband (which isPC-only) favors Internet Explorer. The only way I could view content inFirefox was to use the IETab add-on,which allows the current tab to be rendered using the Internet Explorerengine instead of the Firefox one, but fortunately ITV have had thesense to display a link to download IETab where the video normallyappears.
ITV also offers live streaming of their four channels from the website which is of reasonable quality.
It's also worth mentioning ITV Local, the site for regional ITVbroadcasters such as Granada, Meridian and Tyne Tees. The site streamsnews updates, weather reports and other videos from the region, ondemand.
Channel 4/More4/E4

Channel 4's "4oD"application has been available since December 2006 and is similar tothe forthcoming iPlayer. You can download a selection of programs fromChannel 4, More4 and E4 for free from the last seven days, or choosefrom the available archives. Again, DRM only lets you watch thedownloaded programs for up to 30 days. They also offer paid content,both television programs (including US imports such as Lost and UglyBetty) and films, from 99p.
Be prepared for long download times although the actual videoquality is very good. The application is sluggish on lower specmachines which may result in slow adoption; another problem may be theway in which the network actually serves the programs. It uses Kontiki,a peer-to-peer platform, to distribute video, which means that evenwhen you are not using the 4oD application, your computer may still beserving files to others, which some security- and bandwidth-conscioususers may dislike. It is also limited to running only on Windows XPsystems with Internet Explorer and Windows Media player, so once againApple Mac and open source fans will be left out in the cold.
Channel 4 too offers streaming through a browser-embedded MediaPlayer, for which you have to register (to make sure you're a UKresident presumably) but the quality is quite good, even at full screen.
Five

Fivehas always been the black sheep of the UK TV industry. Their contenthas never really been on the same par as that of the other networks andtheir "fivedownload" service isn't much better. It seems the onlyprograms they offer are Grey's Anatomy and CSI (three flavours: CSI,CSI:Miami and CSI:NY) and it's a pay service. With iTunes possiblyoffering a similar feature soon (these shows are available in the USstore so they may come to the UK too) I don't really see that Five'sapplication will have much of a future unless they improve and increasethe available content.
Sky

Sky offers their "Sky Anytime"feature, which uses Kontiki, similar to Channel 4's 4oD. To use SkyAnytime you need to register on Sky's website, and then download theSky Anytime application (one again, PC-only). After installation, youlog in as expected and the first thing that hits you is how slick theapplication is. It's responsive, looks good and has a large amount ofcontent. I'm not a Sky customer so I was limited to what programs Icould download, but TV subscriptions to entertainment, movies andsports packages unlocks similar content on Sky Anytime.
Its worth noting that Sky also let users program their Sky+ box over the net.
Conclusion
The major UK TV networks are making good ground with TV on the net.Of the dedicated applications on offer, Sky's seem to be the bestoverall (at the moment) with its clean look, and responsive andintuitive interface. The range of content across the board is growing,with Channel 4 and the BBC ahead — and as advertising and other revenuestreams for internet TV are realized, the content from commercialnetworks will likely increase in quantity, as market forces demand it.
All of the UK networks employ techniques to prevent non-UK viewersfrom accessing their Internet TV offerings, such as geo-blocking, wherethe user's IP address is used to establish their location. This is,in-part, a world-wide licensing issue (which in the BBC's case is mademore complicated by its state-funding), but also protects potentialrevenue from overseas sales. However, with many popular UK programsappearing illegally online, and the fact that geo-blocking can becircumvented — moving forward, I think we're likely to see the networkstake a more global approach to Internet TV programming, especially withregards to older content.
As a side note, it's also worth mentioning that users can programtheir Sky+ box (the company's own DVR offering) over the internet andvia a mobile phone. The next logical step would be to allow users tostream programs recorded on their Sky+ box (or any other DVR) over thenet, similar to a Slingbox.This would add another dimension to Internet TV; you could be workingaway in another part of the country, or on holiday abroad, and with adecent broadband connection you can access content that you'vepreviously recorded.
This is an exciting time for Internet TV, and in particular I hopethat the iPlayer lives up to my expectations. I'm fairly convinced thatthe BBC is moving in the right direction and will push the boundariesof Internet TV, not only in the UK but also worldwide.
Posted by Editorial Team Sat May 17, 2008 6:28 pm
Creative unveils Sound Blaster X-Fi Titanium range in Hardware, Internet, Networking, Comms and Security
Creative has announced the latest version of its popular X-Fi Sound Blaster sound cards – with the PCI Express Titianium.
Creativeis producing two different models – the Champion and the Professionalseries, with the former offering an external I/O drive for easierheadphone connection through the front drive bays.
The PCIExpress Sound Blaster X-Fi Titanium Fatal1ty range features DolbyDigital live encoding for single cable connection to home theatresystems, accelerated audio for a top gaming experience, EAX 5.0 effectsand 3D positional audio.
"Audio plays a huge factor inprofessional gaming, where every competitive advantage can make thedifference between winning and losing," said Jonathan "Fatal1ty"Wendel, the legendary gamer whose name adorns the range.
"TheSound Blaster X-Fi Fatal1ty edition sound cards significantly enhanceany professional gaming rig, enabling us to hear what we can't see andperform at our highest level."
Features:



Creative X-Fi processor specifically designed for high-speed PCI Express slots in modern PCs

X-FiCrystalizer technology, which leverages audio algorithms tointelligently and selectively determine how to restore the highs andlows from sound effects, instruments and vocals and voices that weredamaged or diminished during the MP3, AAC, game audio or othercompression processes

X-Fi CMSS-3D technology, to createvirtual surround sound through speakers or headphones in games ormusic. In games, you hear your opponents in their exact location. Withmusic, the sound expands so it completely surrounds you.

Dolby Digital support for compelling 5.1 surround sound through a home theatre system

Creative ALchemy to restore EAX and surround sound in DirectSound game titles running under

Vista



Certified UAA compliance for maximum Windows

Vista

compatibility

X-RAM dedicated audio memory to boost performance in select games

THX Certified surround sound for cinematic movie audio playback

PowerDVD software with DTS-ES and Dolby Digital-EX decoding

24-bit audio quality and 109db SNR audio clarity

ASIO recording support with latency as low as one millisecond with minimal CPU load
Posted by Editorial Team Sat May 17, 2008 6:14 pm
Windows Server 2008 bundles get public preview in Microsoft / Windows
Microsoft today announced that it will launch a "public preview" program for two of its first Windows Server 2008-based bundles.
The software giant is targeting one package at the small businessmarket, where Microsoft has been heavily foraging, while the other willbe aimed at mid-sized firms.

Windows Small Business Server 2008 (SBS) and Windows EssentialBusiness Server (EBS) 2008 will both be made available over the comingweeks to customers and partners who fancy dabbling with candidaterelease versions of the operating systems.

Redmond, which announced in February that it planned to split itsServer 2008 product for the increasingly lucrative SMB market, said itwill bundle the server OSes with Exchange Server and other software inan effort to punt low-cost, easy-to-install packages at the little guys.

Windows SBS 2008, including five CALs, comes in at $1,089 with additional CALs costing $77 a pop.

IT departments will need to shell out $1,899 for Windows EBS 2008,which also includes five CALs, with each extra licensed computersconnecting to a server priced at $189 each.

Overall, you're looking at about a 30 per cent discount for buyingthe bundles rather than purchasing the software on its own, althoughyour mileage may vary depending on the size of the buy.
Complete versions of Microsoft's server products are expected to land late this year.

See related topics for more.

Windows Server 2008 better than Windows

Vista
Posted by Editorial Team Wed May 14, 2008 4:55 am
Windows Server 2008 is better than Vista, but why? in Microsoft / Windows
IT infrastructure veteran Mark Wilson asks:


It seems that, wherever you look, Windows Server 2008 is almostuniversally acclaimed. And rightly so - I believe that it is afantastic operating system release (let's face it, Windows Server 2003and R2 were very good, too) and is packed full of features that havethe potential to add significant value to solutions.
So, tell me, why are the same journalists who think Windows Server2008 is great, still berating Windows

Vista

- the client version of thesame operating system codebase?


The short answer is that Server 2008 delivers new features thatcustomers wanted, whereas

Vista

delivers new features that Microsoftthought its customers should want. However, it seems there may be moreto it than that. Maybe Server 2008 really does perform better thanVista.

According to this post from Windows performance project exo.performance.network,Server 2008 is 11 - 17 per cent faster than

Vista

SP1, running a coupleof benchmarks that test typical client applications. Backoffice serverand systems admistrator Christian Mohn concurs:


Windows Server 2008 performs better, even with the Aero featuresenabled, than

Vista

ever did on the same hardware. To me, this a bitstrange, even if a lot of services are still disabled, as the codebaseis pretty much the same as

Vista

.


Mohn's example is less scientific, though: he never ran

Vista

SP1, and also moved from 32-bit to 64-bit.
Server 2008 has a "Desktop Experience" feature, which installsthings like Windows Media Player, Aero GUI effects, and other fluffthat doesn't belong on a server. My assumption had been that once youinstalled this, Server 2008 would perform in a similar manner to

Vista

.Apparently this is not the case.
It seems to me there are a few possibilities. One is that Microsoftisn't being straight with us about this "same codebase" stuff. It wouldbe interesting to analyze the core DLLs and work out which are thesame, and which are different.
The second possibility is that there's stuff in

Vista

that is notpart of the core, nor part of the Desktop Experience, but that slugsperformance. If so, it would be great to identify it and turn it off.
The third explanation is that the testers are wrong, and thatperformance is actually similar. For example, maybe

Vista

was running abackground update or backup during tests. Background processes make ithard to conduct truly rigorous performance comparisons.
I'd like to see Microsoft platform and services division fellow Mark Russinovich get his teeth into this. I'm also tempted to try the Server 2008 desktop experiment myself.
This article originally appeared in ITWriting.
Posted by Editorial Team Sat May 03, 2008 7:25 pm
The missing five-minute Linux manual for idiots in Software
So, for the time being, I'm afraid we are all back on re-evaluation-of-Linux duty. Never mind. I've already done the spadework. Let me lead you through a few simple steps to a full-on Open Source experience.
Blog

At any given time, in various places and languages around the world, there are simultaneously 14 blog entries being written by Linux neophytes, documenting their first faltering steps.

This rate is well down from the 2002 peak of 37 such articles generated per hour, but is still impressive, especially when you remember that back in the old days most blog software defaulted to subject line 'I try Linux!!!' .

(Although I believe Google, showing the clever innovation for which that company is justly famous, indulged in word play with their default of 'Bye bye Windblows!!'.)

Anyway, I say the best thing is to get the blog over and done with before going near the software. After all, the text itself rarely varies: it nearly always reports the difficulties the writer had configuring a driver for his sound card. Here is a perfect example to get you started. Off you go.
Choosing your distro

There are many hundreds of Linux distributions, each of which has its own plus and minus points. It can be very confusing.

The conscientious would-be Linux user should take time to mull over the pros and cons of the Red Hat versus SUSE, and Debian versus Gentoo. He will want to evaluate the various package installation schemes - comparing .deb with .rpm - and will spend many hours on the web absorbing great quantities of freely offered advice over whether to go for Gnome or risk post-Trolltech takeover KDE, or just run the whole thing in text mode, like a Real Beard.

After he has done all this, he will install Ubuntu, because that's what everybody does.

'Ubuntu', by the way, is an African word 'too beautiful to translate into English'. The term was first popularised by Alexander McCall Smith in his The No.1 Ladies' Detective Agency series of books, in the following, typically action-packed, scene:

'Mma Ramotswe?'

'Yes, Mma Makutsi? Would you like to boil the kettle to make some more bush tea?'

'No, Mma Ramotswe. I was going to say: there are unpleasant brown stains all over the floor, and also a smell. I wondered if you perhaps had trod in some ubuntu? The Tlokweng Road is covered in it today.'

'No, Mma. I do not have any ubuntu on my shoes. I am very careful. Perhaps you have some ubuntu on your shoes.'

'No, Mma Ramotswe. I do not have any ubuntu on my shoes either. It is a mystery.'

'Perhaps Charlie, Mr J. L. B. Matekoni's unsatisfactory senior apprentice, brought it in on his shoes.'

'Ah yes, Charlie. I am quite sure that this is the correct explanation.'

Precious Ramotswe allowed her traditional build to lean back in her chair and relaxed. Later on, she would go out in her tiny white van and investigate something. Later, but not just yet. The wall lizards basked in the morning sunshine, and flies buzzed laconically around the light fitting.

'Mma Ramotswe?'

'Yes Mma Makutsi, what is it now?'

'Shall I fetch the mop?'

Although modern Ubuntu has come on a long way in the last few years, its default desktop theme is still shaded the same brown colour, as a reminder of its inspiration.

Incidentally, Ubuntu also famously gives its releases hippy alliterative names: 'Feisty Fawn', 'Hoary Hedgehog' and so on. These names are created using the same algorithm that fellow wrinklies will remember as the old CompuServe password generator. This knowledge enables me to predict with confidence that when the current 'Gutsy Gibbon' release is retired, the next four will be called Weedy Willie, Sexy Sadie, Lorelei Lee and Moon Unit Zappa.

Selecting your database
When choosing which of the Big Two to install, one issue dominates.Never mind such concerns as scalability, performance, fitness forpurpose or licensing. The fact is that while MySQL has a fairly awful name, reeking of turn-of-the-millennium marketing, PostgreSQL has a really appalling name, which nobody at all knows how to pronounce. This simple error means that PostgresS PostGRE Pogres that database is inevitably doomed, even if the software were ten times better than anything else. Sorry, guys.
While we are doing databases, a quick mention for SQLite.This is an excellent cross-platform C library, which lets one do properSQL without needing to supply a separate SQL engine. SQLite is publicdomain, and instead of the usual copyright threats, the source code contains a blessing:



May you do good and not evil

May you find forgiveness for yourself and forgive others

May you share freely, never taking more than you give

May you never find ubuntu on your shoe

Actually, I suspect my copy of SQLite somehow got corrupted during the download. Must remember to check those MD5s.
Don't inhale
'Running Linux with one foot on the bottom' refers to the practiceof running Linux under a VMware virtual machine, so if that if thingsall go wrong, one can beat a cowardly retreat to the safety of thefamiliar. Also, it avoids the somewhat scary business of scrapingWindows off your hard disk.
Microsoft can take heart that timid persons (like me) lack the confidence to commit fully to Linux in this way.
On the other hand, we are experimenting with Linux instead ofgetting familiar with

Vista

, so maybe they should not take too muchheart.
Missing
Even if they don't use Firefox already, modern IE has pretty muchthe same user interface, so Windows users should feel completelycomfortable in their web browsing after crossing the great divide.Similarly the OOo'sofferings, despite coming from an outfit whose abbreviation looks likea deflating balloon, are much closer in use to 'proper' Word and Excelthan Office 2007.
But I must be up front about this. You will find that there are core Windows features that are missing from Linux:



That silly animation that runs while Windows is copying a file,together with its wild estimations of time to complete: 30 secondsremaining, 2 minutes, 9 minutes, 25 minutes, 37 minutes, 30 seconds.

The registry

Virus checking software

The window that comes up when a program crashes and sends the crashdump to Redmond, to give them a much needed laugh. Linux programsinstead lay a small binary turd file in situ. After a while you end upwith quite a large collection of these, decorating your directories.

Automatic updates fixing vulnerabilities in Outlook Express. Who uses Outlook Express these days? Why?

Windows genuine disadvantage

The Windows pause, by which I mean that increasingly prevalentnothing-happening-for-no-reason delay that intrudes between the userpoking and the software flinching.

I'd like to expand on that last point. For example, if you delete afile from your hard disk - not on the network, not locked - by pressingthe Delete key in Explorer, on some machines that I know the sequenceis 1) the screen freezes and nothing at all happens, 2) after twoseconds the cursor turns to an hourglass, 3) after a further 20seconds, Explorer's window goes blank and is repainted, 4) the deletedfile is missing from the repainted list.
In Nautilus, the Gnome equivalent of Explorer, the file simply disappears and reappears in its 'wastebasket'. As you'd expect.
Where I work, we have an expression to cover this kind of behaviour. We say: Windows is helping you.
Invective
Time for some balance. The most amusing piece of Linux-relatedinvective on the Internet is Netscape/emacs legend Jamie Zawinski'sfamous rant about Linux video players.Never mind that it is wildly out of date - if you haven't read it andyou enjoy swearing, you are in for an audio cock-shaped treat. NSFW.
Still hard work
You may have heard it said that modern Linux is as easy to set up asWindows, requiring three or four clicks to install a file server assecure as a laptop containing a sensitive government database leftovernight on the front seat of a civil servant's Renault Nicole.
For the most part I would say this is true, but there are severalplaces where it is not, and Samba is definitely one of them. Yourcorrespondent recently set up a Samba system on a Windows 2003 domain(the full whack, with proper security and everything, not justhardwired in with root privileges everywhere). Getting it going was hergreatest intellectual triumph since passing Latin O-level.
Editors
By decree of the state of California, there must be at least 17 texteditors installed into each copy of Linux. Some are GUI based, but mostrun in consoles. Some support UTF-8, some include spell checkers orLISP implementations. All have mutually incompatible keystrokes.
Legendary line-oriented relic ed is by no means the most difficult to use. If you think you are hard, try joe, which emulates the dreaded Wordstar, the Wordprocessor that Time Joined the Foreign Legion to Forget.
Ubuntu installs a gnomic thing called gedit,and sets it, Notepad-style, as the default opener of all text files. Inthis case, the gnomes have taken Notepadness rather too far for myliking. Try opening a 4MB database dump - surely not such a huge thingthese days - and watch gedit die on its backside.
Magic LAMP
To be briefly serious, one of the best things to do with a Linux box is run a few LAMPapplications for your intranet. There is something exquisitelysatisfactory about this. It's like buying one of those plants that looklike a tangle of dead roots, and adding water to see it spring to lifein a blur of green shoots.
One excellent LAMP application to try is MediaWiki,the Wikipedia software. It will take you an hour or so to set up, butonce it is done it will not only serve as an excellent way of creatingan ad hoc documentation system across the department, it willalso give the children something to do on rainy afternoons in theschool holidays, as evidenced by Enid Blyton's masterpiece Five set up a database of erotic classics.
With MediaWiki, the only limit is your imagination. For example, Iam using it to organise my collection of notable corporate letterheads.There is a little overkill here, as it is a collection currentlycomprising just one item, but you must admit it is a good one:
Posted by Editorial Team Sat May 03, 2008 7:15 pm