Search iVirtua
Advanced/Tag Search...
Search Users...
What is iVirtua Exclusive Community?
An exclusive gaming industry community targeted to, and designed for Professionals, Businesses and Students in the sectors and industries of Gaming, New Media and the Web, all closely related with it's Business and Industry.
A Rich content driven service including articles, contributed discussion, news, reviews, networking, downloads, and debate.
We strive to cater for cultural influencers, technology decision makers, early adopters and business leaders in the gaming industry.
A medium to share your or contribute your ideas, experiences, questions and point of view or network with other colleagues here at iVirtua Community.
Guest's Communication
Live Chat
Teamspeak (VOIP) Audio Conference
Private Messages
Check your Private Messages
Themes
Choose an iVirtua Community theme to reflect your interests...
Business Theme

India/Arabic Theme
Gaming Theme
iVirtua Recommends
Fly Emirates
Day of Defeat: Source Update. in Gaming
Valve has released a new update for Day of Defeat: Source (PC),offering a new map, achievements and more for the company's multiplayerWorld War II shooter. To commemorate the new content, the companyannounced that Day of Defeat: Source will be free to play this holiday weekend for all Steam users.
Originally introduced last month as a

beta

update, the patch brings a set of 51 achievements to the game via Valve's Steamworks development suite, as well as the nemesis and revenge freeze cams as seen in Valve's Team Fortress 2 (PC).


Detailed player statistics are now reflected in Steam's communityfeatures, breaking down kills and other information in a team- andclass-based format. Also included is the new map Palermo, a new remixedversion of the title's popular community-created map dod_salerno.
Available free of charge, the update will downloadautomatically upon restarting the Steam client. Complete details of theupdate are viewable below

.
From the Palermo update page:



Palermo
Introducing Palermo, a new Day of Defeat: Source map from Magnar "insta" Jenssen. This map's design was inspired by the Italian port city of the same name and was also based in part on "Salerno", a popular community map. Palermo features five capture points, four of which often flip back and forth between teams during play. The central plaza's two-person capture point is the map's key strategic area.

Steam Community Integration
Steam Community avatars will now appear next to each player name in the scoreboard, on the end-of-round panel, and as part of the newly-added freeze cam. Also, when you have friends playing with you in the game you'll be able to spot them using the new Friend icon next to their avatar on the scoreboard.

Achievements
There are now 51 unique achievements that you can earn for your play in-game. We've designed them to cover a variety of different play styles and specializations, and to recognize some of the rare and amazing feats people pull off while playing. For example, Jack of All Trades rewards players for earning a kill with a Machine Gun, Sniper Rifle, Rifle, Sub-Machine Gun, and a Grenade all in a single life.

Player Statistics
Day of Defeat: Source players can now show off their own stats and achievement progress in the Steam Community, using a method similar to Team Fortress 2's gameplay stats. Detailed statistics including usage of each weapon and class will be gathered displayed, giving players an at-a-glance view of each other's specific strengths.

Freeze Cam
Tired of getting killed by snipers without being able to tell where the fire is coming from? Day of Defeat: Source now has a freeze camera of your attacker, which will let you know where they are (or where they were when they shot you) and also allows you to take a screenshot for posterity. Also, if you score three consecutive kills against another individual player, you will be called out as "dominating" them.
Posted by Editorial Team Tue Jul 08, 2008 7:46 am
war-peace.com in Gaming
Attention citizens!

You are ordered to arrive to your point of general mobilization at http://war-peace.com Take with you only necessary belongings such as patriotism, passion to online gaming, and sense of humor


The game is in

beta

stage, so be the first to discover world domination experience! And hurry, countries do get perished in the new order …

Yours,
WAR-PEACE.COM team
Posted by denchik Fri Jul 04, 2008 6:39 am
Neopets Ambitious New MMO in Gaming
It's so early in development that it doesn'thave a name yet, but I'm already quite intrigued by the new MMO fromthe creators of Neopets.
Adam Powell and Donna Williams struck it rich with Neopets,an online virtual-pet site that grew so popular with kids and femalegamers that the pair sold their creation to Viacom in 2005 for $160million. Now, as founders of a startup called Meteor Games,they're working on something markedly different for an encore: A newMMO game that blurs the lines between traditional massively-multiplayergames, social networking, and casual gaming.
"We're World of Warcraft players ourselves," says Powell, "and wewouldn't want to compete with them. The game is really more casual --we want players to be able to play it for five, ten minutes at a time."
Imagine sitting down for a game of chess inside the 3-D virtualworld of the MMO. Your opponent is a real live person, but they'replaying the game in a simple Flash browser window, without all of thefluff around it. Or imagine playing a version of the classic cell phonegame Snake, but at the end of the game, the snake comes to life in theMMO and starts attacking enemies for you.

Neopets,Williams and Powell readily admit, is often seen now as a child'spastime. But that game's original target audience was an older set --teens and young adults. But after the pair launched Neopetsin 1999, the game took on a life of its own and became so popular withthe younger audience that the twosome didn't want to sacrifice theintensely lucrative younger market.
The goal of their unnamed new project is to capture the traditionalgamers. The art style is going to be cartoonish, certainly, but unlike Neopets,it won't trade realism for saccharine sweetness. Instead, Williams andPowell are drawing inspiration from a litany of sources near and dearto children of the 1980's.
"It's sort of traditional high fantasy with a little bit of sci-fi,"says Powell. "It's like a lot of 80's films that we love, like Labyrinth or Legend."
"Or The Dark Crystal," adds Williams.
So then, is this game merely lifting ideas from the lucrative well of collective nostalgia to compete with World of Warcraft?Apparently not. The game itself seeks to target a demographic somewherein between the hardcore MMO fan and his 7-year-old younger sister. Theword "tween" was mentioned, though I picked up on an obvious distastefor the term.
Key to attracting this audience, say the designers, is the game'sreliance on a hybrid financing plan. Players will be required to payfor a subscription, though Powell was very quick to point out that itwon't be nearly as expensive as those of traditional MMOs, whichgenerally run in the neighborhood of $15 per month.
Instead, the stated goal is to offer players a monthly fee of under$10, making up the difference and more with the ability to buy in-gameitems with small microtransactions. But kids with more pocket moneywon't be able to power up for cash.
"We are strongly against letting players buy an advantage," saysPowell. All of the microtransactions, he says, will augment theplayer's looks, not powers: New houses, new clothes, new pets.
And yet neither subscriptions nor microtransactions are anything newin the world of online gaming, so what sets this unnamed MMO apart fromthe rest of the pack? Synergy. Don't worry, they didn't actually dropthat buzzword during our conversation, but after describing the way thegame would span several different platforms in real time, there simplyisn't a better word for it.
As an example, Powell detailed one possibility, involving a simplegame of chess. At launch, the game itself will span both a traditionalMMO client as well as a social-networking website, and that simple gameof chess can be accessed through either, he explained.
Let's say one player is sitting inside the MMO. He's at a table inhis own fully 3-D virtual house and in front of him is a chessboard. Hemoves a pawn, waits, and the opposing side moves against him. Onlyinstead of challenging another player within the MMO, he's playingagainst someone who is playing chess via a simple Flash applicationembedded into the website. Each of their moves is relayed to oneanother in real-time, and both receive certain levels of virtual rewardfor the activity.
To explain how the reward system would work for someone interactingwith the MMO from the outside, Powell offered another example the grouphas planned for the title.
Remember Snake? That game where you maneuver a squigglyline around a board to collect pellets in the hopes of extending yourline's length? If you don't recall, check your cell phone. I guaranteeit's on there. The new MMO's website will have a Flash game similar to Snakebuilt into it. Instead of simply hoping for a high score, playersmaneuver the snake around the board in a hunt for pellets with theultimate goal of making the snake come to life.
Once you've collected enough points in the Flash game, your snakewould spawn within the 3-D MMO world and start attacking foes on yourbehalf, earning experience points for you whenever it successfullykills something.
Besides the basic versions of the mini-games, the social networkingsite will also contain your standard sort of Facebook-styled features.It's unclear how in-depth the system will be, but expect messaging,friends lists and everything you've come to love and/or loathe from theMySpaces of the world.
At launch the game's technology blending will only stretch as far asthe MMO itself and its official site, but the duo also plans toeventually roll out cell phone software that works with the system.Powell and Williams said that they have not yet decided how the phoneswould be implemented into the overall world, but giving players thechance to interact with the game while away from a computer is the sortof idea that could result in unforeseen levels of MMO addiction anddevotion.
Normally I'd be very cynical about a game relying so heavily on thissort of technological confluence -- particularly given thehyper-adorable, kid-centric current state of Neopets -- but assuming that these creators can actually deliver on the ideas they have for this game, it could be huge.
Of course, since the game is extremely early in development, no oneoutside of the 40 people on the development team will be playing it anytime soon. Powell and Williams say that they hope to publicly demo thetitle for the first time at Penny Arcade Expoin Seattle this August. If things go well, they plan on releasingsomething playable, whether it be the final game or a public

beta

, inearly 2009.


Posted by Editorial Team Tue Jul 01, 2008 7:14 am
Official: Windows 7 date is confirmed (Windows Vienna) in Microsoft / Windows
Bill Gates may have only just saidhis goodbyes, but the Microsoft machine keeps on running with thecompany announcing information about the release of Windows 7.
Thepaint may not have even dried on the Windows that is Vista, but itseems that Microsoft is already looking to launch its successor withinthe next two years.
In a letter to enterprise and businesscustomers on Tuesday, vice president of Microsoft Bill Veghte announcedthat the approximate launch date for Windows 7 is January 2010.
Seventh heaven
Inthe letter, Veghte wrote: "Our plan is to deliver Windows 7approximately three years after the January 2007 general availabilitylaunch date of Windows Vista.
"You've also let us know you don'twant to face the kinds of incompatibility challenges with the nextversion of Windows you might have experienced early with Windows Vista.
"Our goal is to ensure that the migration process from Windows Vista to Windows 7 is straightforward."
Well,if Intel is anything to go by, it won't be the migration from Vista toWindows 7 that will be the problem, it will be the migration from XP toWindows 7 that most computer users will be worried about.

Milestone 1
The first known build of Windows 7 was identified as a "Milestone 1(M1) code drop" according to TG Daily with a version number of6.1.6519.1. It was sent to key Microsoft partners by January 2008 in both x86 and x86-64 versions. Though not yet commented on by Microsoft, reviews and screenshots have been published by various sources.The M1 code drop installation comes as either a standalone install or one which requires Windows Vista with Service Pack 1, and creates a dual-boot system.
On April 20, 2008,screenshots and videos of a second build of M1 were leaked with aversion number of 6.1.6574.1. This build included changes to WindowsExplorer as well as a new Windows Health Center.
A standalone copy of build 6519 was leaked initially to private FTPsby BETAArchive on June 10, 2008, which quickly spread to many torrenttrackers.


Later builds
According to TG Daily article of January 16, 2008, the Milestone 2(M2) code drop was at that time scheduled for April or May of 2008. User interface appearance changes are expected to appear in later builds of Windows 7.
Milestone 3 (M3) is listed as coming in the third quarter, with the release to manufacturing in the second half of 2009. The release dates of a

beta

version and a release candidate are "to be determined".
Bill Gates commented in a press conference in April 2008 that a new version [of Windows] would come "in the next year or so".According to additional clarification by Microsoft, he was onlyreferring to availability of alpha or

beta

versions of Windows 7.


Unveiling
The Windows 7 user interface was demonstrated for the first time at the D6 conference during which Steve Ballmer acknowledged a projected release date of late 2009.The build of Windows 7 that was on display had a different taskbar thanfound in Windows Vista, with, among other features, sections dividedinto different colors. The host declined to comment on it, stating "I'mnot supposed to talk about it now today".
Features
Windows 7 has reached the Milestone 1 (M1) stage and has been made available to key partners.According to reports sent to TG Daily, the build adds support forsystems using multiple heterogeneous graphics cards and a new versionof Windows Media Center New features in Milestone 1 also reportedly include Gadgets being integrated into Windows Explorer, a Gadget for Windows Media Center, the ability to visually pin and unpin items from the Start Menu and Recycle Bin, improved media features, a new XPS Viewer, and the Calculator accessory is multi-line featuring Programmer and Statistics modes along with unit conversion.
Reports indicate that a feedback tool included in Milestone 1 lists some coming features: the ability to store Internet Explorer settings on a Windows Live account, updated versions of Paint and WordPad, and a 10 minute install process. In addition, improved network connection tools might be included.
A new feature in build 6574, Windows Health Center, allows the user to monitor all of their PC's health problems, and concerns in one place. It allows turning User Account Control on and off, and monitoring 3rd party anti-virus programs, firewalls, etc.
In the demonstration of Windows 7 at D6, the operating systemfeatured multi-touch, including a virtual piano program, a directionsprogram and a more advanced paint program.
Windows Server 7
Posted by Editorial Team Sun Jun 29, 2008 6:43 am
Jumpgate Beta taking orders now in Gaming
Codemasters Online has confirmed that the

beta

test for MMO Jumpgate Evolution is now taking submissions.


Developed by NetDevil, Jumpgate is asequel to Jumpgate: The Reconstruction Initiative. It's a space combatonline game that sounds a little like Eve Online. Trading, raiding andexploration will play a massive part of life inside the world.

To sign-up, check out the official website and go to the

beta

section. Below are some screenshots from the game, too.
Posted by Editorial Team Sun Jun 29, 2008 6:35 am
WWDC 08 Live Coverage: iPhone SDK 2.0 in Apple
Ok, Scott, we love what you've done here, but we're yawning. Thenagain, the thousands of devs in the audience are probably stoked --those that haven't used the SDK anyway.

Demo time! "I want toconcentrate on how we construct a UI..." making an app called NearbyFriends. Accesses the contacts database and Core Location to filter allcontacts with contacts within 10mi. Building the UI with InterfaceBuilder. Dragging and dropping interface elements.

Going over debungging and Xcode, instruments -- all the stuff from the March iPhone roadmap event.

10:20AM PT - "Wetop it all off with Cocoa Touch -- our UI object oriented framework,which makes building an app for our fullscreen touch interface anabsolute breeze. We have a great set of APIs. On top of this we have areally powerful set of tools."

"With the SDK in iPhone 2.0 we'reopening the same native APIs and tools we use internally... that meansyou as a dev can build apps for the iPhone the same way we do. Let'sstart by talking about the APIs. The APIs and frameworks on the iPhoneshare extensively with OS X... We use the same kernel in the iPhonethat forms the basis of OS X... almost all of them share the samesource code line-for-line as OS X." He's going over the bits of CoreServices: SQL lite, OpenGL ES, OpenAL


Steve's back on: "That gives you a sense of what we're doing in theenterprise, all this stuff built into iPhone 2.0. Next up is the SDK,to take us where we are there and to show us some really excitingstuff, I'd like to bring up Scott Forstall." Applause.

Still going... the Army sure does love the new iPhone software!

Going over some firms, testimonials style. Great if you care about the petabytes in the datacenters of Disney, we guess!

10:13AM PT -"We've had phenomenal participation from higher education. Again,gotten fantastic feedback. We made a video of these customers, I'd loveto show it to you..." Video time!

"We've had a

beta

going... 35%of the Fortune 500 has participated in that

beta

program. The top 5banks, top 5 securities firms, 6 or 7 top airlines, 8 of 10 top pharma,and 8 of 10 top entertainment companies."


"Exchange... as you know, we've done it... push email, calendars,contacts, auto-discovery, global address lookup, remote wipe, all thisstuff built in. In addition we've worked with Cisco to build in theirVPN services... all sorts of security demanded by the enterprise.Everything they told us they wanted, we built in."


"iPhone 2.0 software, there are three parts: enterprise support, SDK, and new end-user features. Let me start with enterprise."

10:10AM PT -"Let's talk about iPhone, the place to start is our new software -- theiPhone 2.0 platform, a giant step forward from where we've been... westarted a dev program in March, which is just 95 days ago. In those 95days we've had over 250k download the free SDK. We've had over 25kpeople apply to the pay developer program... unfortunately we couldn'ttake everybody, so we admitted 4k people to the program..."

"Tohelp me, I'm going to ask Scott Forstall and Phil Schiller to help mewith parts of this. Then... Bertrand Serlet will give you a sneak peakat the next version of OS X called Snow Leopard."


"Let's get started. As you know there are three parts to Apple --the first part is Mac, second part is our music business, iPod andiTunes, and the third part is the iPhone. I'm going to take thismorning to talk about the iPhone."


"I'm sorry for all those folks that couldn't be here... we're goingto have a great week this week. 147 sessions, 85 on the Mac, and 62 onthe iPhone... it's going to be packed! 169 hands-on labs, 1k Appleengineers, iFund and Intel sessions. I think it's going to be one ofthe best WWDCs ever."

10:07AM PT - "Thankyou very much. I'm really glad to be here this morning. We've beenworking hard on some great stuff... thank you for coming to WWDC 2008.We've got a record 5200 attendees -- we wish we could have had more,but we sold out!"


Roar, applause.

Music's over, and here we go... lights all the way down, Steve's on stage!

10:06AM PT - Lights are coming down! Crowd beginning to roar!

Announcer: "Turn off all cellphones, iPhones, PDAs... our program will start in a few minutes."

10:02AM PT - OK, weird, a bunch of attendees just stood up and started clapping -- we don't know why, since it wasn't Jobs (or so we think).


9:51AM PT - Peoplestill funneling in -- this auditorium seats thousands of people, so ittakes a little while. Say, is that Gavin Newsome? Oh, and there's AlGore.

9:46AM PT -We're in! The cattle rush of the media was pretty mellow this timearound. Shockingly enough, they're playing oldies -- not the usualsoundtrack of Gnarles Barkley, Coldplay, Gorillaz, etc.


9:37AM PT - Everybody is crowding up at the closed gates, preparing for the Running of the Media.

9:16AM PT - People are really filing in. You've never heard so many people say the word "iPhone" in your life.

8:43AM PT - We'rein line at the Moscone Center (which is actually pretty spare at themoment), but it's early. The media's got a ton of MacBook Airs. Staytuned for our live coverage of the event.



Already hundreds of devs and attendees are piling up downstairs to get in.


Posted by Editorial Team Mon Jun 09, 2008 1:26 pm
Internet Explorer 8 beta 2 and Silverlight beta 2 in Software
Bill Gates has announced the next betas of Internet Explorer 8 andSilverlight 2 while outlining plans from Microsoft on development,services. He also took the opportunity in his valedictory keynote atTechEd in Orlando, Florida today to unveil a Steve Ballmer 'bot.
The second

beta

of Microsoft Silverlight cross-browser media playerand development platform will be released by the end of this week undera Go Live license. A Go Live license lets developers use pre-releasecode in real-world applications, but without the safety net ofMicrosoft support. The second

beta

had been promised for the secondhalf of 2008, so it's... early!
document.write('\x3Cscript src="http://ad.uk.doubleclick.net/adj/reg.software.4159/developer;cta='+cta+';ctb='+ctb+';ctc='+ctc+';sc='+sc+';cid='+cid+';'+RegExCats+GetVCs()+'pid='+RegId+RegDT+';'+RegKW+'maid='+maid+';test='+test+';pf='+RegPF+';dcove=d;sz=336x280;tile=3;ord=' + rand + '?" type="text/javascript">\x3C\/script>'); <ahref="http://ad.uk.doubleclick.net/jump/reg.software.4159/developer;dcove=d;sz=336x280;tile=3;ord=00kKItRk6jgAAHQdt@sAAAE7?"target="_blank"><imgsrc="http://ad.uk.doubleclick.net/ad/reg.software.4159/developer;dcove=d;sz=336x280;tile=3;ord=00kKItRk6jgAAHQdt@sAAAE7?"width="336" height="280" border="0" alt="" />
The second

beta

for IE8 is released in August in 20 languages, sohitting the summer launch, that Microsoft had previously promised.

To promote Microsoft's work on robotics Gates demoed aWindows-powered robot with a monitor showing the Steve Ballmer's face.On cue, the Robot Steve waved his arms up and down and began shouting "Developers! Developers! Developers!", after throwing an egg across the stage.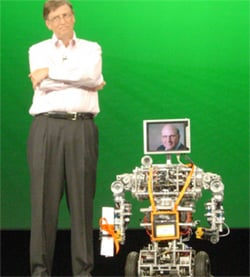 Billg ponders Microsoft under Robot Steve
Gates today hosted his last TechEd before stepping down from day-to-day activities next month after 38 years with Microsoft.

It was a stoic affair, during which Gate's sole concession toemotion came when he credited Microsoft's success to its relationshipwith developers. Gates said next-month's transition to the newtechnology leadership at Microsoft was going very well.

Microsoft has tried the patience of developers many times. There wasthe transition from Visual Basic 6.0 to Visual Basic.NET. Then theill-advised decision to stop serious work on IE, and fold it back intoWindows. That was reversed once Firefox began nibbling away at IE'smarket share.

Gates noted his company had "a renewed effort to invest in Internet Explorer".

"We are hard at work on a new version of that: IE 8 - a very creative name we came up with," he said.

He also talked up Microsoft's plans for Oslo,which will feature a new modeling language, repository, storagemechanism and way to manipulate models. A Community Technology Preview(CTP) is due this fall. The next edition of Visual Studio, meanwhile,will support the Object Management Group's Unified Modeling Language (UML).

After years of industry talk on models and re-use, neither has quitefulfilled their potential. According to Gates, Oslo will get thingsright, and take the "richness" of distributed, online services andbring them together into "one rich framework".

According to Gates, Oslo will enable ambitious forms of development.This will coincide with the rollout of more services from Microsoft,similar to SQL Server Data Services and BizTalk Server Services. Gates promised Microsoft would run these on millions of servers in its data centers, up from just hundreds of thousands today.

He said Microsoft's SharePoint Server would become the firstMicrosoft product to use enterprise search from its Fast Search andTransfer acquisition. The delayed SQL Server will be next. "Think of it as SQL Server, but it's really Fast," he said.
For all the talk of data services, there was still no date on thenext edition of SQL Server. Demonstrating SQL Server 2008, DaveCampbell, from Microsoft's data storage platform division said SQLServer 2008 would be available in the "next month or two"
Posted by Editorial Team Wed Jun 04, 2008 5:31 am
Female orientated video site launches - with Sex and city in Entertainment, Film and Music, Mobile devices and media
SheZoom.com website targeted at women, has just enteredits

Beta

stage and is looking to fill a gap in the video-upload market.


Unlike YouTube and the like, the site is broken down into categoriesthat should entice females everywhere. These include: weight loss, fashion,finance, food, parenting and technology.
A woman's place…
Speaking about the website, CEO Stacey Artandi said, "Ourgoal with SheZoom is to bring women together and encourage a wide variety ofinteractions.
"Whether driven by similarities or differences, we wantto facilitate dialogue. All of our contributors can relate to one another andhave a wealth of knowledge based on their experiences as executives, mothers,runners, sisters, chefs - the list goes on and on. SheZoom enables women to tapinto and share this collective knowledge."
So, what kind of content can you expect? Well, the mainvideo at the moment is a Sex And The City movie countdown. Most of the content, however, links to other video-upload sites.
Surprisingly, the most popular video in the archives is entitled'How To Put A Bra On Properly'. Either there's a lot of females out thereconfused by their clothing or members of the opposite sex are using the clipfor ulterior motives.
It's the fourth most popular video that is worryingTechRadar, though, as it is a clip of a man nearly getting eaten by a shark. Arethe owners of the site secretly trying to tell us something?
Posted by Editorial Team Sun Jun 01, 2008 4:55 pm
Age of Conan nets 600,000 players in Gaming
uncom has announced that 600,000 players have signed up to play its new MMO launch, Age of Conan: Hyborian Adventures, in the last few days.

Age of Conan has been on general release in the US for a week, and in Europe since last Friday. Assuming the figure excludes

beta

testers, it means it's one of the fastest-selling PC games ever.
Posted by Editorial Team Tue May 27, 2008 6:09 pm
Adobe Dreamweaver, Fireworks and Soundbooth CS4 Public Betas in Film, Photography, Digital Animation, Broadcasting / Production
Adobe announced that public betas of the CS4 version of Dreamweaver, Fireworks and Soundbooth are now available at Adobe labs.While the downloads are publicly available, only existing CS3 ownerswill be able to use the

beta

software beyond an initial 48 hour window.
TheDreamweaver

beta

for Web design and development, the Fireworks

beta

forprototyping, and the Soundbooth

beta

for audio creating and editing,demonstrate the direction that Adobe Creative Suite is taking withfeatures and technologies that will simplify and streamline design anddevelopment workflows across all media. The betas also offer users theopportunity to give Adobe feedback for further product development.
Adobe lists the new features included in each

beta

on their respective pages: Dreamweaver CS4, Fireworks CS4, Soundbooth CS4.

The firm said the betas are available to anyone wanting to test the products. However they will only be active for 48 hours after download, and after that only Creative Suite 3 customers will be able to continue using them.

Features in the Dreamweaver

beta

include Code Navigator and a Related Files Toolbar that allows developers to view pages containing links to embedded XML data, JavaScript docs and HTML files.

The Fireworks

beta

is compatible with the firm's rich web product Adobe Integrated Runtime (AIR) as well as Flash, HTML and Flex builder.

Soundbooth's

beta

comes loaded with audio production features that include a speech-to-text option, multiple track support to edit audio clips and to tweak volume levels across audio files. MP3 compression settings can also be previewed before users save the file.

Creative Suite 4 is expected to ship late this year or in early 2009.
Posted by Editorial Team Tue May 27, 2008 5:59 pm
Nokia Maps 2.0 out of beta in Entertainment, Film and Music, Mobile devices and media
After the modest success of Nokia Maps (it was basically just mapsand you needed an additional GPS device initially, but hey, it wasfree!) and the advent of GPS phones, the handset manufacturer hasunleashed a wave of features to make your mobile more like a TomTomthan ever before.
The software, which can be downloaded from Nokia's website, featuresimproved car and walking navigation, as well as city guides with audioand video streams.
For instance, when using your phone's GPS in your car, it now hasfaster re-routing on the go, and for the walkers out there it also givepublic transport information such as station entrances (though then youwouldn't be walking).
Tell me something new
The list of partial features (why only partial we don't know…no newson what's being kept secret) includes the ability to identify where youare by giving information on buildings and nearby attractions.
Apparently 240,000 have downloaded the Nokia Maps application sofar, but after personal experience there are some who must havedownloaded it over 1,000 times individually after it wouldn't installand kept asking for a new file.
The upshot of the new software is it helps make balance the GPS /privacy argument. Yes, people might be able to know where you are atany given moment, and the targeted advertising could get annoying.
But if the reward is little bits of information on the surroundingsyou might not usually find, especially abroad, then that certainlymight help soften the blow.
Posted by Editorial Team Sat May 24, 2008 6:20 pm
Age of Conan tops charts: finally a game that takes on WoW? in Gaming
After a long build up, including an eight-week delay to apply the final polish, Age of Conan: Hyborian Adventures (AoC) has been launched.

The game is widely seen as one that has a chance of taking on the current king of the online gaming heap - World of Warcraft (WoW).



That battle for a share of the global online gaming world is one that the mighty Conan himself would relish. At stake are fame, respect and untold riches.

The BBC News website got a chance to play through the early levels of the game and right from the opening moments it is obvious that the cosy world of WoW has been left far behind. It's not for nothing that the game is rated 18.

The game opens on a galley ship on which both male and female characters are slaves. Under attack, the ship sinks and the character is washed up on the beach of an island called Tortage naked but for a loin cloth and shackles.

From those opening moments the graphical detail of the game is a huge leap forward from the rather "cartoon-y" look of WoW. It even rivals Lord of The Rings Online in the graphical stakes. That detail comes at a price - the minimum specs are quite high.

Joe Best, associate producer at publishers Eidos, said: "We really want this to be full fat but also scalable to the PCs of the last few years."

The opening is worthy of a Conan story in which the hero is left to craft his, or her, destiny with their bare hands. The first quests involve finding a way to remove the shackles and then kill the man who enslaved you.

For the first 20 levels of the game, players will be pretty much alone, said Joe Best, an associate producer at Eidos.

The "linear" nature of those early levels on Tortage is where players become familiar with the game world, the abilities of their character and how to play. After that they get to join the larger MMO world of AoC.



During those early levels the most important lessons learned are those that show how to fight.

Combat, bloody visceral combat, is at the heart of the Conan stories and the game is no exception. One of the first decisions made when the game was being drawn up, said Mr Best, was that the combat would be "ferocious".

"It's not about watching your character fight for you," he said. "they really wanted to break away from that "point and click" aspect of MMOs."

In games such as World of Warcraft characters attack automatically once they are directed to a target. In AoC the on-screen character only does what it is told. That's necessary as enemies adapt their fighting style to defend against the way they are attacked so that involvement is key.

And the combat is involving, much more so than WoW, where the same attacks and spells will despatch the same types of foe.

There is no doubt that it is fun to use combos and alter your attacks to beat a foe to the ground, or knock them back and then leap forward to finish them off with a panther-like grace that would win a nod of approval from the massive Cimmerian, Conan himself.



Quote:
AGE OF CONAN: SPECIFICATIONS
Minimum
Processor: 3GHz
Ram: 1GB
Video: Nvidia GeForce 5800 or ATI 9800
OS: Windows Vista/XP
Recommended
Processor: Intel Core 2 Duo 2.4 GHz or better
Ram: 2GB or better
Video: NVIDIA GeForce 7950GX2 or better
OS: Windows Vista/XP


It was odd, said Mr Best, that given combat centrality to most MMOs that no-one had tried such a thing before.

AoC's distinctiveness does not stop with blood, gore and intense combat. At the higher levels players can get a mount, (horse, mammoth or war rhino) that can be used for trampling enemies in to the dust. Those on horseback can swing a weapon and use the momentum of a charge to inflict huge amounts of damage.

Those mounts are likely to be very useful in another of AoC's selling points - siege warfare. Guilds can build their own cities or battle keeps, once their members have gathered enough raw materials for the buildings. As Mr Best said creating a city is a "very social experience".

But once built it may not be safe. Rival factions can gather their war mammoths, trebuchets and troops to lay waste to their enemies' homes and businesses. Pitched battles featuring huge groups of players are likely to become very popular.

Mr Best said many of the decisions that have driven the development of Age of Conan were taken to make it stand out.


Quote:
"If you are going up against World of Warcraft you cannot imitate it, you have to go your own path and do it your way," he said.


And that's something Conan would doubtless agree with. But it remains to be seen whether that list of features not seen in many other MMOs is a recipe for the one feature WoW has in spades: success.

Funcom has announced that over 1 million people have signed up to the Age of Conan

beta

test, a figure which the company believes is a record, and proves huge interest in the forthcoming adult-themed MMO.

Quote:

"Funcom has not been able to find any higher

beta

numbers for MMOs in the western world," said Morten Larssen, VP of sales and marketing. "We believe it represents the largest ever

beta

sign-up figure in the history of the genre."


The company also released additional statistics about interest in the game, commenting that almost 800,000 people have signed up for the newsletter, while last week the official site registered 725,000 unique users.

But while the official launch date of May 20 is still applicable in the US, the European date is now May 23, aligning it with the traditional Friday release for titles in the region.
Posted by Editorial Team Tue May 20, 2008 4:54 pm
Audiosurf gets 'a host of new features' for free in Gaming
Audiosurf, the game that turns any mp3track into a loop-the-loop riddled, high-speed course, has justreceived a host of new features.

FM Update is free and available via Steam, and has been put together by Audiosurf creator Dylan Fitterer.

Among stuff included is last .fm audioscrobbling (we have no idea whatthat is), the ability to run Audiosurf as a music visualiser andscoreboard comments.

Plus, Valve explains, "this updateintroduces a Mod interface for developers. The interface was madeavailable during its

beta

phase and several Audiosurf extensions arealready available.

"These include Shuffle Play, an MSNMessenger status writer, and a context menu that can launch Audiosurfdirectly into a song by right-clicking it in Windows Explorer."

People have gone a bit crazy for Audiosurf.

"It hinges on the thrill of wondering how it's going to treat whateveryou next throw at it, and those glorious moments when the entire gameseems created specifically for the song you're playing", PC Gamer said in its review, awarding it 85 percent.
Posted by Editorial Team Tue May 06, 2008 5:57 pm
Watch Sunsets, photo-realistic buildings on Google Earth 4.3 in Software
There's a new

beta

version of Google Earthavailable which features revamped navigation controls and some slicknew layers like 3-D photo-realistic buildings in major cities andtime-lapse views of sunsets and sunrises.
Also new in Google Earth 4.3is access to the street view movies found in Google Maps. Just clickany of the camera icons and the familiar street view window will pop up.
The new navigation controls take some getting used to, but once youhave the hang of it they offer considerable more control over panningand tilting. Also handy is the new "North" button which quickly orientsyour current view by rotating until north is at the top.

Thesunrise and sunset movies are also quite impressive. Just fly to alocation you'd like to see and click the "sun" button in the toolbar.That will bring up a small timeline graphic and you can either hit playor drag the timeline slider to watch the day unfold.
Google Earth 4.3 is still a

beta

and certain features appear to bemissing (the old "streaming" message that would let you know when theapp was loading data doesn't appear to be in the new version, whichmakes it difficult to tell whether something is not working or justloading very slowly. [Update: As some readers have pointed out inthe comments, I overlooked the new throbber in the lower right corner,which conveys the same information about loading data.). Still, if a few quirks don't bother you, you can grab Google Earth 4.3 from the site, or by using the Google Updater.
The Google Earth team has released this video of some of the new features in action:

[via Google Operating System]
Posted by Editorial Team Mon May 05, 2008 7:25 pm
Metal Gear Solid 4 Online beta is live!! in Gaming
Getting the Metal Gear Solid 4 Online

beta

running is a giant pain in the butt. Yesterday I ran out and grabbed akey, and then downloaded the

beta

, installed it, opened it, saw anupdate, downloaded it, installed it, restarted the game, saw anotherupdate, downloaded it, installed it, was prompted for my Konami and Game ID,so I created one, the system rejected it, created another one, samething, finally created one, waited 30 minutes for Konami to send me ane-mail so I could confirm my information, confirmed it, and then when Ifinally got to play the game today I had to create YET ANOTHER NAMEthat my character would show up as on the screen.



It takes a good hour or more to get all this done. Luckily, the gameis worth it. I haven't had much time to play yet—just a few matches—butthe experience is there. I customized my character, picked my skills (Idecided to buff my shotgun, assault rifle, movement, and lock-onstats), and went hunting. If it has been a while since you've played a Metal Gear game, the tutorials are worth your time... the controls can take a little while to get used to.
The graphics are solid, although I'm not seeing anything that crazygoing on in either of the maps. I've been playing on Bloodbath, anindustrial map with catwalks above the ground, with plenty of places tohide. Turn off the auto-aim though. While it may help novices, anyonewith any amount of time playing shooting games will be annoyed at thelack of headshots. This is a very tactical game online, and the bestkills involve good maneuvering; the enemy should barely be able to geta shot off.
This is the first day, no one online has become uber-good yet, at leastnot that I've encountered. Lag also hasn't been an issue—surprisingconsidering that even in this early stage there servers are slammedwith players.
Once we've had time to play some more, expect a nice write-up of theexperience. For now, it's just good knowing the

beta

has finally begun.Judging from some of the early matches I've enjoyed, we're for abrutal, methodical, and very satisfying

beta

.
Posted by Editorial Team Mon Apr 28, 2008 2:32 pm