Search iVirtua
Advanced/Tag Search...
Search Users...
What is iVirtua Exclusive Community?
An exclusive gaming industry community targeted to, and designed for Professionals, Businesses and Students in the sectors and industries of Gaming, New Media and the Web, all closely related with it's Business and Industry.
A Rich content driven service including articles, contributed discussion, news, reviews, networking, downloads, and debate.
We strive to cater for cultural influencers, technology decision makers, early adopters and business leaders in the gaming industry.
A medium to share your or contribute your ideas, experiences, questions and point of view or network with other colleagues here at iVirtua Community.
Guest's Communication
Live Chat
Teamspeak (VOIP) Audio Conference
Private Messages
Check your Private Messages
Themes
Choose an iVirtua Community theme to reflect your interests...
Business Theme

India/Arabic Theme
Gaming Theme
iVirtua Recommends
Fly Emirates
So You Want To Be a Video Game Artist ... in Graphic Design, Web Design and Creative Arts Concepts
In a market that's oversaturated with incredibly talented artistsand writers, up-and-comers and semi-professionals alike face theoutrageously difficult task of gaining recognition in their chosenfield. One dilemma out of many is that many young artists are forced tocompete against traditional animators that didn't get out of the mass layoffs and salary cuts plaguing Disney in the year 2001, the eventual closureof the animation giant's 2D studios creating a flood of overqualifiedprofessionals entering into jobs that would normally be moreaccommodating towards talented students and other entry levelapplicants.
While this is hardly a bad thing– one would have a hard time arguingagainst widely-distributed mediums getting a boost in artistic quality–it leaves a lot of people scratching their heads, wondering how thehell they could possibly make it in the professional world, especiallywhen it comes to video games. You know how they say the right answer isoften the simplest? Well, here's a simple answer to the headscratching:learn how to become a professional.


[TABLE][TR][TD]
[/TD][/TR][/TABLE]
Art in its many varied forms has, and always will be, a staple ofevery human culture that has ever walked the Earth. Over time, nearlyeveryone has debated what constitutes art that's worthy of display, ofreflection; why a single image may evoke a great deal of emotions inone person while it leaves another cold and uninterested. This worksrather well for art contained within the many varied galleriesscattered across the globe, but that kind of ambiguity will rarely getyou honorable mention in mediums that rely heavily on– you got it–technical expertise.
The consumer market may be easy to fool with rudimentary attempts atfan art from your favorite game or anime, but knowing you have thetalent and expanding that talent are two extremely different things.
Unfortunately, thanks to social networking sites like deviantArt and its numerous clones, many are under the delusion that the groping their ego receives in the form of comments or favorites make them impervious to conventional criticism. So here's rule number one, in case you missed it:
You are never above criticism no matter how good you think you are.
The only way an artist will be anywhere near capableof making ends meet in a market that's incredibly competative is bystanding out, both in their list of skills and in the body of work theypresent in their portfolios.Fresh ideas are just as paramount to getting that dream job you'redrooling over, but having a solid understanding of drawingfundamentals– perspective, life drawing (prudes are advised to get over naked people) and proper use of negative space– is going to be one of your most treasured assets.
Recently, I had the opportunity to speak to a representative from Raven Software's creative team over lunch, and later received a tour of their headquarters (which I, unfortunately, can't tell you about, other than to say: holy crap that was cool). My tour guide had been a technical artist for Electronic Arts in the past, citing the impressive wealth of knowledge that landed him those jobs in the first place.
Hestated in no uncertain terms that one of the ways an applicant canreally stand out is by showing proficiency in manipulating gameengines, saying that being able to produce mods for various games using the Unreal Engine would be an immediate edge over other prospective employees. Similarly, a solid understanding of 3D software such as Maya–including how to

create

detailed textures for the models you

create

– isincluded in the mix, even if your entire job revolves around sketchingconcepts with pen and paper. In short: wherever your strengths may lie,being able to showcase versatility in many different aspects of gamedesign is much more likely to land you a job in the industry.
Sounds difficult, doesn't it? As if learning all the basics of drawing wasn't hard enough, right? Well, it isdifficult; no matter how much encouragement you might receive from yourpeers and loved ones, nothing will erase that fact… but if you'reanything like me, you look forward to the learning process as much asyou look forward to landing that dream job.
Posted by Editorial Team Mon Jul 14, 2008 10:13 am
Rock Band 2 to include every song DLC free from Rockband 1 in Gaming
There are differing leaks out there regarding the track list for Rock Band 2.Both are unattributed, one to a friend of a friend who got a look at anemail from Harmonix to MTV or something. But in the interest ofrumormongering, we'll repeat both with the caveat that there is no wayof knowing if this stuff is for real or not. But if, combined, they'rehalf right then this could be one hell of a track list, possibly thebest of any rhythm game.
Also, an IGN Insider interview (transcript provided by reader Max)let slip that buyers of Rock Band 2 will have access to all of thesongs off the original Rock Band disc, available as free DLC. Fulldetails on both after the jump.

Says IGN 360 editor Nate Ahern:

Rock Band 2 and Guitar HeroWorld Tour

create

an interesting situation for gamers. If you boughtRock Band 1 then chances are you'll feel cheated by the release of RB2,thus you'd think that GHWT would be the way to go as it somewhatredefines the music gaming genre. However, if you didn't buy the firstRock Band then I would absolutely agree with notagoth. Immediately uponpurchasing Rock Band 2 you'll have the ability to download a hugelibrary of songs, as well as all of the songs off of the original discas a free download. Then again, Guitar Hero World Tour does allow usersto

create

and share their own songs, so it's really only a matter oftime until the Rock Band library is eclipsed. At the end of the day itcould come down to which series has earned your allegiance over thelast year since RB's original release."

And on to the leaked track lists. The first is from Demp, a commenter on 8bitfix, and he's got the FOAF who saw the email source. That's like fourth-hand hearsay, but whatever, this ain't court.
1 AC/DC Let There Be Rock
2 AFI Girl's Gone Grey
3 Alanis Morissette You Oughta Know
4 Alice in Chains Man in the Box
5 Allman Brothers Ramblin' Man
6 Avenged Sevenfold Almost Easy
7 Bad Company Shooting Star
8 Beastie Boys So Whatcha Want
9 Beck E-Pro
10 Bikini Kill Rebel Girl
11 Billy Idol White Wedding Pt I
12 Blondie One Way or Another
13 Bob Dylan Tangled Up in Blue
14 Bon Jovi Livin' on a Prayer
15 Cheap Trick Hello There
16 Devo Uncontrollable Urge
17 Dinosaur Jr Feel the Pain
18 Disturbed Down with the Sickness
19 Donnas, The New Kid in School
20 Dream Theater Panic Attack
21 Duran Duran Hungry Like the Wolf
22 Elvis Costello Pump it Up
23 Fleetwood Mac Go Your Own Way
24 Foo Fighters Everlong
25 Go-Go's, The We Got the Beat
26 Grateful Dead, The Alabama Getaway
27 Guess Who, The American Woman
28 Guns N' Roses Shackler's Revenge
29 Interpol PDA
30 Jane's Addiction Mountain Song
31 Jethro Tull Aqualung
32 Jimmy Eat World The Middle
33 Joan Jett Bad Reputation
34 Journey Anyway You Want It
35 Judas Priest Painkiller
36 Kansas Carry On Wayward Son
37 L7 Pretend We're Dead
38 Lacuna Coil Our Truth
39 Linkin Park One Step Closer
40 Lit My Own Worst Enemy
41 Lush De-Luxe
42 Mastodon Colony of Birchmen
43 Megadeth Peace Sells
44 Metallica Battery
45 Mighty Mighty Bosstones Where'd You Go
46 Modest Mouse Float On
47 Motorhead Ace of Spades
48 Muffs, The Kids in America
49 Nirvana Drain You
50 Norman Greenbaum Spirit in the Sky
51 Offspring, The Come Out & Play (Keep 'em Seperated)
52 Panic at the Disco Nine in the Afternoon
53 Paramore That's What You Get
54 Pearl Jam Alive
55 Presidents of the USA Lump
56 Rage Against the Machine Testify
57 Ratt Round & Round
58 Red Hot Chili Peppers Give it Away
59 Replacements, The Alex Chilton
60 Rise Against Give it All
61 Rush The Trees
62 Silversun Pickups Lazy Eye
63 Smashing Pumpkins Today
64 Social Distortion I Was Wrong
65 Sonic Youth Teenage Riot
66 Soundgarden Spoonman
67 Squeeze Cool for Cats
68 Steely Dan Bodhitsattva
69 Steve Miller Band Rock'n Me
70 Survivor Eye of the Tiger
71 System of a Down Chop Suey
72 Talking Heads Psycho Killer
73 Tenacious D Master Exploder
74 Testament Souls of Black
75 Who, The Pinball Wizard
BONUS SONGS (all HMX bands)
76 Abnormality Visions
77 Anarchy Club Get Clean
78 Bang Camaro Night Lies
79 Breaking Wheel Shoulder to the Plow
80 Libyans, The Neighborhood
81 Main Drag, The A Jagged Georgeous Winter.
82 Speck Conventional Lover
83 Sterns, The Supreme Girl
84 That Handsome Devil Rob the Prez-O-Dent
And then from Loading Reality,which notes that this numbers only about 60. Some of the tracks are thesame as the list above, just in a different order. "Keep in mind, someof these could easily be DLC that's in the works," Loading Realitywrites. A wise caveat.
1) Tangled Up in Blue (Bob Dylan)
2) Bad to the Bone (George Thorogood)
3) We've Got the Beat (Go-Gos)
4) Bad Reputation (Joan Jett)
5) Pinball Wizard (The Who)
6) Dammit (Blink 182)
7) That's What You Get (Paramore)

The Trees (Rush)
9) Ace of Spades (Motorhead)
10) Chop Suey (System of a Down)
11) Testify (Rage Against the Machine)
12) Spirit In the Sky (Norman Greenbaum)
13) Ramblin' Man (Allman Brothers)
14) Rebel Girl (Bikini Kill)
15) Eye of the Tiger (Survivor)
16) Panic Attack (Dream Theater)
17) Everlong (Foo Fighters)
1
One Step Closer (Linkin' Park)
19) Lump (Presidents of the USA)
20) Come Out and Play (Offspring)
21) Drain You (Nirvana)
22) Carry On Wayward Son (Kansas)
23) Peace Sells (Megadeath)
24) Souls of Black (Testament)
25) Livin' On a Prayer (Bon Jovi)
26) Round and Round (Ratt)
27) New Kid In School (The Donnas)
2
Alright Now (Free)
29) Today (Smashing Pumpkins)
30) Man In the Box (Alice In Chains)
31) Any Way You Want It (Journey)
32) Holiday In Cambodia (Dead Kennedys)
33) Give It Away (Red Hot Chili Peppers)
34) White Wedding (Billy Idol)
35) Hello There (Cheap Trick)
36) Cool for Cats (Squeeze)
37) Psycho Killer (Talking Heads)
3
? (Devo)
39) One Way or Another (Blondie)
40) De-luxe (Lush) [dare to dream, shoegaze in Rock Band!]
41) Push It (Static-X)
42) Pump It Up (Elvis Costello)
43) Master Exploder (Tenacious D)
44) Bandages (Hot Hot Heat)
45) PDA (Interpol)
46) My Own Worst Enemy (Lit)
47) Float On (Modest Mouse)
4
Aqualung (Jethro Tull)
49) Spoonman (Soundgarden)
50) Bodhisattva (Steely Dan)
51) Suffer (Bad Religion)
52) I Was Wrong (Social Distortion)
53) American Woman (The Guess Who)
56) You Oughta Know (Alanis Morrissette)
57) Mountain Song (Jane's Addiction)
5
Stop! (Against Me)
59) Hungry Like the Wolf (Duran Duran)
60) Alabama Getaway (Grateful Dead)
So there you have it. Could be real, could be bs, again that's thefun of rumors. But even if this is in-progress thinking, and not finalstuff, it shows Harmonix is not F-in around, and will move to counterGuitar Hero: World Tour's peripherals and custom song features withoutstanding content.
Rock Band Two Rumored Track List [8bitfix, in comments]
60 Rock Band 2 Tracks Leaked [Loading Reality, thanks Max]
Posted by Editorial Team Tue Jul 08, 2008 7:54 am
'The Internet Hates Diablo III' in Gaming
When Blizzard unveiled Diablo III earlier this week, it didn't comeas much of a surprise to anyone. Well, there was one guy who thoughtStarcraft 3 was being developed alongside Starcraft 2 with a projectedrelease date of one week prior to the release of the game it wasfollowing, but no one has taken Cliffy B. seriously since he predictedthat Mario would never appear in another video game after Super MarioSunshine.

Sure, it didn't blow any minds, but theannouncement came as welcome news. Diablo II is still the first thing Iinstall on my computer after a trojan-laden lolita incest hentai comicforces me to reformat. It's hard to believe that in the last eightyears no one has been able to step in and

create

a better action-rpg.It's even harder to believe that a ten year old girl can lubricate herentire body with egg yolks then squirm into the urethra of her mother'spenis and follow it until she returns to the womb, but I saw thedrawings. It can happen, people.


After watching theDiablo III gameplay footage, I was really excited. The visuals werefantastic, a lot of small improvements had been added without seemingto get in the way of what makes the series great, and by the end of thevideo I found myself moving my mouse around the screen as if I wasplaying. That's sad, but what's even sadder is that I'm not a big-timegame journalist so I can't come up with a term like "gamesturbation" todescribe the lonely and desparate act while making myself cool andquotable.

Imagine my surprise when I discovered that mypositive impressions were irrational and baseless, while most of theinternet saw the game for what it truly was: A personal insult to themand a serious threat to all they hold dear. If you find that you'vemistakenly become mildly optimistic about the game, read on to find outwhere I went wrong so you can adjust accordingly.






My Initial (Wrong) Opinion:Wow, it's the world from Diablo in 3D, rendered like a painting toretain the 2D flavor of the previous games. The dark and ominous themesare still there, only now we don't have to use our imaginations to fillin the details suggested by blocky sprites.

The Internet's (Correct) Opinion: Wow, it's a shitty cartoon! This is NOT the same world that Diablo I and II took place in. No way.

DoI see a rainbow? I'm sorry, but rainbows don't exist in the Diablouniverse. I have read all the lore, and there is not a single mentionof rainbows in there. Big surprise that Blizzard retconned rainbowsinto Diablo. Vapid morons. Who do they think they are? I've beenplaying this series they created for years, and they fuck everything uplike they own it.

Here's the dark and gritty Diablo II, which Diablo III should look like:





Here's a cartoon:





Or is that Diablo III? I honestly can't tell.

Blizzardshould give the game a dark atmosphere by literally making the game toodark to see anything and then maybe add some film grain on top ofeverything. If the technology is available, the black silhouette of athumb could get in the way of the player's view to obscure the gamefrom time to time and add to the game's overall darkness.



My Initial (Wrong) Opinion:In addition to gold and loot, monsters will occasionally drop globesthat heal your character when picked up. You'll be able to focus moreon the gameworld instead of micromanaging a potion inventory. Thisfrees up the hotbar for your character's abilities.


The Internet's (Correct) Opinion: Globes of health. That float. Riiiight.


Itmade so much more sense when glass bottles full of healing syrup fellout of monsters onto rocky dungeon floors without breaking. You know,when your character had thirty bottles strapped onto his belt and noone thought twice about chugging something that had been stuffed into apoisonous mummy for the last thousand years. This magical orb shit isgoing to ruin my sense of immersion big time.





My Initial (Wrong) Opinion:The Witch Doctor looks like a variation of the Necromancer that focuseson infectious diseases and fire instead of death and the art of lookinglike J. Mascis. Being able to cast your offensive spells on pets sotheir attacks are buffed with those spells' abilities seems like itcould be a lot of fun. I can imagine buffing one pet with a spell thatslows enemies, another pet with some form of Weaken, and a third with adamage-dealing plague to mop up.


The Internet's (Correct) Opinion:WHERE DID THE NECROMANCER GO??? I'm not buying this game. Even if allof the unannounced classes are Necromancers, it's too late. Blizzardhas abandoned its true fans.





My Initial (Wrong) Opinion:Did that thing just flatten one player under its foot, then pick up abarbarian and bite his head off? Okay, that's awesome. Hardcore modejust got hilarious.


The Internet's (Correct) Opinion: So the player characters only come up to this thing's ankles? That's stretching it way too far.

I'msorry, but this terribly designed throwaway boss does not fit into thecompendium of realistic monsters that we've all become accustomed tosuch as skeletons that hide in barrels, pygmies that stand on eachother's shoulders to

create

larger pygmies, and enormous Satanic grubs.
Posted by Editorial Team Tue Jul 08, 2008 7:53 am
2010: the 5TB 3.5in HDD cometh in Hardware, Internet, Networking, Comms and Security
Hitachi has pledged to release a 5TB 3.5in hard drive within twoyears, and it claims two of the drives will boast enough capacity tostore everything in your brain.
According to a report by Nikkei Net, Hitachi Global StorageTechnologies will use Current-Perpendicular-to-Plane GiantMagnetoresistance (CPP-GMR) magnetc read heads to achieve the aim.This, the firm claims, will allow its drives to store 1TB of data inevery square inch of the recording surface.
Hitachi's announcement is a step on from a claim it made back inOctober 2007 that 4TB of storage could become a reality by 2011.
It's worth noting though that Hitachi's not the first storagecompany to promise super-capacity HDDs. Back in August 2007, rival Fujitsu announcedthat 2.5in disks were its proposed 'patterned medium' for such compactstorage. It too plans to have commercial models available by 2010.

Fujitsu's approach uses anodised aluminium to

create

a pattern of"nanoholes", each holding a portion of magnetic material used to storea single bit of data. The aluminium-oxide surrounding these so-called'nanoholes' helps magnetically insulate each bit from all the others,preventing one from affecting another, which might lead to datacorruption.
Nonetheless, Dr Yoshihiro Shiroishi from Hitachi has claimed thattwo of its 5TB will together "provide the same storage capacity as thehuman brain".
So, if your memory's not great, then just buy a couple of 5TB drivesfrom Hitachi and download all your thoughts and memories onto them,before wiping the slate clean and staring afresh with another 10TB ofbrain capacity.
Posted by Editorial Team Tue Jul 08, 2008 7:48 am
Rethinking Traditional Advertising Methods in Business and Industry in Gaming, Media, Web, IT and Computing
You see, for all the talk of monthly periodicals' demise, SEO'simpending reign, the downfall of FM stations and television'sinevitable implosion, we, err, sort of forgot to mention one thing:essentially that, despite posting up ratings far from the halcyon daysof the pre-TMZ.com era, mass media outlets such as ABC, CBS, CNN andNBC; Time, Newsweek and USA Today;and even regional Cineplex chains still generate the kind of audiencenumbers most interactive entertainment execs would give their last USBcable to connect with. Tactics may be changing, with custom tradeshows,advertorials, movie-type trailers and cover wraps replacing simple pageads and product giveaways. But as an industry, we're far from preparedto divorce ourselves completely from traditional advertisingplacements, or shift marketing dollars exclusively onto the Internet.

"Something most gamemarketers miss about the broadcast space is the need to keep messagingpointed and simple" - Steven Roberts, DIRECTV

To wit, column after news brief after investigative report may continueto bemoan the death of old-world media. However, as any marketingdirector can attest, its core vehicles still remain one of the bestways to rapidly generate mass awareness amongst PC- or console-owningaudiences. Hence, although blogs and video aggregators deliver greatbang for the buck and generate tremendous street-level buzz, theycontinue to be promotional outlets that most core publishers have yetto wholly embrace, let alone fully commit to. Thus the reign ofhigh-profile primetime spots for titles like Grand Theft Auto, Madden and Halo rolls on.
And so, just as I humble myself before my new daughter, who hasn't meta pair of slacks she hasn't enjoyed redecorating yet, I willinglyprostrate myself before the industry-at-large and beg forgiveness. Asthe following executives – representing the television, motion pictureand direct marketing industries, respectively – are quick to remind, weshould all think twice before acting so rashly and completely writingthese businesses off.
Suffice it to say that they may not generate the same kind of headlinesin 2008 as rich media providers, online networks or widget creators,but thanks to new technology, changing tastes and increasing audiencefragmentation, let's just say they're far from out of the game.
Steven Roberts
Vice President & General Manager, Games and StrategicInitiatives for DIRECTV, overseeing broadcast ventures like 24/7interactive games channel Game Lounge and the internationally televisedChampionship Gaming Series professional league.
"Broadcast TV is absolutely not dead – just changing. Popular as gamingis, you can't look at entertainment in a vacuum... you have to considerthe overall mass-market. There are 120 million television homes outthere, with millions of people who just want to be entertained in thesame way they have for the last 50 years. NFL football still puts uphuge ratings every Sunday, and millions still tune in to watch livemusic and sports – you don't see that on an Xbox 360 console.
"True, television has to evolve, and will become more interactive toengage subscribers... if that's what users want. But what we're reallylooking at here in the immediate is developers/publishers grapplingwith a question of increasing audience segmentation. Something mostgame marketers miss about the broadcast space is the need to keepmessaging pointed and simple. That doesn't mean downplaying keyelements or features that you want understood: Just presenting them ina straightforward, easily comprehensible way that speaks to a specificaudience. Implementing better virtual cameras into games would be awelcome start... For broadcasters, it's very difficult to showdifferent elements of a title in ways instantly conducive to helpingpeople understand what it's all about.
"It's also important to look beyond the 30-second spot. There's plentyof room for advertisers to tap into broadcast vehicles, whether throughtelevised competitions, interactive online program extensions orproduct integration. Placing games front and center by showing ahalf-hour of screens, video footage and people playing these titlesmakes sense. But what you really need for effective campaigns here isto build elements of user interaction into your advertising and pair itwith programming that's consistent with the demographics of the gameitself.
"It all comes back to basics. People won't skip an ad on a DVR or turnaway to get a glass of milk if it's compelling, the message is clearand it's telling you something that you want to hear. Creative doesn'tjust have to wow either: It also has to make sense for the audiencesegment. While marketing can be fun and have an edge to it, ultimately,for on-air placements, it's vital to make sure the message is verytargeted, specific and simple."
"For all the uproar surrounding the movie business lately, gamemarketers shouldn't underestimate in-cinema advertising's power. Mostmedia features a device (remote control, mouse click, radio dial, etc.)that lets audiences tune unwanted messaging out. But at the theater,you've paid to be there, are a captive audience and want to beentertained. This receptivity begets results if the creative is good:Recall scores average around 60%, with categories like gaming actuallysoaring into the 80-90% range.
"Definitely, the big screen's sexy. Via streaming media, you canliterally send ads for M-rated games to all R-rated movie screenings inany given city; appear alongside only specific types of films; ordeliver different messages to different geographic markets on-demand.But publishers need to look beyond the most obvious opportunities –lobbies can also be a marketing wonderland. Standees, banners,concession items... From 20-minute pre-shows packed with original,exclusive and entertaining content to game posters disguised to looklike cinematic counterparts, options for building brand equity areendless.
"Hollywood is far from dead. Are gamers going to see Shrek, The Matrix and Pirates of the Caribbean?Of course... it's common sense. Research also shows emotions aremagnified at the theater – and the same holds for audience reactions tocommercials as well as films. It's hard to argue with a dark room, agiant screen and a group of people who've willingly paid to be thereand want to see what's in store.
"Also note – 80% of tickets are sold on weekends, a time when peoplewant to go shopping, and theaters are generally located in shoppingdistricts. Stick a retail discount on a box office handout, and youdon't just achieve grassroots interaction, or present a clear call toaction. It's also conceivably the last message a consumer sees beforehaving to drive home past a Best Buy or Wal-Mart where your game'sconveniently stocked."

"People are more distracted than ever – advertisers need to cut throughthe clutter. You have to find ways to surprise and entertainaudiences... It's important to design options that let you really spendtime with consumers in a meaningful way.
"Consider core gamers. You can look at where they're hanging out – atfraternity houses, sports bars, military bases, wherever – thendiscover ways to be there. It's even possible to reach players atschool and weave gaming properties into an educational message. Theseinstitutions appreciate it when game companies can provide them withbranded book covers, locker calendars or workshops that incorporatethese titles to teach lessons, just to name a few possible choices.
"Basically, you have to

create

options that make sense for the contentand target demographic, then craft a vehicle that fits. This could be abranded video game tournament, for example, or involve catching fans ata sporting event and giving them things they can wear to the game.There are alternative ways to reach virtually any shopper.
"It's crucial for publishers to connect with fans on a one-on-onelevel, because as excited as TV/film imagery can make them, people wantto go hands-on and try your games. To do so, you have to interface withthem on the street. Demos at malls, movie theaters, health clubs, etc.are essential to building buzz: There's a direct link between samplersconverting into purchasers. Experience is everything, and consumers aregoing to be the strongest ambassadors for your brand – word-of-mouth isincredibly powerful in the enthusiast gaming community.
"A holistic strategy is important, though: Alternative marketing shouldjust be one part of a diversified tactical plan. If I can see an ad foryour game during Lost or American Idol, then it happens to be at a barwhere I can try it, it'll pique my interest... Suddenly, brand andbuyer are making a meaningful connection. Remember though, that theseplacements have to be unobtrusive. You can't invade someone's space –you have to make kiosks, stands, booths, etc. – something that adds to,not takes away from, the entertainment value of any activity or event."
Posted by Editorial Team Tue Jul 08, 2008 7:40 am
11 Best 'God Games' Of All Time (Sims, Darwinia,Spore...) in Gaming
Whenit comes to video games, everyone talks about first person shooters andRPG's. But don't forget about god games. They differ greatly from theaction of those other genres, but their difficulty lies in how theyrequire skill in strategizing and dealing with real time challengeswhile utilizing only what resources are available.

11.) Utopia (1982)


Utopia was released in 1982, and is probably the first god game of all time. Unlike most games of this genre, Utopia isa two player game. Players controlled their own island, and got pointsfor things like feeding the people and preventing violence from rebelactivity. Players can also sabotage the other player by putting rebelsoldiers on their island in the hopes that they destroy somethingvaluable. Alright, you wouldn't play this game today in favor ofsomething more modern, but in its day, Utopia was a great strategy game that allowed you to destroy something your friend had built. Props for that.

10.) Populous (1989)


Populous, which was released in 1989 by Bullfrog for the computer,is considered one of the earliest god games. The user plays the roleof god, or some sort of deity, and is given a plot of land in which heor she has to

create

a civilization. Your civilization has to protectitself from other civilizations. The only way for a player to advancein the game is to accrue points through the statistics of theircivilization. Depending on the amount of points, players can advancemultiple levels at once.

9.) Black and White II (2005)


Released in 2005, Black and White 2 is the sequelto the game that enables the player to be a god that rules over avillage. They can choose to be either a good god or an evil god, whichis obvious by the way the god conducts himself ie, protecting hisfollowers when in need, or just destroying their homes for no reason. In order to control the game, the player utilizes a hand that performstasks for the inhabitants of the village, tasks like miracles can onlybe performed with a certain amount of prayer power, that is, thefollowers must be asking for a miracle if you want to grant one. Black and White 2 built on the potential of its predecessor, and made the series even better.

8.) The Settlers (1994)


The Settlers is a pretty straightforward premise: You'rehelping people who've moved onto a new land to

create

a community thatproperly feeds, shelters, and protects all its inhabitants. In orderto import goods, you need to build roads, if you want protection, youneed knights, and if you want knights, you need a healthy supply ofgold or they'll bolt. Send your knights to attack other lands, and beas ruthless as necessary. The Settlers is your chance to be a cut-throat feudal lord.

7.) Zeus: Master Of Olympus (2000)


Slightly different than most god games, Zeus: Master of Olympusgives the player the role of city builder, as opposed to being anactual god. In fact, players can build temples to the gods forrewards. Players are encouraged to gather raw materials like wood,bronze, and marble for buildings. Players are encouraged to buildphilosophy and drama schools, as well as gymnasiums to train athletesto compete in the games that are held every four years. Land isrequired to grow crops like wine grapes, and olives. Zeus: Master of Olympus is a fun way to live like the Greeks.

6.) SimCity2000 (1993)


The sequal to SimCity, SimCity2000 gave playersmore control of their environments. Players are able to build newfacilities, namely, sports stadiums, hospitals, schools, prisons, andzoos etc. One of the coolest things the game allows the player tobuild is the arcology, a giant and futuristic structure meant to housemany people. At one point in the game, if the player has built enougharcologies, all of them will take off in order to start newcivilizations on far away planets.

5.) Roller Coaster Tycoon (1999)


Who doesn't want to design and build rollercoasters? Roller Coaster Tycoonfrom Frontier Developments gave players the chance to do just that withthis 1999 release, and it didn't disappoint. Players were able tocreate their own amusement parks from scratch, all the while dealingwith financial and landscape restrictions. In order to have asuccessful park, it's important to maintain a level of customerhappiness, enough employees to entertain guests and repair rides, witha wide array of both intense and low-intensity rides to appeal to allpossible guests preferences. Don't forget to hire a cleaning crew,guests will vomit if they go on intense rides.

4.) The Sims (2000)


The Sims is the best selling video game for the PC ever. It passed Myst and has sold over 6 million copies. The Sims doesnot have an ultimate goal or ending of any sort. Goals are to simplycontrol a sim and have them lead a good life, and accomplish personalgoals. This can be done by getting a good job, having a nice house,interacting with other sims and forming relationships, among otherthings. It is possible to fail however, and this occurs when theplayer's sim dies. Death can happen due to starvation, accidents (likedrowning or electrocution), or disease. Sims can have a limited amountof personal freedom in the game, but any action they perform isoverwritten by the player's commands. The Sims offersplayers the chance to control another person's life, which isimportant, especially if you're trying to escape the shittiness of yourown.

3.) Evil Genius (2004)


Give into your destructive urges with Evil Genius. Thegame parodies many of the classic evil genius cliches; secret lair onan island, a giant map of the world, evil henchmen, and secret agentssent to destroy you. The player is given the chance to choose one ofthree characters to run their evil organization. From there, you needto research weapons, enlist the help of evil minions, and devise plansfor the destruction of the world. When you've reached the point ofworld domination, you can launch a powerful and destructive weapon thatwill bring the world to its knees, with you as its leader.

1.) Darwinia


While not specifically a god game, Darwinia employs a lotof god game like elements in order for the player to completeobjectives. The storyline revolves around Dr. Sulpaveda, a mysteriousman who invented a digital theme world that is currently beingdestroyed by a virus. Dr. Sulpaveda enlists the players help indestroying the virus so that he can protect the years of research he'sput into the digital world. It's very unique in that the player isdefending a world that doesn't exist except as a digital place on acomputer.

1.) (Possibly Upon Release) Spore (2008)


We admit, this game hasn't even been released yet, but by the looks of it, and the hype surrounding it, Sporecould be the best god game of all time. The ideo of the game is tocreate an entire species beginning with the creation of a single celledorganism. Your cell eats weaker cells and plants, gaining "DNA points"which allow you to buy upgrades. You continue to grow the cell untilit grows into a social animal, where it can finally ascend into spaceto interact with other complex beings.
Posted by Editorial Team Fri Jul 04, 2008 5:56 am
Spore Creature Creator tops US charts - have you got it? in Gaming
The NPD Group has released US PC software sales datafor the week ending June 21, with EA's Spore Creature Creator comingout on top.
Maxis reported that one millionSpore creatures were created and shared during the stand-aloneprogram's first week of availability. The full Spore game will bereleased in September.
Sales of Spore Creature Creator werestrong enough to place the game at number six on the All Categorieslist - the only game to appear alongside business, education andutility software.

The Top Ten best-selling PC games in the US for the week ending June 21 were:



1 Spore Creature Creator (EA)

2 The Sims 2 Double Deluxe (EA)

3 Age of Conan: Hyborian Adventures (Eidos)

4 World Of Warcraft: Burning Crusade Expansion Pack (Vivendi>

5 World Of Warcraft (Vivendi)

6 World Of Warcraft: Battle Chest (Vivendi)

7 The Sims 2 FreeTime Expansion Pack (EA)

8 The Sims 2 Kitchen & Bath Interior Design Stuff Expansion Pack (EA)

9 Call Of Duty 4: Modern Warfare (Activision)

10 Lego Indiana Jones: The Original Adventures (LucasArts)


The Spore Creature Creator was software that allowed players to

create

their own creatures with a standalone version of the Creature Editor from Spore; the software was one of the first aspects of the game to receive focused development, and had undergone ten rewrites since the start of development. It was rated E by the ESRB in early March 2008, indicating that the editor would be released separately well before the game's release as a utility program. Electronic Arts told MTV Asia that "EA Screen will provide visitors a chance to interact with EA's game producers hailing from the studios, and unveil the hugely anticipated SPORE Creature Creator demo version to gamers for the first time in Asia." Electronic Arts VP Mark Buechner stated on the Spore Facebook page that the editor would be released in June or July 2008, saying, "We are looking at releasing it two to three months before the launch of the full game."

The SimCity Box artwork showed a blurb stating that the creature editor would be included with it. IGN revealed that the Spore Creature Creator utility will be available in two different versions on June 18, 2008. There was a paid version (for $9.95) and a free demo that was downloadable from Spore.com and included for free, bundled with The SimCity Box. The free version of the editor only contained 25% of the available creature parts that were found within the full version.

The utility included a test environment for players to see their creatures go through animations and allow the player to import other user-created creatures through the Sporepedia at Spore.com. The utility included screen capture and video tools as well, including YouTube functionality.

The editor also gave the user the ability to

create

animated avatars,and output in RSS and embeddable HTML code to facilitate easy incorporation into such sites as MySpace and Facebook.

Shortly after its introduction, the Creature Creator was used to

create

creatures with oversized genitalia, either stand-alone or engaged in coitus (a phenomenon quickly dubbed 'sporn'). EA responded with e-mails sent to those who made pornographic machinima from its demo, and has flagged certain on-line accounts for "TOS violations". Furthermore, YouTube has pulled several such videos for violations of its own TOS.

By June 24, 2008, users had already created over one million creatures.

It has been noted by those using the Spore Creature Creator, that while the Social and Attack categories can reach a max score of 20 with enough parts on the creature, the Abilities category does not achieve a max in the Creature Creator. This has led to speculation from it being the brain levels to advanced sensory abilities to telekinesis.

Electronic Arts confirmed that Spore will be receiving post-release expansion packs. No other information is available as to what sort of content the packs will feature, but EA has hinted it will be similar to The Sims expansions.


In the news
Spore Creature Creator free in the UK Videogamer.com

A Wii spinoff of the game has been mentioned by Will Wright several times, such as in his October 26, 2007 interview with the Guardian.Buechner confirmed it, revealing that plans for a Wii version were underway, and that the game would be built from the ground up and would take advantage of the Wii Remote, stating, "We're not porting it over. You know, we're still so early in design and prototyping that I don't know where we're going to end up, so I don't want to lead you down one path. But suffice to say that it's being developed with the Wii controls and technology in mind."The Xbox 360 and PlayStation 3 versions of Spore are still under consideration.

Merchandising

There will be an iTunes-style "Spore Store" built into the game, allowing players to purchase external Spore licensed merchandise, such as t-shirts, posters, and future Spore expansion packs.There are also plans for the creation of a type of Spore collectible card game based on the Sporepedia cards of the creatures, buildings, vehicles, and planets that have been created by the players.There are also indications of plans for the creation of customized creature figurines; some of those who designed their own creatures at E3 2006 later received 3D printed models of the creatures they created. The Spore Store also allows people to put their creatures on such items as T-shirts, mugs and stickers.

The Spore team is working on a partnership with a comic creation software company to offer comic book versions of your own Spore story. Comic books with stylized pictures of various creatures, some whose creation has been shown in various presentations, can be seen on the walls of the Spore team's office.
Posted by Editorial Team Tue Jul 01, 2008 7:13 am
Games Industry Movers: Trion, 38 Studios, Kongregate & M in Business and Industry in Gaming, Media, Web, IT and Computing
his past week, 38 Studios (the developer founded by Red Sox pitcherCurt Schilling) announced that Thom Ang was appointed Director of Art.He will oversee the direction and management of 38 Studios' artisticdevelopment, including the MMOG codenamed Copernicus, whileworking closely with Todd McFarlane and R. A. Salvatore. Ang willreport to Vice President of Creative Development, Scott Cuthbertson.
"38 Studios' creative teams have been meticulously crafting thesignature look and feel for our upcoming MMOG over the past 18 months,"said Brett Close, CEO and president. "Thom's extraordinary talent andexperience will be key in driving the vision and quality of our OnlineEntertainment Experience."
Ang has been working as a director for notable franchises and brandsfor over 15 years. He's worked as a senior artist at DisneyInteractive, working on titles like Toy Story II and Tarzan. Ang also created illustrations for TV shows, including The X-Files and was a storyboard artist for Sony/Columbia/Tri-Star TV Animation programs, which include Roughnecks: Starship Troopers Chronicles and Max Steel.He then moved on to be art director at EA LA, where he headed up artproduction, team management and visual concept development for the Medal of Honor franchise. In his last position, Ang was art director at THQ, managing more than 25 titles.
"38 Studios is absolutely committed to the next evolution of MMOGs, andevery team member has great pride in the value of what they do,"remarked Ang. "I am excited to contribute to this vision and become apart of an extraordinary team."
Lisa Jablonsky - Kongregate
Kongregate announced this past Friday that Lisa Jablonsky will open thecompany's New York ad sales office. She will work with Kongregate'sChief Revenue Officer Lee Uniacke to secure high-profile advertisingpartnerships based on the site's reach and appeal to young men, ages 13- 34.
"With high user engagement and a growth rate of over 25 percent monthover month, Kongregate provides the ideal medium for advertisers tryingto reach this hard-to-pin-down demographic," stated Uniacke. "As webuild our sales force to address these opportunities, Lisa's proventrack record in developing successful partnerships across a range ofyouth-driven digital consumer brands will add tremendously to theexpertise of our team."
Jablonsky has worked in the New York advertising scene for 21 years andshe was as an early proponent of the digital advertising arena. Amongher projects, she has conceptualized and implemented ground-breakingfilm contests for Intel and Kohl's, and created one of the first mobilecontests for Alltel. Jablonsky helped

create

games for McAfee Softwareand the National Guard, as well as construct an editorial integrationprogram for Coke's NBA March Madness Flash game. She was most recentlyan account executive with MTV Networks, where she successfully droveadvertising and integrated sponsorships for Comedy Central,AddictingGames.com, Shockwave.com, and AtomFilms.
"Kongregate is an advertiser's dream as it attracts young men betterthan virtually any other site on the Web and puts them in a cool, edgyenvironment where our audience can really interact with their brand,"commented Jablonsky. "At over 3 million unique users today, a highgrowth rate, and just being named one of Time Magazine's Top 50 sitesfor 2008, we're on track to give advertisers the big reach that theyneed to effectively target the young male demographic this fall."
Trion World Network - Glen Van Datta
Trion World Network announced recently that Glen Van Datta has beenhired as Vice President of Engineering and General Manager of TrionWorld Network Austin. He will oversee day to day operations at Trion'sAustin studio and supervise all customer service, quality assurance,operations and other support activities with relation to the Trionplatform.
"Glen is a tremendous hire for Trion and an excellent addition to ourworld class technical organization", said Nicholas Beliaeff, VicePresident of Product Development & Head of Trion World Network SanDiego. "Glen's vision, leadership, and deep history maturing andproductizing compelling online game technology will help Trion take ourserver based game technology to the highest levels while helping us andour partners get to market more quickly."
Notably, Van Datta has worked for over 22 years in softwaredevelopment, including the past dozen in game development. He wasco-founder and Vice President of Engineering at RTIME, where he oversawthe development, design and testing of the RTIME SDK online, in-gameand player matching platform. Van Datta most recently worked at SCEA asDirector of Online Technology, where he oversaw a team of more than 80employees that developed SCE-RT SDK to enable online games for PS2, PS3and PSP games, including Singstar, Warhawk, Resistance, Home and GT5 Prologue.
"For more than 12 years I've believed that online games, online socialnetworks and online media distribution were the future ofentertainment," said Van Datta. "Trion's innovative, dynamic platformand content are the next generation in the online entertainment space."
IGN Entertainment – Jamie Berger
IGN Entertainment announced recently that senior vice president ofconsumer products and technology Jamie Berger will start overseeingbusiness development for the company. He will continue managing IGN'ssubscriptions, digital distribution, and e-commerce portfolio includingIGN's Direct2Drive and GameSpy Technologies.
Berger has over 16 years of professional brand management and marketingexperience from within the online gaming industry. He began hisprofessional career as an Account Manager with the NCR Corporation.Berger spent six years in the consumer products division of The WaltDisney Company before joining IGN Entertainment. He currently helpsextend the IGN brand by creating and leading partnerships thatdistribute content and drive revenue.
AMD - Emilio Ghilardi
AMD, which runs the ATI graphics card business, announced this pastweek that Emilio Ghilardi has been appointed senior vice president andgeneral manager of Europe, Middle East and Africa (EMEA). He will beresponsible for all sales and marketing operations within EMEA,starting in mid-August 2008. Ghilardi will report to AMD chief salesofficer Gustavo Arenas.
"Emilio adds tremendous global sales and marketing leadership to AMD inEMEA which we expect to help strengthen and grow relationships with ourend-user customers, OEMs and distribution partners," said Arenas.
Ghilardi comes to AMD from HP, where he started as vice president ofConsumer PC Clients in EMEA. He then moved on to be vice president andgeneral manager of Commercial Hardware within the Imaging and PrintingGroup. Ghilardi was most recently vice president and general manager ofHP's EMEA Consumer Business Unit, managing the business for consumerPCs and Imaging and Printing products.
AMD added that Alberto Macchi, corporate vice president of Sales andMarketing for EMEA, is departing the company "to pursue newopportunities."
Warner Bros. Digital Distribution - Jacqueline Jourdain Hayes
Warner Bros. Digital Distribution (WBDD) recently announced thatJacqueline Jourdain Hayes has been named Senior Vice President Businessand Legal Affairs. She will manage legal issues around new digitalbusiness models (such as distribution of Warner properties on Xbox Liveand elsewhere) globally, oversee the negotiation of Warner Bros.video-on-demand and electronic sell-through licenses across multipledigital platforms, and provide legal counsel to the Company's seniormanagement on the acquisition, distribution and protection of contentfor digital platforms and other digital initiatives.
"Jackie has been working on our digital business for quite some time,her expertise in this area is unparalleled," said Clarissa Weirick,General Counsel, WBDD. "The digital business is still one of thoseareas where you are often making the rules as you go along, whichrequires someone like Jackie who is confident and creative innegotiating this new terrain. We are extremely fortunate to have hercontinued expertise as our digital business moves ahead."
Hayes has worked as an Associate in the Corporate Departments of TroopMeisinger Steuber & Pasich in Los Angeles, of Goulston and Storrs,P.C. in Boston, and of Moses & Singer in New York City. She joinedWarner Home Video in 1998 as Counsel, and was promoted to VicePresident Business and Legal Affairs of WHV in 2000. Hayes joined theWarner Bros. Digital Distribution division in July 2006.
TC Digital Games – Andi Smithers
Recently, TC Digital Games announced that it appointed Andi Smithers tothe new position of Director of Technical Development. He will overseedevelopment of the company's digital services, including mediatechnology and format strategy as well as interoperability of digitalservices and devices.
"Andi joins our team at a pivotal moment in the evolution of Chaoticand TC Digital," said Bryan C. Gannon, President and CEO of TC DigitalGames. "He will become an integral part of our efforts to enhance theChaotic online experience and further develop our digital services.Andi's expertise in developing technology, his extensive background increating computer game software and his vision for emerging technologymake him a perfect fit to lead this innovative game play convergence."
Smithers has held several executive roles and technical positionsthroughout his 20-year career, having worked for Microsoft, Activision,Psygnosis, LucasArts, and Midway. He was most recently with Sony OnlineEntertainment where he served as Senior Engineer in the Research andDevelopment group. Smithers pushed advanced physics and graphicstechnologies forward to ensure their quality and was responsible foroverseeing the strategy and development for a cloth simulator.
Microsoft – Michael Delman
As we previously reported, Microsoft this past week appointed MichaelDelman to the position of corporate vice president of global marketingfor the Interactive Entertainment Business (IEB) in the Entertainmentand Devices Division. He takes over the role for Jeff Bell who left thecompany earlier this month. Read more about the move here.
Posted by Editorial Team Mon Jun 30, 2008 6:42 am
Wall-E: Are Movie Games Getting Better? in Gaming
Largely in anticipation of going to see the film tonight, I went a few rounds with THQ's game based on Wall-E. (It is of course available for every game platform under the sun, but I played the Xbox 360 version.)
My goal: To see if games based on movies have, at least in somecases, made a leap beyond the utter trash they used to be when Iactually played them. Results: Somewhat. I still wouldn't actually playWall-E unless I was being paid to, but it's clear that there'sa great deal of polish, and the translation of the movie's action intogameplay is clever and varied.
You begin the game by playing as Wall-E. The first thing I noticedis that, instantly, it's fun to control the little guy as he zipsaround the ruined Earth on his miniature tank treads. When he jumps, hecurls up into a box and flies through the air. It's a satisfyingfeeling, not awkward at all.

Wall-Edoesn't do much. His entire programming is based around compactinggarbage into tiny cubes and then stacking them. So unless the designerswere going to turn Wall-E into a tiny killing machine and totallypervert the movie's message, they had their work cut out for them. Thesolution was that all of Wall-E's actions are based around making, thenthrowing, cubes of garbage.
He can

create

cubes out of normal old trash, which are good forthrowing far and hitting targets that open up new paths in the level.Cubes made out of electronic waste that still has residual batterypower left in it are good for charging up other electrical equipmentthat opens up more paths.
Before this has a chance to get too boring, you're playing as Eve,Wall-E's flying robot girlfriend who can, in fact, shoot things. Eve'slevels alternate between flight exploration as she searches for plantlife on Earth, and something resembling a single-player racing game inwhich she zips through tunnels, blasting away debris and trying toreach the finish line before time runs out.
What's ultimately disappointing (and all too familiar) about the treatment of Wall-Eis that the movie's story and characters aren't used for anythingbesides window dressing. I am not suggesting for a second that there isgoing to be anyone who plays the Wall-E game voluntarilywithout seeing the movie, so it's not as if anyone is going to betotally stumped forever. But it does seem like a bit of a waste to havethese characters and storyline all ready to go, then fail to capitalizeon them.
That said, if the future of movie tie-in games is products that areclearly inferior to the film but not utterly objectionable as games,I'm fine with that. Wall-E is playable and fun, and probablywill not make children cry, which is far more than could be said forthe movie games I grew up on.
Posted by Editorial Team Mon Jun 30, 2008 6:41 am
Top 10 most vital people-powered technologies - FEATURE in General Discussion, including Off Topic, Current Affairs
Linux
Thedaddy of people power, this open source operating system owes prettymuch everything to the massive community of users and developers who'vebuilt it, broken it, put it back together again and added all sorts ofgoodies.
The penguin logo unites a truly incredible group oftalented people, from driver developers to desktop designers, advocatesto application builders.
Firefox
Even people who think that Linux is a character in the Peanutscartoon know about Firefox. What makes it special isn't the open sourcecommunity that created and maintain it, however; It's the efforts ofthe developer community whose extensions make Firefox the Swiss ArmyKnife of the internet.
Whether you want to block annoying ads,keep track of interesting sites or just stay up to date with footieresults from around the world, if you can imagine it, there's almostcertainly an extension that does it.
Half-Life 2
This month we've mostly been playing Minerva, Adam Foster's excellent mod for Half-Life 2 (http://developer.valvesoftware.com/wiki/MINERVA). Modders have been creating new stories since the days of Doom, and a quick look around Moddb (www.moddb.com) uncovers stacks of mods for your favourite PC games.
Smartdevelopers - such as Half-Life's Valve - know that mods make theirgames even more attractive, so the firms make modding as easy andaccessible as possible.
Xbox
Is your original Xbox gathering dust in the loft? Why not dust it down and turn it into a fully-fledged media centre?
While Microsoft blabs about the 360's multimedia features, the talented team at the Xbox Media Center project (www.xboxmediacenter.com)can turn an ageing original Xbox into a multimedia marvel (although ifyou don't fancy modding your console, steer clear - XBMC only works onhacked machines).
Job done, they're turning their attention to other platforms: a Linux version of the software is in development.
TiVo
Thecommunity that's sprung up around the TiVo digital video recorder(www.tivocommunity.com) is a thing of wonder, with users offering eachother advice, commenting on the company and fiddling with its products- often in ways that would give film and TV studios heart attacks.



While TiVo claims not to encourageor discourage the hacking community, it's pretty obvious that thehacking community makes the product even more attractive to tech-heads- and hackers' ideas often turn up in the official product, such aswhen the community found and fixed a date problem in older TiVo boxes.
iPhone
iPhonehackers aren't just trying to free the phone for use on any network.They've found ways to turn your existing tunes into ringtones withoutpaying for them all over again, created all kinds of add-onapplications and best of all, found a way to change the truly horriblefont on the Notes screen.
PlayStation Portable
Sonydoesn't like it - recent firmware updates mean that unless you've gotan older PSP, your options are limited - but thanks to Homebrew (www.psp-homebrew.eu)you can add all kinds of goodies to the device. There are loads,including customisers, emulators, chat programs and GPS software.
Overclocking
Changingchips' clock speeds and hoping they wouldn't set your house on fireused to be a shadowy pursuit that tech firms frowned upon. Thenhardware firms realised that overclockers had money as well as PCs toburn.
Now, motherboard makers often provide everything a speeddemon needs, either in the motherboard BIOS or on the driver CD, andgraphics card firms are keen too. For example, ATI actively encouragesoverclockers to ramp up their Radeons.
Windows Media Center
Microsoft'smedia system is pretty nifty, but it's niftier still when you tweak ituntil it squeaks. Microsoft knows this, which is why it happily linksto two independent community sites: the Media Center-specific GreenButton (thegreenbutton.com), and the general audio-visual AVS Forum(www.avsforum.com/avs-vb).
The software giant also has its own community site (www.microsoft.com/windowsxp/expertzone/communities/mediacenter.mspx), where media center experts share their top tips.
Web apps
Firms who make it easy to interact with their online apps have createda massive community of developers. Google Maps has been adapted toprovide maps of speed cameras (http://spod.cx/speedcameras.shtml) and to

create

flight simulators (http://www.isoma.net/games/goggles.html), while keen developers have created software for apps such as Google Mail and Flickr.
You'll also find useful and useless apps alike on social networks such as Facebook.
Posted by Editorial Team Mon Jun 30, 2008 6:31 am
Microsoft To Let Other Companies make 360 Consoles like PCs in Business and Industry in Gaming, Media, Web, IT and Computing
Nuts nuts, yes? Probably. But at least think about it. It's not likesuch a move would be without precedent. You could purchase Sega CDdrives for PCs. Panasonic released the Q, a Japan-only GameCube thatdoubled as a DVD player. And we've heard whispers that Microsoft have alsobeen exploring the idea of releasing 360-compatible disc drives for thePC. Not that any of that makes the prospect of seeing, say, a SamsungXbox 360/Blu-Ray player any more likely (as the rumour seems tosuggest), but hey, crazier things have happened.

Quote:

We'll tell you what's up with Microsoft: new hardware options. It may sound totally insane — trust us, we did a double-take the first time Qmann whispered it in our ears — but word has it that Microsoft may begin allowing third-party manufacturers to

create

Xbox 360 hardware. And we're not talking about peripherals, people; we mean hardware that runs 360 game discs created by someone other than Microsoft.
Quartermann
Posted by Editorial Team Sun Jun 29, 2008 6:45 am
McCain uses game music in ad, composer a Barack supporter in Business and Industry in Gaming, Media, Web, IT and Computing
John McCain broke down some barriers when he used music from Medal of Honor: European Assaultin one of his campaign ads. The music being created for video games isonly getting better as the industry matures, so it's neat that it'sbeing used in such a high-profile commercial. The only problem is thatthe composer is an Obama supporter, and McCain's campaign nevercontacted him about the use of the music. GamePolitics has the story.



The ad is called "Safe" and prominently features a track entitled "Casualties of War" that I wrote for Medal of Honor: European Assault.While I do not control the ownership of this piece, I am extremelydisappointed its placement in this commercial. I did not authorize theuse and was not made aware of the situation. Regardless of partyaffiliation of support, I would like to think that someone who believesin the American ideals of business and creativity like Sen. McCainsupposedly does, would not want to disgrace or inflict any hardship orill-will on the artists who

create

in this country by using their worksto promote products and agendas which with they disagree.


This isn't the first time that McCain has been burned by the music he has selected.The problem is that the campaign hasn't done enough to make sure thepeople behind these songs are comfortable with their use in a politicalway; every time an artist tells McCain to stop using his or her musicpublicly, it doesn't look good for the politician.
The composer of the Medal of Honor music goes a littlefurther with his message, turning his protest into a way to support hiscandidate. "What, I ask, does such an action or oversight say about Mr.McCain's regard for the intrinsic value of American products, services,or creations... As an artist, business owner, and patriot, I proudlysupport Senator Barack Obama for the Presidency of the United States ofAmerica."
Posted by Editorial Team Mon Jun 23, 2008 5:50 pm
Gaming World of Warcraft graphics hacks - a prettier WoW in Gaming
Unlike most games, World of Warcraftprovides a wide range of options for reducing the graphical complexityof the game to make sure that it runs on pretty much any system. Thisis undoubtedly one of the reasons for its phenomenal success, but italso means that those of us with powerful rigs are left wanting more.The good news is that there are a number of hidden settings that allowyou to go beyond what you can do using the regular WoW interface.
Toaccess these hidden settings you simply need to type commands (listedbelow, right in 'Get hidden settings') one at a time into your chat boxand hit [Enter] - the moment you hit a '/' you'll start typing them in.Some people have found that reloading the UI (type / 'consolereloadui') makes things prettier, although we haven't noticed thisourselves. Either way, it gives you control over rendering values thatisn't possible using the slider systems alone.
You can enterthese settings manually just to see what difference they make, but it'sprobably wiser to

create

a couple of macros that can change thesettings on the fly. There are times when you'll need performance (in araid, for example), and others when you just need the game to look asgood as humanly possible (soloing). Once you have the settings asmacros you can tailor them easily to suit your own needs, and just hitthe buttons when needed. Beautiful.
How to make WoW gorgeous
Youhave plenty of control over WoW using the default video settings, whichcan be accessed from the main menu, but the limits of these sliders arelower than what the game is actually capable of (1). For instance, theGround Clutter Density slider has an in-game maximum setting of 160,but the corresponding console command lets you push this all the way upto 256. The difference is pretty breathtaking too - with not only morevegetation, but higher and more lush plants at that (2). It also makesmore stones, but that doesn't excite us quite so much.


We've actually set up two macros toenable us to stand anywhere and see how the rendering engine handlesthe highest and lowest details. In order to

create

a macro, simply hitthe Macro button from the main menu (hit [Esc] a few times until itpops up). Give your macro a name and a suitable icon and then type inthe commands below. Repeat the process for the second macro, then dragboth to a free spot on your action bar (3). Stand in Terokkar Forest orNagrand and hit one and then the other and grin like a loon.
Onceyou use these settings, there are times when you'll be particularlyaware of the draw distance of the local objects. UnfortunatelygroundEffectDist is limited to 140, so there's nothing you can do toimprove this value (4).
Get hidden settings


Create

a macro inputted with the following to see WoW in a new light:
/console groundEffectDensity 256
/console groundEffectDist 140
/console detailDoodadAlpha 100
/console horizonfarclip 2112
/console farclip 777
/console characterAmbient 0
/console smallcull 0
/console skycloudlod 3
If your framerate takes a dive, then this macro will sort you out:
/console groundEffectDensity 16
/console groundEffectDist 1
/console horizonfarclip 1305
/console farclip 177
/console characterAmbient 1
/console smallcull 1
/console skycloudlod 1
/console detailDoodadAlpha 1
Posted by Editorial Team Mon Jun 23, 2008 4:54 pm
Living in a game: the future of architectore in The Great Debates!
Eric Clough, who has created a living adventure game inside an $8.5mUpper East Side NYC apartment. Clough, who was profiled in the NYTlast week, was commissioned by Steven B. Klinsky and his wife MaureenSherry to

create

a complex that was different and inspiring. Well,inspired by Klinsky's request to bury a poem he'd written in the wallof the house somewhere, Clough devised a home littered with puzzles forthe couple's four young children to discover and solve. From the article:

The apartment is quite attractive and perfectly functional in all thetypical ways, and its added features remained largely unnoticed by itsinhabitants for quite some time after they moved in, in May of 2006.Then one night four months later, Cavan Klinsky, who is now 11, had afriend over. The boy was lying on the floor in Cavan's bedroom, staringat dozens of letters that had been cut into the radiator grille. Theyseemed random -- FDYDQ, for example. But all of a sudden the friendleapt up with a shriek, Ms. Sherry said, having realized that they wereactually a cipher (a Caesar Shift cipher, to be precise), and thatCavan's name was the first word.


The mystery in the house continues to unfold. I want to know how I can get an invite to come over and play.
More here and here. Clough's firm, 212box, is here.
Posted by Editorial Team Thu Jun 19, 2008 6:29 pm
Nokia N78 in Entertainment, Film and Music, Mobile devices and media
Nokia's latest N-series "multmedia computer" bundles a 3.2-megapixelcamera, music player, satnav and maps into a sleek go-anywhere,do-it-all device. Wherever you happen to find yourself, you'll be gladyou brought it.
The N78 is certainly a classy looking handset, and the smart touchgoes much deeper than its looks. Its sleek, gloss-black front may atfirst glance resemble the touch-sensitive minimalism of LG's oft-copiedChocolate series, but in use, all is not as it seems.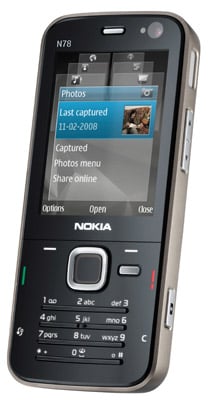 Nokia's N78: packs in feature after feature

To press the illuminated buttons you actually press the plasticcasing inwards. The cover bends to accommodate your thumb rather thanreacting purely to your touch. It might seem like a low-techalternative, but in practice it seemed more reliable than thetouch-sensitive option, which in our experience can be a bittemperamental.
Nokia's solution is a good combination of style and practicality.The numeric keypad is actually four raised plastic strips, with thenumbers backlit just above them. It looks lovely, but takes a bit ofgetting used to, and it has to be said that this keypad is far from thebest for rapid or prolonged texting.
The face of the phone oozes minimalist class, but strangely, theback feels like its made from low-grade material and creaks in yourhand, which detracts from the cool image. There's another surprisehidden in the square navpad. Rubbing your thumb around the edgeactivates what Nokia calls the "navi-wheel", which moves the cursoraround the screen without the need to press the pad.
You can also do the iTrip thing with the built-in FM transmitter andbeam your music to your car radio. Incidentally, the Navi-wheel reallycomes into its own as you scroll through your music playlists, behavinglike a tiny version of Apple's scroll wheel. Hmmm, are we sensing apattern here?
Of the few problems we encountered with this phone, there were theusual Symbian issues of running slowly when you've got severalapplications open at once, but it was nippy enough when we stuck todoing one or two things at a time and it was easy to switch offbackground applications using the aforementioned Applications button.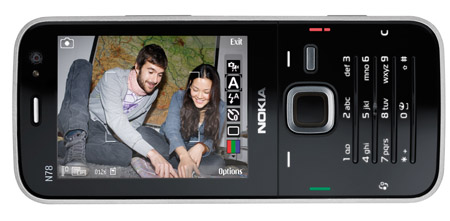 70MB of memory on board - plus a Micro SD slot for more

If the 3.6Mb/s HSDPA connection isn't fast enough, you can alsoconnect over Wi-Fi. The usual N-series web browser is here in fulleffect, with options for viewing in landscape or portrait mode, pluszoom and the ability to flick through previously viewed pages. There'salso a PDF viewer and QuickOffice for viewing Microsoft Officedocuments, though if you want to

create

them you'll have to pay for thefull Office suite.
And as a Symbian phone there are of course plenty more third-party apps available.
Battery life was pretty good, and we got a good three days ofmoderate use out of it, though heavy browsing will of course reducethis quite dramatically.
VerdictFrom its sleek, minimalist good looks to its raft of impressivelywell-integrated features, the N78 is a gorgeous little number. The3.2-megapixel camera, feature-packed music player, A-GPS and maps,quality web browser plus documents readers and email make it an idealtravelling companion for business or pleasure.
Posted by Editorial Team Thu Jun 19, 2008 4:03 pm