Search iVirtua
Advanced/Tag Search...
Search Users...
What is iVirtua Exclusive Community?
An exclusive gaming industry community targeted to, and designed for Professionals, Businesses and Students in the sectors and industries of Gaming, New Media and the Web, all closely related with it's Business and Industry.
A Rich content driven service including articles, contributed discussion, news, reviews, networking, downloads, and debate.
We strive to cater for cultural influencers, technology decision makers, early adopters and business leaders in the gaming industry.
A medium to share your or contribute your ideas, experiences, questions and point of view or network with other colleagues here at iVirtua Community.
Guest's Communication
Live Chat
Teamspeak (VOIP) Audio Conference
Private Messages
Check your Private Messages
Themes
Choose an iVirtua Community theme to reflect your interests...
Business Theme

India/Arabic Theme
Gaming Theme
iVirtua Recommends
Fly Emirates
Build a DX10 rig for under £176 in Hardware, Internet, Networking, Comms and Security
To add onto this:

I would not recommend anyone to get a quad core for gaming. I have a socket 939 Operteron 180, a 2.4GHz dual core with 2mb of L2 cache. I got it for $170, which is not bad for a dual core Opteron. You may say "That thing sucks you couldn't do any good gaming on it". Well apparently, with my 7900GT, I played the Crysis

demo

with medium-high settings (physics were maxed as far as I remember) and with a 25-45 framerate, my cpu usage stayed below 90%. Now, if my video card were not the downfall, it is possible my cpu would reach 100% but if I had a better video card, I probably would be using a better cpu as well. My point is, even a 2.4ghz dual core is good enough to play crysis, so those "know-it-alls" who get their precious 2.8ghz quad core intels have not only wasted a ton of money but have more performance than they'll really need.
Posted by schmidtbag Thu Jul 10, 2008 1:49 pm
Neopets Ambitious New MMO in Gaming
It's so early in development that it doesn'thave a name yet, but I'm already quite intrigued by the new MMO fromthe creators of Neopets.
Adam Powell and Donna Williams struck it rich with Neopets,an online virtual-pet site that grew so popular with kids and femalegamers that the pair sold their creation to Viacom in 2005 for $160million. Now, as founders of a startup called Meteor Games,they're working on something markedly different for an encore: A newMMO game that blurs the lines between traditional massively-multiplayergames, social networking, and casual gaming.
"We're World of Warcraft players ourselves," says Powell, "and wewouldn't want to compete with them. The game is really more casual --we want players to be able to play it for five, ten minutes at a time."
Imagine sitting down for a game of chess inside the 3-D virtualworld of the MMO. Your opponent is a real live person, but they'replaying the game in a simple Flash browser window, without all of thefluff around it. Or imagine playing a version of the classic cell phonegame Snake, but at the end of the game, the snake comes to life in theMMO and starts attacking enemies for you.

Neopets,Williams and Powell readily admit, is often seen now as a child'spastime. But that game's original target audience was an older set --teens and young adults. But after the pair launched Neopetsin 1999, the game took on a life of its own and became so popular withthe younger audience that the twosome didn't want to sacrifice theintensely lucrative younger market.
The goal of their unnamed new project is to capture the traditionalgamers. The art style is going to be cartoonish, certainly, but unlike Neopets,it won't trade realism for saccharine sweetness. Instead, Williams andPowell are drawing inspiration from a litany of sources near and dearto children of the 1980's.
"It's sort of traditional high fantasy with a little bit of sci-fi,"says Powell. "It's like a lot of 80's films that we love, like Labyrinth or Legend."
"Or The Dark Crystal," adds Williams.
So then, is this game merely lifting ideas from the lucrative well of collective nostalgia to compete with World of Warcraft?Apparently not. The game itself seeks to target a demographic somewherein between the hardcore MMO fan and his 7-year-old younger sister. Theword "tween" was mentioned, though I picked up on an obvious distastefor the term.
Key to attracting this audience, say the designers, is the game'sreliance on a hybrid financing plan. Players will be required to payfor a subscription, though Powell was very quick to point out that itwon't be nearly as expensive as those of traditional MMOs, whichgenerally run in the neighborhood of $15 per month.
Instead, the stated goal is to offer players a monthly fee of under$10, making up the difference and more with the ability to buy in-gameitems with small microtransactions. But kids with more pocket moneywon't be able to power up for cash.
"We are strongly against letting players buy an advantage," saysPowell. All of the microtransactions, he says, will augment theplayer's looks, not powers: New houses, new clothes, new pets.
And yet neither subscriptions nor microtransactions are anything newin the world of online gaming, so what sets this unnamed MMO apart fromthe rest of the pack? Synergy. Don't worry, they didn't actually dropthat buzzword during our conversation, but after describing the way thegame would span several different platforms in real time, there simplyisn't a better word for it.
As an example, Powell detailed one possibility, involving a simplegame of chess. At launch, the game itself will span both a traditionalMMO client as well as a social-networking website, and that simple gameof chess can be accessed through either, he explained.
Let's say one player is sitting inside the MMO. He's at a table inhis own fully 3-D virtual house and in front of him is a chessboard. Hemoves a pawn, waits, and the opposing side moves against him. Onlyinstead of challenging another player within the MMO, he's playingagainst someone who is playing chess via a simple Flash applicationembedded into the website. Each of their moves is relayed to oneanother in real-time, and both receive certain levels of virtual rewardfor the activity.
To explain how the reward system would work for someone interactingwith the MMO from the outside, Powell offered another example the grouphas planned for the title.
Remember Snake? That game where you maneuver a squigglyline around a board to collect pellets in the hopes of extending yourline's length? If you don't recall, check your cell phone. I guaranteeit's on there. The new MMO's website will have a Flash game similar to Snakebuilt into it. Instead of simply hoping for a high score, playersmaneuver the snake around the board in a hunt for pellets with theultimate goal of making the snake come to life.
Once you've collected enough points in the Flash game, your snakewould spawn within the 3-D MMO world and start attacking foes on yourbehalf, earning experience points for you whenever it successfullykills something.
Besides the basic versions of the mini-games, the social networkingsite will also contain your standard sort of Facebook-styled features.It's unclear how in-depth the system will be, but expect messaging,friends lists and everything you've come to love and/or loathe from theMySpaces of the world.
At launch the game's technology blending will only stretch as far asthe MMO itself and its official site, but the duo also plans toeventually roll out cell phone software that works with the system.Powell and Williams said that they have not yet decided how the phoneswould be implemented into the overall world, but giving players thechance to interact with the game while away from a computer is the sortof idea that could result in unforeseen levels of MMO addiction anddevotion.
Normally I'd be very cynical about a game relying so heavily on thissort of technological confluence -- particularly given thehyper-adorable, kid-centric current state of Neopets -- but assuming that these creators can actually deliver on the ideas they have for this game, it could be huge.
Of course, since the game is extremely early in development, no oneoutside of the 40 people on the development team will be playing it anytime soon. Powell and Williams say that they hope to publicly

demo

thetitle for the first time at Penny Arcade Expoin Seattle this August. If things go well, they plan on releasingsomething playable, whether it be the final game or a public beta, inearly 2009.


Posted by Editorial Team Tue Jul 01, 2008 7:14 am
Spore Creature Creator tops US charts - have you got it? in Gaming
The NPD Group has released US PC software sales datafor the week ending June 21, with EA's Spore Creature Creator comingout on top.
Maxis reported that one millionSpore creatures were created and shared during the stand-aloneprogram's first week of availability. The full Spore game will bereleased in September.
Sales of Spore Creature Creator werestrong enough to place the game at number six on the All Categorieslist - the only game to appear alongside business, education andutility software.

The Top Ten best-selling PC games in the US for the week ending June 21 were:



1 Spore Creature Creator (EA)

2 The Sims 2 Double Deluxe (EA)

3 Age of Conan: Hyborian Adventures (Eidos)

4 World Of Warcraft: Burning Crusade Expansion Pack (Vivendi>

5 World Of Warcraft (Vivendi)

6 World Of Warcraft: Battle Chest (Vivendi)

7 The Sims 2 FreeTime Expansion Pack (EA)

8 The Sims 2 Kitchen & Bath Interior Design Stuff Expansion Pack (EA)

9 Call Of Duty 4: Modern Warfare (Activision)

10 Lego Indiana Jones: The Original Adventures (LucasArts)


The Spore Creature Creator was software that allowed players to create their own creatures with a standalone version of the Creature Editor from Spore; the software was one of the first aspects of the game to receive focused development, and had undergone ten rewrites since the start of development. It was rated E by the ESRB in early March 2008, indicating that the editor would be released separately well before the game's release as a utility program. Electronic Arts told MTV Asia that "EA Screen will provide visitors a chance to interact with EA's game producers hailing from the studios, and unveil the hugely anticipated SPORE Creature Creator

demo

version to gamers for the first time in Asia." Electronic Arts VP Mark Buechner stated on the Spore Facebook page that the editor would be released in June or July 2008, saying, "We are looking at releasing it two to three months before the launch of the full game."

The SimCity Box artwork showed a blurb stating that the creature editor would be included with it. IGN revealed that the Spore Creature Creator utility will be available in two different versions on June 18, 2008. There was a paid version (for $9.95) and a free

demo

that was downloadable from Spore.com and included for free, bundled with The SimCity Box. The free version of the editor only contained 25% of the available creature parts that were found within the full version.

The utility included a test environment for players to see their creatures go through animations and allow the player to import other user-created creatures through the Sporepedia at Spore.com. The utility included screen capture and video tools as well, including YouTube functionality.

The editor also gave the user the ability to create animated avatars,and output in RSS and embeddable HTML code to facilitate easy incorporation into such sites as MySpace and Facebook.

Shortly after its introduction, the Creature Creator was used to create creatures with oversized genitalia, either stand-alone or engaged in coitus (a phenomenon quickly dubbed 'sporn'). EA responded with e-mails sent to those who made pornographic machinima from its

demo

, and has flagged certain on-line accounts for "TOS violations". Furthermore, YouTube has pulled several such videos for violations of its own TOS.

By June 24, 2008, users had already created over one million creatures.

It has been noted by those using the Spore Creature Creator, that while the Social and Attack categories can reach a max score of 20 with enough parts on the creature, the Abilities category does not achieve a max in the Creature Creator. This has led to speculation from it being the brain levels to advanced sensory abilities to telekinesis.

Electronic Arts confirmed that Spore will be receiving post-release expansion packs. No other information is available as to what sort of content the packs will feature, but EA has hinted it will be similar to The Sims expansions.


In the news
Spore Creature Creator free in the UK Videogamer.com

A Wii spinoff of the game has been mentioned by Will Wright several times, such as in his October 26, 2007 interview with the Guardian.Buechner confirmed it, revealing that plans for a Wii version were underway, and that the game would be built from the ground up and would take advantage of the Wii Remote, stating, "We're not porting it over. You know, we're still so early in design and prototyping that I don't know where we're going to end up, so I don't want to lead you down one path. But suffice to say that it's being developed with the Wii controls and technology in mind."The Xbox 360 and PlayStation 3 versions of Spore are still under consideration.

Merchandising

There will be an iTunes-style "Spore Store" built into the game, allowing players to purchase external Spore licensed merchandise, such as t-shirts, posters, and future Spore expansion packs.There are also plans for the creation of a type of Spore collectible card game based on the Sporepedia cards of the creatures, buildings, vehicles, and planets that have been created by the players.There are also indications of plans for the creation of customized creature figurines; some of those who designed their own creatures at E3 2006 later received 3D printed models of the creatures they created. The Spore Store also allows people to put their creatures on such items as T-shirts, mugs and stickers.

The Spore team is working on a partnership with a comic creation software company to offer comic book versions of your own Spore story. Comic books with stylized pictures of various creatures, some whose creation has been shown in various presentations, can be seen on the walls of the Spore team's office.
Posted by Editorial Team Tue Jul 01, 2008 7:13 am
Revealed: Sony's future plans for PS3, PSP and TV in Business and Industry in Gaming, Media, Web, IT and Computing
"This is not your father's Sony", sums up what Howard Stringer has done at Sony since taking over the reins in 2005.
TheWales-born CEO was underlining the challenge that the company now facesin the digital age, as he led the Japanese giant's corporate strategybriefing in Tokyo today.
In the absence of any attention-grabbingnew hardware announcements, most headlines are likely to go to Sony'spledge to increase revenues in the PC, Blu-ray-related and componentsbusinesses.
Game plan
Stringer said thatSony would build these into "trillion-yen businesses" by FY2010,putting them alongside the core business units of TVs, digital imaging,gaming and mobile phones. One trillion yen is currently worth around£4.7 billion.
Although gaming is a traditional Sony strength, thedivision is mired in red ink after the costly development and launch ofthe PlayStation 3. Addressing that, the CEO promised to bring it toprofit by March next year.
Stringer also outlined plans to investclose to £9 billion in new technology in a concerted drive to becomethe world leader in LCD televisions within three years. Beyond that,the assembled execs wouldn't be drawn on precise numbers or revenuetargets.
Mobile content
Although he didn't address recent speculation about the possibility of a PSP phone or the stability of the Sony Ericsson joint venturethat produces mobile phones, Stringer did emphasise that such handsetswould continue to be sold and that "Sony music and pictures content[would be] embedded in all key Sony Ericsson product lines."
As expected, there was no discussion on life after Blu-ray– the so-called 'death of disk'. However, a hint of how quickly onlinedistribution will move centre-stage came in the news that SonyPictures' summer blockbuster, Hancock, will be made available exclusively to all internet-connect Bravia televisions in the US before its DVD release.
Movie download service
The movie theme resurfaced in a presentation from Kaz Hirai, the president of Sony Computer Entertainment, with the news that the long-anticipated film download service would finally reach the online PlayStation Network this year.
Hiraiconfirmed that US users would get first crack at PS3 movie downloads inlate summer, with Europe and Japan to follow by year's end. He addedthat full details would be announced at E3 in LA next month and thatboth standard- and high-definition titles would be available.

Virtual world
Warmingto the theme, Hirai added, "Please expect more from our evolvingPlayStation business." That evolution will also include themuch-delayed PlayStation Home virtual world, which Hirai demonstrated,along with new dynamic in-game advertisements that change according tothe context.
The littlest PlayStation also featured prominently,with the PSP being positioned as an interactive extension of the PS3console, as well as a tool for accessing the PlayStation Store for gamedownloads and, possibly, feature films at some undisclosed point.
Hirai's presentation concluded with something of a surprise in a new network service called Life With PlayStation.The rough

demo

showed a view of the Earth from space, which rotated toreveal location-related news items, reminiscent of similar services onNintendo's Wii.
Innovator and creator
Returningto the podium to sum up, Stringer emphasised his firm's creative skillsand took aim at a company many see as having inherited the Sony mantleas innovator supreme.
"We have products to get excited about [including] OLED TVs, Rolly, CyberShot smile detection and the new Bravias.
"Appleis a boutique company, but we're a large conglomerate. We recently cameout number one in a poll by Incite on innovative companies, just aheadof Apple. I rest my case."
Whether or not that's overstating thecase, Stringer's confidence in the once-troubled company is almosttangible, leaving little room for doubt that Sony is back and that itmeans business.
Posted by Editorial Team Mon Jun 30, 2008 6:41 am
Nintendo DS centres open across UK - Download demos free in Business and Industry in Gaming, Media, Web, IT and Computing
It's hard to believe but there are still people wandering the streets who don't own a Nintendo DS.The console manufacturer is obviously keen to stamp this sort ofbehaviour out so its opened 30 DS centres in shops around Britain. Fromthe press release:

These new centres will offer anyone the opportunity tolearn more about Nintendo DS and its exciting range of software througha number of new and exciting ways including videos, TV commercials,

demo

games to play on the DS. Centre itself and most exciting of all,current DS owners will be able to download

demo

software to play ontheir own Nintendo DS.


Brain Training, Sight Training, More Brain Training, Big BrainAcademy, Mario Kart DS and 42 All Time Classics are the titlescurrently available for free

demo

downloads - the code stays on yourmachine until you switch it off. Stores currently housing the DSshowcases include Asda, Argos, HMV, Game and Zavvi - there's a list ofparticipating outlets here.
Each site will also offer free Nintendo Wi-Fi connection so if youalready own one, not only do you get free demos you also get to hangaround playing online games. It's like Apple Store for the hoi polloi.

Downloadable titles DS owners can playinclude Brain Training, Sight Training, More Brain Training, Big BrainAcademy, Mario Kart DS and 42 All Time Classics.

You can alsoplay in-store demos for games such as Sight Training, Nintendogs, BigBrain Academy, New Super Mario Bros, The Legend of Zelda; PhantomHourglass and Animal Crossing: Wild World.

The full list of DS centres is as follows:





Basingstoke - GAME, Unit 15 Festival Place

Birmingham - Argos, Priory Sq Centre, 33 Priory Queensway

Brighton - HMV, 48-50, Churchill Square Shopping Centre

Cardiff - Argos, Units E & F, Cardiff Bay Retail Park, Ferry Road

Chelmsford - Woolworths, 40 - 41 High Street

Chippenham - Woolworths, 24-25 High Street

Croydon - Woolworths, 60-68 North End

Exeter - Zavvi, SU 20/21 Princesshay Shopping Centre

Glasgow - GAME, 146 Sauchiehall Street

Glasgow - Zavvi, 235 Buchanan St

Leeds - Asda, Crown Point Retail Park

Liverpool - Woolworths, 74-75 St Johns Way, St Johns Centre

London - GAME-Hamleys, 188-1 96 Regent Street

London - HMV, 360 Oxford Street

London - HMV, 150 Oxford Street

London - Zavvi, 14 Oxford Street

London - Zavvi,Piccadilly Circus,

London - Woolworths, 168-176 Edgware Road

London - Toys R Us, Tilling Road, Brent Cross

London - Argos, 30-36 Market Place, Romford

Manchester - Argos, Unit E Central Retail Park Gt Ancoats St

Manchester - Zavvi, Unit M, Lower mall, Arndale Centre

Milton Keynes - Argos, 700 Grafton Gate West

Northampton - Argos, 4-7 St. Peter's Square

Norwich - GAME, 2-10 Back of the Inns

Oxford - Argos, Botley Road

Portsmouth - Argos, 207-211 Commercial Road

Reading - HMV, 13 Holy Brook Walk, The Oracle

Reading - Zavvi, 1-5 Oxford Road

Slough - Argos, 4 The Observatory Centre, High Street

Swindon - Asda, Orbital Shopping Park, Thamesdown Drive
Posted by Editorial Team Thu Jun 19, 2008 3:33 pm
Games review: Lego Indiana Jones in Gaming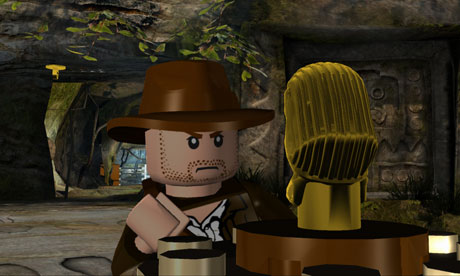 Havingcharmed with their Lego interpretations of Star Wars, LucasArts turntheir attention, and the plastic bricks, to another great fantasyfranchise: the whip-cracking, fedora-wearer himself. Lego Indy isinstantly playable, genuinely funny - with some delightfultongue-in-cheek references to Star Wars among the cut scenes - andbeautifully observed, from character foibles (snake phobias, bad backs,girly screams, etc) to authentic sound effects. Better than that, thegame itself is nigh perfect. It's challenging, but with a well-judgedlearning curve. And, with its hidden layers, bonus features and extrachallenges, it requires hours of revisiting in "Free Play" mode. You'lljust about have completed it in time for - oh, happy day - Lego Batmanlater this year.

Lego Indiana Jones: The Original Adventures is a 2008 video game developed by Traveller's Tales and published by LucasArts.[6] The game allows players to recreate moments (albeit more humorously) from the first three Indiana Jones films. It features the same drop in/out co-operative play mode as seen in the Lego Star Wars video games, although it is restricted to local console play. The game was released on June 3, 2008 in the United States and Canada, and June 6, 2008 in Europe. A downloadable

demo

for Windows was made available on May 13, 2008.



Like Lego Star Wars: The Complete Saga, new moves include clinging onto branches during a jump using Indy's whip.[7] As a promotion, Lego Star Wars: The Complete Saga features Indy as an unlockable playable character.

The game follows the storylines from the original Indiana Jones films: Raiders of the Lost Ark, Indiana Jones and the Temple of Doom, and Indiana Jones and the Last Crusade. The objective of the levels is to get to the end, collecting Lego studs to earn the True Adventurer title along the way.

LucasArts has placed hidden treasure chests throughout the game to take the place of the minikits from Lego Star Wars. There are 10 chests in each level and if you collect them all, a bonus artifact will be in the artifact room at Barnett College. Some levels contain buried bonuses to help find the missing treasure chest. There are also red parcels that take the place of red bricks to unlock bonuses. Once you collect the parcel you must carry it to a red post slot to truly unlock it. There is a mail room for all the parcels the player has collected, with a special prize for players who have collected all parcels.

Each character featured in the game has his/her own unique ability. Satipo is able to dig things from the ground, female characters like Marion Ravenwood and Elsa Schneider are able to high jump unlike male characters. Willie Scott is also able to break glass with her screaming, and Thuggee characters can activate statues and find secret passages. Certain characters like Henry Jones, Sr., Rene Belloq, and Walter Donovan can solve hieroglyph puzzles to either progress through Story mode or find secret areas in Free Play. Lego Indiana Jones allows players to customize characters and make their own creation like Belloq Jones or Colonel Toht. [10]

Barnett College serves as the hub for all the missions. A new feature not seen in the Lego Star Wars series allows the player to interact with objects in their environment (e.g. bottles, swords and guns). Players can also build and ride vehicles (e.g. In the level "The Hunt for Sir Richard", players are able to hop on a boat in Venice, and ride an elephant in the "Pankot Secrets" level from The Temple of Doom).

Notable scenes have been recreated from the movies, such as the iconic boulder escape and the fight on the rope bridge, as well as Walter Donovan choosing the wrong Holy Grail.

According to the Lego Indiana Jones strategy guide, Han Solo is a special unlockable character for free play, and can be unlocked by finding the following Star Wars characters in various levels: Luke Skywalker, Princess Leia, Chewbacca, R2-D2, and C-3PO. Finding these five minifigures unlocks Han Solo as a playable character. Also, Santa Claus and Dancing Girl 2 are playable characters for the Free Play mode if the "Secret Characters" extra is purchased. Santa is only playable in the "Into The Mountains" level, and Dancing Girl 2 is only playable in the "Shanghai Showdown" level.


Posted by Editorial Team Fri Jun 13, 2008 6:05 pm
Gran Turismo vs. Forza Motorsport : Comparison in Gaming
"Both have cars, both have racing, so what's the difference?"

That's our job to tell you. For people unaware about these racing series, you should know they are probably the best racing simulations in account for realism. Gran Turismo is the PlayStation exclusive series and Forza Motorsport is the Xbox loyalist. They are not NFS-ish titles giving a laid-back and blissful driving. Gran Turismo is a completely settled franchise now whereas Forza Motorsport is a brand new series having only two titles till date.


Gran Turismo (from Polyphony Digital), the first "top PSX seller" title was out in fall of 1997 and was recognized not only for the extensively realistic driving simulation, physics based car realism and sound from real life cars but also for the maximum PlayStation power it was utilizing to give at-the-time state of the art graphics. And till date it has evolved into numerous titles just beside the "full" games which would feature some gameplay depicting only concepts of what they were building in their future releases.


Prior to GT 4, GT 4: Prologue was released, which was regarded as a teaser for the game. This helped them realize what people would expect from GT 4 and yet despite it was unexpected the GT 4 was then released with a vast number of around 700 cars and 50+ race tracks. Therefore all the GTs have huge number of licensed vehicles to keep you immersed in the game and whatever you think GT is like, you will not get bored of the content each (full) version of the game will offer.


And finally the game has stepped into the next generation console PS3 having scintillating graphics that you could easily mistake for a real footage if somehow you were browsing through your TV channels and one of them was showing the game footage (I kept looking for GamerTV but was irritated to see this game's video wondering why in the world GamerTV is not coming on its time, only to be in awe few seconds later). The "full" next gen version of GT which is Gran Turismo 5: Prologue.is not released but its teaser is ready for people to get their hands on.


Forza Motorsport, GT's now one of the main adversaries developed by Turn 10 came out on Xbox in May 2005, featuring around 231 cars at your disposal to race around real life circuits. The most esteemed feature in Forza was its physics engine and how it would vary the car's performance impromptu of effects like damage or collision (which also we will discuss is dazzling) during The Race. So Forza was known for its realistic damage and collisions from the perspective of a professional driver or a casual racing gamer.



Like I said, in contrast to GT, Forza would vary three main features of the car you browse for in games (Top Speed, Acceleration and Handling) according to how much we have smashed our car during a race. Realism! It spawned a sequel in mid-2007 on next gen Xbox 360 also which was successful with nothing immense to show off but still having the Forza-essence which is good.


It will be too thorough to discuss series by series so here we will take a contrasting (or not) look at the latest next gen iterations of the series, Gran Turismo 5: Prologue and Forza Motorsport 2.


PRESENTATION


Since GT 5 Pro is only a

demo

there is less course selection but still has a huge amount of cars, which might get problematic as its fun to change the area you are driving in more than the car you are driving. But the game is still fully fledged and can easily be stripped of its '

demo

' tag. The characteristics of a car are a striking feature.


Every car is different, every! You will want to remember each and every detail & spec about cars and even when you have the best cars you will feel like giving your old one a try just because it had something unique (which every car does). The new and improved dashboard look is praiseworthy. It's not a stationary picture in any sense, completely different dashboards for all cars which are exceptionally accurate and in motion.


So we will see everything different in dashboards when we go from all included Ferraris and Ford GTs to Skylines and Mustangs. The course selection is limited but a very good compilation so unless you feel like having more you won't be disappointed with what you have got. The new interface is now having the first time introduced "My Page" just like having a profile page from where you will be able to do whatever you want do in the game.


The GUI is completely HD rendered and it's an exquisite display all the way. This game is the first one to go online with plenty of race combos to compete in.



Coming to Forza 2, the feature in the limelight comes to be the any level combination you can get of cars, motors, parts and race tracks. You feel like doing "something" and you do the very exact "something". The developers worked 24 hours as this is easily evident.


There are 12 different environments with 40+ racetracks which tend to get confessedly repetitive but not perhaps for a racing maniac. The list includes famous race tracks like Silver Stone or Laguna and what's more, it also has fantasy tracks for the satisfying driving thrill of cars whose cost ranges in 100 thousands of dollars.


The interface is beautiful, bright and trouble-free to go through with plenty of options in racing. You can go online for an incredible number of options like car trading, car gifting and Microsoft sponsored tournaments. Oh yes, also free racing with opponents!


Winner: Forza Motorsport 2


CONTROLS


In Gran Turismo 5: Prologue, the physics and mechanics are state of the art. The car would drive as real as it would in real life. It would over steer-under steer exactly according how pathetically you drive and wherever the engine is placed in the car. As I said each car is distinctive. The characteristics of each car are clearly noticeable even if they are similar in internal design. It is all dynamics and the way you drive.


The AI in past GT games was average. There was nothing significant about it but in GT 5 Pro it is slightly improved. Occasionally you will see other drivers making mistakes which might cost us too. They will try their best to win and stay smooth on the road. Nothing outstanding about it but still improvement is improvement.



Forza Motorsport 2 is on the perfect spot on the line between realism and arcade-enjoyment in car racing. In controls, it is more or less like GT, which is to say it's just about completely realistic. Real tests on car drivers were done where some racer drove on a real track and then in the game with the same car and track to see how closely the record results matched.


The game features the driving assistance line just like in NFS ProStreet which would show you the best line for driving around curves including when to slow down and when to pick up the pace or rush. The AI is average.


Occasionally someone would swipe ahead from your side giving you a nudge (which leads your car exasperatingly off course) but during parallel driving they tend to back off showing cowardice. So the race is won slowly. But this game is surely not for the impatient types. One thing to note is that the upgrades in the cars makes things easier but don't turn out to be table turning and if you drive smooth and perfect you will win any race with the stock car.


Finally to say, in both games you cannot say "Step on it!!" because you don't have to "step on it", otherwise it's just bye-bye early from race for you. It's all about feathering the accelerator and brakes with 'love and affection' around the 'mean' turns to stay ahead and win the race. If you prefer to be in speed throughout all the game buy an NFS.


Winner: Forza Motorsport 2 with a very low margin.


GRAPHICS


If I don't talk about graphics this article would not probably be about gaming! GT 5: Prologue is easily the king of graphics. As mentioned before, it's easy to mistake it for real footage when you run it at 1080p. It supports all kinds of modes 1080p/i, 720p whatever you have in your TV and the game rocks the PS3 potential.


You can go through the trailers online and see the stunning amount of detail in the game which may actually drive you off course a lot. The lighting is astounding. The unique dashboard in every car would show a lot detailed lighting effects as the car changes angles according to the sun or goes through a tunnel or a shadowed area whatever. Its graphics are closest to realism without a doubt.



Forza Motorsport 2 is however on the other hand, not up to the mark. It is clearly not sucking the Xbox 360 potential and aliasing and jagged lines are all over the screen. Modes supported are 720p and 1080i. The graphics section is clearly a turn down feature about the game otherwise probably making it best of the best.


The real time damage done to the cars is however paid attention to and the details are overwhelming. GT 5: Prologue also has similarly brilliant damage effects.


Winner: Gran Turismo 5: Prologue without a doubt.


SOUND


This genre of game or racing is not about the sound really but still GT 5 has state of the art engine sounds which are totally from real life cars and a decent soundtrack. There are no complaints about it. Forza Motorsport 2 has varying engine sounds, though it's all only what you can expect from a racing game. The ambient noises can get irksome in Forza.


Winner: Gran Turismo 5: Prologue


OVERALL



Sorry to disappoint you all but there is no "Overall". GT5: Prologue may be a decision for an average gamer but a must buy for GT fans and Forza 2 is a must buy for arcade driving lovers still looking for realism but a decision for someone who wants high-tech graphics. We were never supposed to conclude which game is better. Both are fantastic titles of the gaming industry and a must play for all avid racing gamers.


Stuff like state of the art graphics in GT5: Prologue and extravagant amount of detail in Forza Motorsport 2 (like even getting discounts from car companies) put both these games on the success list. Buy the game (if you haven't already) for whichever console you own or get both if you have both X360 and PS3.
Posted by Editorial Team Fri Jun 13, 2008 4:36 pm
WWDC 08: me.com mail, contacts, calendar like native apps in Apple
"Now I'd like to talk about something near and dear to my heart. That'sthe iPhone. In a few weeks it's going to be the iPhone's firstbirthday. An amazing intro -- certainly the most amazing we've everhad."

Steve! "Isn't that great? We've been working on that for a while. I think we finally got it right."

".Mac users can continue to use service, but they'll be automatically upgraded to MobileMe. So that's MobileMe."

"We'regoing to create a free 60 day trial, available along with iPhone 2.0.You might be asking what about .Mac? MobileMe replaces .Mac."

"It's available for $99 per year -- 20GB of storage."


Send to MobileMe option from photo. Send to the library of yourchoosing in the cloud. More applause. "So that's MobileMe, anincredible new experience for all your information. It's like havingExchange for the rest of us. Push email, contacts, calendars -- workswith native apps on the Mac and PC. And most exciting are theseincredible new web apps. The perfect companion."



Showing calendar push -- demoing the amount of time it takes tomake changes to calendar events over the air from PC to iPhone. 12seconds, by our count.


Log-off is power-on/off icon.

Demo

of OTA interaction... email getspushed to the device. Email to Gmaps, saves restaurant as a newcontact. Back to the computer -- what should happen to be there but theemail that was pushed to the phone, including the state (read orunread), and there's the restaurant contact.

11:22AM PT -Photos: photo skimming works, resizing thumbs -- it looks exactly likedesktop iPhoto. Wonder how much of this is Flash. iDisk is supported aswell -- looks like .Mac might be going bye-bye.

Quick reply mailfeature -- really fast way to send an inline reply. Contacts searchwith real-time text entry filter. Calendar, you know... it's a calendar.

"Ican run this on a Mac or PC -- you might guess which my favorite is.I'm going to launch my favorite browser -- which happens to be Safari.Just log right in." Looks pretty solid, almost identical to the desktopapps.



"It's a breakthrough web 2.0 app interface."

Demo

time!

Mail, contacts, calendar -- all this stuff looks exactly like Apple's native apps. This is pretty nice.



"Go to any browser, type me.com. Simple, easy to remember. Login... you get an incredibly rich email client. It feels like a desktop."

"What's really going to surprise people, we've built an incredible suite of web 2.0 apps using Ajax."

11:16AM PT - "Itworks with the native apps on my Mac or PC -- it works with Mail.app,iCal, Address Book... as well as Outlook. You'd expect that it wouldwork with those native apps."

Example of email -- gets pusheddown to all devices. Change a contact? Gets pushed up to MobileMe, downto all other device. "The best part of this, it works over the air.Everything is up to date."


"MobileMe stores your info up in the cloud so you can get to itanywhere using any of your devices -- Mac, PC, iPhone -- it will pushinformation up and down to keep everything up to date all the time."

Push email, contacts, and calendars... everything is up to date wherever you are.


Schiller just called ActiveSync ActiveStink -- the mockery! Guffawing.


Posted by Editorial Team Tue Jun 10, 2008 4:03 am
WWDC 08: 3G iPhone with GPS - £99 half price and apps in Apple
Design
Though the iPhone 3G is thinner at the edges than its predecessor, the phone measures a hair thicker (0.48 inches versus 0.46 inches) in the gut. The other measurementsare the same except that it weighs just the slightest bit less (4.7ounces versus 4.8 ounces). Otherwise, the iPhone 3G shows few cosmeticchanges from the front--same display size and resolution, and thesingle Home button sits just below the screen. We're very pleased tosee that Apple has done away with the irritating recessed headphonejack, which now is flush so that you'll be able to use any 3.5mmheadphones you like.
But turn over the iPhone 3G, and you'll see more significantchanges. A black, plastic skin replaces the current silver-aluminumback. The swap may cut the cost, but we worry about its long-termdurability. The 8GB model will come in black only, while Apple promisesthe 16GB version in back and white. The white model is a bit random--wewere expecting something in red--butcolor is a personal choice. The camera lens, volume rocker, chargerport, speaker, microphone, power button, and display locking switchshow no changes. Our News.com colleaguegot a hands-on with the new device and reports that it feels similar inthe hand to the current model, with the exception of the tapered edges.
3G
With support for three 3G bands (850, 1900, 2100) and bothUMTS and HSDPA networks, the iPhone 3G is well positioned for usinghigh-speed networks all around the world. Considering that Apple ispromising to bring the device to 70 countries, it had better be. Duringhis WWDC keynote, Jobs compared Web download speeds between the twoiPhones. On the original model, which runs on a 2.5G EDGE network, aphoto-heavy Web site loaded in 59 seconds, while the same site loadedin 21 seconds on the new device--impressive, but we take it with agrain of salt for now. After all, the

demo

iPhone in today's keynotewas the only iPhone in the room using AT&T's 3G network. Once amultitude of devices flood the same network, load times may change.
GPS
This is one feature that was on our original iPhone wish list.While the current iPhone location services find your position vianearby cell phone towers and satellites, the iPhone 3G uses Assisted GPS supplemented by satellites. It also offers live tacking so you canmonitor your progress as you drive (or walk) along. We're excited tosee this feature as well, as it fills in another gaping hole on theoriginal handset. You'll also find photo geotagging, but we're not sureyet whether the iPhone 3G or any third-party applications will supportturn-by-turn directions.
Third-party apps
Speaking of which, the iPhone 3G will indeed support the collection of appsavailable through the iPhone SDK--no surprise here. Apple promises toopen apps store in early July (Apple didn't release an exact date);we're guessing by July 11. Gaming apps should feature prominently; many will integrate with the phone's accelerometer.
Enterprise support
Worker bees will be pleased to know that the iPhone 3G will offer support for Microsoft Exchange Server.That will bring push e-mail, contacts and calendar, remote wipe, globalcontacts access, and auto-discovery. That's another welcome change asit puts the iPhone in the hands of a whole new class of corporate userswho now will be able to get their work e-mail on the iPhone.
Battery life
Last year Jobs said that Apple had not included3G in the first iPhone because it would have made too many compromiseswith the handset's battery life. But now it appears that Apple hassolved that problem. The iPhone 3G promises a solid 5 hours of 3G talktime, 10 hours of 2G talk time, 5 hours of 3G Internet time, 6 hours ofWi-Fi Internet time, 7 hours of video playback, 24 hours of audioplayback, and 12.5 days standby time. The audio and video times areunchanged from the original iPhone.
What else?
Since the latest iPhone will support the 2.0 software,additional new features will show up at launch and beyond, includingcontacts search, iWork document support, the capability to viewPowerPoint attachments, bulk move and delete, a scientific calculatorin landscape mode, parental controls, and support for 16 languages.You'll also be able to use a graffiti-style application for enteringcharacters in Asian languages.
What's missing?
Unfortunately, we hoped for an even largerbundle of features in this round. Apple still leaves multimediamessaging out of the mix along with voice dialing and video recording.We still don't understand why Apple can't include these basic features,many found in even the cheapest and simplest cell phones. We were alsohoping for a landscape keyboard, the capability to cut and paste, Flashsupport for the Safari Web browser, expanded memory, and additionalBluetooth profiles. Apple, you left us hanging in a big way. It's alsodisappointing to hear that the dock is now sold separately for $49, butwe suppose that helped cut the price. No, you don't needthe dock, but it's nice to have. Even the power adapter and the SIMcard removal tool that now come in the box won't make up for its loss.
Should you buy it?
If you're an iPhone fence-sitter, now'sthe time. The addition of 3G and GPS, the affordable price tag, andextra features from the iPhone 2.0 software update make the iPhone 3G aworthy prospect. Unlike the previous iPhone, which we liked andrecommended with reservations, we're much happier with what this newhandset has to offer. iPhone 3G isn't perfect, but there's a lot tolike here and we approach the device with much anticipation. We'llupdate this page with a full, rated review once we get our hands on thehardware.
Posted by Editorial Team Tue Jun 10, 2008 3:41 am
WWDC 08: 3G iPhone with GPS - £99 half price and apps in Apple
Jamie Taylor on iPhone 3G

11:48 a.m.: Jobs moves into the new ad for the 3G iPhone,which pokes fun at Apple's secretive nature. The

demo

gods finally maketheir presence felt as the audio skips on the replay of the video.
11:46 a.m.: Twenty-two countries will get the 3G iPhonefirst, and they'll all get it at the same time, and it's not cominguntil July 11. The late rumors win.
11:45 a.m.: The 16GB model will be $299, and that model will also be available in white.
11:44 a.m.: On to the price. The first iPhone was $599, and now sells for $399. It will now sell for $199 for 8GBs of storage.
11:43 a.m.: Jobs then moves into enterprise support, whichhas been covered in detail earlier today, as well as third-partyapplications. When it comes to more countries, the 3G iPhone will beavailable in dozens of countries, as a video with "A Small World AfterAll" plays with the iPhone working its way through South America andEurope. No love for Venezuela or China, but India and Australia areadded for a total of 70 countries. It will roll out to those placesover the next several months.
11:39 a.m.: "Location services is going to be a really bigdeal on the iPhone." GPS data allows you to do tracking, Apple recordeda iPhone traveling in a car going down San Francisco's famously crookedLombard Street, showing how precisely the iPhone can be tracked as itnavigates the curves.


Jobs announced the new iPhone will offer GPS.
(Credit: James Martin/CNET News.com)
11:38 a.m.: He compares the 3G iPhone to the Nokia N95 andTreo 750, two other 3G phones, and says the 3G iPhone is 36 faster todownload the same Web page. in an iPhone 1.0 to iPhone 2.0 comparison,an e-mail attachment downloads in five seconds on the 3G model, and 18seconds on EDGE. Jobs says the 3G iPhone will 300 hours of standbytime, improved from 8 hours to 10 hours on 2G talk time, and he'squoting 5 hours of 3G talk time. Browsing should give you 5-6 hours,video 7 hours, and audio 24 hours of continuous operation.
Jobs confirms the new iPhone will have GPS.


3G iPhone speed test.
(Credit: James Martin/CNET News.com)
11:35 a.m.: Jobs goes over the 3G support first. Fasterdownloads are a no-brainer, he says. He does a side-by-side comparisonof a Web page loading on EDGE vs. one on 3G. The National Geographic'shome page downloads in 21 seconds on the 3G network, and the EDGE oneis taking forever. Twenty-one seconds is a lot, but this is a prettyphoto-heavy Web page. It took 59 seconds on EDGE. The 3G speeds areclose to Wi-Fi, Jobs said.
11:33 a.m.: "We've learned so much with the first iPhone."Jobs shows off the pictures; it's thinner at the edges, a black plasticback, and metal buttons on the side. It's the same screen, with acamera, a flush-headphone jack (which gets wild applause), and improvedaudio.
11:32 a.m.: "Today we're introducing the iPhone 3G."
11:31 a.m.: "We did figure out what our next challenges are."3G networking, as you might have heard, is that first challenge.Enterprise support is the second, third is third-party applicationsupport, fourth is international support--as Jobs jokes about theunlocked iPhones all over the world--and fifth, everybody wants aniPhone, but we need to make it more affordable.

Posted by Editorial Team Mon Jun 09, 2008 2:54 pm
WWDC 08: 3G iPhone with GPS - £99 half price and apps in Apple
"The price is a maximum of $199 all around the world -- we're really,really excited about the new iPhone 3G. And as you might expect, wehave a new ad! I'd love to show it to you." Lights are down... spytheme.

"70 countries this year. We're going to start with 22 ofthe biggest, rolling out the iPhone 3G at the same time in all of thesecountries. July 11."


"The big news, is $399 to $199 -- we think we can check off more affordable."

"We think the iPhone 3G will be affordable to almost everyone. 16GB model for $299 -- for that model we have a white one

"iPhonestarted off at $599 for an 8GB device, which now sells for $399 -- wewant to make it even more affordable. I'm happy to tell you the 8GBwill sell for $199."

"These deals are all signed, sealed, anddelivered. Our stretch goal was 25 countries -- we'll be in 70countries this year, we think we can check off more countries."Applause. "Which brings us to more affordable."

Don't worry people, we'll have maps!


Huge, huge applause. People are on the edges of their seats. "We'llbe rolling it out in 70 countries in the next severeal months. Nexttime you're in Malta and you need an iPhone 3G, it'll be there for ya."


Showing all the countries, playing Small World -- most of SouthAmerica... Norway, Sweden, Finland, Estonia, Latvia, Lithuania,Denmark, Netherlands, Belgium, Poland, Czech, Switzerland, Portugal,Spain, Italy, Malta, Croatia, Slovakia, Hungary, Romania, Greece,Turkey, Jordan, Egypt, Niger, Mali, Senegal, Guinea, Ivory Coast,Cameroon, Kenya, Botswana, South Africa... man, way too many countries!

"Wethink we can check off third party apps. We distro iPhones in sixcountries -- we set ourselves the goal of 12 countries for the iPhone3G, and the stretch goal of 25 countries... Here we go..."


"Enterprise support: as we explained earlier, full Exchangesupport. All secure VPN, everything everyone's asked for is built-in.We're on exactly the right track, we can now check off enterprisesupport. Third party apps -- the SDK, you saw the great apps, and we'vegot the best way to distro them."


Zig-zagging down Lombard street. "So! Built in GPS, and much, muchfaster data. We think we can check off 3G and add built-in GPS toboot." Big applause.

Showing tracking ping -- crap, that's hot.

"Locationservices is going to be a really big deal on the iPhone -- you saw abit of that here today, it's going to explode. We get location fromcelltowers, from WiFi, and now we get it from GPS." So that's A-GPS."We can actually do tracking."

11:38AM PT - "Sogreat performance, great battery life. Now, one other thing thatbenefits from fast data is GPS -- we've built that into GPS." The crowdroars.


"Browsing, 5-6 hours of high speed browsing. Video - 7 hours, audio - 24 hours." Big applause. Dizamn.

"2Gtalk time is up from 8 hours to 10 hours. 3G talk time... other phoneshave 3 - 3.5 hours, we've managed 5 hours of 3G talk time, which is anindustry-leading amount of time."

"If we compare this to WiFi,we'll see 3G approaches WiFi speeds. We're also really proud that we'redoing this with great battery life -- standby time is 300 hours."


Email attachment download

demo

. 5s over 3G, 18s over EDGE.



"We took two other 3G phones -- the iPhone 3G is 36% faster thanthe nokia N95 and Treo 750 -- and look at the result you get, by theway! Full page on the iPhone, and quite a bit less on the otherphones." Big applause.

"It's even more remarkable when you lookat this next to WiFi -- you can see 3G speeds are actually approachingWiFi. It's amazing zippy -- 17s."


Still waiting to load... people are murmuring. Duh, Steve, we'vebeen saying this since the beginning. People are whistling now. 59s onEDGE. "Slow."

Showing EDGE vs. 3G -- let's see how we do. 3G version takes 21s to load... PAINFULLY slow on EDGE.




"How does the iPhone 3G tackle these things? Let's take a look at3G. Why do you want 3G? Faster data downloads, right? There's nowherethat you want it more than the browser and downloading email. First,the browser..."

"Improved audio, it's really, really great... and it feels even better in your hand, if you can believe it."

"Flush headphone jack."

"Solid metal buttons, the same gorgeous 3.5-inch display, camera"

"We'velearned so much with the first iPhone. We've taken everything we'velearned and more and created the iPhone 3G. It's beautiful. This iswhat it looks like. "Black back! "Thinner at the edges. Full plasticback, it's really nice."

HUGE applause.


"Today w'ere introducing the iPhone 3G.

"The number onereason people didn't buy iPhones is because they just can't afford it(56%). So as we arrives iPhone's 1st bday -- we're going to take it tothe next level."



"And last but not least -- everyone wants an iPhone, but we need to make it more affordable." Big applause.

"Second:enterprise support, third: third party apps, fourth: we need to sell itin more countries. We've sold iPhone in six countries so far, butbelieve me, they're in use ALL over the world." Hehe. "It's clear thereis a demand."


"What are these next challenges? 3G." Huge applause.

"Inthat first year we sold 6m iPhones since we ran out some weeks ago. Wedid figure out what our next challenges are... the next mountain wehave to climb to go to the next level."

"That's all great, butthe thing that makes us the happiest is that users love the iPhone. 90%customer satisfaction -- that's off the charts. What products todayhave that? 98% are browsing -- mobile browsing has gone from nothing to98% with the iPhone. 94% are using email, 90% are using SMS -- 80% areusing 10 or more features. You can't even begin to figure out how touse 10 features on a normal phone!"


"And iPhone has had tremendous critical acclaim -- best inventionof the year -- it's the widely believed that this it the phone that'schanged phones forever." Applause


"Now I'd like to talk about something near and dear to my heart.That's the iPhone. In a few weeks it's going to be the iPhone's firstbirthday. An amazing intro -- certainly the most amazing we've everhad."

Steve! "Isn't that great? We've been working on that for a while. I think we finally got it right."

".Mac users can continue to use service, but they'll be automatically upgraded to MobileMe. So that's MobileMe."

"We'regoing to create a free 60 day trial, available along with iPhone 2.0.You might be asking what about .Mac? MobileMe replaces .Mac."

"It's available for $99 per year -- 20GB of storage."
Posted by Editorial Team Mon Jun 09, 2008 2:48 pm
WWDC 08: me.com mail, contacts, calendar like native apps in Apple
"I can run this on a Mac or PC -- you might guess which my favorite is.I'm going to launch my favorite browser -- which happens to be Safari.Just log right in." Looks pretty solid, almost identical to the desktopapps.

Works with the native applications you know.
Doeverything you need to do on every device you own. MobileMe works withMail, Address Book, and iCal on a Mac; Microsoft Outlook on a PC withWindows XP or Vista; and the built-in applications on your iPhone oriPod touch.


Push email. Push contacts. Push calendar.
MobileMestores all your email, contacts, and calendars on a secure onlineserver — or "cloud" — and pushes them down to your iPhone, iPod touch,Mac, and PC. When you make a change on one device, the cloud updatesthe others. Push happens automatically, instantly, and continuously.You don't have to wait for it or remember to do anything — such asdocking your iPhone and syncing manually — to stay up to date.
Read about MobileMe on your
PC | Mac | iPhone or iPod touch


"It's a breakthrough web 2.0 app interface."

Demo

time!

Mail, contacts, calendar -- all this stuff looks exactly like Apple's native apps. This is pretty nice.



"Go to any browser, type me.com. Simple, easy to remember. Login... you get an incredibly rich email client. It feels like a desktop."

"What's really going to surprise people, we've built an incredible suite of web 2.0 apps using Ajax."

11:16AM PT - "Itworks with the native apps on my Mac or PC -- it works with Mail.app,iCal, Address Book... as well as Outlook. You'd expect that it wouldwork with those native apps."

Example of email -- gets pusheddown to all devices. Change a contact? Gets pushed up to MobileMe, downto all other device. "The best part of this, it works over the air.Everything is up to date."


"MobileMe stores your info up in the cloud so you can get to itanywhere using any of your devices -- Mac, PC, iPhone -- it will pushinformation up and down to keep everything up to date all the time."

Push email, contacts, and calendars... everything is up to date wherever you are.


Schiller just called ActiveSync ActiveStink -- the mockery! Guffawing.


"Good morning, I'm really excited to tell you about this brand newservice... so what's the idea? It's like having Exchange for the restof us."

Phil Schiller's up!

Demo

time.

"We're very very excited about this. It's called MobileMe."

"Now, we've got something entirely new."

"Imagineyou're a professor teaching a class on how to write iPhone apps! Youwant people to mail apps around... you can get certified and registerup to 100 iPhones, apps can be circulated and posted for up to 100iPhones. We think we've got a great story now." Applause.


Posted by Editorial Team Mon Jun 09, 2008 2:22 pm
WWDC 08: Developer Demos Roundup in Apple
11:02 a.m.: Forstall's back. He thanks all the developers whodemonstrated their applications. He mentions one feature request fromdevelopers: instant-messaging developers want to deliver notificationseven when the application isn't running. This is the background-runningissue that arrived after the March event. Forstall says backgroundprocesses are bad for a number of reasons, such as battery life andperformance. He uses the opportunity to ding Windows Mobile's taskmanager for handling background processes the way desktop Windows does,to widespread laughter and applause.
11:00 a.m.: Forstall promises that Digital LegendsEntertainment is the last

demo

for this morning. These guys built agame in two weeks, and Xavier Carrillo Costa shows off his game. Theirgame is called Krull, and it's another caveman adventure gamewhere you battle enemies, swing across rope bridges, and solveproblems. They expect to have the game ready by September.
10:57 a.m.: Mimvista has another medical application thatbuilds on their niche, medical imaging software. Mark Cain isrepresenting Mimvista, and he says developing one of their types ofapplications before the iPhone wasn't going to work. The idea is toconnect doctors with their workstations, so they can evaluate medicalimaging from the golf course. The application, like Modality's, canshow extremely detailed pictures of the human system, as well as movingimages. "The iPhone has created a new direction for our company."


MLB on the iPhone
(Credit: James Martin/CNET News.com)
10:53 a.m.: Modality is the next company that Apple isshowing off. These folks, represented by Dr. S Mark Williams, havedeveloped an application that helps medical students ditch their flashcards and use an iPhone to view anatomical images of the body that arevery detailed, down to the arteries and veins, and can quiz students onthe various parts of the heart, for example. Within weeks of the AppStore launching, they will have about a dozen applications availablefor various health-care needs.
10:50 a.m.: MLB.com is getting in on the action, so we canwatch the tortured season of the New York Mets on our iPhones. JeremySchoenherr shows off At-Bat, as we check out the Royals-Yankees game.You can see who's at bat, who's pitching, the count, and the score: Mussina'soff to a decent start this morning. You can get real-time videohighlights of the Yankees turning a double play. They aren't really"real-time" since the highlights arrive after the fact, but still.
10:48 a.m.: It's a parade of developers. An app called Bandwas made by a solo developer named Mark Terry, whereas all the otherapps so far have been corporate-developed. Band lets you create musicon the iPhone, with a touch-screen piano, and the

demo

guy cranks out apassable version of John Lennon's "Imagine." There are also drums and a12-bar blues creation app, which lays down a bass line while you playguitar over the track, and a bass guitar, which is used to play theslinky bass line from Pink Floyd's "Money." There's other stuff, buttime is limited. Terry says Band will appear on the App Store in a fewweeks' time.


Developer shows off music application on the iPhone.
(Credit: James Martin/CNET News.com)
10:45 a.m.: More applications! Brian Greenstone of Pangea Software comes up to show off two games they ported from Mac OS X to the iPhone, Enigmo, a 3D puzzle game, is very CPU intensive, says Greenstone, and it doesn't miss a beat in the

demo

. Cromag Rally,which is apparently a caveman racing game, is the other game shown off.Driving looks hard, but he is racing on snow, and people fromCalifornia don't know how to drive in the snow. Both games will cost$9.99.
10:41 a.m.: Our good friends at the Associated Press alsohave an application to show off. Benjamin Mosse of the AP is showingoff their application, which is essentially a reader-style applicationthat focuses on local news. This is another location-aware applicationthat sends you local news based on where you are. You can customize thefeeds for your favorite sports teams, and browse AP photos and video.Those stores can be shared via text or e-mail, and civilians can uploadtheir own stories and pictures to the AP from the iPhone, andcontinuing with the trend, it will be free.
10:39 a.m.: TypePad is next up, for the mobile bloggers inthe audience. Michael Sippey of TypePad shows off what they've puttogether, with a simple interface that lets you create a post, take aphoto, or add a photo. You can take photos with the iPhone's camera andadd them to a post, as well as add photos from your library on youriPhone. This will be yet another free application.


eBay application on iPhone.
(Credit: James Martin/CNET News.com)
10:36 a.m.: Looptis the third company to

demo

, and they're talking about alocation-based application. Again, no distinction is made whether thisis an application using GPS or the current location-based service onthe iPhone. Loopt blends your social networks with the Mapsapplication, so you can see where your friends are. You can also go totheir journal to see what they've been doing today, what picturesthey've added, and so on. This app will also be free.
10:33 a.m.: eBay is the next developer to show off anapplication, and Ken Sun of eBay comes onstage to show off Auctions onthe iPhone. The iPhone is already the primary mobile device used oneBay's Web site, he says. The app has a basic front door with optionsto track auctions you've bid on, see whether you've been outbid, and toplace new bids. You can also pick up the photos from the auctionlistings, and blow them up to full screen. eBay is making this appavailable for free.
10:30 a.m.: This

demo

is showing off the capabilities of theaccelerometer, where the iPhone can be tilted back and forth toaccelerate or brake. The tester gets a nice hand from the audience forhurling Baby Monkey through the goal. Super Monkey Ball will be available at the launch of the App Store for $9.99.
10:29 a.m.: Forstall is bringing third-party developersonstage to talk about their application, and Sega revisits the stage.They demoed a game called Super Monkey Ball in March, andthey've refined it. Ethan Einhorn of Sega comes up onstage to talkabout the app. The initial game had four stages developed in two weeks,now they've got 110 stages, with all four classic monkeys.


Showing tilt control on Sega games.
(Credit: James Martin/CNET News.com)
10:26 a.m.: The application finds your friends within acertain radius, but Forstall says nothing about whether the applicationwas designed for the current iPhone, which uses a Wi-Fi/cell tower typeof location-aware application, or the new iPhone, which is expected tohave GPS. Forstall reads off a few quotes from corporate developerpartners like Disney--once again--and Fox Interactive.
10:23 a.m.: His mock application is going to merge thecontacts databases and location-aware services. He's taking us throughthe actual development experience, dragging and dropping icons thatrepresent things like the iPhone's search bar around the developmentenvironment. Once the application is done, the developer can test itright on a Mac for bugs or to make different aesthetic choices, such aswhether to put things in the toolbar or within the regular fields.
Posted by Editorial Team Mon Jun 09, 2008 2:09 pm
WWDC 08 Live Coverage: iPhone SDK 2.0 in Apple
Ok, Scott, we love what you've done here, but we're yawning. Thenagain, the thousands of devs in the audience are probably stoked --those that haven't used the SDK anyway.



Demo

time! "I want toconcentrate on how we construct a UI..." making an app called NearbyFriends. Accesses the contacts database and Core Location to filter allcontacts with contacts within 10mi. Building the UI with InterfaceBuilder. Dragging and dropping interface elements.

Going over debungging and Xcode, instruments -- all the stuff from the March iPhone roadmap event.

10:20AM PT - "Wetop it all off with Cocoa Touch -- our UI object oriented framework,which makes building an app for our fullscreen touch interface anabsolute breeze. We have a great set of APIs. On top of this we have areally powerful set of tools."

"With the SDK in iPhone 2.0 we'reopening the same native APIs and tools we use internally... that meansyou as a dev can build apps for the iPhone the same way we do. Let'sstart by talking about the APIs. The APIs and frameworks on the iPhoneshare extensively with OS X... We use the same kernel in the iPhonethat forms the basis of OS X... almost all of them share the samesource code line-for-line as OS X." He's going over the bits of CoreServices: SQL lite, OpenGL ES, OpenAL


Steve's back on: "That gives you a sense of what we're doing in theenterprise, all this stuff built into iPhone 2.0. Next up is the SDK,to take us where we are there and to show us some really excitingstuff, I'd like to bring up Scott Forstall." Applause.

Still going... the Army sure does love the new iPhone software!

Going over some firms, testimonials style. Great if you care about the petabytes in the datacenters of Disney, we guess!

10:13AM PT -"We've had phenomenal participation from higher education. Again,gotten fantastic feedback. We made a video of these customers, I'd loveto show it to you..." Video time!

"We've had a beta going... 35%of the Fortune 500 has participated in that beta program. The top 5banks, top 5 securities firms, 6 or 7 top airlines, 8 of 10 top pharma,and 8 of 10 top entertainment companies."


"Exchange... as you know, we've done it... push email, calendars,contacts, auto-discovery, global address lookup, remote wipe, all thisstuff built in. In addition we've worked with Cisco to build in theirVPN services... all sorts of security demanded by the enterprise.Everything they told us they wanted, we built in."


"iPhone 2.0 software, there are three parts: enterprise support, SDK, and new end-user features. Let me start with enterprise."

10:10AM PT -"Let's talk about iPhone, the place to start is our new software -- theiPhone 2.0 platform, a giant step forward from where we've been... westarted a dev program in March, which is just 95 days ago. In those 95days we've had over 250k download the free SDK. We've had over 25kpeople apply to the pay developer program... unfortunately we couldn'ttake everybody, so we admitted 4k people to the program..."

"Tohelp me, I'm going to ask Scott Forstall and Phil Schiller to help mewith parts of this. Then... Bertrand Serlet will give you a sneak peakat the next version of OS X called Snow Leopard."


"Let's get started. As you know there are three parts to Apple --the first part is Mac, second part is our music business, iPod andiTunes, and the third part is the iPhone. I'm going to take thismorning to talk about the iPhone."


"I'm sorry for all those folks that couldn't be here... we're goingto have a great week this week. 147 sessions, 85 on the Mac, and 62 onthe iPhone... it's going to be packed! 169 hands-on labs, 1k Appleengineers, iFund and Intel sessions. I think it's going to be one ofthe best WWDCs ever."

10:07AM PT - "Thankyou very much. I'm really glad to be here this morning. We've beenworking hard on some great stuff... thank you for coming to WWDC 2008.We've got a record 5200 attendees -- we wish we could have had more,but we sold out!"


Roar, applause.

Music's over, and here we go... lights all the way down, Steve's on stage!

10:06AM PT - Lights are coming down! Crowd beginning to roar!

Announcer: "Turn off all cellphones, iPhones, PDAs... our program will start in a few minutes."

10:02AM PT - OK, weird, a bunch of attendees just stood up and started clapping -- we don't know why, since it wasn't Jobs (or so we think).


9:51AM PT - Peoplestill funneling in -- this auditorium seats thousands of people, so ittakes a little while. Say, is that Gavin Newsome? Oh, and there's AlGore.

9:46AM PT -We're in! The cattle rush of the media was pretty mellow this timearound. Shockingly enough, they're playing oldies -- not the usualsoundtrack of Gnarles Barkley, Coldplay, Gorillaz, etc.


9:37AM PT - Everybody is crowding up at the closed gates, preparing for the Running of the Media.

9:16AM PT - People are really filing in. You've never heard so many people say the word "iPhone" in your life.

8:43AM PT - We'rein line at the Moscone Center (which is actually pretty spare at themoment), but it's early. The media's got a ton of MacBook Airs. Staytuned for our live coverage of the event.



Already hundreds of devs and attendees are piling up downstairs to get in.


Posted by Editorial Team Mon Jun 09, 2008 1:26 pm
AMD launches external graphics card box in Hardware, Internet, Networking, Comms and Security
AMD used the Computex show in Taipei this week to propose XGP -eXternal Graphics Platform, a slimline box you connect your GPU-litelaptop to when you need more graphics horsepower.
Fujitsu Siemens (FSC) was on hand to

demo

the concept with its AmiloGraphicBooster, an AppleTV-like unit with an AMD ATI Radeon HD 3870 GPUbuilt in and hooked up to 512MB of GDDR 3 memory. The box can drivefour displays simultaneously, the company claimed.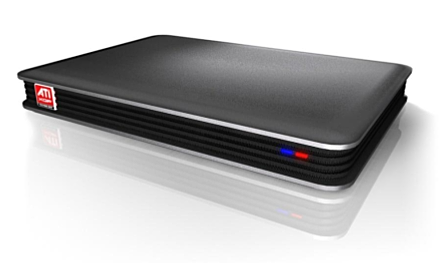 AMD's XGP reference box: it's a graphics card, don't you know

AMD's pitch is that users will be able to connect their slim'n'lightlaptops to an XGP, which will supply the level of graphical grunt thatthey don't need when they're on the move and, more importantly, runningon battery power.
XGPs are designed to be hot-pluggable, the driver knowing about andenabling the use of the discrete GPU as soon as it's connected to thehost.
With that multi-monitor support, XGP will undoubtedly also bepitched at businesses who want to give their laptop-equipped workersmulti-display desktops.
Of course, this is the same notion companies like DisplayLink arepeddling, but they're delivering multi-screen support over USB usingthe host system's GPU. AMD's approach - since it's in the business ofselling more graphics chips - is to add a second GPU to the system.
That said, Fujistu Siemens has its eye on the consumer market - weunderstand it's pitching the technology to Dixons and other bigretailers - as a way to allow ordinary punters to effectively upgradetheir older laptops' graphics capabilities. The technology doesn'trequire an external monitor - the XGP can render images on the hostlaptop's own screen.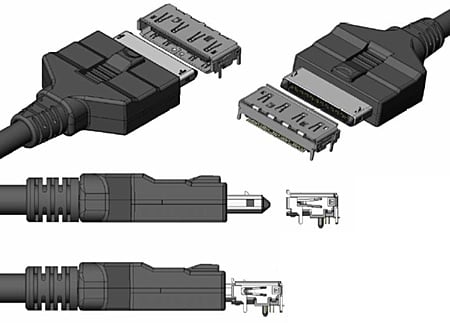 Yet another video connector for your laptop

And XGP has its own connector, which although based on PCI Express2.0 technology, does require the laptop to have a special XGP slot onthe side. AMD has two connectors, one for eight PCIe lanes, the otherfor 16. At this stage it's unclear whether you can connect, say, an XGPwith a 16-lane cable, using an adaptor, to a notebook with an 8-laneport.
Posted by Editorial Team Mon Jun 09, 2008 9:35 am