Search iVirtua
Advanced/Tag Search...
Search Users...
What is iVirtua Exclusive Community?
An exclusive gaming industry community targeted to, and designed for Professionals, Businesses and Students in the sectors and industries of Gaming, New Media and the Web, all closely related with it's Business and Industry.
A Rich content driven service including articles, contributed discussion, news, reviews, networking, downloads, and debate.
We strive to cater for cultural influencers, technology decision makers, early adopters and business leaders in the gaming industry.
A medium to share your or contribute your ideas, experiences, questions and point of view or network with other colleagues here at iVirtua Community.
Guest's Communication
Live Chat
Teamspeak (VOIP) Audio Conference
Private Messages
Check your Private Messages
Themes
Choose an iVirtua Community theme to reflect your interests...
Business Theme

India/Arabic Theme
Gaming Theme
iVirtua Recommends
Fly Emirates
Yahoo! for In-Game Ads in Business and Industry in Gaming, Media, Web, IT and Computing
Yahoo! hassigned up with in-game ad firm Double Fusion and Nolan Bushnell'sNeoEdge to help deliver free ad-supported, downloadable games.

Yahoo!Games' website will

feature

over 400 ad-supported downloadable gamesfrom "top casual games publishers" by the end of the year, the companysaid Thursday.

Double Fusion and NeoEdge will sell and integratevideo ads into Yahoo! Games titles. Double Fusion will implement itsfusion.runtime tech, while NeoEdge is offering its NeoARM ad-enablingsolution, along with the NeoAds ad network.

Game makers on board for today's launch include Big Fish Games, MumboJumbo, PopCap, TellTale Games, I-Play and several others.
Posted by Editorial Team Mon Jul 14, 2008 12:22 pm
Samsung SyncMaster 245T in Hardware, Internet, Networking, Comms and Security
There's an awful lot of panel sharing going on in the LCD market thesedays, isn't there? It seems that even some of the most no-name brandsare now sporting panels made by a few giant, well-known manufacturers.It's enough to make a consumer wonder whether paying extra for apremium branded monitor is really worth it.

With that in mind, what is there to think about Samsung's newlyincumbent 24-inch model, the 245T? One thing is for sure, if you want amonitor with a quality Samsung-manufactured PVA panel, you don't needto pay over £600 for a monitor with that Samsung badge on the front.There are plenty of other screens with Samsung PVA panels inside, andsome can be had for less than £350.

Hence, the key question is not whether the new 245T is a good monitor.Instead, the question is this: Can the 245T really be worth nearlytwice as much as the lesser branded but similarly specified opposition?

That's what we're here to find out...and we just happen to have a muchmore affordable 24-inch widescreen on hand, one powered by a SamsungPVA LCD panel. That'll be the Hyundai W241D-PVA.


Features and Build QualityThe 245T is hardly the last word inswishy, swanky styling. The aforementioned Hyundai (with its glossyblack and white plastics) roasts it for pure desktop presence, forinstance. But thanks to the high quality of its construction, itnevertheless has a certain understated class. The bezel is a slim 15mmall the way around which emphasises the display, although the entiremain panel is quite a weighty 80mm thick. Front to back, you'll need atleast 25cm of desk space to accommodate the large, sturdy base.


The no-nonsense OSD controls are an extremely welcome and user-friendlyfeature, as is the stand's comprehensive adjustability. Not only areswivel, tilt, rotate and height tweakage on the menu, but they are all incredibly smoothto operate yet easily hold any position set without the need for clipsor locks. Given the panels size and weight, it's not light enough tomove without some effort - but it certainly doesn't require brute forceeither.


In terms of inputs, most of the usual suspects make an appearance.Digital connectivity takes the form of a single DVI port and an HDMIsocket, both with HDCP support. However, there is no DisplayPortavailable. On the analogue side, it has the lot - VGA, S-Video,component and composite. In short, there's very little that you can'thook up to the 245T. It even sports picture-in-picture mode for smoothmulti-input juggling; however, that

feature

is limited to onlycomponent (AV), S-Video and composite, not the digital inputs or VGA.

A final disappointment is the presence of inverse ghosting. As we havementioned previously, inverse ghosting is a problem that's thought tobe a result of pixel-response-enhancing overdrive technology. In simpleterms, it involves a trail or shadow that appears in the wake of movingobjects in some situations, typically in more or less the oppositecolour to the moving object.

Most of the time, it's a minor issue with the 245T. But with certaincolour combinations, it results in some pretty horrific renderingartifacts. For instance the text on this page exhibits some particularly horrible black trails and smearing when jostling the window around.

It's absolutely not what you expect from a premium brandlike Samsung. What's more, if you had just invested over £600 on thismonitor, well, you'd have every right to feel extremely let down.


Final ThoughtsThere's a lot to like about the 245T includingits static image quality, viewing angles and contrast performance. Butat this price point, something close to perfection is to be excepted.At £600+ any major flaws are simply unacceptable and the fact that the245T actually has two – moderate input lag and occasionally seriousinverse ghosting – might seem pretty shocking.

However, these problems are related to the PVA panel technology thatdominates the high end 24-inch monitor scene at the moment. Moreprecisely, they appear when pixel overdrive techniques are used tospeed up the extremely slow response. In other words, they are hard toavoid on PVA monitors.

So, what we would really like to see is more choice in this part of themarket. Without question, IPS panel technology has some weaknessescompared with PVA as contrast performance and the depth of renderedblacks are typically a little off the pace. But PVA technology hasenough drawbacks that mean the extended choice would be very welcome.


In any case, the key points to note about the 245T go something likethis. Yes, it is that little bit more vibrant and accurate than cheaperPVA monitors from lesser brands; the colours boast better fidelity, theblacks are deeper and the whites a touch cleaner. But even Samsung hasnot been able to eradicate the overdrive related glitches that commonlyspoil 24-inch PVA monitors.

With all that in mind, it's pretty hard to recommend the 245T. If youcan live with the minor image quality issues, then you are better offwith a significantly lower priced but only slightly inferior model froma lesser brand. Even a TN+Film 24-incher with slightly sludgy coloursand washed out blacks makes more sense – it's certainly a much cheaper option and will do a much better job for games.

Until a monitor maker manages to solve the input lag and inverseghosting issues with PVA screens or plops in a quality 24-inch IPS TFTalternative, the perfect 24-inch panel will remain infuriatingly out ofreach.
Posted by Editorial Team Mon Jul 14, 2008 10:14 am
30 Most Anticipated Games of E3 in Gaming
30. Rise of the Argonauts (PS3, X360, PS3)
Publisher: Codemasters
Developer: Liquid Entertainment
Est. Release Date: Sep 2008
Officially Announced for E3: Yes


Anaction RPG that promises to be way more action than RPG, Rise of theArgonauts has a winning mythological premise and lots of little designtouches that keep the game looking fresh. Take the Argo—the ship oflegend will act as a seafaring headquarters from which your recruitedArgonauts will provide support. There is also a "deed" system that willincrease Jason's abilities via the acquisition of Xbox LiveAchievement-like trophies. So it's bursting with interesting ideas, andit's all running on the reliable Unreal Engine 3—this could be thesleeper hit of the year.


29. High School Musical 3: Senior Year Dance (PC, Wii, PS2, NDS, X360)
Publisher: Disney Interactive
Developer: TBA
Est. Release Date: Holiday 2008
Officially Announced for E3: Yes


Considerthis your representative sample of licensed games that promise to sellgangbusters regardless of quality or media reaction. And High SchoolMusical 3 is likely to be the biggest game of its breed this year: themovie of the same name is the first time this children's blockbusterfranchise will see a theatrical release, meaning the marketing for theproperty is likely to be even more inescapable than usual. Beyond theusual niceties of rhythm games—coop and competitive modes, mechanicsspecific to each system's control scheme—it will have the songs fromHigh School Musical movies past and present. That last one is almostcertainly the only

feature

the game needs to add another million insales to the franchise's life-to-date count.

28. Borderlands (PC, X360, PS3)
Publisher: 2K Games
Developer: Gearbox Software
Est. Release Date: 2009
Officially Announced for E3: Yes


Capabledeveloper Gearbox has never swung for the fences with quite as muchgusto as with Borderlands. The fact that the game is original IP isn'teven the half of it—it also promises a procedural item creation systemthat will provide this sci-fi first-person shooter over half a millionweapons. If that's not enough, Borderlands also shares some ambitionswith big-budget role playing games: the world will be expansive,character growth and classes comes standard, and missions and sidequests will populate the landscape. Borderlands has all the earmarks ofa breakout hit, and its scope should easily take the breath away fromboth shooter and science fiction fans.

27. Mortal Kombat vs. DC Universe (X360, PS3)
Publisher: Midway
Developer: Midway
Est. Release Date: Holiday 2008
Officially Announced for E3: Yes


Goingon the title alone, Mortal Kombat Vs DC Universe feels a decade late,like it should have been slugging it out with Marvel Vs Capcom for thequarters of 90s teenagers. But it's actually a better idea,commercially, in 2008—now the game can ride the tide of successfulcomic book film blockbusters. It can pull from the years of soliddesign work and franchise reputation rebuilding that culminated inMortal Kombat: Armageddon. And with an anticipated ESRB rating of T forTeen, there're no retail hurdles to keep the adolescent maledemographic from eating this up with a spoon.

26. S.T.A.L.K.E.R.: Clear Sky (PC)
Publisher: Deep Silver
Developer: GSC Game World
Est. Release Date: Aug 29, 2008
Officially Announced for E3: Yes


S.T.A.L.K.E.R.:Shadow of Chernobyl was hardly the biggest first-person shooter of 2007in the west. But it posted platinum-level sales in Eastern Europe,where its freeform gameplay and mythos steeped in Russia's uniquescience fiction struck a strong chord. With little similar competitionin the region, its sequel Clear Sky should do well for itself therealso. Which isn't to say the rest of the world shouldn't (or won't)give it a go as well—Clear Sky will add a tactical, squad-based turfwar to the already eccentric proceedings, and should be just as curiousand interesting a beast as its predecessor.

25. Star Wars: The Force Unleashed (PS3, X360, Wii, PS2, PSP, NDS)
Publisher: LucasArts
Developer: LucasArts
Est. Release Date: Sep 2008
Officially Announced for E3: No, but it might as well be


TheForce Unleashed could well be the biggest project to bear the Star Warsfranchise name since Episode III ended the franchise's non-animatedtheatrical run. Every Star Wars fan has been curious about the periodright before the Original Trilogy when Darth Vader had his run of thegalaxy; Force Unleashed promises to capture this period from theperspective of the Dark Side, using exciting new technologies torealistically render bot the AI and the Force itself. If the persistentrumors are true, this could well be the last project completely builtby LucasArts' internal studio—but in that case, it will be one heck ofa send-off that a lot of Star Wars fans will experience.


24. Beyond Good and Evil 2 (PS3, X360)
Publisher: Ubisoft
Developer: Ubisoft Montpellier (likely)
Est. Release Date: TBA
Officially Announced for E3: No


Allthat's known about Beyond Good and Evil 2 is that it's currently beingworked on by Ubisoft premier designer Michel Ancel. But in this case,that's more than enough—Ancel's resume does include perennial hitRayman and (naturally) the first Beyond Good and Evil, after all. Andthe first Beyond Good and Evil is particularly beloved. The smallaudience that played it has been talking about it ever since, praisingits varied gameplay and realistic, strong female protagonist Jade. Sothe sequel is exciting, and though its commercial success is by nomeans assured it's possible that maybe the adult gaming audience isfinally ready for this franchise.


23. Lock's Quest (NDS)
Publisher: THQ
Developer: 5th Cell
Est. Release Date: Fall 2008
Officially Announced for E3: Yes


2007'sbiggest surprise sales blockbuster was a little DS game called Drawn toLife, built by a little mobile developer called 5th Cell. That gamegave the independent studio a reputation for creating innovations withstrong market appeal, and it could cement that reputation with Lock'sQuest, a curious RTS/Action/RPG/minigame hybrid with cute graphics,quick thrills and a world that can be completely remodeled by theplayer. In other words, it has a lot of elements that appeal across awide variety of gaming demographics, as well as a lot of ambition. Ifthis one lives up to its potential, it would be great to see it succeed.


22. Puzzle Quest: Galactrix (PC, X360, NDS)
Publisher: D3 Publisher of America
Developer: Infinite Interactive
Est. Release Date: Fall 2008
Officially Announced for E3: Yes


Lastyear's Puzzle Quest combined the most addictive parts of the casual"match three" puzzle game with the most addictive parts of RPGcharacter development, a powerful cocktail that murdered productivityand sold in huge numbers. There's no reason this follow-up shouldn'tcontinue in that trend—it's still a match three puzzle game (this timemore Collapse than Bejeweled), it still has those all-important RPGelements, and it's being built by the same studio. The only differences(besides the science fiction setting) all look like improvements.There's an element of strategy gaming. Players can enhance not justtheir character, but also their spacecraft. Downloadable content willabound. It all sounds like a game that players will itch to play afterthe first hit.


21. Crysis: Warhead (PC)
Publisher: Electronic Arts
Developer: Crysis
Est. Release Date: Fall 2008
Officially Announced for E3: Yes


Allegedlythe last PC exclusive from the bastion of PC gaming high technology,Crytek's side story to 2007's Crysis looks every bit as graphicallydazzling as its predecessor. It also promises to be a moremarket-friendly title (a tall order considering Crysis' million-sellingstatus); Warhead provides a less strategic, more bombastic run-and-gunaffair compared to the original Crysis. And with a year of hardwareadvancements in between Crysis and Crysis: Warhead, that more widelyappealing design will find that a lot more people have the rigs toactually run it well. And who knows? If Warhead does manage to findthat perfect balance, perhaps Crytek will stick to their PC-exclusivestomping grounds for a while longer.

20. Tomb Raider Underworld (Wii, PS2, PS3, X360, PC, NDS)
Publisher: Eidos
Developer: Crystal Dynamics
Est. Release Date: Holiday 2008
Officially Announced for E3: Yes


It'sbeen a few years since Crystal Dynamics took the Tomb Raider franchiseand reinvigorated it with Legend. But it's really with Underworld thatthe series' previous mistakes have been taken to heart. Rather thanrest the game on its laurels again, Underworld is a creation that lookstoward with the new; the game engine is all new, the way the worldinteracts with Lara is more realistic, combat now has melee and willflow fluidly into the puzzle mechanics. And if that wasn't enough toguarantee sales, Lara has a motorcycle now too.


19. Sonic Unleashed (Wii, PS2, PS3, X360)
Publisher: SEGA
Developer: Sonic Team/Dimps
Est. Release Date: Holiday 2008
Officially Announced for E3: No


Thesedays it feels like SEGA promises the moon with every Sonic title, tothe point where it's hard to fall for it anymore. Take Sonic Unleashed;it's promise of a revamped, re-invented Sonic echoes the promises SEGAmade before this generation's first Sonic the Hedgehog hit the Xbox 360with a sad plop. And yet, franchise sales have never followed the samecurve as the blue blur's review scores. This is mostly because ofSonic's strong appeal to the child market, but on some level thegraying Genesis owner wants to believe what we're told, that this nextSonic really will reclaim the glory days. Anyway, Sonic Unleashed. It'srunning on a new engine and has some 2D environments. It'll sell, andas for the rest of it? Here's hoping.


18. MadWorld (Wii)
Publisher: SEGA
Developer: Platinum Games
Est. Release Date: 2009
Officially Announced for E3: No


PlatinumGames, formerly Seeds, formerly Clover Studios, isn't known for makingcommercial hits. No, that team is known more for making instant,beloved classics. Okami certainly, but Viewtiful Joe is in there aswell, and the only people who remember God Hand these days love it toabsolute death. MadWorld, a blood-soaked black and white Wii exclusive,feels like a return to the playful, experimentation that made this teamfamous. Will it sell? Well, it's nice to think that just maybe, thistime, the market has caught up to what Platinum is doing.


17. Animal Crossing Wii (Wii)
Publisher: Nintendo
Developer: Nintendo
Est. Release Date: TBA
Officially Announced for E3: No


Asof this writing, Animal Crossing Wii still exists as a hopeful glimmerin the eye of the gaming public. Nintendo hasn't said anything at allabout it yet, though almost all speculation says that it exists andwill be announced soon—and if that's the case, E3 is as good a place toshowcase it as any. It's a completely believable theory. Nintendo'sChristmas lineup is currently a complete mystery, and Animal Crossing,already a surprise hit on GameCube and DS, is such a good fit for thecasual Wii-loving audience it's startling it's not on the systemalready.


16. Left 4 Dead (PC, X360)
Publisher: Valve Software
Developer: Turtle Rock Studios
Est. Release Date: Holiday 2008
Officially Announced for E3: Yes


Valvedoesn't release duds, and it doesn't buy teams that can't deliver. Sothe fact that it purchased Turtle Rock Studios and have put a greatdeal of PR muscle behind Left 4 Dead speaks volumes as to how good thisgame could be. The game has a completely innovative, yet highly marketfriendly hook in its "four survivors must cooperate to survive thezombie horde" premise, though players of a less polite persuasion canalso take up the role of a super-powered zombie. This could very wellbe the next major online phenomenon, like Team Fortress 2 before it.


15. Resistance 2 (PS3)
Publisher: Sony Computer Entertainment
Developer: Insomniac Games
Est. Release Date: Holiday 2008
Officially Announced for E3: Yes


Thefirst Resistance was the big win for the PlayStation 3 at launch, butResistance 2 looks set to spin that good first impression into anempire. Resistance 2 pushes the game out of London to the morerelatable (in the US, anyway) environs of the United States. A goodmove, but not as good as the massive 60-man multiplayer that the gamepromises. That's fantastic scale for an online console game; add onsome more focused, objective-oriented teamplay and Resistance 2 is agood contender for gamer's next networked obsession.


14. Killzone 2 (PS3)
Publisher: Sony Computer Entertainment
Developer: Guerilla Games
Est. Release Date: 2009
Officially Announced for E3: Yes


Threeyears on and Killzone 2 is still trying to shake off its disastrous"showing" at E3 2005. Admittedly the team at Guerilla has done a finejob of actually approaching the target in that first badly marketed"target render," with more recent previews showing the game asappropriately attractive and bombastic for its high position in Sony'sportfolio. But it still needs a big floor to show off, and it needs aman to say "in-game graphics" about one thousand times in front of somehuge HD Killzone if it wants to really nail the market. E3 historicallyhas had some very big floors.


13. Fable 2 (X360)
Publisher: Microsoft
Developer: Lionhead Studios
Est. Release Date: Oct 2008
Officially Announced for E3: Yes


Alot on Fable 2 is already known, and most of it is interesting on avariety of levels. There's the in-game dog, a character ofunconditional love that will act as the player's anchor to the game'sworld. There's the Pub Games, a series of Xbox Live Arcade titles thatwill act as both encapsulated products and previews for the bigrelease. Then there's the gay marriage, pregnant adventuring, and allmanner of family matters to deal with in the game as well. It's a gamethat promises to push boundaries and break some of the medium's moreridiculous unnecessary taboos. Considering the success of the originalGable, it's likely many people will choose to experience this moveforward—surely a good thing.


12. Command and Conquer: Red Alert 3 (PC, X360)
Publisher: Electronic Arts
Developer: EA Los Angeles
Est. Release Date: Holiday 2008
Officially Announced for E3: Yes


RedAlert's Cold War gone hot is one of the most beloved scenarios is allof strategy gaming, and the franchise's long seven year absence makesthis game even more exciting and desirable. And by adding thepseudo-Japanese Empire of the Rising Sun faction the festivities geteven more campy and strange, complete with towering mecha, psychicschoolgirls and parachuting bears. So it's got a lot of hooks for boththe longtime fan and sugar-crazed newcomer alike.


11. Far Cry 2 (PC, X360, PS3)
Publisher: Ubisoft
Developer: Ubisoft Montreal
Est. Release Date: Holiday 2008
Officially Announced for E3: No


FarCry 2 has found a unique gaming setting in the jungles, savannahs andtowns of Africa, and it plans on giving the player a lot of thatsetting – 50 square kilometers, to be precise. Plenty of new gameplayelements will make themselves known as the player crosses that expanse:some wounds have to be treated with field medicine (ie. fishing abullet out with a knife) and brush fires can be started, only to bewhipped up realistically by wind. Far Cry 2 is an underutilized brandmoving to an underutilized setting while adding multiple newinnovations, making it an extremely strong contender in the hardcoreshooter market.
10. Prince of Persia (X360, PS3)
Publisher: Ubisoft
Developer: Ubisoft Montreal
Est. Release Date: Holiday 2008
Officially Announced for E3: No


Princeof Persia: The Sands of Time was one of the last generation's definingmoments, so it would have been easy for Ubisoft to just build astandard sequel on the successes of its previous trilogy. The fact thatthis is not the case, that the series is instead being rebooted with anincredible hand-painted aesthetic and open world, show a strongdedication to making the Prince one of the most lasting and importantfranchises in gaming (though the big budget movie helps on that scoreas well). While previous PoP titles did sell well, after theblockbuster success of Assassin's Creed, the timing is perfect for thePrince to really make it big.


9. Final Fantasy XIII (PS3)
Publisher: Square Enix
Developer: Square Enix
Est. Release Date: TBD
Officially Announced for E3: Yes


Sinceclosing the door on the last console genre, Square Enix has relied onhandheld games and Wii side stories alone. If the publisher's lastfiscal statement said anything, it was that's no way for a company tolive—so while Square Enix has some other interesting console games inthe pipe, it needs to bring its megaton franchise back into the publiceye. It's not surprising that Final Fantasy XIII will show up in someform at E3—and regardless of what form it takes or what the game lookslike now, it could certainly steal the show if it tried.


8. Street Fighter IV (PC, X360, PS3)
Publisher: Capcom
Developer: Capcom/Dimps
Est. Release Date: 2009
Officially Announced for E3: Yes


Atworst, this is a surprise come back of one of gaming's most iconicfranchises. At best, this could be the surprise come back of agenre—certainly if anything could revive a flagging fighting gamefield, a new numbered entry in its greatest series would be the thingto do it. Perhaps the best sign that this game knows what it will taketo succeed is its reverence to Street Fighter II—all of the charactersfrom that game will return, and the gameplay mirrors the measured paceof that early entry. Considering versions of SFII still sell in strongnumbers, it's easy to see how this strategy could succeed on the market.


7. Rock Band 2 (X360, PS3, PS2, Wii)
Publisher: MTV Games
Developer: Harmonix
Est. Release Date: Sep 2008 (X360 timed exclusive, with other versions to follow)
Officially Announced for E3: Yes


Nomatter what other companies say, the fast-paced game of catch-up thathas gripped the music genre says one thing louder: the four-piece RockBand is the standard for the field. And while little is known about itat this point, what is known proves that Harmonix hasn't lost the plotwith Rock Band 2. Sticking to its "platform" guns, the game will befully backwards compatible—with old DLC, with old instruments, theworks. And while user-created content is not a go this time, there arecertainly things about the game yet to be announced—you don't want tomiss this one at the show.


6. LittleBigPlanet (PS3)
Publisher: Sony Computer Entertainment
Developer: Media Molecule
Est. Release Date: Oct 2008
Officially Announced for E3: Yes


Despiteseemingly constant delays, LittleBigPlanet remains one of the mostunique products in Sony's first-party arsenal. The idea of a game thatlives and dies by the content created by its users has been triedbefore in first-person shooters, but LittleBigPlanet, with its lovelytextured graphics and universal, non-violent charm wants to be muchmore—the YouTube of games perhaps, or the Legos of the 21st century. Ofall the games that could bring PlayStation 3 to the mass market, thisremains the best hope.


5. Halo Wars (X360)
Publisher: Microsoft
Developer: Ensemble Studios/Bungie
Est. Release Date: Oct 2008
Officially Announced for E3: Yes


HaloWars is more than just the next title from Microsoft to have the Haloname. It's also more than the first Halo project not spearheaded byBungie. Halo Wars wants to be a revolution in real-time strategy, aconsole exclusive built from the ground up for a console controller—inother words, Halo Wars wants to do for real-time strategy what Halo didfor first-person shooters. If it succeeds, it could crack wide open thenascent console RTS market as gamers try it based on the franchisealone. It's been reported that the game will be playable by the mediaat E3, so the show should give a much better idea as to how itssucceeding.


4. Spore (PC, Mac)
Publisher: Electronic Arts
Developer: Maxis
Est. Release Date: Sep 7, 2008
Officially Announced for E3: Yes


It'scertainly something that even after the seemingly endless amount ofwords typed about Spore, even though it's appeared in publications asnon-game centric as The New Yorker, even though the wait for the gamehas been years long and interminable, almost everyone who knows aboutit is still excited at its promise. And after the success of therecently released Creature Creator, that excitement is still mounting.Will Wright's SimEverything could very well the next big thing, tossingaside silly ideas like "demographics" and just appealing to everyoneeverywhere. In other words, the next Sims.


3. Gears of War 2 (X360)
Publisher: Microsoft
Developer: Epic Games
Est. Release Date: Nov 2008
Officially Announced for E3: Yes


Gearsof War 2 is a lot of things. To the gamer, it is epic, the sequel tothe game that dominated man hours spent on Xbox Live for most of 2007.To developers, it's the new baseline, as every new Epic game has cometo represent the state of the art for the now industry standard UnrealEngine 3. In both regards Gears of War 2 looks great. A fewimprovements to the constantly evolving engine have already been shown,and most gamers agree that new mechanics like martyrdom and the "meatshield" look like fantastic fun. Gears of War is already one of thisgeneration's emblematic franchises, so it will be great to see how thesequel goes about cementing that status.


2. Resident Evil 5 (X360, PS3)
Publisher: Capcom
Developer: Capcom
Est. Release Date: 2009
Officially Announced for E3: Yes


RE5is not even close to a retail release, and yet it's already one of themost interesting topics in the industry. It brings with it the highlyrespected pedigree of Resident Evil 4, hands-down one of the best gamesof the last generation, and will probably sell strongly to the audiencethat loved, or even heard about, that game. Yet it's also mired incontroversy over some concerns regarding racism. So it's a projectthat's walking many tightropes of expectation, and there's potentialfor huge success or massive failure here. As a result this E3 could bethe most important public showing for RE5 until its release—it shouldbe fascinating.


1. Fallout 3 (PC, X360, PS3)
Publisher: Bethesda Softworks
Developer: Bethesda Softworks
Est. Release Date: Oct 2008
Officially Announced for E3: Yes


Fallout3 shows great evolutionary leaps every time it's displayed for publicviewing, with recent revelations—the childhood simulating charactercreator, the 500 endings—being particularly fascinating. Now that it'scoming precariously close to its announced release date, this E3 shouldrepresent the game's biggest showing yet. If there are any surprisesleft in the title to announce, expect them to get announced at somepoint during the week. But even if there aren't, Fallout 3 has alreadyproven itself to be a sprawling, ambitious project that anyone in thegaming audience would wait to spend more time with.
Posted by Editorial Team Tue Jul 08, 2008 7:55 am
European, Indian Markets to Get New PS2 in Business and Industry in Gaming, Media, Web, IT and Computing
Sony Computer Entertainment will be launching a redesigned PS2 inEuropean and Indian markets by late October, according to a new report.

Like the PS2 released in Japan in November 2007, the new model will

feature

an integrated power supply, according to the Economic Times.

Theupdated system will hit European and Indian markets before Diwali, anannual Indian and Nepalese festival this year taking place on October28, said SCE India manager Atindriya Bose.

As well asfeaturing an in-built AC adapter, the new model will be slimmer andsupposedly lighter due to the design overhaul. It will be priced at6,990 Indian Rupees ($162/€102), the same as the current model.


Quote:
"Wefeel PS2 has the potential to penetrate further into the Indian andRussian markets," said Bose. "Console gaming is in its nascent stage inIndia. These are untapped markets and are new to the gaming world,hence we have no plans to phase out PS2 anytime soon."


SCE India will also be launching the PlayStation Network for PS3 in India by the end of the current fiscal year.

Next-Gen has contacted SCEE for comment about a new European PS2.
Posted by Editorial Team Fri Jul 04, 2008 6:02 am
Spore Creature Creator tops US charts - have you got it? in Gaming
The NPD Group has released US PC software sales datafor the week ending June 21, with EA's Spore Creature Creator comingout on top.
Maxis reported that one millionSpore creatures were created and shared during the stand-aloneprogram's first week of availability. The full Spore game will bereleased in September.
Sales of Spore Creature Creator werestrong enough to place the game at number six on the All Categorieslist - the only game to appear alongside business, education andutility software.

The Top Ten best-selling PC games in the US for the week ending June 21 were:



1 Spore Creature Creator (EA)

2 The Sims 2 Double Deluxe (EA)

3 Age of Conan: Hyborian Adventures (Eidos)

4 World Of Warcraft: Burning Crusade Expansion Pack (Vivendi>

5 World Of Warcraft (Vivendi)

6 World Of Warcraft: Battle Chest (Vivendi)

7 The Sims 2 FreeTime Expansion Pack (EA)

8 The Sims 2 Kitchen & Bath Interior Design Stuff Expansion Pack (EA)

9 Call Of Duty 4: Modern Warfare (Activision)

10 Lego Indiana Jones: The Original Adventures (LucasArts)


The Spore Creature Creator was software that allowed players to create their own creatures with a standalone version of the Creature Editor from Spore; the software was one of the first aspects of the game to receive focused development, and had undergone ten rewrites since the start of development. It was rated E by the ESRB in early March 2008, indicating that the editor would be released separately well before the game's release as a utility program. Electronic Arts told MTV Asia that "EA Screen will provide visitors a chance to interact with EA's game producers hailing from the studios, and unveil the hugely anticipated SPORE Creature Creator demo version to gamers for the first time in Asia." Electronic Arts VP Mark Buechner stated on the Spore Facebook page that the editor would be released in June or July 2008, saying, "We are looking at releasing it two to three months before the launch of the full game."

The SimCity Box artwork showed a blurb stating that the creature editor would be included with it. IGN revealed that the Spore Creature Creator utility will be available in two different versions on June 18, 2008. There was a paid version (for $9.95) and a free demo that was downloadable from Spore.com and included for free, bundled with The SimCity Box. The free version of the editor only contained 25% of the available creature parts that were found within the full version.

The utility included a test environment for players to see their creatures go through animations and allow the player to import other user-created creatures through the Sporepedia at Spore.com. The utility included screen capture and video tools as well, including YouTube functionality.

The editor also gave the user the ability to create animated avatars,and output in RSS and embeddable HTML code to facilitate easy incorporation into such sites as MySpace and Facebook.

Shortly after its introduction, the Creature Creator was used to create creatures with oversized genitalia, either stand-alone or engaged in coitus (a phenomenon quickly dubbed 'sporn'). EA responded with e-mails sent to those who made pornographic machinima from its demo, and has flagged certain on-line accounts for "TOS violations". Furthermore, YouTube has pulled several such videos for violations of its own TOS.

By June 24, 2008, users had already created over one million creatures.

It has been noted by those using the Spore Creature Creator, that while the Social and Attack categories can reach a max score of 20 with enough parts on the creature, the Abilities category does not achieve a max in the Creature Creator. This has led to speculation from it being the brain levels to advanced sensory abilities to telekinesis.

Electronic Arts confirmed that Spore will be receiving post-release expansion packs. No other information is available as to what sort of content the packs will

feature

, but EA has hinted it will be similar to The Sims expansions.


In the news
Spore Creature Creator free in the UK Videogamer.com

A Wii spinoff of the game has been mentioned by Will Wright several times, such as in his October 26, 2007 interview with the Guardian.Buechner confirmed it, revealing that plans for a Wii version were underway, and that the game would be built from the ground up and would take advantage of the Wii Remote, stating, "We're not porting it over. You know, we're still so early in design and prototyping that I don't know where we're going to end up, so I don't want to lead you down one path. But suffice to say that it's being developed with the Wii controls and technology in mind."The Xbox 360 and PlayStation 3 versions of Spore are still under consideration.

Merchandising

There will be an iTunes-style "Spore Store" built into the game, allowing players to purchase external Spore licensed merchandise, such as t-shirts, posters, and future Spore expansion packs.There are also plans for the creation of a type of Spore collectible card game based on the Sporepedia cards of the creatures, buildings, vehicles, and planets that have been created by the players.There are also indications of plans for the creation of customized creature figurines; some of those who designed their own creatures at E3 2006 later received 3D printed models of the creatures they created. The Spore Store also allows people to put their creatures on such items as T-shirts, mugs and stickers.

The Spore team is working on a partnership with a comic creation software company to offer comic book versions of your own Spore story. Comic books with stylized pictures of various creatures, some whose creation has been shown in various presentations, can be seen on the walls of the Spore team's office.
Posted by Editorial Team Tue Jul 01, 2008 7:13 am
Revealed: Sony's future plans for PS3, PSP and TV in Business and Industry in Gaming, Media, Web, IT and Computing
"This is not your father's Sony", sums up what Howard Stringer has done at Sony since taking over the reins in 2005.
TheWales-born CEO was underlining the challenge that the company now facesin the digital age, as he led the Japanese giant's corporate strategybriefing in Tokyo today.
In the absence of any attention-grabbingnew hardware announcements, most headlines are likely to go to Sony'spledge to increase revenues in the PC, Blu-ray-related and componentsbusinesses.
Game plan
Stringer said thatSony would build these into "trillion-yen businesses" by FY2010,putting them alongside the core business units of TVs, digital imaging,gaming and mobile phones. One trillion yen is currently worth around£4.7 billion.
Although gaming is a traditional Sony strength, thedivision is mired in red ink after the costly development and launch ofthe PlayStation 3. Addressing that, the CEO promised to bring it toprofit by March next year.
Stringer also outlined plans to investclose to £9 billion in new technology in a concerted drive to becomethe world leader in LCD televisions within three years. Beyond that,the assembled execs wouldn't be drawn on precise numbers or revenuetargets.
Mobile content
Although he didn't address recent speculation about the possibility of a PSP phone or the stability of the Sony Ericsson joint venturethat produces mobile phones, Stringer did emphasise that such handsetswould continue to be sold and that "Sony music and pictures content[would be] embedded in all key Sony Ericsson product lines."
As expected, there was no discussion on life after Blu-ray– the so-called 'death of disk'. However, a hint of how quickly onlinedistribution will move centre-stage came in the news that SonyPictures' summer blockbuster, Hancock, will be made available exclusively to all internet-connect Bravia televisions in the US before its DVD release.
Movie download service
The movie theme resurfaced in a presentation from Kaz Hirai, the president of Sony Computer Entertainment, with the news that the long-anticipated film download service would finally reach the online PlayStation Network this year.
Hiraiconfirmed that US users would get first crack at PS3 movie downloads inlate summer, with Europe and Japan to follow by year's end. He addedthat full details would be announced at E3 in LA next month and thatboth standard- and high-definition titles would be available.

Virtual world
Warmingto the theme, Hirai added, "Please expect more from our evolvingPlayStation business." That evolution will also include themuch-delayed PlayStation Home virtual world, which Hirai demonstrated,along with new dynamic in-game advertisements that change according tothe context.
The littlest PlayStation also featured prominently,with the PSP being positioned as an interactive extension of the PS3console, as well as a tool for accessing the PlayStation Store for gamedownloads and, possibly,

feature

films at some undisclosed point.
Hirai's presentation concluded with something of a surprise in a new network service called Life With PlayStation.The rough demo showed a view of the Earth from space, which rotated toreveal location-related news items, reminiscent of similar services onNintendo's Wii.
Innovator and creator
Returningto the podium to sum up, Stringer emphasised his firm's creative skillsand took aim at a company many see as having inherited the Sony mantleas innovator supreme.
"We have products to get excited about [including] OLED TVs, Rolly, CyberShot smile detection and the new Bravias.
"Appleis a boutique company, but we're a large conglomerate. We recently cameout number one in a poll by Incite on innovative companies, just aheadof Apple. I rest my case."
Whether or not that's overstating thecase, Stringer's confidence in the once-troubled company is almosttangible, leaving little room for doubt that Sony is back and that itmeans business.
Posted by Editorial Team Mon Jun 30, 2008 6:41 am
Top 10 most vital people-powered technologies - FEATURE in General Discussion, including Off Topic, Current Affairs
Linux
Thedaddy of people power, this open source operating system owes prettymuch everything to the massive community of users and developers who'vebuilt it, broken it, put it back together again and added all sorts ofgoodies.
The penguin logo unites a truly incredible group oftalented people, from driver developers to desktop designers, advocatesto application builders.
Firefox
Even people who think that Linux is a character in the Peanutscartoon know about Firefox. What makes it special isn't the open sourcecommunity that created and maintain it, however; It's the efforts ofthe developer community whose extensions make Firefox the Swiss ArmyKnife of the internet.
Whether you want to block annoying ads,keep track of interesting sites or just stay up to date with footieresults from around the world, if you can imagine it, there's almostcertainly an extension that does it.
Half-Life 2
This month we've mostly been playing Minerva, Adam Foster's excellent mod for Half-Life 2 (http://developer.valvesoftware.com/wiki/MINERVA). Modders have been creating new stories since the days of Doom, and a quick look around Moddb (www.moddb.com) uncovers stacks of mods for your favourite PC games.
Smartdevelopers - such as Half-Life's Valve - know that mods make theirgames even more attractive, so the firms make modding as easy andaccessible as possible.
Xbox
Is your original Xbox gathering dust in the loft? Why not dust it down and turn it into a fully-fledged media centre?
While Microsoft blabs about the 360's multimedia features, the talented team at the Xbox Media Center project (www.xboxmediacenter.com)can turn an ageing original Xbox into a multimedia marvel (although ifyou don't fancy modding your console, steer clear - XBMC only works onhacked machines).
Job done, they're turning their attention to other platforms: a Linux version of the software is in development.
TiVo
Thecommunity that's sprung up around the TiVo digital video recorder(www.tivocommunity.com) is a thing of wonder, with users offering eachother advice, commenting on the company and fiddling with its products- often in ways that would give film and TV studios heart attacks.



While TiVo claims not to encourageor discourage the hacking community, it's pretty obvious that thehacking community makes the product even more attractive to tech-heads- and hackers' ideas often turn up in the official product, such aswhen the community found and fixed a date problem in older TiVo boxes.
iPhone
iPhonehackers aren't just trying to free the phone for use on any network.They've found ways to turn your existing tunes into ringtones withoutpaying for them all over again, created all kinds of add-onapplications and best of all, found a way to change the truly horriblefont on the Notes screen.
PlayStation Portable
Sonydoesn't like it - recent firmware updates mean that unless you've gotan older PSP, your options are limited - but thanks to Homebrew (www.psp-homebrew.eu)you can add all kinds of goodies to the device. There are loads,including customisers, emulators, chat programs and GPS software.
Overclocking
Changingchips' clock speeds and hoping they wouldn't set your house on fireused to be a shadowy pursuit that tech firms frowned upon. Thenhardware firms realised that overclockers had money as well as PCs toburn.
Now, motherboard makers often provide everything a speeddemon needs, either in the motherboard BIOS or on the driver CD, andgraphics card firms are keen too. For example, ATI actively encouragesoverclockers to ramp up their Radeons.
Windows Media Center
Microsoft'smedia system is pretty nifty, but it's niftier still when you tweak ituntil it squeaks. Microsoft knows this, which is why it happily linksto two independent community sites: the Media Center-specific GreenButton (thegreenbutton.com), and the general audio-visual AVS Forum(www.avsforum.com/avs-vb).
The software giant also has its own community site (www.microsoft.com/windowsxp/expertzone/communities/mediacenter.mspx), where media center experts share their top tips.
Web apps
Firms who make it easy to interact with their online apps have createda massive community of developers. Google Maps has been adapted toprovide maps of speed cameras (http://spod.cx/speedcameras.shtml) and to create flight simulators (http://www.isoma.net/games/goggles.html), while keen developers have created software for apps such as Google Mail and Flickr.
You'll also find useful and useless apps alike on social networks such as Facebook.
Posted by Editorial Team Mon Jun 30, 2008 6:31 am
Why the PC is the future (from VALVE) [FEATURE] in Gaming
When Valve summoned a handful of US and UK journalists to itsSeattle headquarters at the end of last month, it promised to talkabout the future of Steam, its digital distribution system. That itdid, revealing the ambitious Steam Cloud service for remote storage of game data, and boasting that it would soon be making more money selling games digitally, all the while remaining untroubled by piracy.
Valvemastermind Gabe Newell and his cohorts had an ulterior motive forbringing reporters together, however, and unusually for an ulteriormotive, it wasn't a wholly self-interested one. It was this: toevangelise the PC as the games platform of the future.
"Thisreally should be done by a company like Intel or Microsoft, somebodywho's a lot more central to the PC," says Newell, pointing out thatcompanies like Blizzard, PopCap and GameTap would have just as much tosay as Valve about how PC gaming is leading innovation in technology,business models, and community-building. But, notwithstandingMicrosoft's occasional promotionof Games For Windows - an initiative Newell refrains from attackingdirectly, but exudes disdain for - that support has not beenforthcoming.
Where console platforms have merciless andwell-funded PR armies poised to combat any criticism, negative storiesabout the PC - mostly publishers, or developers like Crtyek,complaining of rampant piracy and flat sales - run unimpeded. Salesdata that focuses solely on boxed copies sold at retail appear to backthem up. Valve has had enough. "There's a perception problem," saysNewell. "The stories that are getting written are not reflecting whatis really going on."




You want figures? There are 260 million online PC gamers, a marketthat dwarfs the install base of any console platform, online oroffline. Each year, 255 million new PCs are made; not all of them forgaming, it's true, but Newell argues that the enormous capitalinvestment and economies of scale involved in this huge market ensurethat PCs remain at the cutting edge of hardware development, andconsoles their "stepchildren", in connectivity and graphics technologyespecially. Meanwhile, Valve's business development guru, JasonHoltman, notes that without the pressure of cyclical hardware cycles,PC gaming projects - he points to Steam as an example - can groworganically, over long periods of time, and with no ceiling whatsoeverto their potential audiences.


More pertinent, perhaps, are thefigures directly relating to games revenue that the retail charts -admittedly a stale procession of Sims expansions and under-performingconsole ports - don't pick up. "If you look into the future, there's animportant transition that's about to happen, and it's going to happenon the PC first," says Newell.


At its heart, he explains, is a shift from viewing games as aphysical product, to viewing them as a service - something that is alsohappening in other entertainment media. Digital distribution is part ofthat; more fluid and varied forms of game development, with games thatchange and engage their communities of players over time, are another;as is, naturally, the persistence and subscription (or otherwise)revenues of MMO games. None of this is reflected in the sales chartsanalysts, executives - and gamers - obsess over.
Valve sees 200per cent growth in these alternative channels - not just Steam, butincluding the likes of cyber-cafes as well - versus less than 10 percent in bricks-and-mortar shop sales. Steam has a 15 million-strongplayer-base with 1.25 million peak concurrent users, and 191 per centannual growth; none too far off a console platform in itself. The PCcasual games market, driven by the likes of PopCap, has gone from nextto nothing to USD 1.5 billion dollar industry in under ten years, andhas doubled in size in just three. Perhaps most surprisingly, Valve hasfound that digital distribution doesn't cannibalise retail sales - infact, a free Day of Defeat weekend on Steam created more new retailsales than online ones.



And then there is the game that many claim has been the death of PCgaming, but that Valve sees as its greatest success story, and itsfuture. "Until recently, the fact that World of Warcraft was generating120 million dollars in gross revenue on a monthly basis was completelyoff the books," Newell says. "Essentially, [Blizzard is] creating a newIron Man every month, in terms of the gross revenue they're generatingas a studio. Any movie studio would be shouting about that from therooftops. But it was essentially invisible."
Newell thinks thatWOW is "arguably the most valuable entertainment franchise in any mediaright now", and also believes, rightly, that it could only ever havehappened on the PC. He also tips his hat to South Korea's Nexxon forits enormous success with free-to-play, microtransaction-driven gameslike Kart Rider and Maple Story, soon to be aped by EA's BattlefieldHeroes.


There is another reason for the gulf between theperception and the reality of the games market, Valve thinks, and it'sa geographical and linguistic one. The dominance of the Englishlanguage gives the US and UK games markets, where the PC is weakest,undue prominence. In several major Western markets - notably Germanyand the Nordic countries - the PC performs much better. What's more, inthe emerging markets of China, Korea and Russia, where gaming is seeingunprecedented, explosive growth, console install bases are negligible,and the PC is king. Valve thinks that there's a silent majority ofglobal gamers who are skipping the console era entirely, the way thesedeveloping nations already skipped dial-up internet.


Steam isavailable in 21 languages for this reason, and Valve reckons that itsspeedy localisation and lack of physical distribution is an effectivecounter to the piracy common in these markets. It's also allowing Valveto get games to players in regions traditional channels don't support."PC's are everywhere in the world," says Holtman simply. "PC's are thesame all over the world. All of sudden, if you can open up emergingmarkets and go somewhere like Russia or South East Asia, you've goneway further than you can go with a closed console. There are 17 millionPC gaming customers in Russia alone."

A key shift in this brave new world of games as services rather thanproducts - and one that runs contrary to the traditional image of PCgaming - is a move away from graphical fidelity being the yardstick ofprogress. "As a company that's really proud of the job we do withgraphics it's funny to say this," Newell says, "but we get a betterreturn right now by focusing on those features and technologies thatare about community, about connecting people together."
He citeseasy uploading of gameplay videos to YouTube as a bigger source ofentertainment value than marginal improvements in graphics. "I thinkthat people thinking about how to generate web hits on their serversare a lot closer to the right mentality for what's going to besuccessful in entertainment going forward, than somebody that's used tohaving conversations about how to get end caps at Best Buy."
Therevolution in distribution and business models also offers a major newopportunity for smaller games - and smaller games developers - tothrive. The demands of retail - the logistical problems of gettingboxes to shops, and the budgetary drain of huge marketing campaigns -mean that bigger is necessarily better in the traditional games market.
Notso on Steam and its equivalents, says Valve, pointing to the hugesuccess of indie darling Audiosurf, as well as its own Portal. "As youmove away from that huge first weekend, big blockbuster mentality,"says Newell, "you're getting back to an area where smaller and smallergroups can connect with customers. I think you're going to find thatthe enjoyment of being in the game industry as a developer on the PC isa lot greater than outside of it."

He's backed up by an actual indie, Audiosurf creator Dylan Fitterer.This one-man development, created without financial backing -impossible on consoles, due to the cost of development kits - was thebest-selling game on Steam full-stop at its release, outclassing manybig-budget titles. "I didn't have to ask anybody if I could release it,except for my wife," Fitterer says. "It took a few years, and I waspretty darn tired by the time it was ready. Something likecertifications? No thanks." He also points out the tight limitations ofconsole servers versus PC servers for online gaming; Audiosurf'sscoreboard for every song ever recorded would be out of the question ona closed platform.
Holtman argues that Steam and Steamworks - thesuite of free tools it offers - revolutionise the environment fordevelopers and publishers. The auto-updating system means that a gamecan be developed right up to release and beyond. It eases painfulcrunch times, and allows game makers to respond to their audiences,publishers to develop their titles as continuously evolving franchisesrather than finite products.
"All of a sudden, PC games becomethis thing that's reliable and up-to-date," says Holtman. Team Fortress2 designer Robin Walker weighs in, noting that the PC version of theshooter has had no less than 53 updates since its release last year -something that certification cost and time have prohibited for onconsole - and that this "ship continuously" ethos is a key component tothe success of the best multiplayer titles. Steam, he says, makes thatprocess fast and transparent.
"I don't want anyone between me andmy customers," says Walker. "I want to write code today and I want allmy customers running it tomorrow." Possible on the PC - Steam inparticular, naturally. Not possible on consoles. For his part, Fittereradded achievements to Audiosurf in a total of two days. This constantiteration creates a feedback loop between developer and customer that,reckons Walker, can only improve the quality of the game. "The more Italk to my customers, the better my decisions will be. Without a systemof talking to my customers, I will make bad decisions."

The implication is a striking one: sporadic, excessively controlledupdating means that console multiplayer games will never reach theheights of their PC counterparts. There is a counter-argument - that PCgames descend into a poorly-defined, indistinct mess of constantpatching - but it is effectively squashed by the fact that, if you lookfor a multiplayer game with the longevity and massive popularity of aWOW or a Counter-Strike on console, you won't find one (with the veryarguable exception of Halo).
Auto-updating is the reason Valvecreated Steam in the first place. It's the reason it now finds itselfin an odd position for a developer: semi-publisher, leadingdistributor, market analyst, agony uncle and technocrat - not tomention defender of a platform that's still being proclaimed dead, whenall signs point to the very opposite.
At the end of the day, PCgaming's health - and its trickiest challenge - comes down to a bottomline that even the format's detractors can't refute: there are just somany of the damn things. "We think the number of connected PC gamers weare selling our products to dwarf the current generation of consolesput together," states Newell. "There are tremendous opportunities infiguring out how to reach out to those customers.
Posted by Editorial Team Mon Jun 30, 2008 6:22 am
Official: Windows 7 date is confirmed (Windows Vienna) in Microsoft / Windows
Bill Gates may have only just saidhis goodbyes, but the Microsoft machine keeps on running with thecompany announcing information about the release of Windows 7.
Thepaint may not have even dried on the Windows that is Vista, but itseems that Microsoft is already looking to launch its successor withinthe next two years.
In a letter to enterprise and businesscustomers on Tuesday, vice president of Microsoft Bill Veghte announcedthat the approximate launch date for Windows 7 is January 2010.
Seventh heaven
Inthe letter, Veghte wrote: "Our plan is to deliver Windows 7approximately three years after the January 2007 general availabilitylaunch date of Windows Vista.
"You've also let us know you don'twant to face the kinds of incompatibility challenges with the nextversion of Windows you might have experienced early with Windows Vista.
"Our goal is to ensure that the migration process from Windows Vista to Windows 7 is straightforward."
Well,if Intel is anything to go by, it won't be the migration from Vista toWindows 7 that will be the problem, it will be the migration from XP toWindows 7 that most computer users will be worried about.

Milestone 1
The first known build of Windows 7 was identified as a "Milestone 1(M1) code drop" according to TG Daily with a version number of6.1.6519.1. It was sent to key Microsoft partners by January 2008 in both x86 and x86-64 versions. Though not yet commented on by Microsoft, reviews and screenshots have been published by various sources.The M1 code drop installation comes as either a standalone install or one which requires Windows Vista with Service Pack 1, and creates a dual-boot system.
On April 20, 2008,screenshots and videos of a second build of M1 were leaked with aversion number of 6.1.6574.1. This build included changes to WindowsExplorer as well as a new Windows Health Center.
A standalone copy of build 6519 was leaked initially to private FTPsby BETAArchive on June 10, 2008, which quickly spread to many torrenttrackers.


Later builds
According to TG Daily article of January 16, 2008, the Milestone 2(M2) code drop was at that time scheduled for April or May of 2008. User interface appearance changes are expected to appear in later builds of Windows 7.
Milestone 3 (M3) is listed as coming in the third quarter, with the release to manufacturing in the second half of 2009. The release dates of a beta version and a release candidate are "to be determined".
Bill Gates commented in a press conference in April 2008 that a new version [of Windows] would come "in the next year or so".According to additional clarification by Microsoft, he was onlyreferring to availability of alpha or beta versions of Windows 7.


Unveiling
The Windows 7 user interface was demonstrated for the first time at the D6 conference during which Steve Ballmer acknowledged a projected release date of late 2009.The build of Windows 7 that was on display had a different taskbar thanfound in Windows Vista, with, among other features, sections dividedinto different colors. The host declined to comment on it, stating "I'mnot supposed to talk about it now today".
Features
Windows 7 has reached the Milestone 1 (M1) stage and has been made available to key partners.According to reports sent to TG Daily, the build adds support forsystems using multiple heterogeneous graphics cards and a new versionof Windows Media Center New features in Milestone 1 also reportedly include Gadgets being integrated into Windows Explorer, a Gadget for Windows Media Center, the ability to visually pin and unpin items from the Start Menu and Recycle Bin, improved media features, a new XPS Viewer, and the Calculator accessory is multi-line featuring Programmer and Statistics modes along with unit conversion.
Reports indicate that a feedback tool included in Milestone 1 lists some coming features: the ability to store Internet Explorer settings on a Windows Live account, updated versions of Paint and WordPad, and a 10 minute install process. In addition, improved network connection tools might be included.
A new

feature

in build 6574, Windows Health Center, allows the user to monitor all of their PC's health problems, and concerns in one place. It allows turning User Account Control on and off, and monitoring 3rd party anti-virus programs, firewalls, etc.
In the demonstration of Windows 7 at D6, the operating systemfeatured multi-touch, including a virtual piano program, a directionsprogram and a more advanced paint program.
Windows Server 7
Posted by Editorial Team Sun Jun 29, 2008 6:43 am
Need For Speed Undercover 2009: Based on 'The Transporter' in Gaming
The next Need for Speed game from EA will be titled Need for Speed Undercover, EA boss man John Riccitello has confirmed.

Little-to-nogameplay details were revealed when we contact EA, but Riccitello didreveal during a recent speech that the game would

feature

a "verystrong mission structure", and an embedded storyline, according tovarious reports.


The Transporter, film (directed by DOA: Dead or Alivevisionary Corey Yuen) focused on an ex-Special Forces op played byactor Jason Statham. As a "transporter" for hire, Statham's characterwould accept cash to transport "goods," no questions asked. The resultwas a lot of fast action and s**t exploding, which would be a newdirection for EA's Need for Speed series.
No word on whatplatforms the game will land on, but you can pretty much guarantee thatif you own it, EA's making the game for it. Need for Speed: Undercover is said to be available in 2009.

Riccitello also admitted that the previous game, Pro Street, wasn't quite up to scratch (as this review will tell you),but to make sure that doesn't happen again, he went on to reveal thatthe series has been shifted over to a two-year development cycle, whichhas two separate teams working to release games biannually.
Just as Pro Street tried to take theseries in a new direction, Undercover is expected to try new thingswith the franchise too, but our EA contact declined to reveal anyfurther info, other than that more details will be revealed soon.Obviously.

No platforms were specified, so we'll assume it'll be on everything. Absolutely everything.



IGN Story



Electronic Arts CEO John Riccitiello has stated Undercover has a considerably longer development cycle than its predecessors since the Need for Speeddevelopment team now is split up into two teams, both of which willwork on a 24 month development cycle with future titles, alternatingreleases between them. When this change was implemented in mid-summer 2007, one team started working on Undercover (giving it only a 16.5 month development cycle), while the other team finished ProStreet (the previous release) and then started working on the next title in the series (coming out in 2009),which will have a full 24 months. He also confessed to "torturing" thedevelopment team in the past, discouraging innovation and admitted thatProStreet "isn't good" and he is confident Undercover will be much better.
Riccitiello also stated Undercover is taking inspiration from action films such as The Transporter, with a large embedded narrative.

Official NFS franchise website
Posted by Editorial Team Thu Jun 19, 2008 6:00 pm
Nokia N78 in Entertainment, Film and Music, Mobile devices and media
Nokia's latest N-series "multmedia computer" bundles a 3.2-megapixelcamera, music player, satnav and maps into a sleek go-anywhere,do-it-all device. Wherever you happen to find yourself, you'll be gladyou brought it.
The N78 is certainly a classy looking handset, and the smart touchgoes much deeper than its looks. Its sleek, gloss-black front may atfirst glance resemble the touch-sensitive minimalism of LG's oft-copiedChocolate series, but in use, all is not as it seems.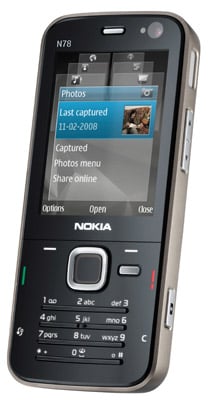 Nokia's N78: packs in

feature

after

feature



To press the illuminated buttons you actually press the plasticcasing inwards. The cover bends to accommodate your thumb rather thanreacting purely to your touch. It might seem like a low-techalternative, but in practice it seemed more reliable than thetouch-sensitive option, which in our experience can be a bittemperamental.
Nokia's solution is a good combination of style and practicality.The numeric keypad is actually four raised plastic strips, with thenumbers backlit just above them. It looks lovely, but takes a bit ofgetting used to, and it has to be said that this keypad is far from thebest for rapid or prolonged texting.
The face of the phone oozes minimalist class, but strangely, theback feels like its made from low-grade material and creaks in yourhand, which detracts from the cool image. There's another surprisehidden in the square navpad. Rubbing your thumb around the edgeactivates what Nokia calls the "navi-wheel", which moves the cursoraround the screen without the need to press the pad.
You can also do the iTrip thing with the built-in FM transmitter andbeam your music to your car radio. Incidentally, the Navi-wheel reallycomes into its own as you scroll through your music playlists, behavinglike a tiny version of Apple's scroll wheel. Hmmm, are we sensing apattern here?
Of the few problems we encountered with this phone, there were theusual Symbian issues of running slowly when you've got severalapplications open at once, but it was nippy enough when we stuck todoing one or two things at a time and it was easy to switch offbackground applications using the aforementioned Applications button.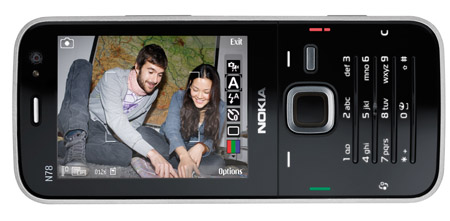 70MB of memory on board - plus a Micro SD slot for more

If the 3.6Mb/s HSDPA connection isn't fast enough, you can alsoconnect over Wi-Fi. The usual N-series web browser is here in fulleffect, with options for viewing in landscape or portrait mode, pluszoom and the ability to flick through previously viewed pages. There'salso a PDF viewer and QuickOffice for viewing Microsoft Officedocuments, though if you want to create them you'll have to pay for thefull Office suite.
And as a Symbian phone there are of course plenty more third-party apps available.
Battery life was pretty good, and we got a good three days ofmoderate use out of it, though heavy browsing will of course reducethis quite dramatically.
VerdictFrom its sleek, minimalist good looks to its raft of impressivelywell-integrated features, the N78 is a gorgeous little number. The3.2-megapixel camera,

feature

-packed music player, A-GPS and maps,quality web browser plus documents readers and email make it an idealtravelling companion for business or pleasure.
Posted by Editorial Team Thu Jun 19, 2008 4:03 pm
Acrobat 9: Flash video, audio and powerpoint in PDF's in Software
Doesn't anyone see a problem in this? First of all, I'm almost positive PPT can have videos. Flash? Maybe not, but its not difficult to convert it to mpeg. But also Adobe ruined their own product. PDF stands for Portable Document Format. Ever since Acrobat 6, the program had nearly no additional (or useful) features but seemed to have exponentially grown about 10+MB for every version. Thats like saying you have a 200kg backpack but it just happens to have wheels. Its very heavy but its just BARELY portable enough to bring from place to place. Adding this Flash and PPT

feature

is so unnecessary - typically a PPT is good enough for whatever presentation you want. Slideshows are interactive, sometimes flashy, and easy to focus on. Oh, and typicaly why videos are made for presentations now is because often a slideshow is comparatively obsolete. So you're mixing a document with a slideshow with a video. Whose idea was this? I'm sure glad Acrobat is free.
Posted by schmidtbag Wed Jun 18, 2008 1:04 pm
Games review: Lego Indiana Jones in Gaming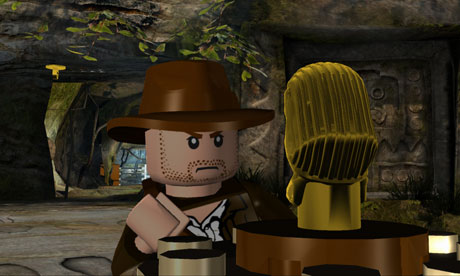 Havingcharmed with their Lego interpretations of Star Wars, LucasArts turntheir attention, and the plastic bricks, to another great fantasyfranchise: the whip-cracking, fedora-wearer himself. Lego Indy isinstantly playable, genuinely funny - with some delightfultongue-in-cheek references to Star Wars among the cut scenes - andbeautifully observed, from character foibles (snake phobias, bad backs,girly screams, etc) to authentic sound effects. Better than that, thegame itself is nigh perfect. It's challenging, but with a well-judgedlearning curve. And, with its hidden layers, bonus features and extrachallenges, it requires hours of revisiting in "Free Play" mode. You'lljust about have completed it in time for - oh, happy day - Lego Batmanlater this year.

Lego Indiana Jones: The Original Adventures is a 2008 video game developed by Traveller's Tales and published by LucasArts.[6] The game allows players to recreate moments (albeit more humorously) from the first three Indiana Jones films. It features the same drop in/out co-operative play mode as seen in the Lego Star Wars video games, although it is restricted to local console play. The game was released on June 3, 2008 in the United States and Canada, and June 6, 2008 in Europe. A downloadable demo for Windows was made available on May 13, 2008.



Like Lego Star Wars: The Complete Saga, new moves include clinging onto branches during a jump using Indy's whip.[7] As a promotion, Lego Star Wars: The Complete Saga features Indy as an unlockable playable character.

The game follows the storylines from the original Indiana Jones films: Raiders of the Lost Ark, Indiana Jones and the Temple of Doom, and Indiana Jones and the Last Crusade. The objective of the levels is to get to the end, collecting Lego studs to earn the True Adventurer title along the way.

LucasArts has placed hidden treasure chests throughout the game to take the place of the minikits from Lego Star Wars. There are 10 chests in each level and if you collect them all, a bonus artifact will be in the artifact room at Barnett College. Some levels contain buried bonuses to help find the missing treasure chest. There are also red parcels that take the place of red bricks to unlock bonuses. Once you collect the parcel you must carry it to a red post slot to truly unlock it. There is a mail room for all the parcels the player has collected, with a special prize for players who have collected all parcels.

Each character featured in the game has his/her own unique ability. Satipo is able to dig things from the ground, female characters like Marion Ravenwood and Elsa Schneider are able to high jump unlike male characters. Willie Scott is also able to break glass with her screaming, and Thuggee characters can activate statues and find secret passages. Certain characters like Henry Jones, Sr., Rene Belloq, and Walter Donovan can solve hieroglyph puzzles to either progress through Story mode or find secret areas in Free Play. Lego Indiana Jones allows players to customize characters and make their own creation like Belloq Jones or Colonel Toht. [10]

Barnett College serves as the hub for all the missions. A new

feature

not seen in the Lego Star Wars series allows the player to interact with objects in their environment (e.g. bottles, swords and guns). Players can also build and ride vehicles (e.g. In the level "The Hunt for Sir Richard", players are able to hop on a boat in Venice, and ride an elephant in the "Pankot Secrets" level from The Temple of Doom).

Notable scenes have been recreated from the movies, such as the iconic boulder escape and the fight on the rope bridge, as well as Walter Donovan choosing the wrong Holy Grail.

According to the Lego Indiana Jones strategy guide, Han Solo is a special unlockable character for free play, and can be unlocked by finding the following Star Wars characters in various levels: Luke Skywalker, Princess Leia, Chewbacca, R2-D2, and C-3PO. Finding these five minifigures unlocks Han Solo as a playable character. Also, Santa Claus and Dancing Girl 2 are playable characters for the Free Play mode if the "Secret Characters" extra is purchased. Santa is only playable in the "Into The Mountains" level, and Dancing Girl 2 is only playable in the "Shanghai Showdown" level.


Posted by Editorial Team Fri Jun 13, 2008 6:05 pm
Halo Wars co-op, multiplayer details revealed in Gaming
Halo Wars will

feature

a two onlinecampaign co-operative mode and support up to six players on Xbox Livefor versus multiplayer, according to US mag GamePro.


Aside from the now-standard options ofco-op and multiplayer, we're also promised a shorter learning curvethan traditional real-time strategy games. Don't make it too easythough or they'll be trouble on the forums, we can already sense it.

Maybe Ensemble has stripped out some of the more time-consumingresource-management parts of RTS games? For more information on HaloWars, go read our most recent preview of the game, which alleviates some fears about transporting Halo into a RTS and putting a RTS on console.
Posted by Editorial Team Fri Jun 13, 2008 5:49 pm
Games Up? panel announced for GameHorizon in Business and Industry in Gaming, Media, Web, IT and Computing
GameHorizon has announced a Games Up? panel session at the upcomingconference on June 18 - 19, at the Baltic Flower Mill, Newcastle.
The panel will

feature

prominent members of Games Up? - a crossindustry campaign to lobby the government for tax breaks. During thesession the panel will debate what the effect of government supportwould be on the UK games industry.
"Government support, or lack thereof, has been a sore point formany within the games industry for some considerable time now. We'vebeen able to pull together an extremely strong panel for the session,"said Carri Cunliffe, director of the GameHorizon Conference.

"With strong opinions and arguments on both sides ofthe issue, the debate should be a fierce one, and will give delegatesthe chance to put their views forward to the 'Games Up?' campaign."
Rick Gibson, Director and Founder of Games Investor Consultancy, willintroduce the session by taking a look at the global situationregarding tax breaks, after which the panel debate will follow, chairedby Ian Livingstone, the creative director of Eidos.
Alongside Gibson and Livingstone will be Angie Moxham thefounder of 3 Monkeys Communications, Chris Roycroft-Davis the formerExecutive Editor at The Sun and Gareth Edmondson, Studio Manager atUbisoft Reflections.
Posted by Editorial Team Fri Jun 13, 2008 4:44 pm