Search iVirtua
Advanced/Tag Search...
Search Users...
What is iVirtua Exclusive Community?
An exclusive gaming industry community targeted to, and designed for Professionals, Businesses and Students in the sectors and industries of Gaming, New Media and the Web, all closely related with it's Business and Industry.
A Rich content driven service including articles, contributed discussion, news, reviews, networking, downloads, and debate.
We strive to cater for cultural influencers, technology decision makers, early adopters and business leaders in the gaming industry.
A medium to share your or contribute your ideas, experiences, questions and point of view or network with other colleagues here at iVirtua Community.
Guest's Communication
Live Chat
Teamspeak (VOIP) Audio Conference
Private Messages
Check your Private Messages
Themes
Choose an iVirtua Community theme to reflect your interests...
Business Theme

India/Arabic Theme
Gaming Theme
iVirtua Recommends
Fly Emirates
Samsung confirms Spinpoint drives in Hardware, Internet, Networking, Comms and Security
Samsung has finally confirmed the rumours that it is putting their laptop HDDs Spinpoint M6 and M2 into mass production.
TheM2 – which Samsung call 'one of the world's fastest laptop hard drives'– is a 250GB 2.5in hard drive which operates at a 7200rpm rotationspeed, the MP2 which would appear to be well-suited to desktopreplacement laptops and gaming laptops.
The Spinpoint M6, a500GB drive, is built for the expanding data storage needs of modernlaptops and features a 5400rpm spindle speed, a 8MB cache, and 3.0GbpsSATA interface.
Stick it in your notebook
"TheSpinpoint M6 is ideal for notebook power users who require vast amountsof storage space for their data, video and music

files

," said HubbertSmith, Director of Storage, Samsung Semiconductor.
"The MP2 hasspeed, features and capacity similar to a 3.5in hard drive and isperfect for users who require a smaller form factor with advanced datastorage needs."
F1 racing
Meanwhile,Samsung has confirmed that its new Spinpoint F1 RAID Class SATA 1TBcapacity HD has gone into mass production and will be available soon.
Featuringa 334GB per-platter capacity, a 7200RPM spindle speed and a 32MB cache– Samsung has also included its rotational vibration controller and anoptimised system-on-chip (SOC) that lowers power consumption.
Posted by Editorial Team Mon Jun 23, 2008 5:44 pm
WWDC 08: me.com mail, contacts, calendar like native apps in Apple
Apple hasunveiled MobileMe, which is a push method of controlling calendars,emails and contacts by sending the information from a remotely storedbase.
The service replaces the .Mac service which hasn't really set the world alight so far.
The programme works with Mac, PC and iPhone, and works with Mail, iCal and Address book on the Mac, or Outlook on Windows.
Applehas also built a suite of web 2.0 applications for the MobileMe serviceusing Ajax, which provides a desktop-like experience on the web tointeract with the data, and can be accessed at me.com.
Send photos from the beach
Photoscan even be synched over the air, either from the iPhone or a Mac orPC, which means Apple is working to drop hard into the Web 2.0 spaceGoogle and Yahoo have been beavering away at over the last two years.
MobileMealso has over the air interaction; i.e. email is sent to the device, itinteracts with Google Maps, finds a restaurant mentioned in the email,and stores it as a contact for use on your computer.
Unveiled atWWDC, it was termed as a perfect application for the iPhone or iPodtouch for $99 per year with 20GB storage, but it comes with a free 60day trial.

MobileMe
Difference between .Mac and MobileMe
While mostly replacing .Mac (which was primarily centered aroundInternet services for Apple's desktop and notebook computers), MobileMeprovides Internet services for both Mac OS X and the iPhone OS as well as the iPod touch device and Microsoft Windowsusers. This means that now you are not restricted to a Mac runningsoftware like Mail and iCal, but can access your personal data from anycomputer connected to the internet.

Features
Storage
20GB of online storage featuring 200GB of monthly transfer. Thefamily pack includes this for the main user as well as 5GB of storageand 50GB of transfer for each sub user (up to four additional users)

Mail
Free Push Mail. Includes a @me.com email address. When a message is received it is sent directly to all the user's devices.

Address Book
Address Book (Push). When a contacted is added or amended it is updated immediately on all the user's devices.

Calendar
Calendar (Push). When a calendar appointment is added or amended it is updated immediately on all the user's devices.

Gallery
Public photo gallery. Photos can be uploaded in the web browser or synced by iPhoto on a mac

iDisk
iDisk, which is accessible via a web browser, the Finder on a Mac, or as a remote disk in Microsoft Windows.The iDisk can also share

files

by emailing a link to the intendedrecipient. Another feature is to set an expiration on the link. Thismeans access to file will stop after a set number of downloads or aftercertain time period.

Web 2.0
MobileMe uses web 2.0 technologies to provide the look and feel of desktop-class applications in the user's web browser.

Pricing
An Individual purchase of a MobileMe account for one-year is $99 USD (£59), while a Family Packsubscription (which includes one individual account and four familyaccounts with a specific email address for each one) is $149 USD (£89)for one year. The Individual account will have 20GB of combined emailand file storage and 200GB of monthly data transfer, while the FamilyPack will have, for each account in the Pack, 5GB of combined email andfile storage, and 50GB of monthly data transfer.

Competitors
MobileMe is supposed to comprise Microsoft Exchange-like features for consumers.

Browser Support
MobileMe's online services can be accessed in Desktop Applications.MobileMe also allows access to the user's data in desktop-likeenvironment in a web browser. Featured browsers are:



Safari 3 or later (Mac + PC)

Firefox 2 or later (Mac + PC)

Internet Explorer 7 (PC)
iPhone 2.0
Posted by Editorial Team Tue Jun 10, 2008 4:04 am
WWDC 08: iVirtua Official Topic, Analysis, Live Coverage in Apple
WWDC 2008 is currently taking place from June 9 to June 13 at Moscone West, San Francisco.

Applereported that, for the first time, this conference is sold out. Thereare three tracks for developers, iPhone, Mac, and IT.

Announcementsat the keynote included the App Store for iPhone and iPod Touch, thestable version of the iPhone SDK, a subsidized 3G version of the iPhonefor Worldwide markets, version 2.0 of the iPhone OS, Mac OS X v10.6,and the replacement/rebranding of .Mac as MobileMe.
Mac OS X version 10.6 "Snow Leopard" is the presumptive designation of Apple's next major version of Mac OS X. It was announced by Apple CEO Steve Jobs at WWDC on June 9, 2008. It is scheduled to ship "about a year" from the announcement.
Mac OS X v10.6 will not introduce any major new features, ratherfocusing on improving performance, stability and reducing the footprintof Mac OS X. However, full support for Microsoft Exchange will be included.
Snow Leopard

MobileMe
Difference between .Mac and MobileMe
While mostly replacing .Mac (which was primarily centered aroundInternet services for Apple's desktop and notebook computers), MobileMeprovides Internet services for both Mac OS X and the iPhone OS as well as the iPod touch device and Microsoft Windowsusers. This means that now you are not restricted to a Mac runningsoftware like Mail and iCal, but can access your personal data from anycomputer connected to the internet.

Features
Storage
20GB of online storage featuring 200GB of monthly transfer. Thefamily pack includes this for the main user as well as 5GB of storageand 50GB of transfer for each sub user (up to four additional users)

Mail
Free Push Mail. Includes a @me.com email address. When a message is received it is sent directly to all the user's devices.

Address Book
Address Book (Push). When a contacted is added or amended it is updated immediately on all the user's devices.

Calendar
Calendar (Push). When a calendar appointment is added or amended it is updated immediately on all the user's devices.

Gallery
Public photo gallery. Photos can be uploaded in the web browser or synced by iPhoto on a mac

iDisk
iDisk, which is accessible via a web browser, the Finder on a Mac, or as a remote disk in Microsoft Windows.The iDisk can also share

files

by emailing a link to the intendedrecipient. Another feature is to set an expiration on the link. Thismeans access to file will stop after a set number of downloads or aftercertain time period.

Web 2.0
MobileMe uses web 2.0 technologies to provide the look and feel of desktop-class applications in the user's web browser.

Pricing
An Individual purchase of a MobileMe account for one-year is $99 USD (£59), while a Family Packsubscription (which includes one individual account and four familyaccounts with a specific email address for each one) is $149 USD (£89)for one year. The Individual account will have 20GB of combined emailand file storage and 200GB of monthly data transfer, while the FamilyPack will have, for each account in the Pack, 5GB of combined email andfile storage, and 50GB of monthly data transfer.

Competitors
MobileMe is supposed to comprise Microsoft Exchange-like features for consumers.

Browser Support
MobileMe's online services can be accessed in Desktop Applications.MobileMe also allows access to the user's data in desktop-likeenvironment in a web browser. Featured browsers are:



Safari 3 or later (Mac + PC)

Firefox 2 or later (Mac + PC)

Internet Explorer 7 (PC)
iPhone 2.0


Microsoft Exchange ActiveSync support

Push email

Push contacts

Push calendar

Global Address List

Certificates and Identities

WPA2/802.1x

Enforced security policies

Extra keyboard languages including Chinese and Korean

Cisco IPsec VPN support

Device configuration

Remote wipe

Ability to view PowerPoint attachments

Mass email delete

Mass email move

Bonjour service discovery protocol

Support for SVG

Parental controls

Ability to search contacts

App Store (To manage third-party applications)

New "Calendar" menu in "Settings"

Updated calculator with extra features in portrait mode, a scientific calculator in landscape mode and an updated icon.

Updated iTunes with a new icon and reordered category icons within iTunes application.

Ability to save or open images from websites in Safari

Support for Traditional and Simplified Chinese handwriting recognition

Geotagging

Norwegian, Swedish, Danish, Finnish, Polish, Korean and Brazilian Portuguese language interface in iPhone, previously these languages were only in the iPod Touch since 1.1.1

Workers hang Apple's logo outside Moscone Center, where the Worldwide Developers Conference kicks off Monday.
(Credit: James Martin/CNET News.com)
Expect to hear new details about the future of Apple's Mac OS X andWeb business next week at the Worldwide Developers Conference--and wethink there might be a new iPhone, too.
On Monday, Apple CEO Steve Jobs will take the stage at the Moscone WestConvention Center in San Francisco to address a gathering of Apple'sdevelopers and the media. This year's WWDCis sold out to the development community, who will be hearing formalpresentations by Apple on both Mac and iPhone development during theweek's sessions and meetings.
Anyone with even a passing interest in consumer electronics is probably aware that Apple is expected to unveil the next generation of the iPhone in the near future. The older version has been sold out for weeks as we approach the anniversary of the first model's debut, and anticipation of a model that can connect to 3G cellular networks has been building almost since that date last year.
One of the primary drawbacks of the first iteration of the iPhone hasbeen its reliance on the slower EDGE network outside of Wi-Fi hotspots, which can make downloading a Web page an exercise in patience.Upgrading to a faster connection should encourage people to do more Webbrowsing outside of Wi-Fi connections and could open up a whole newclass of applications that need a faster pipe to work effectively.
Apple is also expected to include GPS technologyinside the latest version, another development that could pique thesoftware development community's interest in the iPhone. Location-awareservices are available on several phones that use GPS technology, andthe iPhone developers could soon be ready to join the party.
Will the new iPhone be available immediately following Jobs' keynote?It's not clear. There have been conflicting reports, but Brian Tong ofCNET TV is hearing from his sources that Apple Retail employees havenot yet been told whether they'll need to report early on Monday for aspecial training session, which the company has done in the past beforemajor announcements.


Next Monday, Apple CEO Steve Jobs could announce a new iPhone and a new operating system.
(Credit: Apple)
While the iPhone gets all the attention as the new kid on the block,WWDC is always, in large part, about the Mac. Apple chose a picture oftwo Golden Gate bridges branching off in different directions toillustrate its WWDC invitation, and while the iPhone branch mightaccount for the sold-out conference, the Mac branch is the bread andbutter of this conference.
The Unofficial Apple Weblogreported on Wednesday that Apple would be providing developers with anearly version of Mac OS X 10.6 during the conference. It's unclearwhether that means Apple is ready to start demonstrating features fromthat release, but the report said the new version is expected to focuson "stability and security."
Apple released Leopard, Mac OS X 10.5, last October after a delay needed to make sure the iPhone arrived on time. At the time, Jobs told The New York Times that he wants Apple to stick to an operating-system deployment cycle of 12 to 18 months.
TUAW's report says Apple could be eyeing a Macworld 2009 release forMac OS X 10.6, which would certainly nestle within that time frame.Microsoft recently said it wants to get the next version of Windows out by the end of 2009.
Another interesting part of that report is the notion that 10.6 will bean Intel-only release. Users of older Macs running PowerPC chips wereable to upgrade to Leopard, but the report suggests that Apple willdrop PowerPC support with the next release.
Apple will likely spend a healthy portion of Jobs' keynote discussingMac OS X, but it remains to be seen how much of a peek we'll get at thenext version. One question on the minds of many Apple users: afterwhich big cat will Apple choose to name the next release?
Ars Technica's Infinite Loopreported Wednesday that "Snow Leopard" was the name slated for the nextversion, which sounds like it could be somewhat confusing, given thefact that the current version is called Leopard. In a poll on TUAW'ssite, "Cougar" was in the lead, trailed by "Lynx" and "LOLcat," the last of which we can probably eliminate.
The third leg of the WWDC presentation could involve Apple's .Macservice. There have been a number of recent signs that Apple isrethinking its presence on the Internet, with new domain names beingsnapped up by the company and code strings in the iPhone SDK suggesting that a new name is on tap.
One interesting thing to watch for concerning any new version of .Macis how much of the service Apple keeps in-house, as opposed to bringinga Web-savvy partner like Google into the mix. The .Mac service is a good idea, but it isn't widely used among Mac users due to issues with its stability, feature list, and price tag.
Any or all of those objections could change, if Apple transfers theback end of the service to a huge Internet services provider likeGoogle, and uses the service to bring Macs and iPhones together ininteresting ways.
As usual, Apple is very tight-lipped about what may or may not bearriving during this year's WWDC. The latest iPhone may or may not beready for an actual release on the first day of the show, but expectthe topic to be the highlight of the day's announcements.

WWDC 2007 Keynote Live Coverage here at iVirtua Community
Posted by Editorial Team Mon Jun 09, 2008 1:23 pm
Valve Steam to evolve multiplayer - major steam updates in Gaming
Valve has an odd way of getting the news about big developments out into the open. At a recent press event, with around seven journalists in attendance,Gabe Newell spoke about PC gaming and announced an exciting new featurefor Steam. You see, your personal computer may become the leastimportant part of your PC gaming experience. Steam Cloud hopes to keepeverything from your purchased games, to your saved game

files

andcontrol configurations, on a central server so you can log onto youraccount from anywhere and pick up exactly where you left off; you won'teven have to invert your mouse.

Valve's plan for Steam doesn't lack ambition; the company wants as manygames as humanly possible on the service, and they want as manydevelopers as possible taking advantage of what the platform offers.These seem like lofty goals, but it's also hard to argue with the stepsbeing taken to achieve them. The Steamworks SDK allows developers to drop Steam and its benefits into games quickly and easily, and hardly a week goes by without news of more games being added to the service. The independent title Audiosurf was a big hit at last year's Game Developers Conference, and became a surprise hit on the service.
The social aspects of Steam are also well-implemented, creating theXbox Live-type experience on the PC that Microsoft desperately wanted,and failed to deliver. Even worse for the competition, Steam is freeand, with a wide user-base of entrenched PC gamers, it's going to behard to compete with the service. The growing pains seem to be over.
While all these developments make sense, the Steam Cloudannouncement doesn't appear part of the rather linear growth offeatures Steam has already enjoyed. The SDK helps developers get onboard, the social networking and cross-game invitation system createsgamer loyalty, but how many people have ever wanted to play Half-Life 2at a friend's house? The obvious winners will be LAN centers, whoseusers will now be able to play their own games seamlessly, but that's amarket that exists largely outside of North America. There is a demandto make content such as music and video portable to be used on multipledevices, but it's hard to say how many serious PC gamers wish to sitdown at locations away from their home to play their games. It's awelcome feature, but it may not have the broad impact that Valvehopes.



The Medic was the first TF2 class to see dramatic updates

What Steam does easily is allow games to evolve, and Valve's Robin Walker told Next Generation that's the direction that the company is moving towards. Team Fortress 2is a game that launched with a smaller number of maps than mostmultiplayer games, but the title has seen a staggering 53 updates sincelaunch. Valve is watching the community and making constant, smallnudges to improve the game based on the constant feedback it receives.These updates add new content and change existing strategies,keeping the game fresh for players. This is an interesting blueprintfor Valve: smaller games that both expand and focus on what playerswant as time goes on.
No one in the PC gaming industry has ever tried to create somethingas ambitious as Steam, and Valve seems to want it all for its service.Blazing this trail means missteps and odd choices, and it's possiblethat Steam Cloud may be more useful than it at first appears. What isclear is that Steam has done more things right than wrong, and PCgaming is changing with it.
Related
Valve Steam Cloud - Online storage for saved games like CS:S
Posted by Editorial Team Sun Jun 01, 2008 5:02 pm
Adobe Dreamweaver, Fireworks and Soundbooth CS4 Public Betas in Film, Photography, Digital Animation, Broadcasting / Production
Adobe announced that public betas of the CS4 version of Dreamweaver, Fireworks and Soundbooth are now available at Adobe labs.While the downloads are publicly available, only existing CS3 ownerswill be able to use the beta software beyond an initial 48 hour window.
TheDreamweaver beta for Web design and development, the Fireworks beta forprototyping, and the Soundbooth beta for audio creating and editing,demonstrate the direction that Adobe Creative Suite is taking withfeatures and technologies that will simplify and streamline design anddevelopment workflows across all media. The betas also offer users theopportunity to give Adobe feedback for further product development.
Adobe lists the new features included in each beta on their respective pages: Dreamweaver CS4, Fireworks CS4, Soundbooth CS4.

The firm said the betas are available to anyone wanting to test the products. However they will only be active for 48 hours after download, and after that only Creative Suite 3 customers will be able to continue using them.

Features in the Dreamweaver beta include Code Navigator and a Related

Files

Toolbar that allows developers to view pages containing links to embedded XML data, JavaScript docs and HTML

files

.

The Fireworks beta is compatible with the firm's rich web product Adobe Integrated Runtime (AIR) as well as Flash, HTML and Flex builder.

Soundbooth's beta comes loaded with audio production features that include a speech-to-text option, multiple track support to edit audio clips and to tweak volume levels across audio

files

. MP3 compression settings can also be previewed before users save the file.

Creative Suite 4 is expected to ship late this year or in early 2009.
Posted by Editorial Team Tue May 27, 2008 5:59 pm
Javascript Super Mario Kart in General Discussion, including Off Topic, Current Affairs
http://www.nihilogic.dk/labs/mariokart/

The (minified) code weighs in at about 11 Kb, but unlike the Mario gamefrom last month, this one uses several external image

files

. This wasmore a test of how smooth I could get a game like this to feel, anyway,so filesize wasn't an issue. I think it runs pretty ok, though.

Thereare a couple of rendering settings you can play with. "Quality"controls how many horizontal lines are rendered, "Screen scale"controls the size of the screen (duh). Both trade visual appearance forperformance.

There are also two different rendering modes. The"Single canvas" mode seems the fastest for all browsers. For thetechnically curious, the difference is in the way each horizontal lineis rendered. In the single canvas mode every line is drawn unto thesame large canvas, whereas in the "Per-line canvas" mode, each line hasit's own canvas. They both give different visual appearances, so trythem out if you want.

The sprites were all found at The Shyguy Kingdom and the maps were found at Rick N. Bruns' snesmaps.com, so thanks to those two sites!

Sofar, it's just racing. No weapons or any of that fancy stuff. At themoment, you can choose from 3 different drivers (Mario, Luigi andPrincess Peach) and 2 different maps (Mushroom Cup Round 1 and 2).There is no lap count, no timer and no finish. You can just race aroundforever and try to beat the others (it's not hard, especially if cut afew corners). The AI is rather crude, but seems to work ok for the timebeing.

There is (simple) collision detection against theboundaries of the map and the colored "blocking" blocks, but notagainst the karts, so you can't crash into the other drivers. Drivesafely, anyway!

Click here to race!
Posted by Editorial Team Sat May 24, 2008 7:07 pm
Upload in-game video to YouTube from PS3 in Gaming
Word of an interesting new PlayStation 3 SDK addition has surfaced. DevelopMagis reporting that Sony has added native YouTube API support to thePlayStation 3 SDK, allowing developers to leverage the popular videosite with the console's software.





Although it's hard to see the valuein watching someone else play their favourite videogame, Sony clearlybelieves it's onto something after it started allowing PS3 players toupload clips of gameplay to YouTube.
The move comes just under a week after YouTube announced its APIfor allowing in-game video uploads was ready. Unsurprisingly, the firstgame to take advantage of the facility is a Japan-only PlayStationNetwork title.
Click and go
Mainichi Issho(Together Everyday) players simply have to choose to upload their mostrecent clip and - assuming account settings have been input - itappears immediately in their YouTube account.
If you want to see the function in action, here's a demo from the Japanese game, but - we have to warn you - it's far from riveting.
YouTubeexplains how it sees gamers using the ability: "Whether it's showingoff that fantastic touchdown pass, car slide or karaoke sing-along, wehope that more user-generated content from games will make their way toYouTube and connect with the gamer communities."
Frankly, it's agrim picture, but if the standard of typical YouTube user comments isany guide, it's sure to be a smash hit among that community.
Fornow, Sony Computer Entertainment is offering the software it added toMainichi Issho to any game developer keen to add YouTube uploads, soit's certain to spread rapidly.


Quote:

Access to the YouTube API will allow developers to directly integratethe ability to download and upload YouTube content from within thegame. This makes the PlayStation 3 the first console to nativelysupport YouTube on a platform-wide scale following the recent expansion of the YouTube API.
One major example of how this technology will be used is already out: EA's skate uses similar technology, though EA hosts the video

files

itself. The feature in skate is Flash-based, and my interest was piqued at E3 last year.I talked with a developer on-site about the complexities behind theproject; he thought the community-building aspect of the software wasworth the time and effort. Direct access to the YouTube API will allowthis functionality to become a possibility for any game, as there willbe no strain on developers to host the video

files

themselves. Gamersthemselves will be able to make their creations viral. Imagine pullingoff something insane in a game, hitting a button to save the video, andthen uploading it directly to YouTube to share. Home integration couldallow you to show your favorite clips on a projection screen in yourvirtual house.
The theater mode of Halo 3is an incredibly popular feature, and the thought of having a morerobust and flexible video service to save videos from any PlayStation 3game is enticing. Sharing in-game media is one of the aspects of thesocial media revolution that consoles have been slow to adopt, but Sonycould be in position to change that.

Posted by Editorial Team Tue May 20, 2008 4:41 pm
BBC, ITV, Channel 4, Five, and Sky Free Internet TV compared in Entertainment, Film and Music, Mobile devices and media
BBC
The iPlayer(formerly know as the iMP, or Interactive Media Player) was announcedin 2003 and intended to be an extension to the successful Radio Player,built around RealPlayer. The final iPlayer is, thankfully, shaping upto be a much slicker affair, looking like a cross between Joost and acable/satellite Electronic Program Guide (EPG). As long as you live inthe UK, on launch you will be able to download a selection of programsup to 7 days after broadcast, and you then have 30 days in which towatch it before the DRM kicks in. I'm guessing that the range ofprograms will be similar to the offerings on Virgin Media's "Replay"feature, i.e. most popular "home-grown" programs such as Eastenders,Doctor Who and Life on Mars.
The iPlayer has come under fire from open source advocatesbecause, at launch, it will only be available for Windows XP users.This goes against the BBC's charter, restricting the application, andtherefore the programs, to certain systems. The BBC Trust has confirmedthat versions for Apple Mac, Windows Vista and mobile platforms willfollow [Ed. once the BBC can find a platform agnostic DRM solution, which could take some time],and more recently, the BBC's announced that they are meeting with theOpen Source Consortium (OSC). The OSC are to work with the BBC on the possibility of developing an open source iPlayer.
The BBC also plans to expand the functionality of the iPlayer, suchas adding on-demand streaming, which would allow you to watch a programwithout downloading it first. They are also looking to add seriesstacking (allowing you to download previous episodes of a series) andintegrating the Radio Player with the iPlayer. The BBC will bepromoting the iPlayer heavily: via the BBC TV channels, links on theBBC website and also on partner websites such as YouTube, AOL andMySpace. There are indications that live streaming of BBC channels mayalso possible.
ITV

ITV are following the BBC's lead, with the imaginatively titled "ITV Broadband".They are offering programs that are viewable within the browser, usingWindows Media Player integrated into their web pages. At the momentthey are only offering 10 minutes catch-ups of the last 30 days'episodes of Emmerdale and Coronation Street, which are book-ended byadverts (being popular programs these are probably the two that couldattract the most advertising and therefore generate the most onlinerevenue), but that is set to expand. ITV are promising catch up optionson Drama, Lifestyle, Entertainment, Sport and News programs, plus a"Best of ITV" section too.
The biggest drawback I found was that ITV Broadband (which isPC-only) favors Internet Explorer. The only way I could view content inFirefox was to use the IETab add-on,which allows the current tab to be rendered using the Internet Explorerengine instead of the Firefox one, but fortunately ITV have had thesense to display a link to download IETab where the video normallyappears.
ITV also offers live streaming of their four channels from the website which is of reasonable quality.
It's also worth mentioning ITV Local, the site for regional ITVbroadcasters such as Granada, Meridian and Tyne Tees. The site streamsnews updates, weather reports and other videos from the region, ondemand.
Channel 4/More4/E4

Channel 4's "4oD"application has been available since December 2006 and is similar tothe forthcoming iPlayer. You can download a selection of programs fromChannel 4, More4 and E4 for free from the last seven days, or choosefrom the available archives. Again, DRM only lets you watch thedownloaded programs for up to 30 days. They also offer paid content,both television programs (including US imports such as Lost and UglyBetty) and films, from 99p.
Be prepared for long download times although the actual videoquality is very good. The application is sluggish on lower specmachines which may result in slow adoption; another problem may be theway in which the network actually serves the programs. It uses Kontiki,a peer-to-peer platform, to distribute video, which means that evenwhen you are not using the 4oD application, your computer may still beserving

files

to others, which some security- and bandwidth-conscioususers may dislike. It is also limited to running only on Windows XPsystems with Internet Explorer and Windows Media player, so once againApple Mac and open source fans will be left out in the cold.
Channel 4 too offers streaming through a browser-embedded MediaPlayer, for which you have to register (to make sure you're a UKresident presumably) but the quality is quite good, even at full screen.
Five

Fivehas always been the black sheep of the UK TV industry. Their contenthas never really been on the same par as that of the other networks andtheir "fivedownload" service isn't much better. It seems the onlyprograms they offer are Grey's Anatomy and CSI (three flavours: CSI,CSI:Miami and CSI:NY) and it's a pay service. With iTunes possiblyoffering a similar feature soon (these shows are available in the USstore so they may come to the UK too) I don't really see that Five'sapplication will have much of a future unless they improve and increasethe available content.
Sky

Sky offers their "Sky Anytime"feature, which uses Kontiki, similar to Channel 4's 4oD. To use SkyAnytime you need to register on Sky's website, and then download theSky Anytime application (one again, PC-only). After installation, youlog in as expected and the first thing that hits you is how slick theapplication is. It's responsive, looks good and has a large amount ofcontent. I'm not a Sky customer so I was limited to what programs Icould download, but TV subscriptions to entertainment, movies andsports packages unlocks similar content on Sky Anytime.
Its worth noting that Sky also let users program their Sky+ box over the net.
Conclusion
The major UK TV networks are making good ground with TV on the net.Of the dedicated applications on offer, Sky's seem to be the bestoverall (at the moment) with its clean look, and responsive andintuitive interface. The range of content across the board is growing,with Channel 4 and the BBC ahead — and as advertising and other revenuestreams for internet TV are realized, the content from commercialnetworks will likely increase in quantity, as market forces demand it.
All of the UK networks employ techniques to prevent non-UK viewersfrom accessing their Internet TV offerings, such as geo-blocking, wherethe user's IP address is used to establish their location. This is,in-part, a world-wide licensing issue (which in the BBC's case is mademore complicated by its state-funding), but also protects potentialrevenue from overseas sales. However, with many popular UK programsappearing illegally online, and the fact that geo-blocking can becircumvented — moving forward, I think we're likely to see the networkstake a more global approach to Internet TV programming, especially withregards to older content.
As a side note, it's also worth mentioning that users can programtheir Sky+ box (the company's own DVR offering) over the internet andvia a mobile phone. The next logical step would be to allow users tostream programs recorded on their Sky+ box (or any other DVR) over thenet, similar to a Slingbox.This would add another dimension to Internet TV; you could be workingaway in another part of the country, or on holiday abroad, and with adecent broadband connection you can access content that you'vepreviously recorded.
This is an exciting time for Internet TV, and in particular I hopethat the iPlayer lives up to my expectations. I'm fairly convinced thatthe BBC is moving in the right direction and will push the boundariesof Internet TV, not only in the UK but also worldwide.
Posted by Editorial Team Sat May 17, 2008 6:28 pm
UFO files publicly released in General Discussion, including Off Topic, Current Affairs
The UK Ministry of Defence has begun releasing its voluminous

files

regarding unidentified flying objects, aerial phenomena, possible alien visitations etc. The documents will all become available to the public via the National Archives over the next three years.

Many of the UFO

files

- including, probably, most of the good stuff - have already been revealed under Freedom of Information Act requests. In particular, the splendid conspiracy fodder surrounding the Rendlesham Forest incident of 1980 ("Britain's Roswell") has long been available, full of mysterious lights, strange marks left in the ground and traces of radiation. Even better, the cameras recording the British air-defence radar picture were switched off at the time, indicating an almost certain government conspiracy.

UFOs of various kinds have been sighted and reported to the MoD and its predecessors for at least a hundred years. In general, the number and nature of sightings is much more affected by things such as movie releases or war scares than by any other apparent factor, all the way back to the "Phantom airships" widely reported in the UK before and during World War One - when panic about German zeppelins was at its height.

The

files

contain a wide range of UFO-related documents covering the years 1978–2002. So if you want to find out more about lights in the sky over Waterloo Bridge, near misses by pilots, crop circles - and what the UK government thought of it all - this is the place to start. The

files

are in PDF format.


DEFE 31/172 - UFO incidents (14.6 Mb)
DEFE 31/173 - UFO incidents (45.7 Mb)
DEFE 31/174 - UFO incidents (22.6 Mb)
DEFE 31/175 - UFO incidents (15.3 Mb)
DEFE 24/1922 - UFO reports (13.8 Mb)
DEFE 24/1923 - UFO reports (32.7 Mb)
DEFE 24/1924 - UFO reports (43.2 Mb)
DEFE 24/1925 - UFO reports (51.7 Mb)
Posted by William Tildesley Wed May 14, 2008 6:27 pm
OSX Capable PC is here finally in Hardware, Internet, Networking, Comms and Security
Because we think it's informative to see how OS X performs on a computer that isn't a Mac, Macworld ordered a Psystar Open Computer about a week or so ago. The machine, which Psystar touts as a low-cost alternative to Apple's hardware, has arrived in our lab, where we plan to put it to the test, just like the home-made Mac built by our own Rob Griffiths.

Thesystem we bought from Psystar features a 2.2GHz Intel Core 2 Duoprocessor, 2GB of 667MHz RAM, and a 250GB Hard Drive (specifically, aHitachi Deskstar in our machine). Though the base model includesIntel's integrated graphics, we splurged and purchased an NvidiaGeForce 8600GT for $110 so that we could test the Open Computer withboth cards.

I ordered our Open Computer directly from thePsystar Web site, since that was the only way to place an order at thetime. (Psystar now offers sales over the phone.) Originally, I placedan order for an Open Computer without OS X installed—Psystar charges$155 to install the operating system, and I figured we could save a fewbucks on our order with a little do-it-yourself know-how. But a fewdays after ordering, I called Psystar looking for a status update. Alive human being answered the phone—somewhat surprising to me, giventhe storiesthat had appeared about the company immediately after it announcedplans to sell a Mac clone—and put me on hold to look up the order.Moments later, another Psystar employee came on the line and stronglysuggested that I pay to have OS X pre-installed. He explained that,unlike the Windows and Linux, installing OS X is a very difficult andcomplicated process and that the company does not provide installationinstructions for OSX. I reluctantly pulled out the credit card, and thesystem shipped out to us a few days later. The system cost us $399.99,plus $50 for a FireWire card. Add in the $110 graphics card and the$155 OS installation, and the machine cost $714.99; shipping broughtthe price to $751.47.

As I mentioned above, we're currentlytesting the Open Computer to see how it performs compared to anhonest-to-goodness Mac. But here are some first impressions gleanedfrom receiving and setting up the machine…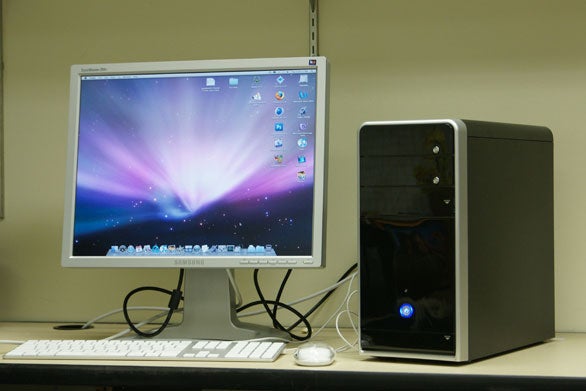 The Psystar Open Computer, resting comfortably in our Lab

IfPsystar is all about giving you the Mac OS X experience at a moreaffordable price, it was obvious right away that product packaging isone area where the company is looking to trim costs. When the boxarrived, we found it stuffed with white foam packing peanuts, makingthe unpacking process a big mess—I hate those things. The Open Computerwas just sitting in there with the packing peanuts, with nothingcovering it. Some of the doors on the front of the case that cover theoptical drive and the USB ports were a ajar with little pieces of thepacking peanuts lodged in there. After we cleared out the offendingbits, the doors closed properly and the computer appeared to be noworse for wear.
We had a bit of scare, however, when we tried to start up thecomputer. As soon as I hit the power button it sounded like I'd turnedon the garbage disposal. I quickly unplugged the power cable and openedthe case. It turns out that one of the power cables was getting caughtin the fan. I rerouted the cable and restarted. The crunching sound ofthe cable hitting the fan was gone, but the fan was still pretty darnloud. You won't want this computer sitting on your desk.

After using Rob's home-made Frankenmacfor a few days last week, I was prepared for all of those elegant PCBIOS and bootup screens. Unlike Rob's machine though, there were noother visible partitions or operating systems stored on the hard drive.Once the Open Computer was all booted up, I was able to plug in aFireWire drive and have it be recognized. The system asked if I wantedto use the external drive as a Time Machine backup drive, and I clickedYes. And though the icon of the drive changed to reflect its new statusas Time Machine volume, the backup would immediately fail each time itattempted to run.

The Psystar site features a pagewith lots of available software update downloads, including one forfixing Time Machine errors. Psystar turns off the Mac OS's automaticSystem Update feature, so you need to download and install updatesmanually. One might think that the company would send you a machinethat's as up-to-date as possible, but that's not the case. I calledPsystar tech support and learned that the company will offer a downloadin the next couple weeks that will enable Psystar users to takeadvantage of Apple's Software Update utility.

Macworld Labuses Migration Assistant to transfer our Speedmark user

files

andfolders to our test system from a clean system booted into FireWireTarget Disk Mode, and that process worked just fine with the OpenComputer. We found, however, that we were unable to boot the OpenComputer into FireWire Target disk mode. The tech support person didn'tthink that Psystar offered that feature. Other startup options, likeSafeBoot, zapping of PRAM, and startup drive selection via the Optionkey are also not available.

I tried cloning the internal drive to an external FireWire drive using Carbon Copy Cloner.It cloned successfully, but I was unable to boot from it, even though amessage said the volume would be bootable. It sounds like a couple of folksin the Psystar forums were able to find a way to do it, but theyweren't giving out specific instructions. We'll continue to look intothat.

That said, I've been impressed by how compatiblethe Psystar is with applications and peripherals—many of the OS Xfeatures work as they would on a legitimate Mac. Look for Speedmarkresults for our Open Computer, as well as other interesting tidbits wecome across, in the coming days.
Posted by Editorial Team Fri May 09, 2008 8:38 pm
10 things IT needs to know about Ajax in Programming, Web and Software Design/Development
The introduction of any new Web technology will affect a network's infrastructure in ways that range from inconsequential to earth shattering. Ajax is one of the more disruptive new Web technologies traveling across networks today. To help you minimize future surprises on your network, we've outlined the 10 things you should take to heart about Ajax. (Also see our slideshow illustrating tips for deploying Ajax applications effectively.)
1) Ajax is an idea, not an acronym
While Ajax commonly is spelled out as Asynchronous JavaScript and XML, the full name is not entirely appropriate because it oversimplifies the history of the technology and the implementation options that lie at its heart. More exactly, Ajax encompasses the idea that Web applications can be built to opt out of the typical post-wait-repeat cycle used in server-side-focused Web applications. Ajax lets Web applications move to a more responsive, continuous, but incremental style of updating. Ajax provides users a richer, more interactive way of experiencing the underlying Web application. This goodness for the user might mean that more monitoring and security oversight might be required of network professionals, as well as, potentially, server and network alterations.
2) It's really all about JavaScript
Ajax applications are written in JavaScript and usually rely on the XMLHttpRequest object for communications, which is making its way through the World Wide Web Consortium process.Because, like many Web technologies, it now is only an ad hoc industrystandard, notable differences can be found in various browsers'implementations of it. It's also possible to use other data transportmechanisms — with and without widespread industry support — with Ajaxapplications, including traditional frame and image-cookie methods, aswell as the use of binary bridges to Flash or Java.
Regardless of the transport approach used by the developer, Ajax has raised JavaScript to a more important position within a Web application than it previously held. JavaScript now is responsible for important data-collection, communication and consumption duties, so it no longer can be treated as a second-class Web technology without serious repercussions.
Developers who think the JavaScript technology is toxic can try to avoid the language by having a tool or framework generate it from some other language like Java (Google Web Toolkit, for example), or hide the code behind components or tags (such as with .Net or Ruby). At the end of the day, however, JavaScript still will be in the application. It's better to understand the language and embrace it directly, because if you are going to use Ajax, you ultimately are using lots of JavaScript.
Ajax is intertwined with the network, so bad code is going to meanlots of troubleshooting by network administrators, as well asdevelopers: The bottom line is to encourage good, network-aware coding!The same organizational "rules and tools" -- coding standards, testingregimes and source-code control — that are in place for other languagesmust be applied to JavaScript to ensure that Ajax applications aresupportable and robust.
3) XML is not required
Despite the "x" in the acronym, Ajax does not require XML. TheXMLHttpRequest object can transport any arbitrary text format. For manyAjax developers, JavaScript Object Notation or even raw JavaScript codefragments make more sense as a data format, given that JavaScript isthe consuming environment. For direct input into documents, otherdevelopers may favor raw text or HTML fragments. Still others will usesuch data formats as the less-known YAML markup language or such oldstandbys as comma-separated values.
Of course, it is possible and certainly reasonable to use XML, butit is far from required. Using binary formats for uploading

files

isnot supported yet by the XMLHttpRequest object, but considering thatFlash uses a binary format called Action Message Format, it is likelythat similar features will be found in Ajax applications soon enough.You should know which format is being passed around the network,because it isn't always XML. Also, make sure you can analyze the formatfor performance and security.
4) Plan for an increase in HTTP requests
The most obvious issue for the network administrator supporting Ajaxapplications is that the architectural programming pattern has changedthe network utilization of Web applications from a batch-like, somewhatinfrequent response of a few hundred kilobytes, to a more continuousexchange of smaller HTTP responses. This means that network-bound Weband application servers may find themselves even busier than before.What Ajax will do to your server and network utilization certainly willdepend on how the application is built — make sure your developersunderstand the network impact of their applications.


5) Optimize Ajax requests carefully
Web applications should adhere to the network delivery principle of sending less data, less often. That doesn't mean that this principle is widely followed by developers, however. Fortunately for the network, HTTP compression of Ajax responses can reduce response size and is supported in all modern browsers. Because of dynamic compression's overhead, however, speed may not improve much if responses are indeed relatively small. This means that it would be wise for network administrators to turn on compression on their Web server, but they need to understand that with Ajax applications, their gains won't be as big as with traditional Web applications.
To send data less often, we generally would employ caching. MostAjax implementations can be openly hostile to caching, however, givencertain assumptions made by browsers regarding not re-fetching URLsduring the same session. Rather than work with caching, many Ajaxdevelopers will work aggressively to defeat caching via the headersetting or URL uniqueness.
It is possible to address caching concerns with a client-side Ajax cache written in JavaScript, but most Ajax libraries do not implement such a feature. Network professionals should show developers the benefit of caching, because Ajax probably will benefit more from that than from compression.
6) Acknowledge the two-connection limit
Ajax applications are limited by HTTP to two simultaneousconnections to the same URL. This is the way the HTTP protocol isdesigned, not some browser bug or limitation. The good news is that itkeeps many Ajax developers from swamping a server accidentally, thoughMicrosoft's Internet Explorer 8 is supposed to go well beyond thelimit. Chatty Ajax applications can be trouble, and with browserschanging the rules, network administrators need to keep a close eye onthe number of requests made, and work with application developers toavoid employing such design patterns as fast polling or long-heldconnections.
7) Watch out for response ordering
With traditional Web applications, the network effects of TCP/IP communications — such as the lack of order in which individual HTTP responses are received — generally are not noticed by developers or users. The base unit, the HTML document, is received before other objects, and it then triggers the request. Any subsequent request triggers a whole new base document, thereby guaranteeing order. Ajax takes such implicit ordering away, however, so that an application dependent on proper sequencing requires a response queue. Ajax frameworks, however, are not consistent in acknowledging this network concern. So, again, make sure Ajax application developers understand such network-level concerns.

Acknowledge the effects of eliminating "Layer 8" error correction
For years, users have been correcting Web-delivery quality byreloading pages or pressing the Back button. Simply put, users doingthis help mitigate network problems because errors occur generally atexpected moments between page paints. With Ajax, however, applicationfailure is no longer that obvious. Worse yet, users often aremisinformed about errors, because the simple, animated-GIF spinningcircle provides little information about the true status of therequest.


Developers are at a loss because many libraries aren't effective at acknowledging that timeouts happen, retries must occur, and server and data errors crop up. JavaScript diagnostics showing communication and code errors are rarely in place on the client side, so blissful ignorance is the norm. More application-level monitoring is required for administrators to support Ajax properly.
9) Old security threats get a second exposure
If you listen to the pundits, Ajax may appear to produce more attacksurface, but it really isn't any less secure than traditionalWeb-application development environments, because the HTTP inputs tothe trusted server side are the same — headers, query string andmessage body. If implicitly trusting client-side code and entered datais not verboten already in your Web development group, however, Ajaxmay push things in that direction.
Cross-site scripting (XSS) isn't a vulnerability new with Ajax; it is just more common, especially if an application allows state data to be manipulated with JavaScript. HTML input should be disallowed in most cases, and HTTP Only Cookies should be applied immediately to reduce cookie hijacking and other attacks via XSS.
Cross Site Request Forgery likewise isn't new with Ajax, but if your application developers aren't checking the HTTP Referer (sic) header and managing sessions properly within Ajax applications, you've already been open to it, although it might be worse now.
Hackers, like developers, now are more interested in using and abusing JavaScript, which increases the potential for exploits. Network professionals should make sure developers are aware that client-side code can be manipulated even with obfuscation in place, so data inputs should always be filtered and sanitized, Ajax or not.
10) Abide by same origin for your protection
On the positive side of security, JavaScript's same-origin policy(SOP) is fully enforced in an XMLHttpRequest-based Ajax application.This policy makes sure that scripts cannot talk to domains outside ofthose from which they are issued. From the developer's point of view,this can be quite annoying because it means that pages served, forexample, from ajaxref.com can't talk to a URL hosted onwww.ajaxref.com; even if it is the same machine, it isn't the sameexact domain. DNS equivalency doesn't matter here; it is a string-checkemployed by the SOP.
The SOP will severely hamper a developer's ability to perform someWeb-service efforts on the client side as well. Clearly the bestapproach is to use a proxy on the server to bounce requests to otherservers and combine the results. However, many Ajax developers attemptto break the same-origin restrictions. Using the <script&gt; tag asa transport instead of the XMLHttpRequest object introduces dangeroustrust assumptions, and that leads to the origin of much of the concernabout overall Ajax security.
Now, with such browsers emerging as Firefox 3 and Internet Explorer8 employing native cross-domain request facilities, there is certain tobe more trouble on the horizon. As is the case with Java'ssecurity-sandbox concept, SOP restrictions are introduced just to keepdevelopers from destroying security. Go around such safeguards withextreme caution.
Watch what you wish for
With Ajax, rich-application widgets will win a project, but badplumbing may sink it. If the promise of a rich Ajax application isdelivered in a network environment that is occasionally fragile, userswill become disillusioned with the perceived instability of theapplication regardless of its slick interface. To enable desktop-likequality, network professionals must educate Ajax developers aboutcertain network and security fundamentals and provide a solid andconstantly monitored delivery platform that includes client-sidediagnostics on JavaScript functioning and network performance from theuser perspective. Users regularly see rich Web applications done right— like those coming from Google, for example — so anything less is arisky endeavor.
Posted by Editorial Team Tue May 06, 2008 6:57 am
101 Five-Minute Fixes to Incrementally Improve Your Web Site in Programming, Web and Software Design/Development
A webmaster's work is never done. What may have worked a few years ago when could be outdated today, so it's important to constantly improve your Web site. However, a massive overhaul is just too much work to undertake at one time. Instead, tackle these quick fixes over time, and you'll be able to improve your Web site with minimal pain.

Copywriting

Content, specifically text, is perhaps your site's most important asset. Make sure that it's up to snuff by following these improvements.




Usability

If your site isn't usable, visitors will not stick around. Take these small steps, and you'll have a more user-friendly site that's ripe for conversions.




Search Engine Optimization

Follow these tips if you'd like to see an improvement on your search-engine rankings.


Replace underscores with hyphens. In search-engine results, words separated by underscores will run together, while hypens will create a space between each word.

Implement 301s to consolidate page rank. If your site lives on both non-"www" and "www" domains, redirect one to the other in order to consolidate.

Add a dynamic meta description. Make sure that your meta description makes sense so that your excerpt in search-engine results is more appealing.

Use heading tags. Let search engines know what's important by highlighting titles and more in header tags.

Update content often. Give search engines a reason to keep coming back with fresh content.

Ensure that your host is up to snuff. Make sure that your host is providing maximum uptime so that your site is visible at all times.

Create a robots text file. Make life easy for crawlers by creating a file just for them.

Make sure that your domain is brandable. If your name isn't easy to say or remember, you need to find something that is.

Build link popularity. Actively seek out relevant, inbound links to your site to build trust and profile with search engines.

Turn off music. No one wants music to greet them every time they click a link, so turn off the music — or at least offer an easy option for disabling it.


Give pages real names. For example, if your page is about red widgets, its filename should be, or at least include, the words "red" and "widgets."

Take off the black hat. If you've used tactics like keyword stuffing, remove them from your site. They may be working now, but in the long run, they'll only hurt.

Open up the drop-down menus. Let your user see all of the navigation options available, or you'll confuse them.

Ditch registration. Don't turn off users by forcing them to register to access content.

Ditch frames. Frames are horrible for search-engine optimization and design in general. Just stay away from them.

Fix broken links. Don't send search engines and users down dead ends. Clean up links for better search-engine optimization and usability.

Avoid resizing the user's window. Let the user be in control of their browser, or your site will lose credibility.


Accessibility

If your site isn't accessible, you could be making things frustrating or even impossible for visitors with disabilities. Take these steps to make your site more inclusive.




Design

Spruce up your site's appearance using these design fixes.


Place important information "above the fold." Move your most important content high on the page so you can be sure that visitors will see it.

Keep background colors and images at a minimum. Backgrounds are often less than visually appealing and can make your site load slowly.

Reduce choices. Avoid overwhelming your visitor with lots of different options.

Design small. Cut your Web pages down to 50KB or less so that they load quickly for anyone.

Nix banners. Abandon banners for a more effective design element, or they'll be ignored.

Stay consistent. Check to make sure that colors and design are in the same general scheme so that visitors know they're still on your site.

Validate design in alternative browsers. See how your design renders in browsers like Safari, Opera and Firefox to make sure that it looks right no matter who is viewing it.

Minimize columns. Reduce columns to avoid distracting the reader with excessive visual choices.

Lose the splash page. No one wants to sit through a fancy Flash introduction. Replace it with a helpful home page instead.

Create a tagline. Stand out with a striking tagline that will draw visitors in.

Ditch frames. If your site uses frames, you need to move on to another method, like CSS or SSI (Server-Side Includes).

Make sure that text outnumbers HTML. Provide good content with text rather than HTML.

Slow down the technology. Although you may have state-of-the-art computers, many of your visitors don't. Get rid of memory-hogging technologies like JavaScript.

Remove link cloaks. Make sure that your visitor knows exactly where they're going, or you'll lose credibility.

Limit each page to one topic. Give each page a singular purpose to avoid confusing visitors.

Ditch crazy fonts. If you're using a ransom-note font, it's time to switch to something simpler. Chances are, your visitors' browsers are rendering it as Times New Roman anyway.

Reduce your graphics. Graphics not only slow pages down, but they also steal attention away from what's important: content.

Add functional links to the footer. Make it easy for visitors to find contact information or your privacy policy just by scrolling down.

Standardize link colors. Make sure that users know which links they've visited and which they haven't.

Update information. Put on a fresh coat of paint with a new header, logo or other design element.

Convert PDF

files

to HTML. Make browsing flow a little smoother by converting PDF

files

to a format that's more easily readable in a browser.


Legal

Keep your site safe and protect your content using these improvements.
Posted by William Tildesley Mon May 05, 2008 6:48 pm
The missing five-minute Linux manual for idiots in Software
So, for the time being, I'm afraid we are all back on re-evaluation-of-Linux duty. Never mind. I've already done the spadework. Let me lead you through a few simple steps to a full-on Open Source experience.
Blog

At any given time, in various places and languages around the world, there are simultaneously 14 blog entries being written by Linux neophytes, documenting their first faltering steps.

This rate is well down from the 2002 peak of 37 such articles generated per hour, but is still impressive, especially when you remember that back in the old days most blog software defaulted to subject line 'I try Linux!!!' .

(Although I believe Google, showing the clever innovation for which that company is justly famous, indulged in word play with their default of 'Bye bye Windblows!!'.)

Anyway, I say the best thing is to get the blog over and done with before going near the software. After all, the text itself rarely varies: it nearly always reports the difficulties the writer had configuring a driver for his sound card. Here is a perfect example to get you started. Off you go.
Choosing your distro

There are many hundreds of Linux distributions, each of which has its own plus and minus points. It can be very confusing.

The conscientious would-be Linux user should take time to mull over the pros and cons of the Red Hat versus SUSE, and Debian versus Gentoo. He will want to evaluate the various package installation schemes - comparing .deb with .rpm - and will spend many hours on the web absorbing great quantities of freely offered advice over whether to go for Gnome or risk post-Trolltech takeover KDE, or just run the whole thing in text mode, like a Real Beard.

After he has done all this, he will install Ubuntu, because that's what everybody does.

'Ubuntu', by the way, is an African word 'too beautiful to translate into English'. The term was first popularised by Alexander McCall Smith in his The No.1 Ladies' Detective Agency series of books, in the following, typically action-packed, scene:

'Mma Ramotswe?'

'Yes, Mma Makutsi? Would you like to boil the kettle to make some more bush tea?'

'No, Mma Ramotswe. I was going to say: there are unpleasant brown stains all over the floor, and also a smell. I wondered if you perhaps had trod in some ubuntu? The Tlokweng Road is covered in it today.'

'No, Mma. I do not have any ubuntu on my shoes. I am very careful. Perhaps you have some ubuntu on your shoes.'

'No, Mma Ramotswe. I do not have any ubuntu on my shoes either. It is a mystery.'

'Perhaps Charlie, Mr J. L. B. Matekoni's unsatisfactory senior apprentice, brought it in on his shoes.'

'Ah yes, Charlie. I am quite sure that this is the correct explanation.'

Precious Ramotswe allowed her traditional build to lean back in her chair and relaxed. Later on, she would go out in her tiny white van and investigate something. Later, but not just yet. The wall lizards basked in the morning sunshine, and flies buzzed laconically around the light fitting.

'Mma Ramotswe?'

'Yes Mma Makutsi, what is it now?'

'Shall I fetch the mop?'

Although modern Ubuntu has come on a long way in the last few years, its default desktop theme is still shaded the same brown colour, as a reminder of its inspiration.

Incidentally, Ubuntu also famously gives its releases hippy alliterative names: 'Feisty Fawn', 'Hoary Hedgehog' and so on. These names are created using the same algorithm that fellow wrinklies will remember as the old CompuServe password generator. This knowledge enables me to predict with confidence that when the current 'Gutsy Gibbon' release is retired, the next four will be called Weedy Willie, Sexy Sadie, Lorelei Lee and Moon Unit Zappa.

Selecting your database
When choosing which of the Big Two to install, one issue dominates.Never mind such concerns as scalability, performance, fitness forpurpose or licensing. The fact is that while MySQL has a fairly awful name, reeking of turn-of-the-millennium marketing, PostgreSQL has a really appalling name, which nobody at all knows how to pronounce. This simple error means that PostgresS PostGRE Pogres that database is inevitably doomed, even if the software were ten times better than anything else. Sorry, guys.
While we are doing databases, a quick mention for SQLite.This is an excellent cross-platform C library, which lets one do properSQL without needing to supply a separate SQL engine. SQLite is publicdomain, and instead of the usual copyright threats, the source code contains a blessing:



May you do good and not evil

May you find forgiveness for yourself and forgive others

May you share freely, never taking more than you give

May you never find ubuntu on your shoe

Actually, I suspect my copy of SQLite somehow got corrupted during the download. Must remember to check those MD5s.
Don't inhale
'Running Linux with one foot on the bottom' refers to the practiceof running Linux under a VMware virtual machine, so if that if thingsall go wrong, one can beat a cowardly retreat to the safety of thefamiliar. Also, it avoids the somewhat scary business of scrapingWindows off your hard disk.
Microsoft can take heart that timid persons (like me) lack the confidence to commit fully to Linux in this way.
On the other hand, we are experimenting with Linux instead ofgetting familiar with Vista, so maybe they should not take too muchheart.
Missing
Even if they don't use Firefox already, modern IE has pretty muchthe same user interface, so Windows users should feel completelycomfortable in their web browsing after crossing the great divide.Similarly the OOo'sofferings, despite coming from an outfit whose abbreviation looks likea deflating balloon, are much closer in use to 'proper' Word and Excelthan Office 2007.
But I must be up front about this. You will find that there are core Windows features that are missing from Linux:



That silly animation that runs while Windows is copying a file,together with its wild estimations of time to complete: 30 secondsremaining, 2 minutes, 9 minutes, 25 minutes, 37 minutes, 30 seconds.

The registry

Virus checking software

The window that comes up when a program crashes and sends the crashdump to Redmond, to give them a much needed laugh. Linux programsinstead lay a small binary turd file in situ. After a while you end upwith quite a large collection of these, decorating your directories.

Automatic updates fixing vulnerabilities in Outlook Express. Who uses Outlook Express these days? Why?

Windows genuine disadvantage

The Windows pause, by which I mean that increasingly prevalentnothing-happening-for-no-reason delay that intrudes between the userpoking and the software flinching.

I'd like to expand on that last point. For example, if you delete afile from your hard disk - not on the network, not locked - by pressingthe Delete key in Explorer, on some machines that I know the sequenceis 1) the screen freezes and nothing at all happens, 2) after twoseconds the cursor turns to an hourglass, 3) after a further 20seconds, Explorer's window goes blank and is repainted, 4) the deletedfile is missing from the repainted list.
In Nautilus, the Gnome equivalent of Explorer, the file simply disappears and reappears in its 'wastebasket'. As you'd expect.
Where I work, we have an expression to cover this kind of behaviour. We say: Windows is helping you.
Invective
Time for some balance. The most amusing piece of Linux-relatedinvective on the Internet is Netscape/emacs legend Jamie Zawinski'sfamous rant about Linux video players.Never mind that it is wildly out of date - if you haven't read it andyou enjoy swearing, you are in for an audio cock-shaped treat. NSFW.
Still hard work
You may have heard it said that modern Linux is as easy to set up asWindows, requiring three or four clicks to install a file server assecure as a laptop containing a sensitive government database leftovernight on the front seat of a civil servant's Renault Nicole.
For the most part I would say this is true, but there are severalplaces where it is not, and Samba is definitely one of them. Yourcorrespondent recently set up a Samba system on a Windows 2003 domain(the full whack, with proper security and everything, not justhardwired in with root privileges everywhere). Getting it going was hergreatest intellectual triumph since passing Latin O-level.
Editors
By decree of the state of California, there must be at least 17 texteditors installed into each copy of Linux. Some are GUI based, but mostrun in consoles. Some support UTF-8, some include spell checkers orLISP implementations. All have mutually incompatible keystrokes.
Legendary line-oriented relic ed is by no means the most difficult to use. If you think you are hard, try joe, which emulates the dreaded Wordstar, the Wordprocessor that Time Joined the Foreign Legion to Forget.
Ubuntu installs a gnomic thing called gedit,and sets it, Notepad-style, as the default opener of all text

files

. Inthis case, the gnomes have taken Notepadness rather too far for myliking. Try opening a 4MB database dump - surely not such a huge thingthese days - and watch gedit die on its backside.
Magic LAMP
To be briefly serious, one of the best things to do with a Linux box is run a few LAMPapplications for your intranet. There is something exquisitelysatisfactory about this. It's like buying one of those plants that looklike a tangle of dead roots, and adding water to see it spring to lifein a blur of green shoots.
One excellent LAMP application to try is MediaWiki,the Wikipedia software. It will take you an hour or so to set up, butonce it is done it will not only serve as an excellent way of creatingan ad hoc documentation system across the department, it willalso give the children something to do on rainy afternoons in theschool holidays, as evidenced by Enid Blyton's masterpiece Five set up a database of erotic classics.
With MediaWiki, the only limit is your imagination. For example, Iam using it to organise my collection of notable corporate letterheads.There is a little overkill here, as it is a collection currentlycomprising just one item, but you must admit it is a good one:
Posted by Editorial Team Sat May 03, 2008 7:15 pm
The story emerges about HD3450 and gaming in Hardware, Internet, Networking, Comms and Security
YOU'LL PROBABLY READ this review of an HD3450 with the samemorbid curiosity one watches a train wreck on Youtube... nonetheless someonewrote it, and sure as heck, we put it up here. Neoseeker picked up this high-endpart (not) and threw some *gasp* DX10 titles at it - WiC, Bioshock, Quake Wars:Enemy Territory, UT3 and X3. A bloody massacre would describe what ensued. Ifyou're into really hardcore slideshows, you can even watch a vid of UT3 playedon an HD3450. Truth be said, if you get Hybrid CrossFire, maybe - just maybe -you can get that Crysis score over 18fps. Roll over laughinghere.
Small Net Builder has a review of IOGear's GCN1000 PC Portal – a networkableIP-based KVM device. This is a bit deeper than a software solution giving youaccess to the system on a level that PCAnywhere simply cannot. You can evenwatch the remote PC boot up and access the BIOS with this device. There's also anice little feature called Virtual Media Connection on the GCN1000. This willlet you transfer

files

directly from the remote PC to your host PC, creating avirtual USB drive. No idea if this works on Macs, though. Still, it works andmakes life easier for many an admin.Readon.
Xbit Labs has published Part Deux of their 24-incher roundup. In this partthey've added reviews of six new displays. Apparently TN matrices are making acomeback in this size department, despite the limited viewing angles and weirdcolour reproduction – it *is* an option is you don't want to fork out much moneyfor the 24-incher. Oleg has some interesting things to say,here.
Aussies have way too much time on their hands these days. OZ Hardware testeda... (wait for it)... ... USB Missile Launcher. Yes, the Dream Cheeky USBMissile Launcher, an item soon to be banned across the world, just out ofbleedin' principle. Remember (way back) when Tetris came out and officeproductivity hit a worldwide low? Well, this kit promises to do much of thesame. Enjoy flinging missiles at your co-workers or friends with this littleitemhere.
Computer Shopper has a review of HP's new Media Vault MV2120. It's a $299 NASthat works as a file server, backup server and storage server for your homenetwork. It comes with a stock 500GB drive (hot-swappable), and has USB ports toplug in additional drives/USB sticks. There's also room for a second drive bay(also hot-swappable) which you can use for RAID 1 or JBOD. Some glitches in usermanagement, but not enough to flunk the device altogether. Read CS's reviewhere.
The Velociraptor is doing the rounds quite fast too. It's now reachedExtremetech and they are mightily impressed by this 2.5-inch predator. Thisreview did make a difference from the others as Loyd managed to get hold of 2Velociraptors and tested them in single and RAID 0 configuration. Interestingly,the RAID 0 configuration topped out at the same values as a couple of WK6400AAKSalso in RAID 0 – either meaning the platform is limiting the test or it'sreached some technical limit in software. Lots of intriguing technical detailshere.
It's TechGage's turn to test the Core 2 Quad Q9450. It isn't the cheapest orthe most readily available of the Intel Quads, but TG highly recommends it.Performance, power consumption, overclocking are all in line with the remainderof the family – or slightly better, considering you can get a simple 333->400MHz overclock for free, takeing the 2.66GHz straight to 3GHz – identical to aQX9650. $350 will get you one, if you can find it...Carryon.
Posted by Editorial Team Tue Apr 29, 2008 6:43 pm
Turn Your iPod Touch into an iPhone in Entertainment, Film and Music, Mobile devices and media

The iPhone and iPod touch are almost indistinguishable devices exceptfor one major difference—you can make calls from your iPhone, and youcan't from your iPod touch. For the privilege of making phone callswith your iPhone, you have to pay $100 more upfront to Apple for thedevice itself, plus a minimum of $60/month to AT&T for the next twoyears. Let's say you didn't need that kind of firepower from your iPodtouch, but that you would like to use it make a phone call every nowand then. You can, and today I'm going to show you how to make VoIPphone calls from your iPod touch or iPhone using a freeware application called SIP-VoIP.
What You'll Need
1.) A jailbroken iPod touch or iPhone. If you haven't already jailbroken your device, don't worry—it'll just take 45 seconds.
2.) iPhone headphones with mics don't work with the iPod touch, so if you're using an iPod touch you'll need a Touchmod mic.The Touchmod mics come in a variety of flavors, from the simple donglethat plugs into the syncing port to the headphone-and-mic combo thatworks much like the iPhone headphones. The hardware will set you backsomewhere between $50 and $60.
3.) The freeware SIP-VoIP application. Read on for details for installing SIP-VoIP below.
UPDATE: Just today (4/15) it looks like another VoIP app for the iPhone has emerged called Fring.Fring promises to work with both Skype and SIP accounts, but likeSIP-VoIP it's still young and not entirely perfect. I haven't tried ityet, but it might be a viable alternative to SIP-VoIP, and can be installed just as easily.
Install SIP-VoIPAssuming you've got the hardware you need and you've prepared yourdevice, now it's time to install the VoIP application. If you don't yethave a mic, you can test that SIP-VoIP is successfully making callsbefore you purchase it.
I'm going to cover two different ways of installing SIP-VoIP. Thefirst and easiest method is with Installer.app, the program that isautomatically installed when you jailbreak your iPod. The second methodis more difficult, but it's good to have around in case you run intoerrors (which I did).

Method 1 - Install SIP-VoIP with Installer.app:First, since SIP-VoIP isn't found in Installer.app by default, you needto add the Touchmods repository to Installer. To do so, launchInstaller and head to the Sources tab. Now tap Edit -> Add, and typehttp://touchmods.net/rep.xml into the Add Source dialog. Hit OK, and Installer will refresh your sources, this time including your new Touchmods repository.

Nowgo to the Install tab and find the entry labeled Touchmods. Insideyou'll see an app called Touchmods SIP-VoIP. Go ahead and installSIP-VoIP by tapping the entry, tapping the install button, and thenverifying that you want to install this application from an "untrusted"source.
This is by far the easiest method for installing SIP-VoIP, but I hadtrouble with the latest version of SIP-VoIP (version 1.2) on my iPodtouch, so I had to install a previous version (1.1). Since you can onlyinstall the latest with Installer, I'll also demonstrate how to installolder versions of SIP-VoIP. I'd recommend trying it the easy way first,then moving to the following method if you have trouble. If you'retaking the easy route the first time around, skip to the Set Up an SIPAccount section below.
Method 2 - Install SIP-VoIP over SSH: To install previousversions of SIP-VoIP, you'll need to first install OpenSSH throughInstaller.app (you can find it under Install -> System). Now you'llneed to connect to your iPod using a desktop FTP client that supportsSFTP connections (like FileZilla for Windows or Cyberduckfor OS X). This will allow you to browse and copy

files

to your iPodlike you would if you could access the disk as an external hard driveon your computer.

Toconnect to your device from your computer, you'll need to know youriPod touch's or iPhone's IP address. You can find this by opening theSettings app, tapping Wi-Fi, and then tapping the blue arrow next tothe network you're connected to.

Now that you've got that, start up your FTP client of choice, enter the IP address as you server, and use root for your username and alpineas your password. Once connected, navigate to the Applications folder(just above the root folder). That's where your iPhone and iPod touchkeep all of their applications. From here it's a simple matter ofdragging and dropping the appropriate SIP-VoIP app to the applicationsfolder.
For this article, I'm using the 1.1 version of SIP-VoIP, which you can download here.Once downloaded, unzip the file and then drag and drop the SIP-VoIP.appfile to your Applications folder. Finally, restart your iPod or iPhoneand the new app should show up on your home screen.
Set Up an SIP Account
Unfortunately the SIP-VoIP app doesn't work with the most popular VoIP app Skype (it uses the SIPprotocol), which means you'll have to set up an account with anotherservice to use the app. Luckily there are tons of options out therethat can work with SIP-VoIP. I used a service called FreeCall, so that's what I'll highlight in my examples, but the Touchmods blog lists a handful of alternatives.
If you want to follow along exactly with my settings, head to the FreeCall signup pageand register for an account. After you register, you'll need to buysome minutes for your call time. FreeCall is an international service,so when it asks for your cell phone (to which it sends an SMSconfirmation), you'll need to include your country code; for example,it would look something like 0015555551234 if you're in the US. Theminimum purchase with FreeCall is 10 euros, which amounts to around$16. Once you've purchased some calling time with FreeCall, it's timeto enter your setup configuration in SIP-VoIP and start making calls.
NOTE: If you don't want to spend money off the bat, you might want to try signing up with a service like Gizmo5 (formerly Gizmo Project), which offers a small amount of trial credit.
Set Up SIP-VoIP to Make Calls
Finally,we're ready to set up SIP-VoIP with the SIP provider you registeredwith above. Launch the app from your iPod touch or iPhone's homescreen, then tap on Settings in the bottom right corner. You'll see avery rudimentary form where you'll enter the settings for the SIPaccount you set up above.

Ifyou used FreeCall like I did, enter your FreeCall username and passwordin the first two fields (other services will use the number they'veassigned you as the username), then sip.voiparound.comin the field labeled SIP-Server (see screenshot). There are morefields, but for FreeCall that should be all you need. Hit Save to saveyour settings—you may have to hit return on the iPod's keyboard todismiss it and see the Save button—and then tap the dial tab to head tothe dialpad.
Before you make your first call, you have to connect the applicationto the SIP server, so click the button labeled "connect to sip server"in the lower left. If all goes well, it'll connect without a hitch.(This is where I ran into some problems with version 1.2 on the iPodtouch. 1.2 connected without issue from my iPhone, but I kept gettingconnection error messages with 1.2 on my iPod touch. If you're havingsimilar problems, installing version 1.1 may help.) If it connectedsuccessfully, all you've got to do is dial your number (country codeincluded, depending on which service you go with) and hit the callbutton.
I actually stumbled onto a video on YouTube of a precocious kidusing a Touchmods mic with SIP-VoIP and FreeCall. There are several ofthese videos on YouTube—I particularly like this speaker phone setup. Check out his video below to get a better look at what the final result is.

Set up Inbound numberYour FreeCall account only handles outbound calls, but you're not outof luck if you want to add inbound functionality to your iPod touch.You can register your FreeCall SIP account with other services, like IPKall,to get a free phone number that will ring your iPod touch. (The onlycatch is that you're limited to a state of Washington area code). Iwon't go into details on setting up an inbound number, but you can findmore details from this post at the Touchmods blog.
---

The SIP-VoIP app has been in development for a while, and thoughit's still not much to look at, it seems to be improving over time. TheiPhone and iPod touch 2.0 firmware will officially hit the streetssometime in June with support for third party apps through Apple, sowho knows what kind of VoIP apps we'll see when that time comes.
Whether or not we'll ever see Skype or another VoIP app officially supported for the iPhone (Apple says they'll allow VoIP over Wi-Fi),SIP-VoIP is already there. My experience with it has been hit-or-miss,and it's got miles to go before it's the friendliest app around, butwhether you'd like to make international calls for cheap or you justwant to want to reach out and touch someone from your iPod touch, thefolks at Touchmods and SIP-VoIP are already providing the tools to dojust that.
No, you don't get visual voicemail, text messaging, or a built-incamera, but you do get to make and receive phone calls from your iPodtouch—which in itself shows a lot of promise.
Posted by Editorial Team Wed Apr 23, 2008 5:18 am