Search iVirtua
Advanced/Tag Search...
Search Users...
What is iVirtua Exclusive Community?
An exclusive gaming industry community targeted to, and designed for Professionals, Businesses and Students in the sectors and industries of Gaming, New Media and the Web, all closely related with it's Business and Industry.
A Rich content driven service including articles, contributed discussion, news, reviews, networking, downloads, and debate.
We strive to cater for cultural influencers, technology decision makers, early adopters and business leaders in the gaming industry.
A medium to share your or contribute your ideas, experiences, questions and point of view or network with other colleagues here at iVirtua Community.
Guest's Communication
Live Chat
Teamspeak (VOIP) Audio Conference
Private Messages
Check your Private Messages
Themes
Choose an iVirtua Community theme to reflect your interests...
Business Theme

India/Arabic Theme
Gaming Theme
iVirtua Recommends
Fly Emirates
All-new look at SimCity Creator in Gaming
EA has released some more screenshots from its latest entry into the Sim game series, SimCity Creator.


The game retains the basic gameplay ofthe original SimCity titles, but presents itself in a manner akin tothe MySims game released last year.

Fans worried that the gamewill be dumbed down should take a look at the screens. Whilst there area few concessions (we've never seen our Sims panic that they've hadenough broccoli before, for example) overall it appears to retain thebasic formula present in other SimCity games.

SimCity Creator is due for

release

on September 19, 2008.
Posted by Editorial Team Mon Jul 14, 2008 1:06 pm
30 Most Anticipated Games of E3 in Gaming
30. Rise of the Argonauts (PS3, X360, PS3)
Publisher: Codemasters
Developer: Liquid Entertainment
Est.

Release

Date: Sep 2008
Officially Announced for E3: Yes


Anaction RPG that promises to be way more action than RPG, Rise of theArgonauts has a winning mythological premise and lots of little designtouches that keep the game looking fresh. Take the Argo—the ship oflegend will act as a seafaring headquarters from which your recruitedArgonauts will provide support. There is also a "deed" system that willincrease Jason's abilities via the acquisition of Xbox LiveAchievement-like trophies. So it's bursting with interesting ideas, andit's all running on the reliable Unreal Engine 3—this could be thesleeper hit of the year.


29. High School Musical 3: Senior Year Dance (PC, Wii, PS2, NDS, X360)
Publisher: Disney Interactive
Developer: TBA
Est.

Release

Date: Holiday 2008
Officially Announced for E3: Yes


Considerthis your representative sample of licensed games that promise to sellgangbusters regardless of quality or media reaction. And High SchoolMusical 3 is likely to be the biggest game of its breed this year: themovie of the same name is the first time this children's blockbusterfranchise will see a theatrical

release

, meaning the marketing for theproperty is likely to be even more inescapable than usual. Beyond theusual niceties of rhythm games—coop and competitive modes, mechanicsspecific to each system's control scheme—it will have the songs fromHigh School Musical movies past and present. That last one is almostcertainly the only feature the game needs to add another million insales to the franchise's life-to-date count.

28. Borderlands (PC, X360, PS3)
Publisher: 2K Games
Developer: Gearbox Software
Est.

Release

Date: 2009
Officially Announced for E3: Yes


Capabledeveloper Gearbox has never swung for the fences with quite as muchgusto as with Borderlands. The fact that the game is original IP isn'teven the half of it—it also promises a procedural item creation systemthat will provide this sci-fi first-person shooter over half a millionweapons. If that's not enough, Borderlands also shares some ambitionswith big-budget role playing games: the world will be expansive,character growth and classes comes standard, and missions and sidequests will populate the landscape. Borderlands has all the earmarks ofa breakout hit, and its scope should easily take the breath away fromboth shooter and science fiction fans.

27. Mortal Kombat vs. DC Universe (X360, PS3)
Publisher: Midway
Developer: Midway
Est.

Release

Date: Holiday 2008
Officially Announced for E3: Yes


Goingon the title alone, Mortal Kombat Vs DC Universe feels a decade late,like it should have been slugging it out with Marvel Vs Capcom for thequarters of 90s teenagers. But it's actually a better idea,commercially, in 2008—now the game can ride the tide of successfulcomic book film blockbusters. It can pull from the years of soliddesign work and franchise reputation rebuilding that culminated inMortal Kombat: Armageddon. And with an anticipated ESRB rating of T forTeen, there're no retail hurdles to keep the adolescent maledemographic from eating this up with a spoon.

26. S.T.A.L.K.E.R.: Clear Sky (PC)
Publisher: Deep Silver
Developer: GSC Game World
Est.

Release

Date: Aug 29, 2008
Officially Announced for E3: Yes


S.T.A.L.K.E.R.:Shadow of Chernobyl was hardly the biggest first-person shooter of 2007in the west. But it posted platinum-level sales in Eastern Europe,where its freeform gameplay and mythos steeped in Russia's uniquescience fiction struck a strong chord. With little similar competitionin the region, its sequel Clear Sky should do well for itself therealso. Which isn't to say the rest of the world shouldn't (or won't)give it a go as well—Clear Sky will add a tactical, squad-based turfwar to the already eccentric proceedings, and should be just as curiousand interesting a beast as its predecessor.

25. Star Wars: The Force Unleashed (PS3, X360, Wii, PS2, PSP, NDS)
Publisher: LucasArts
Developer: LucasArts
Est.

Release

Date: Sep 2008
Officially Announced for E3: No, but it might as well be


TheForce Unleashed could well be the biggest project to bear the Star Warsfranchise name since Episode III ended the franchise's non-animatedtheatrical run. Every Star Wars fan has been curious about the periodright before the Original Trilogy when Darth Vader had his run of thegalaxy; Force Unleashed promises to capture this period from theperspective of the Dark Side, using exciting new technologies torealistically render bot the AI and the Force itself. If the persistentrumors are true, this could well be the last project completely builtby LucasArts' internal studio—but in that case, it will be one heck ofa send-off that a lot of Star Wars fans will experience.


24. Beyond Good and Evil 2 (PS3, X360)
Publisher: Ubisoft
Developer: Ubisoft Montpellier (likely)
Est.

Release

Date: TBA
Officially Announced for E3: No


Allthat's known about Beyond Good and Evil 2 is that it's currently beingworked on by Ubisoft premier designer Michel Ancel. But in this case,that's more than enough—Ancel's resume does include perennial hitRayman and (naturally) the first Beyond Good and Evil, after all. Andthe first Beyond Good and Evil is particularly beloved. The smallaudience that played it has been talking about it ever since, praisingits varied gameplay and realistic, strong female protagonist Jade. Sothe sequel is exciting, and though its commercial success is by nomeans assured it's possible that maybe the adult gaming audience isfinally ready for this franchise.


23. Lock's Quest (NDS)
Publisher: THQ
Developer: 5th Cell
Est.

Release

Date: Fall 2008
Officially Announced for E3: Yes


2007'sbiggest surprise sales blockbuster was a little DS game called Drawn toLife, built by a little mobile developer called 5th Cell. That gamegave the independent studio a reputation for creating innovations withstrong market appeal, and it could cement that reputation with Lock'sQuest, a curious RTS/Action/RPG/minigame hybrid with cute graphics,quick thrills and a world that can be completely remodeled by theplayer. In other words, it has a lot of elements that appeal across awide variety of gaming demographics, as well as a lot of ambition. Ifthis one lives up to its potential, it would be great to see it succeed.


22. Puzzle Quest: Galactrix (PC, X360, NDS)
Publisher: D3 Publisher of America
Developer: Infinite Interactive
Est.

Release

Date: Fall 2008
Officially Announced for E3: Yes


Lastyear's Puzzle Quest combined the most addictive parts of the casual"match three" puzzle game with the most addictive parts of RPGcharacter development, a powerful cocktail that murdered productivityand sold in huge numbers. There's no reason this follow-up shouldn'tcontinue in that trend—it's still a match three puzzle game (this timemore Collapse than Bejeweled), it still has those all-important RPGelements, and it's being built by the same studio. The only differences(besides the science fiction setting) all look like improvements.There's an element of strategy gaming. Players can enhance not justtheir character, but also their spacecraft. Downloadable content willabound. It all sounds like a game that players will itch to play afterthe first hit.


21. Crysis: Warhead (PC)
Publisher: Electronic Arts
Developer: Crysis
Est.

Release

Date: Fall 2008
Officially Announced for E3: Yes


Allegedlythe last PC exclusive from the bastion of PC gaming high technology,Crytek's side story to 2007's Crysis looks every bit as graphicallydazzling as its predecessor. It also promises to be a moremarket-friendly title (a tall order considering Crysis' million-sellingstatus); Warhead provides a less strategic, more bombastic run-and-gunaffair compared to the original Crysis. And with a year of hardwareadvancements in between Crysis and Crysis: Warhead, that more widelyappealing design will find that a lot more people have the rigs toactually run it well. And who knows? If Warhead does manage to findthat perfect balance, perhaps Crytek will stick to their PC-exclusivestomping grounds for a while longer.

20. Tomb Raider Underworld (Wii, PS2, PS3, X360, PC, NDS)
Publisher: Eidos
Developer: Crystal Dynamics
Est.

Release

Date: Holiday 2008
Officially Announced for E3: Yes


It'sbeen a few years since Crystal Dynamics took the Tomb Raider franchiseand reinvigorated it with Legend. But it's really with Underworld thatthe series' previous mistakes have been taken to heart. Rather thanrest the game on its laurels again, Underworld is a creation that lookstoward with the new; the game engine is all new, the way the worldinteracts with Lara is more realistic, combat now has melee and willflow fluidly into the puzzle mechanics. And if that wasn't enough toguarantee sales, Lara has a motorcycle now too.


19. Sonic Unleashed (Wii, PS2, PS3, X360)
Publisher: SEGA
Developer: Sonic Team/Dimps
Est.

Release

Date: Holiday 2008
Officially Announced for E3: No


Thesedays it feels like SEGA promises the moon with every Sonic title, tothe point where it's hard to fall for it anymore. Take Sonic Unleashed;it's promise of a revamped, re-invented Sonic echoes the promises SEGAmade before this generation's first Sonic the Hedgehog hit the Xbox 360with a sad plop. And yet, franchise sales have never followed the samecurve as the blue blur's review scores. This is mostly because ofSonic's strong appeal to the child market, but on some level thegraying Genesis owner wants to believe what we're told, that this nextSonic really will reclaim the glory days. Anyway, Sonic Unleashed. It'srunning on a new engine and has some 2D environments. It'll sell, andas for the rest of it? Here's hoping.


18. MadWorld (Wii)
Publisher: SEGA
Developer: Platinum Games
Est.

Release

Date: 2009
Officially Announced for E3: No


PlatinumGames, formerly Seeds, formerly Clover Studios, isn't known for makingcommercial hits. No, that team is known more for making instant,beloved classics. Okami certainly, but Viewtiful Joe is in there aswell, and the only people who remember God Hand these days love it toabsolute death. MadWorld, a blood-soaked black and white Wii exclusive,feels like a return to the playful, experimentation that made this teamfamous. Will it sell? Well, it's nice to think that just maybe, thistime, the market has caught up to what Platinum is doing.


17. Animal Crossing Wii (Wii)
Publisher: Nintendo
Developer: Nintendo
Est.

Release

Date: TBA
Officially Announced for E3: No


Asof this writing, Animal Crossing Wii still exists as a hopeful glimmerin the eye of the gaming public. Nintendo hasn't said anything at allabout it yet, though almost all speculation says that it exists andwill be announced soon—and if that's the case, E3 is as good a place toshowcase it as any. It's a completely believable theory. Nintendo'sChristmas lineup is currently a complete mystery, and Animal Crossing,already a surprise hit on GameCube and DS, is such a good fit for thecasual Wii-loving audience it's startling it's not on the systemalready.


16. Left 4 Dead (PC, X360)
Publisher: Valve Software
Developer: Turtle Rock Studios
Est.

Release

Date: Holiday 2008
Officially Announced for E3: Yes


Valvedoesn't

release

duds, and it doesn't buy teams that can't deliver. Sothe fact that it purchased Turtle Rock Studios and have put a greatdeal of PR muscle behind Left 4 Dead speaks volumes as to how good thisgame could be. The game has a completely innovative, yet highly marketfriendly hook in its "four survivors must cooperate to survive thezombie horde" premise, though players of a less polite persuasion canalso take up the role of a super-powered zombie. This could very wellbe the next major online phenomenon, like Team Fortress 2 before it.


15. Resistance 2 (PS3)
Publisher: Sony Computer Entertainment
Developer: Insomniac Games
Est.

Release

Date: Holiday 2008
Officially Announced for E3: Yes


Thefirst Resistance was the big win for the PlayStation 3 at launch, butResistance 2 looks set to spin that good first impression into anempire. Resistance 2 pushes the game out of London to the morerelatable (in the US, anyway) environs of the United States. A goodmove, but not as good as the massive 60-man multiplayer that the gamepromises. That's fantastic scale for an online console game; add onsome more focused, objective-oriented teamplay and Resistance 2 is agood contender for gamer's next networked obsession.


14. Killzone 2 (PS3)
Publisher: Sony Computer Entertainment
Developer: Guerilla Games
Est.

Release

Date: 2009
Officially Announced for E3: Yes


Threeyears on and Killzone 2 is still trying to shake off its disastrous"showing" at E3 2005. Admittedly the team at Guerilla has done a finejob of actually approaching the target in that first badly marketed"target render," with more recent previews showing the game asappropriately attractive and bombastic for its high position in Sony'sportfolio. But it still needs a big floor to show off, and it needs aman to say "in-game graphics" about one thousand times in front of somehuge HD Killzone if it wants to really nail the market. E3 historicallyhas had some very big floors.


13. Fable 2 (X360)
Publisher: Microsoft
Developer: Lionhead Studios
Est.

Release

Date: Oct 2008
Officially Announced for E3: Yes


Alot on Fable 2 is already known, and most of it is interesting on avariety of levels. There's the in-game dog, a character ofunconditional love that will act as the player's anchor to the game'sworld. There's the Pub Games, a series of Xbox Live Arcade titles thatwill act as both encapsulated products and previews for the bigrelease. Then there's the gay marriage, pregnant adventuring, and allmanner of family matters to deal with in the game as well. It's a gamethat promises to push boundaries and break some of the medium's moreridiculous unnecessary taboos. Considering the success of the originalGable, it's likely many people will choose to experience this moveforward—surely a good thing.


12. Command and Conquer: Red Alert 3 (PC, X360)
Publisher: Electronic Arts
Developer: EA Los Angeles
Est.

Release

Date: Holiday 2008
Officially Announced for E3: Yes


RedAlert's Cold War gone hot is one of the most beloved scenarios is allof strategy gaming, and the franchise's long seven year absence makesthis game even more exciting and desirable. And by adding thepseudo-Japanese Empire of the Rising Sun faction the festivities geteven more campy and strange, complete with towering mecha, psychicschoolgirls and parachuting bears. So it's got a lot of hooks for boththe longtime fan and sugar-crazed newcomer alike.


11. Far Cry 2 (PC, X360, PS3)
Publisher: Ubisoft
Developer: Ubisoft Montreal
Est.

Release

Date: Holiday 2008
Officially Announced for E3: No


FarCry 2 has found a unique gaming setting in the jungles, savannahs andtowns of Africa, and it plans on giving the player a lot of thatsetting – 50 square kilometers, to be precise. Plenty of new gameplayelements will make themselves known as the player crosses that expanse:some wounds have to be treated with field medicine (ie. fishing abullet out with a knife) and brush fires can be started, only to bewhipped up realistically by wind. Far Cry 2 is an underutilized brandmoving to an underutilized setting while adding multiple newinnovations, making it an extremely strong contender in the hardcoreshooter market.
10. Prince of Persia (X360, PS3)
Publisher: Ubisoft
Developer: Ubisoft Montreal
Est.

Release

Date: Holiday 2008
Officially Announced for E3: No


Princeof Persia: The Sands of Time was one of the last generation's definingmoments, so it would have been easy for Ubisoft to just build astandard sequel on the successes of its previous trilogy. The fact thatthis is not the case, that the series is instead being rebooted with anincredible hand-painted aesthetic and open world, show a strongdedication to making the Prince one of the most lasting and importantfranchises in gaming (though the big budget movie helps on that scoreas well). While previous PoP titles did sell well, after theblockbuster success of Assassin's Creed, the timing is perfect for thePrince to really make it big.


9. Final Fantasy XIII (PS3)
Publisher: Square Enix
Developer: Square Enix
Est.

Release

Date: TBD
Officially Announced for E3: Yes


Sinceclosing the door on the last console genre, Square Enix has relied onhandheld games and Wii side stories alone. If the publisher's lastfiscal statement said anything, it was that's no way for a company tolive—so while Square Enix has some other interesting console games inthe pipe, it needs to bring its megaton franchise back into the publiceye. It's not surprising that Final Fantasy XIII will show up in someform at E3—and regardless of what form it takes or what the game lookslike now, it could certainly steal the show if it tried.


8. Street Fighter IV (PC, X360, PS3)
Publisher: Capcom
Developer: Capcom/Dimps
Est.

Release

Date: 2009
Officially Announced for E3: Yes


Atworst, this is a surprise come back of one of gaming's most iconicfranchises. At best, this could be the surprise come back of agenre—certainly if anything could revive a flagging fighting gamefield, a new numbered entry in its greatest series would be the thingto do it. Perhaps the best sign that this game knows what it will taketo succeed is its reverence to Street Fighter II—all of the charactersfrom that game will return, and the gameplay mirrors the measured paceof that early entry. Considering versions of SFII still sell in strongnumbers, it's easy to see how this strategy could succeed on the market.


7. Rock Band 2 (X360, PS3, PS2, Wii)
Publisher: MTV Games
Developer: Harmonix
Est.

Release

Date: Sep 2008 (X360 timed exclusive, with other versions to follow)
Officially Announced for E3: Yes


Nomatter what other companies say, the fast-paced game of catch-up thathas gripped the music genre says one thing louder: the four-piece RockBand is the standard for the field. And while little is known about itat this point, what is known proves that Harmonix hasn't lost the plotwith Rock Band 2. Sticking to its "platform" guns, the game will befully backwards compatible—with old DLC, with old instruments, theworks. And while user-created content is not a go this time, there arecertainly things about the game yet to be announced—you don't want tomiss this one at the show.


6. LittleBigPlanet (PS3)
Publisher: Sony Computer Entertainment
Developer: Media Molecule
Est.

Release

Date: Oct 2008
Officially Announced for E3: Yes


Despiteseemingly constant delays, LittleBigPlanet remains one of the mostunique products in Sony's first-party arsenal. The idea of a game thatlives and dies by the content created by its users has been triedbefore in first-person shooters, but LittleBigPlanet, with its lovelytextured graphics and universal, non-violent charm wants to be muchmore—the YouTube of games perhaps, or the Legos of the 21st century. Ofall the games that could bring PlayStation 3 to the mass market, thisremains the best hope.


5. Halo Wars (X360)
Publisher: Microsoft
Developer: Ensemble Studios/Bungie
Est.

Release

Date: Oct 2008
Officially Announced for E3: Yes


HaloWars is more than just the next title from Microsoft to have the Haloname. It's also more than the first Halo project not spearheaded byBungie. Halo Wars wants to be a revolution in real-time strategy, aconsole exclusive built from the ground up for a console controller—inother words, Halo Wars wants to do for real-time strategy what Halo didfor first-person shooters. If it succeeds, it could crack wide open thenascent console RTS market as gamers try it based on the franchisealone. It's been reported that the game will be playable by the mediaat E3, so the show should give a much better idea as to how itssucceeding.


4. Spore (PC, Mac)
Publisher: Electronic Arts
Developer: Maxis
Est.

Release

Date: Sep 7, 2008
Officially Announced for E3: Yes


It'scertainly something that even after the seemingly endless amount ofwords typed about Spore, even though it's appeared in publications asnon-game centric as The New Yorker, even though the wait for the gamehas been years long and interminable, almost everyone who knows aboutit is still excited at its promise. And after the success of therecently released Creature Creator, that excitement is still mounting.Will Wright's SimEverything could very well the next big thing, tossingaside silly ideas like "demographics" and just appealing to everyoneeverywhere. In other words, the next Sims.


3. Gears of War 2 (X360)
Publisher: Microsoft
Developer: Epic Games
Est.

Release

Date: Nov 2008
Officially Announced for E3: Yes


Gearsof War 2 is a lot of things. To the gamer, it is epic, the sequel tothe game that dominated man hours spent on Xbox Live for most of 2007.To developers, it's the new baseline, as every new Epic game has cometo represent the state of the art for the now industry standard UnrealEngine 3. In both regards Gears of War 2 looks great. A fewimprovements to the constantly evolving engine have already been shown,and most gamers agree that new mechanics like martyrdom and the "meatshield" look like fantastic fun. Gears of War is already one of thisgeneration's emblematic franchises, so it will be great to see how thesequel goes about cementing that status.


2. Resident Evil 5 (X360, PS3)
Publisher: Capcom
Developer: Capcom
Est.

Release

Date: 2009
Officially Announced for E3: Yes


RE5is not even close to a retail

release

, and yet it's already one of themost interesting topics in the industry. It brings with it the highlyrespected pedigree of Resident Evil 4, hands-down one of the best gamesof the last generation, and will probably sell strongly to the audiencethat loved, or even heard about, that game. Yet it's also mired incontroversy over some concerns regarding racism. So it's a projectthat's walking many tightropes of expectation, and there's potentialfor huge success or massive failure here. As a result this E3 could bethe most important public showing for RE5 until its

release

—it shouldbe fascinating.


1. Fallout 3 (PC, X360, PS3)
Publisher: Bethesda Softworks
Developer: Bethesda Softworks
Est.

Release

Date: Oct 2008
Officially Announced for E3: Yes


Fallout3 shows great evolutionary leaps every time it's displayed for publicviewing, with recent revelations—the childhood simulating charactercreator, the 500 endings—being particularly fascinating. Now that it'scoming precariously close to its announced

release

date, this E3 shouldrepresent the game's biggest showing yet. If there are any surprisesleft in the title to announce, expect them to get announced at somepoint during the week. But even if there aren't, Fallout 3 has alreadyproven itself to be a sprawling, ambitious project that anyone in thegaming audience would wait to spend more time with.
Posted by Editorial Team Tue Jul 08, 2008 7:55 am
Rock Band 2 to include every song DLC free from Rockband 1 in Gaming
There are differing leaks out there regarding the track list for Rock Band 2.Both are unattributed, one to a friend of a friend who got a look at anemail from Harmonix to MTV or something. But in the interest ofrumormongering, we'll repeat both with the caveat that there is no wayof knowing if this stuff is for real or not. But if, combined, they'rehalf right then this could be one hell of a track list, possibly thebest of any rhythm game.
Also, an IGN Insider interview (transcript provided by reader Max)let slip that buyers of Rock Band 2 will have access to all of thesongs off the original Rock Band disc, available as free DLC. Fulldetails on both after the jump.

Says IGN 360 editor Nate Ahern:

Rock Band 2 and Guitar HeroWorld Tour create an interesting situation for gamers. If you boughtRock Band 1 then chances are you'll feel cheated by the

release

of RB2,thus you'd think that GHWT would be the way to go as it somewhatredefines the music gaming genre. However, if you didn't buy the firstRock Band then I would absolutely agree with notagoth. Immediately uponpurchasing Rock Band 2 you'll have the ability to download a hugelibrary of songs, as well as all of the songs off of the original discas a free download. Then again, Guitar Hero World Tour does allow usersto create and share their own songs, so it's really only a matter oftime until the Rock Band library is eclipsed. At the end of the day itcould come down to which series has earned your allegiance over thelast year since RB's original

release

."

And on to the leaked track lists. The first is from Demp, a commenter on 8bitfix, and he's got the FOAF who saw the email source. That's like fourth-hand hearsay, but whatever, this ain't court.
1 AC/DC Let There Be Rock
2 AFI Girl's Gone Grey
3 Alanis Morissette You Oughta Know
4 Alice in Chains Man in the Box
5 Allman Brothers Ramblin' Man
6 Avenged Sevenfold Almost Easy
7 Bad Company Shooting Star
8 Beastie Boys So Whatcha Want
9 Beck E-Pro
10 Bikini Kill Rebel Girl
11 Billy Idol White Wedding Pt I
12 Blondie One Way or Another
13 Bob Dylan Tangled Up in Blue
14 Bon Jovi Livin' on a Prayer
15 Cheap Trick Hello There
16 Devo Uncontrollable Urge
17 Dinosaur Jr Feel the Pain
18 Disturbed Down with the Sickness
19 Donnas, The New Kid in School
20 Dream Theater Panic Attack
21 Duran Duran Hungry Like the Wolf
22 Elvis Costello Pump it Up
23 Fleetwood Mac Go Your Own Way
24 Foo Fighters Everlong
25 Go-Go's, The We Got the Beat
26 Grateful Dead, The Alabama Getaway
27 Guess Who, The American Woman
28 Guns N' Roses Shackler's Revenge
29 Interpol PDA
30 Jane's Addiction Mountain Song
31 Jethro Tull Aqualung
32 Jimmy Eat World The Middle
33 Joan Jett Bad Reputation
34 Journey Anyway You Want It
35 Judas Priest Painkiller
36 Kansas Carry On Wayward Son
37 L7 Pretend We're Dead
38 Lacuna Coil Our Truth
39 Linkin Park One Step Closer
40 Lit My Own Worst Enemy
41 Lush De-Luxe
42 Mastodon Colony of Birchmen
43 Megadeth Peace Sells
44 Metallica Battery
45 Mighty Mighty Bosstones Where'd You Go
46 Modest Mouse Float On
47 Motorhead Ace of Spades
48 Muffs, The Kids in America
49 Nirvana Drain You
50 Norman Greenbaum Spirit in the Sky
51 Offspring, The Come Out & Play (Keep 'em Seperated)
52 Panic at the Disco Nine in the Afternoon
53 Paramore That's What You Get
54 Pearl Jam Alive
55 Presidents of the USA Lump
56 Rage Against the Machine Testify
57 Ratt Round & Round
58 Red Hot Chili Peppers Give it Away
59 Replacements, The Alex Chilton
60 Rise Against Give it All
61 Rush The Trees
62 Silversun Pickups Lazy Eye
63 Smashing Pumpkins Today
64 Social Distortion I Was Wrong
65 Sonic Youth Teenage Riot
66 Soundgarden Spoonman
67 Squeeze Cool for Cats
68 Steely Dan Bodhitsattva
69 Steve Miller Band Rock'n Me
70 Survivor Eye of the Tiger
71 System of a Down Chop Suey
72 Talking Heads Psycho Killer
73 Tenacious D Master Exploder
74 Testament Souls of Black
75 Who, The Pinball Wizard
BONUS SONGS (all HMX bands)
76 Abnormality Visions
77 Anarchy Club Get Clean
78 Bang Camaro Night Lies
79 Breaking Wheel Shoulder to the Plow
80 Libyans, The Neighborhood
81 Main Drag, The A Jagged Georgeous Winter.
82 Speck Conventional Lover
83 Sterns, The Supreme Girl
84 That Handsome Devil Rob the Prez-O-Dent
And then from Loading Reality,which notes that this numbers only about 60. Some of the tracks are thesame as the list above, just in a different order. "Keep in mind, someof these could easily be DLC that's in the works," Loading Realitywrites. A wise caveat.
1) Tangled Up in Blue (Bob Dylan)
2) Bad to the Bone (George Thorogood)
3) We've Got the Beat (Go-Gos)
4) Bad Reputation (Joan Jett)
5) Pinball Wizard (The Who)
6) Dammit (Blink 182)
7) That's What You Get (Paramore)

The Trees (Rush)
9) Ace of Spades (Motorhead)
10) Chop Suey (System of a Down)
11) Testify (Rage Against the Machine)
12) Spirit In the Sky (Norman Greenbaum)
13) Ramblin' Man (Allman Brothers)
14) Rebel Girl (Bikini Kill)
15) Eye of the Tiger (Survivor)
16) Panic Attack (Dream Theater)
17) Everlong (Foo Fighters)
1
One Step Closer (Linkin' Park)
19) Lump (Presidents of the USA)
20) Come Out and Play (Offspring)
21) Drain You (Nirvana)
22) Carry On Wayward Son (Kansas)
23) Peace Sells (Megadeath)
24) Souls of Black (Testament)
25) Livin' On a Prayer (Bon Jovi)
26) Round and Round (Ratt)
27) New Kid In School (The Donnas)
2
Alright Now (Free)
29) Today (Smashing Pumpkins)
30) Man In the Box (Alice In Chains)
31) Any Way You Want It (Journey)
32) Holiday In Cambodia (Dead Kennedys)
33) Give It Away (Red Hot Chili Peppers)
34) White Wedding (Billy Idol)
35) Hello There (Cheap Trick)
36) Cool for Cats (Squeeze)
37) Psycho Killer (Talking Heads)
3
? (Devo)
39) One Way or Another (Blondie)
40) De-luxe (Lush) [dare to dream, shoegaze in Rock Band!]
41) Push It (Static-X)
42) Pump It Up (Elvis Costello)
43) Master Exploder (Tenacious D)
44) Bandages (Hot Hot Heat)
45) PDA (Interpol)
46) My Own Worst Enemy (Lit)
47) Float On (Modest Mouse)
4
Aqualung (Jethro Tull)
49) Spoonman (Soundgarden)
50) Bodhisattva (Steely Dan)
51) Suffer (Bad Religion)
52) I Was Wrong (Social Distortion)
53) American Woman (The Guess Who)
56) You Oughta Know (Alanis Morrissette)
57) Mountain Song (Jane's Addiction)
5
Stop! (Against Me)
59) Hungry Like the Wolf (Duran Duran)
60) Alabama Getaway (Grateful Dead)
So there you have it. Could be real, could be bs, again that's thefun of rumors. But even if this is in-progress thinking, and not finalstuff, it shows Harmonix is not F-in around, and will move to counterGuitar Hero: World Tour's peripherals and custom song features withoutstanding content.
Rock Band Two Rumored Track List [8bitfix, in comments]
60 Rock Band 2 Tracks Leaked [Loading Reality, thanks Max]
Posted by Editorial Team Tue Jul 08, 2008 7:54 am
'The Internet Hates Diablo III' in Gaming
When Blizzard unveiled Diablo III earlier this week, it didn't comeas much of a surprise to anyone. Well, there was one guy who thoughtStarcraft 3 was being developed alongside Starcraft 2 with a projectedrelease date of one week prior to the

release

of the game it wasfollowing, but no one has taken Cliffy B. seriously since he predictedthat Mario would never appear in another video game after Super MarioSunshine.

Sure, it didn't blow any minds, but theannouncement came as welcome news. Diablo II is still the first thing Iinstall on my computer after a trojan-laden lolita incest hentai comicforces me to reformat. It's hard to believe that in the last eightyears no one has been able to step in and create a better action-rpg.It's even harder to believe that a ten year old girl can lubricate herentire body with egg yolks then squirm into the urethra of her mother'spenis and follow it until she returns to the womb, but I saw thedrawings. It can happen, people.


After watching theDiablo III gameplay footage, I was really excited. The visuals werefantastic, a lot of small improvements had been added without seemingto get in the way of what makes the series great, and by the end of thevideo I found myself moving my mouse around the screen as if I wasplaying. That's sad, but what's even sadder is that I'm not a big-timegame journalist so I can't come up with a term like "gamesturbation" todescribe the lonely and desparate act while making myself cool andquotable.

Imagine my surprise when I discovered that mypositive impressions were irrational and baseless, while most of theinternet saw the game for what it truly was: A personal insult to themand a serious threat to all they hold dear. If you find that you'vemistakenly become mildly optimistic about the game, read on to find outwhere I went wrong so you can adjust accordingly.






My Initial (Wrong) Opinion:Wow, it's the world from Diablo in 3D, rendered like a painting toretain the 2D flavor of the previous games. The dark and ominous themesare still there, only now we don't have to use our imaginations to fillin the details suggested by blocky sprites.

The Internet's (Correct) Opinion: Wow, it's a shitty cartoon! This is NOT the same world that Diablo I and II took place in. No way.

DoI see a rainbow? I'm sorry, but rainbows don't exist in the Diablouniverse. I have read all the lore, and there is not a single mentionof rainbows in there. Big surprise that Blizzard retconned rainbowsinto Diablo. Vapid morons. Who do they think they are? I've beenplaying this series they created for years, and they fuck everything uplike they own it.

Here's the dark and gritty Diablo II, which Diablo III should look like:





Here's a cartoon:





Or is that Diablo III? I honestly can't tell.

Blizzardshould give the game a dark atmosphere by literally making the game toodark to see anything and then maybe add some film grain on top ofeverything. If the technology is available, the black silhouette of athumb could get in the way of the player's view to obscure the gamefrom time to time and add to the game's overall darkness.



My Initial (Wrong) Opinion:In addition to gold and loot, monsters will occasionally drop globesthat heal your character when picked up. You'll be able to focus moreon the gameworld instead of micromanaging a potion inventory. Thisfrees up the hotbar for your character's abilities.


The Internet's (Correct) Opinion: Globes of health. That float. Riiiight.


Itmade so much more sense when glass bottles full of healing syrup fellout of monsters onto rocky dungeon floors without breaking. You know,when your character had thirty bottles strapped onto his belt and noone thought twice about chugging something that had been stuffed into apoisonous mummy for the last thousand years. This magical orb shit isgoing to ruin my sense of immersion big time.





My Initial (Wrong) Opinion:The Witch Doctor looks like a variation of the Necromancer that focuseson infectious diseases and fire instead of death and the art of lookinglike J. Mascis. Being able to cast your offensive spells on pets sotheir attacks are buffed with those spells' abilities seems like itcould be a lot of fun. I can imagine buffing one pet with a spell thatslows enemies, another pet with some form of Weaken, and a third with adamage-dealing plague to mop up.


The Internet's (Correct) Opinion:WHERE DID THE NECROMANCER GO??? I'm not buying this game. Even if allof the unannounced classes are Necromancers, it's too late. Blizzardhas abandoned its true fans.





My Initial (Wrong) Opinion:Did that thing just flatten one player under its foot, then pick up abarbarian and bite his head off? Okay, that's awesome. Hardcore modejust got hilarious.


The Internet's (Correct) Opinion: So the player characters only come up to this thing's ankles? That's stretching it way too far.

I'msorry, but this terribly designed throwaway boss does not fit into thecompendium of realistic monsters that we've all become accustomed tosuch as skeletons that hide in barrels, pygmies that stand on eachother's shoulders to create larger pygmies, and enormous Satanic grubs.
Posted by Editorial Team Tue Jul 08, 2008 7:53 am
2010: the 5TB 3.5in HDD cometh in Hardware, Internet, Networking, Comms and Security
Hitachi has pledged to

release

a 5TB 3.5in hard drive within twoyears, and it claims two of the drives will boast enough capacity tostore everything in your brain.
According to a report by Nikkei Net, Hitachi Global StorageTechnologies will use Current-Perpendicular-to-Plane GiantMagnetoresistance (CPP-GMR) magnetc read heads to achieve the aim.This, the firm claims, will allow its drives to store 1TB of data inevery square inch of the recording surface.
Hitachi's announcement is a step on from a claim it made back inOctober 2007 that 4TB of storage could become a reality by 2011.
It's worth noting though that Hitachi's not the first storagecompany to promise super-capacity HDDs. Back in August 2007, rival Fujitsu announcedthat 2.5in disks were its proposed 'patterned medium' for such compactstorage. It too plans to have commercial models available by 2010.

Fujitsu's approach uses anodised aluminium to create a pattern of"nanoholes", each holding a portion of magnetic material used to storea single bit of data. The aluminium-oxide surrounding these so-called'nanoholes' helps magnetically insulate each bit from all the others,preventing one from affecting another, which might lead to datacorruption.
Nonetheless, Dr Yoshihiro Shiroishi from Hitachi has claimed thattwo of its 5TB will together "provide the same storage capacity as thehuman brain".
So, if your memory's not great, then just buy a couple of 5TB drivesfrom Hitachi and download all your thoughts and memories onto them,before wiping the slate clean and staring afresh with another 10TB ofbrain capacity.
Posted by Editorial Team Tue Jul 08, 2008 7:48 am
50 Skills that Every Gamer Should Master in Gaming
Just being able to play games is only the beginning. If you're goingto call yourself a proper gamer (as opposed to a casual pretender)there are a few requisite skills that you must master first. 50 skills,in fact. And they're all right here...
1. Give a game a review score without ever actually playing the game
A cursory glance from 20 paces of a grainy postage stamp-sized superlo-res scanned-in screenshot pinned to the ass-feathers of a headlesschicken in a sandstorm should be all you need to confidently attributean authoritative and infallible review score to any game. It's howprofessional reviewers have been doing it for years.
2. Be able to spot whether a game is running in 720p
Just by looking at it.
3. Survive with only four hours sleep (max) a night
We all abide by the 'one more go' mantra. It demands that we are strong in the face of severe sleep deprivation.


4. Play Wii without using the wrist strap
Or, master the art of gripping. Even newborn babies can do it.
5. Attack the weak point for massive damage
Look for the big red/yellow/orange thing. It's normally located on anenemy's back/ass/forehead. If a sustained assault yields unsatisfactoryresults, try attacking it with the last weapon you picked up. Thatnormally works a treat.
6. Be an expert in the work of one particular developer besides Miyamoto
Support the people that make the games you love. Pick a team. Find ahero. Whether it's an entire studio or just a single creative. Getexcited about the games they make. Know their history and what they'reabout. Hunt out their gameography. Get informed. We're sure Mr Shigstuff won't mind if some of the love gets spread around.
7. Beat a really bastard hard game on any tier of difficulty higher than Normal
Real men play on MASOCHIST!
8. Estimate remaining PSP battery life and calculate device's lastability on journey
If you've gone to all the trouble of uploading an extensive selectionof softcore pornography to your PSP in advance of a business trip, itcan be hugely upsetting to run out of juice before you've even had achance to make yourself tired in the airplane convenience.
9. Play driving games without 'steering' the controller
Unless you're a girl. Then you can't help it.


10. Become unhealthily obsessed with one particular game and play only that game for six months solid
Winners don't quit. They become addicts.
11. Instantly recognise any game being played on a TV show or in a movie
Computer Space in Jaws, Asteroid Deluxe in The Thing, Galaga in Trains,Planes and Automobiles, Centipede in Never Say Never Again, thesound-fx of Pac-Man in Ferris Bueller's Day Off... plenty more here.
12. Easily spot at least 5 differences between any PS3 and 360 comparison shots, that are invisible to the normal human eye
You're looking for things like lighting, texture resolution, draw distance, anything pink or slightly gay, lumps or growths etc.
13. Expertly pick the right game for the right moment
You might think your sozzled post-pub friends are having an absoluteparty huddled around your monitor watching you level up in World ofWarcraft. But they're not.
14. Be able to navigate to the 'Invert? Yes/No' option in under 5 seconds
Pause. Controller Options. Invert Yes/No. Unpause.
15. Be fluent in l337 5934k
Bµ7 Ð0n'7 b3 4 7w47 4nÐ 3v3r µ$3 17. H3r3'$ 4 h4nÐ¥ 7r4n$£470r, jµ$7 1n (4$3.

16. Instinctively know the location of all controller buttonsand their respective numerical, alphabetical or symbol-baseddenominations
When playing, a real gamer never has to look at the controller. Unless it's to check that it's not on fire.


17. Perfectly repackage console/PC snugly back in its box, complete with Styrofoam and cable ties
Put those ninja-honed Tetris skills to good use.
18. Make in-game moral choices quickly and without flinching
Stop being such a lightweight and kill the Little Sister already. We'repretty sure God doesn't take make-believe evil into account whendeciding who gets locked out.
19. Have a selection of "I only lost because..." excuses prepared and rehearsed in the event of defeat
Here's a few for free: "...I couldn't take my eyes off your lap"; ...Ihurt my fingers when your mum sat on them"; "...Satan told me to";"...I was a victim of sexism" and so on.
20. Own non-gaming friends at absolutely anything
You've never played the game before. The pad's missing buttons. You'vegot amoebic dysentery and you can feel a hairy-ass spider crawlingacross your face. So what? When you're up against a newbie there is noexcuse for anything less than comprehensive ownership.
21. Perform tea-bagging like a pro
Don't bang away like a demented pneumatic penis. Get rhythm. Tea-bagging is an art - as our own educational video reminds us.
22. Immediately know what to dump when your inventory is full
Don't know what to drop after the Goblin's Cleaver of Apathy made youover encumbumbered? Stop being a massive tool and just relinquish someof the unused crap you've been pointlessly clinging on to for the last30 hours.
23. Engage in the 'Are games art?' debate without sounding like a pretentious twat or a moronic dumbass
Find the middle-ground between this:

"I think you'll actually find that videogames are a post-modernexpression of individualism while simultaneously collectivising itsdigital form and manifesting as abstract interactive entertainment."
And this:
"Art is for pussies. I just want to kill make-believe people."


24. Always spot the 'hidden area'
Remember: nothing screams "HIDDEN AREA!" louder than a cracked wall.
25. Gather enough tech speak to make it sound like you know how to make games better than developers themselves
"Sure, they might have nailed the anisotropic and bilinearfiltering, but you can unzip me like a banana if the Cartesiancoordinates and phong shading aren't an absolute bucket of wank." Smartsounding development speak makes you superior. This site is a good place to start.
26. Memorise enemy/item spawn points
Want to know how tHE dEfec8or is always smoking your ass withthe rocket launcher? It's because he's all over the longitude andlatitude of those maps, and he's snorting up the coordinates of everyspawn point and he knows exactly what it'll spawn and he knows exactlywhen it'll spawn it. It's called dedication and that's why tHE dEfec8oris a winner.
27. Complete unlocking/defusing mini-games first time, every time
Should be like making Einstein recite his five times table.
28. To never be suckered by game store offers pimping crappy games and shitty third party peripherals
An Hour of Victory and Turning Point: Fall of Liberty bundle for 40notes with a TatTech controller thrown in for free is not a bargain,it's a piss-take.
29. Be condescending, patronising and impatient when playing with non-gamers
Alternatively, feign kindness and offer to show them "how to do it". Once you've got the controller, never give it back.
30. Be shit-faced drunk and still be able to rock at Guitar Hero or other popular party game
Preferably be able to keep getting more drunker while playing.


31. Bluff your way through a conversation about a retro game you never actually played
Don't ever admit to having not played some geriatric, incontinent pieceof gaming history that some rose-tinted retrosexual is eulogising. Justfudge your way through. It's not hard: "Geoff Spectacles and theSubatomic Android Invaders on the Vic-20? Of course I played it! Thatwas the one with the monochrome 2D graphics and beepy sound effectswasn't it?"
32. Instantly identify enemy types by the sound they make
Don't stop with enemies. Utilise your ears as nature intended andrecognise weapons, vehicles, power-ups, score multipliers... anythingat all with the amazing power of hearing.
33. Confidently guess what a developer's secret project/unannounced title is
If all else fails, predict Shenmue 3.
34. Passionately champion at least one obscure game that nobody has ever heard of and win it some new fans
Ever heard of Warriors of Elysia? It's the long overdue sequel to Bikini Karate Babes. We're sure it's going to be awesome.
35. Get the highest possible rank/medal/award in any tutorial level
Tutorial levels are weak and pathetic. An insult to proper gamers,they're a monumental mismatch on the same scale as a bare-knucklesbrawl to the death between Chuck Norris and Barbara Bush.
36. Know which elemental attack will be most effective against an enemy
Water>Fire. It's not exactly rocket surgery.
37. Master the art of reloading
Don't ever let your gun get caught with its pants down. It's humiliating.
38. To simultaneously perform other important life tasks while playing
Multi-tasking is the cornerstone of every real gamers' brain. Youshould be able to eat pizza, guzzle coffee, fill in a jobapplication, build a house of cards AND successfully evade a six-star wanted level in GTA IV all at the same time.


39. Skip every cut-scene and still understand what's going on
No matter how convoluted the machinations and exposition, when it boilsdown to it you're basically just trying to beat the baddies.
40. Identify boss battle attack patterns in under 20 seconds
Lunge. Lunge. Guard. Burrow into ground/disappear/become temporarilyinvincible. Emerge from ground/reappear/stop being invincible. Chargespecial attack.

Release

special attack. Expose weak spot in atactically foolish and totally unnecessary manner <Playerstrikes&gt; Repeat until dead.
41. To know everything about the game without ever having to consult instruction manuals
Apart from a few semantics and trivialities, once you've read one instruction manual, you've pretty much read them all.
42. Argue effectively in a gaming Internet forum
At the most basic level this entails typing "HAVE YOU ACTUALLYPLAYED THE GAME!?" over and over and over until the foul dealer ofscurrilous mistruths slinks away like the miserable dog that he is.
43. Well developed bladder control
You're not going to get to level 70 by taking a piss break every three hours.

44. Condense even the most convoluted control system into easy-to-manage verbal instructions
"Basically, move the sticks and press X"
45. Always know the best spots for camping
So you can root them out or dig in deep, depending on your mood.
46. Memorise important cheat codes for fast fingered employment at a moments notice
If you can't remember Up, Up, Down, Down, Left, Right, Left, Right, B, A then you weren't there.
47. Have at least one game that you are unbeatable at
Take the time to master a game. Play it with your eyes closed. Learnevery pattern, every combo, every counter, every weak-spot. But don'tbrag about it. Just casually lure people into your virtual domain. Toywith them. Give them false hope. Maybe even let them win a couple oftimes and say something all humble and wimpy like: "Gee, you really gotme. Well played." Then bring the real noise and let the shuntingcommence. Their humiliation will feel rudely satisfying.
48. Be like Rainman when converting Microsoft/Wii points
It's the ultimate geek party trick. If you can calculate that 190,608Microsoft points is $2,381.65 without even flinching then you will get chicks. Believe us. Mental arithmetic makes ladies hot.
49. Read the back-of-box blurb and decipher it into 'What It Actually Means'
"State-of-the-art 3D environments and characters" = "We done some graphics". More here.
50. Know when NOT to talk about gaming
"Sure, as maps go if you've got a competent team together thenCrossfire can be pretty badass, but Wetworks is off-the-hook whenyou're gunning solo. Oh yeah, sorry to hear about your entire familygetting killed with the bird flu. Must be a real bummer. So... youwanna play some COD?"

Posted by Editorial Team Tue Jul 08, 2008 7:41 am
11 Best 'God Games' Of All Time (Sims, Darwinia,Spore...) in Gaming
Whenit comes to video games, everyone talks about first person shooters andRPG's. But don't forget about god games. They differ greatly from theaction of those other genres, but their difficulty lies in how theyrequire skill in strategizing and dealing with real time challengeswhile utilizing only what resources are available.

11.) Utopia (1982)


Utopia was released in 1982, and is probably the first god game of all time. Unlike most games of this genre, Utopia isa two player game. Players controlled their own island, and got pointsfor things like feeding the people and preventing violence from rebelactivity. Players can also sabotage the other player by putting rebelsoldiers on their island in the hopes that they destroy somethingvaluable. Alright, you wouldn't play this game today in favor ofsomething more modern, but in its day, Utopia was a great strategy game that allowed you to destroy something your friend had built. Props for that.

10.) Populous (1989)


Populous, which was released in 1989 by Bullfrog for the computer,is considered one of the earliest god games. The user plays the roleof god, or some sort of deity, and is given a plot of land in which heor she has to create a civilization. Your civilization has to protectitself from other civilizations. The only way for a player to advancein the game is to accrue points through the statistics of theircivilization. Depending on the amount of points, players can advancemultiple levels at once.

9.) Black and White II (2005)


Released in 2005, Black and White 2 is the sequelto the game that enables the player to be a god that rules over avillage. They can choose to be either a good god or an evil god, whichis obvious by the way the god conducts himself ie, protecting hisfollowers when in need, or just destroying their homes for no reason. In order to control the game, the player utilizes a hand that performstasks for the inhabitants of the village, tasks like miracles can onlybe performed with a certain amount of prayer power, that is, thefollowers must be asking for a miracle if you want to grant one. Black and White 2 built on the potential of its predecessor, and made the series even better.

8.) The Settlers (1994)


The Settlers is a pretty straightforward premise: You'rehelping people who've moved onto a new land to create a community thatproperly feeds, shelters, and protects all its inhabitants. In orderto import goods, you need to build roads, if you want protection, youneed knights, and if you want knights, you need a healthy supply ofgold or they'll bolt. Send your knights to attack other lands, and beas ruthless as necessary. The Settlers is your chance to be a cut-throat feudal lord.

7.) Zeus: Master Of Olympus (2000)


Slightly different than most god games, Zeus: Master of Olympusgives the player the role of city builder, as opposed to being anactual god. In fact, players can build temples to the gods forrewards. Players are encouraged to gather raw materials like wood,bronze, and marble for buildings. Players are encouraged to buildphilosophy and drama schools, as well as gymnasiums to train athletesto compete in the games that are held every four years. Land isrequired to grow crops like wine grapes, and olives. Zeus: Master of Olympus is a fun way to live like the Greeks.

6.) SimCity2000 (1993)


The sequal to SimCity, SimCity2000 gave playersmore control of their environments. Players are able to build newfacilities, namely, sports stadiums, hospitals, schools, prisons, andzoos etc. One of the coolest things the game allows the player tobuild is the arcology, a giant and futuristic structure meant to housemany people. At one point in the game, if the player has built enougharcologies, all of them will take off in order to start newcivilizations on far away planets.

5.) Roller Coaster Tycoon (1999)


Who doesn't want to design and build rollercoasters? Roller Coaster Tycoonfrom Frontier Developments gave players the chance to do just that withthis 1999

release

, and it didn't disappoint. Players were able tocreate their own amusement parks from scratch, all the while dealingwith financial and landscape restrictions. In order to have asuccessful park, it's important to maintain a level of customerhappiness, enough employees to entertain guests and repair rides, witha wide array of both intense and low-intensity rides to appeal to allpossible guests preferences. Don't forget to hire a cleaning crew,guests will vomit if they go on intense rides.

4.) The Sims (2000)


The Sims is the best selling video game for the PC ever. It passed Myst and has sold over 6 million copies. The Sims doesnot have an ultimate goal or ending of any sort. Goals are to simplycontrol a sim and have them lead a good life, and accomplish personalgoals. This can be done by getting a good job, having a nice house,interacting with other sims and forming relationships, among otherthings. It is possible to fail however, and this occurs when theplayer's sim dies. Death can happen due to starvation, accidents (likedrowning or electrocution), or disease. Sims can have a limited amountof personal freedom in the game, but any action they perform isoverwritten by the player's commands. The Sims offersplayers the chance to control another person's life, which isimportant, especially if you're trying to escape the shittiness of yourown.

3.) Evil Genius (2004)


Give into your destructive urges with Evil Genius. Thegame parodies many of the classic evil genius cliches; secret lair onan island, a giant map of the world, evil henchmen, and secret agentssent to destroy you. The player is given the chance to choose one ofthree characters to run their evil organization. From there, you needto research weapons, enlist the help of evil minions, and devise plansfor the destruction of the world. When you've reached the point ofworld domination, you can launch a powerful and destructive weapon thatwill bring the world to its knees, with you as its leader.

1.) Darwinia


While not specifically a god game, Darwinia employs a lotof god game like elements in order for the player to completeobjectives. The storyline revolves around Dr. Sulpaveda, a mysteriousman who invented a digital theme world that is currently beingdestroyed by a virus. Dr. Sulpaveda enlists the players help indestroying the virus so that he can protect the years of research he'sput into the digital world. It's very unique in that the player isdefending a world that doesn't exist except as a digital place on acomputer.

1.) (Possibly Upon

Release

) Spore (2008)


We admit, this game hasn't even been released yet, but by the looks of it, and the hype surrounding it, Sporecould be the best god game of all time. The ideo of the game is tocreate an entire species beginning with the creation of a single celledorganism. Your cell eats weaker cells and plants, gaining "DNA points"which allow you to buy upgrades. You continue to grow the cell untilit grows into a social animal, where it can finally ascend into spaceto interact with other complex beings.
Posted by Editorial Team Fri Jul 04, 2008 5:56 am
Spore Creature Creator tops US charts - have you got it? in Gaming
The NPD Group has released US PC software sales datafor the week ending June 21, with EA's Spore Creature Creator comingout on top.
Maxis reported that one millionSpore creatures were created and shared during the stand-aloneprogram's first week of availability. The full Spore game will bereleased in September.
Sales of Spore Creature Creator werestrong enough to place the game at number six on the All Categorieslist - the only game to appear alongside business, education andutility software.

The Top Ten best-selling PC games in the US for the week ending June 21 were:



1 Spore Creature Creator (EA)

2 The Sims 2 Double Deluxe (EA)

3 Age of Conan: Hyborian Adventures (Eidos)

4 World Of Warcraft: Burning Crusade Expansion Pack (Vivendi>

5 World Of Warcraft (Vivendi)

6 World Of Warcraft: Battle Chest (Vivendi)

7 The Sims 2 FreeTime Expansion Pack (EA)

8 The Sims 2 Kitchen & Bath Interior Design Stuff Expansion Pack (EA)

9 Call Of Duty 4: Modern Warfare (Activision)

10 Lego Indiana Jones: The Original Adventures (LucasArts)


The Spore Creature Creator was software that allowed players to create their own creatures with a standalone version of the Creature Editor from Spore; the software was one of the first aspects of the game to receive focused development, and had undergone ten rewrites since the start of development. It was rated E by the ESRB in early March 2008, indicating that the editor would be released separately well before the game's

release

as a utility program. Electronic Arts told MTV Asia that "EA Screen will provide visitors a chance to interact with EA's game producers hailing from the studios, and unveil the hugely anticipated SPORE Creature Creator demo version to gamers for the first time in Asia." Electronic Arts VP Mark Buechner stated on the Spore Facebook page that the editor would be released in June or July 2008, saying, "We are looking at releasing it two to three months before the launch of the full game."

The SimCity Box artwork showed a blurb stating that the creature editor would be included with it. IGN revealed that the Spore Creature Creator utility will be available in two different versions on June 18, 2008. There was a paid version (for $9.95) and a free demo that was downloadable from Spore.com and included for free, bundled with The SimCity Box. The free version of the editor only contained 25% of the available creature parts that were found within the full version.

The utility included a test environment for players to see their creatures go through animations and allow the player to import other user-created creatures through the Sporepedia at Spore.com. The utility included screen capture and video tools as well, including YouTube functionality.

The editor also gave the user the ability to create animated avatars,and output in RSS and embeddable HTML code to facilitate easy incorporation into such sites as MySpace and Facebook.

Shortly after its introduction, the Creature Creator was used to create creatures with oversized genitalia, either stand-alone or engaged in coitus (a phenomenon quickly dubbed 'sporn'). EA responded with e-mails sent to those who made pornographic machinima from its demo, and has flagged certain on-line accounts for "TOS violations". Furthermore, YouTube has pulled several such videos for violations of its own TOS.

By June 24, 2008, users had already created over one million creatures.

It has been noted by those using the Spore Creature Creator, that while the Social and Attack categories can reach a max score of 20 with enough parts on the creature, the Abilities category does not achieve a max in the Creature Creator. This has led to speculation from it being the brain levels to advanced sensory abilities to telekinesis.

Electronic Arts confirmed that Spore will be receiving post-

release

expansion packs. No other information is available as to what sort of content the packs will feature, but EA has hinted it will be similar to The Sims expansions.


In the news
Spore Creature Creator free in the UK Videogamer.com

A Wii spinoff of the game has been mentioned by Will Wright several times, such as in his October 26, 2007 interview with the Guardian.Buechner confirmed it, revealing that plans for a Wii version were underway, and that the game would be built from the ground up and would take advantage of the Wii Remote, stating, "We're not porting it over. You know, we're still so early in design and prototyping that I don't know where we're going to end up, so I don't want to lead you down one path. But suffice to say that it's being developed with the Wii controls and technology in mind."The Xbox 360 and PlayStation 3 versions of Spore are still under consideration.

Merchandising

There will be an iTunes-style "Spore Store" built into the game, allowing players to purchase external Spore licensed merchandise, such as t-shirts, posters, and future Spore expansion packs.There are also plans for the creation of a type of Spore collectible card game based on the Sporepedia cards of the creatures, buildings, vehicles, and planets that have been created by the players.There are also indications of plans for the creation of customized creature figurines; some of those who designed their own creatures at E3 2006 later received 3D printed models of the creatures they created. The Spore Store also allows people to put their creatures on such items as T-shirts, mugs and stickers.

The Spore team is working on a partnership with a comic creation software company to offer comic book versions of your own Spore story. Comic books with stylized pictures of various creatures, some whose creation has been shown in various presentations, can be seen on the walls of the Spore team's office.
Posted by Editorial Team Tue Jul 01, 2008 7:13 am
BBFC hits back at UK games industry and MS - 'we can cope' in Business and Industry in Gaming, Media, Web, IT and Computing
"We are disappointed and concernedabout attempts by one or two video games publishers to pre-empt,through recent press statements, the forthcoming public consultation onvideo games classification. Their statements are misleading in severalrespects," says BBFC director David Cooke.






Full report
BBFC Rejects Criticism Of Byron Games Classification Proposals
The BBFC says itsaverage turnaround time for games classifications is eight calendardays and there should be no reason why the increased role for the BBFCenvisaged by Dr Byron should lead to delays.

A statement frothe BBFC reads: "BBFC classifications are already cheaper for manygames than those under the Pan European Games Information System(PEGI). Because the BBFC currently deals mainly with the mostproblematic games, BBFC costs will fall if, as Dr Byron recommended, wetake on all games, physical and online, rated '12' and above.

"It is absurd to imply that the BBFCcould not cope, or would need 'a building the size of Milton Keynes'.The BBFC is a larger and better resourced organisation than PEGI, andis well used to gearing up, and to providing fast-track services whereappropriate.

BBFC Statement





"We reject any suggestions that the Byronproposals for dealing with online games are not future-proof. Countriessuch as the USA and Germany already classify such games in a way whichreflects national cultural sensibilities. The BBFC has made clear thatwe are prepared to work through PEGI Online, which already recognizesBBFC symbols. But, with online games, the real need is not apan-national grouping of markets, but rather soundly based andindependent initial classification, full information provision, andresponsible self-regulation of online game-play backed by properlyresourced independent monitoring and complaints mechanisms.

Quote:

"The games industry really does have nothing to fear from a set ofproposals which would provide more robust, and fully independent,decisions, and detailed content advice, for the British public, andespecially parents. The Byron proposals, far from envisaging thecollapse of PEGI, specifically provide for a continuing PEGI presencein UK games classification. They also provide significant opportunitiesto reduce duplication of effort and costs. And they would make wideruse of a system, the BBFC's, which British parents recognize, trust andhave confidence in."


"TheBBFC has made clear that we are prepared to work through PEGI Online,which already recognises BBFC symbols. But, with online games, the realneed is not a pan-national grouping of markets, but rather soundlybased and independent initial classification, full informationprovision, and responsible self-regulation of online game-play backedby properly resourced independent monitoring and complaints mechanisms."

Games industry fear
Cookewants to reassure games publishers and developers alike, claiming: "Thegames industry really does have nothing to fear from a set of proposalswhich would provide more robust, and fully independent decisions, anddetailed content advice for the British public, and especially parents.
"The Byron proposals, far from envisaging the collapse of PEGI,specifically provide for a continuing PEGI presence in UK gamesclassification. They also provide significant opportunities to reduceduplication of effort and costs. And they would make wider use of asystem, the BBFC's, which British parents recognise, trust and haveconfidence in."


Plans to introduce cinema-style ratings for computer games aimed at theover-12s came under criticism as the world's largest games developer voicedits opposition to the proposals.
Electronic Arts (EA), maker of the Battlefields and Command & Conquertitles, said that the new scheme would confuse parents, be unworkable andlead to games being released later in Britain than in the rest of the world.
Computer games for the under-18s are rated under the self-regulatory, PEGI[Pan European Game Information age-rating system] scheme. The 18-plus titlesare examined by the British Board of Film Classification (BBFC).
Tanya Byron, parenting guru and columnist for The Times, has said in agovernment-commissioned report that parents do not understand the PEGIsystem and proposed that the BBFC rate all games that would attract a 12certificate and above.


EA, which makes about one in five of the games sold in the UK, wants legalenforcement of the PEGI system. Keith Ramsdale, who runs EA's business inthe UK, said: "What we need is a single system. "There are somegames that are already rated at 18 on the current system but would be at 15on the new cinema model. What we do need is legal enforcement of the PEGIstandard, because now if a child of 12 wants to buy a 16-plus game, theretailer has to sell it to them."
His comments came as ministers begin consultations on how best to implement DrByron's proposals. She said that she sympathised with industry concernsabout the cost of compliance but did not accept EA's complaints. "Parentsdon't understand PEGI, and while adults don't buy Texas Chainsaw Massacrefor their children, they might still buy a [violent] game like Grand TheftAuto," she said. Dr Byron said that legal enforcement of the PEGIregulations would be "a good compromise" between a statutory scheme andself-regulation. She added that her wish to have the BBFC rate all games"may be changed slightly as a result of the consultation".
EA argues that the BBFC proposal is also unworkable because games increasinglyinclude extra levels or components downloaded from the internet. Mr Ramsdalesaid that the BBFC would need "a building with the size of Milton Keynes" tohouse all the censors needed to handle the thousands of game components andelements that companies like his hope to sell. The games industry has saidthat the proposed system could collapse because the BBFC could not cope.
Concerns about the need to regulate online games were overstated, Dr Byronsaid. "The majority of people buy games in the shops - that's where themarket is today," she said.
EA asserted that the UK

release

of games would be delayed by "weeks, notdays", while games released globally were made to comply with Britishratings. The pan-European PEGI system could be undermined if the UK, thebiggest single games market in Europe, walked away from it. Germany is theonly other big country in Europe to have its own ratings system. Last yearBritons bought £1.7 billion of video games.
Posted by Editorial Team Tue Jul 01, 2008 7:04 am
Nikon launches D700 - technology used in D3 in Film, Photography, Digital Animation, Broadcasting / Production
While there's been rumours surrounding the D700 for some time now, at a press event in London yesterday, with TechRadarpresent, Nikon finally confirmed it is to

release

the D700 andexplained how it fits into the company's expanding DSLR portfolio.
The D700 is a 12MP camera that uitlises the same image quality of its bedfellow, the Nokon D3.
The12MP images come courtesy of the cam's CMOS sensor, while othertechnology taken from the D3 include the EXPEED high-speedimage-processing system, 14-bit A/D conversion and 16-bit processingpipeline that helps with smoothing out images when they are reproducedon a large scale.


Lightweight design
TheNikon D700 is a lightweight and durable camera that builds on the workdone by the company with the D3, but achieves it with a smaller,lighter design.
Working in low-light conditions the D700 isimpressive, shooting up to ISO 6400 and delivering virtually noise-freeimages, according to its makers.
Continuous shooting can bedone 8fps with the appropriate battery pack, while autofocus is done toprecision with a 51-point AF system.
As Nikon has made its DSLRrange easier to carry, it has taken on board that people may want toshoot in less-than perfect conditions, so the company has added a sealto the camera that protects it from moisture, dust and evenelectromagnetic interference.
The sensor is also protected withan Integrated Dust Reduction System that stops the CMOPS chip fromcoming into contact with dust and humidity.
Recognition
Oneof the newer options is the ability for the camera to recognise peopleand places and to automatically configure the controls accordingly.Included is Nikon's Scene Recognition System, and the camera will alsorecognise certain colours that can aid in faster capturing of, say,individuals at a sports event.
As with most new cameras, the D700 houses Live View, but the company has made the mode more responsive this time around.
Accordingto Nikon, you can now focus the camera while in this mode, and you canalso zoom in, which can aid in setting up the focus for your shot.
The menu system is the same as that found on the D3 and D300 so regular Nikon users will feel right at home using the camera.
TheNikon D700 is an expansion of the companies FX range and has beendesignied to sit in between the D3 and D300 in terms of technology. Thecamera is out in July at a price of £1,999.99 (body only).

Nikon D700 Digital SLR Packs Powerful Punch PC World
Nikon debuts D700, full frame for the midrange CNET News
Nikon D700 goes official
T3, UK
http://www.dpreview.com/previews/nikond700/

Quote:

The introduction of Nikon's new D700 may been one ofthe worst kept secrets in an industry with more leaks than the Titanic,but it was still something of a surprise coming so hot on the heels ofthe D3 and D300. Essentially a D3 shrunk down and squeezed into a bodyroughly the same size as a D300, the D700 is Nikon's first 'compact'professional SLR, and seems designed to go head-to-head with whateverCanon has up its inscrutable sleeve to replace the EOS 5D.

Theimaging side of the D700 is pretty much the same as the D3; it sharesthe acclaimed 12.1MP full frame ('FX') sensor and has the sameprocessing engine, so we would presume output to be almost identical.The main differences (aside from being considerably smaller) arephysical; there's a different shutter (good for 150,000 exposuresrather than 300,000 on the D3), different viewfinder prism (with 95%coverage) and a slower burst rate. You also lose the rear LCD infopanel (there's no room for it) and one of the D3's two CF card slots,but you do get a couple of extra features to soften the blow slightly;most notably a self-cleaning sensor and a built-in flash. We'll look alittle more in-depth at the differences between the D3 and D700 in amoment.

Posted by Editorial Team Tue Jul 01, 2008 6:55 am
Revealed: Sony's future plans for PS3, PSP and TV in Business and Industry in Gaming, Media, Web, IT and Computing
"This is not your father's Sony", sums up what Howard Stringer has done at Sony since taking over the reins in 2005.
TheWales-born CEO was underlining the challenge that the company now facesin the digital age, as he led the Japanese giant's corporate strategybriefing in Tokyo today.
In the absence of any attention-grabbingnew hardware announcements, most headlines are likely to go to Sony'spledge to increase revenues in the PC, Blu-ray-related and componentsbusinesses.
Game plan
Stringer said thatSony would build these into "trillion-yen businesses" by FY2010,putting them alongside the core business units of TVs, digital imaging,gaming and mobile phones. One trillion yen is currently worth around£4.7 billion.
Although gaming is a traditional Sony strength, thedivision is mired in red ink after the costly development and launch ofthe PlayStation 3. Addressing that, the CEO promised to bring it toprofit by March next year.
Stringer also outlined plans to investclose to £9 billion in new technology in a concerted drive to becomethe world leader in LCD televisions within three years. Beyond that,the assembled execs wouldn't be drawn on precise numbers or revenuetargets.
Mobile content
Although he didn't address recent speculation about the possibility of a PSP phone or the stability of the Sony Ericsson joint venturethat produces mobile phones, Stringer did emphasise that such handsetswould continue to be sold and that "Sony music and pictures content[would be] embedded in all key Sony Ericsson product lines."
As expected, there was no discussion on life after Blu-ray– the so-called 'death of disk'. However, a hint of how quickly onlinedistribution will move centre-stage came in the news that SonyPictures' summer blockbuster, Hancock, will be made available exclusively to all internet-connect Bravia televisions in the US before its DVD

release

.
Movie download service
The movie theme resurfaced in a presentation from Kaz Hirai, the president of Sony Computer Entertainment, with the news that the long-anticipated film download service would finally reach the online PlayStation Network this year.
Hiraiconfirmed that US users would get first crack at PS3 movie downloads inlate summer, with Europe and Japan to follow by year's end. He addedthat full details would be announced at E3 in LA next month and thatboth standard- and high-definition titles would be available.

Virtual world
Warmingto the theme, Hirai added, "Please expect more from our evolvingPlayStation business." That evolution will also include themuch-delayed PlayStation Home virtual world, which Hirai demonstrated,along with new dynamic in-game advertisements that change according tothe context.
The littlest PlayStation also featured prominently,with the PSP being positioned as an interactive extension of the PS3console, as well as a tool for accessing the PlayStation Store for gamedownloads and, possibly, feature films at some undisclosed point.
Hirai's presentation concluded with something of a surprise in a new network service called Life With PlayStation.The rough demo showed a view of the Earth from space, which rotated toreveal location-related news items, reminiscent of similar services onNintendo's Wii.
Innovator and creator
Returningto the podium to sum up, Stringer emphasised his firm's creative skillsand took aim at a company many see as having inherited the Sony mantleas innovator supreme.
"We have products to get excited about [including] OLED TVs, Rolly, CyberShot smile detection and the new Bravias.
"Appleis a boutique company, but we're a large conglomerate. We recently cameout number one in a poll by Incite on innovative companies, just aheadof Apple. I rest my case."
Whether or not that's overstating thecase, Stringer's confidence in the once-troubled company is almosttangible, leaving little room for doubt that Sony is back and that itmeans business.
Posted by Editorial Team Mon Jun 30, 2008 6:41 am
Why the PC is the future (from VALVE) [FEATURE] in Gaming
When Valve summoned a handful of US and UK journalists to itsSeattle headquarters at the end of last month, it promised to talkabout the future of Steam, its digital distribution system. That itdid, revealing the ambitious Steam Cloud service for remote storage of game data, and boasting that it would soon be making more money selling games digitally, all the while remaining untroubled by piracy.
Valvemastermind Gabe Newell and his cohorts had an ulterior motive forbringing reporters together, however, and unusually for an ulteriormotive, it wasn't a wholly self-interested one. It was this: toevangelise the PC as the games platform of the future.
"Thisreally should be done by a company like Intel or Microsoft, somebodywho's a lot more central to the PC," says Newell, pointing out thatcompanies like Blizzard, PopCap and GameTap would have just as much tosay as Valve about how PC gaming is leading innovation in technology,business models, and community-building. But, notwithstandingMicrosoft's occasional promotionof Games For Windows - an initiative Newell refrains from attackingdirectly, but exudes disdain for - that support has not beenforthcoming.
Where console platforms have merciless andwell-funded PR armies poised to combat any criticism, negative storiesabout the PC - mostly publishers, or developers like Crtyek,complaining of rampant piracy and flat sales - run unimpeded. Salesdata that focuses solely on boxed copies sold at retail appear to backthem up. Valve has had enough. "There's a perception problem," saysNewell. "The stories that are getting written are not reflecting whatis really going on."




You want figures? There are 260 million online PC gamers, a marketthat dwarfs the install base of any console platform, online oroffline. Each year, 255 million new PCs are made; not all of them forgaming, it's true, but Newell argues that the enormous capitalinvestment and economies of scale involved in this huge market ensurethat PCs remain at the cutting edge of hardware development, andconsoles their "stepchildren", in connectivity and graphics technologyespecially. Meanwhile, Valve's business development guru, JasonHoltman, notes that without the pressure of cyclical hardware cycles,PC gaming projects - he points to Steam as an example - can groworganically, over long periods of time, and with no ceiling whatsoeverto their potential audiences.


More pertinent, perhaps, are thefigures directly relating to games revenue that the retail charts -admittedly a stale procession of Sims expansions and under-performingconsole ports - don't pick up. "If you look into the future, there's animportant transition that's about to happen, and it's going to happenon the PC first," says Newell.


At its heart, he explains, is a shift from viewing games as aphysical product, to viewing them as a service - something that is alsohappening in other entertainment media. Digital distribution is part ofthat; more fluid and varied forms of game development, with games thatchange and engage their communities of players over time, are another;as is, naturally, the persistence and subscription (or otherwise)revenues of MMO games. None of this is reflected in the sales chartsanalysts, executives - and gamers - obsess over.
Valve sees 200per cent growth in these alternative channels - not just Steam, butincluding the likes of cyber-cafes as well - versus less than 10 percent in bricks-and-mortar shop sales. Steam has a 15 million-strongplayer-base with 1.25 million peak concurrent users, and 191 per centannual growth; none too far off a console platform in itself. The PCcasual games market, driven by the likes of PopCap, has gone from nextto nothing to USD 1.5 billion dollar industry in under ten years, andhas doubled in size in just three. Perhaps most surprisingly, Valve hasfound that digital distribution doesn't cannibalise retail sales - infact, a free Day of Defeat weekend on Steam created more new retailsales than online ones.



And then there is the game that many claim has been the death of PCgaming, but that Valve sees as its greatest success story, and itsfuture. "Until recently, the fact that World of Warcraft was generating120 million dollars in gross revenue on a monthly basis was completelyoff the books," Newell says. "Essentially, [Blizzard is] creating a newIron Man every month, in terms of the gross revenue they're generatingas a studio. Any movie studio would be shouting about that from therooftops. But it was essentially invisible."
Newell thinks thatWOW is "arguably the most valuable entertainment franchise in any mediaright now", and also believes, rightly, that it could only ever havehappened on the PC. He also tips his hat to South Korea's Nexxon forits enormous success with free-to-play, microtransaction-driven gameslike Kart Rider and Maple Story, soon to be aped by EA's BattlefieldHeroes.


There is another reason for the gulf between theperception and the reality of the games market, Valve thinks, and it'sa geographical and linguistic one. The dominance of the Englishlanguage gives the US and UK games markets, where the PC is weakest,undue prominence. In several major Western markets - notably Germanyand the Nordic countries - the PC performs much better. What's more, inthe emerging markets of China, Korea and Russia, where gaming is seeingunprecedented, explosive growth, console install bases are negligible,and the PC is king. Valve thinks that there's a silent majority ofglobal gamers who are skipping the console era entirely, the way thesedeveloping nations already skipped dial-up internet.


Steam isavailable in 21 languages for this reason, and Valve reckons that itsspeedy localisation and lack of physical distribution is an effectivecounter to the piracy common in these markets. It's also allowing Valveto get games to players in regions traditional channels don't support."PC's are everywhere in the world," says Holtman simply. "PC's are thesame all over the world. All of sudden, if you can open up emergingmarkets and go somewhere like Russia or South East Asia, you've goneway further than you can go with a closed console. There are 17 millionPC gaming customers in Russia alone."

A key shift in this brave new world of games as services rather thanproducts - and one that runs contrary to the traditional image of PCgaming - is a move away from graphical fidelity being the yardstick ofprogress. "As a company that's really proud of the job we do withgraphics it's funny to say this," Newell says, "but we get a betterreturn right now by focusing on those features and technologies thatare about community, about connecting people together."
He citeseasy uploading of gameplay videos to YouTube as a bigger source ofentertainment value than marginal improvements in graphics. "I thinkthat people thinking about how to generate web hits on their serversare a lot closer to the right mentality for what's going to besuccessful in entertainment going forward, than somebody that's used tohaving conversations about how to get end caps at Best Buy."
Therevolution in distribution and business models also offers a major newopportunity for smaller games - and smaller games developers - tothrive. The demands of retail - the logistical problems of gettingboxes to shops, and the budgetary drain of huge marketing campaigns -mean that bigger is necessarily better in the traditional games market.
Notso on Steam and its equivalents, says Valve, pointing to the hugesuccess of indie darling Audiosurf, as well as its own Portal. "As youmove away from that huge first weekend, big blockbuster mentality,"says Newell, "you're getting back to an area where smaller and smallergroups can connect with customers. I think you're going to find thatthe enjoyment of being in the game industry as a developer on the PC isa lot greater than outside of it."

He's backed up by an actual indie, Audiosurf creator Dylan Fitterer.This one-man development, created without financial backing -impossible on consoles, due to the cost of development kits - was thebest-selling game on Steam full-stop at its

release

, outclassing manybig-budget titles. "I didn't have to ask anybody if I could

release

it,except for my wife," Fitterer says. "It took a few years, and I waspretty darn tired by the time it was ready. Something likecertifications? No thanks." He also points out the tight limitations ofconsole servers versus PC servers for online gaming; Audiosurf'sscoreboard for every song ever recorded would be out of the question ona closed platform.
Holtman argues that Steam and Steamworks - thesuite of free tools it offers - revolutionise the environment fordevelopers and publishers. The auto-updating system means that a gamecan be developed right up to

release

and beyond. It eases painfulcrunch times, and allows game makers to respond to their audiences,publishers to develop their titles as continuously evolving franchisesrather than finite products.
"All of a sudden, PC games becomethis thing that's reliable and up-to-date," says Holtman. Team Fortress2 designer Robin Walker weighs in, noting that the PC version of theshooter has had no less than 53 updates since its

release

last year -something that certification cost and time have prohibited for onconsole - and that this "ship continuously" ethos is a key component tothe success of the best multiplayer titles. Steam, he says, makes thatprocess fast and transparent.
"I don't want anyone between me andmy customers," says Walker. "I want to write code today and I want allmy customers running it tomorrow." Possible on the PC - Steam inparticular, naturally. Not possible on consoles. For his part, Fittereradded achievements to Audiosurf in a total of two days. This constantiteration creates a feedback loop between developer and customer that,reckons Walker, can only improve the quality of the game. "The more Italk to my customers, the better my decisions will be. Without a systemof talking to my customers, I will make bad decisions."

The implication is a striking one: sporadic, excessively controlledupdating means that console multiplayer games will never reach theheights of their PC counterparts. There is a counter-argument - that PCgames descend into a poorly-defined, indistinct mess of constantpatching - but it is effectively squashed by the fact that, if you lookfor a multiplayer game with the longevity and massive popularity of aWOW or a Counter-Strike on console, you won't find one (with the veryarguable exception of Halo).
Auto-updating is the reason Valvecreated Steam in the first place. It's the reason it now finds itselfin an odd position for a developer: semi-publisher, leadingdistributor, market analyst, agony uncle and technocrat - not tomention defender of a platform that's still being proclaimed dead, whenall signs point to the very opposite.
At the end of the day, PCgaming's health - and its trickiest challenge - comes down to a bottomline that even the format's detractors can't refute: there are just somany of the damn things. "We think the number of connected PC gamers weare selling our products to dwarf the current generation of consolesput together," states Newell. "There are tremendous opportunities infiguring out how to reach out to those customers.
Posted by Editorial Team Mon Jun 30, 2008 6:22 am
Official: Windows 7 date is confirmed (Windows Vienna) in Microsoft / Windows
Bill Gates may have only just saidhis goodbyes, but the Microsoft machine keeps on running with thecompany announcing information about the

release

of Windows 7.
Thepaint may not have even dried on the Windows that is Vista, but itseems that Microsoft is already looking to launch its successor withinthe next two years.
In a letter to enterprise and businesscustomers on Tuesday, vice president of Microsoft Bill Veghte announcedthat the approximate launch date for Windows 7 is January 2010.
Seventh heaven
Inthe letter, Veghte wrote: "Our plan is to deliver Windows 7approximately three years after the January 2007 general availabilitylaunch date of Windows Vista.
"You've also let us know you don'twant to face the kinds of incompatibility challenges with the nextversion of Windows you might have experienced early with Windows Vista.
"Our goal is to ensure that the migration process from Windows Vista to Windows 7 is straightforward."
Well,if Intel is anything to go by, it won't be the migration from Vista toWindows 7 that will be the problem, it will be the migration from XP toWindows 7 that most computer users will be worried about.

Milestone 1
The first known build of Windows 7 was identified as a "Milestone 1(M1) code drop" according to TG Daily with a version number of6.1.6519.1. It was sent to key Microsoft partners by January 2008 in both x86 and x86-64 versions. Though not yet commented on by Microsoft, reviews and screenshots have been published by various sources.The M1 code drop installation comes as either a standalone install or one which requires Windows Vista with Service Pack 1, and creates a dual-boot system.
On April 20, 2008,screenshots and videos of a second build of M1 were leaked with aversion number of 6.1.6574.1. This build included changes to WindowsExplorer as well as a new Windows Health Center.
A standalone copy of build 6519 was leaked initially to private FTPsby BETAArchive on June 10, 2008, which quickly spread to many torrenttrackers.


Later builds
According to TG Daily article of January 16, 2008, the Milestone 2(M2) code drop was at that time scheduled for April or May of 2008. User interface appearance changes are expected to appear in later builds of Windows 7.
Milestone 3 (M3) is listed as coming in the third quarter, with the

release

to manufacturing in the second half of 2009. The

release

dates of a beta version and a

release

candidate are "to be determined".
Bill Gates commented in a press conference in April 2008 that a new version [of Windows] would come "in the next year or so".According to additional clarification by Microsoft, he was onlyreferring to availability of alpha or beta versions of Windows 7.


Unveiling
The Windows 7 user interface was demonstrated for the first time at the D6 conference during which Steve Ballmer acknowledged a projected

release

date of late 2009.The build of Windows 7 that was on display had a different taskbar thanfound in Windows Vista, with, among other features, sections dividedinto different colors. The host declined to comment on it, stating "I'mnot supposed to talk about it now today".
Features
Windows 7 has reached the Milestone 1 (M1) stage and has been made available to key partners.According to reports sent to TG Daily, the build adds support forsystems using multiple heterogeneous graphics cards and a new versionof Windows Media Center New features in Milestone 1 also reportedly include Gadgets being integrated into Windows Explorer, a Gadget for Windows Media Center, the ability to visually pin and unpin items from the Start Menu and Recycle Bin, improved media features, a new XPS Viewer, and the Calculator accessory is multi-line featuring Programmer and Statistics modes along with unit conversion.
Reports indicate that a feedback tool included in Milestone 1 lists some coming features: the ability to store Internet Explorer settings on a Windows Live account, updated versions of Paint and WordPad, and a 10 minute install process. In addition, improved network connection tools might be included.
A new feature in build 6574, Windows Health Center, allows the user to monitor all of their PC's health problems, and concerns in one place. It allows turning User Account Control on and off, and monitoring 3rd party anti-virus programs, firewalls, etc.
In the demonstration of Windows 7 at D6, the operating systemfeatured multi-touch, including a virtual piano program, a directionsprogram and a more advanced paint program.
Windows Server 7
Posted by Editorial Team Sun Jun 29, 2008 6:43 am
Why the Decline of PC Gaming is just a Myth in Gaming
3D Realms chief Scott Miller tellsNext-Gen that development on the long-awaited Duke Nukem Forever ismoving right along, but he sees no reason to show it off at an"irrelevant" E3.

Asked about the progress on theyears-in-development Duke Nukem Forever, Miller stated Friday in ane-mail, "Development is swimming along nicely. Seriously nicely."

The next proper installment of the iconic first-person shooterfranchise currently has a

release

date of "when it's done." Developmenton the title has been a long and drawn-out process, with some reportsclaiming development on Forever began in 1997, a year after theoriginal Duke Nukem 3D debuted on PCs.


3D Realms released in December a newtrailer for Duke Nukem Forever, reigniting interest and curiosity inthe title. The teaser also reminded people that the game is in factstill in development.

Nevertheless, even with the apparentprogress made on the game, Miller won't be taking it to next month's E3Media and Business Summit. "It's just that we view E3 as irrelevantnowadays. In fact, I wasn't even aware it was coming up," he said.
Posted by Editorial Team Sun Jun 29, 2008 6:42 am
Nvidia releases PhysX code for latest GeForce GPUs in Hardware, Internet, Networking, Comms and Security
Nvidia has posted a version of its PhysX software that enables thephysics-on-GPU technology on its GeForce GTX 200-series and 9800 GTXgraphics chips.
The new

release

, version 8.06.12, was posted last night, builds onsoftware Nvidia acquired when it bought physics chip specialist Ageiain February this year. Like past versions of the PhysX code, the newversion also runs on Ageia PhysX chips.
But the crucial change is support for Nvidia GPUs for which thelatest version of the company's Forceware drivers are required: 177.39,an advance on the version currently available from Nvidia's Forcewaredownload page, which is 177.35, released a couple of weeks ago.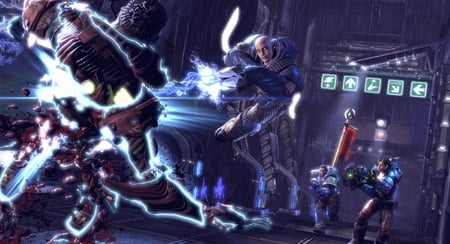 Unreal Tournament 3: zapped, physically

The new drivers run on Windows XP and both the 32- and 64-bit incarnations of Vista.
Of course, you also need an app that can take advantage of the GPUand the physics code, and for that Nvidia offers a link to the Unreal Tournament 3PhysX Mod Pack, which incorporates a couple of new arenas to show ofthe game's "maximum impact" physics effects, which include damage tothe world in which the games is set, a whirlwind hazards that sweepsaround the battlefield, and weapons that can pull debris towards theplayer.
The PhysX code is available from Nvidia's website here, while the Unreal Tournament add-on can be downloaded here.
Posted by Editorial Team Sun Jun 29, 2008 6:42 am