Search iVirtua
Advanced/Tag Search...
Search Users...
What is iVirtua Exclusive Community?
An exclusive gaming industry community targeted to, and designed for Professionals, Businesses and Students in the sectors and industries of Gaming, New Media and the Web, all closely related with it's Business and Industry.
A Rich content driven service including articles, contributed discussion, news, reviews, networking, downloads, and debate.
We strive to cater for cultural influencers, technology decision makers, early adopters and business leaders in the gaming industry.
A medium to share your or contribute your ideas, experiences, questions and point of view or network with other colleagues here at iVirtua Community.
Guest's Communication
Live Chat
Teamspeak (VOIP) Audio Conference
Private Messages
Check your Private Messages
Themes
Choose an iVirtua Community theme to reflect your interests...
Business Theme

India/Arabic Theme
Gaming Theme
iVirtua Recommends
Fly Emirates
Microsoft Bans 'Ben Dover' from Xbox live in General Discussion, including Off Topic, Current Affairs
I say MS needs to stay out of everyone's business until someone complains, and from what I hear, people complain often on XBL. I know someone who has been banned from a

server

just for his username, he didn't actually do anything. Some people in this world make too much of a big deal about nothing. No one gives a shit if you swear in a game, especially if single player contains swearing.
Posted by schmidtbag Sat Jul 05, 2008 11:12 pm
1 in 5 Men Game in the Nude says Microsoft Poll in General Discussion, including Off Topic, Current Affairs
Next time you're on a multiplayer

server

, you might want to askeveryone who's a Canadian, and then ask who among them are dudes.Because according to a Microsoft survey, every fifth one of them (inthe long run) has gamed in the nude, and might be doing so now.
Microsoft commissioned a pretty serious poll up in the Great WhiteNorth, asking Canadians all sorts of questions that sound like a Cosmobedside astrologer survey, if "game" is used as a euphemism for "sex."Do you game at work? (30 percent). Do you game in the bedroom? (27percent). The bathroom? (7 percent — WTF?!) In public? (19 percent).And yes, they asked who does it completely bare. The answer 17 percentof Canadian men, 9 percent of Canadian women.

What in the hell could possibly be the use of that information(other than giving bloggers a reason to post something aboutMicrosoft?) The survey seems to include any kind of computer game inthe nude question, so playing Minesweeper with your torpedo danglin' isthe same as playing Mario Kart Wii nekkid as a jaybird.
Racking my brain, I am not sure that I have ever played a video gamecompletely butt-ass naked. I've had phone conversations on the john,downloaded porn while wishing Grandma a Merry Christmas and otherdepraved shit, but I could always delay my urge to play Team Fortress 2until I got a pair of droodies on, at least.
So, of course, this begs our own Kotaku poll. Tell us, have you everplayed a game — and for purposes here, we're talking console, PC title,or handheld, but not Facebook games, solitaire or minesweeper — in thenude? Feel free to expand on your answer in the comments.
Posted by Editorial Team Tue Jul 01, 2008 7:07 am
Valve hacker of Steam Cyber cafes caught by police in Gaming
A man who hacked into a third partyValve file

server

and stole the credit card numbers of Steam Cyber Caféusers has been caught by Dutch police.


The hacker, who went by the onlinehandle MaddoxX, managed to break into a

server

containing credit cardinformation, transaction amounts, Valve's bank balance and data thatallowed the creation of counterfeit Cyber Café websites.

MaddoxX posted the information on a website, but didn't use the information for personal gain. According to ShackNews, he posted a message that said: "We also don't want money from VALVe, we want a simple message on their site."

Despite making a moral standing on that occasion, the Dutch Ministry ofthe Interior said that the 20 year old hacker had managed to "burn 13million Euros playing poker online and shopping for notebooks, flatscreens and MP3 players." Based on that, we're guessing he wasn't asmorally resolute every time he came across personal data.

Inaddition to the Valve incident, he is also being charged with hackinghis way into an Activision

server

and downloading an unfinished copy ofEnemy Territory: Quake Wars. Which, if nothing else, is not the gameyou want to get caught hacking for.
Posted by Editorial Team Tue Jul 01, 2008 7:06 am
Official: Windows 7 date is confirmed (Windows Vienna) in Microsoft / Windows
Bill Gates may have only just saidhis goodbyes, but the Microsoft machine keeps on running with thecompany announcing information about the release of Windows 7.
Thepaint may not have even dried on the Windows that is Vista, but itseems that Microsoft is already looking to launch its successor withinthe next two years.
In a letter to enterprise and businesscustomers on Tuesday, vice president of Microsoft Bill Veghte announcedthat the approximate launch date for Windows 7 is January 2010.
Seventh heaven
Inthe letter, Veghte wrote: "Our plan is to deliver Windows 7approximately three years after the January 2007 general availabilitylaunch date of Windows Vista.
"You've also let us know you don'twant to face the kinds of incompatibility challenges with the nextversion of Windows you might have experienced early with Windows Vista.
"Our goal is to ensure that the migration process from Windows Vista to Windows 7 is straightforward."
Well,if Intel is anything to go by, it won't be the migration from Vista toWindows 7 that will be the problem, it will be the migration from XP toWindows 7 that most computer users will be worried about.

Milestone 1
The first known build of Windows 7 was identified as a "Milestone 1(M1) code drop" according to TG Daily with a version number of6.1.6519.1. It was sent to key Microsoft partners by January 2008 in both x86 and x86-64 versions. Though not yet commented on by Microsoft, reviews and screenshots have been published by various sources.The M1 code drop installation comes as either a standalone install or one which requires Windows Vista with Service Pack 1, and creates a dual-boot system.
On April 20, 2008,screenshots and videos of a second build of M1 were leaked with aversion number of 6.1.6574.1. This build included changes to WindowsExplorer as well as a new Windows Health Center.
A standalone copy of build 6519 was leaked initially to private FTPsby BETAArchive on June 10, 2008, which quickly spread to many torrenttrackers.


Later builds
According to TG Daily article of January 16, 2008, the Milestone 2(M2) code drop was at that time scheduled for April or May of 2008. User interface appearance changes are expected to appear in later builds of Windows 7.
Milestone 3 (M3) is listed as coming in the third quarter, with the release to manufacturing in the second half of 2009. The release dates of a beta version and a release candidate are "to be determined".
Bill Gates commented in a press conference in April 2008 that a new version [of Windows] would come "in the next year or so".According to additional clarification by Microsoft, he was onlyreferring to availability of alpha or beta versions of Windows 7.


Unveiling
The Windows 7 user interface was demonstrated for the first time at the D6 conference during which Steve Ballmer acknowledged a projected release date of late 2009.The build of Windows 7 that was on display had a different taskbar thanfound in Windows Vista, with, among other features, sections dividedinto different colors. The host declined to comment on it, stating "I'mnot supposed to talk about it now today".
Features
Windows 7 has reached the Milestone 1 (M1) stage and has been made available to key partners.According to reports sent to TG Daily, the build adds support forsystems using multiple heterogeneous graphics cards and a new versionof Windows Media Center New features in Milestone 1 also reportedly include Gadgets being integrated into Windows Explorer, a Gadget for Windows Media Center, the ability to visually pin and unpin items from the Start Menu and Recycle Bin, improved media features, a new XPS Viewer, and the Calculator accessory is multi-line featuring Programmer and Statistics modes along with unit conversion.
Reports indicate that a feedback tool included in Milestone 1 lists some coming features: the ability to store Internet Explorer settings on a Windows Live account, updated versions of Paint and WordPad, and a 10 minute install process. In addition, improved network connection tools might be included.
A new feature in build 6574, Windows Health Center, allows the user to monitor all of their PC's health problems, and concerns in one place. It allows turning User Account Control on and off, and monitoring 3rd party anti-virus programs, firewalls, etc.
In the demonstration of Windows 7 at D6, the operating systemfeatured multi-touch, including a virtual piano program, a directionsprogram and a more advanced paint program.
Windows

Server

7
Posted by Editorial Team Sun Jun 29, 2008 6:43 am
WWDC 08: 3G iPhone with GPS - £99 half price and apps in Apple
Design
Though the iPhone 3G is thinner at the edges than its predecessor, the phone measures a hair thicker (0.48 inches versus 0.46 inches) in the gut. The other measurementsare the same except that it weighs just the slightest bit less (4.7ounces versus 4.8 ounces). Otherwise, the iPhone 3G shows few cosmeticchanges from the front--same display size and resolution, and thesingle Home button sits just below the screen. We're very pleased tosee that Apple has done away with the irritating recessed headphonejack, which now is flush so that you'll be able to use any 3.5mmheadphones you like.
But turn over the iPhone 3G, and you'll see more significantchanges. A black, plastic skin replaces the current silver-aluminumback. The swap may cut the cost, but we worry about its long-termdurability. The 8GB model will come in black only, while Apple promisesthe 16GB version in back and white. The white model is a bit random--wewere expecting something in red--butcolor is a personal choice. The camera lens, volume rocker, chargerport, speaker, microphone, power button, and display locking switchshow no changes. Our News.com colleaguegot a hands-on with the new device and reports that it feels similar inthe hand to the current model, with the exception of the tapered edges.
3G
With support for three 3G bands (850, 1900, 2100) and bothUMTS and HSDPA networks, the iPhone 3G is well positioned for usinghigh-speed networks all around the world. Considering that Apple ispromising to bring the device to 70 countries, it had better be. Duringhis WWDC keynote, Jobs compared Web download speeds between the twoiPhones. On the original model, which runs on a 2.5G EDGE network, aphoto-heavy Web site loaded in 59 seconds, while the same site loadedin 21 seconds on the new device--impressive, but we take it with agrain of salt for now. After all, the demo iPhone in today's keynotewas the only iPhone in the room using AT&T's 3G network. Once amultitude of devices flood the same network, load times may change.
GPS
This is one feature that was on our original iPhone wish list.While the current iPhone location services find your position vianearby cell phone towers and satellites, the iPhone 3G uses Assisted GPS supplemented by satellites. It also offers live tacking so you canmonitor your progress as you drive (or walk) along. We're excited tosee this feature as well, as it fills in another gaping hole on theoriginal handset. You'll also find photo geotagging, but we're not sureyet whether the iPhone 3G or any third-party applications will supportturn-by-turn directions.
Third-party apps
Speaking of which, the iPhone 3G will indeed support the collection of appsavailable through the iPhone SDK--no surprise here. Apple promises toopen apps store in early July (Apple didn't release an exact date);we're guessing by July 11. Gaming apps should feature prominently; many will integrate with the phone's accelerometer.
Enterprise support
Worker bees will be pleased to know that the iPhone 3G will offer support for Microsoft Exchange

Server

.That will bring push e-mail, contacts and calendar, remote wipe, globalcontacts access, and auto-discovery. That's another welcome change asit puts the iPhone in the hands of a whole new class of corporate userswho now will be able to get their work e-mail on the iPhone.
Battery life
Last year Jobs said that Apple had not included3G in the first iPhone because it would have made too many compromiseswith the handset's battery life. But now it appears that Apple hassolved that problem. The iPhone 3G promises a solid 5 hours of 3G talktime, 10 hours of 2G talk time, 5 hours of 3G Internet time, 6 hours ofWi-Fi Internet time, 7 hours of video playback, 24 hours of audioplayback, and 12.5 days standby time. The audio and video times areunchanged from the original iPhone.
What else?
Since the latest iPhone will support the 2.0 software,additional new features will show up at launch and beyond, includingcontacts search, iWork document support, the capability to viewPowerPoint attachments, bulk move and delete, a scientific calculatorin landscape mode, parental controls, and support for 16 languages.You'll also be able to use a graffiti-style application for enteringcharacters in Asian languages.
What's missing?
Unfortunately, we hoped for an even largerbundle of features in this round. Apple still leaves multimediamessaging out of the mix along with voice dialing and video recording.We still don't understand why Apple can't include these basic features,many found in even the cheapest and simplest cell phones. We were alsohoping for a landscape keyboard, the capability to cut and paste, Flashsupport for the Safari Web browser, expanded memory, and additionalBluetooth profiles. Apple, you left us hanging in a big way. It's alsodisappointing to hear that the dock is now sold separately for $49, butwe suppose that helped cut the price. No, you don't needthe dock, but it's nice to have. Even the power adapter and the SIMcard removal tool that now come in the box won't make up for its loss.
Should you buy it?
If you're an iPhone fence-sitter, now'sthe time. The addition of 3G and GPS, the affordable price tag, andextra features from the iPhone 2.0 software update make the iPhone 3G aworthy prospect. Unlike the previous iPhone, which we liked andrecommended with reservations, we're much happier with what this newhandset has to offer. iPhone 3G isn't perfect, but there's a lot tolike here and we approach the device with much anticipation. We'llupdate this page with a full, rated review once we get our hands on thehardware.
Posted by Editorial Team Tue Jun 10, 2008 3:41 am
Xbox Live revamp hints in Business and Industry in Gaming, Media, Web, IT and Computing
Microsoft is looking to reorganise Xbox Live content to make it easierfor users to navigate around the thousands of items that have beenadded since the console's 2005 launch.
"Longer term, we're looking to make the ability to find contentand organise the 17,000 pieces of content we have a lot better," AaronGreenberg, product management director for Xbox 360 and Xbox Live, toldMTV Multiplayer.
The last hint Microsoft dropped about an Xbox Live revamp was in a February job advertseeking someone to join the team "building the games, the consoleinterface and logic, and the

server

support for a totally new Liveexperience".

Microsoft has already taken steps to reduce the densityof content on Xbox Live, recently announcing plans to cull Xbox LiveArcade games that have under-performed - something that Greenberg has previously said would force other developers to "focus on game quality now more than ever".
Speaking to Multiplayer, Greenberg stopped short of confirming that anew version of Xbox Live is on the cards, but the platform holderrecently skipped over the traditional spring dashboard update and thosedevelopers are unlikely to have gone on holiday instead.
Posted by Editorial Team Thu Jun 05, 2008 5:38 pm
Internet Explorer 8 beta 2 and Silverlight beta 2 in Software
Bill Gates has announced the next betas of Internet Explorer 8 andSilverlight 2 while outlining plans from Microsoft on development,services. He also took the opportunity in his valedictory keynote atTechEd in Orlando, Florida today to unveil a Steve Ballmer 'bot.
The second beta of Microsoft Silverlight cross-browser media playerand development platform will be released by the end of this week undera Go Live license. A Go Live license lets developers use pre-releasecode in real-world applications, but without the safety net ofMicrosoft support. The second beta had been promised for the secondhalf of 2008, so it's... early!
document.write('\x3Cscript src="http://ad.uk.doubleclick.net/adj/reg.software.4159/developer;cta='+cta+';ctb='+ctb+';ctc='+ctc+';sc='+sc+';cid='+cid+';'+RegExCats+GetVCs()+'pid='+RegId+RegDT+';'+RegKW+'maid='+maid+';test='+test+';pf='+RegPF+';dcove=d;sz=336x280;tile=3;ord=' + rand + '?" type="text/javascript">\x3C\/script>'); <ahref="http://ad.uk.doubleclick.net/jump/reg.software.4159/developer;dcove=d;sz=336x280;tile=3;ord=00kKItRk6jgAAHQdt@sAAAE7?"target="_blank"><imgsrc="http://ad.uk.doubleclick.net/ad/reg.software.4159/developer;dcove=d;sz=336x280;tile=3;ord=00kKItRk6jgAAHQdt@sAAAE7?"width="336" height="280" border="0" alt="" />
The second beta for IE8 is released in August in 20 languages, sohitting the summer launch, that Microsoft had previously promised.

To promote Microsoft's work on robotics Gates demoed aWindows-powered robot with a monitor showing the Steve Ballmer's face.On cue, the Robot Steve waved his arms up and down and began shouting "Developers! Developers! Developers!", after throwing an egg across the stage.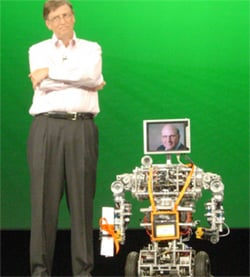 Billg ponders Microsoft under Robot Steve
Gates today hosted his last TechEd before stepping down from day-to-day activities next month after 38 years with Microsoft.

It was a stoic affair, during which Gate's sole concession toemotion came when he credited Microsoft's success to its relationshipwith developers. Gates said next-month's transition to the newtechnology leadership at Microsoft was going very well.

Microsoft has tried the patience of developers many times. There wasthe transition from Visual Basic 6.0 to Visual Basic.NET. Then theill-advised decision to stop serious work on IE, and fold it back intoWindows. That was reversed once Firefox began nibbling away at IE'smarket share.

Gates noted his company had "a renewed effort to invest in Internet Explorer".

"We are hard at work on a new version of that: IE 8 - a very creative name we came up with," he said.

He also talked up Microsoft's plans for Oslo,which will feature a new modeling language, repository, storagemechanism and way to manipulate models. A Community Technology Preview(CTP) is due this fall. The next edition of Visual Studio, meanwhile,will support the Object Management Group's Unified Modeling Language (UML).

After years of industry talk on models and re-use, neither has quitefulfilled their potential. According to Gates, Oslo will get thingsright, and take the "richness" of distributed, online services andbring them together into "one rich framework".

According to Gates, Oslo will enable ambitious forms of development.This will coincide with the rollout of more services from Microsoft,similar to SQL

Server

Data Services and BizTalk

Server

Services. Gates promised Microsoft would run these on millions of servers in its data centers, up from just hundreds of thousands today.

He said Microsoft's SharePoint

Server

would become the firstMicrosoft product to use enterprise search from its Fast Search andTransfer acquisition. The delayed SQL

Server

will be next. "Think of it as SQL

Server

, but it's really Fast," he said.
For all the talk of data services, there was still no date on thenext edition of SQL

Server

. Demonstrating SQL

Server

2008, DaveCampbell, from Microsoft's data storage platform division said SQLServer 2008 would be available in the "next month or two"
Posted by Editorial Team Wed Jun 04, 2008 5:31 am
Valve Steam to evolve multiplayer - major steam updates in Gaming
Valve has an odd way of getting the news about big developments out into the open. At a recent press event, with around seven journalists in attendance,Gabe Newell spoke about PC gaming and announced an exciting new featurefor Steam. You see, your personal computer may become the leastimportant part of your PC gaming experience. Steam Cloud hopes to keepeverything from your purchased games, to your saved game files andcontrol configurations, on a central

server

so you can log onto youraccount from anywhere and pick up exactly where you left off; you won'teven have to invert your mouse.

Valve's plan for Steam doesn't lack ambition; the company wants as manygames as humanly possible on the service, and they want as manydevelopers as possible taking advantage of what the platform offers.These seem like lofty goals, but it's also hard to argue with the stepsbeing taken to achieve them. The Steamworks SDK allows developers to drop Steam and its benefits into games quickly and easily, and hardly a week goes by without news of more games being added to the service. The independent title Audiosurf was a big hit at last year's Game Developers Conference, and became a surprise hit on the service.
The social aspects of Steam are also well-implemented, creating theXbox Live-type experience on the PC that Microsoft desperately wanted,and failed to deliver. Even worse for the competition, Steam is freeand, with a wide user-base of entrenched PC gamers, it's going to behard to compete with the service. The growing pains seem to be over.
While all these developments make sense, the Steam Cloudannouncement doesn't appear part of the rather linear growth offeatures Steam has already enjoyed. The SDK helps developers get onboard, the social networking and cross-game invitation system createsgamer loyalty, but how many people have ever wanted to play Half-Life 2at a friend's house? The obvious winners will be LAN centers, whoseusers will now be able to play their own games seamlessly, but that's amarket that exists largely outside of North America. There is a demandto make content such as music and video portable to be used on multipledevices, but it's hard to say how many serious PC gamers wish to sitdown at locations away from their home to play their games. It's awelcome feature, but it may not have the broad impact that Valvehopes.



The Medic was the first TF2 class to see dramatic updates

What Steam does easily is allow games to evolve, and Valve's Robin Walker told Next Generation that's the direction that the company is moving towards. Team Fortress 2is a game that launched with a smaller number of maps than mostmultiplayer games, but the title has seen a staggering 53 updates sincelaunch. Valve is watching the community and making constant, smallnudges to improve the game based on the constant feedback it receives.These updates add new content and change existing strategies,keeping the game fresh for players. This is an interesting blueprintfor Valve: smaller games that both expand and focus on what playerswant as time goes on.
No one in the PC gaming industry has ever tried to create somethingas ambitious as Steam, and Valve seems to want it all for its service.Blazing this trail means missteps and odd choices, and it's possiblethat Steam Cloud may be more useful than it at first appears. What isclear is that Steam has done more things right than wrong, and PCgaming is changing with it.
Related
Valve Steam Cloud - Online storage for saved games like CS:S
Posted by Editorial Team Sun Jun 01, 2008 5:02 pm
Windows Server 2008 bundles get public preview in Microsoft / Windows
Microsoft today announced that it will launch a "public preview" program for two of its first Windows

Server

2008-based bundles.
The software giant is targeting one package at the small businessmarket, where Microsoft has been heavily foraging, while the other willbe aimed at mid-sized firms.

Windows Small Business

Server

2008 (SBS) and Windows EssentialBusiness

Server

(EBS) 2008 will both be made available over the comingweeks to customers and partners who fancy dabbling with candidaterelease versions of the operating systems.

Redmond, which announced in February that it planned to split itsServer 2008 product for the increasingly lucrative SMB market, said itwill bundle the

server

OSes with Exchange

Server

and other software inan effort to punt low-cost, easy-to-install packages at the little guys.

Windows SBS 2008, including five CALs, comes in at $1,089 with additional CALs costing $77 a pop.

IT departments will need to shell out $1,899 for Windows EBS 2008,which also includes five CALs, with each extra licensed computersconnecting to a

server

priced at $189 each.

Overall, you're looking at about a 30 per cent discount for buyingthe bundles rather than purchasing the software on its own, althoughyour mileage may vary depending on the size of the buy.
Complete versions of Microsoft's

server

products are expected to land late this year.

See related topics for more.

Windows

Server

2008 better than Windows Vista
Posted by Editorial Team Wed May 14, 2008 4:55 am
Computer Misuse Act changes are delayed further in Business and Industry in Gaming, Media, Web, IT and Computing
Denial of service attacks will not be criminalised in Englandand Wales for another six months despite measures lying unused inexisting laws since 2006. Changes to the Computer Misuse Act willnot be activated until October.

The Home Office confirmed to OUT-LAW.COM that the long-awaitedchanges will not happen now as planned, but in October. It hadpreviously said that the changes would be implemented in spring ofthis year.
The changes are already in force in Scotland. A Statutory Instrument was passed lastyear which brought them into force on 1st October 2007.
The changes will make clear that denial of service attacksare illegal. Such attacks can disable a website or computer networkthrough the automated sending of countless, near-simultaneousmessages which clog up a network.
The changes will also make it an offence to distribute toolswhich are "likely" to be used for hacking computer networks. Thispart of the law has been controversial because experts have warnedthat it could criminalise some research into hacking.


Anyone found guilty of launching a denial of service attackcould be imprisoned for up to 10 years. The new law also increasesthe maximum sentence for unauthorised access to computer networksfrom six months to two years.
The changes are to be made by bringing into force some parts ofthe Police & Justice Act and the Serious Crime Act that havebeen passed but have remained inactive.
The Home Office said that a Statutory Instrument will bringthose parts of the law into force in October 2008, though it couldnot give a precise date.

Quote:

The specific outlawing of denial of service attacks was thoughtnecessary after a teenager was cleared of any offence after sendingfive million emails to his employer.
Lennon's lawyer successfully argued that because his employer'semail

server

was designed to accept emails, Lennon committed nooffence in sending email to it.
The trial judge found that no offence had been committed underthe Computer Misuse Act, though the Court of Appeal later ruledthat the judge had been wrong to draw that conclusion.


The changes to the law were made in November 2006.



Posted by Editorial Team Wed May 14, 2008 4:51 am
AMD plans 12-core server chip for 2010 in Hardware, Internet, Networking, Comms and Security
Although I like how AMD seems to be going more advanced, I find it rather pointless that they're making a 12 core processor. Even 4 is more than enough for a simple

server

, and waaaay more than enough for gaming. If you really want that much power, you'll buy a multi-CPU mobo and put quad cores in that.

AMD seems to be doing great thigns lately but they have a lot of priority issues.
Posted by schmidtbag Fri May 09, 2008 1:38 pm
First Quad-LAN motherboard in Hardware, Internet, Networking, Comms and Security
HAVE YOU EVER plugged your computer into a network routerand thought - "Wow, I wish I had three more LAN connectors on the back of mymachine?"
For the two of you that have, Gigabyte has just the board for you - its newP45-DQ6 motherboard, based on Intel's P45 chipset which sports four (count 'em)gigabit ethernet jacks.
Whilst many motherboards come with dual LAN these days, four is pretty muchunheard of. In fact,we have no idea what on earth you would use four LAN portsfor. Nvidia pioneered a feature on its chipsets a couple of years ago where itwould pull two gigabit LAN ports together to give Windows a virtual 2Gbconnection. Which, of course, is totally pointless since no other device on yournetwork is likely to be able to talk that fast.
Yes, there are home

server

applications that require decent amounts ofbandwidth - but without running some firewall or routing software on your PC,multiple network ports appear to be more of a gimmick than a genuinely usefulfeature.
Are we wrong? Is there a whole community of network-o-philes out there wholike nothing more than to jack into as many RJ45s as possible? We're sure you'lllet us know. In the meantime, you can see the weirdness for yourself,here.
Posted by Editorial Team Thu May 08, 2008 6:57 am
AMD plans 12-core server chip for 2010 in Hardware, Internet, Networking, Comms and Security
AMD today shed light on its upcoming

server

workstation roadmap,revealing details on its first six-core processor, expected to bereleased next year, and a 12-core offering, due by 2010.
The upcoming dodeca-core chip will use AMD's next generation socket platform, dubbed "Maranello."

In the second half of '09, AMD plans to begin production of a 45nm,6-core

server

processor, code named "Istanbul." The processor will fitinto current Socket 1207 platforms.
"It will use existing chipsets, memory systems, same power, samecooling," said Randy Allen, AMD's veep of

server

and workstation ops ata roadmap briefing today in San Franciso. "It's exactly the same modelwe've had in terms of being able to take Barcelona and put it intoexisting platforms. We'll be doing the same thing with Shanghai."
Shanghai, AMD's first 45nm

server

processor is still on schedule tobegin production during the second half of this year. Allen said bothShanghai and Istanbul will utilize AMD's coherent HyperTransport 3.0technology for inter-processor communication. Additional featuresinclude an increased shared Level-3 cache from 2MB to 6MB, and core andinstruction-per-clock enhancements.
Two years hence, AMD is gunning to use the third-generation Maranello socket for a new six-core and 12-core

server

chip lineup.
The 2010-destined six-core "Sao Paolo" processor and 12-core"Magny-Cours" will incorporate DDR3 memory and an additionalHyperTransport 3.0 link. Magny-Cours will use two six-core die in amulti-chip package.
Those counting will note a distinct lack of 8-core offerings in AMD's roadmap to match what Intel has been rumbling about.
Allen argued that while the vast majority of

server

workloads willsee good scalability using two-, four-, and six-core chips for servers,the benefit of adding cores past that will dwindle until softwareworkloads run more parallel.
"The more cores you put in there, the slower you're going to have torun it within a fixed power envelope," said Allen." "If you're going toadd additional cores, you have to be very convinced that the majorityof applications you're running are going to be able to take advantageof those additional cores. If they aren't able to do so, you'reactually taking a step backwards."
Allen said AMD's 12-core offering will properly satisfy users with the kind of parallel workload that can use it.


Quote:
AMD is on target to ship its first 45-nm

server

chip, codenamedShanghai, in the latter part of this year, which would be about a yearafter Intel shipped its first products using the next-generationmanufacturing process that makes it possible to shrink transistor size.Shanghai will be a four-core processor that delivers 25% betterperformance than the company's current 65-nm quad-core Opteron,formerly known as Barcelona. Shanghai also will ship under the Opteronbrand.
Shanghai will use up to 20% less power during idle time thanBarcelona and have 6 MB of L3 cache, which is twice the overall cacheof its predecessor. In addition, Shanghai's support of DDR2-800 memorytranslates into a 10% boost in bandwidth.
Nevertheless, the Shanghai design is "incremental in nature"from Barcelona, which represented a platform overhaul for AMD, RandyAllen, AMD's VP for servers and workstations, told reporters during ateleconference. Shanghai will use the same Nvidian nForce 3600/3050 andBroadcom HT-2100/1000 chipsets as Barcelona, and fit into the samemotherboard socket, so computer manufacturers and corporate customerscan reap the performance benefits without major changes in currentsystems. "The platform won't need to be touched," Allen said. "Justdrop in the new processors and update the bios."
The platform change will occur with the release of the 12-coreMagny-Cours and six-core Sao Paulo, both set for the first half of2010. Magny-Cours will comprise two integrated six-core chips. Up untilthis product, AMD has placed all cores on a single die. The new productwill have 12 MB of L3 cache, while Sao Paulo will have 6 MB of cache.Both will use version 3 of the HyperTransport technology, which willdeliver a 4x performance boost in bidirectional data movement.
Both chips will run on AMD's next-generation platform,codenamed Maranello. In addition, the processors will use new chipsets:the AMD RD890S, the RD870S, or the SB700S.

Posted by Editorial Team Wed May 07, 2008 6:56 pm
Spore, Mass Effect PC to Require Periodic Online Validation in Gaming
BioWare technical producer Derek French has said that the PC versionsof both Mass Effect and Spore will make use of copy protection thatwill require online validation every ten days in order for the games tocontinue working.
"After the first activation, SecuROM requires that [Mass Effect PC]re-check with the

server

within ten days (in case the CD Key has becomepublic/warez'd and gets banned)," said French in a post on the BioWare forums.
If customers do not come online after ten days, the game will cease to function.
"After 10 days a re-check is required before the game can run," addedFrench. "..An internet connection is not required to install, just toactivate the first time, and every 10 days after."
The check is run when users activate the game's executablefile, with the first re-check coming within "5 days remaining in the 10day window."
According to French, Maxis' Spore will also make use of thesame scheme: "[Electronic Arts] is ready for us and getting ready forSpore, which will use the same system."
French also noted that the online requirement will be clearly labeled on the games' packaging.
Posted by Editorial Team Wed May 07, 2008 10:24 am
10 things IT needs to know about Ajax in Programming, Web and Software Design/Development
The introduction of any new Web technology will affect a network's infrastructure in ways that range from inconsequential to earth shattering. Ajax is one of the more disruptive new Web technologies traveling across networks today. To help you minimize future surprises on your network, we've outlined the 10 things you should take to heart about Ajax. (Also see our slideshow illustrating tips for deploying Ajax applications effectively.)
1) Ajax is an idea, not an acronym
While Ajax commonly is spelled out as Asynchronous JavaScript and XML, the full name is not entirely appropriate because it oversimplifies the history of the technology and the implementation options that lie at its heart. More exactly, Ajax encompasses the idea that Web applications can be built to opt out of the typical post-wait-repeat cycle used in

server

-side-focused Web applications. Ajax lets Web applications move to a more responsive, continuous, but incremental style of updating. Ajax provides users a richer, more interactive way of experiencing the underlying Web application. This goodness for the user might mean that more monitoring and security oversight might be required of network professionals, as well as, potentially,

server

and network alterations.
2) It's really all about JavaScript
Ajax applications are written in JavaScript and usually rely on the XMLHttpRequest object for communications, which is making its way through the World Wide Web Consortium process.Because, like many Web technologies, it now is only an ad hoc industrystandard, notable differences can be found in various browsers'implementations of it. It's also possible to use other data transportmechanisms — with and without widespread industry support — with Ajaxapplications, including traditional frame and image-cookie methods, aswell as the use of binary bridges to Flash or Java.
Regardless of the transport approach used by the developer, Ajax has raised JavaScript to a more important position within a Web application than it previously held. JavaScript now is responsible for important data-collection, communication and consumption duties, so it no longer can be treated as a second-class Web technology without serious repercussions.
Developers who think the JavaScript technology is toxic can try to avoid the language by having a tool or framework generate it from some other language like Java (Google Web Toolkit, for example), or hide the code behind components or tags (such as with .Net or Ruby). At the end of the day, however, JavaScript still will be in the application. It's better to understand the language and embrace it directly, because if you are going to use Ajax, you ultimately are using lots of JavaScript.
Ajax is intertwined with the network, so bad code is going to meanlots of troubleshooting by network administrators, as well asdevelopers: The bottom line is to encourage good, network-aware coding!The same organizational "rules and tools" -- coding standards, testingregimes and source-code control — that are in place for other languagesmust be applied to JavaScript to ensure that Ajax applications aresupportable and robust.
3) XML is not required
Despite the "x" in the acronym, Ajax does not require XML. TheXMLHttpRequest object can transport any arbitrary text format. For manyAjax developers, JavaScript Object Notation or even raw JavaScript codefragments make more sense as a data format, given that JavaScript isthe consuming environment. For direct input into documents, otherdevelopers may favor raw text or HTML fragments. Still others will usesuch data formats as the less-known YAML markup language or such oldstandbys as comma-separated values.
Of course, it is possible and certainly reasonable to use XML, butit is far from required. Using binary formats for uploading files isnot supported yet by the XMLHttpRequest object, but considering thatFlash uses a binary format called Action Message Format, it is likelythat similar features will be found in Ajax applications soon enough.You should know which format is being passed around the network,because it isn't always XML. Also, make sure you can analyze the formatfor performance and security.
4) Plan for an increase in HTTP requests
The most obvious issue for the network administrator supporting Ajaxapplications is that the architectural programming pattern has changedthe network utilization of Web applications from a batch-like, somewhatinfrequent response of a few hundred kilobytes, to a more continuousexchange of smaller HTTP responses. This means that network-bound Weband application servers may find themselves even busier than before.What Ajax will do to your

server

and network utilization certainly willdepend on how the application is built — make sure your developersunderstand the network impact of their applications.


5) Optimize Ajax requests carefully
Web applications should adhere to the network delivery principle of sending less data, less often. That doesn't mean that this principle is widely followed by developers, however. Fortunately for the network, HTTP compression of Ajax responses can reduce response size and is supported in all modern browsers. Because of dynamic compression's overhead, however, speed may not improve much if responses are indeed relatively small. This means that it would be wise for network administrators to turn on compression on their Web

server

, but they need to understand that with Ajax applications, their gains won't be as big as with traditional Web applications.
To send data less often, we generally would employ caching. MostAjax implementations can be openly hostile to caching, however, givencertain assumptions made by browsers regarding not re-fetching URLsduring the same session. Rather than work with caching, many Ajaxdevelopers will work aggressively to defeat caching via the headersetting or URL uniqueness.
It is possible to address caching concerns with a client-side Ajax cache written in JavaScript, but most Ajax libraries do not implement such a feature. Network professionals should show developers the benefit of caching, because Ajax probably will benefit more from that than from compression.
6) Acknowledge the two-connection limit
Ajax applications are limited by HTTP to two simultaneousconnections to the same URL. This is the way the HTTP protocol isdesigned, not some browser bug or limitation. The good news is that itkeeps many Ajax developers from swamping a

server

accidentally, thoughMicrosoft's Internet Explorer 8 is supposed to go well beyond thelimit. Chatty Ajax applications can be trouble, and with browserschanging the rules, network administrators need to keep a close eye onthe number of requests made, and work with application developers toavoid employing such design patterns as fast polling or long-heldconnections.
7) Watch out for response ordering
With traditional Web applications, the network effects of TCP/IP communications — such as the lack of order in which individual HTTP responses are received — generally are not noticed by developers or users. The base unit, the HTML document, is received before other objects, and it then triggers the request. Any subsequent request triggers a whole new base document, thereby guaranteeing order. Ajax takes such implicit ordering away, however, so that an application dependent on proper sequencing requires a response queue. Ajax frameworks, however, are not consistent in acknowledging this network concern. So, again, make sure Ajax application developers understand such network-level concerns.

Acknowledge the effects of eliminating "Layer 8" error correction
For years, users have been correcting Web-delivery quality byreloading pages or pressing the Back button. Simply put, users doingthis help mitigate network problems because errors occur generally atexpected moments between page paints. With Ajax, however, applicationfailure is no longer that obvious. Worse yet, users often aremisinformed about errors, because the simple, animated-GIF spinningcircle provides little information about the true status of therequest.


Developers are at a loss because many libraries aren't effective at acknowledging that timeouts happen, retries must occur, and

server

and data errors crop up. JavaScript diagnostics showing communication and code errors are rarely in place on the client side, so blissful ignorance is the norm. More application-level monitoring is required for administrators to support Ajax properly.
9) Old security threats get a second exposure
If you listen to the pundits, Ajax may appear to produce more attacksurface, but it really isn't any less secure than traditionalWeb-application development environments, because the HTTP inputs tothe trusted

server

side are the same — headers, query string andmessage body. If implicitly trusting client-side code and entered datais not verboten already in your Web development group, however, Ajaxmay push things in that direction.
Cross-site scripting (XSS) isn't a vulnerability new with Ajax; it is just more common, especially if an application allows state data to be manipulated with JavaScript. HTML input should be disallowed in most cases, and HTTP Only Cookies should be applied immediately to reduce cookie hijacking and other attacks via XSS.
Cross Site Request Forgery likewise isn't new with Ajax, but if your application developers aren't checking the HTTP Referer (sic) header and managing sessions properly within Ajax applications, you've already been open to it, although it might be worse now.
Hackers, like developers, now are more interested in using and abusing JavaScript, which increases the potential for exploits. Network professionals should make sure developers are aware that client-side code can be manipulated even with obfuscation in place, so data inputs should always be filtered and sanitized, Ajax or not.
10) Abide by same origin for your protection
On the positive side of security, JavaScript's same-origin policy(SOP) is fully enforced in an XMLHttpRequest-based Ajax application.This policy makes sure that scripts cannot talk to domains outside ofthose from which they are issued. From the developer's point of view,this can be quite annoying because it means that pages served, forexample, from ajaxref.com can't talk to a URL hosted onwww.ajaxref.com; even if it is the same machine, it isn't the sameexact domain. DNS equivalency doesn't matter here; it is a string-checkemployed by the SOP.
The SOP will severely hamper a developer's ability to perform someWeb-service efforts on the client side as well. Clearly the bestapproach is to use a proxy on the

server

to bounce requests to otherservers and combine the results. However, many Ajax developers attemptto break the same-origin restrictions. Using the <script&gt; tag asa transport instead of the XMLHttpRequest object introduces dangeroustrust assumptions, and that leads to the origin of much of the concernabout overall Ajax security.
Now, with such browsers emerging as Firefox 3 and Internet Explorer8 employing native cross-domain request facilities, there is certain tobe more trouble on the horizon. As is the case with Java'ssecurity-sandbox concept, SOP restrictions are introduced just to keepdevelopers from destroying security. Go around such safeguards withextreme caution.
Watch what you wish for
With Ajax, rich-application widgets will win a project, but badplumbing may sink it. If the promise of a rich Ajax application isdelivered in a network environment that is occasionally fragile, userswill become disillusioned with the perceived instability of theapplication regardless of its slick interface. To enable desktop-likequality, network professionals must educate Ajax developers aboutcertain network and security fundamentals and provide a solid andconstantly monitored delivery platform that includes client-sidediagnostics on JavaScript functioning and network performance from theuser perspective. Users regularly see rich Web applications done right— like those coming from Google, for example — so anything less is arisky endeavor.
Posted by Editorial Team Tue May 06, 2008 6:57 am