Search iVirtua
Advanced/Tag Search...
Search Users...
What is iVirtua Exclusive Community?
An exclusive gaming industry community targeted to, and designed for Professionals, Businesses and Students in the sectors and industries of Gaming, New Media and the Web, all closely related with it's Business and Industry.
A Rich content driven service including articles, contributed discussion, news, reviews, networking, downloads, and debate.
We strive to cater for cultural influencers, technology decision makers, early adopters and business leaders in the gaming industry.
A medium to share your or contribute your ideas, experiences, questions and point of view or network with other colleagues here at iVirtua Community.
Guest's Communication
Live Chat
Teamspeak (VOIP) Audio Conference
Private Messages
Check your Private Messages
Themes
Choose an iVirtua Community theme to reflect your interests...
Business Theme

India/Arabic Theme
Gaming Theme
iVirtua Recommends
Fly Emirates
1656 results for software
So You Want To Be a Video Game Artist ... in Graphic Design, Web Design and Creative Arts Concepts
In a market that's oversaturated with incredibly talented artistsand writers, up-and-comers and semi-professionals alike face theoutrageously difficult task of gaining recognition in their chosenfield. One dilemma out of many is that many young artists are forced tocompete against traditional animators that didn't get out of the mass layoffs and salary cuts plaguing Disney in the year 2001, the eventual closureof the animation giant's 2D studios creating a flood of overqualifiedprofessionals entering into jobs that would normally be moreaccommodating towards talented students and other entry levelapplicants.
While this is hardly a bad thing– one would have a hard time arguingagainst widely-distributed mediums getting a boost in artistic quality–it leaves a lot of people scratching their heads, wondering how thehell they could possibly make it in the professional world, especiallywhen it comes to video games. You know how they say the right answer isoften the simplest? Well, here's a simple answer to the headscratching:learn how to become a professional.


[TABLE][TR][TD]
[/TD][/TR][/TABLE]
Art in its many varied forms has, and always will be, a staple ofevery human culture that has ever walked the Earth. Over time, nearlyeveryone has debated what constitutes art that's worthy of display, ofreflection; why a single image may evoke a great deal of emotions inone person while it leaves another cold and uninterested. This worksrather well for art contained within the many varied galleriesscattered across the globe, but that kind of ambiguity will rarely getyou honorable mention in mediums that rely heavily on– you got it–technical expertise.
The consumer market may be easy to fool with rudimentary attempts atfan art from your favorite game or anime, but knowing you have thetalent and expanding that talent are two extremely different things.
Unfortunately, thanks to social networking sites like deviantArt and its numerous clones, many are under the delusion that the groping their ego receives in the form of comments or favorites make them impervious to conventional criticism. So here's rule number one, in case you missed it:
You are never above criticism no matter how good you think you are.
The only way an artist will be anywhere near capableof making ends meet in a market that's incredibly competative is bystanding out, both in their list of skills and in the body of work theypresent in their portfolios.Fresh ideas are just as paramount to getting that dream job you'redrooling over, but having a solid understanding of drawingfundamentals– perspective, life drawing (prudes are advised to get over naked people) and proper use of negative space– is going to be one of your most treasured assets.
Recently, I had the opportunity to speak to a representative from Raven

Software

's creative team over lunch, and later received a tour of their headquarters (which I, unfortunately, can't tell you about, other than to say: holy crap that was cool). My tour guide had been a technical artist for Electronic Arts in the past, citing the impressive wealth of knowledge that landed him those jobs in the first place.
Hestated in no uncertain terms that one of the ways an applicant canreally stand out is by showing proficiency in manipulating gameengines, saying that being able to produce mods for various games using the Unreal Engine would be an immediate edge over other prospective employees. Similarly, a solid understanding of 3D

software

such as Maya–including how to create detailed textures for the models you create– isincluded in the mix, even if your entire job revolves around sketchingconcepts with pen and paper. In short: wherever your strengths may lie,being able to showcase versatility in many different aspects of gamedesign is much more likely to land you a job in the industry.
Sounds difficult, doesn't it? As if learning all the basics of drawing wasn't hard enough, right? Well, it isdifficult; no matter how much encouragement you might receive from yourpeers and loved ones, nothing will erase that fact… but if you'reanything like me, you look forward to the learning process as much asyou look forward to landing that dream job.
Posted by Editorial Team Mon Jul 14, 2008 10:13 am
30 Most Anticipated Games of E3 in Gaming
30. Rise of the Argonauts (PS3, X360, PS3)
Publisher: Codemasters
Developer: Liquid Entertainment
Est. Release Date: Sep 2008
Officially Announced for E3: Yes


Anaction RPG that promises to be way more action than RPG, Rise of theArgonauts has a winning mythological premise and lots of little designtouches that keep the game looking fresh. Take the Argo—the ship oflegend will act as a seafaring headquarters from which your recruitedArgonauts will provide support. There is also a "deed" system that willincrease Jason's abilities via the acquisition of Xbox LiveAchievement-like trophies. So it's bursting with interesting ideas, andit's all running on the reliable Unreal Engine 3—this could be thesleeper hit of the year.


29. High School Musical 3: Senior Year Dance (PC, Wii, PS2, NDS, X360)
Publisher: Disney Interactive
Developer: TBA
Est. Release Date: Holiday 2008
Officially Announced for E3: Yes


Considerthis your representative sample of licensed games that promise to sellgangbusters regardless of quality or media reaction. And High SchoolMusical 3 is likely to be the biggest game of its breed this year: themovie of the same name is the first time this children's blockbusterfranchise will see a theatrical release, meaning the marketing for theproperty is likely to be even more inescapable than usual. Beyond theusual niceties of rhythm games—coop and competitive modes, mechanicsspecific to each system's control scheme—it will have the songs fromHigh School Musical movies past and present. That last one is almostcertainly the only feature the game needs to add another million insales to the franchise's life-to-date count.

28. Borderlands (PC, X360, PS3)
Publisher: 2K Games
Developer: Gearbox

Software


Est. Release Date: 2009
Officially Announced for E3: Yes


Capabledeveloper Gearbox has never swung for the fences with quite as muchgusto as with Borderlands. The fact that the game is original IP isn'teven the half of it—it also promises a procedural item creation systemthat will provide this sci-fi first-person shooter over half a millionweapons. If that's not enough, Borderlands also shares some ambitionswith big-budget role playing games: the world will be expansive,character growth and classes comes standard, and missions and sidequests will populate the landscape. Borderlands has all the earmarks ofa breakout hit, and its scope should easily take the breath away fromboth shooter and science fiction fans.

27. Mortal Kombat vs. DC Universe (X360, PS3)
Publisher: Midway
Developer: Midway
Est. Release Date: Holiday 2008
Officially Announced for E3: Yes


Goingon the title alone, Mortal Kombat Vs DC Universe feels a decade late,like it should have been slugging it out with Marvel Vs Capcom for thequarters of 90s teenagers. But it's actually a better idea,commercially, in 2008—now the game can ride the tide of successfulcomic book film blockbusters. It can pull from the years of soliddesign work and franchise reputation rebuilding that culminated inMortal Kombat: Armageddon. And with an anticipated ESRB rating of T forTeen, there're no retail hurdles to keep the adolescent maledemographic from eating this up with a spoon.

26. S.T.A.L.K.E.R.: Clear Sky (PC)
Publisher: Deep Silver
Developer: GSC Game World
Est. Release Date: Aug 29, 2008
Officially Announced for E3: Yes


S.T.A.L.K.E.R.:Shadow of Chernobyl was hardly the biggest first-person shooter of 2007in the west. But it posted platinum-level sales in Eastern Europe,where its freeform gameplay and mythos steeped in Russia's uniquescience fiction struck a strong chord. With little similar competitionin the region, its sequel Clear Sky should do well for itself therealso. Which isn't to say the rest of the world shouldn't (or won't)give it a go as well—Clear Sky will add a tactical, squad-based turfwar to the already eccentric proceedings, and should be just as curiousand interesting a beast as its predecessor.

25. Star Wars: The Force Unleashed (PS3, X360, Wii, PS2, PSP, NDS)
Publisher: LucasArts
Developer: LucasArts
Est. Release Date: Sep 2008
Officially Announced for E3: No, but it might as well be


TheForce Unleashed could well be the biggest project to bear the Star Warsfranchise name since Episode III ended the franchise's non-animatedtheatrical run. Every Star Wars fan has been curious about the periodright before the Original Trilogy when Darth Vader had his run of thegalaxy; Force Unleashed promises to capture this period from theperspective of the Dark Side, using exciting new technologies torealistically render bot the AI and the Force itself. If the persistentrumors are true, this could well be the last project completely builtby LucasArts' internal studio—but in that case, it will be one heck ofa send-off that a lot of Star Wars fans will experience.


24. Beyond Good and Evil 2 (PS3, X360)
Publisher: Ubisoft
Developer: Ubisoft Montpellier (likely)
Est. Release Date: TBA
Officially Announced for E3: No


Allthat's known about Beyond Good and Evil 2 is that it's currently beingworked on by Ubisoft premier designer Michel Ancel. But in this case,that's more than enough—Ancel's resume does include perennial hitRayman and (naturally) the first Beyond Good and Evil, after all. Andthe first Beyond Good and Evil is particularly beloved. The smallaudience that played it has been talking about it ever since, praisingits varied gameplay and realistic, strong female protagonist Jade. Sothe sequel is exciting, and though its commercial success is by nomeans assured it's possible that maybe the adult gaming audience isfinally ready for this franchise.


23. Lock's Quest (NDS)
Publisher: THQ
Developer: 5th Cell
Est. Release Date: Fall 2008
Officially Announced for E3: Yes


2007'sbiggest surprise sales blockbuster was a little DS game called Drawn toLife, built by a little mobile developer called 5th Cell. That gamegave the independent studio a reputation for creating innovations withstrong market appeal, and it could cement that reputation with Lock'sQuest, a curious RTS/Action/RPG/minigame hybrid with cute graphics,quick thrills and a world that can be completely remodeled by theplayer. In other words, it has a lot of elements that appeal across awide variety of gaming demographics, as well as a lot of ambition. Ifthis one lives up to its potential, it would be great to see it succeed.


22. Puzzle Quest: Galactrix (PC, X360, NDS)
Publisher: D3 Publisher of America
Developer: Infinite Interactive
Est. Release Date: Fall 2008
Officially Announced for E3: Yes


Lastyear's Puzzle Quest combined the most addictive parts of the casual"match three" puzzle game with the most addictive parts of RPGcharacter development, a powerful cocktail that murdered productivityand sold in huge numbers. There's no reason this follow-up shouldn'tcontinue in that trend—it's still a match three puzzle game (this timemore Collapse than Bejeweled), it still has those all-important RPGelements, and it's being built by the same studio. The only differences(besides the science fiction setting) all look like improvements.There's an element of strategy gaming. Players can enhance not justtheir character, but also their spacecraft. Downloadable content willabound. It all sounds like a game that players will itch to play afterthe first hit.


21. Crysis: Warhead (PC)
Publisher: Electronic Arts
Developer: Crysis
Est. Release Date: Fall 2008
Officially Announced for E3: Yes


Allegedlythe last PC exclusive from the bastion of PC gaming high technology,Crytek's side story to 2007's Crysis looks every bit as graphicallydazzling as its predecessor. It also promises to be a moremarket-friendly title (a tall order considering Crysis' million-sellingstatus); Warhead provides a less strategic, more bombastic run-and-gunaffair compared to the original Crysis. And with a year of hardwareadvancements in between Crysis and Crysis: Warhead, that more widelyappealing design will find that a lot more people have the rigs toactually run it well. And who knows? If Warhead does manage to findthat perfect balance, perhaps Crytek will stick to their PC-exclusivestomping grounds for a while longer.

20. Tomb Raider Underworld (Wii, PS2, PS3, X360, PC, NDS)
Publisher: Eidos
Developer: Crystal Dynamics
Est. Release Date: Holiday 2008
Officially Announced for E3: Yes


It'sbeen a few years since Crystal Dynamics took the Tomb Raider franchiseand reinvigorated it with Legend. But it's really with Underworld thatthe series' previous mistakes have been taken to heart. Rather thanrest the game on its laurels again, Underworld is a creation that lookstoward with the new; the game engine is all new, the way the worldinteracts with Lara is more realistic, combat now has melee and willflow fluidly into the puzzle mechanics. And if that wasn't enough toguarantee sales, Lara has a motorcycle now too.


19. Sonic Unleashed (Wii, PS2, PS3, X360)
Publisher: SEGA
Developer: Sonic Team/Dimps
Est. Release Date: Holiday 2008
Officially Announced for E3: No


Thesedays it feels like SEGA promises the moon with every Sonic title, tothe point where it's hard to fall for it anymore. Take Sonic Unleashed;it's promise of a revamped, re-invented Sonic echoes the promises SEGAmade before this generation's first Sonic the Hedgehog hit the Xbox 360with a sad plop. And yet, franchise sales have never followed the samecurve as the blue blur's review scores. This is mostly because ofSonic's strong appeal to the child market, but on some level thegraying Genesis owner wants to believe what we're told, that this nextSonic really will reclaim the glory days. Anyway, Sonic Unleashed. It'srunning on a new engine and has some 2D environments. It'll sell, andas for the rest of it? Here's hoping.


18. MadWorld (Wii)
Publisher: SEGA
Developer: Platinum Games
Est. Release Date: 2009
Officially Announced for E3: No


PlatinumGames, formerly Seeds, formerly Clover Studios, isn't known for makingcommercial hits. No, that team is known more for making instant,beloved classics. Okami certainly, but Viewtiful Joe is in there aswell, and the only people who remember God Hand these days love it toabsolute death. MadWorld, a blood-soaked black and white Wii exclusive,feels like a return to the playful, experimentation that made this teamfamous. Will it sell? Well, it's nice to think that just maybe, thistime, the market has caught up to what Platinum is doing.


17. Animal Crossing Wii (Wii)
Publisher: Nintendo
Developer: Nintendo
Est. Release Date: TBA
Officially Announced for E3: No


Asof this writing, Animal Crossing Wii still exists as a hopeful glimmerin the eye of the gaming public. Nintendo hasn't said anything at allabout it yet, though almost all speculation says that it exists andwill be announced soon—and if that's the case, E3 is as good a place toshowcase it as any. It's a completely believable theory. Nintendo'sChristmas lineup is currently a complete mystery, and Animal Crossing,already a surprise hit on GameCube and DS, is such a good fit for thecasual Wii-loving audience it's startling it's not on the systemalready.


16. Left 4 Dead (PC, X360)
Publisher: Valve

Software


Developer: Turtle Rock Studios
Est. Release Date: Holiday 2008
Officially Announced for E3: Yes


Valvedoesn't release duds, and it doesn't buy teams that can't deliver. Sothe fact that it purchased Turtle Rock Studios and have put a greatdeal of PR muscle behind Left 4 Dead speaks volumes as to how good thisgame could be. The game has a completely innovative, yet highly marketfriendly hook in its "four survivors must cooperate to survive thezombie horde" premise, though players of a less polite persuasion canalso take up the role of a super-powered zombie. This could very wellbe the next major online phenomenon, like Team Fortress 2 before it.


15. Resistance 2 (PS3)
Publisher: Sony Computer Entertainment
Developer: Insomniac Games
Est. Release Date: Holiday 2008
Officially Announced for E3: Yes


Thefirst Resistance was the big win for the PlayStation 3 at launch, butResistance 2 looks set to spin that good first impression into anempire. Resistance 2 pushes the game out of London to the morerelatable (in the US, anyway) environs of the United States. A goodmove, but not as good as the massive 60-man multiplayer that the gamepromises. That's fantastic scale for an online console game; add onsome more focused, objective-oriented teamplay and Resistance 2 is agood contender for gamer's next networked obsession.


14. Killzone 2 (PS3)
Publisher: Sony Computer Entertainment
Developer: Guerilla Games
Est. Release Date: 2009
Officially Announced for E3: Yes


Threeyears on and Killzone 2 is still trying to shake off its disastrous"showing" at E3 2005. Admittedly the team at Guerilla has done a finejob of actually approaching the target in that first badly marketed"target render," with more recent previews showing the game asappropriately attractive and bombastic for its high position in Sony'sportfolio. But it still needs a big floor to show off, and it needs aman to say "in-game graphics" about one thousand times in front of somehuge HD Killzone if it wants to really nail the market. E3 historicallyhas had some very big floors.


13. Fable 2 (X360)
Publisher: Microsoft
Developer: Lionhead Studios
Est. Release Date: Oct 2008
Officially Announced for E3: Yes


Alot on Fable 2 is already known, and most of it is interesting on avariety of levels. There's the in-game dog, a character ofunconditional love that will act as the player's anchor to the game'sworld. There's the Pub Games, a series of Xbox Live Arcade titles thatwill act as both encapsulated products and previews for the bigrelease. Then there's the gay marriage, pregnant adventuring, and allmanner of family matters to deal with in the game as well. It's a gamethat promises to push boundaries and break some of the medium's moreridiculous unnecessary taboos. Considering the success of the originalGable, it's likely many people will choose to experience this moveforward—surely a good thing.


12. Command and Conquer: Red Alert 3 (PC, X360)
Publisher: Electronic Arts
Developer: EA Los Angeles
Est. Release Date: Holiday 2008
Officially Announced for E3: Yes


RedAlert's Cold War gone hot is one of the most beloved scenarios is allof strategy gaming, and the franchise's long seven year absence makesthis game even more exciting and desirable. And by adding thepseudo-Japanese Empire of the Rising Sun faction the festivities geteven more campy and strange, complete with towering mecha, psychicschoolgirls and parachuting bears. So it's got a lot of hooks for boththe longtime fan and sugar-crazed newcomer alike.


11. Far Cry 2 (PC, X360, PS3)
Publisher: Ubisoft
Developer: Ubisoft Montreal
Est. Release Date: Holiday 2008
Officially Announced for E3: No


FarCry 2 has found a unique gaming setting in the jungles, savannahs andtowns of Africa, and it plans on giving the player a lot of thatsetting – 50 square kilometers, to be precise. Plenty of new gameplayelements will make themselves known as the player crosses that expanse:some wounds have to be treated with field medicine (ie. fishing abullet out with a knife) and brush fires can be started, only to bewhipped up realistically by wind. Far Cry 2 is an underutilized brandmoving to an underutilized setting while adding multiple newinnovations, making it an extremely strong contender in the hardcoreshooter market.
10. Prince of Persia (X360, PS3)
Publisher: Ubisoft
Developer: Ubisoft Montreal
Est. Release Date: Holiday 2008
Officially Announced for E3: No


Princeof Persia: The Sands of Time was one of the last generation's definingmoments, so it would have been easy for Ubisoft to just build astandard sequel on the successes of its previous trilogy. The fact thatthis is not the case, that the series is instead being rebooted with anincredible hand-painted aesthetic and open world, show a strongdedication to making the Prince one of the most lasting and importantfranchises in gaming (though the big budget movie helps on that scoreas well). While previous PoP titles did sell well, after theblockbuster success of Assassin's Creed, the timing is perfect for thePrince to really make it big.


9. Final Fantasy XIII (PS3)
Publisher: Square Enix
Developer: Square Enix
Est. Release Date: TBD
Officially Announced for E3: Yes


Sinceclosing the door on the last console genre, Square Enix has relied onhandheld games and Wii side stories alone. If the publisher's lastfiscal statement said anything, it was that's no way for a company tolive—so while Square Enix has some other interesting console games inthe pipe, it needs to bring its megaton franchise back into the publiceye. It's not surprising that Final Fantasy XIII will show up in someform at E3—and regardless of what form it takes or what the game lookslike now, it could certainly steal the show if it tried.


8. Street Fighter IV (PC, X360, PS3)
Publisher: Capcom
Developer: Capcom/Dimps
Est. Release Date: 2009
Officially Announced for E3: Yes


Atworst, this is a surprise come back of one of gaming's most iconicfranchises. At best, this could be the surprise come back of agenre—certainly if anything could revive a flagging fighting gamefield, a new numbered entry in its greatest series would be the thingto do it. Perhaps the best sign that this game knows what it will taketo succeed is its reverence to Street Fighter II—all of the charactersfrom that game will return, and the gameplay mirrors the measured paceof that early entry. Considering versions of SFII still sell in strongnumbers, it's easy to see how this strategy could succeed on the market.


7. Rock Band 2 (X360, PS3, PS2, Wii)
Publisher: MTV Games
Developer: Harmonix
Est. Release Date: Sep 2008 (X360 timed exclusive, with other versions to follow)
Officially Announced for E3: Yes


Nomatter what other companies say, the fast-paced game of catch-up thathas gripped the music genre says one thing louder: the four-piece RockBand is the standard for the field. And while little is known about itat this point, what is known proves that Harmonix hasn't lost the plotwith Rock Band 2. Sticking to its "platform" guns, the game will befully backwards compatible—with old DLC, with old instruments, theworks. And while user-created content is not a go this time, there arecertainly things about the game yet to be announced—you don't want tomiss this one at the show.


6. LittleBigPlanet (PS3)
Publisher: Sony Computer Entertainment
Developer: Media Molecule
Est. Release Date: Oct 2008
Officially Announced for E3: Yes


Despiteseemingly constant delays, LittleBigPlanet remains one of the mostunique products in Sony's first-party arsenal. The idea of a game thatlives and dies by the content created by its users has been triedbefore in first-person shooters, but LittleBigPlanet, with its lovelytextured graphics and universal, non-violent charm wants to be muchmore—the YouTube of games perhaps, or the Legos of the 21st century. Ofall the games that could bring PlayStation 3 to the mass market, thisremains the best hope.


5. Halo Wars (X360)
Publisher: Microsoft
Developer: Ensemble Studios/Bungie
Est. Release Date: Oct 2008
Officially Announced for E3: Yes


HaloWars is more than just the next title from Microsoft to have the Haloname. It's also more than the first Halo project not spearheaded byBungie. Halo Wars wants to be a revolution in real-time strategy, aconsole exclusive built from the ground up for a console controller—inother words, Halo Wars wants to do for real-time strategy what Halo didfor first-person shooters. If it succeeds, it could crack wide open thenascent console RTS market as gamers try it based on the franchisealone. It's been reported that the game will be playable by the mediaat E3, so the show should give a much better idea as to how itssucceeding.


4. Spore (PC, Mac)
Publisher: Electronic Arts
Developer: Maxis
Est. Release Date: Sep 7, 2008
Officially Announced for E3: Yes


It'scertainly something that even after the seemingly endless amount ofwords typed about Spore, even though it's appeared in publications asnon-game centric as The New Yorker, even though the wait for the gamehas been years long and interminable, almost everyone who knows aboutit is still excited at its promise. And after the success of therecently released Creature Creator, that excitement is still mounting.Will Wright's SimEverything could very well the next big thing, tossingaside silly ideas like "demographics" and just appealing to everyoneeverywhere. In other words, the next Sims.


3. Gears of War 2 (X360)
Publisher: Microsoft
Developer: Epic Games
Est. Release Date: Nov 2008
Officially Announced for E3: Yes


Gearsof War 2 is a lot of things. To the gamer, it is epic, the sequel tothe game that dominated man hours spent on Xbox Live for most of 2007.To developers, it's the new baseline, as every new Epic game has cometo represent the state of the art for the now industry standard UnrealEngine 3. In both regards Gears of War 2 looks great. A fewimprovements to the constantly evolving engine have already been shown,and most gamers agree that new mechanics like martyrdom and the "meatshield" look like fantastic fun. Gears of War is already one of thisgeneration's emblematic franchises, so it will be great to see how thesequel goes about cementing that status.


2. Resident Evil 5 (X360, PS3)
Publisher: Capcom
Developer: Capcom
Est. Release Date: 2009
Officially Announced for E3: Yes


RE5is not even close to a retail release, and yet it's already one of themost interesting topics in the industry. It brings with it the highlyrespected pedigree of Resident Evil 4, hands-down one of the best gamesof the last generation, and will probably sell strongly to the audiencethat loved, or even heard about, that game. Yet it's also mired incontroversy over some concerns regarding racism. So it's a projectthat's walking many tightropes of expectation, and there's potentialfor huge success or massive failure here. As a result this E3 could bethe most important public showing for RE5 until its release—it shouldbe fascinating.


1. Fallout 3 (PC, X360, PS3)
Publisher: Bethesda Softworks
Developer: Bethesda Softworks
Est. Release Date: Oct 2008
Officially Announced for E3: Yes


Fallout3 shows great evolutionary leaps every time it's displayed for publicviewing, with recent revelations—the childhood simulating charactercreator, the 500 endings—being particularly fascinating. Now that it'scoming precariously close to its announced release date, this E3 shouldrepresent the game's biggest showing yet. If there are any surprisesleft in the title to announce, expect them to get announced at somepoint during the week. But even if there aren't, Fallout 3 has alreadyproven itself to be a sprawling, ambitious project that anyone in thegaming audience would wait to spend more time with.
Posted by Editorial Team Tue Jul 08, 2008 7:55 am
HMV: Videogames "are the new rock 'n' roll" in Business and Industry in Gaming, Media, Web, IT and Computing
HMV's head of games, Tim Ellis, has told GamesIndustry.bizthat videogames have entered a "golden period" for the retailer, and"are the new rock 'n' roll" when it comes to popularity for consumers.
"Anyone who has been following the development of our gamesoffer really shouldn't be that surprised by this level of growth," hesaid, after the company revealed that the technology and games divisionnow makes up 21 per cent of the overall revenues, up from 14 per cent ayear ago.
"We'll always love music - it's in our DNA after all, but, ifit's not too much of a cliché to say it, the truth is that games reallyare the new rock 'n' roll."

And he went on to underline the company's ambition to become the leading player in the specialist videogames market.
"We've been telling the world for some time that we are veryserious about our commitment to the games market. We've been investingsubstantial resources into the format so that we can become a seriousand credible force as a leading games specialist.
"There is significantly more trading space in-store andincreased numbers of staff dedicated to it. Our level of marketing andpromotion has also gone up considerably - much of it in our 'getcloser' brand style, which aims to get players closer to the games theylove; while we've also consistently offered some great deals onbundles, pricing and points rewards - both in-store and online athmv.com.
"Obviously it also helps that the last twelve to eighteenmonths have represented a bit of a golden period for games in terms ofnext-generation console launches and fantastic

software

releases, butwe had to put ourselves in a position to make the most of thisopportunity, and I think we're doing that."
He also shed some light on the company's plans to launch apre-owned videogame sale service, a practice which has proven popularfor customers in other specialist outlets, but which is disliked bypublishers.
"We've regularly monitored pre-owned activity in the gamesmarket, and have periodically reviewed our own stance in this area, asany business would," he said.
"We recognise that pre-owned is important for some consumers,though not necessarily the most dominant factor for them, while it'sclearly also a key element to the business model of some gamesspecialists.
"With this in mind we think it's worth trialling pre-owned togauge what our customers expect from us and also to assess the impactnot just on HMV's own games offer, but on our wider trading operation.
"Any decisions we make will have the best interests of ourcustomers in mind, and if we can, we will look to achieve this throughpositive dialogue with our suppliers."
Posted by Editorial Team Tue Jul 08, 2008 7:44 am
10 Best Hacking and Security Software Tools for Linux in Hardware, Internet, Networking, Comms and Security
Linuxis a hacker's dream computer operating system. It supports tons oftools and utilities for cracking passwords, scanning networkvulnerabilities, and detecting possible intrusions. I have here acollection of 10 of the best hacking and security

software

tools forLinux. Please always keep in mind that these tools are not meant toharm, but to protect.

1. John the Ripper






John the Ripper

is a free password cracking

software

tool initially developed for theUNIX operating system. It is one of the most popular passwordtesting/breaking programs as it combines a number of password crackersinto one package, autodetects password hash types, and includes acustomizable cracker. It can be run against various encrypted passwordformats including several crypt password hash types most commonly foundon various Unix flavors (based on DES, MD5, or Blowfish), Kerberos AFS,and Windows NT/2000/XP/2003 LM hash. Additional modules have extendedits ability to include MD4-based password hashes and passwords storedin LDAP, MySQL and others.




2. Nmap

Nmapis my favorite network security scanner. It is used to discovercomputers and services on a computer network, thus creating a "map" ofthe network. Just like many simple port scanners, Nmap is capable ofdiscovering passive services on a network despite the fact that suchservices aren't advertising themselves with a service discoveryprotocol. In addition Nmap may be able to determine various detailsabout the remote computers. These include operating system, devicetype, uptime,

software

product used to run a service, exact versionnumber of that product, presence of some firewall techniques and, on alocal area network, even vendor of the remote network card.

Nmapruns on Linux, Microsoft Windows, Solaris, and BSD (including Mac OSX), and also on AmigaOS. Linux is the most popular nmap platform andWindows the second most popular.



3. Nessus

Nessusis a comprehensive vulnerability scanning

software

. Its goal is todetect potential vulnerabilities on the tested systems such as:

-Vulnerabilities that allow a remote cracker to control or access sensitive data on a system.
-Misconfiguration (e.g. open mail relay, missing patches, etc).
-Defaultpasswords, a few common passwords, and blank/absent passwords on somesystem accounts. Nessus can also call Hydra (an external tool) tolaunch a dictionary attack.
-Denials of service against the TCP/IP stack by using mangled packets

Nessusis the world's most popular vulnerability scanner, estimated to be usedby over 75,000 organizations worldwide. It took first place in the2000, 2003, and 2006 security tools survey from SecTools.Org.



4. chkrootkit

chkrootkit(Check Rootkit) is a common Unix-based program intended to help systemadministrators check their system for known rootkits. It is a shellscript using common UNIX/Linux tools like the strings and grep commandsto search core system programs for signatures and for comparing atraversal of the /proc filesystem with the output of the ps (processstatus) command to look for discrepancies.

It can be used from a"rescue disc" (typically a Live CD) or it can optionally use analternative directory from which to run all of its own commands. Thesetechniques allow chkrootkit to trust the commands upon which it dependa bit more.

There are inherent limitations to the reliability ofany program that attempts to detect compromises (such as rootkits andcomputer viruses). Newer rootkits may specifically attempt to detectand compromise copies of the chkrootkit programs or take other measuresto evade detection by them.



5. Wireshark

Wiresharkis a free packet sniffer computer application used for networktroubleshooting, analysis,

software

and communications protocoldevelopment, and education. In June 2006, the project was renamed fromEthereal due to trademark issues.

The functionality Wiresharkprovides is very similar to tcpdump, but it has a GUI front-end, andmany more information sorting and filtering options. It allows the userto see all traffic being passed over the network (usually an Ethernetnetwork but support is being added for others) by putting the networkinterface into promiscuous mode.

Wireshark uses thecross-platform GTK+ widget toolkit, and is cross-platform, running onvarious computer operating systems including Linux, Mac OS X, andMicrosoft Windows. Released under the terms of the GNU General PublicLicense, Wireshark is free

software

.



6. netcat

netcat is a computer networking utility for reading from and writing to network connections on either TCP or UDP.

Netcatwas voted the second most useful network security tool in a 2000 pollconducted by insecure.org on the nmap users mailing list. In 2003, itgained fourth place, a position it also held in the 2006 poll.

The original version of netcat is a UNIX program. Its author is known as *Hobbit*. He released version 1.1 in March of 1996.

Netcat is fully POSIX compatible and there exist several implementations, including a rewrite from scratch known as GNU netcat.



7. Kismet

Kismetis a network detector, packet sniffer, and intrusion detection systemfor 802.11 wireless LANs. Kismet will work with any wireless card whichsupports raw monitoring mode, and can sniff 802.11a, 802.11b and802.11g traffic.

Kismet is unlike most other wireless networkdetectors in that it works passively. This means that without sendingany loggable packets, it is able to detect the presence of bothwireless access points and wireless clients, and associate them witheach other.

Kismet also includes basic wireless IDS featuressuch as detecting active wireless sniffing programs includingNetStumbler, as well as a number of wireless network attacks.



8. hping

hpingis a free packet generator and analyzer for the TCP/IP protocol. Hpingis one of the de facto tools for security auditing and testing offirewalls and networks, and was used to exploit the idle scan scanningtechnique (also invented by the hping author), and now implemented inthe Nmap Security Scanner. The new version of hping, hping3, isscriptable using the Tcl language and implements an engine for stringbased, human readable description of TCP/IP packets, so that theprogrammer can write scripts related to low level TCP/IP packetmanipulation and analysis in very short time.

Like most tools used in computer security, hping is useful to both system administrators and crackers (or script kiddies).



9. Snort

Snortis a free and open source Network Intrusion prevention system (NIPS)and network intrusion detection (NIDS) capable of performing packetlogging and real-time traffic analysis on IP networks.

Snortperforms protocol analysis, content searching/matching, and is commonlyused to actively block or passively detect a variety of attacks andprobes, such as buffer overflows, stealth port scans, web applicationattacks, SMB probes, and OS fingerprinting attempts, amongst otherfeatures. The

software

is mostly used for intrusion preventionpurposes, by dropping attacks as they are taking place. Snort can becombined with other

software

such as SnortSnarf, sguil, OSSIM, and theBasic Analysis and Security Engine (BASE) to provide a visualrepresentation of intrusion data. With patches for the Snort sourcefrom Bleeding Edge Threats, support for packet stream antivirusscanning with ClamAV and network abnormality with SPADE in networklayers 3 and 4 is possible with historical observation.



10. tcpdump

tcpdumpis a common computer network debugging tool that runs under the commandline. It allows the user to intercept and display TCP/IP and otherpackets being transmitted or received over a network to which thecomputer is attached.

In some Unix-like operating systems, auser must have superuser privileges to use tcpdump because the packetcapturing mechanisms on those systems require elevated privileges.However, the -Z option may be used to drop privileges to a specificunprivileged user after capturing has been set up. In other Unix-likeoperating systems, the packet capturing mechanism can be configured toallow non-privileged users to use it; if that is done, superuserprivileges are not required.

The user may optionally apply aBPF-based filter to limit the number of packets seen by tcpdump; thisrenders the output more usable on networks with a high volume oftraffic.


Do you have a favorite security

software

tool for Linux? Feel free to comment and tell us about it.
Posted by Editorial Team Fri Jul 04, 2008 6:06 am
Neopets Ambitious New MMO in Gaming
It's so early in development that it doesn'thave a name yet, but I'm already quite intrigued by the new MMO fromthe creators of Neopets.
Adam Powell and Donna Williams struck it rich with Neopets,an online virtual-pet site that grew so popular with kids and femalegamers that the pair sold their creation to Viacom in 2005 for $160million. Now, as founders of a startup called Meteor Games,they're working on something markedly different for an encore: A newMMO game that blurs the lines between traditional massively-multiplayergames, social networking, and casual gaming.
"We're World of Warcraft players ourselves," says Powell, "and wewouldn't want to compete with them. The game is really more casual --we want players to be able to play it for five, ten minutes at a time."
Imagine sitting down for a game of chess inside the 3-D virtualworld of the MMO. Your opponent is a real live person, but they'replaying the game in a simple Flash browser window, without all of thefluff around it. Or imagine playing a version of the classic cell phonegame Snake, but at the end of the game, the snake comes to life in theMMO and starts attacking enemies for you.

Neopets,Williams and Powell readily admit, is often seen now as a child'spastime. But that game's original target audience was an older set --teens and young adults. But after the pair launched Neopetsin 1999, the game took on a life of its own and became so popular withthe younger audience that the twosome didn't want to sacrifice theintensely lucrative younger market.
The goal of their unnamed new project is to capture the traditionalgamers. The art style is going to be cartoonish, certainly, but unlike Neopets,it won't trade realism for saccharine sweetness. Instead, Williams andPowell are drawing inspiration from a litany of sources near and dearto children of the 1980's.
"It's sort of traditional high fantasy with a little bit of sci-fi,"says Powell. "It's like a lot of 80's films that we love, like Labyrinth or Legend."
"Or The Dark Crystal," adds Williams.
So then, is this game merely lifting ideas from the lucrative well of collective nostalgia to compete with World of Warcraft?Apparently not. The game itself seeks to target a demographic somewherein between the hardcore MMO fan and his 7-year-old younger sister. Theword "tween" was mentioned, though I picked up on an obvious distastefor the term.
Key to attracting this audience, say the designers, is the game'sreliance on a hybrid financing plan. Players will be required to payfor a subscription, though Powell was very quick to point out that itwon't be nearly as expensive as those of traditional MMOs, whichgenerally run in the neighborhood of $15 per month.
Instead, the stated goal is to offer players a monthly fee of under$10, making up the difference and more with the ability to buy in-gameitems with small microtransactions. But kids with more pocket moneywon't be able to power up for cash.
"We are strongly against letting players buy an advantage," saysPowell. All of the microtransactions, he says, will augment theplayer's looks, not powers: New houses, new clothes, new pets.
And yet neither subscriptions nor microtransactions are anything newin the world of online gaming, so what sets this unnamed MMO apart fromthe rest of the pack? Synergy. Don't worry, they didn't actually dropthat buzzword during our conversation, but after describing the way thegame would span several different platforms in real time, there simplyisn't a better word for it.
As an example, Powell detailed one possibility, involving a simplegame of chess. At launch, the game itself will span both a traditionalMMO client as well as a social-networking website, and that simple gameof chess can be accessed through either, he explained.
Let's say one player is sitting inside the MMO. He's at a table inhis own fully 3-D virtual house and in front of him is a chessboard. Hemoves a pawn, waits, and the opposing side moves against him. Onlyinstead of challenging another player within the MMO, he's playingagainst someone who is playing chess via a simple Flash applicationembedded into the website. Each of their moves is relayed to oneanother in real-time, and both receive certain levels of virtual rewardfor the activity.
To explain how the reward system would work for someone interactingwith the MMO from the outside, Powell offered another example the grouphas planned for the title.
Remember Snake? That game where you maneuver a squigglyline around a board to collect pellets in the hopes of extending yourline's length? If you don't recall, check your cell phone. I guaranteeit's on there. The new MMO's website will have a Flash game similar to Snakebuilt into it. Instead of simply hoping for a high score, playersmaneuver the snake around the board in a hunt for pellets with theultimate goal of making the snake come to life.
Once you've collected enough points in the Flash game, your snakewould spawn within the 3-D MMO world and start attacking foes on yourbehalf, earning experience points for you whenever it successfullykills something.
Besides the basic versions of the mini-games, the social networkingsite will also contain your standard sort of Facebook-styled features.It's unclear how in-depth the system will be, but expect messaging,friends lists and everything you've come to love and/or loathe from theMySpaces of the world.
At launch the game's technology blending will only stretch as far asthe MMO itself and its official site, but the duo also plans toeventually roll out cell phone

software

that works with the system.Powell and Williams said that they have not yet decided how the phoneswould be implemented into the overall world, but giving players thechance to interact with the game while away from a computer is the sortof idea that could result in unforeseen levels of MMO addiction anddevotion.
Normally I'd be very cynical about a game relying so heavily on thissort of technological confluence -- particularly given thehyper-adorable, kid-centric current state of Neopets -- but assuming that these creators can actually deliver on the ideas they have for this game, it could be huge.
Of course, since the game is extremely early in development, no oneoutside of the 40 people on the development team will be playing it anytime soon. Powell and Williams say that they hope to publicly demo thetitle for the first time at Penny Arcade Expoin Seattle this August. If things go well, they plan on releasingsomething playable, whether it be the final game or a public beta, inearly 2009.


Posted by Editorial Team Tue Jul 01, 2008 7:14 am
Spore Creature Creator tops US charts - have you got it? in Gaming
The NPD Group has released US PC

software

sales datafor the week ending June 21, with EA's Spore Creature Creator comingout on top.
Maxis reported that one millionSpore creatures were created and shared during the stand-aloneprogram's first week of availability. The full Spore game will bereleased in September.
Sales of Spore Creature Creator werestrong enough to place the game at number six on the All Categorieslist - the only game to appear alongside business, education andutility

software

.

The Top Ten best-selling PC games in the US for the week ending June 21 were:



1 Spore Creature Creator (EA)

2 The Sims 2 Double Deluxe (EA)

3 Age of Conan: Hyborian Adventures (Eidos)

4 World Of Warcraft: Burning Crusade Expansion Pack (Vivendi>

5 World Of Warcraft (Vivendi)

6 World Of Warcraft: Battle Chest (Vivendi)

7 The Sims 2 FreeTime Expansion Pack (EA)

8 The Sims 2 Kitchen & Bath Interior Design Stuff Expansion Pack (EA)

9 Call Of Duty 4: Modern Warfare (Activision)

10 Lego Indiana Jones: The Original Adventures (LucasArts)


The Spore Creature Creator was

software

that allowed players to create their own creatures with a standalone version of the Creature Editor from Spore; the

software

was one of the first aspects of the game to receive focused development, and had undergone ten rewrites since the start of development. It was rated E by the ESRB in early March 2008, indicating that the editor would be released separately well before the game's release as a utility program. Electronic Arts told MTV Asia that "EA Screen will provide visitors a chance to interact with EA's game producers hailing from the studios, and unveil the hugely anticipated SPORE Creature Creator demo version to gamers for the first time in Asia." Electronic Arts VP Mark Buechner stated on the Spore Facebook page that the editor would be released in June or July 2008, saying, "We are looking at releasing it two to three months before the launch of the full game."

The SimCity Box artwork showed a blurb stating that the creature editor would be included with it. IGN revealed that the Spore Creature Creator utility will be available in two different versions on June 18, 2008. There was a paid version (for $9.95) and a free demo that was downloadable from Spore.com and included for free, bundled with The SimCity Box. The free version of the editor only contained 25% of the available creature parts that were found within the full version.

The utility included a test environment for players to see their creatures go through animations and allow the player to import other user-created creatures through the Sporepedia at Spore.com. The utility included screen capture and video tools as well, including YouTube functionality.

The editor also gave the user the ability to create animated avatars,and output in RSS and embeddable HTML code to facilitate easy incorporation into such sites as MySpace and Facebook.

Shortly after its introduction, the Creature Creator was used to create creatures with oversized genitalia, either stand-alone or engaged in coitus (a phenomenon quickly dubbed 'sporn'). EA responded with e-mails sent to those who made pornographic machinima from its demo, and has flagged certain on-line accounts for "TOS violations". Furthermore, YouTube has pulled several such videos for violations of its own TOS.

By June 24, 2008, users had already created over one million creatures.

It has been noted by those using the Spore Creature Creator, that while the Social and Attack categories can reach a max score of 20 with enough parts on the creature, the Abilities category does not achieve a max in the Creature Creator. This has led to speculation from it being the brain levels to advanced sensory abilities to telekinesis.

Electronic Arts confirmed that Spore will be receiving post-release expansion packs. No other information is available as to what sort of content the packs will feature, but EA has hinted it will be similar to The Sims expansions.


In the news
Spore Creature Creator free in the UK Videogamer.com

A Wii spinoff of the game has been mentioned by Will Wright several times, such as in his October 26, 2007 interview with the Guardian.Buechner confirmed it, revealing that plans for a Wii version were underway, and that the game would be built from the ground up and would take advantage of the Wii Remote, stating, "We're not porting it over. You know, we're still so early in design and prototyping that I don't know where we're going to end up, so I don't want to lead you down one path. But suffice to say that it's being developed with the Wii controls and technology in mind."The Xbox 360 and PlayStation 3 versions of Spore are still under consideration.

Merchandising

There will be an iTunes-style "Spore Store" built into the game, allowing players to purchase external Spore licensed merchandise, such as t-shirts, posters, and future Spore expansion packs.There are also plans for the creation of a type of Spore collectible card game based on the Sporepedia cards of the creatures, buildings, vehicles, and planets that have been created by the players.There are also indications of plans for the creation of customized creature figurines; some of those who designed their own creatures at E3 2006 later received 3D printed models of the creatures they created. The Spore Store also allows people to put their creatures on such items as T-shirts, mugs and stickers.

The Spore team is working on a partnership with a comic creation

software

company to offer comic book versions of your own Spore story. Comic books with stylized pictures of various creatures, some whose creation has been shown in various presentations, can be seen on the walls of the Spore team's office.
Posted by Editorial Team Tue Jul 01, 2008 7:13 am
Japanese girls taught English by Nintendo DS in General Discussion, including Off Topic, Current Affairs
Japanese teachers might feel a little uneasy about their jobsecurity, as one of the country's schools has begun triallingNintendo's DS console as a way of teaching kids to read and writeEnglish.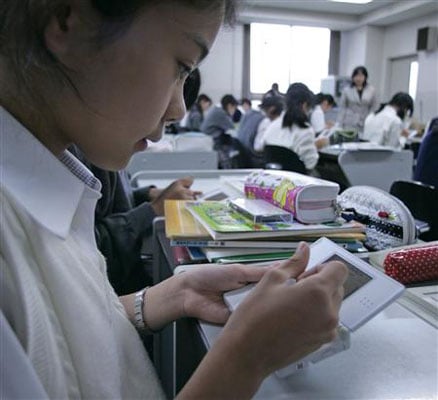 A Japanese student learns English with her DS
Image courtesy Reuters

According to a reportby Reuters, Japan's education ministry allows schools to decide onwhich teaching tools to use, whether it's pencils and textbooks, orinteractive games consoles.
The Tokyo Joshi Gakuen all-girls school opted for the DS and hasbeen using the console in classrooms since May, as part of a one-yeartrial. Students use the console primarily for English vocabulary,penmanship and audio comprehension.
Junko Tatsumi, Vice Principal at the school, said that students are"really concentrating and have fun in gaining skills such as spelling".

The school clearly still has reservations about potential 'abuse' ofthe console's features outside of English lessons. The vice principaladded that once English lessons have ended, "students cannot play DSgames outside - all consoles and

software

are collected" beforehome-time.
US students are more interested in listening to music during classthough, it seems. Since February, around one in every 100 students atthe Fort Summer High School, New Mexico have been encouraged to watcheducational videos and listen to lectures on Zune players donated byMicrosoft.
Almost all content is either created or recommended by the school'steachers, with students encouraged to plug-in during class hours and onjourneys to and from home. The trial aims to discover if such devicescould eventually be incorporated into everyday education.
Posted by Editorial Team Tue Jul 01, 2008 6:52 am
The development of tennis games 1958 to 2006 and the Wii in Gaming
"Important? Tennis games?!" I hear some of you scoff. And sure,while few of us really look forward to the next iteration of Top Spinor even Virtua Tennis, the genre has played a major role in the birthand development of the videogame industry. Even now, it's often tennisgames that are pushing the frontiers of analogue sensitivity andcomplexity against the need for intuitive user-friendliness in consolecontrols.
So, while Wimbledon hots up, here's a quick run through of the keytitles, together with nostalgic YouTube footage. Grab a bowl ofstrawberries, some clotted cream and a cheeky glass of Pinot (I don't care if you're at work - get into the spirit of things) and join me on a brief amble down tennis memory lane.
Tennis for Two (1958, Oscilloscope)
Running on the oscilloscope at the Brookhaven National Laboratory andprogrammed by physicist William Higinbotham, Tea for Two was arguablythe first computer game ever made (though some point to the evenearlier project, OXO). Check out the YouTube footage!
Pong (arcade, 1972)
Al Alcorn's take on the Magnavox Odyssey Tennis game essentiallykickstarted the games industry, both in the arcades and later, on homeconsoles. The title symbolises the odd, apologist relationship gamershave with

software

- many claimed to be able to produce spin on theball, although this functionality was never part of the program (thedirection of the ball was affected by the area on which it struck thebat, but that was about it).
Match Point (1984, Spectrum)
Psion

Software

's early effort pitched featureless stickmen against eachother in a rough approximation of the Wimbledon finals. The visualswere sparse but the simulation was pretty advanced for the time -players could control the speed and direction of the ball with defttiming and after-touch. Looking back, the ball boys bear an unfortunateresemblance to Starvin Marvin from South Park. YouTube video here.
Super Tennis (1991, SNES)
Perhaps the first modern day tennis sim, featuring an array of courtsurfaces, lots of differently-skilled players and several two-playermodes. It is, however, mostly remembered for its fast, intuitive action- a sort of Tennis equivalent of Sensible World of Soccer. Thescrolling court visuals and crisp sound samples impressed gamers at thetime, too. YouTube it up!
Pete Sampras Tennis (1994, Mega Drive)
Codemasters' sleek Mega Drive effort matched Super Tennis for sheerplayability, adding some of its own eccentric features, including aCrazy Tennis mode where you could play against portly platform hero,Dizzy. Codies also introduced its J-Cart technology allowing up tofour-players to take part in doubles matches.
Virtua Tennis (1999, arcade and Dreamcast)
The defining tennis sim of the modern era. The Dreamcast original mixedintuitive controls with lovely animation to produce a simulation ofincredible depth. The World Tour mode was an inspired addition,providing a range of surreal mini-games to test different aspects ofyour game. Subsequent iterations have tweaked the formula and improvedthe visuals, but the essence of this Sega NAOMI/Dreamcast classicremains unmolested. Here's a trailer.
Wii Sports Tennis (2006, Wii)
A popular element of the revolutionary Wii Sports compilation, drawingimpressively accurate motion-sensing performance from the Wiimote.Okay, so your lack of control over the onscreen player could getannoying at times, but the fun of acting out physically extravagantshots - often at the risk of the odd patio door or Ming dynasty vase -is what this game was all about. Here is a silly Wii Tennis 'accident' movie.
Okay, so what vital tennis titles have I missed? The first person tosuggest Anna Kournikova's Smash Court Tennis will be sent to thenaughty step.
Posted by Editorial Team Mon Jun 30, 2008 6:50 am
Games Industry Movers: Trion, 38 Studios, Kongregate & M in Business and Industry in Gaming, Media, Web, IT and Computing
his past week, 38 Studios (the developer founded by Red Sox pitcherCurt Schilling) announced that Thom Ang was appointed Director of Art.He will oversee the direction and management of 38 Studios' artisticdevelopment, including the MMOG codenamed Copernicus, whileworking closely with Todd McFarlane and R. A. Salvatore. Ang willreport to Vice President of Creative Development, Scott Cuthbertson.
"38 Studios' creative teams have been meticulously crafting thesignature look and feel for our upcoming MMOG over the past 18 months,"said Brett Close, CEO and president. "Thom's extraordinary talent andexperience will be key in driving the vision and quality of our OnlineEntertainment Experience."
Ang has been working as a director for notable franchises and brandsfor over 15 years. He's worked as a senior artist at DisneyInteractive, working on titles like Toy Story II and Tarzan. Ang also created illustrations for TV shows, including The X-Files and was a storyboard artist for Sony/Columbia/Tri-Star TV Animation programs, which include Roughnecks: Starship Troopers Chronicles and Max Steel.He then moved on to be art director at EA LA, where he headed up artproduction, team management and visual concept development for the Medal of Honor franchise. In his last position, Ang was art director at THQ, managing more than 25 titles.
"38 Studios is absolutely committed to the next evolution of MMOGs, andevery team member has great pride in the value of what they do,"remarked Ang. "I am excited to contribute to this vision and become apart of an extraordinary team."
Lisa Jablonsky - Kongregate
Kongregate announced this past Friday that Lisa Jablonsky will open thecompany's New York ad sales office. She will work with Kongregate'sChief Revenue Officer Lee Uniacke to secure high-profile advertisingpartnerships based on the site's reach and appeal to young men, ages 13- 34.
"With high user engagement and a growth rate of over 25 percent monthover month, Kongregate provides the ideal medium for advertisers tryingto reach this hard-to-pin-down demographic," stated Uniacke. "As webuild our sales force to address these opportunities, Lisa's proventrack record in developing successful partnerships across a range ofyouth-driven digital consumer brands will add tremendously to theexpertise of our team."
Jablonsky has worked in the New York advertising scene for 21 years andshe was as an early proponent of the digital advertising arena. Amongher projects, she has conceptualized and implemented ground-breakingfilm contests for Intel and Kohl's, and created one of the first mobilecontests for Alltel. Jablonsky helped create games for McAfee Softwareand the National Guard, as well as construct an editorial integrationprogram for Coke's NBA March Madness Flash game. She was most recentlyan account executive with MTV Networks, where she successfully droveadvertising and integrated sponsorships for Comedy Central,AddictingGames.com, Shockwave.com, and AtomFilms.
"Kongregate is an advertiser's dream as it attracts young men betterthan virtually any other site on the Web and puts them in a cool, edgyenvironment where our audience can really interact with their brand,"commented Jablonsky. "At over 3 million unique users today, a highgrowth rate, and just being named one of Time Magazine's Top 50 sitesfor 2008, we're on track to give advertisers the big reach that theyneed to effectively target the young male demographic this fall."
Trion World Network - Glen Van Datta
Trion World Network announced recently that Glen Van Datta has beenhired as Vice President of Engineering and General Manager of TrionWorld Network Austin. He will oversee day to day operations at Trion'sAustin studio and supervise all customer service, quality assurance,operations and other support activities with relation to the Trionplatform.
"Glen is a tremendous hire for Trion and an excellent addition to ourworld class technical organization", said Nicholas Beliaeff, VicePresident of Product Development & Head of Trion World Network SanDiego. "Glen's vision, leadership, and deep history maturing andproductizing compelling online game technology will help Trion take ourserver based game technology to the highest levels while helping us andour partners get to market more quickly."
Notably, Van Datta has worked for over 22 years in softwaredevelopment, including the past dozen in game development. He wasco-founder and Vice President of Engineering at RTIME, where he oversawthe development, design and testing of the RTIME SDK online, in-gameand player matching platform. Van Datta most recently worked at SCEA asDirector of Online Technology, where he oversaw a team of more than 80employees that developed SCE-RT SDK to enable online games for PS2, PS3and PSP games, including Singstar, Warhawk, Resistance, Home and GT5 Prologue.
"For more than 12 years I've believed that online games, online socialnetworks and online media distribution were the future ofentertainment," said Van Datta. "Trion's innovative, dynamic platformand content are the next generation in the online entertainment space."
IGN Entertainment – Jamie Berger
IGN Entertainment announced recently that senior vice president ofconsumer products and technology Jamie Berger will start overseeingbusiness development for the company. He will continue managing IGN'ssubscriptions, digital distribution, and e-commerce portfolio includingIGN's Direct2Drive and GameSpy Technologies.
Berger has over 16 years of professional brand management and marketingexperience from within the online gaming industry. He began hisprofessional career as an Account Manager with the NCR Corporation.Berger spent six years in the consumer products division of The WaltDisney Company before joining IGN Entertainment. He currently helpsextend the IGN brand by creating and leading partnerships thatdistribute content and drive revenue.
AMD - Emilio Ghilardi
AMD, which runs the ATI graphics card business, announced this pastweek that Emilio Ghilardi has been appointed senior vice president andgeneral manager of Europe, Middle East and Africa (EMEA). He will beresponsible for all sales and marketing operations within EMEA,starting in mid-August 2008. Ghilardi will report to AMD chief salesofficer Gustavo Arenas.
"Emilio adds tremendous global sales and marketing leadership to AMD inEMEA which we expect to help strengthen and grow relationships with ourend-user customers, OEMs and distribution partners," said Arenas.
Ghilardi comes to AMD from HP, where he started as vice president ofConsumer PC Clients in EMEA. He then moved on to be vice president andgeneral manager of Commercial Hardware within the Imaging and PrintingGroup. Ghilardi was most recently vice president and general manager ofHP's EMEA Consumer Business Unit, managing the business for consumerPCs and Imaging and Printing products.
AMD added that Alberto Macchi, corporate vice president of Sales andMarketing for EMEA, is departing the company "to pursue newopportunities."
Warner Bros. Digital Distribution - Jacqueline Jourdain Hayes
Warner Bros. Digital Distribution (WBDD) recently announced thatJacqueline Jourdain Hayes has been named Senior Vice President Businessand Legal Affairs. She will manage legal issues around new digitalbusiness models (such as distribution of Warner properties on Xbox Liveand elsewhere) globally, oversee the negotiation of Warner Bros.video-on-demand and electronic sell-through licenses across multipledigital platforms, and provide legal counsel to the Company's seniormanagement on the acquisition, distribution and protection of contentfor digital platforms and other digital initiatives.
"Jackie has been working on our digital business for quite some time,her expertise in this area is unparalleled," said Clarissa Weirick,General Counsel, WBDD. "The digital business is still one of thoseareas where you are often making the rules as you go along, whichrequires someone like Jackie who is confident and creative innegotiating this new terrain. We are extremely fortunate to have hercontinued expertise as our digital business moves ahead."
Hayes has worked as an Associate in the Corporate Departments of TroopMeisinger Steuber & Pasich in Los Angeles, of Goulston and Storrs,P.C. in Boston, and of Moses & Singer in New York City. She joinedWarner Home Video in 1998 as Counsel, and was promoted to VicePresident Business and Legal Affairs of WHV in 2000. Hayes joined theWarner Bros. Digital Distribution division in July 2006.
TC Digital Games – Andi Smithers
Recently, TC Digital Games announced that it appointed Andi Smithers tothe new position of Director of Technical Development. He will overseedevelopment of the company's digital services, including mediatechnology and format strategy as well as interoperability of digitalservices and devices.
"Andi joins our team at a pivotal moment in the evolution of Chaoticand TC Digital," said Bryan C. Gannon, President and CEO of TC DigitalGames. "He will become an integral part of our efforts to enhance theChaotic online experience and further develop our digital services.Andi's expertise in developing technology, his extensive background increating computer game

software

and his vision for emerging technologymake him a perfect fit to lead this innovative game play convergence."
Smithers has held several executive roles and technical positionsthroughout his 20-year career, having worked for Microsoft, Activision,Psygnosis, LucasArts, and Midway. He was most recently with Sony OnlineEntertainment where he served as Senior Engineer in the Research andDevelopment group. Smithers pushed advanced physics and graphicstechnologies forward to ensure their quality and was responsible foroverseeing the strategy and development for a cloth simulator.
Microsoft – Michael Delman
As we previously reported, Microsoft this past week appointed MichaelDelman to the position of corporate vice president of global marketingfor the Interactive Entertainment Business (IEB) in the Entertainmentand Devices Division. He takes over the role for Jeff Bell who left thecompany earlier this month. Read more about the move here.
Posted by Editorial Team Mon Jun 30, 2008 6:42 am
Top 10 most vital people-powered technologies - FEATURE in General Discussion, including Off Topic, Current Affairs
Linux
Thedaddy of people power, this open source operating system owes prettymuch everything to the massive community of users and developers who'vebuilt it, broken it, put it back together again and added all sorts ofgoodies.
The penguin logo unites a truly incredible group oftalented people, from driver developers to desktop designers, advocatesto application builders.
Firefox
Even people who think that Linux is a character in the Peanutscartoon know about Firefox. What makes it special isn't the open sourcecommunity that created and maintain it, however; It's the efforts ofthe developer community whose extensions make Firefox the Swiss ArmyKnife of the internet.
Whether you want to block annoying ads,keep track of interesting sites or just stay up to date with footieresults from around the world, if you can imagine it, there's almostcertainly an extension that does it.
Half-Life 2
This month we've mostly been playing Minerva, Adam Foster's excellent mod for Half-Life 2 (http://developer.valvesoftware.com/wiki/MINERVA). Modders have been creating new stories since the days of Doom, and a quick look around Moddb (www.moddb.com) uncovers stacks of mods for your favourite PC games.
Smartdevelopers - such as Half-Life's Valve - know that mods make theirgames even more attractive, so the firms make modding as easy andaccessible as possible.
Xbox
Is your original Xbox gathering dust in the loft? Why not dust it down and turn it into a fully-fledged media centre?
While Microsoft blabs about the 360's multimedia features, the talented team at the Xbox Media Center project (www.xboxmediacenter.com)can turn an ageing original Xbox into a multimedia marvel (although ifyou don't fancy modding your console, steer clear - XBMC only works onhacked machines).
Job done, they're turning their attention to other platforms: a Linux version of the

software

is in development.
TiVo
Thecommunity that's sprung up around the TiVo digital video recorder(www.tivocommunity.com) is a thing of wonder, with users offering eachother advice, commenting on the company and fiddling with its products- often in ways that would give film and TV studios heart attacks.



While TiVo claims not to encourageor discourage the hacking community, it's pretty obvious that thehacking community makes the product even more attractive to tech-heads- and hackers' ideas often turn up in the official product, such aswhen the community found and fixed a date problem in older TiVo boxes.
iPhone
iPhonehackers aren't just trying to free the phone for use on any network.They've found ways to turn your existing tunes into ringtones withoutpaying for them all over again, created all kinds of add-onapplications and best of all, found a way to change the truly horriblefont on the Notes screen.
PlayStation Portable
Sonydoesn't like it - recent firmware updates mean that unless you've gotan older PSP, your options are limited - but thanks to Homebrew (www.psp-homebrew.eu)you can add all kinds of goodies to the device. There are loads,including customisers, emulators, chat programs and GPS

software

.
Overclocking
Changingchips' clock speeds and hoping they wouldn't set your house on fireused to be a shadowy pursuit that tech firms frowned upon. Thenhardware firms realised that overclockers had money as well as PCs toburn.
Now, motherboard makers often provide everything a speeddemon needs, either in the motherboard BIOS or on the driver CD, andgraphics card firms are keen too. For example, ATI actively encouragesoverclockers to ramp up their Radeons.
Windows Media Center
Microsoft'smedia system is pretty nifty, but it's niftier still when you tweak ituntil it squeaks. Microsoft knows this, which is why it happily linksto two independent community sites: the Media Center-specific GreenButton (thegreenbutton.com), and the general audio-visual AVS Forum(www.avsforum.com/avs-vb).
The

software

giant also has its own community site (www.microsoft.com/windowsxp/expertzone/communities/mediacenter.mspx), where media center experts share their top tips.
Web apps
Firms who make it easy to interact with their online apps have createda massive community of developers. Google Maps has been adapted toprovide maps of speed cameras (http://spod.cx/speedcameras.shtml) and to create flight simulators (http://www.isoma.net/games/goggles.html), while keen developers have created

software

for apps such as Google Mail and Flickr.
You'll also find useful and useless apps alike on social networks such as Facebook.
Posted by Editorial Team Mon Jun 30, 2008 6:31 am
DEBATE: Nintendo DS helps kids focus in the classroom? in The Great Debates!
In life, work and play are usuallyclearly separated, but students at one Japanese high school are findinghelp with their studies from an unlikely and somewhat controversialsource – Nintendo's DS games machine.
One teacher at Tokyo Joshi Gakuen (Tokyo Academy for Girls) has creatively pushed the traditional school's limits by introducing the handheld into her English classes in a bid to liven up what is typically a dry, impractical subject in Japan.
Interactive learning
MotokoOkubo's classes of teenage girls use the Nintendo gamer to practisewriting English, reinforce vocabulary learning and for listeningcomprehension.
Although the DS program is still just a trial runby Okubo alone, results have been good, with students claiming to bemore interested and relating better to the familiar machine than todusty old books.
No toys on us
Still, eventhough the DS is well known for its educational

software

, some ofOkubo's fellow teachers are still unsure of the value of bringing a'toy' into the classroom.
However the trial turns out, the kidsstill have to return the handhelds at the end of each lesson – thestrict rules of the school allow for no 'inessential' items at all; noteven Mario and co.
Posted by Editorial Team Mon Jun 30, 2008 6:25 am
Nvidia releases PhysX code for latest GeForce GPUs in Hardware, Internet, Networking, Comms and Security
Nvidia has posted a version of its PhysX

software

that enables thephysics-on-GPU technology on its GeForce GTX 200-series and 9800 GTXgraphics chips.
The new release, version 8.06.12, was posted last night, builds onsoftware Nvidia acquired when it bought physics chip specialist Ageiain February this year. Like past versions of the PhysX code, the newversion also runs on Ageia PhysX chips.
But the crucial change is support for Nvidia GPUs for which thelatest version of the company's Forceware drivers are required: 177.39,an advance on the version currently available from Nvidia's Forcewaredownload page, which is 177.35, released a couple of weeks ago.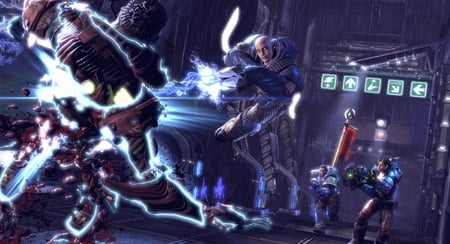 Unreal Tournament 3: zapped, physically

The new drivers run on Windows XP and both the 32- and 64-bit incarnations of Vista.
Of course, you also need an app that can take advantage of the GPUand the physics code, and for that Nvidia offers a link to the Unreal Tournament 3PhysX Mod Pack, which incorporates a couple of new arenas to show ofthe game's "maximum impact" physics effects, which include damage tothe world in which the games is set, a whirlwind hazards that sweepsaround the battlefield, and weapons that can pull debris towards theplayer.
The PhysX code is available from Nvidia's website here, while the Unreal Tournament add-on can be downloaded here.
Posted by Editorial Team Sun Jun 29, 2008 6:42 am
nVidia turning it's GPU's into 'PhysX Physics Processors' in Hardware, Internet, Networking, Comms and Security
3D card manufacturers shouldn't take this the wrong way, but ittakes a lot to make us crawl out of the communal Eurogamer bed (yes,all the Eurogamer writers share a single large bed - we do it forfrugality and communality, which remain our watchwords) and go to ahardware presentation. There's a nagging fear someone may talk maths atus and we'd come home clutching the local equivalent of magic beans.And then we'll be laughed at by our fellow writers and made to sleep inthe chilly end where the covers are thin and Tom left dubious stains.That's no fun at all.
Then again, there's some things you can'thelp but go and have a gawk at. So when an invite claims, "All toooften new hardware brings with it a small performance increase - maybea 5-10 percent over the previous fastest thing. Wouldn't it be far moreexciting to see a speed increase of x20 or even x100... well, we'll behappy to show just that on Friday," you have wander along. Even thoughyou suspect it may be a trap and they're going to attack you withill-shaped blades, you have to find out what on earth they're talkingabout.
As we suspected, it wasn't quite what we were hoping for.Sure, there are programs which gain a x100 increase via the methodsNVIDIA talks about on this particular Friday, but unless you're workingin economics or astrophysics modelling, it's not exactly that relevant.However, something more quietly astounding was explained. Mainly, thatdespite the fact that no-one you know bought a PhysX card, if you're aPC gamer with a relatively recent NVIDIA card, you've already got one.Or, at least, you will soon. Spooks.


Get him!

The primary idea NVIDIA was trying to push was Optimised PC - the approach discussed in Rob Fahey's interview with Roy Taylorthe other day. The idea being that the traditional PC approach whereyou buy the fastest PC processor you can doesn't actually lend the bestresults, at least in most situations. If you spent more on -predictably - a GPU-driven 3D card, for an increasing number of areas,you're going to get much higher performance. If the program is usingthe GPU in a meaningful way, anyway. NVIDIA highlights areas likeimage-processing and HD video-encoding, as well as - natch! - games.You lose in single-threaded activities - like, say, just booting up aprogram - but they argue a small loss in opening a Word Document isless noticeable than frames in games or similar.
Where it startsgetting interesting is NVIDIA's development language, CUDA. The problemwith all the threading programming methods is that it's radicallydifferent to single-threading (and, yes, we're getting into, "Why wouldanyone care about this but a programmer?" territory, but its backgroundfor the key point later). It's hard to do, and CUDA is basically a wayto make things more accessible.
NVIDIA claims anyone experiencedin C or C++ will be able to get a grip on it (i.e. not us, but theaforementioned programmers). This means that anyone who codes in CUDAcan program the GPU to do pretty much whatever they like; it's byturning the 3D card into a bank of processors that the financialanalysts and the astrophysics guys are getting such impressive results.And impressive savings, as it's a lot cheaper to do it this way.

Now, NVIDIA claims that the fact GPU solutions are cheaper is goingto push better GPUs into more business machines. This will help pushthe idea that an okay CPU/good GPU machine gives better performancethan a good CPU/okay GPU, leading to more machines with better GPUs...and so, making more PCs abstractly available for gaming. Or, at least,raising the bottom level of hardware that you can expect people to have.
Interms of a more general use, transcoding video can take hours. Later inJuly, all GeForce 8000+ cards will ship with Elemental HD, a programwhich manages to perform the odious task - in the words of NVIDIA - "ina matter of minutes". The

software

will also be available for people todownload online, probably with a small fee ala Quicksave if theyalready have a GeForce card.
Point being: this CUDA malarkeyisn't something that's just for future NVIDIA technology. It'ssomething that allows the hardware many PC gamers already have to berepurposed.
For example, PhysX. NVIDIA's Physics 3D Card systemwas only supported in a minor fashion, as no-one would buy a card justto make explosions fancier, but with CUDA it can run on one of theother GPUs. A proportion of the 3D card's power can be given over torunning physics, giving those fancy PhysX-style interactions withoutactually having a specific card for it. CUDA's porting to PhysX willbecome available to the public in July, but developers already have thetools.


The Euphoria engine of Natual Motion. It's hard to illustrate this sort of thing.

You'llbe able to - for example - manually, up front, decide to devote aproportion of your 3D card's power to PhysX. Alternatively, developerscan commandeer it and do exactly the same thing. The new generation ofcards which are about to be announced are able to deal with pretty muchanything that exists on the highest setting with power left over, sothat power can be given over to acting like a 3D card would.
Andit goes further. Where previously you'd have just thrown out your old3D card when you upgraded your PC to a new one, if you have a G8000+ 3Dcard already, you can keep it, and just set it to concentrate solely ondoing PhysX tasks. This isn't a SLI situation where you need two of thesame cards working in tandem - any post-8880 card, rather than beingput out to digital pasture, can be given a job of deciding how bits ofglass bounce off a skyscraper, or similar. NVIDIA claims it's talkingto ATI to try and get them to use CUDA too, which.... well, we'll seethere, eh?
The potential is interesting. Demos shown include Natural Motion, whose Euphoria engineis heavily physics-dependent, allowing unique, convincing moments ingames. A straight collision isn't enough, as straight ragdolls areludicrous - the system involving AI (so the hit object will try andmove limbs to protect self and similar) leads to impressivelynaturalistic results. The first sign of this publicly was in GrandTheft Auto IV, but Natural Motion's own American football game, Backbreaker,is a fascinating example of what a physics-heavier approach tocollisions can give games. And, with CUDA-esque use of GPUs to do thisstuff, the PhysX related boon is accessible to even more of us.
So they did talk some maths, then, but we survived.
Posted by Editorial Team Mon Jun 23, 2008 5:11 pm
RM launched its new Windows XP-based RM Asus miniBook in Hardware, Internet, Networking, Comms and Security
RM dumped the Eee name, as it feels the connotations of the letter in between of D and F with drug misuse/abuse wouldn't fit all that well with kids and the Education market sector.

So fresh from rehab comes a 8.9-inch RM Asus Minibook for schools. The firm expects to see 50,000 units sold by the year end. This is compared to the 7-inch original model launched at the Handheld Learning Conference in London October 2007, which has sold 23,000 to date.




Specifications for the education aimed lite-laptop are exactly as the ASUSTeK 900 model itself, with this SKU shipping with 12GB SDD and a 1GB memory. When querying an Asus spokesperson at the event about which battery will be shipping with said units, we were informed that the new models will soon have the standard extended one that's seen elsewhere in the world. Saving the local education authorities the £11.75 they are currently charging for swapping out the old one for the new.

One of the clear reasons why RM has gone down this route with Microsoft is the simple fact that most educational

software

is designed to run on Windows. This in turn makes it easier for schools to add their favourite curriculum

software

to the RM Asus Minibook.

"The Minibooks have proved a popular choice since launch and we are very excited to be expanding our range to include the Windows version. At around the £200 mark these devices mean that no pupil in the UK should be disadvantaged by not having access to the very best learning and the very best technology." said Tim Pearson, CEO of RM

Tim let slip that he could be breaking an NDA over the following information – there's a £25 price difference between the Linux version and the Windows XP. This came across that there's an additional cost to customers from choosing the vole version over the penguin, but their product manager cleared this up later. The CEO was just referring to an internal cost for Asus and that's all. RM will continue to offer the original Minibook models with Linux applied, just in case you were worried.

Although the model we saw was still Celeron based, they are planning to introduce an Intel Atom version after the summer school holidays – just in time for the Autumn school term.

The Minibook does arrive initially with Windows XP Home installed and they're leaving it to schools to upgrade to XP Pro if needed, although they do offer factory-ordered customisation for a cost. The price for the 8.9-inch Minibook is just £285 and the reason behind the low cost, is solely down to schools not getting charged VAT (thanks Emil).
Posted by Editorial Team Mon Jun 23, 2008 5:09 pm
Obama vs McCain from a Gamers Perspective - Guide inc. VIDEO in Business and Industry in Gaming, Media, Web, IT and Computing
Mitt Romney
Mitt Romney has made computer games part of the thrust of his campaign,with references to the media genre in an ad campaign. In the promotional slot,he implicates them in "oceans of filth" in which America's youth areswimming. You can only imagine what he'll do if he gets into the WhiteHouse.
According to a Common Sense Media survey,which posted questions about interactive and other entertainment to theleading candidates, he intends to, "get serious against those retailersthat sell adult video games that are filled with violence and that wego after those retailers," and "to restore values so children areprotected from a societal cesspool of filth, pornography, violence, sexand perversion." Surprisingly similar to his Democratic opposite,Hillary Clinton.
John McCain
Second-time Presidential runner McCain has a team that thinks seriously about technology. In response to a CNet survey,"McCain" (aka his policy-writers) tackles net neutrality, governmentsubsidies for high-speed internet access, internet data privacy andcopyright issues. Unfortunately, there was only an oblique reference togames.
GamePolitics suggeststhat the anti-game slant of Independent candidate Joseph Liebermann mayhelp his friend McCain, whose inability to connect with the ReligiousRight in the US could be bolstered by their association.
McCain didn't respond to the CSM report, and so his intentions remain a mystery, for now.
Mike Huckabee
The evangelical Iowa caucus winner has been completely silent on thesubject of computer games, although, like McCain, he "expressedinterest" in participating in the CSM survey.
At the moment, games aren't an important policy issue, but I predictpolitical eyeballs will turn towards interactive entertainment whencontroversy temperatures rise in the summer months. If the potentialcandidates are silent now, they'll have to take a stand one way or theother. My guess is that all will play conservative, and with varyingseverity, call for federal government regulation of games in the US.
Meanwhile, in this country, we are anxiously awaiting the release of the Byron Report later this year, which should establish a useful baseline about the effects of violent videogaming on consumers.
Not sated by this roundup? Catch the dirt on the Democratic candidates in yesterday's post, or go to Gamepolitics for coverage. They have a special category, Game Decision 2008.


Debate over World of Warcraft - an interesting take.

We don't actively support wegame.com

Take a look at one of the comments below...

Quote:
did anyone notice the voices sound like george bush and that guy whos running for president? XD really well done..


There are a surprising number of British media eyeballs on the earlystages of the US elections. Reports suggest that people are coming outin droves to participate in caucuses, primaries and polls, particularlypopulations who've neglected politics before. And this includes a wholeraft a newly-eligible voters, many of whom happen to be computer gamers.
While it's still too early to suggest who'll be sworn in come 2009,there's still a whole lot of side-taking happening throughout the gamesblogosphere. Gamepolitics, the most obvious platform, is having a fieldday publishing satirical casual games, posts about candidate Obama'slikeness to Tiger Woods (seriously), and rumours about potentialsenatorial anti-games candidates.
This is undoubtedly a technologically-saturated election. All of thecandidates have MySpace pages (demonstrating the lightening speed withwhich politics adopts new media; where are their Twitter updates forgoodness sake?), and with the next few gaming months certain to be hotwith the release of the latest episode in a certain controvesry-ridingfranchise, we can expect to see gaming and techno-morality in a fewpolitical broadcasts.
So where do the front-runners sit with regards to computer games?This handy primer gives the dirt on their past actions and theircurrent attitudes. Today, the Democrats. Tomorrow, the Republicans.
Hillary Clinton
New Hampshire Democrat primary winner Hillary (whatever happened to the Rodham?) Clinton has never been a fanof computer games. Two years ago, Sen. Clinton introduced the FamilyEntertainment Protection Act (FEPA) in the wake of the Hot Coffeeincident, to regulate and counteract the effects of violent andsexually-explicit content in digital media. Had it passed, it wouldhave mandated:


On-site store managers would be subject to a fine of $1,000 or 100hours of community service for the first offense and $5,000 or 500hours of community service for each subsequent offense.
The bill would also require an annual, independent analysis ofgame ratings and require the FTC to conduct an investigation todetermine whether hidden sexual content like what was in Grand TheftAuto: San Andreas is a pervasive problem and to take appropriateaction...
Finally, the bill would authorize the FTC to conduct an annual,random audit of retailers to monitor enforcement and report thefindings to Congress.



more information from gamepolitics
More recently, in response to a Common Sense Media poll of the attitudes of the candidates to video game entertainment, Clinton argued,


"When I am President, I will work to protect children from inappropriate video game content"


Barack Obama
The Iowa caucus winner has suggested on several occasions that gamersare slackers. "It's time to turn off your Game Boys," he said at anAustin, Texas event last February. He's also returned a donation made by the Electronic

Software

Association's Doug Lowenstein and has repeatedly argued that working harder means playing fewer games.
In the CSM poll, Obama promoted industry self-regulation:


I would call upon the video game industry to give parents betterinformation about programs and video games by improving the voluntaryrating system we currently have. Broadcasters and video game producersshould take it upon themselves to improve this system to include easierto find and easier to understand descriptions of exactly what kind ofcontent is included. But if the industry fails to act, then myadministration would.


Indeed, in the same response, he does hint at federal regulation,and promotes funding research into the "impact of video games onchildren's cognitive development."
John Edwards
Edwards was the likable second to Hillary's first before Obama camealong, but his standings in the recent primary and caucus suggest thathe may take a back seat in November. However, he too could become aComeback Kid, so it's worth taking a look at what might happen to gamesif he gets the keys to the White House.
Edwards notably launched his campaign inside virtual world Second Life, and like many high-profile areas in this cyber-space, it was subsequently vandalised. Otherwise, he's been quiet on the digital entertainment front, with little action in either direction.
So it's unsurprising that when the question was posed, point blank,in the CSM poll, he (and his policy-writers) played a cautious,hands-off game; he applauds the work of the internal ratings boards,but suggests that there's much more to do to keep inappropriate contentaway from kids:


If the industry does not continue to make progress in keeping videogames with intense violence and adult content away from children, wewill need to consider further steps to ensure that parents' decisionsabout their children's exposure to these games are not being underminedby retailers, advertisers and manufacturers.


Of the three Democrats, only Clinton appears to have made this apolitical issue, and has thought seriously about the implications ofinteractive media. She's the only one ready to take action, one way orthe other. While Obama has despaired at games in the past, both he andEdwards are less explicit about any actions they would take if theywere to take up residence on Pennsylvania Avenue next year.
Tomorrow, we cover the Republican candidates, but in the meantime,more information on where the candidates stand is available at gamepolitics, in their category Game Decision 2008.
Disclaimer for articles or content containing "wegame.com":
iVirtua Media Group (UK) does not recommend nor endorse the third party service "Wegame.com" or any of its associates. For more information contact our Public Relations team via William Tildesley in our Social Media Department - william.tildesley@iVirtua.co.uk or williamtildesley@gmail.com
Posted by Editorial Team Thu Jun 19, 2008 6:54 pm