Search iVirtua
Advanced/Tag Search...
Search Users...
What is iVirtua Exclusive Community?
An exclusive gaming industry community targeted to, and designed for Professionals, Businesses and Students in the sectors and industries of Gaming, New Media and the Web, all closely related with it's Business and Industry.
A Rich content driven service including articles, contributed discussion, news, reviews, networking, downloads, and debate.
We strive to cater for cultural influencers, technology decision makers, early adopters and business leaders in the gaming industry.
A medium to share your or contribute your ideas, experiences, questions and point of view or network with other colleagues here at iVirtua Community.
Guest's Communication
Live Chat
Teamspeak (VOIP) Audio Conference
Private Messages
Check your Private Messages
Themes
Choose an iVirtua Community theme to reflect your interests...
Business Theme

India/Arabic Theme
Gaming Theme
iVirtua Recommends
Fly Emirates
First Half-Life 2: Episode 3 Concept Art Revealed by E3 in Gaming
he first widely available piece of concept art for the final episode of Valve's Half-Life 2 saga has been uncovered via the 2008 IntoThePixel E3 art gallery.
The piece--created by Valve artists Ted Backman, Jeremy Bennett, andTristan Redford--appears to show Half-Life hero Gordon Freeman within alarge Citadel-like environment, a Combine Advisor looming ominouslyoverhead.
IntoThePixel's

website

labels the art as related to "Half Life EP3," with platforms listed as PC, Xbox 360 and PlayStation 3.
Valve has been mum about the final episode in the trilogy since therelease of Episode Two last year. Episode Three will reportedly not beappearing at E3, though Valve will be making an appearance at the eventto show off its zombie shooter Left 4 Dead.
Posted by Editorial Team Mon Jul 14, 2008 12:27 pm
Yahoo! for In-Game Ads in Business and Industry in Gaming, Media, Web, IT and Computing
Yahoo! hassigned up with in-game ad firm Double Fusion and Nolan Bushnell'sNeoEdge to help deliver free ad-supported, downloadable games.

Yahoo!Games'

website

will feature over 400 ad-supported downloadable gamesfrom "top casual games publishers" by the end of the year, the companysaid Thursday.

Double Fusion and NeoEdge will sell and integratevideo ads into Yahoo! Games titles. Double Fusion will implement itsfusion.runtime tech, while NeoEdge is offering its NeoARM ad-enablingsolution, along with the NeoAds ad network.

Game makers on board for today's launch include Big Fish Games, MumboJumbo, PopCap, TellTale Games, I-Play and several others.
Posted by Editorial Team Mon Jul 14, 2008 12:22 pm
1.8GHz SSD MacBook Air Drops $500 in Apple
Apple has quietly dropped the price of the high end MacBook Air by $500.

The high end MacBook Air comes equipped with a 1.8GHz upgrade (from1.6GHz) and a 64GB Solid State Drive (SSD). The total price for thehigh end laptop is $2598. Compare this to the original price of the1.8GHz/SSD MacBook Air at $3098 just last week (Google Cache).

The base price for the 1.6GHz 80GB Hard Drive MacBook Air remains at$1799. The difference in price appears to be a combination of pricedrops in both the processor upgrade ($200 vs $300) and SSD ($599 vs$999).

Apple has emailed customers who have outstanding orders that are affected by the price drop:
To Our Valued Apple Customer:

Apple has announced a price drop for a component(s) of the MacBookAir that you recently ordered. We have automatically adjusted yourorder to reflect the new lower price.

For up-to-date information on your order, please visit our Order Status

website

at <http: www.apple.com="" orderstatus="">. After your order is shipped, you can also obtain tracking information on this site.

Thank you for your shopping at the Apple Store.

Sincerely,
Apple Online Store Support</http:>
Posted by Editorial Team Mon Jul 14, 2008 12:11 pm
'Why I Still Use Windows 95' - (and IE4...) ? in General Discussion, including Off Topic, Current Affairs
this is stupid, a lot of what that guy said is not true. for example, win98 is NOT eyecandy, and w/e it does have that would be considered that can be turned off. win95 is not good for everyday tasks. is it suitable to do so? sometimes, but a newer os would be much better, even if its 98. and how is the whole "3d" look annoying? not only would be insignificantly take up disk space and ram, but it helps you actually see whats the boarder of something. and, from what i remember, win98 was under 700mb. big whoop, 200+mb for a LOT more features, stability, and functionality. if you're that cheap, go with linux and use a live cd every time you start up your computer - at least that way you take up no space at all.

as for his complaint about programs such as firefox working on a newer os, maybe he just needs to get into the new ages and just buy a new computer. it would not surprise me that hes using a newer os on something that isn't even 1ghz. this guy needs to learn to think - FIREFOX IS DESIGNED FOR MODERN COMPUTERS. obviously it'll run slow if you run it on something that wasn't designed for something THAT new.

with his whole comment on security and stability, one of the greatest complaints about the first win95 that came out was it was very INSECURE, which results in instability. win98 was considered so great because it was so much more stable and well designed. win95 was the first os of its kind for MS, you HAVE to expect problems with it. if this guy were to do as much tweaking and fixing with win98 or any other os as he did with 95, he'd get the exact amount of stability and security as he would with 95 but probably with less work, making his comments void.

i can understand his whole native feeling argument, but 1 thing that just plain makes no sense is why can't he just make the emulator fullscreen? that way, its like he really IS running DOS. Again, his point is void.

i couldn't tell if he was kidding or not in the next paragraph. even in the NT based OSes, if you're running IE and type "c:\", a file browser in explorer will run and replace IE. works the same way if you type in a

website

in explorer. Again, this guy just doesn't think. and who really gives a crap about those "essential tools". ever heard of right clicking? And how is forward, back, and favorites awkward? first of all, they're optional. secondly, its for a different type of organization, and apparently it worked well since the old fashioned tree idea (which i'm assuming is what he finds is better) is no longer used for regular file and

website

browsing whereas these buttons are. to comment on the last sentence, win98 has columns as well as every other os with menus, so idk where hes getting that from. instead of alphabetical order, its made in order of installed date, which is easier to navigate. and unlike win95, you can edit the menus yourself so they are in alphabetical order. also, the scroll arrows are NOT slow on a NORMAL computer DESIGNED for the os and they're for organization, which again, is proven effective since the idea is still being used today.

i'm completely fine with people using win95, but the reasons this guy gave are just plain wrong or stupid, or invalid.i don't mean to be this critical, but this is just ignorance.
Posted by schmidtbag Thu Jul 10, 2008 1:01 pm
The Independent Games Festival: A History In Press Clippings in Business and Industry in Gaming, Media, Web, IT and Computing
So, we just launchedthe 11th Annual Independent Games Festival a few days back, as you mayrecall - with some of the topline additions including some neat newjudges and a new Innovation Award.
Anyhow, yesterday I spent much of my lazy Sunday, as Chairman of the Independent Games Festival, improving the official IGF

website

- and one of the neat things now fully fleshed out is a semi-canonical history of IGF press clippings on IGF.com, linking to the major press coverage of the show over the previous few years.
There's a surprisingly large amount of stuff in here, some of which you probably haven't seen - from this year's excellent 1UP.com video coverage, through Wired News covering the indies to watch, to Veronica Belmont (nowadays at Sony's Qore) chatting to IGF folks at the IGF Pavilion for Mahalo.
I also took some time to go through the Gamasutra 'Road To The IGF'features written by folks such as myself and Alistair Wallis inprevious years - there's a gigantic amount of interviews with IGFfinalists or just plain entrants to read through. And of non-associatedwebsites, GameDev.net's IGF interview coverage is the most canonical - it goes all the way back to 2002, blimey.
Anyhow, browse the giganto set of links at your pleasure, and final reminders, then - the deadline to enter the competition is November 2008, and the IGF Pavilion and Awards itself will be taking place in March 2009 at Game Developers Conference 2009 in San Francisco.
Posted by Editorial Team Tue Jul 08, 2008 7:39 am
Neopets Ambitious New MMO in Gaming
It's so early in development that it doesn'thave a name yet, but I'm already quite intrigued by the new MMO fromthe creators of Neopets.
Adam Powell and Donna Williams struck it rich with Neopets,an online virtual-pet site that grew so popular with kids and femalegamers that the pair sold their creation to Viacom in 2005 for $160million. Now, as founders of a startup called Meteor Games,they're working on something markedly different for an encore: A newMMO game that blurs the lines between traditional massively-multiplayergames, social networking, and casual gaming.
"We're World of Warcraft players ourselves," says Powell, "and wewouldn't want to compete with them. The game is really more casual --we want players to be able to play it for five, ten minutes at a time."
Imagine sitting down for a game of chess inside the 3-D virtualworld of the MMO. Your opponent is a real live person, but they'replaying the game in a simple Flash browser window, without all of thefluff around it. Or imagine playing a version of the classic cell phonegame Snake, but at the end of the game, the snake comes to life in theMMO and starts attacking enemies for you.

Neopets,Williams and Powell readily admit, is often seen now as a child'spastime. But that game's original target audience was an older set --teens and young adults. But after the pair launched Neopetsin 1999, the game took on a life of its own and became so popular withthe younger audience that the twosome didn't want to sacrifice theintensely lucrative younger market.
The goal of their unnamed new project is to capture the traditionalgamers. The art style is going to be cartoonish, certainly, but unlike Neopets,it won't trade realism for saccharine sweetness. Instead, Williams andPowell are drawing inspiration from a litany of sources near and dearto children of the 1980's.
"It's sort of traditional high fantasy with a little bit of sci-fi,"says Powell. "It's like a lot of 80's films that we love, like Labyrinth or Legend."
"Or The Dark Crystal," adds Williams.
So then, is this game merely lifting ideas from the lucrative well of collective nostalgia to compete with World of Warcraft?Apparently not. The game itself seeks to target a demographic somewherein between the hardcore MMO fan and his 7-year-old younger sister. Theword "tween" was mentioned, though I picked up on an obvious distastefor the term.
Key to attracting this audience, say the designers, is the game'sreliance on a hybrid financing plan. Players will be required to payfor a subscription, though Powell was very quick to point out that itwon't be nearly as expensive as those of traditional MMOs, whichgenerally run in the neighborhood of $15 per month.
Instead, the stated goal is to offer players a monthly fee of under$10, making up the difference and more with the ability to buy in-gameitems with small microtransactions. But kids with more pocket moneywon't be able to power up for cash.
"We are strongly against letting players buy an advantage," saysPowell. All of the microtransactions, he says, will augment theplayer's looks, not powers: New houses, new clothes, new pets.
And yet neither subscriptions nor microtransactions are anything newin the world of online gaming, so what sets this unnamed MMO apart fromthe rest of the pack? Synergy. Don't worry, they didn't actually dropthat buzzword during our conversation, but after describing the way thegame would span several different platforms in real time, there simplyisn't a better word for it.
As an example, Powell detailed one possibility, involving a simplegame of chess. At launch, the game itself will span both a traditionalMMO client as well as a social-networking

website

, and that simple gameof chess can be accessed through either, he explained.
Let's say one player is sitting inside the MMO. He's at a table inhis own fully 3-D virtual house and in front of him is a chessboard. Hemoves a pawn, waits, and the opposing side moves against him. Onlyinstead of challenging another player within the MMO, he's playingagainst someone who is playing chess via a simple Flash applicationembedded into the

website

. Each of their moves is relayed to oneanother in real-time, and both receive certain levels of virtual rewardfor the activity.
To explain how the reward system would work for someone interactingwith the MMO from the outside, Powell offered another example the grouphas planned for the title.
Remember Snake? That game where you maneuver a squigglyline around a board to collect pellets in the hopes of extending yourline's length? If you don't recall, check your cell phone. I guaranteeit's on there. The new MMO's

website

will have a Flash game similar to Snakebuilt into it. Instead of simply hoping for a high score, playersmaneuver the snake around the board in a hunt for pellets with theultimate goal of making the snake come to life.
Once you've collected enough points in the Flash game, your snakewould spawn within the 3-D MMO world and start attacking foes on yourbehalf, earning experience points for you whenever it successfullykills something.
Besides the basic versions of the mini-games, the social networkingsite will also contain your standard sort of Facebook-styled features.It's unclear how in-depth the system will be, but expect messaging,friends lists and everything you've come to love and/or loathe from theMySpaces of the world.
At launch the game's technology blending will only stretch as far asthe MMO itself and its official site, but the duo also plans toeventually roll out cell phone software that works with the system.Powell and Williams said that they have not yet decided how the phoneswould be implemented into the overall world, but giving players thechance to interact with the game while away from a computer is the sortof idea that could result in unforeseen levels of MMO addiction anddevotion.
Normally I'd be very cynical about a game relying so heavily on thissort of technological confluence -- particularly given thehyper-adorable, kid-centric current state of Neopets -- but assuming that these creators can actually deliver on the ideas they have for this game, it could be huge.
Of course, since the game is extremely early in development, no oneoutside of the 40 people on the development team will be playing it anytime soon. Powell and Williams say that they hope to publicly demo thetitle for the first time at Penny Arcade Expoin Seattle this August. If things go well, they plan on releasingsomething playable, whether it be the final game or a public beta, inearly 2009.


Posted by Editorial Team Tue Jul 01, 2008 7:14 am
Valve hacker of Steam Cyber cafes caught by police in Gaming
A man who hacked into a third partyValve file server and stole the credit card numbers of Steam Cyber Caféusers has been caught by Dutch police.


The hacker, who went by the onlinehandle MaddoxX, managed to break into a server containing credit cardinformation, transaction amounts, Valve's bank balance and data thatallowed the creation of counterfeit Cyber Café websites.

MaddoxX posted the information on a

website

, but didn't use the information for personal gain. According to ShackNews, he posted a message that said: "We also don't want money from VALVe, we want a simple message on their site."

Despite making a moral standing on that occasion, the Dutch Ministry ofthe Interior said that the 20 year old hacker had managed to "burn 13million Euros playing poker online and shopping for notebooks, flatscreens and MP3 players." Based on that, we're guessing he wasn't asmorally resolute every time he came across personal data.

Inaddition to the Valve incident, he is also being charged with hackinghis way into an Activision server and downloading an unfinished copy ofEnemy Territory: Quake Wars. Which, if nothing else, is not the gameyou want to get caught hacking for.
Posted by Editorial Team Tue Jul 01, 2008 7:06 am
RSS - who profits? in Business and Industry in Gaming, Media, Web, IT and Computing
Of course your content is your copyright and others should not copyit without your permission. But a feed can be repurposed in many ways,and we need to look at what parts of the feed are being copied and whoprofits.
Copyright lawyers will have to fill me in on the latest case law onall of this, but I think in practice we have despatched the question whether links are legal (is the web legal?) with a resounding yes.
Shouldn't You Have To Ask Permission If You Want To Take A Blog's Feed For Your Profit? which has attracted considerable comment.
As Sir Tim father-of-the-web-but-not-a-lawyer Berners-Lee has said:


There are some fundamental principles about links onwhich the Web is based. These principles allow the world of distributedhypertext to work. Lawyers, users and technology and content providersmust all agree to respect these principles.


What of link+title? In principle there is copyright in a title, butit's hard to see anyone any longer seeking to enforce copyright here.
But an RSS feed is an aggregation, so what of a bunch oflinks+titles? Here there is a stronger case for saying that thisaggregation is protected by copyright, and if we're talking about anaggregation of links+titles+descriptions or even +excerpts, that isclearly protected. So let's talk about permission, express or implied.
I don't believe there's any implied permission for others to republish feeds.But in practice, why publish a feed if you don't want it to berepublished? It will be, and there's little you can do to stop it. Youcan frame some stern T & Cs or apply a more friendly CC licence,but most, whether intentionally or by default, will take little notice.
Susan makes much of others taking your (blog) feed "for profit". Weare all miffed if we see others profiting from our work at our expense.But, with feed repurposing, in most cases we profit too, sufficientlythat we do not see it as being at our expense.



Google indexes, caches and republishes parts of my

website

, myblog, my feeds without my permission. Google profits handsomely, but Iprofit too.

Other specialist search engines and directories - like Tehcnorati,Blawg Search - also index and repurpose my content. If I've submittedmy site to them, I've probably given them permission to do this, but inmost cases my signing up only legitimates what they have been doing /would do anyway. (Susan, Technorati indexes your blog whether you'veclaimed it or not.) They profit, but I profit too.

Smaller fish might also republish my feeds, but in all cases shortof their republishing my full text, I profit as much as or more thanthey do. All items link back to me. And I really am not going to losesleep if they choose to wrap Google ads around it or seek to profit inother ways. (I do view sploggers etc as the scum of the earth, but I blame Google Adsense.)

So in practice, what we are all most concerned about is othersclaiming our real work - our full posts or articles - as their own; andthere is a simple answer: if you want to protect your content, includeonly excerpts rather than full text in your feeds. Syndicate yourmetadata, not your data.
Posted by Editorial Team Mon Jun 30, 2008 6:44 am
£299.99: iPhone 3G PAYG UK price announced in Entertainment, Film and Music, Mobile devices and media
UK pricing of Apple's pay as you go3G iPhone was posted on to O2's UK

website

today and then promptlytaken down again, but not before some eagle-eyed bloggers got a sneakyglimpse of the pricing.
It seems that if you want to purchase acontract-free 3G iPhone, you are going to cough up a pretty penny forone. An 8GB Apple iPhone 3G will cost customers £299.99, while themeatier 16GB version will be available in 02 stores for £359.99.
The package
Notonly do you get an iPhone for this price, but O2 and Apple are alsothrowing in 6 months of unlimited WiFi hotspot access and web browsing.This is, of course, subject to 'excessive use policy'. At the end ofthe six months, the unlimited web browsing and WiFi access will costusers £10 a month.
As with all O2 PAYG accounts, the tariffchosen will decide the price of your calls, so buying more top-up amonth means cheaper calls and vice versa.
This PAYG offer will be available until 31 December 2008.
So, £299.99 plus for a phone: is it worth spending all this money to not be tied to a contract?
Posted by Editorial Team Mon Jun 30, 2008 6:26 am
Nvidia releases PhysX code for latest GeForce GPUs in Hardware, Internet, Networking, Comms and Security
Nvidia has posted a version of its PhysX software that enables thephysics-on-GPU technology on its GeForce GTX 200-series and 9800 GTXgraphics chips.
The new release, version 8.06.12, was posted last night, builds onsoftware Nvidia acquired when it bought physics chip specialist Ageiain February this year. Like past versions of the PhysX code, the newversion also runs on Ageia PhysX chips.
But the crucial change is support for Nvidia GPUs for which thelatest version of the company's Forceware drivers are required: 177.39,an advance on the version currently available from Nvidia's Forcewaredownload page, which is 177.35, released a couple of weeks ago.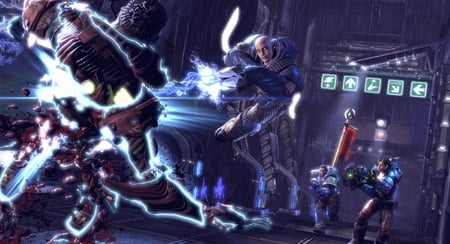 Unreal Tournament 3: zapped, physically

The new drivers run on Windows XP and both the 32- and 64-bit incarnations of Vista.
Of course, you also need an app that can take advantage of the GPUand the physics code, and for that Nvidia offers a link to the Unreal Tournament 3PhysX Mod Pack, which incorporates a couple of new arenas to show ofthe game's "maximum impact" physics effects, which include damage tothe world in which the games is set, a whirlwind hazards that sweepsaround the battlefield, and weapons that can pull debris towards theplayer.
The PhysX code is available from Nvidia's

website

here, while the Unreal Tournament add-on can be downloaded here.
Posted by Editorial Team Sun Jun 29, 2008 6:42 am
Jumpgate Beta taking orders now in Gaming
Codemasters Online has confirmed that the beta test for MMO Jumpgate Evolution is now taking submissions.


Developed by NetDevil, Jumpgate is asequel to Jumpgate: The Reconstruction Initiative. It's a space combatonline game that sounds a little like Eve Online. Trading, raiding andexploration will play a massive part of life inside the world.

To sign-up, check out the official

website

and go to the beta section. Below are some screenshots from the game, too.
Posted by Editorial Team Sun Jun 29, 2008 6:35 am
GTA IV website prompts outrage in Gaming
Grand Theft Auto IV is once again at the centre ofcontroversy. But this time people aren't complaining that the game'stoo violent, because they're more concerned about the discovery of aso-called paedophile

website

.
In the game, an internet café allows the player to access a childpageant

website

called littlelacysurprisepageant.com. But, rather thanshowing anything untoward, the site's actually a front for GTA IV's police force and displays the warning: "We see it all, we know it all".
However, clicking on the game's spoof

website

is still a thrillbecause it automatically raises the player's wanted level to five stars.
Several gamers have already voiced their concerns in a report in The Sun, with one gamer stating that the

website

crosses the line.
Jason Deschoolmeester, 23, of South Wales, said the

website

"couldlead people to indulge in things like that. It is totally sick. I won'tplay it [GTA IV] again".

Child-protection body the NSPCC has even expressed its distaste forthe spoof

website

. Zoe Hilton, the NSPPC's policy coordinator for childprotection, said it's "disturbing that it is meant to be funny and thatit is glamorising something that is really shocking and upsetting".
This latest attack on GTA IV adds to existing criticism of this year's must-have videogame, which has already sold about 4.2m copies in the US alone.
In a Croydon Gamestation store, one gamer stabbed another man in the head and neck as they both queued to buy copies of the game on the day of its release. Anti-GTA IV campaigners quickly jumped on the stabbing incident as proof that such games are too violent for society.
Posted by Editorial Team Mon Jun 23, 2008 5:03 pm
Need For Speed Undercover 2009: Based on 'The Transporter' in Gaming
The next Need for Speed game from EA will be titled Need for Speed Undercover, EA boss man John Riccitello has confirmed.

Little-to-nogameplay details were revealed when we contact EA, but Riccitello didreveal during a recent speech that the game would feature a "verystrong mission structure", and an embedded storyline, according tovarious reports.


The Transporter, film (directed by DOA: Dead or Alivevisionary Corey Yuen) focused on an ex-Special Forces op played byactor Jason Statham. As a "transporter" for hire, Statham's characterwould accept cash to transport "goods," no questions asked. The resultwas a lot of fast action and s**t exploding, which would be a newdirection for EA's Need for Speed series.
No word on whatplatforms the game will land on, but you can pretty much guarantee thatif you own it, EA's making the game for it. Need for Speed: Undercover is said to be available in 2009.

Riccitello also admitted that the previous game, Pro Street, wasn't quite up to scratch (as this review will tell you),but to make sure that doesn't happen again, he went on to reveal thatthe series has been shifted over to a two-year development cycle, whichhas two separate teams working to release games biannually.
Just as Pro Street tried to take theseries in a new direction, Undercover is expected to try new thingswith the franchise too, but our EA contact declined to reveal anyfurther info, other than that more details will be revealed soon.Obviously.

No platforms were specified, so we'll assume it'll be on everything. Absolutely everything.



IGN Story



Electronic Arts CEO John Riccitiello has stated Undercover has a considerably longer development cycle than its predecessors since the Need for Speeddevelopment team now is split up into two teams, both of which willwork on a 24 month development cycle with future titles, alternatingreleases between them. When this change was implemented in mid-summer 2007, one team started working on Undercover (giving it only a 16.5 month development cycle), while the other team finished ProStreet (the previous release) and then started working on the next title in the series (coming out in 2009),which will have a full 24 months. He also confessed to "torturing" thedevelopment team in the past, discouraging innovation and admitted thatProStreet "isn't good" and he is confident Undercover will be much better.
Riccitiello also stated Undercover is taking inspiration from action films such as The Transporter, with a large embedded narrative.

Official NFS franchise

website
Posted by Editorial Team Thu Jun 19, 2008 6:00 pm
Age of Conan: iVirtua Review, Analysis and Videos in Gaming
Based on the books rather than the Schwarzenegger films, Age of Conanis a violent, massively multiplayer online game (MMO). Think World ofWarcraft with sharper swords and bigger breasts. The game leads yougently into the action and even allows you to learn the ropes in asingle-player environment before braving the multiplayer wilds. Andexperienced players get to build, or conquer, opponents' castles andkeeps. But the real innovation is the combat which, unlike most MMOs,involves reflexes and timing. The game looks mightily pretty; prepareto gawp at a sunset or distant mountain. But this graphical opulencecomes at a price, with loading screens a far-too-common annoyance.Worse, these breaks in play make the world feel less like a coherentwhole, lessening the feeling of immersion that games like WoW and Lordof the Rings Online engender so effectively. But assuming you have apowerful PC - which is essential for this game - Age of Conan is worthvisiting.

Age of Conan: Hyborian Adventures is a fantasy-themed massively multiplayer online role-playing game (MMORPG) developed by the Norwegian computer, video game developer company Funcom for PC and the Xbox 360.

The game launched at 9 p.m. (GMT) on May 17, 2008in a limited way, being available to those who had pre-ordered the gameand registered for early access. The full release of the game for NorthAmerica was May 20, 2008 and for Europe May 23, 2008 for the PC version.The Xbox 360 version is scheduled to be released a year after the PC release.

After a long build up, including an eight-week delay to apply the finalpolish, Age of Conan: Hyborian Adventures (AoC) has been launched.



is it finally a game that takes on WoW?

iVirtua Full coverage
Also
Guild Wars hits 2 million sales worldwide

DreamWorld Engine
The DreamWorld graphics engine was developed by Funcom circa 2000. Other computer games powered by DreamWorld technology include Anarchy Online and its various expansion packs. When Funcom began developing Age of Conan: Hyborian Adventures,the company reviewed its existing technology base and decided to focuson the further evolution of their proprietary DreamWorld engine asopposed to licensing a third-party engine like many online RPGcompanies do. As such, Funcom began to retool their engine with theoverall design, pipeline and implementation process was taken intoaccount. In light of these changes, the DreamWorld engine has beenrebuilt for Age of Conan: Hyborian Adventures with new features, special effects and optimizations.[30]

"Real Combat"
"Real Combat" is being touted by Funcom as a revolutionary approachto combat in online RPGs where the player is in direct control of thecharacter's weapon strikes in real time. This multi-point melee andranged combat system is purportedly easy-to-learn and is one of theprime attractions of the title. Allegedly, the "Real Combat" systemwill take the ritualized combat experience previously found in onlineRPGs in a new direction. For this system, Funcom has also added aspectssuch as formation combat, mounted combat, siege combat and hive combat.[31]

Cheetah
Cheetah is a shader-oriented proprietary render engine re-written from scratch by Funcom featuring a phong per pixel lighting system. This engine allows for improved graphics and ambience. This is coupled with a trapezoidal shadow system, an in-house system developed by Funcom that allows all objects to cast shadows onto everything.[32]

Perlin noise-based cloud generating system
Perlin noise-based cloud generating system is a five-layered procedural system that enables multiple layers of dynamic clouds; thus, visually-realistic cloud behavior.[33]

SpeedTree
SpeedTree is a programming package produced by Interactive Data Visualization, Inc. (IDV) that aims to produce high-quality virtual foliage in real time, suitable especially for video gamesbut also aimed to a lesser extent at some other kinds of simulations.It has so far been licensed to a substantial number of video gamedevelopers, including developers of the Unreal engine series. SpeedTree is currently being used in several games, including (but not limited to) the MMO action game World War II Online and The Elder Scrolls IV: Oblivion.[34]

DirectX 10
"Funcom is proud to be one of the few developers who is tapping intothis technology, and we look forward to showing you even more of DirectX 10. Some of the improvements visible in the videos and the screenshots are improved parallax mapping, better lighting and more advanced shadows technology."[35]The game did not include support for DirectX 10 at the time of launch.DirectX 10 features are now slated to be premiered at the GamesConvention in Leipzig in August 2008.
Pre-Launch acclaim
During the past several years, Funcom has twice previewed Age of Conan: Hyborian Adventures at the Electronic Entertainment Expo, more commonly known as E3,and the product has received various critic awards for thesedemonstrations. The following information is a partial listing of thoseawards.
E3 2005



E3 2006


E3 2007




2008


Posted by Editorial Team Thu Jun 19, 2008 5:22 pm
New multiplayer map for Halo 3 - amazing - 'cold storage' in Gaming
Bungie lifted the lid on a new multiplayer map for Halo 3 at the recent Major League Gaming event in San Diego.


The new map is called Cold Storage, butfans of the original Halo will better know it as Chill Out - now withnice Xbox 360 visuals. Could this mean a new map pack is on the way?

Other than showing the map itself, Bungie kept specific details and a release to itself.

You can get the first glimpse of the map in the grubby off-screen camera snaps below, courtesy of the MLG

website

, and you can see it being played - just about - here.
Posted by Editorial Team Tue Jun 17, 2008 5:28 am