Search iVirtua
Advanced/Tag Search...
Search Users...
What is iVirtua Exclusive Community?
An exclusive gaming industry community targeted to, and designed for Professionals, Businesses and Students in the sectors and industries of Gaming, New Media and the Web, all closely related with it's Business and Industry.
A Rich content driven service including articles, contributed discussion, news, reviews, networking, downloads, and debate.
We strive to cater for cultural influencers, technology decision makers, early adopters and business leaders in the gaming industry.
A medium to share your or contribute your ideas, experiences, questions and point of view or network with other colleagues here at iVirtua Community.
Guest's Communication
Live Chat
Teamspeak (VOIP) Audio Conference
Private Messages
Check your Private Messages
Themes
Choose an iVirtua Community theme to reflect your interests...
Business Theme

India/Arabic Theme
Gaming Theme
iVirtua Recommends
Fly Emirates
So You Want To Be a Video Game Artist ... in Graphic Design, Web Design and Creative Arts Concepts
In a market that's oversaturated with incredibly talented artistsand writers, up-and-comers and semi-professionals alike face theoutrageously difficult task of gaining recognition in their chosenfield. One dilemma out of many is that many young artists are forced tocompete against traditional animators that didn't get out of the mass layoffs and salary cuts plaguing Disney in the year 2001, the eventual closureof the animation giant's 2D studios creating a flood of overqualifiedprofessionals entering into jobs that would normally be moreaccommodating towards talented students and other entry levelapplicants.
While this is hardly a bad thing– one would have a hard time arguingagainst widely-distributed mediums getting a boost in artistic quality–it leaves a lot of people scratching their heads, wondering how thehell they could possibly make it in the professional world, especiallywhen it comes to video games. You know how they say the right answer isoften the simplest? Well, here's a simple answer to the headscratching:learn how to become a professional.


[TABLE][TR][TD]
[/TD][/TR][/TABLE]
Art in its many varied forms has, and always will be, a staple ofevery human culture that has ever walked the Earth. Over time, nearlyeveryone has debated what constitutes art that's worthy of display, ofreflection; why a single image may evoke a great deal of emotions inone person while it leaves another cold and uninterested. This worksrather well for art contained within the many varied galleriesscattered across the globe, but that kind of ambiguity will rarely getyou honorable mention in mediums that rely heavily on– you got it–technical expertise.
The consumer market may be easy to fool with rudimentary attempts atfan art from your favorite game or anime, but knowing you have thetalent and expanding that talent are two extremely different things.
Unfortunately, thanks to social networking sites like deviantArt and its numerous clones, many are under the delusion that the groping their ego receives in the form of comments or favorites make them impervious to conventional criticism. So here's rule number one, in case you missed it:
You are never above criticism no matter how good you think you are.
The only way an artist will be anywhere near capableof making ends meet in a market that's incredibly competative is bystanding out, both in their list of skills and in the body of work theypresent in their portfolios.Fresh ideas are just as paramount to getting that dream job you'redrooling over, but having a solid understanding of drawingfundamentals– perspective, life drawing (prudes are advised to get over naked people) and proper use of negative space– is going to be one of your most treasured assets.
Recently, I had the opportunity to speak to a representative from Raven Software's creative team over lunch, and later received a tour of their headquarters (which I, unfortunately, can't tell you about, other than to say: holy crap that was

cool

). My tour guide had been a technical artist for Electronic Arts in the past, citing the impressive wealth of knowledge that landed him those jobs in the first place.
Hestated in no uncertain terms that one of the ways an applicant canreally stand out is by showing proficiency in manipulating gameengines, saying that being able to produce mods for various games using the Unreal Engine would be an immediate edge over other prospective employees. Similarly, a solid understanding of 3D software such as Maya–including how to create detailed textures for the models you create– isincluded in the mix, even if your entire job revolves around sketchingconcepts with pen and paper. In short: wherever your strengths may lie,being able to showcase versatility in many different aspects of gamedesign is much more likely to land you a job in the industry.
Sounds difficult, doesn't it? As if learning all the basics of drawing wasn't hard enough, right? Well, it isdifficult; no matter how much encouragement you might receive from yourpeers and loved ones, nothing will erase that fact… but if you'reanything like me, you look forward to the learning process as much asyou look forward to landing that dream job.
Posted by Editorial Team Mon Jul 14, 2008 10:13 am
Rock Band 2 to include every song DLC free from Rockband 1 in Gaming
There are differing leaks out there regarding the track list for Rock Band 2.Both are unattributed, one to a friend of a friend who got a look at anemail from Harmonix to MTV or something. But in the interest ofrumormongering, we'll repeat both with the caveat that there is no wayof knowing if this stuff is for real or not. But if, combined, they'rehalf right then this could be one hell of a track list, possibly thebest of any rhythm game.
Also, an IGN Insider interview (transcript provided by reader Max)let slip that buyers of Rock Band 2 will have access to all of thesongs off the original Rock Band disc, available as free DLC. Fulldetails on both after the jump.

Says IGN 360 editor Nate Ahern:

Rock Band 2 and Guitar HeroWorld Tour create an interesting situation for gamers. If you boughtRock Band 1 then chances are you'll feel cheated by the release of RB2,thus you'd think that GHWT would be the way to go as it somewhatredefines the music gaming genre. However, if you didn't buy the firstRock Band then I would absolutely agree with notagoth. Immediately uponpurchasing Rock Band 2 you'll have the ability to download a hugelibrary of songs, as well as all of the songs off of the original discas a free download. Then again, Guitar Hero World Tour does allow usersto create and share their own songs, so it's really only a matter oftime until the Rock Band library is eclipsed. At the end of the day itcould come down to which series has earned your allegiance over thelast year since RB's original release."

And on to the leaked track lists. The first is from Demp, a commenter on 8bitfix, and he's got the FOAF who saw the email source. That's like fourth-hand hearsay, but whatever, this ain't court.
1 AC/DC Let There Be Rock
2 AFI Girl's Gone Grey
3 Alanis Morissette You Oughta Know
4 Alice in Chains Man in the Box
5 Allman Brothers Ramblin' Man
6 Avenged Sevenfold Almost Easy
7 Bad Company Shooting Star
8 Beastie Boys So Whatcha Want
9 Beck E-Pro
10 Bikini Kill Rebel Girl
11 Billy Idol White Wedding Pt I
12 Blondie One Way or Another
13 Bob Dylan Tangled Up in Blue
14 Bon Jovi Livin' on a Prayer
15 Cheap Trick Hello There
16 Devo Uncontrollable Urge
17 Dinosaur Jr Feel the Pain
18 Disturbed Down with the Sickness
19 Donnas, The New Kid in School
20 Dream Theater Panic Attack
21 Duran Duran Hungry Like the Wolf
22 Elvis Costello Pump it Up
23 Fleetwood Mac Go Your Own Way
24 Foo Fighters Everlong
25 Go-Go's, The We Got the Beat
26 Grateful Dead, The Alabama Getaway
27 Guess Who, The American Woman
28 Guns N' Roses Shackler's Revenge
29 Interpol PDA
30 Jane's Addiction Mountain Song
31 Jethro Tull Aqualung
32 Jimmy Eat World The Middle
33 Joan Jett Bad Reputation
34 Journey Anyway You Want It
35 Judas Priest Painkiller
36 Kansas Carry On Wayward Son
37 L7 Pretend We're Dead
38 Lacuna Coil Our Truth
39 Linkin Park One Step Closer
40 Lit My Own Worst Enemy
41 Lush De-Luxe
42 Mastodon Colony of Birchmen
43 Megadeth Peace Sells
44 Metallica Battery
45 Mighty Mighty Bosstones Where'd You Go
46 Modest Mouse Float On
47 Motorhead Ace of Spades
48 Muffs, The Kids in America
49 Nirvana Drain You
50 Norman Greenbaum Spirit in the Sky
51 Offspring, The Come Out & Play (Keep 'em Seperated)
52 Panic at the Disco Nine in the Afternoon
53 Paramore That's What You Get
54 Pearl Jam Alive
55 Presidents of the USA Lump
56 Rage Against the Machine Testify
57 Ratt Round & Round
58 Red Hot Chili Peppers Give it Away
59 Replacements, The Alex Chilton
60 Rise Against Give it All
61 Rush The Trees
62 Silversun Pickups Lazy Eye
63 Smashing Pumpkins Today
64 Social Distortion I Was Wrong
65 Sonic Youth Teenage Riot
66 Soundgarden Spoonman
67 Squeeze

Cool

for Cats
68 Steely Dan Bodhitsattva
69 Steve Miller Band Rock'n Me
70 Survivor Eye of the Tiger
71 System of a Down Chop Suey
72 Talking Heads Psycho Killer
73 Tenacious D Master Exploder
74 Testament Souls of Black
75 Who, The Pinball Wizard
BONUS SONGS (all HMX bands)
76 Abnormality Visions
77 Anarchy Club Get Clean
78 Bang Camaro Night Lies
79 Breaking Wheel Shoulder to the Plow
80 Libyans, The Neighborhood
81 Main Drag, The A Jagged Georgeous Winter.
82 Speck Conventional Lover
83 Sterns, The Supreme Girl
84 That Handsome Devil Rob the Prez-O-Dent
And then from Loading Reality,which notes that this numbers only about 60. Some of the tracks are thesame as the list above, just in a different order. "Keep in mind, someof these could easily be DLC that's in the works," Loading Realitywrites. A wise caveat.
1) Tangled Up in Blue (Bob Dylan)
2) Bad to the Bone (George Thorogood)
3) We've Got the Beat (Go-Gos)
4) Bad Reputation (Joan Jett)
5) Pinball Wizard (The Who)
6) Dammit (Blink 182)
7) That's What You Get (Paramore)

The Trees (Rush)
9) Ace of Spades (Motorhead)
10) Chop Suey (System of a Down)
11) Testify (Rage Against the Machine)
12) Spirit In the Sky (Norman Greenbaum)
13) Ramblin' Man (Allman Brothers)
14) Rebel Girl (Bikini Kill)
15) Eye of the Tiger (Survivor)
16) Panic Attack (Dream Theater)
17) Everlong (Foo Fighters)
1
One Step Closer (Linkin' Park)
19) Lump (Presidents of the USA)
20) Come Out and Play (Offspring)
21) Drain You (Nirvana)
22) Carry On Wayward Son (Kansas)
23) Peace Sells (Megadeath)
24) Souls of Black (Testament)
25) Livin' On a Prayer (Bon Jovi)
26) Round and Round (Ratt)
27) New Kid In School (The Donnas)
2
Alright Now (Free)
29) Today (Smashing Pumpkins)
30) Man In the Box (Alice In Chains)
31) Any Way You Want It (Journey)
32) Holiday In Cambodia (Dead Kennedys)
33) Give It Away (Red Hot Chili Peppers)
34) White Wedding (Billy Idol)
35) Hello There (Cheap Trick)
36)

Cool

for Cats (Squeeze)
37) Psycho Killer (Talking Heads)
3
? (Devo)
39) One Way or Another (Blondie)
40) De-luxe (Lush) [dare to dream, shoegaze in Rock Band!]
41) Push It (Static-X)
42) Pump It Up (Elvis Costello)
43) Master Exploder (Tenacious D)
44) Bandages (Hot Hot Heat)
45) PDA (Interpol)
46) My Own Worst Enemy (Lit)
47) Float On (Modest Mouse)
4
Aqualung (Jethro Tull)
49) Spoonman (Soundgarden)
50) Bodhisattva (Steely Dan)
51) Suffer (Bad Religion)
52) I Was Wrong (Social Distortion)
53) American Woman (The Guess Who)
56) You Oughta Know (Alanis Morrissette)
57) Mountain Song (Jane's Addiction)
5
Stop! (Against Me)
59) Hungry Like the Wolf (Duran Duran)
60) Alabama Getaway (Grateful Dead)
So there you have it. Could be real, could be bs, again that's thefun of rumors. But even if this is in-progress thinking, and not finalstuff, it shows Harmonix is not F-in around, and will move to counterGuitar Hero: World Tour's peripherals and custom song features withoutstanding content.
Rock Band Two Rumored Track List [8bitfix, in comments]
60 Rock Band 2 Tracks Leaked [Loading Reality, thanks Max]
Posted by Editorial Team Tue Jul 08, 2008 7:54 am
'The Internet Hates Diablo III' in Gaming
When Blizzard unveiled Diablo III earlier this week, it didn't comeas much of a surprise to anyone. Well, there was one guy who thoughtStarcraft 3 was being developed alongside Starcraft 2 with a projectedrelease date of one week prior to the release of the game it wasfollowing, but no one has taken Cliffy B. seriously since he predictedthat Mario would never appear in another video game after Super MarioSunshine.

Sure, it didn't blow any minds, but theannouncement came as welcome news. Diablo II is still the first thing Iinstall on my computer after a trojan-laden lolita incest hentai comicforces me to reformat. It's hard to believe that in the last eightyears no one has been able to step in and create a better action-rpg.It's even harder to believe that a ten year old girl can lubricate herentire body with egg yolks then squirm into the urethra of her mother'spenis and follow it until she returns to the womb, but I saw thedrawings. It can happen, people.


After watching theDiablo III gameplay footage, I was really excited. The visuals werefantastic, a lot of small improvements had been added without seemingto get in the way of what makes the series great, and by the end of thevideo I found myself moving my mouse around the screen as if I wasplaying. That's sad, but what's even sadder is that I'm not a big-timegame journalist so I can't come up with a term like "gamesturbation" todescribe the lonely and desparate act while making myself

cool

andquotable.

Imagine my surprise when I discovered that mypositive impressions were irrational and baseless, while most of theinternet saw the game for what it truly was: A personal insult to themand a serious threat to all they hold dear. If you find that you'vemistakenly become mildly optimistic about the game, read on to find outwhere I went wrong so you can adjust accordingly.






My Initial (Wrong) Opinion:Wow, it's the world from Diablo in 3D, rendered like a painting toretain the 2D flavor of the previous games. The dark and ominous themesare still there, only now we don't have to use our imaginations to fillin the details suggested by blocky sprites.

The Internet's (Correct) Opinion: Wow, it's a shitty cartoon! This is NOT the same world that Diablo I and II took place in. No way.

DoI see a rainbow? I'm sorry, but rainbows don't exist in the Diablouniverse. I have read all the lore, and there is not a single mentionof rainbows in there. Big surprise that Blizzard retconned rainbowsinto Diablo. Vapid morons. Who do they think they are? I've beenplaying this series they created for years, and they fuck everything uplike they own it.

Here's the dark and gritty Diablo II, which Diablo III should look like:





Here's a cartoon:





Or is that Diablo III? I honestly can't tell.

Blizzardshould give the game a dark atmosphere by literally making the game toodark to see anything and then maybe add some film grain on top ofeverything. If the technology is available, the black silhouette of athumb could get in the way of the player's view to obscure the gamefrom time to time and add to the game's overall darkness.



My Initial (Wrong) Opinion:In addition to gold and loot, monsters will occasionally drop globesthat heal your character when picked up. You'll be able to focus moreon the gameworld instead of micromanaging a potion inventory. Thisfrees up the hotbar for your character's abilities.


The Internet's (Correct) Opinion: Globes of health. That float. Riiiight.


Itmade so much more sense when glass bottles full of healing syrup fellout of monsters onto rocky dungeon floors without breaking. You know,when your character had thirty bottles strapped onto his belt and noone thought twice about chugging something that had been stuffed into apoisonous mummy for the last thousand years. This magical orb shit isgoing to ruin my sense of immersion big time.





My Initial (Wrong) Opinion:The Witch Doctor looks like a variation of the Necromancer that focuseson infectious diseases and fire instead of death and the art of lookinglike J. Mascis. Being able to cast your offensive spells on pets sotheir attacks are buffed with those spells' abilities seems like itcould be a lot of fun. I can imagine buffing one pet with a spell thatslows enemies, another pet with some form of Weaken, and a third with adamage-dealing plague to mop up.


The Internet's (Correct) Opinion:WHERE DID THE NECROMANCER GO??? I'm not buying this game. Even if allof the unannounced classes are Necromancers, it's too late. Blizzardhas abandoned its true fans.





My Initial (Wrong) Opinion:Did that thing just flatten one player under its foot, then pick up abarbarian and bite his head off? Okay, that's awesome. Hardcore modejust got hilarious.


The Internet's (Correct) Opinion: So the player characters only come up to this thing's ankles? That's stretching it way too far.

I'msorry, but this terribly designed throwaway boss does not fit into thecompendium of realistic monsters that we've all become accustomed tosuch as skeletons that hide in barrels, pygmies that stand on eachother's shoulders to create larger pygmies, and enormous Satanic grubs.
Posted by Editorial Team Tue Jul 08, 2008 7:53 am
Games Industry Movers: Trion, 38 Studios, Kongregate & M in Business and Industry in Gaming, Media, Web, IT and Computing
his past week, 38 Studios (the developer founded by Red Sox pitcherCurt Schilling) announced that Thom Ang was appointed Director of Art.He will oversee the direction and management of 38 Studios' artisticdevelopment, including the MMOG codenamed Copernicus, whileworking closely with Todd McFarlane and R. A. Salvatore. Ang willreport to Vice President of Creative Development, Scott Cuthbertson.
"38 Studios' creative teams have been meticulously crafting thesignature look and feel for our upcoming MMOG over the past 18 months,"said Brett Close, CEO and president. "Thom's extraordinary talent andexperience will be key in driving the vision and quality of our OnlineEntertainment Experience."
Ang has been working as a director for notable franchises and brandsfor over 15 years. He's worked as a senior artist at DisneyInteractive, working on titles like Toy Story II and Tarzan. Ang also created illustrations for TV shows, including The X-Files and was a storyboard artist for Sony/Columbia/Tri-Star TV Animation programs, which include Roughnecks: Starship Troopers Chronicles and Max Steel.He then moved on to be art director at EA LA, where he headed up artproduction, team management and visual concept development for the Medal of Honor franchise. In his last position, Ang was art director at THQ, managing more than 25 titles.
"38 Studios is absolutely committed to the next evolution of MMOGs, andevery team member has great pride in the value of what they do,"remarked Ang. "I am excited to contribute to this vision and become apart of an extraordinary team."
Lisa Jablonsky - Kongregate
Kongregate announced this past Friday that Lisa Jablonsky will open thecompany's New York ad sales office. She will work with Kongregate'sChief Revenue Officer Lee Uniacke to secure high-profile advertisingpartnerships based on the site's reach and appeal to young men, ages 13- 34.
"With high user engagement and a growth rate of over 25 percent monthover month, Kongregate provides the ideal medium for advertisers tryingto reach this hard-to-pin-down demographic," stated Uniacke. "As webuild our sales force to address these opportunities, Lisa's proventrack record in developing successful partnerships across a range ofyouth-driven digital consumer brands will add tremendously to theexpertise of our team."
Jablonsky has worked in the New York advertising scene for 21 years andshe was as an early proponent of the digital advertising arena. Amongher projects, she has conceptualized and implemented ground-breakingfilm contests for Intel and Kohl's, and created one of the first mobilecontests for Alltel. Jablonsky helped create games for McAfee Softwareand the National Guard, as well as construct an editorial integrationprogram for Coke's NBA March Madness Flash game. She was most recentlyan account executive with MTV Networks, where she successfully droveadvertising and integrated sponsorships for Comedy Central,AddictingGames.com, Shockwave.com, and AtomFilms.
"Kongregate is an advertiser's dream as it attracts young men betterthan virtually any other site on the Web and puts them in a

cool

, edgyenvironment where our audience can really interact with their brand,"commented Jablonsky. "At over 3 million unique users today, a highgrowth rate, and just being named one of Time Magazine's Top 50 sitesfor 2008, we're on track to give advertisers the big reach that theyneed to effectively target the young male demographic this fall."
Trion World Network - Glen Van Datta
Trion World Network announced recently that Glen Van Datta has beenhired as Vice President of Engineering and General Manager of TrionWorld Network Austin. He will oversee day to day operations at Trion'sAustin studio and supervise all customer service, quality assurance,operations and other support activities with relation to the Trionplatform.
"Glen is a tremendous hire for Trion and an excellent addition to ourworld class technical organization", said Nicholas Beliaeff, VicePresident of Product Development & Head of Trion World Network SanDiego. "Glen's vision, leadership, and deep history maturing andproductizing compelling online game technology will help Trion take ourserver based game technology to the highest levels while helping us andour partners get to market more quickly."
Notably, Van Datta has worked for over 22 years in softwaredevelopment, including the past dozen in game development. He wasco-founder and Vice President of Engineering at RTIME, where he oversawthe development, design and testing of the RTIME SDK online, in-gameand player matching platform. Van Datta most recently worked at SCEA asDirector of Online Technology, where he oversaw a team of more than 80employees that developed SCE-RT SDK to enable online games for PS2, PS3and PSP games, including Singstar, Warhawk, Resistance, Home and GT5 Prologue.
"For more than 12 years I've believed that online games, online socialnetworks and online media distribution were the future ofentertainment," said Van Datta. "Trion's innovative, dynamic platformand content are the next generation in the online entertainment space."
IGN Entertainment – Jamie Berger
IGN Entertainment announced recently that senior vice president ofconsumer products and technology Jamie Berger will start overseeingbusiness development for the company. He will continue managing IGN'ssubscriptions, digital distribution, and e-commerce portfolio includingIGN's Direct2Drive and GameSpy Technologies.
Berger has over 16 years of professional brand management and marketingexperience from within the online gaming industry. He began hisprofessional career as an Account Manager with the NCR Corporation.Berger spent six years in the consumer products division of The WaltDisney Company before joining IGN Entertainment. He currently helpsextend the IGN brand by creating and leading partnerships thatdistribute content and drive revenue.
AMD - Emilio Ghilardi
AMD, which runs the ATI graphics card business, announced this pastweek that Emilio Ghilardi has been appointed senior vice president andgeneral manager of Europe, Middle East and Africa (EMEA). He will beresponsible for all sales and marketing operations within EMEA,starting in mid-August 2008. Ghilardi will report to AMD chief salesofficer Gustavo Arenas.
"Emilio adds tremendous global sales and marketing leadership to AMD inEMEA which we expect to help strengthen and grow relationships with ourend-user customers, OEMs and distribution partners," said Arenas.
Ghilardi comes to AMD from HP, where he started as vice president ofConsumer PC Clients in EMEA. He then moved on to be vice president andgeneral manager of Commercial Hardware within the Imaging and PrintingGroup. Ghilardi was most recently vice president and general manager ofHP's EMEA Consumer Business Unit, managing the business for consumerPCs and Imaging and Printing products.
AMD added that Alberto Macchi, corporate vice president of Sales andMarketing for EMEA, is departing the company "to pursue newopportunities."
Warner Bros. Digital Distribution - Jacqueline Jourdain Hayes
Warner Bros. Digital Distribution (WBDD) recently announced thatJacqueline Jourdain Hayes has been named Senior Vice President Businessand Legal Affairs. She will manage legal issues around new digitalbusiness models (such as distribution of Warner properties on Xbox Liveand elsewhere) globally, oversee the negotiation of Warner Bros.video-on-demand and electronic sell-through licenses across multipledigital platforms, and provide legal counsel to the Company's seniormanagement on the acquisition, distribution and protection of contentfor digital platforms and other digital initiatives.
"Jackie has been working on our digital business for quite some time,her expertise in this area is unparalleled," said Clarissa Weirick,General Counsel, WBDD. "The digital business is still one of thoseareas where you are often making the rules as you go along, whichrequires someone like Jackie who is confident and creative innegotiating this new terrain. We are extremely fortunate to have hercontinued expertise as our digital business moves ahead."
Hayes has worked as an Associate in the Corporate Departments of TroopMeisinger Steuber & Pasich in Los Angeles, of Goulston and Storrs,P.C. in Boston, and of Moses & Singer in New York City. She joinedWarner Home Video in 1998 as Counsel, and was promoted to VicePresident Business and Legal Affairs of WHV in 2000. Hayes joined theWarner Bros. Digital Distribution division in July 2006.
TC Digital Games – Andi Smithers
Recently, TC Digital Games announced that it appointed Andi Smithers tothe new position of Director of Technical Development. He will overseedevelopment of the company's digital services, including mediatechnology and format strategy as well as interoperability of digitalservices and devices.
"Andi joins our team at a pivotal moment in the evolution of Chaoticand TC Digital," said Bryan C. Gannon, President and CEO of TC DigitalGames. "He will become an integral part of our efforts to enhance theChaotic online experience and further develop our digital services.Andi's expertise in developing technology, his extensive background increating computer game software and his vision for emerging technologymake him a perfect fit to lead this innovative game play convergence."
Smithers has held several executive roles and technical positionsthroughout his 20-year career, having worked for Microsoft, Activision,Psygnosis, LucasArts, and Midway. He was most recently with Sony OnlineEntertainment where he served as Senior Engineer in the Research andDevelopment group. Smithers pushed advanced physics and graphicstechnologies forward to ensure their quality and was responsible foroverseeing the strategy and development for a cloth simulator.
Microsoft – Michael Delman
As we previously reported, Microsoft this past week appointed MichaelDelman to the position of corporate vice president of global marketingfor the Interactive Entertainment Business (IEB) in the Entertainmentand Devices Division. He takes over the role for Jeff Bell who left thecompany earlier this month. Read more about the move here.
Posted by Editorial Team Mon Jun 30, 2008 6:42 am
Nintendo Sued Over Use of Music from 1993 'True Romance' in Business and Industry in Gaming, Media, Web, IT and Computing
A Los Angeles film production company sued Nintendo on June12th, alleging that the console manufacturer used a tune from the movieTrue Romance in a commercial for the GameCube.
Thesuit, filed by Morgan Creek Productions in U.S. District Court for theCentral District of California, was voluntarily dismissed by theplaintiff on June 18th.
The 1993 film was directed by Tony Scott and written by Quentin Tarantino.
The song in question is You're So

Cool

, composed by Oscar-winning composer Hans Zimmer. The suit claims:


Sometimewithin the past three years, [Nintendo] used the sound recording of"You're So

Cool

" without authorization in a television advertisementfor the Nintendo "GameCube."

Plaintiff is informed andbelieves and thereon alleges that [Nintendo] also used the soundrecording at issue herein in other forum in order to generate sales fortheir product.





It is unknown why the suit was dismissed less than a week after being filed. GamePolitics is seeking comment from the plaintiff's attorney as well as Nintendo.
The complaint does not make reference to a specific use of the song by Nintendo. However, this 2004 post from the Toon Zone forums makes reference to You're So

Cool

being used in an ad for Paper Mario: The Thousand Year Door.
UPDATE: Also, courtesy of comments left by GP readers Orange Soda and Anonymous, we've added the video of the commercial which apparently sparked the copyright claim.
Read the lawsuit here.
Posted by Editorial Team Mon Jun 30, 2008 6:17 am
25 rarest Nintendo games ever in Gaming
We could've filled the entire list withantique Game & Watch titles alone (they're manna from heaven forcollectors), but for the sake of balance here's a list of some of themost valuable games across Nintendo's entire portfolio.


So before you throw out any 'junk' boxes from the loft, best check they don't contain any of these 25 rare classics.


Harvest Moon (SNES, US) - £60
The SNES version of Harvest Moon is still considered the best amongfans of the whimsy-heavy farming/courting sim. It doesn't come up veryoften on eBay, and when it does you can expect to pay at least £60 fora good boxed copy. The N64 version was released soon after, accountingfor the SNES game's initial lack of popularity.


Banjo-Tooie (SNES, PAL) - £60
Rare's first Banjo-Kazooie game was extremely popular, but Banjo 2 gotstuck in development and ended up coming out towards the end of theN64's lifespan. Although you may be able to pick up a copy cheaper, agood boxed version will set you back at least £50, and sealed copieshave been known to go for as much as £100. You'll probably see theseprices rise when more news of Banjo-Kazooie 3 on Xbox 360 emerges.


Dracula X (SNES, US) - £70
The final Castlevania game released on SNES wasn't as popular asprevious iterations, but the series has gained great cachet with gamersmore recently, especially since prices for Castlevania: Symphony Of TheNight skyrocketed on PS1. Dracula X is unlikely to go down in value.


Sin & Punishment (N64, jpn) - £70
While the version released on Virtual Console has adversely affectedthe original's price, this N64 classic is still a jewel in the crownfor any Nintendophile. This Treasure shooter was designed for the N64analogue stick and is always best played on its host hardware. A goodinvestment and a collectable game you'll actually bring out from timeto time.

<!--[bigpic]-->
Naruto: Clash of Ninja (GameCube, PAL) - £75
Although it's worth very little in America and Japan, the PAL releaseof Naruto Clash Of Ninja didn't see wide distribution and it's beenknown to fetch up to £75 on eBay. Expect other GameCube titles such asChibi-Robo and Baten Kaitos to increase in price because of theirlimited numbers.


Earthbound (SNES, US) - £80
This Japanese hit was released in the US but failed to make much of animpression. Now it's lauded for its RPG in-jokes and humorous take onAmerican culture. Again, rumours abound that EarthBound is to bere-released on Virtual Console, which may bring the price down on thisUS import.


Paper Mario (N64, PAL) - £80
Another rare PAL gem. Though Paper Mario continues to be one of themost popular titles on Wii's Virtual Console, collectors will stillfork out good money for this great mix of platforming and puzzling inits original guise. Until recently, copies of this SNES classic couldstill be found in many second-hand game stores.


Bakuretsu Muteki Bangaioh - (N64, jpn) - £80
If you thought the Dreamcast version of Bangai-O was good, you shouldcheck out the original N64 version with its sublime analogue controls.Only 10,000 copies were released in Japan and it's been going up inprice ever since. Find a mint, boxed copy and you'll have collectorsknocking your door down.


Chrono Trigger (SNES, US) - £90
Chrono Trigger isn't rare by any standards - indeed, thousands ofcopies are on the market. However, the game is so good, and has builtup such a reputation, that people are willing to pay upwards of £100for a sealed, boxed SNES copy. You can even get it as part of FinalFantasy Chronicles for PS1, but still the collectors pay big money forit. Rarity isn't really the main consideration, we guess.

<!--[bigpic]-->
Ninja Gaiden Trilogy (SNES, US) - £150
Even though this comprises all three of the Ninja Gaiden games releasedon NES with a graphical update, it didn't sell very well when it firstcame out in 1995. But since the next-generation Ninja Gaiden games werereleased, Tecmo's star has risen, enhancing the price of this cartconsiderably.


Final Fight 3 (SNES, PAL) - £180
The PAL version of Final Fight 3 is a hidden treasure waiting tohappen. Let's face it, unless you're a collector you're unlikely toknow its true value and this is your best chance of picking up a gem atthe local car boot sale. A naked cart is probably only worth £40, butif you can find a good boxed copy then you're likely to achieve £180 to£200. And it's a decent game, too, containing two extra characters inDean and Lucia Morgan.


Space Invaders (Virtual Boy, jpn) - £200
A good boxed copy of Space Invaders on Virtual Boy can now fetch £200.It's notable because it's one of the better games on the system, and solong as you don't play it too much (giving yourself a much-warned-aboutmigraine) you'll get some fun out of it. Virtual Boy games have shot upin price in the last five years and this trend doesn't look likeabating. It may be a good investment for the future...

The Flintstones: Surprise at Dinosaur Peak (NES, US) - £200

As the NES drew to the end of its lifespan, publishers began releasingtheir games exclusively to game rental companies, bypassing traditionalgame shops. The Flintstones II is typical of this, and although it's alittle easier to track down in Europe than elsewhere, it can stilldemand high prices. United States copies can go for £200, thoughfinding ex-rental games in good condition is like finding a joke in anepisode of My Family.

<!--[bigpic]--> Starfox Super Weekend/Donkey Kong Country Competition Carts (SNES, US) - £200

These two separate carts were manufactured specifically for use inBlockbuster in-store competition promotions. Only about 2,500 were madeof each but they were initially sold off in stores for a knock-downprice. Because of their rarity you can expect to see them sell on eBayfor around £200, depending on what kind of condition they're in.


Rendering Ranger R2 (Super Famicom, JPN) - £200
This run-and-gun classic came from the makers of Turrican, so Lordknows why a game of such pedigree was only released in Japan. It'sunusual for a rare game in that it's actually very playable today. Acart-only copy might still sell for £80, but find it boxed and completeyou're looking at a sum of £200.

Fire Emblem Thracia 776 Collectors' pack (Super Famicom, JPN) - £200

Thracia may sound like a disease you'd pick up in a Bulgarian brothelbut this is actually a super-rare Fire Emblem collectors' pack. As itwas only released in Japan in limited numbers, you're unlikely to findit at the local car boot, but it shows that you should always keep youreye out for limited edition releases - and keep all the gubbins thatcomes with them.


Bubble Bath Babes (NES, US) - £250
Panesian was a company that produced several adult titles for the NES,including Peek-A-Boo Poker, Hot Slots and Bubble Bath Babes. Forobvious reasons the games didn't get Nintendo's seal of approval andended up being distributed via mail order catalogues or rental shelves,hence their scarcity. Interestingly, they didn't come in NES boxes butVHS-style cartons, so many are still undetected. The limited graphicsmake the sauciness factor rubbish, though.

<!--[bigpic]-->
Mountain Bike/Speed Racer Combo (SNES, US) - £300
This SNES combo underlines the fact that combining two or more gamesonto one cart for a limited print run is always going to have raritypotential. Good boxed copies have generally only come out of Nintendo'sown warehouses and if you can find one with the strange LifeFitnessBike peripheral then you're looking at a price in excess of £1,000.It's a cart that will always go up in value, but it's worth around £300today.


Myriad six in one (NES, US) - £350
This is the rarest unlicensed NES game and consists of six titles:Bookyman, Adam And Eve, Cosmos Cop, Magic Carpet 1001, Balloon Monsterand Porter. Its rarity is due to the fact that Myriad Games put outfewer than 1,000 carts and they were individually numbered. Gamescollectors speculate that there are only 100 left in existence, butonly 15 have ever surfaced.


Virtual Bowling (Virtual Boy, JPN) - £400
Only 22 games were ever released on Virtual Boy, although somecollectors believe there could be rare prototypes hidden away thatdidn't make it to retail. Virtual Bowling is actually a pretty goodbowling sim, offering practice and tournament modes, but the lack of asave battery means your scores are wiped when you switch off.Fortunately, passwords save the day. Not to be mistaken for Nester'sFunky Bowling, which is much more common.

<!--[bigpic]-->
Flagman (Game & Watch) - £450
There are plenty of rare Game & Watch titles we could have listed,including the obvious competition-only Super Mario Bros YM-901 (justtrips off the tongue), or the eminently collectable The Legend Of ZeldaGame & Watch, but it's likely to be the less well known titles thatwill surface down at your local flea market. A boxed Flagman could bagyou a small fortune.


Stadium Events (NES, US) - £500
Though common in PAL territories, Stadium Events is one of the NES'smost collectable games in America. Although it's a terribly averagefitness game, its value is due to Bandai printing a test run of thegame that was sold in Woolworths stores for a very short period beforeNintendo bought the rights. Rumours suggest there are only 10 completecopies on the market, and even unboxed Stadium Events carts can sellfor £400.


Virtual Lab (Virtual Boy, jpn) - £500
It's all too easy to look back on the Virtual Boy debacle and laugh,especially at the poor souls who thought it looked

cool

to wear a pairof heavy, red goggles and bellow, 'come on Mario, you can do it!'. Butwho's laughing now? Some Virtual Boy games are fetching massive prices,including this J-Wing developed Japanese puzzle game. The fact'Nintendo' is charmingly spelt 'Nintenndo' on the back of the box onlyadds to its value.


Balloon Fight Crystal (Game & Watch) - £600
This has to be one of the rarest Game & Watch titles, and boxed,good condition units have been known to fetch up to £600. Releasedtowards the end of the series' run for the Crystal Screen range,Balloon Fight's simple gameplay is reminiscent of Williams' Joust andhas since gone on to make an appearance in Animal Crossing.
Posted by Editorial Team Sun Jun 29, 2008 6:36 am
AMD CPU shoot-out: Phenom X3 and X4 in Hardware, Internet, Networking, Comms and Security
The birth of AMD's quad-core Phenom processor was plagued withproblems. After a gestation period more akin to an elephant than a CPU,the new silicon popped out puking and bawling but was clearly a bit ofa runt.
The problem was the now-infamous TLB error that crippled performanceand reduced clock speed with the result that the B2 stepping of Phenomwas only available in two models.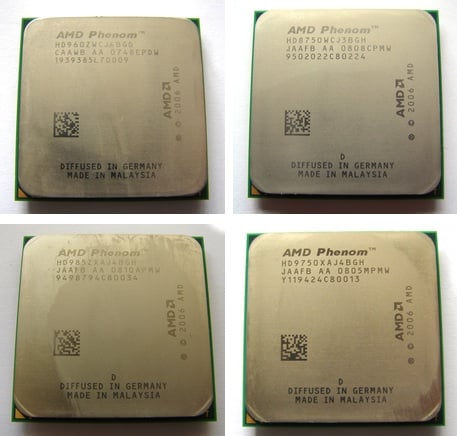 AMD's Phenoms: (clockwise from top left) 9600, X3 8750, X4 9750, X4 9850

Neither the 2.2GHz Phenom 9500 nor the 2.3GHz 9600 delivered enoughperformance to trouble Intel's Core 2 Quad Q6600, which was a directcompetitor at the same price. As an added kick in the teeth, Phenomwould barely overclock while the Intel processor could manage a clockspeed of 3GHz without breaking a sweat.
AMD fixed the TLB problem with its B3 stepping and also got a bitcreative with the model codes that it used. Phenom X4 9x50 denotes aquad-core B3 that effectively replaces the original Phenom. The PhenomX3 8x50 is also a B3 but is unusual in that it's a tri-core processor.Phenom is similar to Core 2 Quad in many respects but there is onesignificant difference as Phenom is a native quad-core design with allfour cores on the same die. By contrast Core 2 Quad is a dual-coredesign, so Intel uses two processor dice to cobble together itsfour-core CPUs.
Naturally, AMD touts this difference as a major advantage for Phenomas it allows HyperTransport to strut its stuff, while Core 2 istheoretically crippled by a lousy communication path through thefrontside bus and then off to the northbridge of the chipset to thememory controller.

It was time for the Phenom X4 9850, and we weren't surprised to seethat performance was a distinct improvement on the X3 8750 in everyrespect with the exception of pure graphics tests that only stress thegraphics card. The X4 draws 40W more than the X3 which makes it fairlyeasy to deduce how much power each core in a Phenom requires. Thequad-core overclocked slightly better than the tri-core but neither wasimpressive in that department.
The thing that caused us some surprise, however, is the similarityin price. You only pay £10 more for the X4 so why on Earth would youchoose the X3?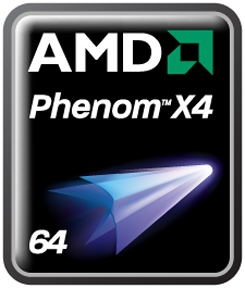 Finally, we come to the Phenom X4 9850, which only runs 100MHzfaster than the X4 9750 - 2.5GHz - but there are a couple of otherchanges. The X4 9750 has a TDP of 95W and HyperTransport speed of1.8GHz while the X4 9850 has a TDP of 125W and a HyperTransport speedof 2GHz which rather suggests that the X4 9850 is buzzing along at thelimits of the B3 architecture.
We had heard great things of the X4 9850, with at least one reviewerclaiming a clock speed of more than 3GHz. However, we had nothing likethat degree of success. With the 200MHz clock raised to 225MHz weimmediately suffered a blue screen after Windows had loaded, and thatwas with a clock speed just over 2.8GHz.
The system was pretty much OK with a clock speed of 220MHz (2.75GHzCPU speed) although 3DMark Vantage refused to run however the X4 9850required more cooling than the other Phenoms. Indeed we had to removethe add-in fan controller from the CPU cooler to get the fan speed highenough to

cool

the CPU properly.

That's all well and good but just take a look at our test resultsfor Core 2 Quad Q6600. On its stock speed of 2.4GHz it wiped the floorwith Phenom and when we overclocked it to 3.0GHz it made the AMDsilicon look rather limp.
VerdictThe B3 stepping of Phenom is a distinct improvement over theoriginal B2 but that's not saying much. Intel has cut the price of Core2 to such an extent that there is no compelling reason to buy a Phenombeyond the fact that you might not like Intel very much. Fair enough,we'd say, but for everyone else, Intel has grabbed the initiative. Overto you, AMD.
Posted by Editorial Team Mon Jun 23, 2008 4:54 pm
Nokia N78 in Entertainment, Film and Music, Mobile devices and media
Nokia's latest N-series "multmedia computer" bundles a 3.2-megapixelcamera, music player, satnav and maps into a sleek go-anywhere,do-it-all device. Wherever you happen to find yourself, you'll be gladyou brought it.
The N78 is certainly a classy looking handset, and the smart touchgoes much deeper than its looks. Its sleek, gloss-black front may atfirst glance resemble the touch-sensitive minimalism of LG's oft-copiedChocolate series, but in use, all is not as it seems.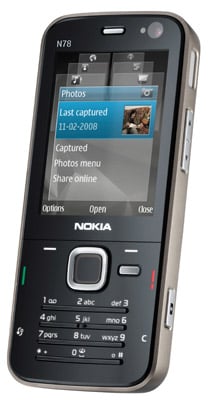 Nokia's N78: packs in feature after feature

To press the illuminated buttons you actually press the plasticcasing inwards. The cover bends to accommodate your thumb rather thanreacting purely to your touch. It might seem like a low-techalternative, but in practice it seemed more reliable than thetouch-sensitive option, which in our experience can be a bittemperamental.
Nokia's solution is a good combination of style and practicality.The numeric keypad is actually four raised plastic strips, with thenumbers backlit just above them. It looks lovely, but takes a bit ofgetting used to, and it has to be said that this keypad is far from thebest for rapid or prolonged texting.
The face of the phone oozes minimalist class, but strangely, theback feels like its made from low-grade material and creaks in yourhand, which detracts from the

cool

image. There's another surprisehidden in the square navpad. Rubbing your thumb around the edgeactivates what Nokia calls the "navi-wheel", which moves the cursoraround the screen without the need to press the pad.
You can also do the iTrip thing with the built-in FM transmitter andbeam your music to your car radio. Incidentally, the Navi-wheel reallycomes into its own as you scroll through your music playlists, behavinglike a tiny version of Apple's scroll wheel. Hmmm, are we sensing apattern here?
Of the few problems we encountered with this phone, there were theusual Symbian issues of running slowly when you've got severalapplications open at once, but it was nippy enough when we stuck todoing one or two things at a time and it was easy to switch offbackground applications using the aforementioned Applications button.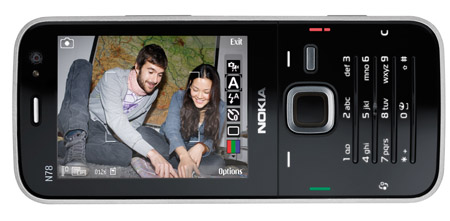 70MB of memory on board - plus a Micro SD slot for more

If the 3.6Mb/s HSDPA connection isn't fast enough, you can alsoconnect over Wi-Fi. The usual N-series web browser is here in fulleffect, with options for viewing in landscape or portrait mode, pluszoom and the ability to flick through previously viewed pages. There'salso a PDF viewer and QuickOffice for viewing Microsoft Officedocuments, though if you want to create them you'll have to pay for thefull Office suite.
And as a Symbian phone there are of course plenty more third-party apps available.
Battery life was pretty good, and we got a good three days ofmoderate use out of it, though heavy browsing will of course reducethis quite dramatically.
VerdictFrom its sleek, minimalist good looks to its raft of impressivelywell-integrated features, the N78 is a gorgeous little number. The3.2-megapixel camera, feature-packed music player, A-GPS and maps,quality web browser plus documents readers and email make it an idealtravelling companion for business or pleasure.
Posted by Editorial Team Thu Jun 19, 2008 4:03 pm
Top 10 Video Games that Should Be Made into Movies in Gaming
Wow this would make a

cool

movie', a thought that, at somepoint in time must have flitted across many a gamers' mind. The worldsand characters of our beloved video games are an assortment of thecrazy, mysterious, fantastical, obscure and unforgettable. They havebeen rendered with such adulation and conscientiousness by theircreators that they sometimes transcend interactive entertainment andevolve into pieces of art.
A movie like a video game is a form of art. Wanting a movie based onone's favourite video game is just the inherent desire to see thatpiece of art in a different form, from a different perspective. A videogame with a good concept is always ripe for cinematic treatment. Whythen has that great videogame movie eluded us so many years? We maynever know the answer to that, but we can hope and imagine that some ofour gems are some day given the directorial treatment they deserve.


1. Mafia
There has been a real draught of good mafia movies of late. AmericanGangster is the only decent mafia movie I remember having seenrecently. A movie based on the Mafia game would really help fill thisvoid. Mafia is one of those action games' that is quite popular among alot of Indian gamers. Besides its superlative game play, one of thethings that really stood out about the game was its sharp script andincredibly well presented story element.
In fact I would go as far to say that the depth in itscharacterization was better than most movies of our time. The game alsohad some truly memorable action pieces set including one unforgettablesequence set in a church and one set in a pizza parlour. Seeing thesesequences translated to the big screen would truly be a Mafia fan'sgreatest desire except of course a second Mafia game. This one ideallywould be helmed by someone like Martin Scorsese.


2. Half-Life
The creators at Valve have over the span of the original Half Life,its sequel and the recent episodes created a rich sci-fi universe.What's unique about this sci-fi world is that it's not all-timetravelling and laser guns. All the games in the Half-Life series havesomething of a spiritual side to them. Also we have some trulymemorable characters in Alyx, Eli, Barney and naturally the main manGordan Freeman himself.
Of course the movie rendition might pose some serious problems butwith a lead protagonist who has thus far failed to utter a single wordin the series. Any attempts to give Gordon a voice in order to satisfythe traditional movie audience would severely rile Half-Life purists.Whichever way the movie turns out, any director who manages to pull offa voiceless Gordon will win my veneration.


3. Crysis
Crysis while not a game with the most innovative story still has agreat setting and the nanosuit would lend itself to a pretty coolaction movie. At its heart is the conflict between man and alien setamidst lush tropical forests. In a sense a movie based in the world ofCrysis would be a spiritual successor to the first Predator movie.
Most importantly perhaps, gamers with humbler PC's might finally getto see what Crysis' infamous supposedly photorealistic graphics wouldlook like in all its high definition glory without the painful memoriesof Crysis bringing their once high and mighty computers down to a crawl.


4. Devil May Cry
Extremely stylish, over the top action is what best describes theDevil May Cry series of video games. Fighting waves after waves ofenemies with some adrenaline pumping rock music in the background nevergets old. Dante, Nero, Vergil and some of the other characters in theseries also on the occasion get to mouth some pretty entertaining,witty and sarcastic dialogs.
In addition some of the fight choreography in its numerous cutscenes is some of the best I have come across in both movies and games.The ideal Devil May Cry movie would be something in the vein of themovie Shoot Em Up, nonstop pistol wielding, sword swinging action withlittle pretence of an emotional thread governing the charactersactions. I'm not saying Dante is someone you should feel nothing for.
It's just that Dante is the perfect anti- hero. What we would lovemost is to give each other high fives, maybe let out some whoops whenwe get to see the big screen Dante reign hell on his enemies with hisusual brutalistic style and customary battle end remarks.


5. Assassin's Creed
Assassin's Creed for all the ambivalent views of the criticsundeniably features an incredible world and a great concept. Altair -the main character's name means "The Flying One" in Arabic and in asense you truly are. While the main objectives were the assassinationsthemselves, what the game truly excelled at was giving you the freedomto literally fly across the rooftops.
Think the initial sequence of the movie Casino Royale or the entirecentral theme of the movie District B13 except here you're doing allthat and more in the medieval lands of Jerusalem, Damascus and Acre.While we've seen plenty of attempts at movies about assassins, inmodern times a movie about a medieval cult of assassins who rely not onguns but their physical agility and a blade or two to execute theirtargets would be a refreshing change.
Plus there are the sci-fi and historical ideas involved around whythe assassins cult do what they do, what is the agenda of the Templarsand the whole concept of being able to unlock the memories of one'sancestors through DNA.


6. Grand Theft Auto
Grand Theft Auto, well, it's all about living out your dream.Murder, revenge, cops and robbers, the staple fare of films it's allpresent in copious amounts in Grand Theft Auto. We generally tended toperform these tasks in the world of Grand Theft Auto with littlethought to any of your deeds having moral implications.
Though the series always did have a decent storyline to back up youractions, Grand Theft Auto has always been about the freedom to go dowhat you wanted to do whenever you wanted to do it. Sandbox gamesrarely got better than Grand Theft Auto. Bringing such a sense offreedom to the screen is never going to be easy and the game might notseem to be the best candidate for cinematic treatment.
What the series has always had though are great leading characters,physically and vocally perfectly acted and with very interestingpersonalities and some really witty dialogs to go with thosepersonalities. There is a lot that Hollywood can learn from Rockstarabout presenting characters.


7. Metal Gear Solid
Well what is Metal Gear if not a movie itself with it's incrediblylong cut scenes taking up a sizable period of time in every game thusfar? The soon to be released Metal Gear Solid 4 is in fact rumoured tofeature 90 minutes worth of cut scenes. That's as much as your regularfeature length film. Cut scenes here though have never been the regularpassable fare. The ones in Metal Gear Solid have always had incredibleproduction values.
It is incredibly choreographed and acted with a stirring backgroundscore by Harry Gregson Williams. The title sequences in Metal Gear 1and 2 have been done by Kyle Cooper a title designer with almost 150films to his credit. So in a sense there is a lot of Hollywood talentthat is already part of Metal Gear Solid. The games also cover a lot ofterritory running the gamut from cold war, to spies to military tacticsand the negative effects of warfare.
A movie based on Metal Gear Solid would benefit from having suchwide range of themes to dip into, a compelling and much adoredcharacter in Solid Snake and someone unfamiliar with the storylines ofMetal Gear might enjoy its convoluted and constantly twisting storyline.


8. Syberia
Adventure games are in this day and age a forgotten genre. Syberiais one of adventure gaming's finest gems. Released in the year 2002, aproduct of the imagination of Frenchman Benoit Sokal Syberia told thestory of a young woman lawyer named Kate Walker and her journey thatbegins when she visits a small village in France to negotiate thetakeover of a toy factory.
The game featured some charmingly surreal locales along with a hostof great personalities with quirky yet entertaining mannerisms. Thestrongest character of course was Kate Walker herself. Over the courseof the game Kate metamorphosed from a young woman leading aconventional life to a woman with a strong sense of individualism.
The decision that she makes towards the end of the game is one thatchanges the course of her life. The game had a slowly developing butultimately richly rewarding story with a sense of mystery presentthroughout. Seeing the world and much loved characters of Syberiabrought to life on screen would be a dream come true for any adventuregame lover.


9. Beyond Good and Evil
Beyond Good and Evil is without doubt one the greatest videogames Ihave ever played. It was a game that slipped off most people's radar atthe time of its release. Still those who did play it know howunforgettable a game, designer Michel Ancel created in Beyond Good& Evil.
Jade, the game's main protagonist is one of gaming's strongestfemale characters. She wasn't the usual big bosomed sexed up heroine,the likes of which we have seen in countless videogames. She plays anintrepid photographer who also happens to take care of the children inan orphanage and has an uncle who is a pig. Well it had a crazy yetbeautiful world full of colorful and multifarious species which seem tocoexist in harmony.
Jade's journey took us through a world of alien and governmentconspiracies, and most importantly a journey of self discovery. Theplanet of Hillys was a bizarre yet gorgeous blend of the futuristic andoutlandish. The supporting cast of characters was also brilliant andunforgettable. A movie based on this game set against its gorgeousmusic would perhaps let a lot of gamers know what they were missingwhen they ignored poor Jade the first time around.


10. Indigo Prophecy
Indigo Prophecy was a very unique game both in its setting and itscontrols. It was a psychological thriller in which you played severaldifferent characters. It was also the closest a game came to aninteractive movie. Your character was endowed with great physicalagility and some nifty psychic powers too.
All the complex animations of the characters were motion capturedand every action sequence looked incredible. Every major action thatyour character performed in the game was via rhythmic button tappingguitar hero style with visual cues provided onscreen. Only here yourcoordination determines if you will be able to make it through thevarious action sequences. It had a dark disturbing, disturbing yetcaptivating story and characters you felt deeply attached to by the endof the game.
What Indigo Prophecy succeeded at brilliantly was its atmosphere andthe ability to ratchet up the tension and establish a feeling of dreadat regular intervals. In a sense Indigo Prophecy is already ninetypercent movie. A little cinematic polish and we'll have our next greatpsychological thriller movie.
Posted by Editorial Team Mon Jun 09, 2008 9:27 am
Facebook, Apple and Amazon word association: FUNNY YET TRUE! in General Discussion, including Off Topic, Current Affairs
Brandtags.net shows a brand's logo and simply asks you to type the first wordthat pops into your head, these are collated and the top 25 words are generated.



Facebook: friends, social, college, annoying, people, facebook, fun, boring,kids, lame, community, social networking, myspace, waste of time, addictive,social network, network, networking, stupid, young, useless, crap, internet,stalker and, um, shit



Amazon gets a better ride with words like books, book, everything, shopping,convenient, easy, buy, cheap, awesome, fast, online, smile, great, shop, amazon,useful, internet, good, online shopping, shipping, amazing, store, reliable,

cool

, and huge.

Apple gets the words Jobs, smug, git, crap, toy, fruit, pastel, expensive,polo-neck, irritating, stupid, evil, iphone, ipod, sickening, genocide, herpes,Coldplay, hippy, con-trick, waste, bubonic plague, and overpriced. Actually wemade some of those up.



And Google's:
search, google, internet, search engine, awesome, god, evil, smart, useful, everything,

cool

, find, fun, fast, good, big brother, information, everywhere, simple, great, innovative, ubiquitous, helpful, amazing, love

The experiment, via a site called brandtags.net,is anything but scientific. But it is simple: The site shows a brand'slogo and simply asks you to type the first word that pops into yourhead.
Posted by Editorial Team Wed Jun 04, 2008 5:46 am
Spec, Photos and Pricing: Dell Mini Inspiron: atom powered in Hardware, Internet, Networking, Comms and Security
I would like to know a few more specs about this laptop before even considering it. I'm just glad Dell did something good for once by letting you stay with XP and making a computer for other countries, although I'm sure these countries would prefer something easier to type with. I find these very tiny laptops only good for college students or travelers, where you can't afford much space. Otherwise they're kind of useless but still

cool

nonetheless.
Posted by schmidtbag Mon Jun 02, 2008 10:43 am
Valve: 'PC Gaming Market Is Not Dying' - DEBATE in The Great Debates!
The PC is no longer a viable platform. The PC is all about casual gaming. The PC market is dying.

We've heard it all before, and so has Valve's Doug Lombardi. Irecently caught up with the marketing VP during an Electronic Artspress event. At the end of the night, the house music dying down, wehad a long chat on a number of topics--many of which pertained to hiscompany's primary platform.
What does Valve think of the PC Gaming Alliance? Are they as tired ofthe PC gaming "problem" as we are? What is at the root of the issue,anyway?
Shack:
Do you guys ever get tired of the same old "PC Gaming Is Dying" stories?
Doug Lombardi:
I mean, I think,we sort of laugh at it. Because we've been wildly successful--we'revery fortunate, you know. Our games have all done really, really well,Steam has taken off and become this whole other business for us, Valvehas never been in better shape--and yet everybody is talking about howin the PC world, the sky is falling. And we're like, we've been doingthis for 10 years now--actually 12 years since the company started, 10years since the first game came out--and we've never been in bettershape, financially or otherwise. The company is over 160 people now--itwas 20 people when we shipped Half-Life. We've got multiple projectsgoing--we were always a one-project-at-a-time group.
We don't understand why that story gets traction over time. I thinkpeople have finally started to clue in to the fact--there was a storylast week where people finally looked at the online subscriptionrevenues for WoW and all the things that look like WoW, and realized,wow, there was a butt-load of cash being made here that wasn't beingcounted at the register, at retail, in North America, which is whereall these stories come out of.


NPD, god love 'em, they release a US retail sales report, and peopletake that and say that's the world picture. And it's just not true.It's not like NPD is trying to be evil. Their job is to report NorthAmerican sales data. They're doing their jobs. But people are takingthat and discounting.. in Germany for example, retail sales of PCproducts crush all other games, with the possible exception of the DS.It certainly kills all of the next-generation consoles. So if peoplewere looking at that and factoring it in, if people were looking atWoW's subscriptions alone and factoring it in, looking at Steam salesand factoring it in.. Just look at what Popcap's doing--Bejeweled andPeggle and all this stuff--they're not in that NPD data.
If you go around and you look at all these different things that arehappening on the PC, and you add them together, my hunch is that [thesales numbers] would actually be much larger than all of the consolesput together. Again, minus the DS, because the DS is this crazy thingby itself. But talking purely in terms of the Wii, the PS3, and the360, if you added those together and looked at the whole picture, I'dbet you PC would be even, if not bigger than those three systems interms of the money that's changing hands and the opportunity for doingbusiness.
So we always look at those things, and we always kind of laugh. We'redoing just fine, Popcap's doing just fine, Blizzard'scertainly--they're printing money down there. We always sort of shakeour heads, and go, okay, sooner or later someone's going to write thebigger picture story and perceptions will change.
Shack:
Interesting that you use the word "perception." Is this a perception problem?
Doug Lombardi:
It is absolutelya perception problem. I mean one of the things that happensis--Microsoft has an army of PR people that work for Microsoft. Theyhave at least two agencies that are additional armies. Nintendo I'm notas familiar with their PR outline, but I'm sure it's similar. Sony issimilar. The PC has nobody. They've got people like us, in our sparetime, talking to guys like you. I mean if there were hundreds of PRpeople stationed around the world, whose whole job was to call youevery day and tell you why the PC was a great platform, your perceptionwould probably be different.
Shack:
As far as improving perception, what do you think about something like the PC Gaming Alliance? I noticed you guys aren't partners. Any particular reason behind that? Do you see a real benefit coming out of the PCGA?
Doug Lombardi:
We'll see. Imean, I think it's great that a group of major players are gettingtogether and trying to address the problem. For us, we're really busydoing Steam, building our games. We're not really members of any of theboards, whether it's the IDG, or the PC Gaming Alliance, or whatever.If those guys want our opinion, we'll give it to them, but being onthose boards is kind of a job. We try to remain a small independentstudio, and if our help is needed in some way other than just joiningthe group for the sake of being another developer sitting a table atthe meetings, then we'll talk to those guys. I mean we're totally opento it, we want them to succeed, but until we see an actionable reasonfor us to be involved in it, you know, how we can help in a tangibleway, we're going to kind of sit in the bleachers with everybody elseand wish them luck.



Wedefinitely wish them luck. Like I say, part of the reason why the PChas the perception issue is that they don't have a group of peoplechampioning it. And if the PC Gaming Alliance says, "We need to attackthis from an advertising and PR standpoint," we'll be there to givethem quotes. [laughs] So however we can help. Just because we're not onthe board doesn't mean we're not rooting for them.


Shack:
Do you see a PC gaming resurgence on the horizon, at least in terms of how people think about the platform?
Doug Lombardi:
I think you cansee it in this room. I don't know what the final total is here, but Ithink there are eight PC games and three console games here?
Shack:
Yeah, about that.
Doug Lombardi:
And this is EA's"getting ready to start clubbing you guys over the head for E3"campaign that's beginning. So I think it's starting to happen. I thinkwe saw some of that last Christmas too. A lot of the big titles wereOrange Box on the PC, Crysis, World of Warcraft: The Burning Crusadedid really well. I think this year you're going to see a lot of thesame thing with Left 4 Dead, Spore, Battlefield Heroes. There's a lotof people making great PC product. id is getting ready to rev up abunch of really great PC product, and those guys are always great.They've been legends on the PC since, what, '93? So I think it alwayssort of comes and goes.



There's this kind of roller-coaster ride: the consoles launch, their PRagencies go out and do everything they can to try and say the PC isdying, they'll prop up the sales of the console, the console starts toget old in the tooth, the PC starts leapfrogging in terms of graphicsand bigger releases. So we're almost what, mid-way through the consolelifecycle now? So yeah, over the next two years the story's going tocome back that the PC is bigger, things like Left 4 Dead and Spore, theid titles are going to come out and everybody's going to be like, "Wow,those console titles are looking kind of crappy."

Shack:
Do you think PC system requirements are an important part of this perception problem?
Doug Lombardi:
Oh, I think it'sa big problem. I think it's a big problem. You know, we try to bereally responsible. Going back to Half-Life 1, we tried to be reallyresponsible in saying the average PC gamer should be able to play thisgame start to finish and have an enjoyable experience. Now, they're notgoing to have the best graphics, they're not gonna have every shaderturned on and what have you. But they're gonna have a decent framerate,all the monsters and creatures are going be there, and all the dialogueis going to be there. From a basic content and experience level,they're going to be able to go through that.
We take that Steam hardware surveytwice a year, and we publish those results of usually a million or moregamer systems. We publish those very consciously to try to help otherpeople realize like--here's a million people on Steam and what theirsystem requirements look like. No, you can't drop support for DirectX 9yet. There's still 70% of the people playing on Steam today are runningon DX 9 cards. So you've gotta be cognizant of that, and RAM and CPUspeeds, same way.
In the old days we had sort of this weird, "Okay, here's some of whatthe card guys and CPU guys are telling us they're gonna be selling, andhere's this voodoo crystal ball thing we're going to do and try toguess." Now that Steam survey gives us an exact data point to workfrom. You've got a million people, we do it every six months, and wecan go back and say 18 months ago it was here, and here's the adoptionrate, and we can see the trajectory. It's pretty black and white.
I think hopefully one of the things we did really well with Orange Box,and we've heard this from a lot of people: "I fired up Portal on mythree year old machine and it ran great." And that helps us sell moreunits, and helps the perception of the PC industry. People buy a newgame and their system is 18 months old and it doesn't run, or it'sunplayable, that hurts the PC industry. That person who just spentmoney on a PC game is going to have a question mark next time he walksinto the store. And he's gonna say, "Geez, I don't know, if I buy it ona console I know it's going to work."
So I mean, I think people just need to do a better job of looking atwhere gamers are at, being more honest about the system requirementsthey put on the box, and just sort of taking a step back and saying,"Gameplay is king, performance is second, and graphics are somewhereafter that." People have said to us, you know, Portal is

cool

, but itwasn't the prettiest game. Well, okay, it sold a whole lot, it wasnamed game of the year by over 30 outlets, and many of the people whoplayed it told me they finished it and had a great time. I would muchrather have that than have people tell me it was the prettiest gamethat came out last year.
Shack:
Does theresponsibility lie somewhat with the hardware manufacturers to markettheir products in a reasonable way, or is it up to the developers toset sane requirements?
Doug Lombardi:
Oh I think it'stotally the fault of the developers. Totally the fault of thedevelopers. I mean the graphics guys, their job to keep pushing theenvelope, and as they push the envelope, move the lower-end cards downto a nice price point, so that there's always this evolution that'shappening. If you're a hot rod type of guy, and you want to spend $400on the latest thing, you want to have a smoking machine, and when Left4 Dead comes out you want to run it at its highest resolution withkiller framerates, and call your buddies over for a beer and make themall drool over your system, awesome. But if you're just a guy who wantsa decent PC for less than a thousand bucks, and wants to be able to rungames on it, there should be a card out there that runs games at adecent famerate and decent fluidity. Then it's on us to write for bothof those guys.



It's a business decision, really. Too often I think the developmentside of things runs the house. People say, "Oh, we've got to targetthose high-end core gamers. We have the best graphics, sweetestscreenshots, and we'll get more press, and we'll win." Okay, well,you'll win in the pre-launch phase. Then when the game comes out, and60-70% of the people who don't have that sweet machine--maybe evenhigher numbers, maybe 80% don't have that sweet machine--well you justcut off your ability to sell to all of those guys.
You know, it's hard to be able to have games that scale, and to writeperformance on the high end, and write performance on the bottom end,but you know, winning in any industry means some hard work, and there'sa certain level of hard work that developers have to takeresponsibility for. And when you see games that do that, where theyhave solid gameplay, and they scale well across machines, usually thosegames do well.
Posted by Editorial Team Sat May 24, 2008 6:22 pm
7 Cool Bluetooth Gadgets - Media, Audio, Keyboards, Headsets in Entertainment, Film and Music, Mobile devices and media
1. PARTY speakers from Parrot (Black Edition)

Price: Available this summer for $150
Thisportable, wireless speaker system lets you listen to music - beamed -from your phone or PC. It's also got a built-in technology called NearField Communications (NFC), which allows users to pair it with a mobiledevice by simply tapping the two together. Unfortunately, there's justone NFC phone currently on the market, and it's only availableoverseas.
2. Calisto Pro Series from Plantronics


Price: $280
Youknow the cellular industry has made it when home phones start lookinglike mobile handsets. This sleek landline telephone from Plantronics ismade for home use but comes with a Bluetooth headset that can also workwith a cell or VoIP phone.
3. S-Frame digital photo frames from Sony


Price: $190 - $250, depending on size

You'llneed a Bluetooth adapter to transfer images from your cell phone tothis new picture frame. The frame's LCD screen can display images up to48 megapixels, and offers 10 slide show variations on top of clock andcalendar views. Two index modes let you preview several photos at once.

4. SUN headset by Iqua


Thissolar-powered Bluetooth headset converts light into power, which meansyou won't have to worry about recharging the battery every night. Whileit's a bit large (due to the built-in mini solar panel), theeco-friendly SUN claims to get nine hours of talk time.

5. MBW-150 watch from Sony Ericsson (Music Edition)



Price: $40
ThisJames Bond-like, water-resistant gadget works in conjunction with yourhandset by vibrating each time you receive a new call or text messageand letting you control your mobile music. The one downside: The watchonly works with select Bluetooth-enabled phones made by Sony Ericsson.

Virtual laser keyboard from Golan Technology


Price: $160
Thisfuturistic-looking portable device uses infrared and laser technologyto project a full-size, working virtual keyboard on any surface. Ituses Bluetooth technology to pair with both laptops and compatible cellphones for typing messages on the go.
7. V610 EasyShare camera from Kodak


Price: $350
Usingembedded Bluetooth wireless technology, the V610 allows users to takepictures and beam them straight to their PC or a compatible printer.This small, 6-megapixel camera also comes with dual-lens technology anda 2.8-inch high-resolution color display.
Posted by Editorial Team Wed May 21, 2008 9:52 am
New game teaches peaceful conflict resolution in Gaming
In recent weeks, roughly in tandem with the release of a certain video game, the issue of what content is okay in games has again been prominent in the media. In response to this controversy is another game called

Cool

School, where the emphasis is on nonviolent interaction.



Cool

School focuses on taking players through a school where just about everything (desks, books, and other objects) are alive and have their own personality. Over the course of ten levels and over 50 different situations designed by Professor Melanie Killen and then-doctoral student Nancy Margie (both of the University of Maryland). The primary goal of the game is to teach students how to solve social conflict through skills like negotiation and cooperation. During the title's development, Killen and Margie were able to work with some talented members of the video game industry, including independent developer F.J. Lennon and animator Dave Warhol.

The project began when Congress allocated funding to the Federal Mediation and Conciliation Service to create a video game. "I was very impressed and intrigued by the fact that the US Government was willing to fund a conflict resolution game for children," Killen told Ars. Killen isn't a stranger to video games; she specializes in human development and has spent over two decades focusing on peer conflict.



Cool

School was planned to be shared throughout every US elementary schools until its funding was slashed by Congress. The game is now being digitally distributed, and its spread through the country's school systems is much slower than originally intended. According to Killen, though, there's still a lot of potential for the program: "Would we like to have it used by other schools? Of course we would. Implementing that is a little more complicated... right now a lot is up in the air. We're hoping that if it takes off, Congress will mandate more funds for it and we can make a version oriented towards older children."

The game's developers have been testing their software out in schools in Illinois, where it has been receiving rave reviews. Having spent a few minutes with the game, it's not hard to see why: with its whimsical nature, unique setting, and positive message, this is a game that just about anyone could get behind. If you have a young child in the house and think this game might be beneficial for them, it's available as a free download here and will play on both Mac OS X and Windows XP.
Posted by Editorial Team Wed May 21, 2008 9:37 am
HP targets teens to test computers in Business and Industry in Gaming, Media, Web, IT and Computing
HEWLETT PACKARD WANTS to get its hands on your kids' pocket money, or so it seems, as the company unveils plans to aggressively target what it calls the "teen" market.

At SD Forum's Teens and Tech conference, director of HP's future and innovations group, Ameer Karim, let on that the company had hired a bunch of spotty adolescents to design new HP products that their geeky friends would be sure to find

cool

.

"We've used this teen council to help us with everything from the design of the products, the user interface and the box design, even including how the Web site will look," gushed Karim, in a totally un-

cool

fashion. He declined to mention how much Pizza the company had to provide the yoofs in payment.

Apparently HP is trying to put both the H and the P in "Hip", a word the company probably still thinks teens use. The company's cunning plan? Not entirely clear, but probably something to do with gaming and the games company Voodoo, which was snapped up by the computer giant two years ago.

CNET reports that HP spokesperson Ann Finnie, had no idea what Karim was on about, but did say that, overall, the company was trying to pull in younger customers.

HP aren't the only ones who want to get down with the kids. Sun Microsystems is also keen on showing off how in tune it is with today's yoof and, according to Matt Thompson, director of Sun's technology outreach and open-source programs office, the company knows just the way to do it. Give stuff to teens for free. Apparently teens, unlike any other age group, love free stuff, so this is really the way to go.

The Vole, however, which also attended the conference, was apparently as befuddled about the mysterious ways of teens as most parents are, with an exec grumbling that the company hadn't the faintest about how to market to teens. So there.
Posted by Editorial Team Tue May 20, 2008 4:51 pm