Search iVirtua
Advanced/Tag Search...
Search Users...
What is iVirtua Exclusive Community?
An exclusive gaming industry community targeted to, and designed for Professionals, Businesses and Students in the sectors and industries of Gaming, New Media and the Web, all closely related with it's Business and Industry.
A Rich content driven service including articles, contributed discussion, news, reviews, networking, downloads, and debate.
We strive to cater for cultural influencers, technology decision makers, early adopters and business leaders in the gaming industry.
A medium to share your or contribute your ideas, experiences, questions and point of view or network with other colleagues here at iVirtua Community.
Guest's Communication
Live Chat
Teamspeak (VOIP) Audio Conference
Private Messages
Check your Private Messages
Themes
Choose an iVirtua Community theme to reflect your interests...
Business Theme

India/Arabic Theme
Gaming Theme
iVirtua Recommends
Fly Emirates
Apple's online store is still out of iPhones. Left-of-fieldspeculation says this means the 3G iPhone's release is coming soonerthan thought. If so, what might Apple have in mind for its WorldwideDeveloper Conference instead?
In recent weeks, UK iPhone suppliers O2 and Carphone Warehouse haveboth sold out of 8GB models, following a £100-off price promotion. Theyalso sold out of 16GB handsets, though both admitted late last weekthat they would be getting more stock in. Indeed, today O2's website isshowing 16GB iPhone availability, though CW's site is not.
All this time, Apple has been offering iPhones too. But today, boththe UK and US Apple Store websites have the 8GB and 16GB iPhones listedas "currently unavailable". The fact it's no longer doing so, severalweeks earlier than anticipated, suggests that stocks really have rundown ahead of the introduction of the new, 3G model.
But when is that going to take place? So far, everyone has assumedthat it'll arrive in June - a year on from the point at which the firstmodel went on sale. Apple likes anniversaries - for instance, it tendsto update the iPod line every year at the same time.
However, the recent spurt of iPhone support announcements fromcarriers - Vodafone will be offering it in ten countries, SingTel infour - suggests that the next iPhone might be coming sooner rather thanlater. Why announce a whole month ahead of the anticipated launch?
MacRumours.com has an interesting suggestion. It re-iterates a rumour publishedby website Switch To A Mac late last month: that Apple will announceand ship the 3G iPhone in May, and Steve Jobs will show off acompletely different mobile device at June's Worldwide DevelopersConference (WWDC). Switch To A Mac's source is said to have strongApple ties, and to have been right about last year's Mac OS X Leoparddelay.
Does the rumour make sense? Maybe. Yes, Jobs used his 2007 WWDCkeynote to detail the iPhone's availability, but bear in mind this wasarguably because he was unable to talk about what developers reallywanted to hear about: Leopard. Mac OS X 10.5's release had just been delayed in order to get the iPhone OS completed in time (Apple said). Leopard was to have shipped in June.
This time round, that pressure is off. Apple has already announcedits developer-centric iPhone plans, and has been offering a pre-releaseversion of the iPhone Software Development Kit for some months now.
That implies Jobs might instead seek to engage developers with a newdevice, as suggested. Past speculation has pointed to handheldgadgetry, either a Mac tablet, a new Newton or a bigger iPod Touch.

We'd dismiss the Newton idea as wishful thinking, and while someconsumers might fancy a bigger even more video-centric iPod, iPodannouncements usually come later in the year. A Mac tablet is morelikely to quicken the juices of Mac developers, but we'd guess Applewould leave that for Macworld Expo in January. There's certainly noburning need for a Mac tablet now, not least because Apple executiveshave consistently talked about the iPod Touch as the foundation for thecompany's handheld strategy, not the Mac.
Besides, what's really there for developers other than the chance tosell a few more copies of apps to Apple and iPod addicts? Surely whatthey'd really fancy is whole new platform, compatible with their Macand iPhone development experience, but taking them into a new arena ofbusiness?
Enter Apple's first foray into dedicated mobile gaming, a notionthat's also been doing the rounds of late, but separately from theiPhone discussion. Just as the iPhone leveraged Apple's experienceselling the iPod and the huge marketshare the company built up doingso, an - if you will - 'iPlay' would do the same with mobile gaming.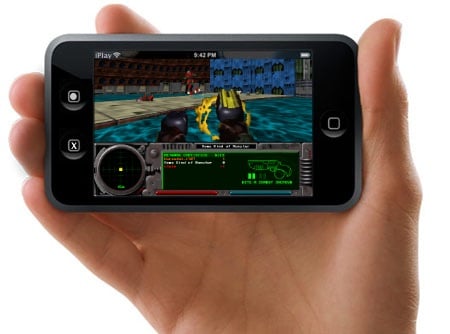 Apple's 'iPlay': the real WWDC highight?
Artist's impression

The iPod does this already, but in many if not most consumers'minds, the iPod is a music and video device. The success of thePlayStation Portable and Nintendo DS Lite shows there's a big marketfor 'game first, other stuff second' devices alongside the iPod's'other stuff first, games second' approach.
If any company was to seriously take on the likes of Sony andNintendo, it would not only need a brand as strong as Apple's - not tomenion an Apple-like marketing budget - but also the support of as manygames developers as it could persuade to get coding. Unlike the iPhoneand iPod, third-party software development would be key to the iPlay'ssuccess. For Apple, WWDC is the logical place to get that ball rolling.
Such a move would be well worth bringing the 3G iPhone announcementforward for - especially since it would leave the world's media try toguess in print and online what Jobs will announce instead.
The voice of caution warns that almost all the other pointersindicate a June 3G iPhone debut. But as we say, what's really there fordevelopers that hasn't been said already?
Contributed by

Editorial Team

, Executive Management Team
372659 iVirtua Loyalty Points • View Profile • Send Private Message • Back to Top