Search iVirtua
Advanced/Tag Search...
Search Users...
What is iVirtua Exclusive Community?
An exclusive gaming industry community targeted to, and designed for Professionals, Businesses and Students in the sectors and industries of Gaming, New Media and the Web, all closely related with it's Business and Industry.
A Rich content driven service including articles, contributed discussion, news, reviews, networking, downloads, and debate.
We strive to cater for cultural influencers, technology decision makers, early adopters and business leaders in the gaming industry.
A medium to share your or contribute your ideas, experiences, questions and point of view or network with other colleagues here at iVirtua Community.
Guest's Communication
Live Chat
Teamspeak (VOIP) Audio Conference
Private Messages
Check your Private Messages
Themes
Choose an iVirtua Community theme to reflect your interests...
Business Theme

India/Arabic Theme
Gaming Theme
iVirtua Recommends
Fly Emirates
To be honest, all of those are relatively cheap (not in price, but in terms of quality). You can find cheaper cases, which are built with higher quality.

Out of those, I'd take the Thermaltake Tsunami, although you should highly consider taking a look at the CoolerMaster WaveMaster and Antec Sonata.
Contributed by

Predator

, Guest
510 iVirtua Loyalty Points • • • Back to Top
Nifty, but I don't think I could stand the extreme curvature of the front and back for long. To me, form follows function. I'm very simplistic.

Not a bad looking case though. I especially like the blue lighting. I'm a sucker for blue lighting.
Contributed by

ChrisMG

, iVirtua Ultimate Contributor
110 iVirtua Loyalty Points • View Profile • Send Private Message • Back to Top
Personally, I like this one (not on the list, but it has awesome ratings, basically the same functionality as the other one, cheaper, and even a handle for LANs. Oh, blue lighting, too. :P ):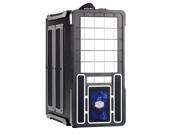 P.S. The picture is a link, FYI, and look at multiple shots of it before deciding. This one doesn't quite capture the essence of it fully, but it does show the blue lighting.


Last edited by Defenestrator2.0 on Fri Sep 29, 2006 4:40 pm; edited 1 time in total
Contributed by

Defenestrator2.0

, iVirtua Recognised Member
100 iVirtua Loyalty Points • View Profile • Send Private Message • Back to Top
Cases are quite different then other peices of harware. It is simple to recommend which peice of hardware performs better, but when it comes to cases it all comes down to personal preference. If you think the case looks good and have read enough reviews about it to know a bit about the quality and stuff, then get it.
Contributed by

KoolDrew

, iVirtua Ultimate Contributor
155 iVirtua Loyalty Points • View Profile • Send Private Message • Back to Top